When you plan to travel somewhere, there are a lot of things that you need to take care of. These can be your flight and hotel bookings, finding good places to eat, or even local transit. Moreover, if you are traveling to some foreign land, more things get added to this list. For instance, your destination may not accept your local currency or the people there may not understand your language. In this fast-paced world, such things should not be allowed to become a roadblock in your trip. So to provide you with a seamless way of planning, here is a list of the 12 best travel apps for Android you can use: 
1. TripAdvisor
When you first decide to travel somewhere, the first thing you need to do is make your travel and accommodation arrangements. Given the number of websites providing these services, it may seem daunting at first to decide the best one. That's where TripAdvisor comes in.
TripAdvisor compares the prices of flights and hotels from different websites and displays them on a single screen in their respective sections. When you go to the Flights section, you can create Air Watch alerts for each trip, so that you get notified when that air fare drops. And to help you choose the best hotel, you get to view the images and location of a particular hotel along with some tips from other users and a list of the recommended nearby places that you can visit.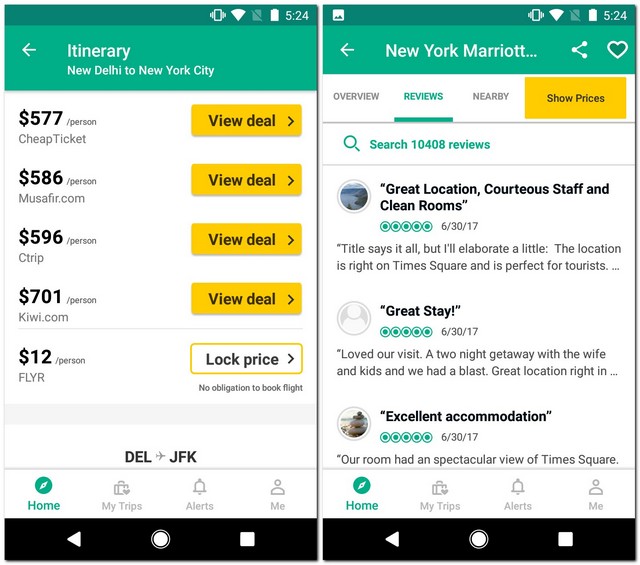 As an addition, you can view restaurants, vacation rentals, and travel guides for any destination. Given the large number of people around the globe using TripAdvisor, you can also check out their reviews for some genuine insights into individual places.
While TripAdvisor is a great app, if you are looking to compare hotel prices only, you can also check out the Trivago app.
Install: (Free)
2. Skyscanner
Skyscanner is another great app, which has its fair share of similarities with TripAdvisor. In fact, it packs almost the same features. It lets you compare and book tickets for flights, hotels, and rental cars. You can even opt for "Price Alerts", which notify you whenever the airfare drops.
In addition to these similarities, Skyscanner has come other useful features of its own. If you choose any specific destination, you can see the days and months for which the rates are the cheapest. The search results that you see can be further refined using very specific filters to best suit your needs.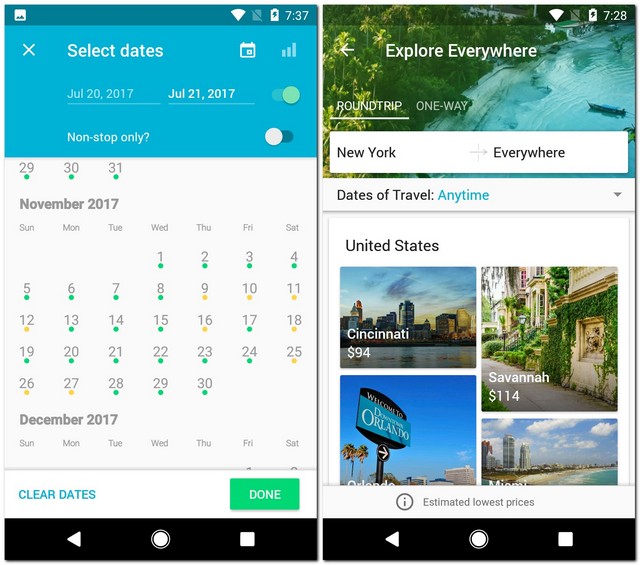 If you are driven by wanderlust, Skyscanner has a feature called "Explore" that shows you cheap flight tickets to random places in the world. What's more? Booking frequently through the app earns you flyer miles that can be used to avail discounts on your future bookings.
Install: (Free)
3. Expedia
Expedia is the one-stop solution to all your transportation and accommodation bookings. With Expedia, you can book your tickets for flights, hotels, and rental cars. As a proactive measure, you even get notified for any flight delays and for your hotel check-out times. To improve your travel experience, Expedia can show you a list of the things that you can do near your location. And if all this wasn't enough, you can also book tickets for tours, shows, theme parks, and museums.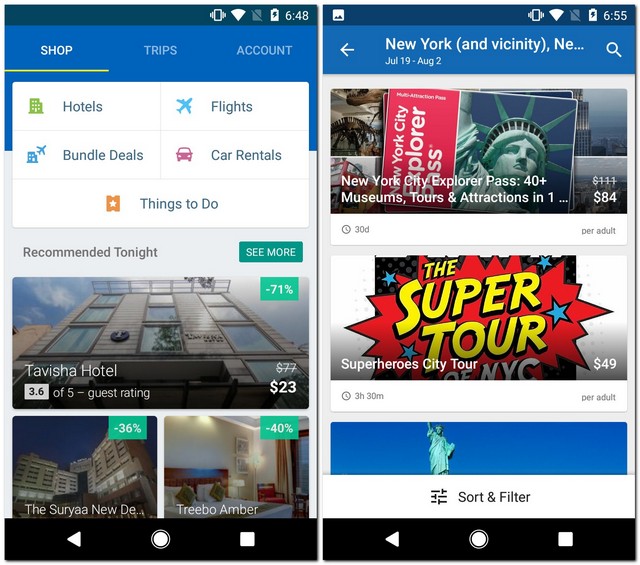 With the additional feature that allows you to share your itineraries with anyone using email or text messages, Expedia is one of the best travel apps out there for Android.
Install: (Free)
 4. LoungeBuddy
Once you have booked your flight tickets, what more could you possibly do to make your travel experience even better? Book an airport lounge access, maybe? Don't be surprised. With LoungeBuddy, you can do just that.
LoungeBuddy lets you view the photos of airport lounges around the globe. You can even view the list of amenities each one of them provides and read the reviews from other fellow flyers. Based on any elite statuses, lounge memberships, or premium credit cards that you might have, you can view the list of all the lounges that you can and cannot access at any particular airport.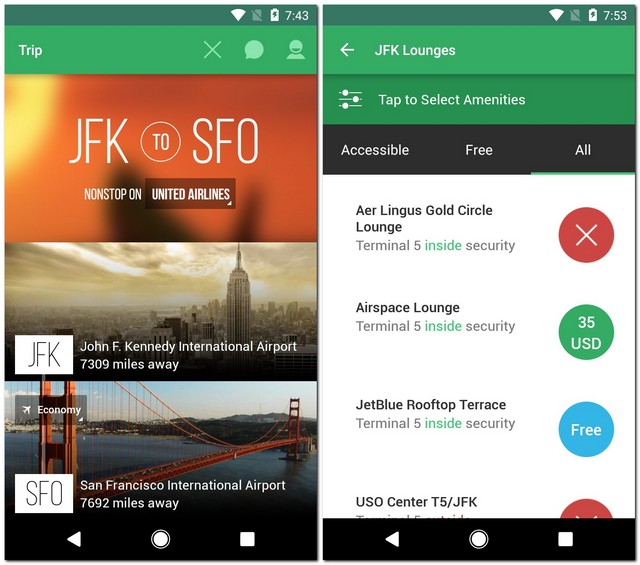 Being a one of its kind app in this list, LoungeBuddy is a must have travel app if you like spending a lot of time waiting in airports.
Install: (Free)
5. Airbnb
At times, staying in hotels becomes too monotonous. If you're looking for something more homely, Airbnb is what you should download. As hosts, people from around the globe can offer rooms in their homes or even the entire places to travelers. You can view images and read reviews for any of these places and choose one of them as the accommodation for your trip.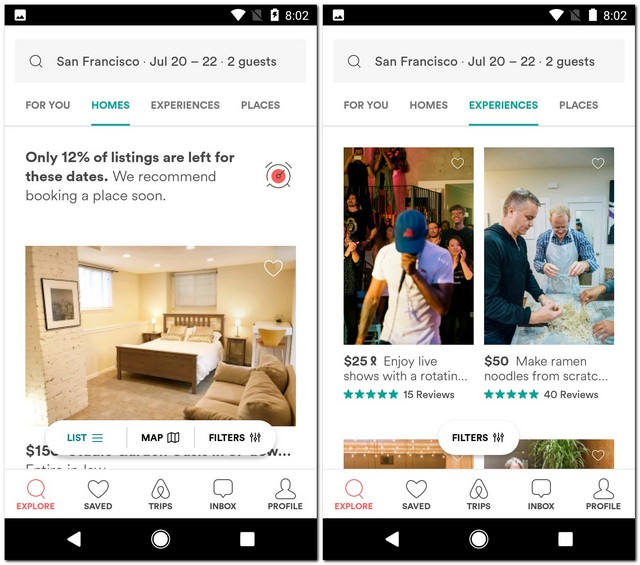 Not only that, Airbnb also lets you book experiences and discover places. The experiences can be anything from a concert to a cooking competition. And when you discover places, you can learn about places like the famous bars and restaurants near your destination.
Airbnb is a highly recommended app if you are a gallivanter. And how do I know that – I am one too!
Install: (Free)
6. PackPoint
If you often find yourself forgetting to pack things when you travel, PackPoint is for you. Enter details like your destination, the length of your stay, and the activities that you plan to do and you get a list of items that you will need to carry, generated automatically. You can even share this list with your co-travelers to help them with their packing. PackPoint is smart enough to analyze the weather forecast during the interval of your trip and suggests the things that need to be packed accordingly. For instance, if it is expected to rain during your trip, you will get a suggestion to pack either an umbrella or a raincoat. Cool, right?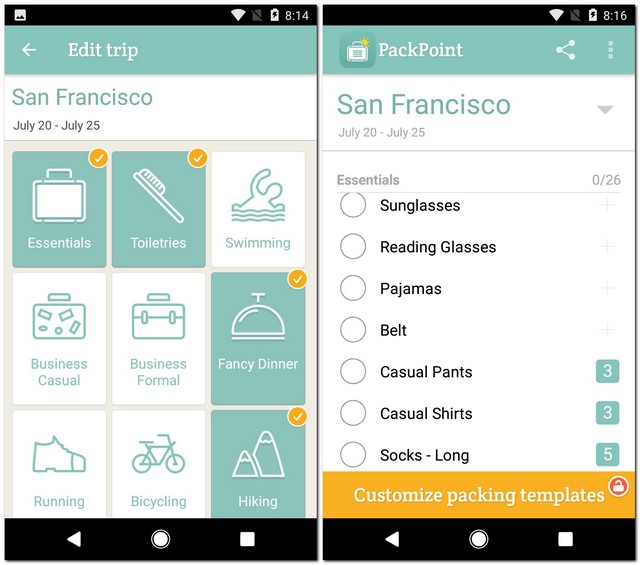 Install: (Free, with in-app purchases)
7. Google Trips
Google Trips brings all the essential information from all the destinations in the world to one single place. You can search for a destination to view the things that you can do there, the places you can go, popular restaurants and bars, local transit information, and even some other useful information like health services and money – all in a single place. If you use your Gmail account to book any trips, then all of them can be combined together and viewed in a single section called "Reservations". While it's a pretty small app, Google Trips is a very handy travel app and I totally recommend it.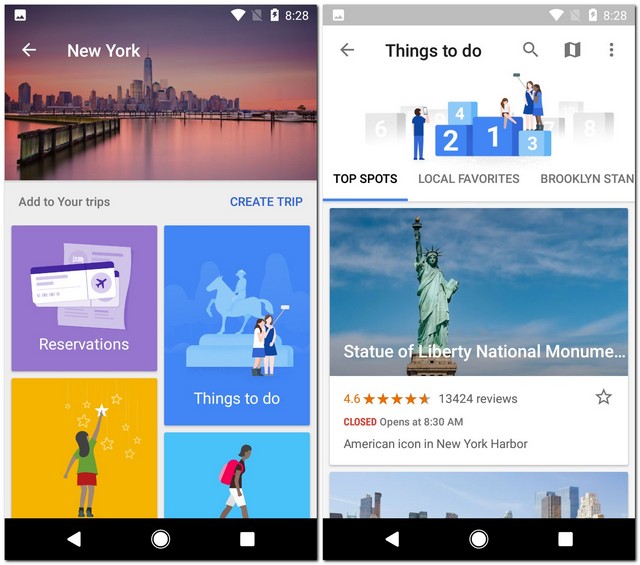 Install: (Free)
8. Foursquare
The very popular Foursquare is like your personal travel diary. You can keep a record of the places you travel to, store and share photos, or rate the places that you visit. You can even search for places to eat and find fun things to do. With Foursquare, your memories are stored for you to access anytime. What's more? The Foursquare app also lets you create a list of places you want to try while travelling and you can even read tips for places from people and uncover the best possible experience you can have on your trip.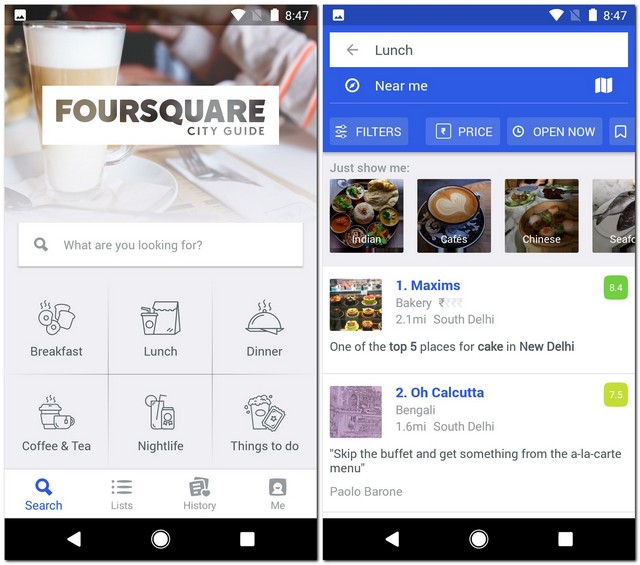 Install: (Free)
9. Citymapper
When you are traveling, it becomes really important to know the local transit options. This is where Citymapper comes in handy. It shows you all the transit options available in a city, like bus, subway, train, ferry, taxi, car share, and bike share. Plus, you get step-by-step directions including which subway gate to take. That's not all, the app also brings you alerts when there are any problems on your usual routes and it lets you check nearby departures in real time. All in all, Citymapper is ultimate transit app for Android. Having said that, for now, this app is only available for some selected cities like London, Singapore, Seoul, etc. You can download the app to check whether your destination is covered by the app or not. If it is, you should definitely download it to make your trip easier.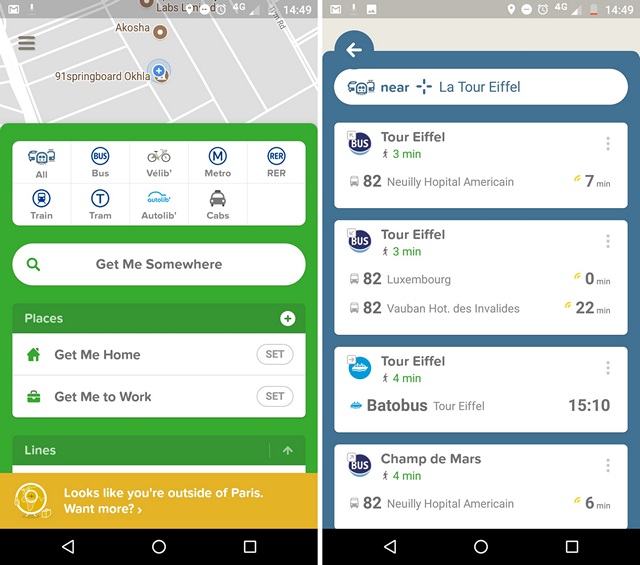 Install: (Free)
10. Google Translate
If language barrier is a problem, Google Translate is the solution. With Google Translate, you can point your camera at a foreign text and get it translated to any language of your choice. You can even type the text manually if you want.
The best part about this app is the conversation mode. For instance, if I were to speak to a French guy, I would speak something in English and Google Translate would translate it to French with a written as well as a spoken output. Similarly, if the French guy spoke something, I would hear its English translation. In short, Google Translate removes the language barrier and makes your travel simpler.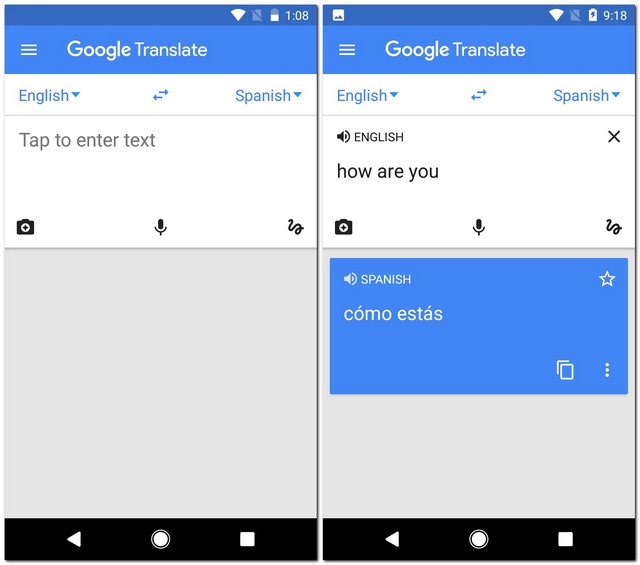 Install: (Free)
11. Concur
When you are traveling, it is easier to lose track of your spendings. Well, not if you have Concur downloaded on your phone. With Concur, you no longer have to worry about collecting receipts. You can click a picture of them and store it in the app. In addition to this, you can even create your own Quick Expense, itemize hotel charges and import data from credit cards. And all this can be done offline too.
If you are on a business trip, there are a few other handy features that the app has to offer. You can submit and approve expense reports, add event and meeting attendees, and even approve travel requests.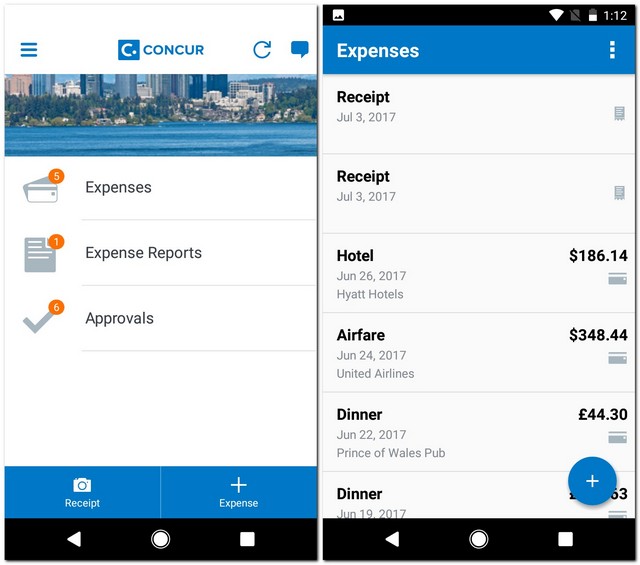 Plus, Concur can be integrated into other travel apps like TripIt, so that you can manage your travel plans and your financial plans on the go.
Install: (Free)
12. XE Currency
When we talk about money and travel together, currency may come into picture. If you are traveling to a place which uses a different currency than yours, then you should definitely download XE Currency. With XE Currency, you get live exchange rates and charts. You can set a "Rate Alert" to get notifications for specific currencies or use the "Currency Converter" to translate them. Not only that, you can also monitor the rates of precious metals like gold and silver if you want.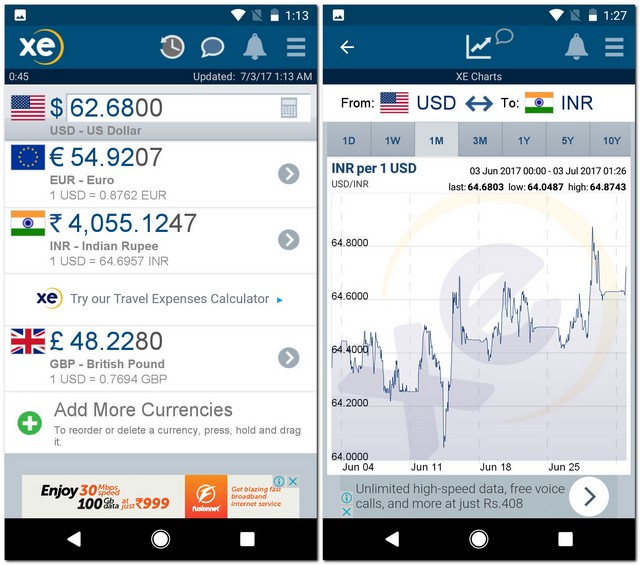 The free version of XE Currency allows you to monitor up to 10 currencies at a time. For most of you, this should suffice. However, if you want to monitor more than that, you can buy the Pro version which costs only $1.99.
Install: (Free, Pro at $1.99)
SEE ALSO: 25 Air Travel Tips and Tricks to Travel Like a Pro
Choose from the Best Travel Apps for Android
In today's world, everyone seems to be in a hurry. The roads are always filled with cars and the airports seem busier than ever. However, you now know the best travel apps that you can use on your Android smartphone to your advantage to plan and execute a hassle-free travel. So which travel apps did you like the most? I would love to hear from you in the comments section below.
---
Load More