Widgets not only add an aesthetic appeal to your Android smartphone's home screen, they also make your device more functional by providing some features that allow you to make use of certain apps without even opening them. What's really great is that you can find widgets that span across a variety of use cases, which means that there's one (if not many) for everyone. So, if you've been looking for some decent Android widgets to spruce up your device's home screen and use your Android smartphone more efficiently, then check out this list of 10 useful Android widgets that you should try.
Useful Android Widgets You Should Try
1. KWGT Kustom Widget Maker
Starting off at the top of our list is KWGT, a custom widget maker which allows you to make your own Android widgets that you can place on your home screen. The app offers a bunch of included presets, with the Play Store filled with even more presets created by other developers that you can use. The app allows you to completely tinker with the widget design, which means that even if you're using one of the available presets, you can completely make it your own.
Agreed, the KWGT custom widget maker is a bit difficult to use for the beginners out there, but once you get the hang of it, you can create some stunning looking widgets that are not only functional but also add to the overall aesthetics of your smartphone. I've been using the KWGT custom widget maker for quite a while now and I can tell you with complete confidence that once you start using it, you'll feel the need to install it on every Android device that you use. It's just that great.
Download KWGT Kustom Widget Maker (Free)
2. Google Calendar
Next up is the Google Calendar widget, another useful widget that you can use to stay abreast with your schedule by taking a glance at your phone's home screen. In order to access the widgets, you'll need to install the Google Calendar app, after which two new widgets will be added to the widget menu.
As mentioned, the app offers two different widgets, both of which can really come in handy depending on the way you keep a track of your schedule. While one widget shows your schedule for the week, the other gives you an overview of your schedule for a month. The most handy part about using these widgets is that you can easily add to your schedule by just tapping on the date within the widget, eliminating the need to first open up the app and then scroll to the specific date.
Download Google Calendar (Free)
3. 1Weather
Having a weather widget can also be very useful as it allows you to get a brief overview of the weather forecast with just a glance. 1Weather is a great weather forecast app that comes with 12 widgets of different sizes that not only tells you the temperature but also provides information like the wind speed, humidity and the chances of rainfall. The Android widgets included with the 1Weather follow a variety of different design choices, which means that you'll easily be able to find one that goes well with your setup.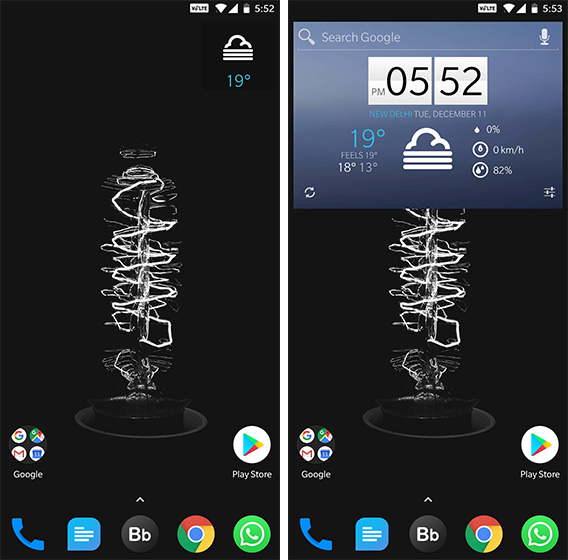 The app has a tiny 1×1 widget, which is quite minimal and just tells you the temperature along with an icon denoting the cloud cover, along with a large 4×3 widget that displays the time, temperature, location, date, humidity, wind speed and chances of rainfall. The larger widget even has a Google Search bar built in, which means that you can remove the stock search bar and give your setup a cleaner, more homogenous look.
Download 1Weather (Free)
4. Todoist
Next up is another great app that includes handy widgets that will allow you to keep a track of your to-do list right from your home scree – Todoist. Not only is Todoist a great app to create and keep track of to-do lists, but it also has two, very capable, widgets that allow you to keep your to-do list accessible, right at the home screen.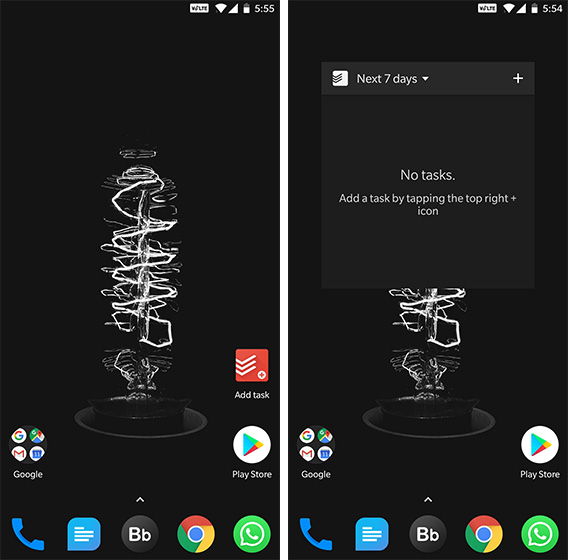 The larger of the two widgets allows you to completely customize the view and segregate all the tasks at hand based on your schedule, offering a lot of useful information on the home screen. The second widget, on the other hand, is just a 1×1 icon that lets you quickly add a new task to your to-do list, without requiring you to open up that app.
Download Todoist (Free)
5. Google Maps
Google Maps also packs in a couple of really useful widgets that can come in handy when need to look for directions quickly. The Google Maps widgets are essentially shortcuts that you can customize and place on the home screen, allowing you to instantly check the direction, traffic, and driving mode for preset destinations.
The app even has widgets which allow you to quickly share your location with friends and ask a friend to share their location with you. Even though the app doesn't include any full fledged widgets, the widget shortcuts are really useful and I've used them quite frequently to check the traffic on my way back home and to share my location with friends.
Download Google Maps (Free)
6. Elixir 2
For those of you who aren't familiar with the app, Elixir 2 is a really simple, yet useful, app that display all your device's information, including detailed information about the battery, internal storage, processor use, memory use, etc. The app, as you'd expect, packs in a great shortcut widget that allows you to check device info with a single tap.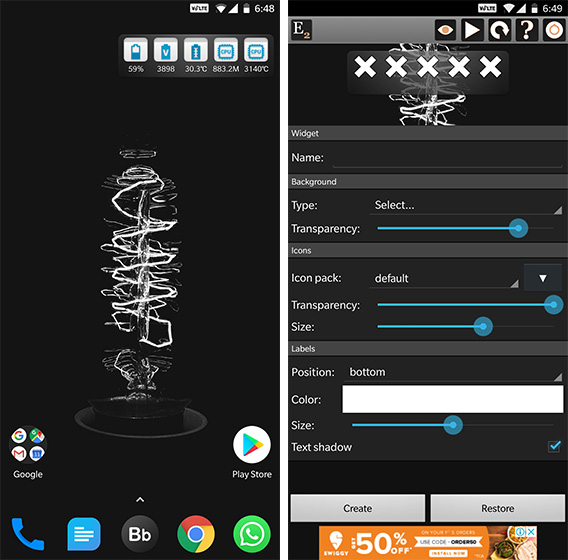 Elixir 2 also comes with a companion app, appropriately named Elixir 2 -Widgets, which brings with it a number of widgets that you can customize to display whatever device information you need to stay up to date with. The widgets included in the app range from 1×1 to 5×3 in size and can include everything from basic device information to detailed usage statistics for all the device hardware.
Download Elixir 2/Elixir 2 -Widgets (Free)
7. Google Keep
Google's popular note taking app – Keep – also has a couple of really useful widgets that you should use on your Android device. The app features a simple shortcuts widget, which displays five shortcuts that will allow you to add a new note, a new list, a new voice note, a new handwritten note and a picture.
The second widget, apart from featuring the aforementioned shortcut, also displays some of your recent notes, depending on how you resize it. As you can see from the image above, the widget displays two of my most recent notes, which means that you won't be forgetting anything important if you have it right on the home screen.
Download Google Keep (Free)
8. IFTTT
IFTTT is a great automation app that lets you create applets that can do a predefined action with a single tap or when a particular parameter is true. The app, in itself, is quite handy as it lets you automate a number of mundane everyday tasks like switching on the WiFi when you get to work and it also features a couple of widgets that allow you to trigger a predefined task by tapping on a button on the home screen.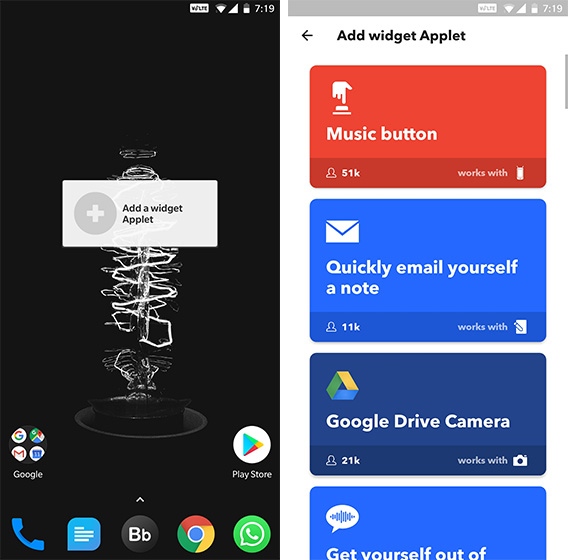 The app includes a small widget, which is essentially a shortcut that you can customize for any applet that you use, and a large widget that lets you set a toggle for any widget applet on your home screen. The IFTTT widget applets are definitely some of the most handy widgets that I've used so far and I will definitely recommend you to check out the app if you wish to streamline some repetitive tasks on your smartphone.
Download IFTTT (Free)
9. Simple Text Widget
Typography fans will really appreciate the Simple Text Widget, a widget creator like KWGT which lets you create your own Android widgets to place on your home screen. What's unique about the widgets created by the Simple Text Widget app is that, as you might have guessed already, the widgets are all text.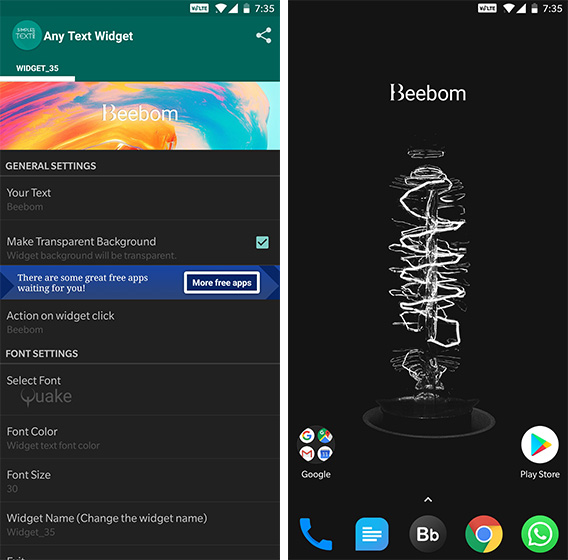 You can customize the text completely to your liking and go for a look that complements your home screen setup. The Android widgets can be customized to do practically everything from creating shortcuts for apps to telling the weather or time. You should definitely check out the Simple Text Widget if you're gunning for a minimal home screen setup on your device.
Download Simple Text Widget (Free)
10. Clip Stack
Clip Stack a nifty clipboard manager app for Android which allows you to manage all that things you copy to the clipboard in one place. The app features a very handy widget that displays the most recent text copied to the clipboard and features a shortcut that allows you to create a new clip.
What's really great about Clip Stack is that it can remember unlimited amounts of text copied to the clipboard, which can even be recovered after rebooting the device. I personally use the Clip Stack widget to keep a record of things that I wish to read later (I know there are other more user friendly ways to read things later) or to save phone numbers or other contact information which I don't have the time or patience to copy down.
Download Clip Stack (Free)
Bonus: Beebom
Last, but not the least, is the Beebom app which now also has a handy little widget that can help you stay up to date on the latest tech news right from your home screen. The Beebom widget displays the latest news posted on the app and which you can just use it to keep a track of the headlines, you can also tap on the widget to jump right into the app and the read the entire story.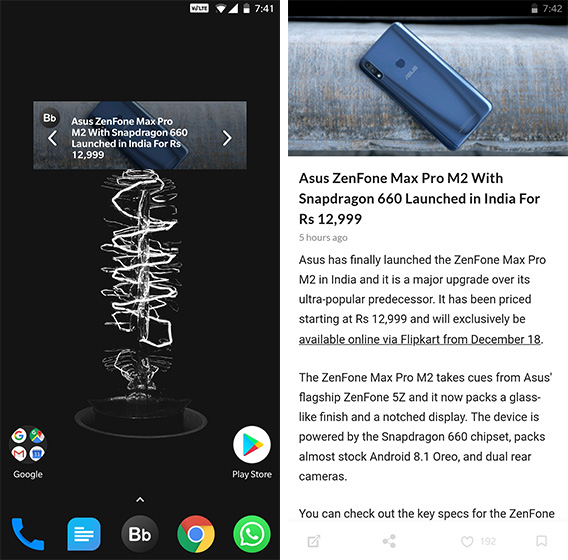 If you're already using the Beebom app, I strongly urge you to try out the new widget by adding it to your home screen. Not only is it a great way to keep up with the latest tech news, it also gets rid of the hassle of opening the app again and again to find the latest headlines, which is quite convenient.
Download Beebom (Free)
SEE ALSO: How to Add Widgets on Android
Try Out These Android Widgets Right Now
That rounds up our list of the 10 most useful widgets for Android. I recommend you to try the widgets for yourself and I'm pretty sure you'll be amazed by all that you can achieve right from your smartphone's home screen. KWGT and the Simple Text Widget are my favorite out of the lot as they allow me to completely customize the look of my smartphone's home screen. Which one of these Android widgets have you tried already? Got any favorites? Let us know in the comments section below.