Customization is Android's forte. Most Android users cannot imagine themselves getting stuck using and seeing the same bland home screen for more than six years of their phone's update cycle (if you know, you know), and hence they love customizing their Android devices. If you're new to Android, one of the first areas you can start customizing is straight up the overall look of your device by installing a third-party launcher. There are tons of launchers out there, so here are the 10 best Android launchers that are quite excellent.
1. Niagara Launcher
Niagara is not your typical Android launcher where you swipe up for applications and swipe sideways to search for apps. As soon as you unlock your device, all the apps are at your disposal. You can slide your thumb by the right edge of your screen to alphabetically search and launch apps. One of the best features in Niagara is its ability to show notifications right beside the app icon below the app label. This makes using your phone less distracting, and you can quickly swipe to dismiss the notification and return back to work.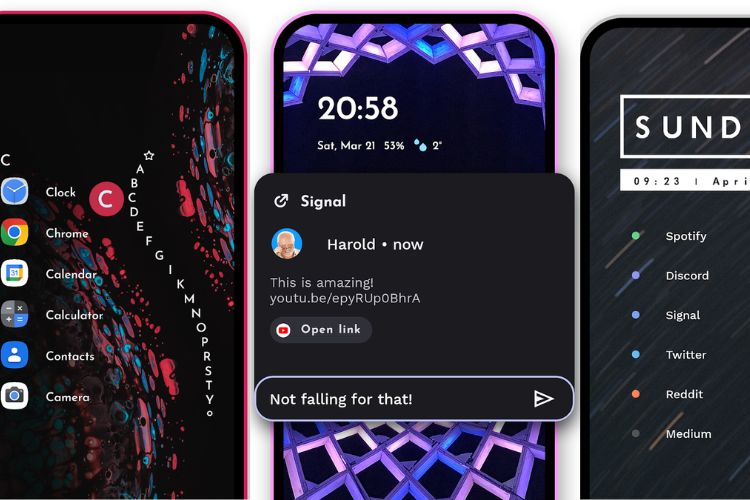 Niagara widget is another great selling point of the launcher as it basically acts like an extension to Google's 'at a glance' widget, showing you the day, date, time, battery percentage, and weather data all in one place. It also syncs with your Google calendar to display upcoming events, and unlike at a glance, it's highly customizable. Niagara is a freemium app and there are a few great features locked behind a paywall. For a one-time cost of $30/Rs 360 or a yearly subscription cost of $10/ Rs 120, it brings a lot to the table and will give your phone a fresh look. Overall, it is one of the best Android launchers out there.
Check out Niagara
2. Lawnchair
If you always wanted to try out a home screen that screams Pixel, Lawnchair is the right launcher for you. It takes heavy inspiration from the Pixel launcher found in Google Pixel devices and adds its own magic to make it more customizable. Lawnchair is open-source but things haven't been very smooth for the community since the lead developer quit a few years ago.
From changing the shape of the icons to the size of the folders, and adding customizations to the At a Glance widget, Lawnchair has lots of customization options to make your home screen better. The other best Lawnchair feature is the extended support for themed icons, which, thanks to Lawnicons (another Lawnchair project) adds more themed icon support. Overall, if you need a Pixel-like Android launcher with more customization options, your search ends at Lawnchair, one of the best Android launchers.
Check out Lawnchair (Play Store | GitHub)
3. Hyperion Launcher
Hyperion is another Google Pixel launcher-inspired third-party launcher that gets a lot of things right. Firstly, it's minimal after the initial setup, yet comes with loads of features baked into its settings panel. For starters, you can change everything from the background color of the dock, drawer, widgets, folders, and icons to the iconography to tailor the UI according to your taste. Besides, Hyperion also has its own themed icon setting to enable wider themed icons support.
Apart from the visual elements, you can also customize the animations department, add gestures, customize the Google search widget, and also download the Hyperion Dock which lets you have the Google app feed by swiping left. Features like themed icons, gestures, widget customizations, etc., are unlockable by paying $5 or Rs 160. Overall, Hyperion is definitely one of the cleanest and most feature-rich Android launchers out there.
Check out Hyperion Launcher
4. Nova Launcher
Nova is probably one of the oldest launchers on this list. You could say it was one of the first launchers that inspired a lot of features that we see in most third-party launchers these days. It looks basic after initial setup but delve into its settings and you'll find out just how customizable it is.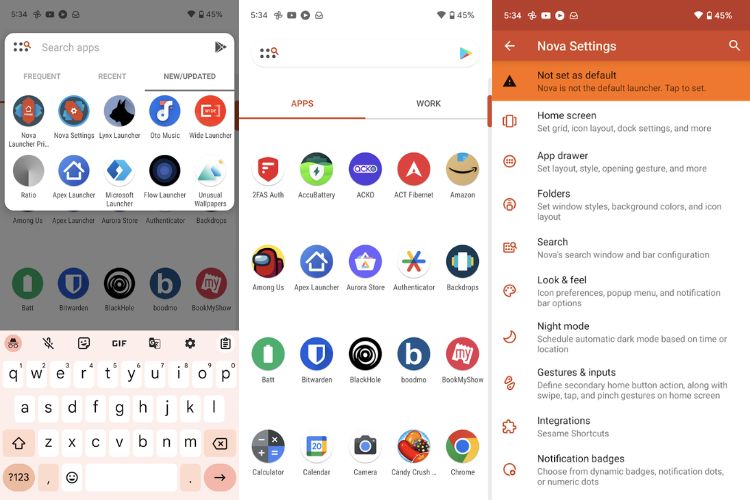 Of course, you can do much more after buying its premium tier, and the extra features that you unlock would make it seem like it was worth it. Nova launcher comes packed with features like custom icons, night mode, dark theme, customizable app drawer, scrolling effects, and more As we said earlier, there's nothing you cannot do with Nova launcher; hence, we won't be digging much into the specifics of customization options that it offers. Overall, it's easily one of the best third-party Android launchers.
Check out Nova Launcher
5. Microsoft Launcher
If you're surprised, yes, Microsoft has its own launcher on Android, and it's quite decent. After trying it for the first time, we were… unmoved? For the most part, it reminded me of the launchers I used to install during Android Lollipop days because it looks a bit cartoonish, but when it comes to features, it's packed. It syncs with your Google Calendar to display upcoming events, allows you to change the home screen layout, dock, app drawer, and add gestures.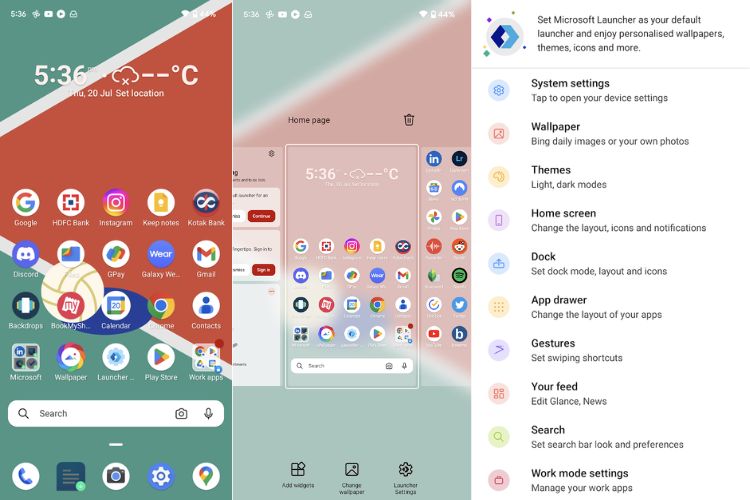 The centerpiece of the launcher, however, is its feed which you can access by swiping right from the home screen. It shows your calendar, to-do list, sticky notes, frequently used apps, documents, screen time, and recent activities. You can also sign in with your Microsoft account to sync your documents and other stuff.
Check out Microsoft Launcher
6. Apex Launcher
Apex is a fine Android launcher. It may not be the best in terms of design and overall feel, but in terms of features, it's pretty decent. It's a freemium launcher and the free version works just fine. The same comes with lots of nifty features such as home screen customization, app drawer, dock, folders, animations, and the ability to hide apps (take that Google) and even lock some of the essentials. There is also a Themes section that we were quite interested to check out, but it didn't load for some reason.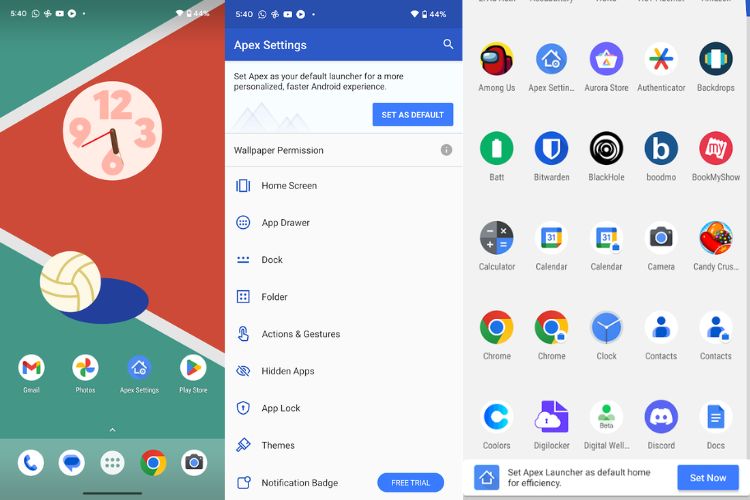 You can also go as far as editing app labels in Apex. One of the drawbacks of Apex is ads in the UI, which you'll need to buy the premium version to remove, besides a bunch of other useful features such as notification badges and enhanced folders. The lifetime pro version costs $9 or Rs 590, which is quite fair for an Android launcher with lots of features.
Check out Apex Launcher
7. Ratio Launcher
Smartphones are great tools but sometimes they can disturb the balance between the digital and your life outside. That's where launchers such as Ratio come in, which want to give you that control back. Ratio is an absolutely beautiful piece of software that sets up a minimal home screen with monochrome icons or just words to minimize distractions.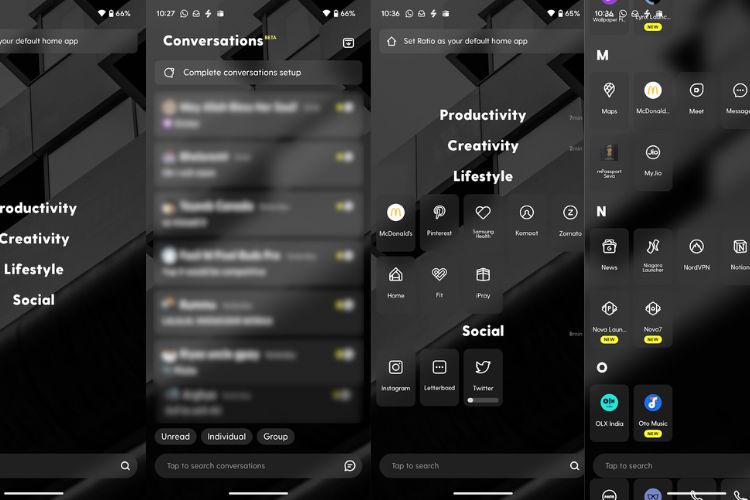 During set up, it asks you to guess your screen-on time and if it's more than your guess, asks you to select apps that hamper your concentration, and sets a time limit to them. Another stand-out feature of Ratio is it shows you the time you've spent in each app below the app label; for apps that you've set a time limit, it shows you a white progress bar for how much time you have left. Overall, it's one of the best Android launchers if you're trying to cut down on screen time.
Check out Ratio Launcher
8. Wide Launcher
Wide is an odd launcher, both in terms of features and the UI. It displays UI elements in a slant orientation, which may not be everyone's cup of tea and would take time to adjust to, but it's a unique way of seeing your home screen if you're tired of your existing setup. Swipe left to see your notification history; there are three pages by default — the center one shows time, photos, calendar, and your favorite apps, the right one shows Google search and a quote, the left one shows what's called "MiniNews," your apps, and battery and memory usage.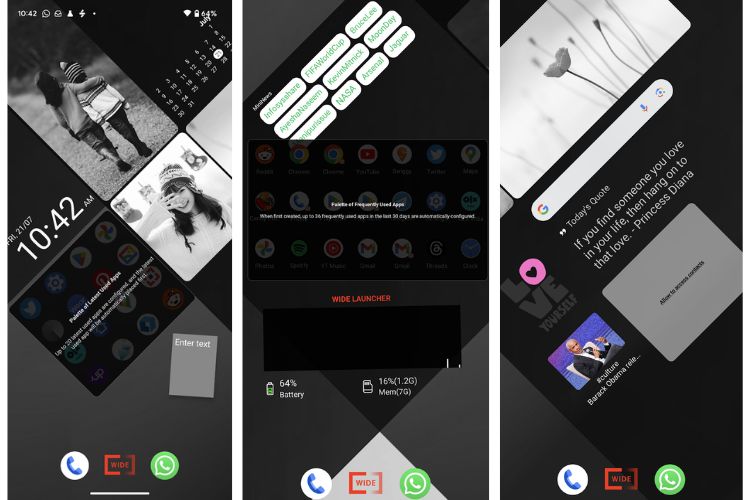 You can edit those UI elements to straighten and broaden them. There's a theme menu where you can apply themes from Anime and trending hashtags. We have to admit that everything looks a bit suspicious like the apps that steal your data and contain phishing code built-in. Hence, we recommend sticking to other listings unless you absolutely want to experience a different setup.
Check out Wide Launcher
9. Flow Productivity Launcher
Think of Flow Launcher as a dialed-down version of Ratio Launcher. It still focuses a lot on Screen Time and tries to reduce your screen time using something called Focus Mode. Turning on Focus Mode disables the app drawer and allows you to open only those apps that you set as favorites on your home screen, pretty nifty right?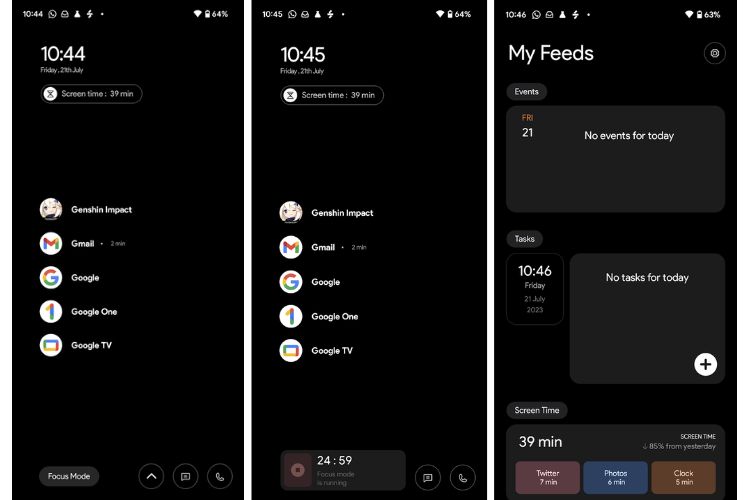 Swiping right displays widgets for events, tasks for today, and the total and per-app screen time. Besides, you could also add your own Widgets on the screen. While you can use the free version without any trouble, even basic features such as the ability to change the wallpaper, change icon shapes, icon packs, and show work apps are locked behind a paywall. The launcher's pretty great and I can definitely see people purchasing it since it costs less too. The lifetime version costs $5 or Rs 200, which is an excellent deal for one of the best Android launchers.
Check out Flow Productivity Launcher
10. Lynx Launcher
At its core, Lynx is quite basic but it's the simplicity that makes it a great option. Not everyone likes a cartoonish experience, and at the same time, too much minimalism could seem too bland for lots of folks. Lynx strikes a perfect balance between usefulness, customization, and minimalism. For the most part, it reminds us of the OG BlackBerry OS with swipe mechanics.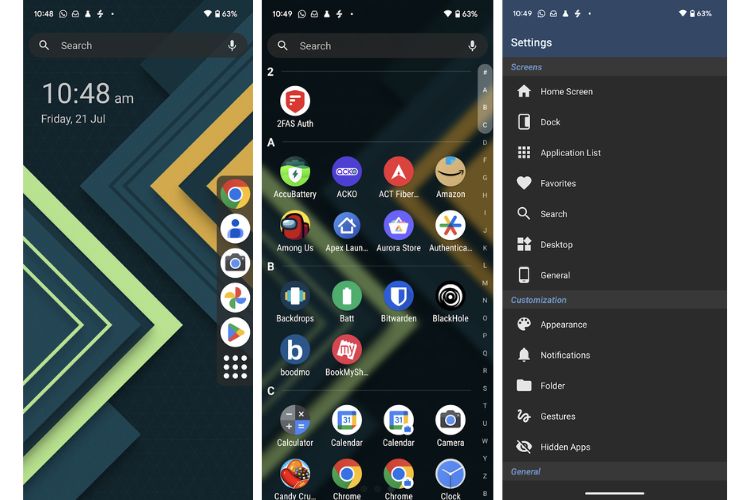 Lynx is completely free and has a decent amount of customization features for the home screen, dock, application list, desktop, appearance, etc. You can also unlock the pro version for $2 or Rs 65 to unlock screen transitions, desktop pages, themes, and icon shapes. Overall, Lynx is a decent launcher and is worth checking out.
Check out Lynx Launcher
---
Load More