One of the main reasons I prefer Android over other mobile operating systems is its customizability. I mean, you can configure each and every aspect of Android to make it look and behave exactly the way you want. Probably the best and the simplest way to customize your Android device is by using launchers. Maybe that's the reason why Android launchers are the most popular apps on the Play Store but which are the best launchers for Android?
Well, we have been testing various launchers on the Play Store and today, we bring you the 20 best Android launchers. We have divided our list into different sections, so you can just check out the section that you find best suited for you:
Best Android Launchers in 2018 (Sections)
Best Android Launchers of All Time
1. Nova Launcher
If you ask any longtime Android User what their favorite launcher is, there is a very high chance that they will name Nova Launcher. Nova Launcher has been on the Android launchers scene since ages, and it's a testament to Nova's quality that it still is one of the best Android launchers you can use. The launcher is highly customizable and allows you to customize almost every aspect of it, including icons, colors, looks, padding, icon size, app drawer, widgets, and much more.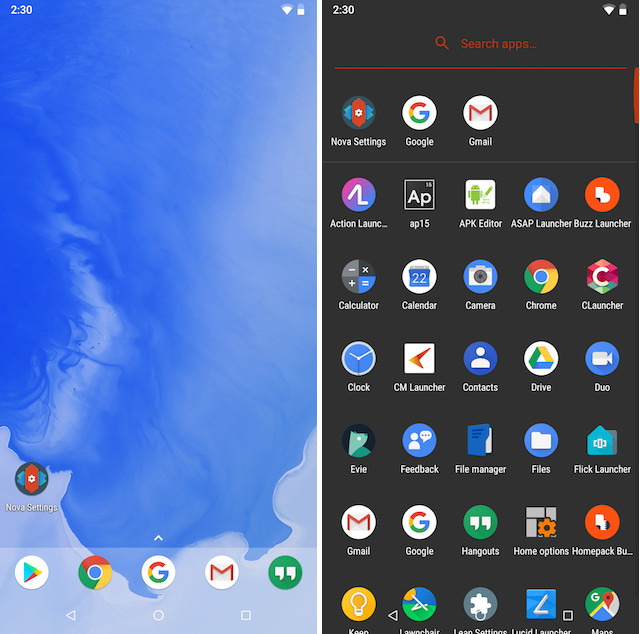 However, my favorite feature of Nova Launcher is the fact that it is regularly updated and brings all the new features that are released with new versions of Android to older Android devices. In fact, our article on how to get Pixel 2 Launcher on any Android device is completely based on Nova Launcher. If you want a tried and tested launcher which is also packed with features, Nova is just for you.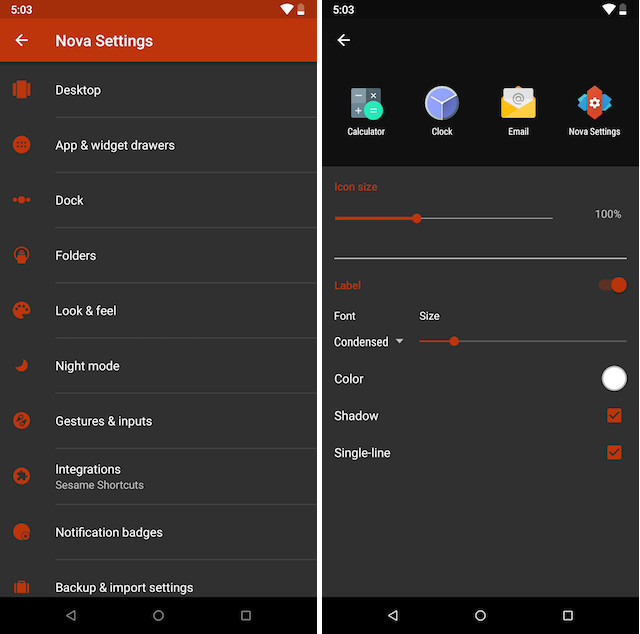 Install: Free, $4.99 for Prime
2. Action Launcher
Another popular evergreen launcher which is robust and brings a ton of customizability is the Action Launcher. Just Like Nova, Action Launcher has been around for a long time and is still one of the best Android launchers you can get in 2018. Action Launcher brings a ton of features and customizability to the table. You can customize icons, home screen, widgets, icon density, grid density, and much more.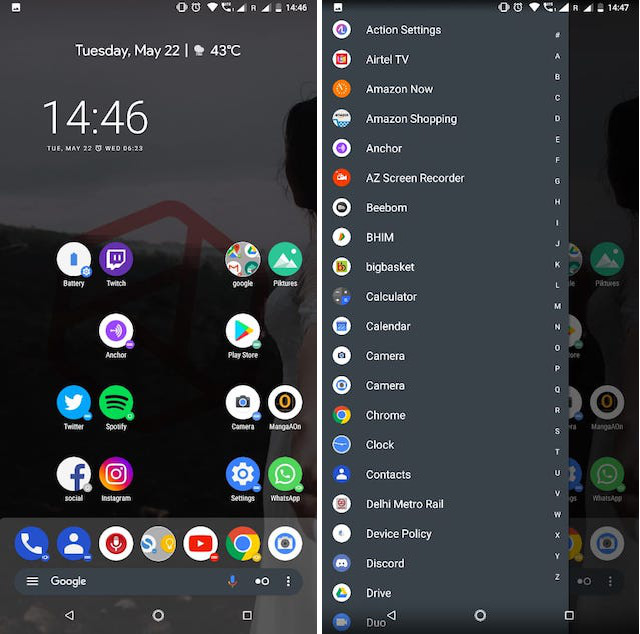 The trademark features of Action Launcher which are also my favorite are Covers and Shutters. Covers basically allow you to hide entire folders beneath an app which you can open by just swiping down on the app icon. Similarly, Shutters let you swipe vertically on an app to show widgets or app previews. Do note that most of the headlining features of this app are behind a paywall and you will have to unlock them using in-app purchases.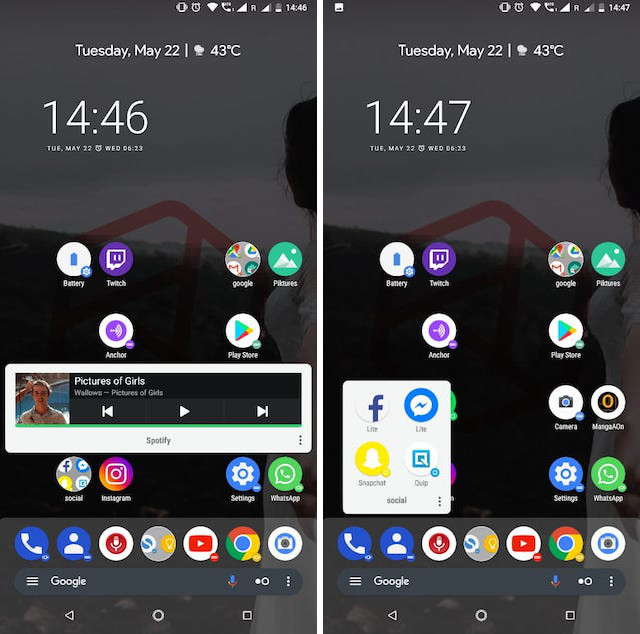 Install: Free, $2.99 for Plus
3. Smart Launcher 5
Smart Launcher is one of the oldest launchers on Android. However, the app faded from the limelight for a couple of years as it was not updated regularly. But things have changed now, as the developers came around and launched a brand new version of the launcher called the Smart Launcher 5 and it is really good. The launcher brings many features like the ambient theme, adaptive icons, automatic app sorting, built-in clock and weather widget, and more. There's also a smart search feature which lets you easily search for apps, contacts, and more.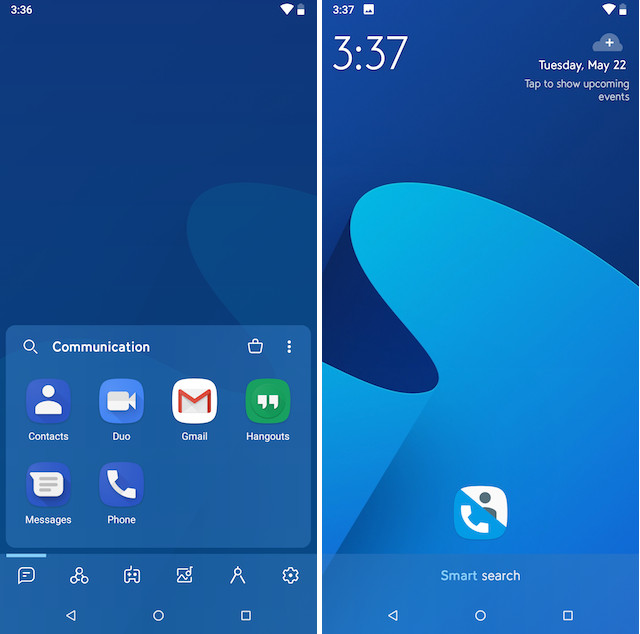 One of the newest feature addition to Smart Launcher is the support for new gestures and hotkeys which makes it really easy to launch apps and navigate the launcher's interface. Another unique feature of the Smart Launcher 5 is that it allows users to hide apps. So you can easily protect apps that contain sensitive information. Lastly, the launcher also supports theming which means that you can completely change the look of your launcher by choosing and installing from hundreds of pre-built themes.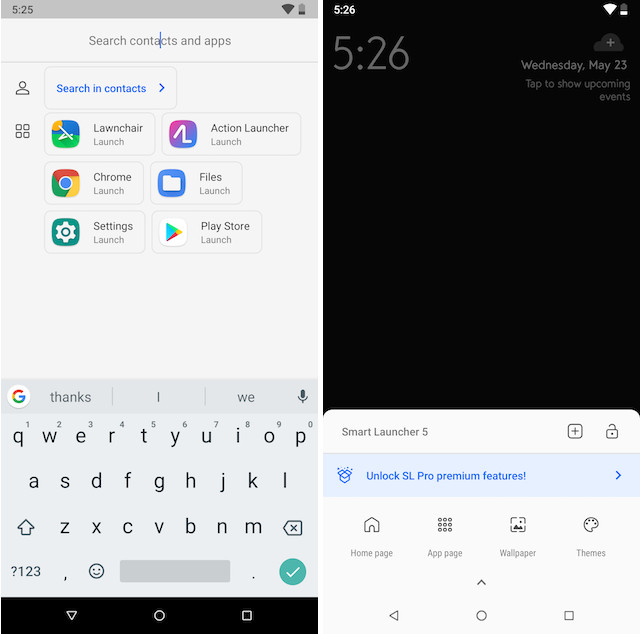 Install: Free, with in-app purchases
Best New Android Launchers
1. Lawnchair Launcher
Lawnchair Launcher is one of the newly released launchers which has quickly risen to the top of the list. The launcher is basically trying to bring the Pixel Launcher features to the masses. One of the best thing about this launcher is that it is an open-source project developed by volunteers, which means that everything that you get here is free of charge. Some of the popular features that come with this launcher are Google Now integration, Android Oreo shortcuts, Notification Dots, adaptive icons, blur mode, and more. If you are looking for a stock Android experience, this is the launcher that you should get.
Install: Free
2. Rootless Pixel Launcher 3.5
Another free launcher that brings the stock Android look and feel is the Rootless Pixel Launcher which has become really popular in the last few months. One of the best things about this launcher is that it is regularly updated to bring bug fixes and new features. Also, the devs were kind enough to develop the Android Go version of the Rootless Pixel Launcher which is a good news for anyone who is using a budget Android device which doesn't bring top of the line hardware specs. The only thing to note here is that the launcher is not present on Play Store and you will have to download and install its APK from Github.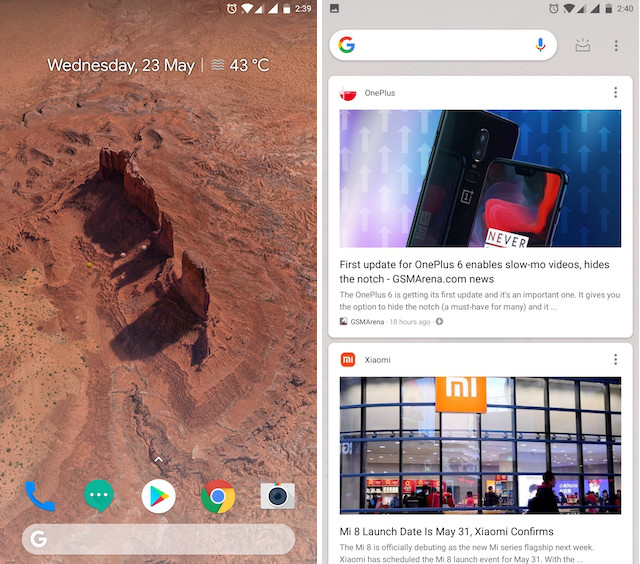 Install: Free
3. Microsoft Launcher
The new Microsoft Launcher was previously known as Arrow Launcher until the company decided to rebrand it and release it with awesome new features. The launcher lets you personalize the look and feel of your device by giving you the ability to customize your wallpaper, theme and accent colors, icon packs, gestures, and more. The headlining feature of this launcher is the personalized feed section which shows you your most important information like news, calendar events, docs, and contacts at a glance .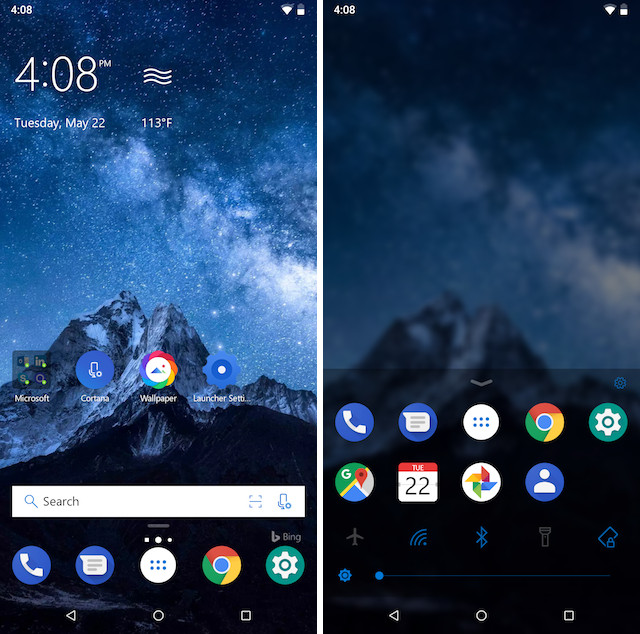 The launcher is also pretty nimble and doesn't take much of your smartphone's resources. The launcher is especially useful for people who also own a Windows PC as it allows you to easily transfer files and pictures between both the devices. There's also a universal search bar which allows you to easily search for files, apps, docs, messages, and the web. If you want something light and different, do try this one out.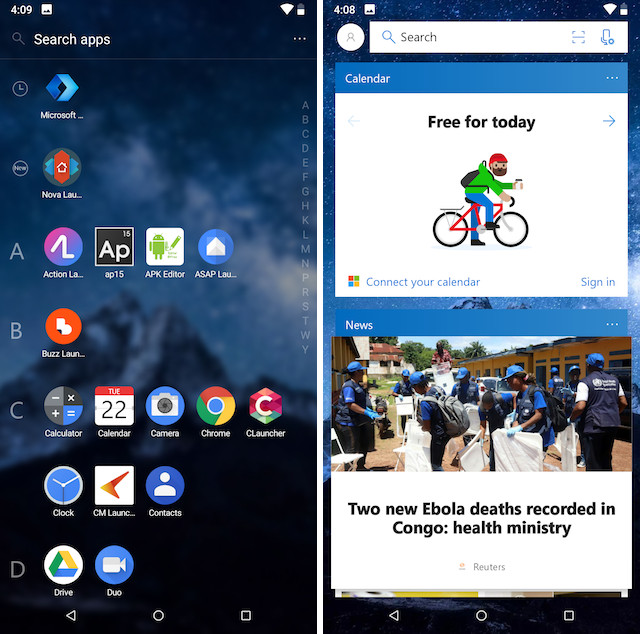 Install: Free
Best Launchers for Speed and Simplicity
1. ASAP Launcher
ASAP Launcher has been available for a long time and its one of the first launchers that I suggest to people who are looking for a clean and fast launcher experience. ASAP Launcher uses cards and a slide-up expandable dock to provide a clean launcher experience. The idea here is to do more with less. There are a couple of swipe gestures which let you easily access your app drawer, quick setting toggle, contacts, and calendar.
The app also lets you spice up the look and feel of the launcher by using themes. You can either choose the standard themes which include dark, light, day/night themes, or you can choose the wallpaper theme which automatically picks up color from the current wallpaper and adjust the color profile of the launcher. If you are looking for a clean and fast launcher experience, this is just right for you.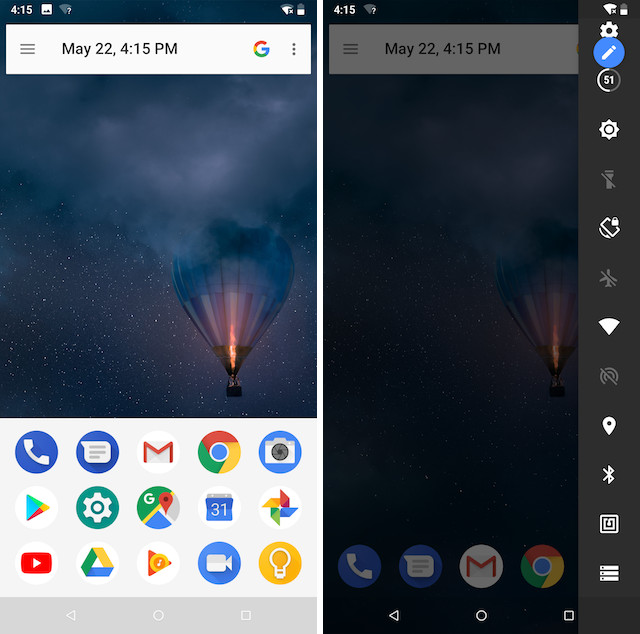 Install: Free, $2.85
2. Evie Launcher
Evie Launcher is yet another launcher which focuses on speed and simplicity. The launcher gives you a very clean home screen with a permanent dock at the bottom and a search bar at the top. One of the best features of Evie Launcher is that you can just swipe down anywhere on the home screen to invoke the universal search bar which you can use to search for any and everything including contacts, apps, songs, and more.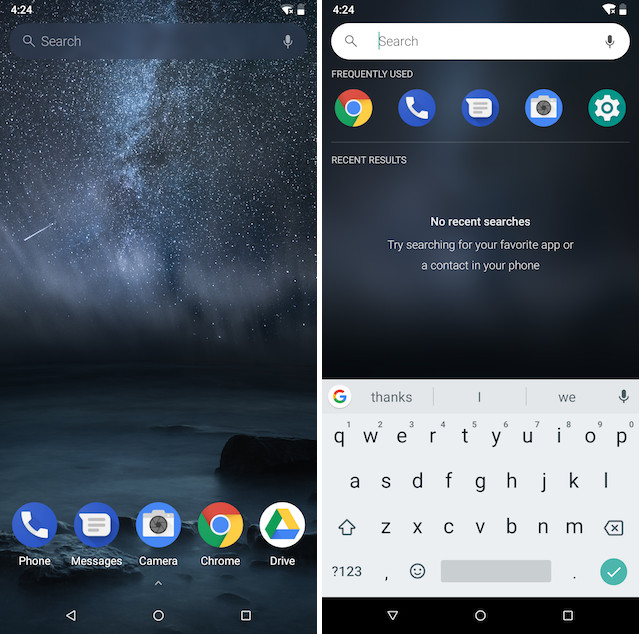 Just like ASAP launcher, Evie also gives you a little control over the customizability of its interface. You can customize the layout, wallpaper, icon size, app icons, or even start from scratch. What I love most Evie launcher is that how fluid its animations feel. Just use it and you will fall in love with all the little things that Evie brings to the table.
Install: Free
3. Lean Launcher
Lean Launcher is a very lightweight and fast launcher which lets you experience Google's Pixel 2 Launcher on your Android device. The launcher brings the same bottom search bar with voice input as present in the Pixel 2 Launcher. It also brings the much loved automatic light and dark mode which changes depending on your choice of wallpaper along with the widget at the top which shows upcoming calendar events. Other features include gesture controls, app shortcuts, the ability to hide apps from the app drawer, adaptive icons, and more. If you love Pixel phones, you are going to love this launcher.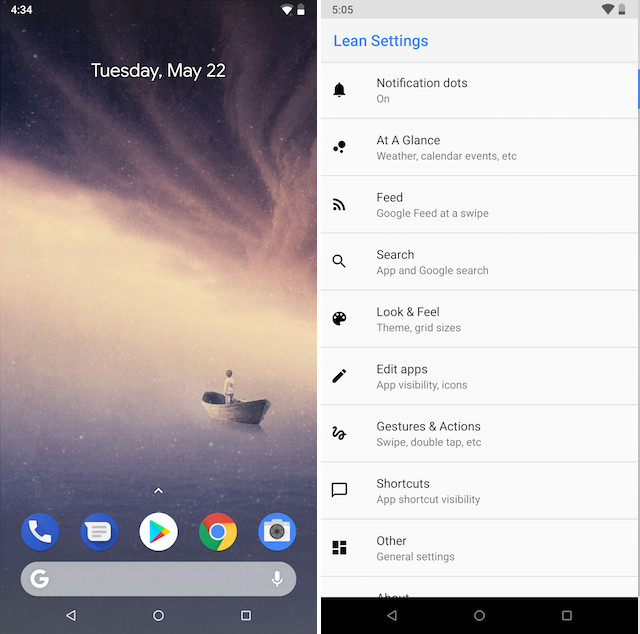 Install: Free
4. Flick Launcher
If you are looking for a launcher which is almost as fast and nimble as the above launchers but features more customization options, Flick Launcher is just for you. Just like the Lean Launcher, the Flick Launcher is heavily inspired by the design of the Google Pixel Launcher, however, it also brings a ton of tweaks of its own. You can customize the interface by changing the colors, or by using pre-build modes such as night mode, immersive mode, and more. You can even change the animation style to make your phone stand out.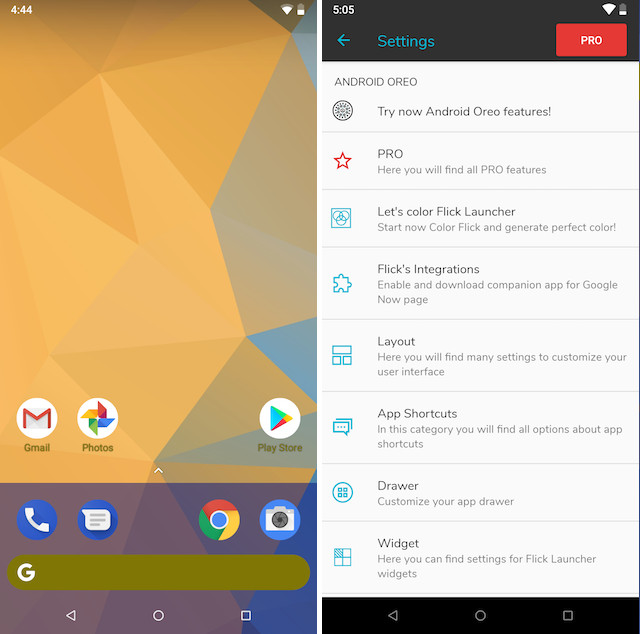 One of the unique features of the Flick Launcher is that it allows users to even customize the dock. You can change the number of icons and widgets in it, change the icon for the drawer, and even change its height and background. Lastly, there's support for gestures, notification badges, animated icons, and more. As I said, its like Lean Launcher but on steroid.
Install: Free, $1.99 for Pro
Best Launchers for Themes and Customization
1. CM Launcher 3D
CM Launcher 3D is one of the most popular Android launchers for theming out there. There are literally thousands of themes to choose from. Installing the themes is pretty easy too. Just click on the Theme app and tap on the theme that you want to download. The app will then redirect you to the Play Store from where you can download the theme. Then just hit the Apply button and a few seconds later, your Android will look brand new.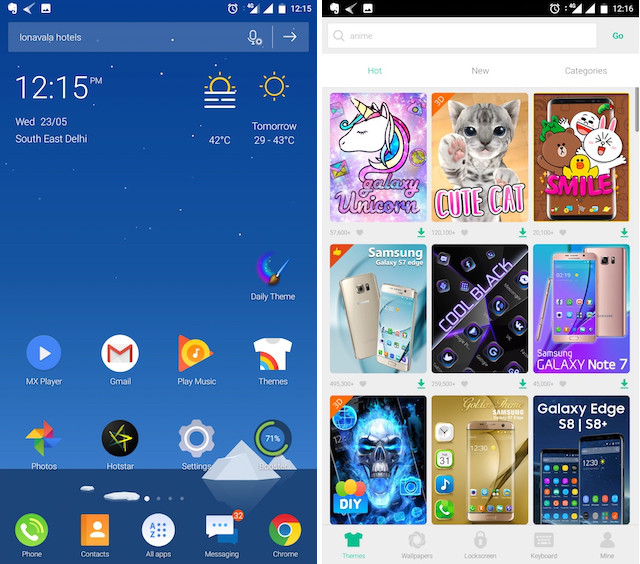 Apart from its Theming capabilities, CM Launcher 3D also brings a ton of other features. My favorite is the 3D Effect feature which incorporates 3D transitions everywhere in the interface. Believe me, when you install this launcher, even scrolling pages will become a fun exercise. That said, there is a downside of using this launcher app. The app has no paid option so you have to deal with a ton of ads which can appear out of nowhere. If you can handle that annoyance, this will be a great theme focused launcher app for you.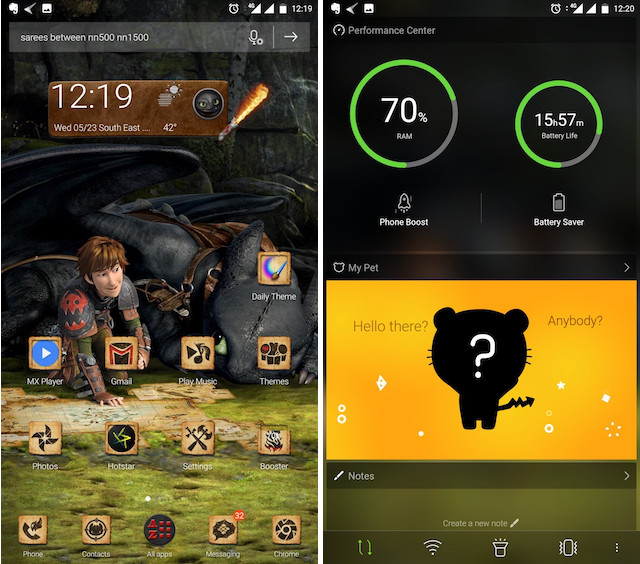 Install: Free, with ads
2. Buzz Launcher
When it comes to launchers that let you theme your device, Buzz Launcher sits at the top of the food chain. The launcher comes with a ton of themes which you can use to heavily customize the look of your Android device. There are more than 10,000 themes, icons, live wallpapers, and special themes for contacts. Basically, you get infinite customizability with this one.
Apart from its theming capabilities, the launcher also brings other features such as the ability to hide apps, quick search bar, 3D animations, built-in phone booster, smart app manager, notification reminder and more. However, if you are thinking of installing this app do note that it's heavy on resources, so only use this launcher if you have a mid-range to high-end Android device.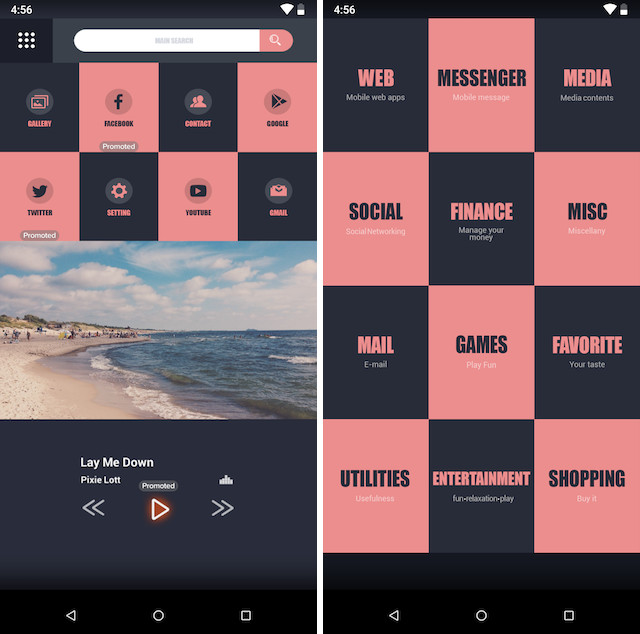 Install: Free, with ads
3. Solo Launcher
Solo Launcher might not bring as many themes as some of the other theming apps on this list, however, it brings some unique features of its own which made us place the app on this list. One of those unique features of this app is that it allows users to use their photos as app icons, thereby allowing them to personalize their device. Other features of this app include gesture support, universal search, built-in cleaner and booster, and more. The only con of this app is that it shows one too many ads.
Install: Free, with ads
4. C Launcher
C launcher is another great launcher for anyone who is looking to theme their Android device. Just like the CM Launcher 3D, the C Launcher also has a theme store which hosts hundreds of themes. You can download and apply the themes you like to give your Android a makeover. One thing that I love about this app is that the animations change depending on the theme that you are using, a feature that I have come to appreciate a lot more than I thought I would.
However, do remember that just like other theming focused launcher, this one is also quite heavy on resources. Other than that, I have no complaints what so ever. I also noticed that despite being supported by ads, C Launcher shows a lot fewer ads. I was never annoyed by the ads when I was using this launcher and that is a really good thing.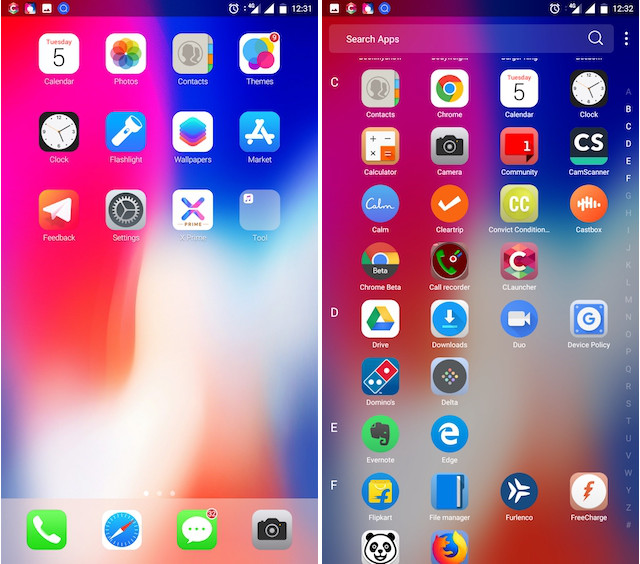 Install: Free, with ads
Best Launchers for Productivity
1. FastKey Launcher
When it comes to productivity, my favorite launcher is the FastKey Launcher which brings a no-nonsense user interface with a permanent keyboard with fast and intuitive search capabilities. Just start typing the name of the app/contact/file that you want to find, and more often than not, FastKey will give you exactly what you are looking for way before you can type in the full name. The best part of the search functionality is that it learns your behavior. So, if you have two files with similar names, it will give you the file which you use the most first. I seriously love this launcher and if you use your phone as a tool to get things done, this is the right app for you.
Install: Free
2. DailyDo Productivity Launcher
If your life revolves around your calendar and task manager, this is the right launcher for you. The DailyDO Productivity Launcher integrates with your calendar and Todoist, and gives you access to all your events, tasks, and reminders with just a swipe up on your home screen. One of my favorite features of this app is the magic plus button which allows me to easily create events, alarms, tasks, and more. There's also a handy search bar at the top and a contact page at the left allowing you to easily find apps, people, and files that you are looking for. This is one of the best productivity launchers that you can get for your Android device.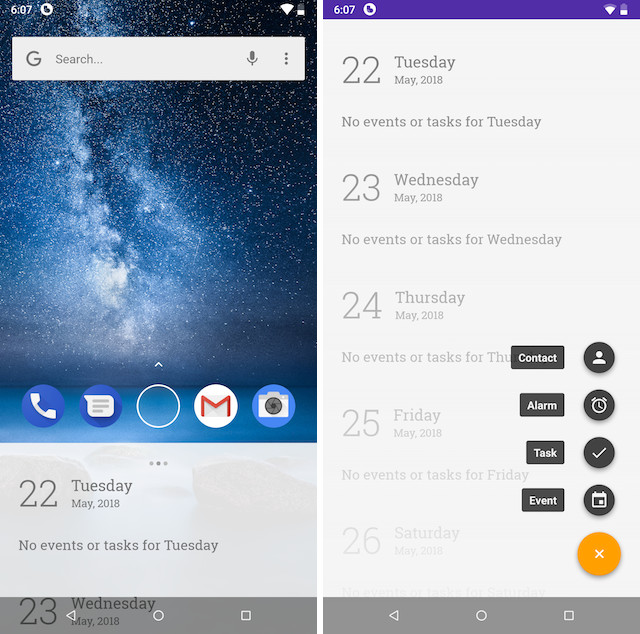 Install: Free, $3.49 for Pro
Best Unique Launchers
1. Lucid Launcher
Lucid launcher is a very unique launcher and one of my favorites on this list. My favorite and probably the most unique feature of Lucid Launcher is that instead of bringing the horizontal scrolling homepages, the app brings vertical scrolling homepages. Before Lucid Launcher, I was kind of a one homepage guy, however, the vertical scrolling homepages have changed that.
You also get different swipe gestures which can help you easily find apps or browse the web. You can also edit and theme the icons and use unlimited widgets. There's also a favorite sidebar where you can access your favorite apps with just a few taps. I really like the app, and its vertical scrolling homepages are something I find really useful.
Install: Free, with ads
2. SquareHome 2 – Launcher
SquareHome 2 is heavily inspired by Windows 10 Mobile as it brings the same resizable square tile structure that used to exist when Windows 10 Mobile was still a thing. However, apart from the looks, everything else is different here. The tiles allow you to not only add apps and widgets but also app shortcuts, divider lines, and more. I especially love the app shortcut tiles. In the picture below, you can see that I have a Maps shortcut to Home, tapping on which, Google maps automatically start the navigation with my home as my destination. This is just the tip of the iceberg. You can create shortcut tiles for contacts, messages, camera, and even third-party apps. If you like this concept, do try this one out.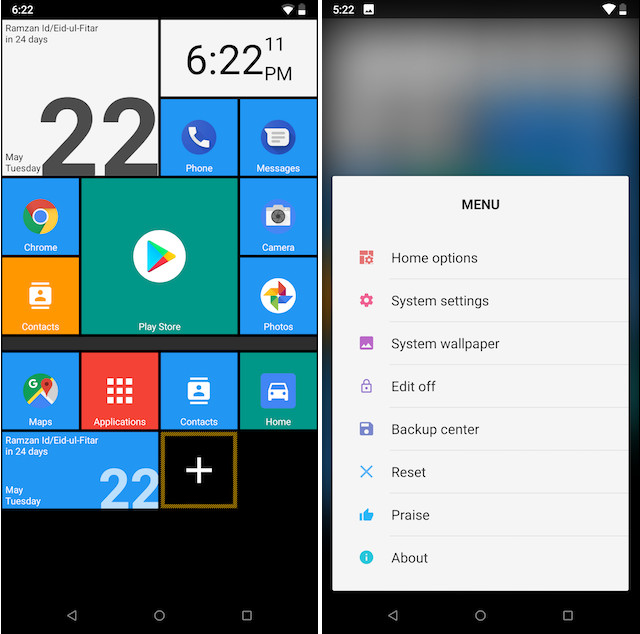 Install: Free
3. ap15 Launcher
This is one of the most unique launchers I have used in my last 5 years as an Android user. The app basically removes everything and replaces your home screen with a text-based app drawer. To open an app, all you need to do is tap on the app's name. The launcher also learns your behavior. Over time, the apps with more usage time will get a bigger name while the one which you don't use on a frequent basis will get smaller. You can also customize the color and the background of the text. If you love minimalism, this is a strange yet pretty useful launcher for you.
Install: Free, with in-app purchases
4. Linux CLI Launcher
While the above three launchers are quite unique, if you are looking for the most unique launcher of all time, this is the one which you should get. The Linux CLI Launcher does what its name suggests. It basically turns your home screen into a Linux Command Line Interface which you can interact with using either the native Android commands or the T-UI commands. For example, to uninstall an app all you need to do is type in the command "uninstall [app name]". It truly is the most unique Android launcher out there.
Install: Free
SEE ALSO: 10 Best Android Utility Apps You Should Use
Spice Up Your Android Device with The Best Launchers
That ends our list of the 20 best Android launchers that you can install to revamp your Android homesecreen in 2018. I hope that you were able to find your favorite launcher from the list. If you did, do let us know which launcher won your heart by writing in the comments section below. Also, if there's a launcher which according to you deserves to be on the list but isn't, drop its name down too.