Wunderlist – one of the most popular to-do list and reminder apps across platforms, reached that spot by bringing almost everything a person might need from such an application, and making it extremely easy to use. Which is why it was not such a good thing when Microsoft announced its plans to shut the service down, in favor of its own to-do list app. In an official blog post, the company revealed that Wunderlist will be shut down on May 6th, 2020. That is a big blow to committed Wunderlist users. That being said, in this digital era, the death of a product is inevitable. So, if you're ready to go past the imminent death of Wunderlist and shift your task lists onto another app that is quite similar to Wunderlist, here are the 10 best Wunderlist alternatives you can use.
Note: You can keep using Wunderlist till the deadline. After May 6th, your to-dos will no longer sync. For a period of time, you'll still be able to import your lists into other apps. The company will no longer accept new Wunderlist sign-ups.
Best Wunderlist Alternatives in 2020
1. Any.do
One of the best alternatives to Wunderlist that you can use is Any.do. It comes with almost all the features that made Wunderlist great, and is a joy to use. Any.do comes with list support, so you can create multiple lists for different types of reminders and to-dos. You can also share lists with specific people should you need to; so, you can easily share your grocery list with your wife, and a family vacation to-do with your entire family. Any.do even allows users to break down a task into smaller subtasks, making it easier to manage and accomplish.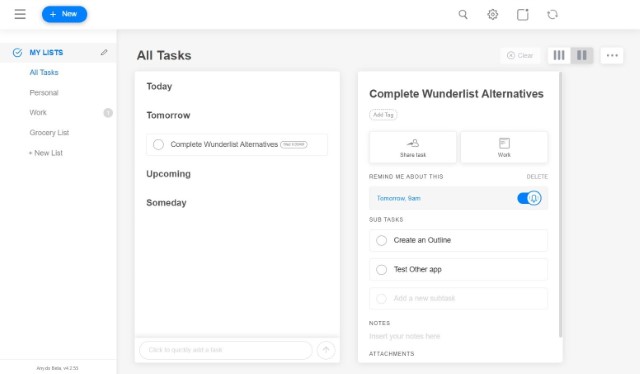 Once you have shared lists with your team members, you can leave comments, and notes on the task to communicate with each other, and the app even allows users to attach files to supplement the tasks. With Any.do, you will also be able to delegate tasks to team members, so everyone knows what they need to do, and can get to work faster, and be more efficient.
Just like Wunderlist, Any.do also offers multi-platform support, which is really great.
Platform Availability: Android, iOS, Web (Free, $5.99/month)
2. TickTick
TickTick is another app that works a lot like Wunderlist. The app brings in almost every major feature from Wunderlist, including things like support for lists, sharing lists with other TickTick users for collaboration, setting reminders for items, and even delegating tasks to specific members of a team.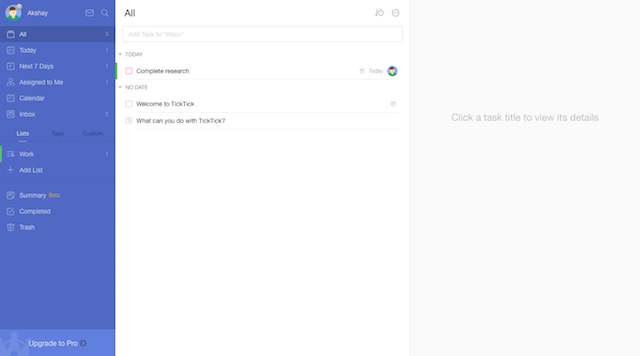 With TickTick you can also comment on the tasks, and attach notes and files to supplement the item on the to-do list. TickTick is free, and is a lot of fun to use. Plus, the fact that is available on almost every platform out there is just amazing. So, you can easily use the TickTick service (or app), no matter what device you're using, or which platform it is on. There is also a Premium version of the service, which brings support for additional features such as Checklist Description, Custom Smart Lists, Siri Integration, and a lot more.
Platform Availability: Android, iOS, Mac, Chromebook, Web, Chrome, Firefox (Free, Pro version available for $2.79 per month)
3. Remember The Milk
Remember The Milk is an awkwardly named, yet highly useful to-do list and reminder application that you can use in place of Wunderlist. Just like other Wunderlist alternatives on this list, Remember The Milk (or RTM), brings support for multiple lists, so you can separate your to-dos and reminders by projects, or interest. You can also share these lists with other users of RTM, and even delegate tasks to different users, making things like project management a whole lot easier. While RTM doesn't offer support for attaching files to reminders, and doesn't support comments, it does have a very handy "Notes" feature, that can be used as comments, thanks to the really fast sync that it offers.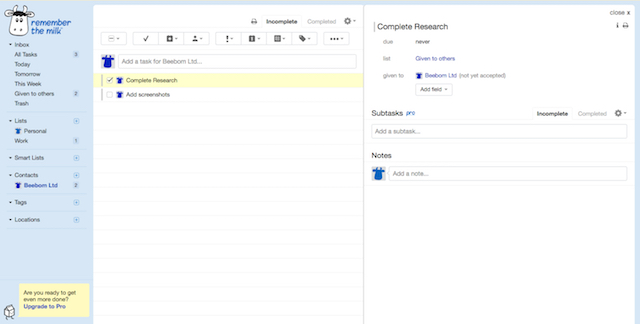 Remember The Milk offers a Pro subscription which brings in support for sub-tasks, unlimited sharing of lists, badges and widgets, along with the ability to sync with Outlook, which is definitely something a lot of power users will be interested in. Also, it supports directly importing your tasks from Wunderlist, making the switch even easier. You can subscribe to the RTM Pro upgrade for $39.99 per year.
Platform Availability: Android, iOS, BlackBerry, macOS, Windows, Linux, Web (Free, with Pro upgrade at $39.99 per year)
4. Ike
Ike is a to-do list app which brings a fresh and different approach to task management. Unlike Wunderlist or any other task manager app on this list, Ike's main feature is to make its users focused by using the "Priority Matrix". Most of us focus on getting things done which are most urgent but might not be important. The priority matrix helps you visualize what's important and enables you to complete those tasks first. When you open the app, you will be greeted by the same priority matrix. You can basically assign one of the four different traits to a task which are Focus, Goals, Fit IN, and Backburner. There's also a plus button in the middle which you can drag and drop on any of these squares to add tasks.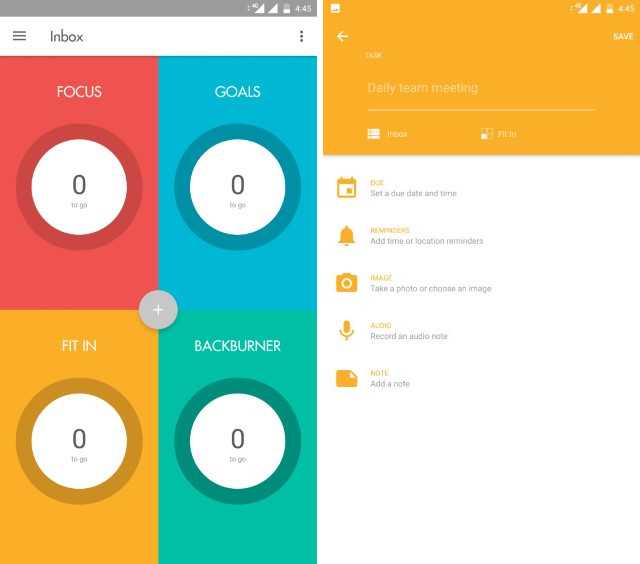 Ike also lets you add reminders, create repeating tasks, add attachments, and write notes. The notes and attachments are very important for me as they allow me to add information that might be relevant to those tasks. This is a feature that many Wunderlist alternatives get wrong and I am happy that it's here. The app also comes with cool widgets for Android. It is free to download and use but you can pay for the premium version to unlock extra themes, the ability to record audio notes, and more. The only drawback of this app is that it is currently only available on the Android platform.
Platform Availability:  Android (Free, in-app purchases)
5. Google Tasks
When Google released its task manager app, I was not completely fascinated with it. However, after using it for a while now, I can certainly say that it's one of the best task managers apps on the market for people who don't necessarily need to manage hundreds of tasks. Consider Google Tasks as a simpler and cleaner version of Wunderlist. You can easily create and add new tasks, access your tasks across multiple platforms, add sub-tasks inside a task, create lists, add due dates and reminders, and more.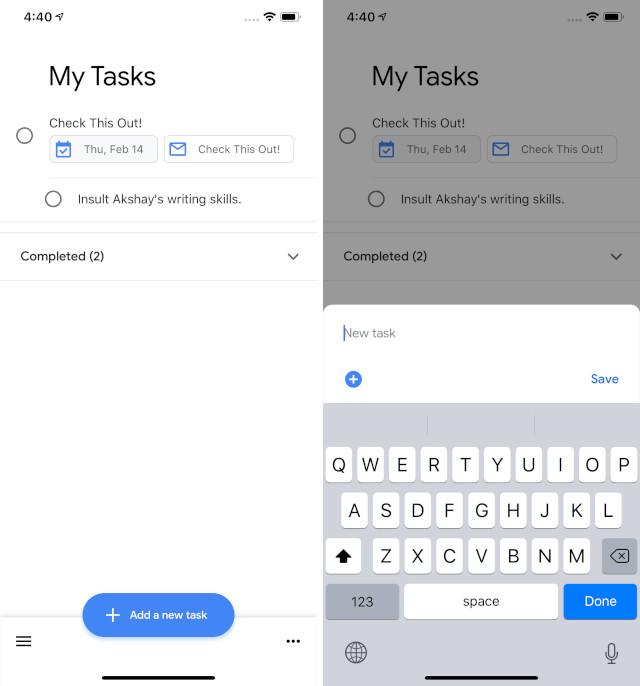 While apps like Wunderlist focus on organizing each and every aspect of your life, Google Tasks is a place only for your important tasks. You add only the things that you want to get done and it will display them in a clean and beautiful user interface. I also love its integration with Gmail which allows me to drag and drop emails directly into Google Tasks. This comes in really handy for emails that I want to deal with later. Overall this is a great app and you should definitely check it out.
Platform Availability: Android, iOS, and Web (Free)
6. Todoist
Todoist is another very well known to-do list app, and is definitely one of the apps you can consider using as a Wunderlist replacement. Similar to Wunderlist, Todoist is also free to download and use. The app does have a list feature, like Wunderlist, but it's called "Projects" in Todoist. You can assign different to-dos and reminders to projects in order to properly classify and sort them. There's a "Quick Add" feature which allows me to quickly add new tasks. I also love its Karma system which tracks your progress and helps you visualize your productivity trends.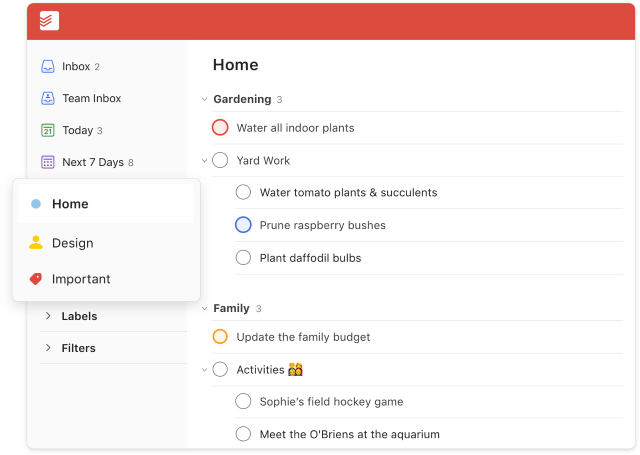 The app recently introduced a new Delegation feature which solved one of the biggest shortcomings of Todoist. Other features of Todoist include Reminders, Comments, third-party app integrations, Files, and more. However, do note that most of them are covered under the Todoist Premium service. Overall, Todoist is quite powerful and can easily replace Wunderlist for you.
Platform Availability: Android, iOS, macOS, Windows, Web, Chrome, Safari, Firefox (Free, with Premium plan available at $3/month – billed annually)
7. Microsoft To-Do
As we said in our introduction, Microsoft plans to merge Wunderlist features inside its To-Do app and then kill the former. Well, while we were apprehensive about Microsoft To-Do's development at the start, we are happy to report that it has performed quite well in the past. First of all, I am in love with the user interface of the app. While it is colorful, it has enough white spaces that the app feels clean. Talking about its features, Microsoft To-Do brings almost all the features that you expect from a good task manager app.
It all starts with the "My Day" feature which only shows you the tasks that are due today. This allows users to get things done without feeling bogged down by all the tasks that are added in the app. You can easily create lists which acts as projects and add tasks inside the list. You can add reminders, due dates, files, and notes, and can also share task lists with other users. This is a must-have feature for many people and I am happy that it's here. It also has good integration with Outlook, Microsoft Launcher, and more allowing you to manage tasks with ease. Overall, this is a great app and I can see it becoming the new Wunderlist in the future.
Platform Availability:  Windows, Android, iOS, and Web (Free)
8. Asana
If you are someone who uses Wunderlist with your colleagues for sharing tasks and managing projects, then Asana is  one of the best Wunderlist alternatives that you can use. If your Wunderlist usage was simple than Asana might be a bit of overkill for you, however, for anyone who was a pro-Wunderlist user, Asana will the right fit. The app allows you to create projects, add team members, and manage everything that entails.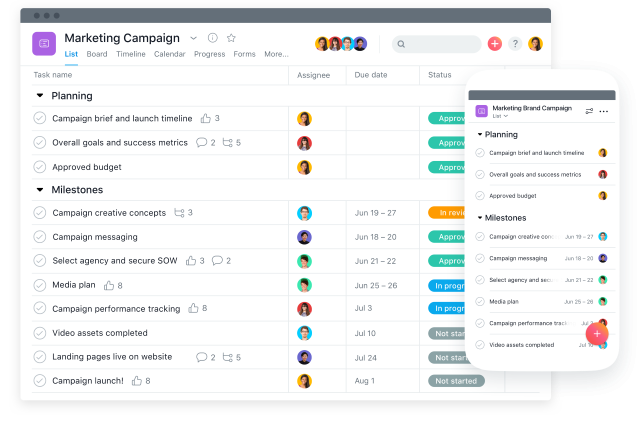 You can assign tasks to different team members and keep track of their progress. You can even add comments either in an ongoing project or directly to a team member. Asana also offers different viewing modes which can help you in visualizing the progress of projects in a better way. I also love that Asana integrates with various third-party services allowing you to do things like connecting cloud storage services for easy file access, Slack for communication, and more. I love this app and can recommend this to any user.
Platform Availability:  Android, iOS, and Web (Free, $9.99/month/user)
9. 24Me
24Me is like a modern version of Wunderlist. What I mean by that is it does most things that Wunderlist does and also adds some new functionalities which are made possible by new technology. It is not just a place for your tasks but rather a place where every aspect of your task life integrates with each other. With 24Me, all your tasks, meetings, calendar events, meeting notes, and more appear in one place. Even your emails can be converted into tasks using 24Me.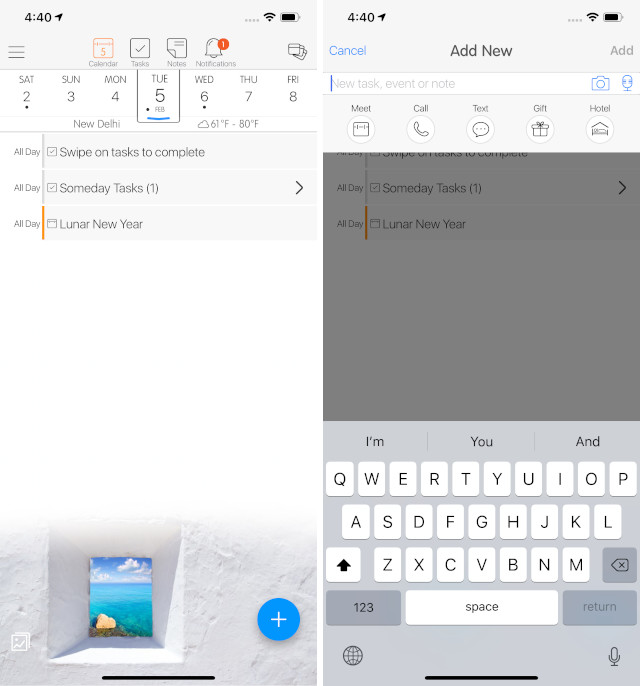 Talking about the modern features, 24Me allows users to add tasks using just their voice. It can do that because it has a built-in assistant which is always available to you. If you own an Apple Watch, you can use the 24Me directly from there. You don't even have to take out your phone to see your latest due tasks and add new tasks. The app also lets you customize its user interface including things like font size, weight, color, background photos, and more. It is a great app and one of the best wunderlist alternatives on the market.
Platform Availability:  Android and iOS (Free, $24.99/year)
10. 2Do
2Do is another great app that you can use to create to-do lists and reminders for your personal and professional use. The app is free, and comes packed with Wunderlist-like features, such as the ability to add Reminders to tasks, Notes to jot down important things about to-dos, along with the ability to add images and audio.
Unfortunately, the app does not have support for features like Delegation, or Sharing and Collaboration. Other features that the app brings include things like Tags to add context to the to-do, Quick Entry to add tasks faster, Batch Editing and a lot more. The app is definitely a great Wunderlist alternative.
Platform Availability: Android, iOS, Mac (Free, paid Mac app at $49.99)
SEE ALSO: 10 Best Email Apps For Android You Can Use in 2019
Use Best Wunderlist Alternatives to Manage Your Tasks
Even though Wunderlist is not dead yet, Microsoft has given us the deadline. So, it's better that you shift to an alternative app as soon as possible, and these alternatives are all worthy of your attention. Most of these apps offer almost every important Wunderlist feature, except for a few. I've tried to include apps that offer as many of Wunderlist's features as possible, and you will probably be able to find an app that has the features you're looking for. Plus, since all of these apps have a free tier, you can check them out and see which one meets your needs perfectly.