Perhaps you have just heard about IFTTT, perhaps you are using it a little as well, or perhaps you are a power user whose life is driven by IFTTT. Wherever you are in your journey with IFTTT, you cannot deny that IFTTT is one of the best automation services on the market. I love the fact that IFTTT integrates with almost all the conceivable services including Android Wear, which we will be focusing on in this article. If you own an Android Wear device and are not using IFTTT, you're missing out. The service allows you to use IFTTT Recipes, or IFTTT Applets as they are called now, to help you get a lot more out of your Android wear device. If you are interested in improving the usefulness of your Android wear device, read along as we show you the 15 best IFTTT recipes for Android Wear in 2020.
Note: IFTTT refers to its "Recipes" as "Applets" now and we have used both terms interchangeably in this article. So, do not get confused as they both mean the same thing.
Best IFTTT Recipes or IFTTT Applets for Android Wear in 2020
From getting special notifications to weather alerts to the ability to keep tabs on your smart home devices, IFTTT makes your Android wear device much more powerful. To show what you can do with your Android wear device by connecting it with IFTTT, we are bringing you a list of the best IFTTT Recipes / Applets.
1. Get Low Phone Battery Notification
One of my favorite IFTTT recipes or Applets for Android Wear is the low phone battery notification. For this to work, you are going to need an Android phone and an Android Wear device. Once they both are connected to IFTTT and you have enabled this Applet, anytime your phone's battery drops below 15%, you will receive a notification on your Android Watch so you are never caught by surprise.
Channels: Android Wear, Android Battery
Grab the Applet Here
2. High UV Index Android Wear Alert
We are dealing with a ton of environment-related diseases these days and it's always good to be more careful when you are heading out. One of the things to look out for when you are leaving your house is the UV Index in your area. Now, most of us don't remember to check this and I understand that. That's why having this applet is important as it automatically sends a notification on your Android Wear device whenever UV Index passes the reasonable limits.
Channels: Android Wear, Weather Underground
Grab the Recipe Here
3. Get Android Wear Notifications for Ecobee
If you use Ecobee to control your house or office's thermostat then this is the applet for you. Most of us have a specific thermostat setting for downtime to save our energy bills. Well, if for some reason, someone overrides those settings, this recipe will send a notification directly to your Android Wear device so you can change it back again.
Channels: Android Wear, Ecobee
Grab the Recipe Here
4. Send Alexa Shopping List to Android Wear
Another favorite IFTTT recipe of mine is the ability to automatically send my shopping list saved on Alexa to Android wear. I have an Amazon Echo device in virtually every room of my home and I tend to add things I need to buy whenever they come to my mind by using Alexa skills. This recipe sends that list to my Android Wear device so I don't have to manually ask Alexa or type it again on my phone.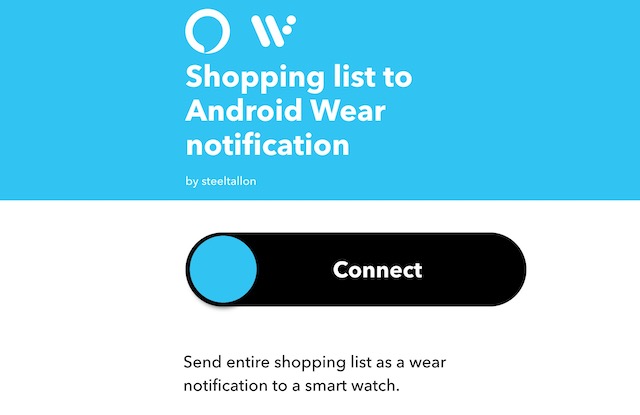 Channels: Android Wear, Alexa
Grab the Recipe Here
5. Android Wear Bedtime Reminder
This is one of those features that seem silly but are really useful for forming a habit. I mean, most of us know at what time we need to stop working or watching movies and hit the bed to get a good full night's sleep. However, very few of us go to sleep on time. Well, this small IFTTT recipe just sends a notification to your Android Watch (at your specified time) whenever it's time to go to sleep. This simple notification has improved my sleeping habits more than I care to admit.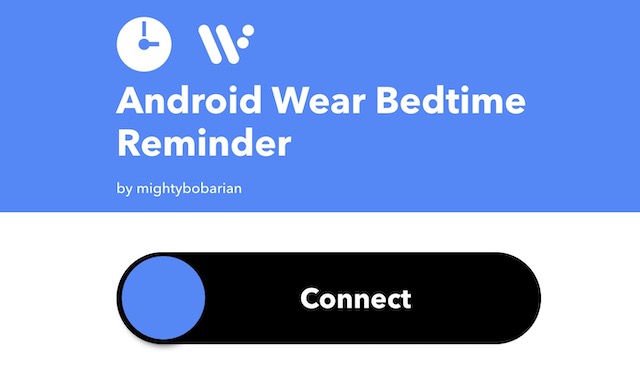 Channels: Android Wear, Date & Time
Grab the Recipe Here
6. Get a Notification on Android Wear When You Receive a Voicemail
Since I have invested in a good Android smartwatch, I have started depending on my phone less and less. That said, my smartwatch still cannot replace my phone as there are a lot of things that it cannot do. One of those things is the ability to play voicemails. Well, while this recipe won't grant your smartwatch this ability, it will do the next best thing which is to inform you whenever you receive a voicemail on your phone. While this is one of the lesser used IFTTT applets, it will come handy from time to time.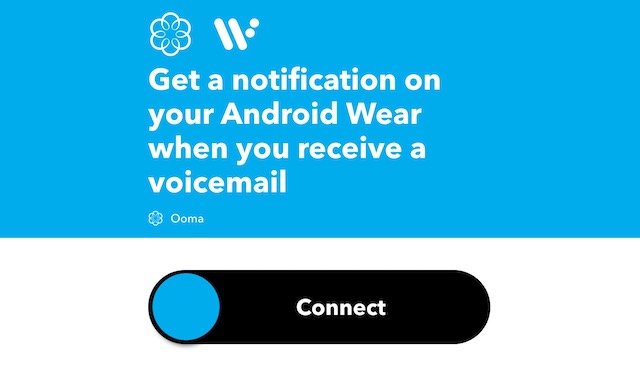 Channels: Android Wear, Ooma
Grab the Recipe Here
7. Get Notified When You're Tagged in an FB Photo
If you are a social media junkie and need to always be updated about every single photo you are tagged in then this is the IFTTT recipe for you. All this applet does is send you a push notification on your smartwatch whenever someone tags you in a photo on Facebook. That allows you to stay on top of your social media reach and remove your tag from questionable photos before anyone you know sees it.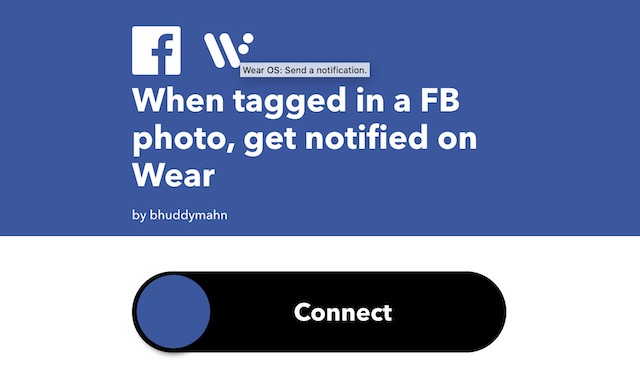 Channels: Android Wear, Facebook
Grab the Recipe Here
8. Get Alerted If It Will Rain Tomorrow
This recipe basically fires an Android Wear notification if it is going to rain in the area you specified tomorrow. Why this instead of Google Now alerts? Because you can choose to be notified for a custom location rather than your own location. The notification itself can be customized in terms of the text and the apremount of data you can include. Thanks to the configuration options, you can use this recipe for other weather conditions as well – not just rain.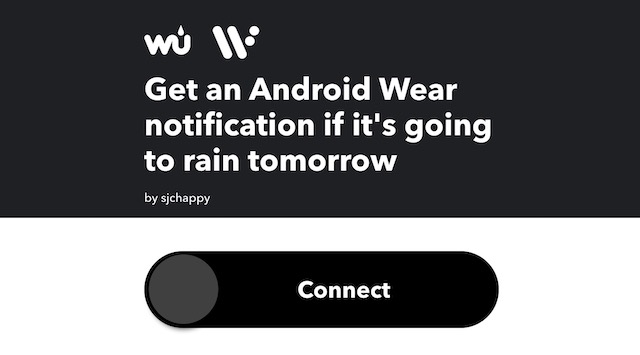 Channels: Android Wear, Weather
Grab the recipe Here
9. Preview Photos On Android Wear
You know how you can use your Android Wear device as a remote camera shutter? This recipe will allow you to preview those photos right on your wrist as well. Highly useful if you've set up your camera in a location and want to trigger the photo remotely, whilst figuring out what's in the frame at the same time.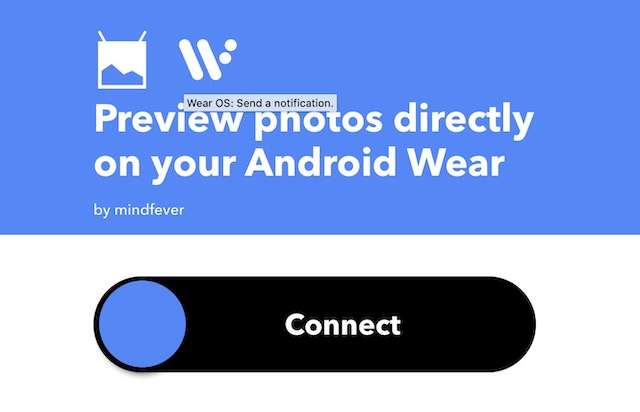 Channels: Android Wear, Android Photos
Grab the recipe Here
10. Get Notified for Missed Calls
One of the biggest advantages of having a smartwatch that I see is getting call notifications right on your wrist, as all watches provide real-time alerts for when you're getting a call. But what if you had a call that you missed and want to see later on? There are no persistent notifications for missed calls in Android Wear by default. This is where this recipe comes in handy. It will trigger a text notification on your smartwatch that will stay there until you manually dismiss it, allowing you to glance from your wrist whose call(s) you missed. The alert text can be customized in the recipe's advanced settings.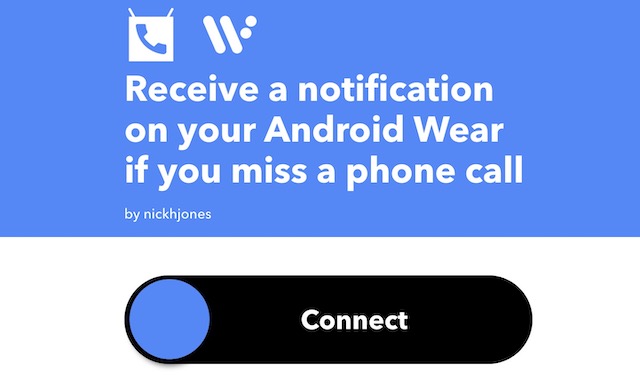 Channels: Android Wear, Android Phone Call (different from Phone channel, works everywhere)
Grab the recipe Here
11. Send New Year Wishes to Your Twitter Followers
This is a very nifty IFFTTT applet and as its title suggests, it allows you to send new years wishes to your Twitter followers. Once you set up this recipe, Twitter will automatically send a new year wish tweet to your followers without you having to do anything.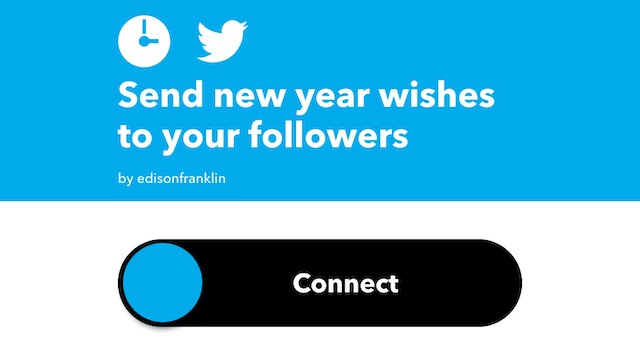 Channels: Date and Time, Twitter
Grab the recipe Here
12. Get a Welcome Home Greeting
This might not be most useful but it's a fun IFTTT recipe that you can use. What this recipe does is it sends you a welcome home greeting when you reach home. You can customize it add more actions if you want (like turning on WiFi). For this to work you will have to grant location permission to IFTTT.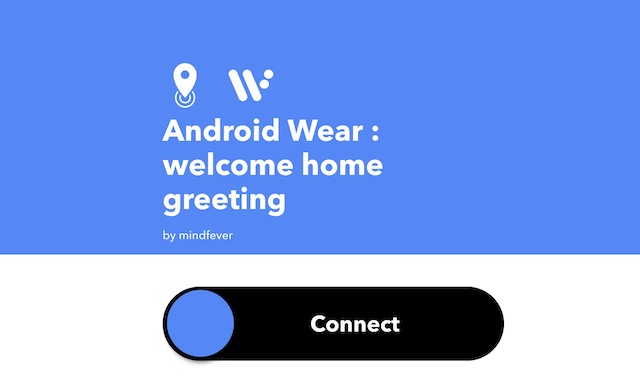 Channels: Android Wear, Location
Grab the recipe Here
13. Get Notified of Battery Percentage
This is a cool and handy IFTTT applet that sends you a notification with current battery percentage on your smartphone when you set it to charge. This comes in handy if you just plug-in the phone and forgot to check the battery.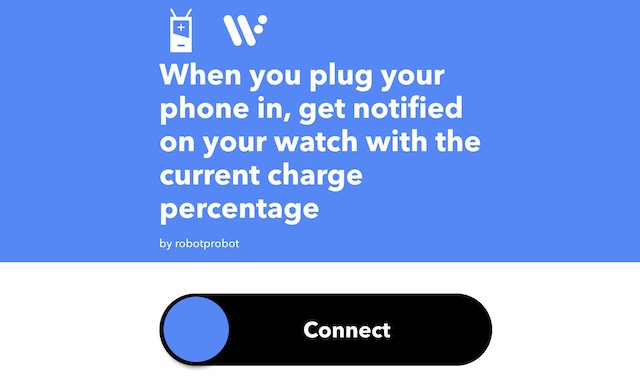 Channels: Android Wear, Android Battery
Grab the recipe Here
14. You Forgot Your Phone
This is one of the most useful IFTTT recipes that I have found. It has helped my on a lot of occasions. What it does is that it sends you a notification if you forget your phone behind. So, next time when you are leaving your home or a party, you will get notified if you walk out without your phone.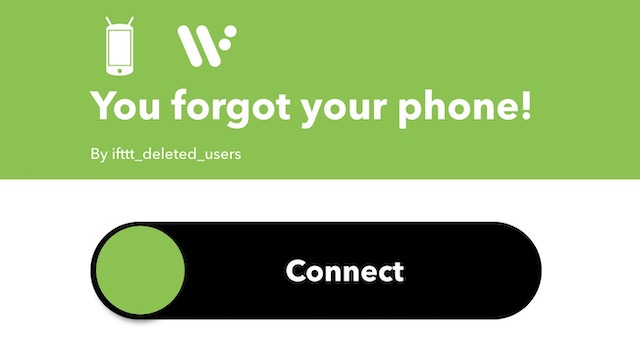 Channels: Android Wear, Bluetooth
Grab the recipe Here
15. Get Weather Forecast Everyday at 8:15 AM
This is a handy IFTTT applet. It sends you weather forecast everyday at 8:15 AM. It ensures that you are never caught off-guard by a tumultuous weather. Another good thing about this recipe is that if your device is in charge and sleeping, it sends silent notification so as to not wake you up if you are sleeping late on weekends.
Channels: Android Wear, Weather Underground
Grab the Recipe Here
Grant Android Wear Superpower with These IFTTT Recipes / Applets
IFTTT has so much potential, and these IFTTT recipes don't even represent the tip of the figurative iceberg. Try them out, play around with the channels, and in no time, you'll find yourself wondering how you'd lived without IFTTT for so long. Also, once you start getting comfortable with IFTTT and Android Wear, create and share your own IFTTT recipes in the comments section below.
---
Load More