Over the last few years, Discord has established itself as a platform for everyone, in addition to being the best gaming chat service in the industry. One of the biggest features of Discord is its ability to integrate Discord bots that can help automate things and perform actions that are not natively possible. My favorite Discord bots are the music bots, which allow users to listen to music in the background while the whole community is chatting with each other. Whether you're new to using music bots for Discord or are looking for new music bots in the wake of the shutdown of popular Discord music bots like the Groovy bot and Rhythm bot, we have you covered. In this article, we will take a closer look at all the music bots for Discord and list the 15 best Discord music bots that you can use in 2023.
Before we check out the list, I want to make sure that you guys know how to add bots to your Discord servers. The process is quite simple actually. So follow the guide below and learn. You can also use the table of contents to navigate this article more easily.
1. Jockie Music
Jockie Music is undeniably the best music bot you can use on Discord. With the Jockie Music bot, you can play music from Spotify, Apple Music, YouTube, Deezer, TIDAL, Soundcloud, and more. To get started, you can either type the keyword in the channel after the "m!play" prefix or directly paste the song link after the prefix to start playback. You can also use a variety of audio effects, including bass boost, karaoke, 8D, tremolo, distortion, and echo.
The best part of Jockie Music, however, is that it has four instances. You can add a total of 4 Jockie bots to the same server, making it ideal to simultaneously accommodate multiple music-listening sessions. Furthermore, you can support the project on Patreon to access additional perks such as 24/7 access to the voice channel even when idle, exclusive premium Jockie bots, and a lot more. If you have a Discord server with a large number of members, adding Jockie Music is a no-brainer.
Get Jockie Music
2. Uzox
If you need a Discord music bot with premium features for free, the Uzox bot is what you should be looking at. The bot offers reliable music playback and supports YouTube, SoundCloud, Spotify, Twitch live streams, and more. Furthermore, you get access to a variety of music filters for free.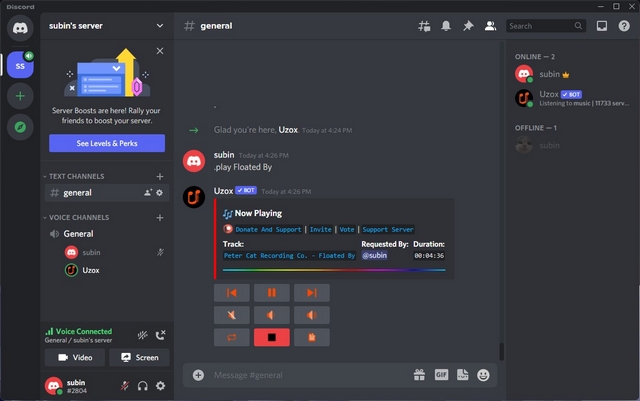 Another feature worth pointing out is lyrics support. You can press the on-screen lyrics button to view the lyrics of the song you're currently playing. If you want to experience all the premium features that most Discord bots offer behind a paywall, you should give Uzox bot a shot. If you need a Discord music bot with premium features for free, the Uzox bot is what you should be looking at. The bot offers reliable music playback and supports YouTube, SoundCloud, Spotify, Twitch live streams, and more. Furthermore, you get access to a variety of audio effects or music filters for free.
Get Uzox
3. Fredboat
One of my favorite discord music bots is the Fredboat which is a powerful music-playing bot that supports several different websites. FredBoat can play music from YouTube, Soundcloud, Bandcamp, direct links, Twitch, and more. I also love that Fredboat supports playlists which allows me to set a playlist and let the songs play without having to set a song whenever the last one ends. Further, Fredboat can play music with minimal loss in quality, which means you can listen to high-quality music with ease.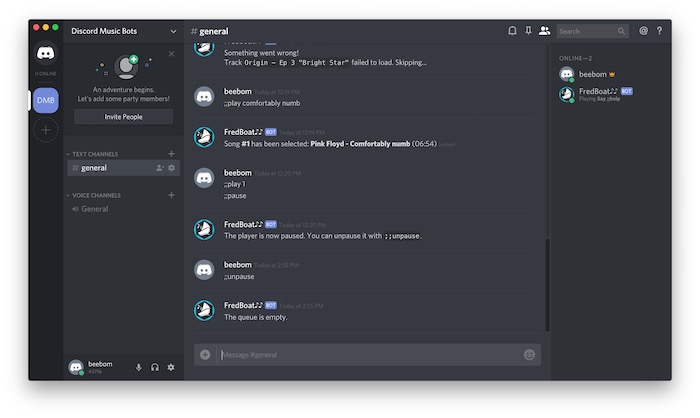 Another cool feature of Fredboat is its search functionality. Instead of adding links from YouTube or Soundcloud, you can simply search for the names of the songs that you want to play. Fredboat will give you five different options and then you can select the music that you want to play. Finally, Fredboat is open-source and secure which makes this quite trustworthy.
Get Fredboat
4. Hydra
Hydra is another feature-packed Discord bot you can consider for playing music on your Discord server. Accessed using the prefix '.', the Hydra bot plays high-quality music with minimal lag or distortion. You can, however, choose to set a custom prefix to access Hydra based on your preference as long as you're the server administrator.
One noteworthy Hydra bot feature is the option that lets server members vote to skip the current track. If you want to unlock all the features Hydra has to offer, you could consider subscribing to the premium version. It gives you 24/ 7 music playback, global volume controls, unlimited saved playlists, and much more.
Get Hydra
5. Chip
Also worth trying out is Chip. Chip is another music bot that supports Spotify, SoundCloud, and Bandcamp. I like how the Chip bot has convenient buttons to pause, resume, skip, stop, or check the queue. This way, you don't have to always rely on commands to navigate the bot. And in case you run into trouble, you can use the command "ch!help" to view the list of all available commands.
Like Jockie Music bot, you can subscribe to Chip bot's Patreon page to get additional perks such as 24/7 playback, global volume controls, audio effects like bass boost & nightcore, and even a separate instance for top-tier Patrons. Overall, Chip is a decent Discord bot for all your music sessions.
Get Chip
6. Zandercraft
While the Zandercraft bot is known for its productivity, GIFs, and fun features, I have used it for months to play music. I use Zandercraft to play music because it can play XHD (extra HD), and Hi-Fi music, which makes it perfect for listening to high-quality music. If you are a music junkie then it's the perfect tool for your server. Zandercraft supports all the usual features that include playing songs, searching for songs, adding songs to the queue, creating playlists of your favorite songs, and more. If you love to stream Hi-Fi music, and you're looking for Discord music bots that can handle that, you should definitely check out Zandercraft.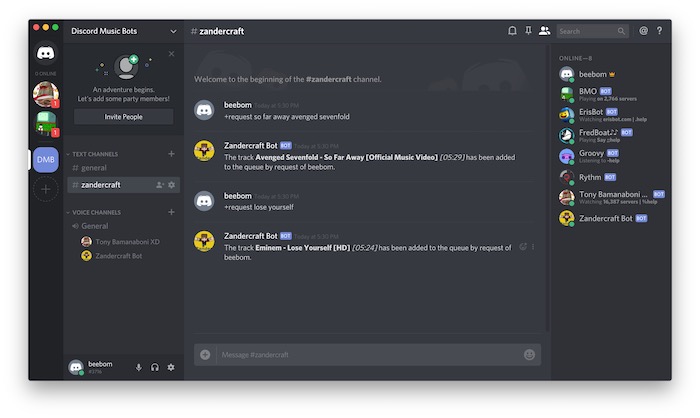 Get Zandercraft
7. BMO
BMO is much more than just a Discord music bot as it also supports games, utilities, image manipulations, and more. However, since we are interested in just the musical functionalities of the bots, we will focus on just that. When it comes to the music features, BMO is quite basic. You can search for songs, play them, and add them to a queue. I found that the bot worked pretty fast and played songs in very good quality. That said, its commands are a little bit harder and you will have to spend some time learning about this bot.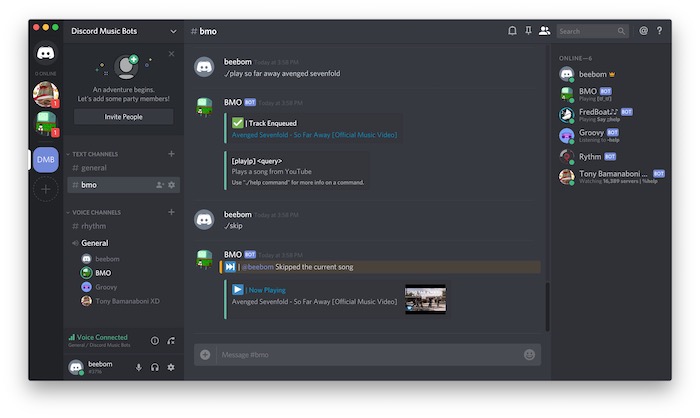 Get BMO
8. Vexera
Vexera is another Discord Music Bot that you can use to serenade your Discord chat friends with your favorite music. It brings a smooth, lag-free music playback experience that is second to none. It uses YouTube as its music provider so you can get all the latest songs without any hassle. You can simply search for the songs that you want to play and control music playback and queuing with in-channel controls. Apart from music, it also brings powerful moderation tools and the ability to send greeting messages to new members. I have tested Vexera for a few weeks and I like how it performs. It's worth checking out.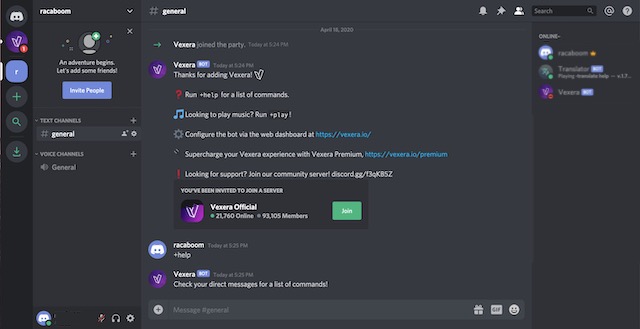 Get Vexera
9. Aiode — For Streaming Spotify in Discord
If you're a Spotify user, chances are you are looking for a music bot for Discord that can stream Spotify songs on your server. Well, Aiode (previously known as Botify) is the Discord bot you want. You can use the bot to directly search for songs on Spotify and play them. Plus, Aiode does support other services as well, including YouTube and Soundcloud.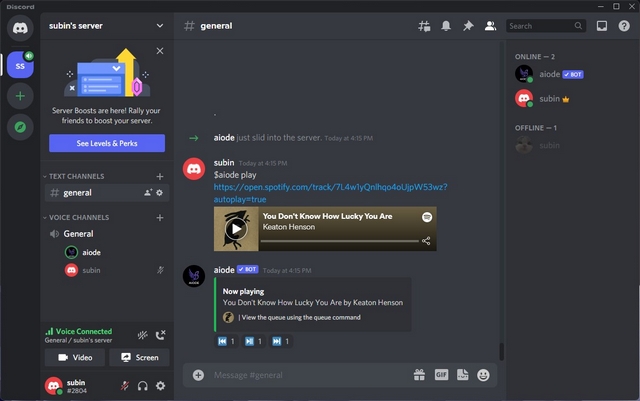 Aiode offers you a ton of customization. Everything from the bot invokes commands to custom playlists, is all available with Aiode. What's more, Aiode can create cross-platform playlists for you too. So, you can make playlists with songs from Spotify, YouTube, Soundcloud, etc. You can even use Aiode to play Twitch streams on your server. Plus, it's completely free!
10. ProBot
Just like Zandercraft, ProBot is actually way more than just a music bot for Discord servers. It's a powerful, fully-functional bot that can pretty much handle everything you want to do on your Discord server, single-handedly. For listening to music, ProBot offers the ability to stream high-quality music on your server. The bot searches for music on YouTube and offers a bunch of useful commands to control playback. You can easily play/pause, skip, or queue up music for your server.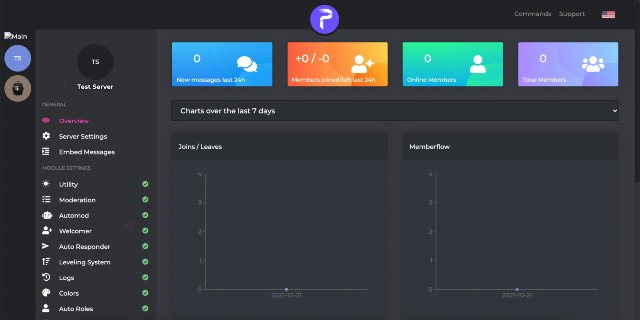 Apart from that, ProBot can help you with moderation on your server as well, especially if you're handling a server with lots of people. It supports embeds, and it can create a custom-level system for your Discord server, so people can earn levels in the server based on their activity. As I said, ProBot is a really powerful bot that you can use, even if you just wanna listen to music with your friends.
11. MEE6
MEE6 is an excellent music bot for Discord. What I love most about this bot is the visual player that lets you control your music. You don't have to use any complicated commands. Just use the simple drag and drop to rearrange songs, and click to pause, play, and skip songs. It's like using any other song player. Other features include 24/7 playback, volume boost, song seeking, members voting for favorite songs, and more.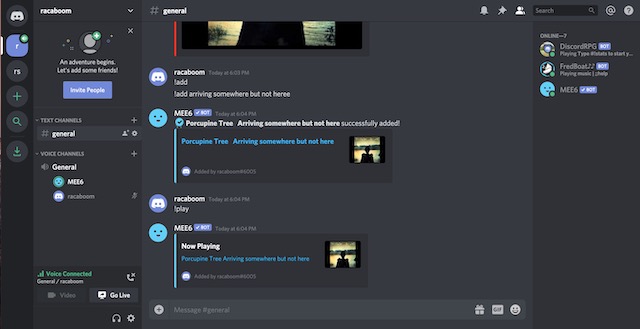 Moreover, the bot supports several music sources, including SoundCloud, YouTube, Twitch, and more. It is a capable music bot, and you should try it out. That said, note that the music control interface is not free and is part of a subscription pro plan.
Get MEE6
12. ChillBot
For fans of Lo-Fi music, ChillBot is probably the best option out there. This bot is basically a live-streaming radio station that streams lo-fi chilled-out songs 24×7. Controlling the bot is easy, thanks to simple and intuitive commands, and you can play/pause music on demand. Obviously, since this is a radio station, you can't play your own playlists with this bot, instead you will get the real feel of an actual radio station.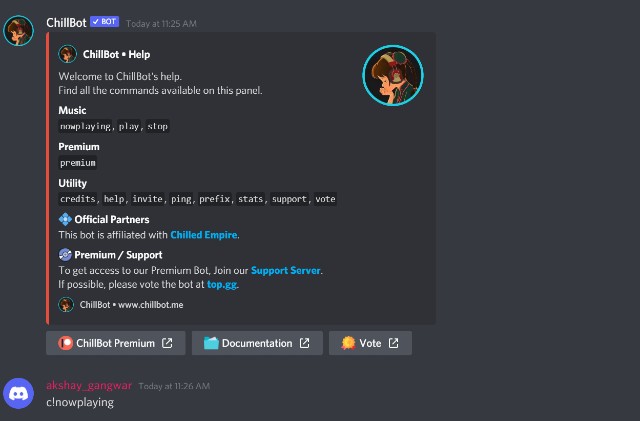 Get ChillBot
13. Champbot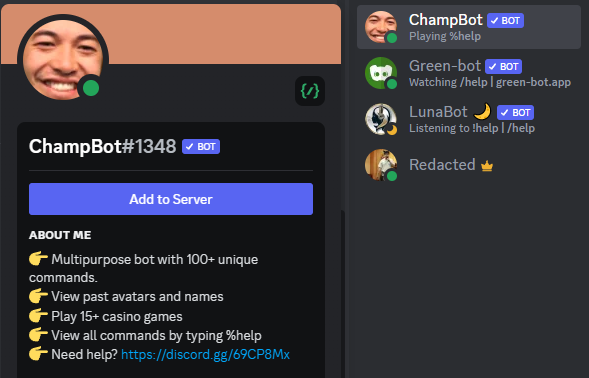 Want an all-purpose bot that not only plays music but also shows essential features like weather forecasts, admin commands like past-name check, and more? The Champbot is perfect for that. This music bot for Discord contains some great features like weather reports, an Akinator command, a casino command for the community to have fun, and finally, music-playing capabilities. This is a great bot for users that want more out of their music bot.
14. Lunabot
Lunabot is yet another alternative for music bots in the chance that the other bots start malfunctioning. The bot comes with essential features like pause/play, a queue system, volume options, autoplay, and much more. Lunabot comes with nightcore toggles, the option to keep it in a voice channel 24*7, and much more. The paid version of the bot gives better bitrate options, so if you want a dedicated music bot for Discord, this is the best option.
15. Greenbot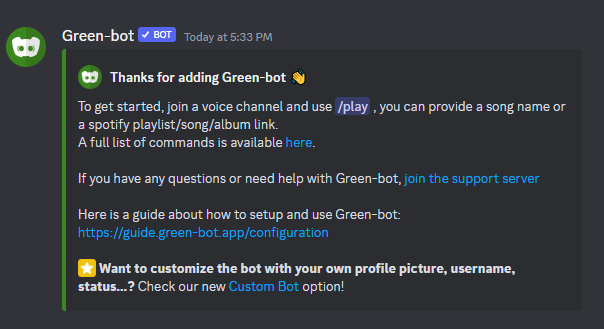 Greenbot is another music-focused Discord bot that allows music-loving Discord users to enjoy their favorite tracks. Users can directly manage the music playing on the bot through the official website, can allow the bot to play music 24*7, has a robust permission system to allow only specific members to play music, and more. The bot maker also provides a subscription service, where users can pay to get more features, and better sound quality through the bot.
Adding Bots to Your Discord Server
To add a Discord bot to your server, all you need to do is click on the provided links and then click the "Invite" button. Finally, select the server you want to add the bot to, and then click on the "Authorize" button. If you want a detailed tutorial with images, you can check out our article on how to create a Discord server as well as how to add bots to Discord and use it to add Discord music bots to your server. With that said, let's get to our list.
Listen to Your Favorite Music with Discord Music Bots
These are the 15 best Discord music bots that you can use on your Discord servers. While there are other multi-purpose Discord bots that also give you music controls, none of them work as flawlessly as these options. Do check the list out and let us know your favorite options among them all. Also, if you would like to recommend any other bots for playing music on Discord that we didn't include on this list, drop them in the comments section below.
Discord Music Bots Frequently Asked Questions (FAQ)
What happened to Rhythm Bot?
Rhythm Bot shut down its operations because it received notices from YouTube. Fortunately, there are a lot of Rhythm Bot alternatives that we have included in the list above, so you can try one of those instead. Personally, I would recommend trying out Fredboat.
What happened to Groovy Bot?
Similar to Rythm Bot, Groovy Bot also received notices from YouTube and had to cease operations. That means the bot will no longer work on Discord, and you will have to use a Groovy Bot alternative from our list above.
How to add music bots to Discord?
Adding bots to Discord is quite easy. We have explained how you can add a music bot to Discord earlier in this article, so just scroll up and you'll find the relevant section. Basically, you just have to go to the bot's link and click on the 'Invite' button to invite the bot to your Discord server.
Are Discord music bots illegal?
Discord music bots are not illegal, as most bots currently stream music from sites that allow free music streaming such as Spotify, Soundcloud, etc.
---
Load More