Over the last few years, Discord has established itself as the best gaming chat service in the industry. Thanks to its easy to use user interface and feature set, no other game chat service can match its prowess. One of the biggest features of Discord is its ability to integrate Discord bots that cannot only help automate things, but also perform actions that are not possible natively. My favorite Discord bots are the music bots which allow users to play music in the background while the whole community is chatting with each other. Whether you're new to using music bots for Discord, or if you are looking for new Discord music bots in the wake of the shut down of Groovy bot, in this article, we are going to take a closer look at all the music bots for Discord and list you the 10 best Discord music bots that you can use in 2021.
Best Discord Music Bots (2021)
Before we check out the list, I just want to make sure that you guys know how to add bots to your Discord servers. The process is quite simple actually. So follow the guide below and learn.
You can also use the table of contents below to navigate this article more easily.
Adding Bots to Your Discord Server
All you need to do is to click on the provided links and then click on the "Invite" button. Finally, just select the server you want to add the bot to, and then click on the "Authorize" button. If you want a detailed tutorial with images, you can check out our article on how to create Discord server as well as how to add bots to Discord and use it to add Discord music bots to your server. With that said, let's get to our list.
1. Fredboat
One of my favorite discord music bots is the Fredboat which is a powerful music playing bot that supports a number of different websites. FredBoat can play music from YouTube, Soundcloud, Bandcamp, direct links, Twitch, and more. I also love that Fredboat supports playlists which allows me to set a playlist and let the songs play without having to set a song whenever the last one ends.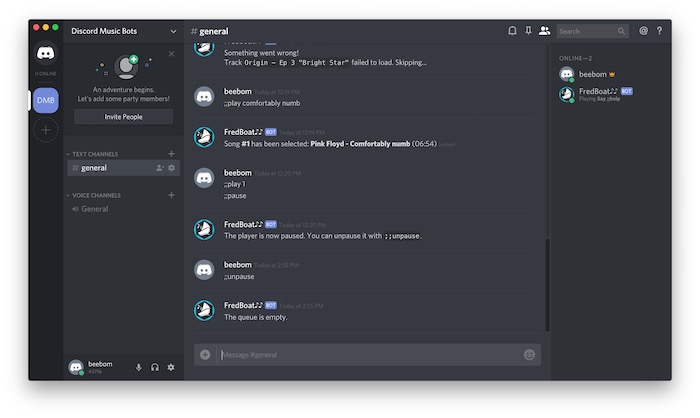 Another cool feature of Fredboat is its search functionality. Instead of adding links from YouTube or Soundcloud you can simply search for the names of the songs that you want to play. Fredboat will give you five different options and then you can select the music that you want to play. Finally, Fredboat is open-source and secure which makes this quiet trustworthy.
Get Fredboat
2. ChillBot
For fans of Lo-Fi music, ChillBot is probably the best option out there. This bot is basically a live streaming radio station that streams lo-fi chilled out songs 24×7. Controlling the bot is easy, thanks to simple and intuitive commands, and you can play/pause music on demand. Obviously, since this is a radio station, you can't play your own playlists with this bot, instead you will get the real feel of an actual radio station.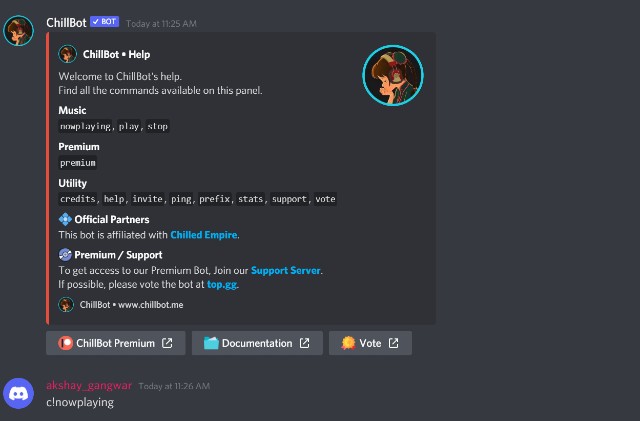 Get ChillBot
3. Octave
Another music bot for Discord that you can check out is Octave. This is a simple, yet feature-rich Discord song bot that will let you add music and fun to your server. Octave offers support for all the usual features you'd want, such as play/pause control, search, as well as a playlist. Moreover, you also get Spotify support built-in so you can easily use your Spotify playlists on your server.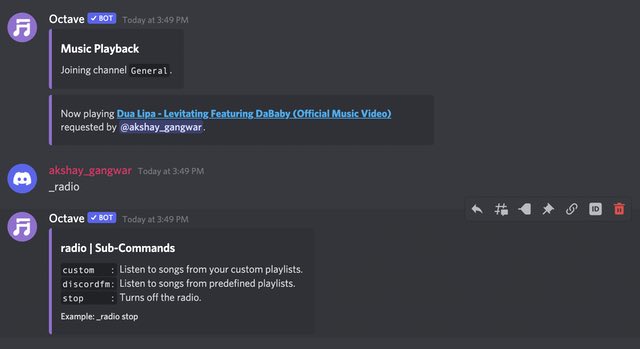 Another really cool feature in Octave is the fact that server members can vote on songs, and if a majority of people dislike a particular song, it will be skipped. There's a lot of customisation available as well, so you can easily set it up to be exactly the way you want it to be.
Get Octave
4. ErisBot
ErisBot is a powerful Discord music bot which is easy to use and brings highly configurable commands. One of the biggest features of ErisBot is that it allows you to create and use your own custom prefix for commands, a feature that most other Discord music bots don't support. One thing that I noticed while using ErisBot is that sometimes it fails to parse the YouTube links and start playing the video instead of just audio, so that's something you'll have to deal with if you're using ErisBot. Apart from that, I had no problem while using ErisBot for playing music and I recommend this bot to anyone who is looking for a capable music bot.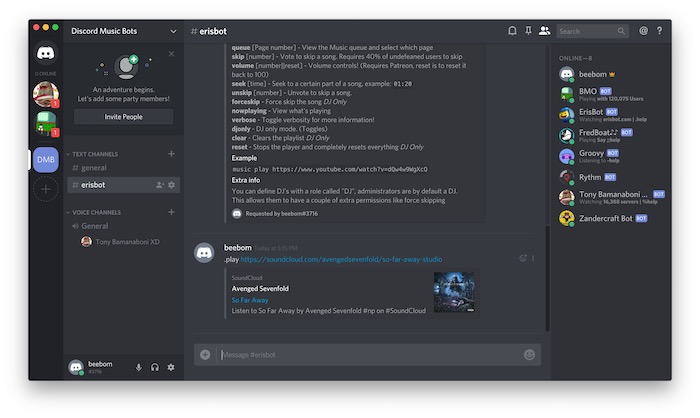 Get ErisBot
5. Tony Bamanaboni XD
The name of this bot might be hard to pronounce, but the bot itself is pretty easy to use. The bot does everything that you'd expect from a Discord music bot which means that it can play/pause music, search for music, queue music, create auto-playlists, and more. It also supports all the usual music sources including YouTube, Soundcloud, Bandcamp, and more.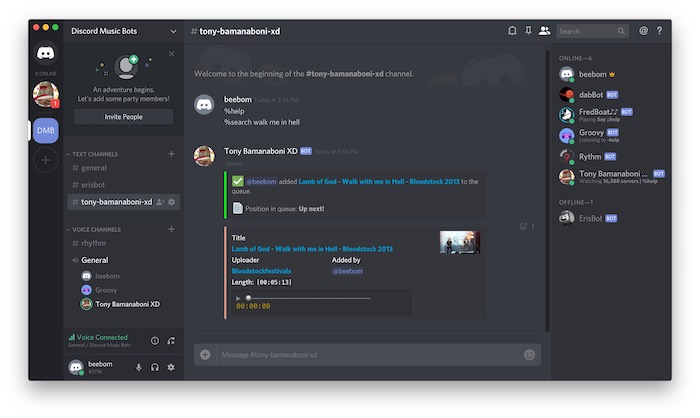 All that's good, but the feature that differentiates Tony Bamanaboni XD from other Discord music bots on this list is its ability to use audio filters to change the music output. You can use filters such as bass boost, pitch, and speed among many others. If this is a feature that you need, then you should click on the link below to try it out.
Get Tony Bamanaboni XD
6. 24/7
Another one of my favorite Discord music bots is the 24/7 by Deluxe. The bot not only supports music playback from different sources but it also supports streaming of any radio station around the world. I also love that the bot can even play any live event that is being streamed on YouTube. Other features of this bot are pretty much what you expect. You can play/pause songs, create playlists, add songs to queue, and everything else. Do note that many of its features are only usable by its Patreon contributors, so keep that in mind while inviting this bot.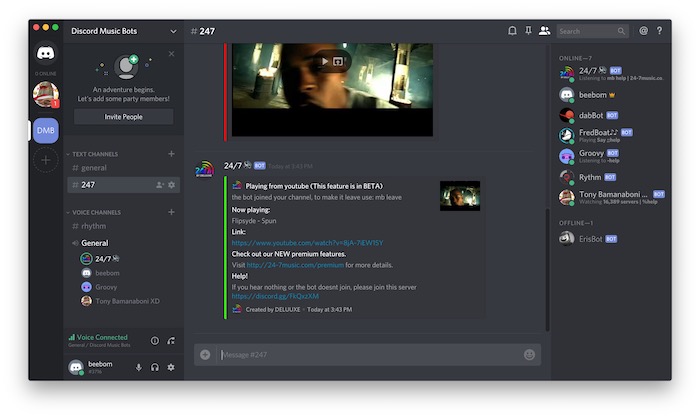 Get 24/7
7. Zandercraft
While the Zandercraft bot is known for its productivity, GIFs, and fun features, I have used it for months just to play music. I use Zandercraft to play music because it has the ability to play XHD (extra HD), Hi-Fi music. If you are a music junkie then it's the perfect tool for your server. Zandercraft supports all the usual features that include playing songs, searching for songs, adding songs to queue, creating playlists of your favorite songs, and more. If you love to stream Hi-Fi music, and you're looking for Discord music bots that can handle that, you should definitely check out Zandercraft.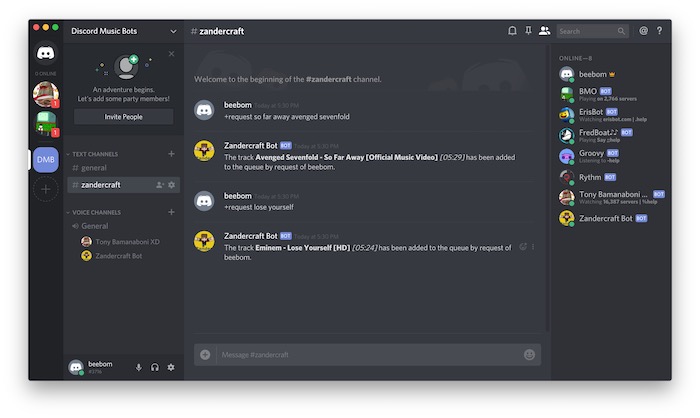 Get Zandercraft
8. BMO
BMO is much more than just a Discord music bot as it also supports games, utilities, image manipulations, and more. However, since we are interested in just the musical functionalities of the bots, we will focus on just that. When it comes to the music features, BMO is quite basic. You can search for songs, play them, and add it to queue. I found that the bot worked pretty fast and played songs in very good quality. That said, it's commands are a little bit harder and you will have to spend some time learning about this bot.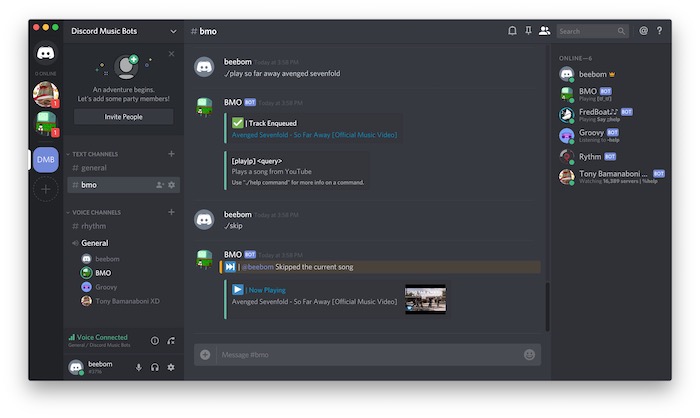 Get BMO
9. Vexera
Vexera is another Discord Music Bot that you can use to serenade your Discord chat friends with your favorite music. It brings a smooth, lag-free music playback experience that is second to none. It uses YouTube as its music provider so you can get all the latest songs without any hassle. You can simply search for the songs that you want to play and control music playback and queuing with in-channel controls. Apart from music, it also brings powerful moderation tools and the ability to send greeting messages to new members. I have tested Vexera for a few weeks and I like how it performs. It's worth checking out.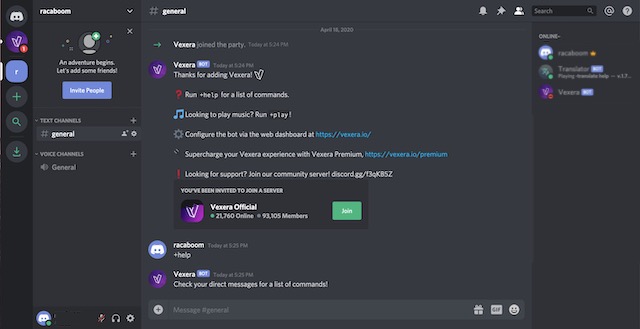 Get Vexera
10. MEE6
MEE6 is an excellent music bot for Discord. What I love most about this bot is the visual player that lets you control your music. You don't have to use any complicated commands. Just use the simple drag and drop to rearrange songs, and click to pause, play, and skip songs. It's like using any other song player. Other features include 24/7 playback, volume boost, song seeking, members voting for favorite songs, and more. The bot supports several music sources including SoundCloud, YouTube, Twitch, and more. It's a capable music bot and you should try it out. That said, note that the music control interface is not free and is part of a subscription pro plan.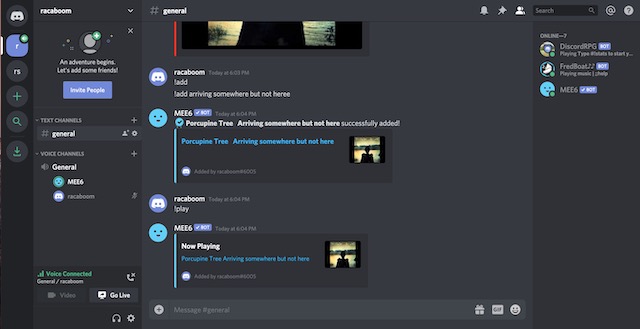 Get MEE6
Listen to Your Favorite Music with Discord Music Bots
These eight are the best Discord music bots that you can use on your Discord servers. While there are other multi-purpose Discord bots which also give you music controls, none of them work as flawlessly as these eight. Do check the list out and let us know your favorite Discord music bots among them all. Also, if you would like to recommend any other Discord music bots that we didn't include on this list, drop them in the comments section below. Also, if Discord isn't your cup of tea, there are a bunch of Discord alternatives that you can check out as well.