Recording your desktop is one of the coolest things you can do on your computer. There are so many things you can do with a screencast: create a video guide or tutorial to help a new Linux user, make a presentation of a project, do a software review, or just have fun and stream while playing a PC game. Screencasts are great when you want to show someone how to do something in a dynamic way; as opposed to screenshots, videos of your desktop actually contain the activity you're trying to describe (selecting options or navigating through menus). They don't have to be directly streamed online – you can create them as videos and upload them later if you wish. Since there are plenty of screencasting apps for other operating systems, we thought it would be fair to show you what Linux has to offer.
Here's a selection of 10 best screen recording apps for Linux.
1. Gnome and Cinnamon Applets
Before you start despairing over having to install and learn how to use a new screencasting app, consider built-in solutions offered by your Linux desktop environment. If you only need simple screen recording functions and you're a user of Gnome 3 or Cinnamon, you can rely on two desktop applets for this job. Cinnamon's Desktop Capture and Gnome's Screencast can both capture a video recording of your desktop. On Gnome, the feature can be activated by pressing Ctrl+Alt+Shift+R – you'll see a symbol indicating the recording process. The Cinnamon applet lets you configure some basic options, and it can also record sound.
Best for: beginners, users who want a simple solution, and those who don't want to install additional software
As the name implies, this tool is simple to use, but it doesn't mean that it's limited in functionality. Simple Screen Recorder can capture both video and audio, and you can choose whether you want to record the entire screen or just the selected area. It's possible to pause recording and show a live preview during the capture, so you can see what the final video will look like. Simple Screen Recorder is available in the repositories of some Linux distributions (Arch Linux, openSUSE, Mageia, Slackware), while Ubuntu and Mint users can add the official PPA or download the packages manually. The official website has some helpful tips if you want to record videos for YouTube or screencast videogames.
Best for: users who prefer a straightforward app interface with all the essential options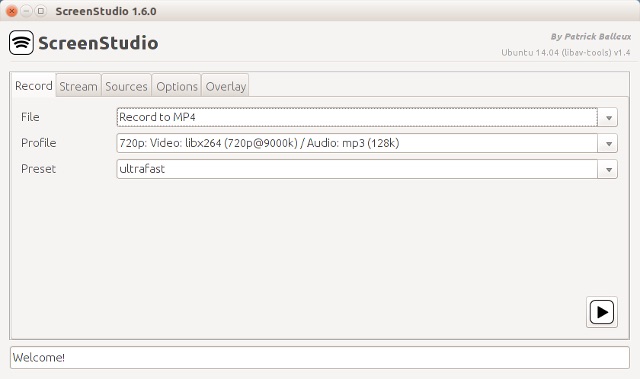 ScreenStudio is yet another simple but powerful screencasting app. It allows you to record your desktop as a video file (with support for audio), but it can also directly stream video to services like Twitch.tv and YouTube. All you have to do is provide your account information and set the desired parameters. ScreenStudio can read output from your webcam, show it on the screen, and include it in the recording. It supports several video file formats (MP4, FLV) and it's easy to configure. With ScreenStudio, you can set up an online stream of your desktop without too much hassle.
Best for: users who want quick and simple screencasting on Linux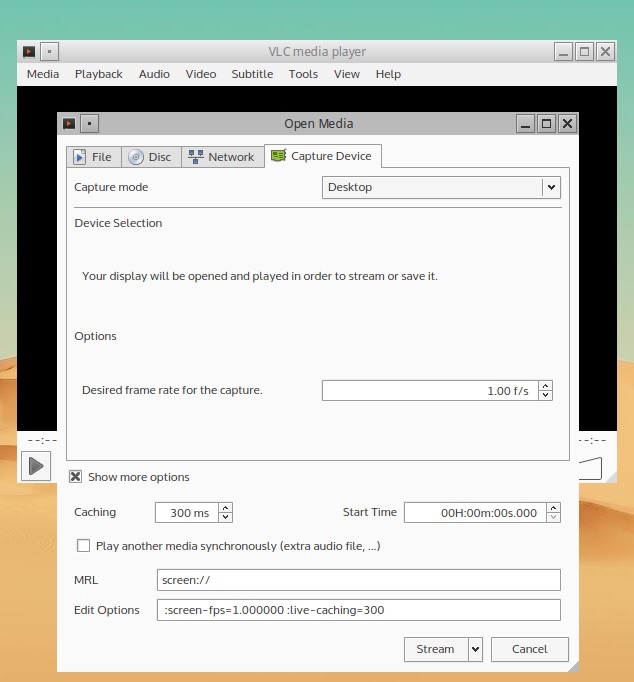 You've probably heard of VLC – it's one of the most popular Linux multimedia players, and with reason. It's packed with cool and useful features, so it shouldn't surprise you that one of them is precisely what we need here: desktop recording. You'll find this feature in the Media > Convert/Save dialog under the "Capture Device" tab. All you have to do is make sure the "Capture mode" is set to "Desktop", and that all the other configuration options are right. You can choose between saving the recording as a file and live-streaming it online. Click the "Stream" button and follow the guide until you're prompted for the recording destination. There you can select to save it as a file or pick the desired streaming method (most likely HTTP). A great thing about VLC is that it supports a bunch of video formats, and you can easily tweak the quality of the output file.
Best for: users who are already happy with VLC, and those who want a simple way to stream their desktop online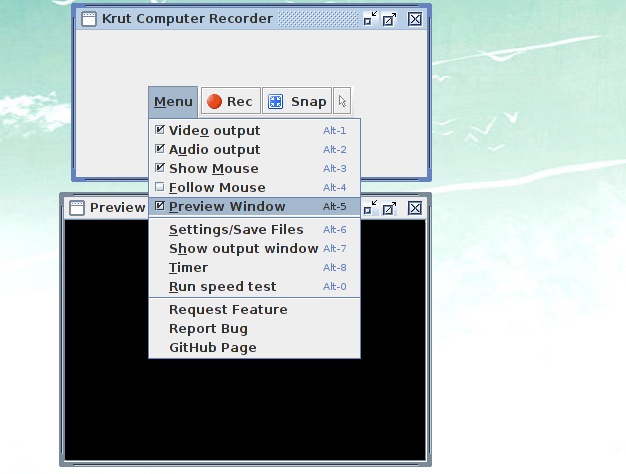 Krut has a small interface that, admittedly, doesn't look very pretty. That's because it's a Java application, which makes it portable and easy to use on other platforms. Krut can record both video and audio, and you can select which parts of the screen should be included in the recording. It features a timer, live preview, and the ability to follow your mouse cursor on the screen and record the movements. This makes Krut great for creating video tutorials, though its practicality might be limited by the fact it saves videos in Apple's QuickTime (MOV) file format.
Best for: users who want a small, portable application that can be used on other operating systems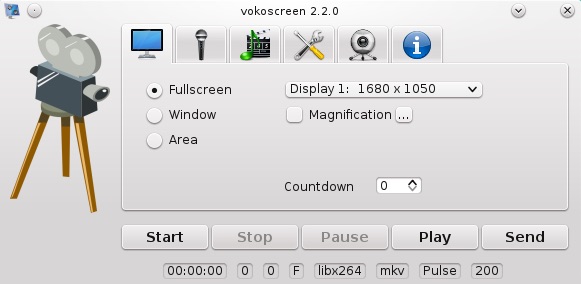 Vokoscreen is a user-friendly screencasting application that can record video and audio in several file formats. You can use it to record the entire desktop, a particular application window (for example, your web browser), or a selected region on the screen. Vokoscreen can also access your webcam and magnify the selected parts of the screen. It's a handy application for creating video guides, especially if you want to include narration or focus on just one window instead of the whole screen.
Best for: users looking for a simple way to record activity in just one application window
Kazam is another application on this list that aims to be simple, both in appearance and in functionality. You won't find too many options here, though it can capture sound (from your speakers and from the microphone). It features a timer, an option to select a particular desktop area, and the ability to take plain, static screenshots. You can also use Kazam to record just one window on your desktop.
Best for: beginners, users who don't need advanced screencasting options

Don't let the command-line nature discourage you from using Byzanz. This awesome tool can record video and audio in OGG and FLV formats, but the best part is that you can use it to record animated GIFs. Since they are smaller than standard video files, GIF recordings are practical when your bandwidth is limited, or when you want to share a quick how-to via email. They are also useful if you're writing a software review for your blog or website and want to show the readers how to do something without redirecting them to external sources or YouTube videos. With Byzanz, you can preconfigure the duration of the recording or GIF animation, and select the size of the region to be recorded. Typing byzanz-record –help in the terminal will show you the options supported by Byzanz, so you can learn more about how to use it.
Best for: users who prefer CLI apps, and those who want to create animated GIFs of their desktop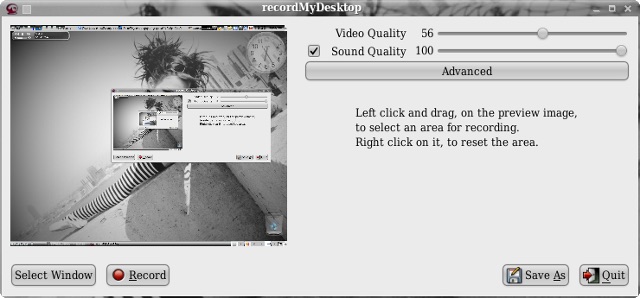 Similar to other apps on the list, recordMyDesktop can create videos with sound and record either a selected area of the desktop or the entire screen. It features a helpful preview and lets you control video and audio quality. You can pause your screencast and resume at any point. It's also possible to define the FPS (frames per second) rate and compression of your recordings. If you don't want to show window decorations (title bar and buttons) in your recording, you can turn that off in the Advanced Settings dialog. RecordMyDesktop can follow the cursor while recording, letting you highlight important parts of your video presentation or tutorial.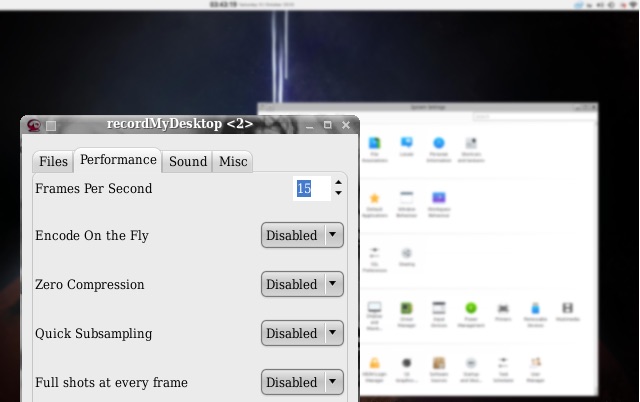 Best for: users who want to control the quality of screencasts from a simple interface
You could say that we saved the best for last. Compared to the rest of the apps, OBS is a real behemoth; a full-fledged screencasting solution that can directly stream your content to DailyMotion, YouTube, and of course, Twitch. It can capture selected application windows or the entire screen, and you can add text and images to your stream to make it more interesting. There's a live preview of your stream and the options to quickly control the volume. The Settings dialogs contain many options for optimizing the quality of your audio and video output, and OBS supports plugins such as "Game Capture" that helps you stream videogames in fullscreen mode.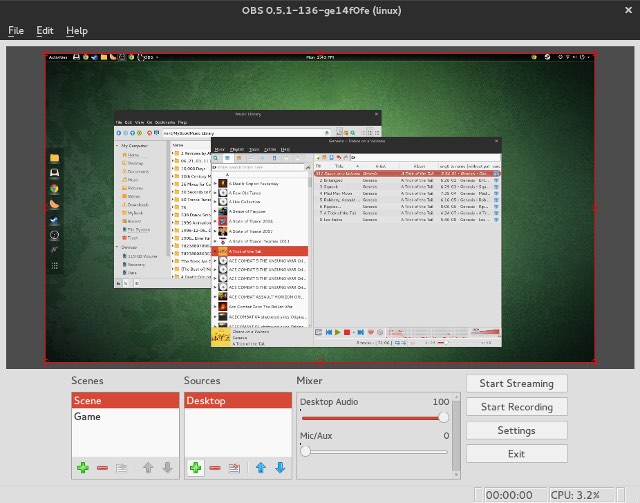 Of course, you can just use OBS to create regular videos – just save the screencast as a file. You can import image files and turn a slideshow into a video, and write text on the screen as you record as an additional explanation (or even as a watermark to protect your content). OBS might be a bit challenging to work with until you figure out the terminology (and the difference between Scenes and Sources), but you can always rely on its online documentation.
Best for: advanced users and anyone who wants to start streaming on Twitch
This concludes our recommendations of screencasting apps for Linux. Hopefully you'll find an app that suits your use case so that you can start streaming soon!
SEE ALSO: 10 Best Web Browsers For Linux
In case we forgot some other amazing apps, do let us know. What do you use to record your desktop? Have you ever used any of the apps from this list? Tell us in the comments below.