For most people, the browser is one of the most used applications in the OS, which is why it's so important to choose a stable browser that suits all your needs. Like Windows, Linux users can pick from a dozen web browsers of different kinds – from lightweight browsers to cross-platform, feature-rich browsers. In this list, let's look at some of the best browsers you can use on your Linux system.
1. Firefox
Firefox is the third most popular browser in the world, and likely the most popular Linux browser, since it ships with many Linux distributions by default. Its initial release in 2002 marked the rebirth of Netscape Navigator, though it wasn't until 2004 that it became known as "Firefox", having previously been known as first "Phoenix" and then "Firebird". It's one of the most customizable browsers, and the ocean of user add-ons and themes created for it will likely never be surpassed by other projects. It also performs well – tests show Firefox is the most memory-efficient of the mainstream browsers, in addition to having the best Javascript performance.
However, Mozilla has a history of making things difficult for add-on developers and users by introducing backward-incompatible changes, one of which was a complete revamp of the UI. The new interface called Australis left many users unhappy and incurred a loss of market share. It wouldn't be unfair to say Mozilla went through a direction crisis, and time will tell if the direction they've chosen will serve them well.
| Pros | Cons |
| --- | --- |
| Privacy-focused features such as Tracker blocking and many more | The extensions library is lacking |
| Cross-device sync | Flawed backward compatibility |
| Balanced memory usage | |
Download or install from Flatpak using the command:
sudo flatpak install firefox
2. Vivaldi
Released in 2015, Vivaldi is fairly new to the browser game but has managed to establish itself as one of the best browsers for Linux. For starters, it's based on Chromium and comes with tonnes of great features to make your browsing experience great. It's highly customizable, gives you the option to block trackers, and claims to consume fewer system resources than Chrome.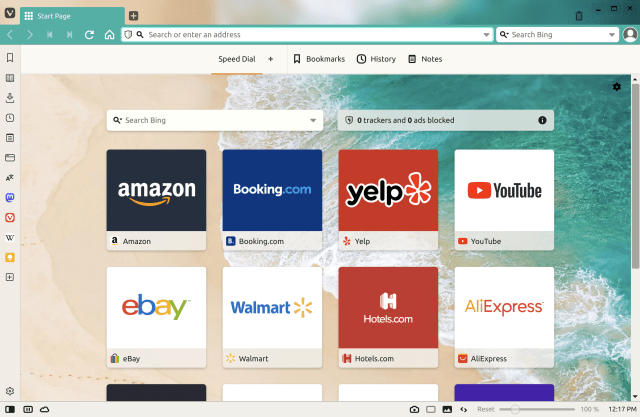 Although the browser may have a learning curve, it's by far one of the cleanest and feature-rich browsers on Linux. One of our favorite features is web panels. Once you add a website in the web panel, it opens a vertical window where it loads the website for you. This way, you're always just one click away from opening your favorite website. Vivaldi is available on all Debian-based, RPM-based, and Arch-based Linux distros.
| Pros | Cons |
| --- | --- |
| Highly customizable | Could be a little too overwhelming for an average user |
| Lots of features | |
| Decently-balanced memory usage |  |
3. Brave
Back when Brave was introduced, it gave users crypto in the form of BAT for browsing and receiving ads via push notifications. Fast forward a couple of years, and the browser is now more than that. Like most browsers on this list, Brave, too, is a Chromium-based browser and looks quite similar to Chrome in most cases. However, the main area where it deviates from Chrome is in the number of features that it has on offer.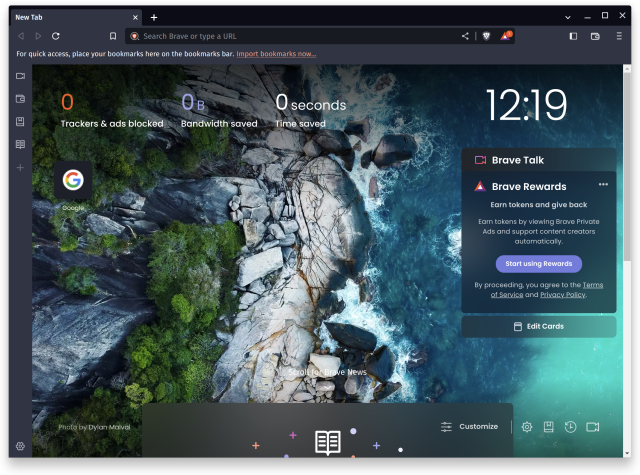 It comes with TOR, tracker blocking, and Brave's own search engine called Brave Search. It's a privacy-focused search engine that drew inspiration from the likes of DuckDuckGo. Overall, if privacy is a major concern for you, and if you're looking for something that might help you remain anonymous on the web at least partially, Brave is a good choice.
| Pros | Cons |
| --- | --- |
| Privacy-focused features such as Tracker blocking and many more | No cross-device sync |
| Integrated Tor for more secure browsing | |
| Fast and efficient |  |
Download or install from Flathub:
sudo flatpak install brave
4. Chromium
There's a lot of debate on the internet about Chromium vs Chrome. Both are similar in many ways, but the point where they deviate is in terms of features. Chromium is an open-source project and Google upstreams features to Chrome from the same, with a few proprietary features that differentiate Chrome from Chromium. As a result, Chromium isn't as feature-rich as Chrome, but it has the same DNA as Chrome.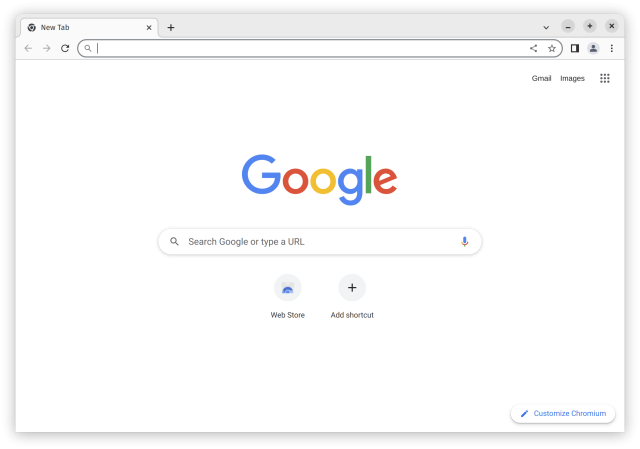 Loading web pages, installing extensions, and the general overall usability is quite similar to that of Chrome. Some of the drawbacks of Chromium are you'll manually need to install updates and support for built-in Media Codecs is missing. Besides, there's no option to sync browser data from Google accounts. That said, if you're looking for a good, privacy-focused browser, Chromium should serve you well.
| Pros | Cons |
| --- | --- |
| Lack of Google goodies means enhanced privacy | No cross-device sync |
| Simple, easy to use, and fast | Lacks support for codecs |
Download or install using Flathub:
sudo flatpak install chromium
5. Tor Browser
There's a rich, brief history behind the Tor browser, and it's known to very few people. For starters, Tor (not the browser) was developed in the 1990s by the US Naval Research Laboratory to protect the identity of US Navy Intelligence agents. It was later distributed on a free license, and in 2008, Tor Browser emerged as one of the best browsers to help users stay anonymous on the web.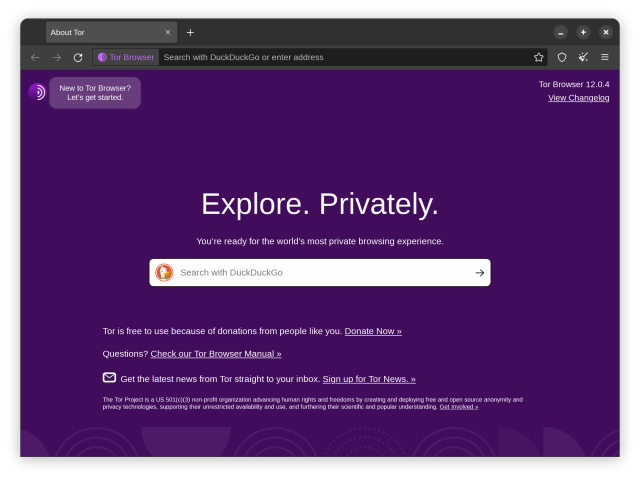 If you want to know how Tor works, refer to our comprehensive "What is Tor" guide. In brief, Tor works on an overlay network; When you send a request, the request is encrypted, bounces off multiple computers in the network, and returns with the information. This ensures that no middlemen are accessing your requests to and fro, ensuring great privacy. Tor is completely free and open source.
| Pros | Cons |
| --- | --- |
| Helps users remain anonymous on the web | Tor network is slower than your regular browsing experience |
| Access to blocked websites without a VPN |  |
Download or install from Flathub
sudo flatpak install torbrowser-launcher
6. Falkon
Falkon is yet another privacy-focused browser developed by the KDE team. The browser is very basic but comes with all the important bits and pieces you'd need for a good browsing experience. The overall UI could've been better and looked modern, but it is what it is. In the short time we spent using the browser, our experience was pretty positive.
Besides the lackluster UI, the parsing speed was pretty comparable to Chrome and Edge Chromium. The browser comes with the Ad Block extension, which, as the name suggests, blocks trackers and Ads. The browser also comes with a sidebar to manage recent pages, history, and many more. Overall, for a free browser, Falkon is a decent browser.
| Pros | Cons |
| --- | --- |
| Privacy-focused features such as Tracker blocking | A little too simple |
| Lightweight and open source | Outdated UI |
Install from Flathub:
sudo flatpak install falkon
7. Chrome
Chrome is Google's answer to Microsoft's Internet Explorer and Mozilla's Firefox. Chrome took everyone by surprise, offering a lightweight, responsive experience, and a fast JavaScript engine. This affected all other browsers, as everyone had to scramble to catch up. Today, it's the most popular browser, holding more than half the market share.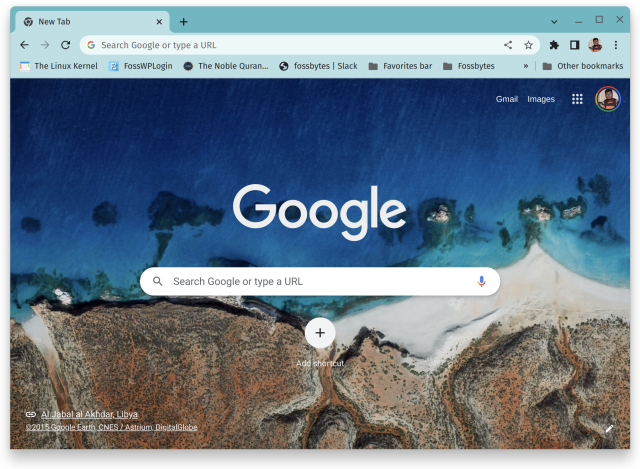 On Linux, you're more likely to see Chromium, which is the open-source project that Chrome is based on. However, Chromium still lacks a few potentially useful features, such as H.264 support and Google's version of the Flash plugin. On the other side, it doesn't feature Google's tracking software. Following its main competitors, Chrome ships with only the most basic functionality, but it's very extensible, and the number of add-ons has risen dramatically over the years.
| Pros | Cons |
| --- | --- |
| The fastest browser on this list | Privacy concerns |
| Cross-device sync | Very heavy on memory |
| Massive extensions library | |
Download or install from Flathub:
sudo flatpak install chrome
8. Opera
Opera has never had much market share, despite being one of the more innovative browsers – it was the first browser that had the Speed Dial feature. In recent times, they've abandoned their proprietary layout engine, Presto, in favor of Google's fork of WebKit, Blink. This essentially means Opera is now a version of Chromium, a move that disappointed some old users, as some of the customization options have been lost in the transition.
However, it retains much of the look and feel of the older versions and offers mouse gestures, a download manager, extensions, Private Browsing and Turbo Mode. Besides, the browser also comes bundled with Opera VPN.
| Pros | Cons |
| --- | --- |
| Privacy-focused features such as Tracker blocking and many more | Cluttered, bloated interface |
| Features such as battery saver and turbo mode for enhanced browsing experience | Slower than the competition |
Download or install using Flathub:
sudo flatpak install opera
9. Microsoft Edge
Prior to introducing Chromium-based Edge, Microsoft experimented with lots of things, which, unfortunately, didn't end up being a success. The new Edge, however, did the trick for the giant as it was able to capture a significant market. Sure, 4.28% might not seem like a lot, but this year, Edge overtook Firefox in the race and the share is growing steadily.
Edge has all the basic features you'd expect from a browser, but it feels more bloated compared to the competition, and the same gets worse with each update. Although some people like having more features, it's certainly not our cup of tea. Thanks to the recent Microsoft – OpenAI acquisition, the new Bing AI has been integrated into Edge. Overall, while it may not be the best browser when it comes to privacy, it's one of the most feature-rich browsers you can try.
| Pros | Cons |
| --- | --- |
| Privacy-focused features such as Tracker blocking and many more | Bloated with unnecessary features |
| Customizable | Requires more system resources |
| Is fast and comes baked in with efficiency features | |
Download or install using Flathub:
sudo flatpak install microsoft-edge
10. GNOME Web (Epiphany)
The official browser of the GNOME project, Web was previously known as Epiphany. It's a WebKit-based browser that adheres to the design tenets of the GNOME project, offering a clean, simple interface and tight integration with the desktop environment. More recent versions have dropped support for user extensions, but a number of the most popular add-ons have become a core part of the browser. These include ad filtering, Greasemonkey support, and mouse gestures.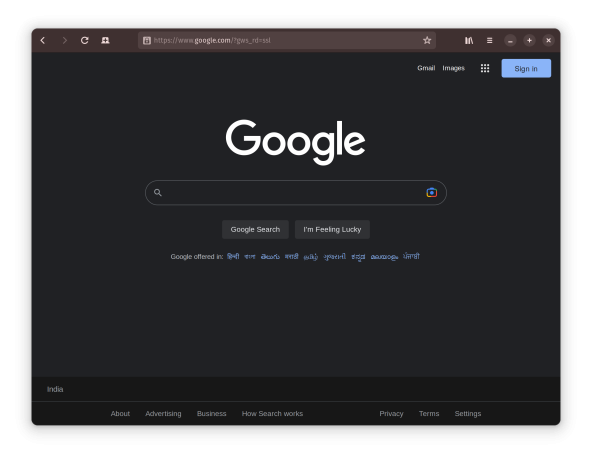 The browser allows you to block ADs and Trackers by default. With the release of recent GNOME versions, Web feels responsive and fairly modern to use. If you're switching from Firefox, it also gives you the option to sync browser data, passwords, bookmarks, history, and open tabs with your Mozilla account, which will help you get started quickly.
| Pros | Cons |
| --- | --- |
| Tracker blocking | A little too basic |
| Sync with Mozilla account and Firefox | Not very customizable |
| Fast, efficient, and lightweight | |
Download or install using Flathub:
sudo flatpak install gnome-web
Bonus: Lynx
Lynx is a text-based browser – it runs in the terminal. In case you're wondering why would anyone bother, there are a few situations where it might come in handy: maybe X has crashed and you need to Google how to fix it, or perhaps the documentation for some other console application is in HTML, and it's a lot more elegant to just open in it in another tab.
Lynx is the oldest such project still around, dating all the way back to 1992. Lynx doesn't do much: it renders text from web pages. It has no support for images or video or Javascript. Consequently, it's blazing fast, and fairly secure.
What's your favorite web browser for Linux? Do you know of any other browsers worth mentioning? Tell us about them in the comments.
---
Load More