The Internet has revolutionalized the way people consume media content. Among the forerunners involved in the revolutionalizing of online media are the video sharing sites. While the advent of powerful cameras and technology has allowed people to capture everyday moments, sharing of these media is an entirely different story. With the increase in the file size of the video outputs over time, it was impossible for people to share their videos with friends and family over Email. Limiting online users to the upload file size gave rise to these new brand of video sharing sites. These services let users upload their own videos online, providing a place on the web where users can host their videos online.
Most of these video sharing sites allow users to create their own account and upload videos across different categories. These services have also become one of the most important aspects of the marketing plans of a business. Videos have become an important part of a business strategy for the promotion of their products and services. Individual users also make the most of these video sharing sites to promote themselves and their skills online. Provided the fact that some of the video sharing sites also offer revenue sharing models, we have witnessed the rise of the YouTube celebrities.
7 Best Video Sharing Sites
There are hundreds of video sharing sites available online and it could get a bit harder deciding the best service for your needs. Here are 7 of the best video sharing websites that you could resort to for uploading your videos to the web.
1. YouTube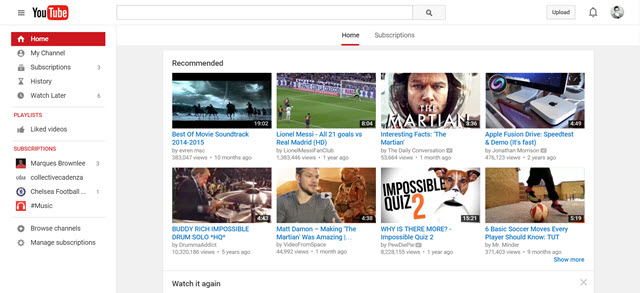 YouTube is by far the widely popular video sharing website on the web right now. With a global rank of 3rd most visited website, YouTube is certainly one popular website in the world right now. YouTube's revenue sharing model has given rise to hundreds of online celebrities who have made the most of the platform's wide popularity. By verifying your account with the addition of a phone number to your registered YouTube account, this network allows video uploads of 11 hours of maximum length and 128 GB in size. Without a verified account, YouTube limits users to uploads of 2 GB in maximum size and 15 minutes in length. YouTube accepts uploads in different formats including .avi, .mkv, .mov, .mp4, .flv, .ogg, .ogv, DivX and much more.
One of the best features of YouTube is the annotation of videos, that lets you annotate your videos with additional floating information and links to further assist your viewers better. Embedding of your uploaded YouTube videos across your different social media platforms and websites is very easy. There is no limitation on the number of videos that you can upload to the network. The only downside to this network is that it is blocked in several countries. The revenue sharing model of YouTube and its worldwide popularity makes it the undisputable leader of online video sharing sites. YouTube's Content Creators' Partner program allows users to keep 55% of the revenue share from the AdSense income on their channel.
Upload limits: 2 GB/15 minutes (Without verifying your account), 128 GB/11 hours (By verifying your account), .mp4, .mpeg, .avi, .mkv, .flv and much more video upload supported formats.
Revenue Sharing: Checkout limit of $100; Ads served through Google Adsense.
Premium Plans and Pricing: None.
2. Vimeo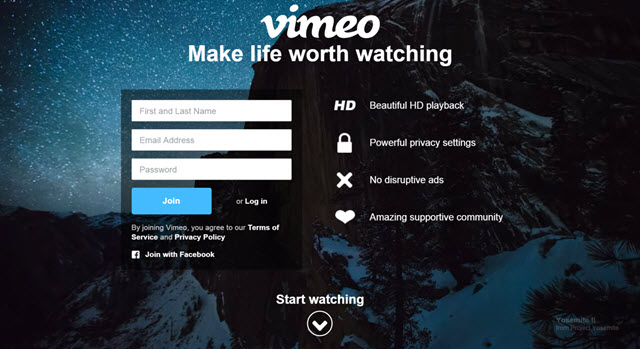 While YouTube is arguably one of the best video sharing website on the web, it is not fair to overlook its alternatives offering better value to your audience. While YouTube is entirely based on advertisements before and in-between your videos, Vimeo offers the best service to your audience. Vimeo features no advertisements either at the beginning or in-between your videos. Allowing upload of HD videos and a maximum upload limit of 500 MB/week on their Basic Free plans, Vimeo offers one of the best video sharing services on the web. After recently doing away with the 'Tip Jar' feature, Vimeo uploaders primarily focus on earning through their videos by a 'Video-on-demand' model.
The only downside to using Vimeo for video content creators is that this feature is only available for the Vimeo Pro users and Basic Free users couldn't avail of this feature. Supporting uploads in multiple file formats, Vimeo provides its premium content creators with 90% of the revenues through their own videos. Uploading videos across multiple platforms is a great promotion and marketing strategy and Vimeo is one such service that ought to be on the top of upload priority for a content creator. Providing your audience with the best quality of videos, with the least intervention is what Vimeo as a video sharing site is all about.
Upload limits: Weekly upload limit of 500MB (Basic Free plan), 5 GB (Vimeo Plus) and 20 GB (Vimeo Pro). .Mov, .Mpeg4, .avi, .wmv, .mpegps, .flv, .3GPP, .WebM file formats supported for the uploads.
Revenue Sharing: Video on demand (Take home 90% of the revenue).
Premium Plans and Pricing: Vimeo Plus ($59.95/yr), Vimeo Pro ($199/yr).
3. Facebook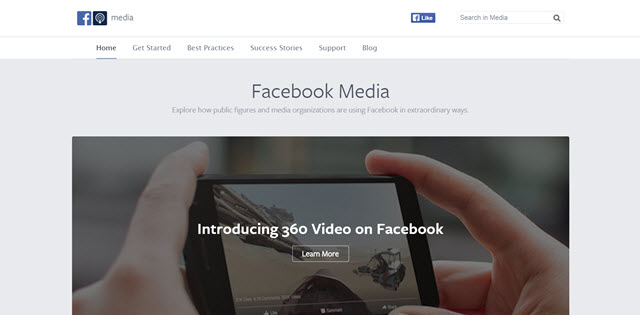 Facebook has taken a giant leap from its social networking beginnings with the introduction of Facebook videos. Facebook's auto-playing videos (which can be disabled though) have now become a part of our news feed and the social networking giant is coming up with more. Targeting Google's YouTube and other video sharing sites, Facebook too has begun to allow both advertisers and users to upload videos to their network. Facebook allows users to upload videos with a maximum size of 1 GB and a video length of 20 minutes, whichever is smaller. For advertisers wishing to embed videos in their ads, the maximum file size is 1.75 GB and a video length of 45 minutes maximum.
One of the best features of the Facebook video is their introduction of 360 Video recently. This feature allows users to upload a video which can be viewed in 360 degrees in real-time. Facebook is aiming to revolutionalize the way people tell stories online with their constantly updating Video features. Allowing users to embed, tag their friends and much more, Facebook Video is something every content creator must not miss out on. With also plans for introducing a revenue-sharing model for content creators on Facebook, this Social networking giant is ready to compete with the top dogs of video sharing websites.
Upload limits: Maximum file size of 1 GB and Video length of 20 minutes maximum, whichever is smaller.
Revenue Sharing: Coming soon.
Premium Plans and Pricing: None.
4. DailyMotion
Dailymotion is another popular video sharing site on the web. Dailymotion allows users to view, upload and share videos through the network. With a file size limit of 2 GB and a video length limit of 100 minutes, Dailymotion is one widely popular video sharing service on the web. Also, using Dailymotion Publishing Partner program, content creators could earn a share of the revenue from their monetized videos. Offered through in-video advertisements, paid content and monetization through an own website, Dailymotion offers the best flexible revenue sharing models for content creators.
Also, if you're targeting regional audience, Dailymotion is pretty popular in Europe and especially France, where this site is based from. Dailymotion curates the best set of videos depending on the videos you've viewed from their service recently. Dailymotion is something that every video content creator must try to make the most of for their video marketing and promotional purposes.
Upload limits: 2 GB of file size and 100 minutes of video length; .3gp, .avi, .divx, m4v, .mkv, .mov, .mp4, .mpeg, .mpg,. ogg, .wmv formats supported.
Revenue Sharing: Video monetization, Paid content, and website monetization; Partners receive 70% of the share of all the revenues from their videos.
Premium Plans and Pricing: None.
5. Vine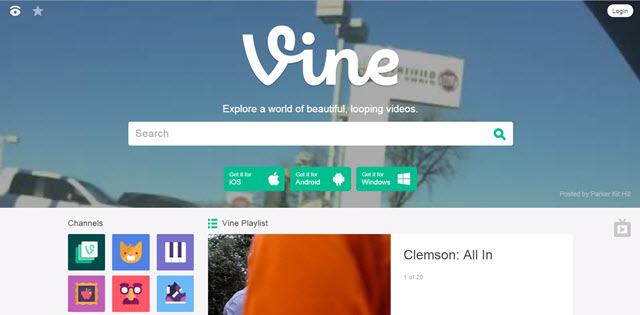 Vine is not a full-fledged video sharing site in its entirety, but it just gets the job done if done right. With online users' attention span being one of the biggest concerns, people don't have time for longer videos. Vine is an iOS, Android and Windows based application that allows users to upload videos of 6 seconds in length! While one may wonder what could a 6-second video possible contain useful, there have been thousands of people making the most of Vine to have established a personal brand on the web. Although Vine does not explicitly contain advertisements and revenue sharing models for its content creators, the best of them have partnered with major brands to promote content to millions of their followers.
This same video sharing culture has also been mimicked by Instagram later, although Vine being tremendously popular for its 6-second videos. Instagram does allow 3 seconds to 15 seconds of video upload length and is something pretty much popular across users of the application. Vine content creators are mostly in it for the fun and the ones looking for establishing their personal brand do it through consistent high-quality uploads, gathering of followers and partnering with a brand for a shoutout on their Vine profile.
Upload limits: Max video length of 6 seconds, File size limit of 1.5 MB.
Revenue Sharing: None.
Premium Plans and Pricing: None.
6. Twitch.tv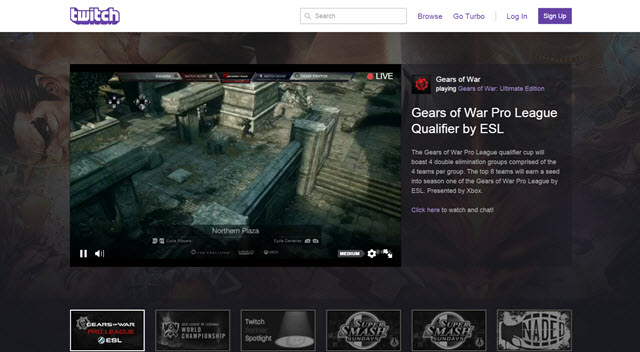 If you are a gaming geek who would love to stream their gaming videos on the web, Twitch.tv is a great platform to do so. Twitch.tv is basically a video game streaming service on the web. This network allows users to stream their games with a maximum bitrate of 3500. For those advanced gamers looking forward to cashing in on the revenue sharing model of Twitch.Tv, it is one of the best networks to stream your games to. Although Twitch.tv hasn't publicized any specifics regarding the share that its content partners would be receiving, it has 11,000 partnered content creators on the network.
Twitch Turbo, a premium account of the network allows users to view all of the streams and videos ad-free. Although becoming a Partner at Twitch.tv isn't easy, it is worth the effort for gamers as the network is an entirely targeted niche. For new Twitch.Tv content creators to become a Partner would require 100,000+ subscribers and an average of 15,000+ views on each of the videos. Twitch.tv is a must consider video sharing site for getting some coverage to the gamer inside of you.
Upload limits: Maximum streaming bitrate of 3500 bits/s.
Revenue Sharing: Twitch Partner program available; Specifics not publicized.
Premium Plans and Pricing: $8.99/mo for Twitch Turbo.
7. VEVO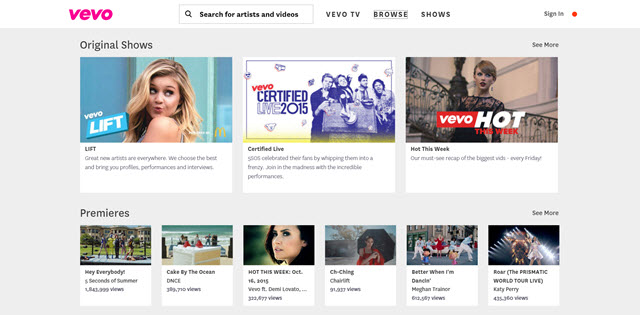 If you are an artist, signed or not signed to a major label, VEVO allows artists to get started with their premium channel at VEVO. Part of Vydia media, VEVO allows all artists to create a channel, upload videos and maintain their channel on the web. Available only in United States, United Kingdom, and Canada, VEVO is made available to audiences based only out of these locations, although users can access your content across 200 countries through VEVO's partnership with YouTube. VEVO is more of a distribution network, that allows users to upload their content through Vydia media and get them distributed across VEVO and other networks.
VEVO does not provide its content contributors with their own personalized page, although VEVO takes about 2-3 weeks to make a video live after screening it for the desired quality. Once you're through the screening process, you'll be provided access to Vydia to upload your content for getting it published on VEVO. Solely for music artists, VEVO has become industry-standard for musicians to publish their content online while keeping everything off the royalties from the videos. The best thing about getting published on VEVO is that it is linked to YouTube making it easy for content creators to make their content available through YouTube also.
Upload limits: Not Publicized.
Revenue Sharing: Content creators keep 100% of all the royalties.
Premium Plans and Pricing: $20/yr for an active VEVO channel.
Conclusion
While the above-mentioned tools are some of the best video sharing websites on the Internet, there are more tools to which you can upload your content to. Some of the tools with rising popularity are tools like Meerkat and Periscope, both allowing users to live stream content through their Android or iOS devices. Depending on your requirements and expectations, some tools might feel more appealing as compared to others mentioned in this list. Making use of the right mix of tools to consider for uploading your videos to is a great way to get maximum reach for your content.
SEE ALSO: 7 Best Slow Motion Video Apps for Android
Did we miss any of your favourite video sharing sites on the web? Feel free to share your thoughts and comments below.