While consoles might be on the rise, a large number of gamers still rely on PCs for their gaming needs. There are all sorts of games available for you to try out, ranging from some of the best online games for PC to FPS games, strategy games, and more. And the fun is doubled when you share your gameplay with your friends and other players worldwide. While streaming games on Twitch is one way to go about it, it usually takes a toll on your internet and depends heavily on your bandwidth. That's why I prefer recording my gameplay and then sharing it video sharing services like YouTube. If you also want to do the same, here are the 15 best game recording software for Windows to help you out.
Best Game Recording Software on Windows (2023)
Most of these tools will record raw videos without any kind of compression. This leads to huge video size. So, it is recommended that you only record videos to the drive that has enough space. When you get the video, make sure you compress it before sharing anywhere.
Also, unless specified, the maximum resolution that these software can record in would be the same as your display. Lastly, you'd get the standard options of 30fps or 60fps in all of them. Finally, if you want to record yourself while playing games, you can check out our list of the best webcam software to get going.
1. Open Broadcaster Software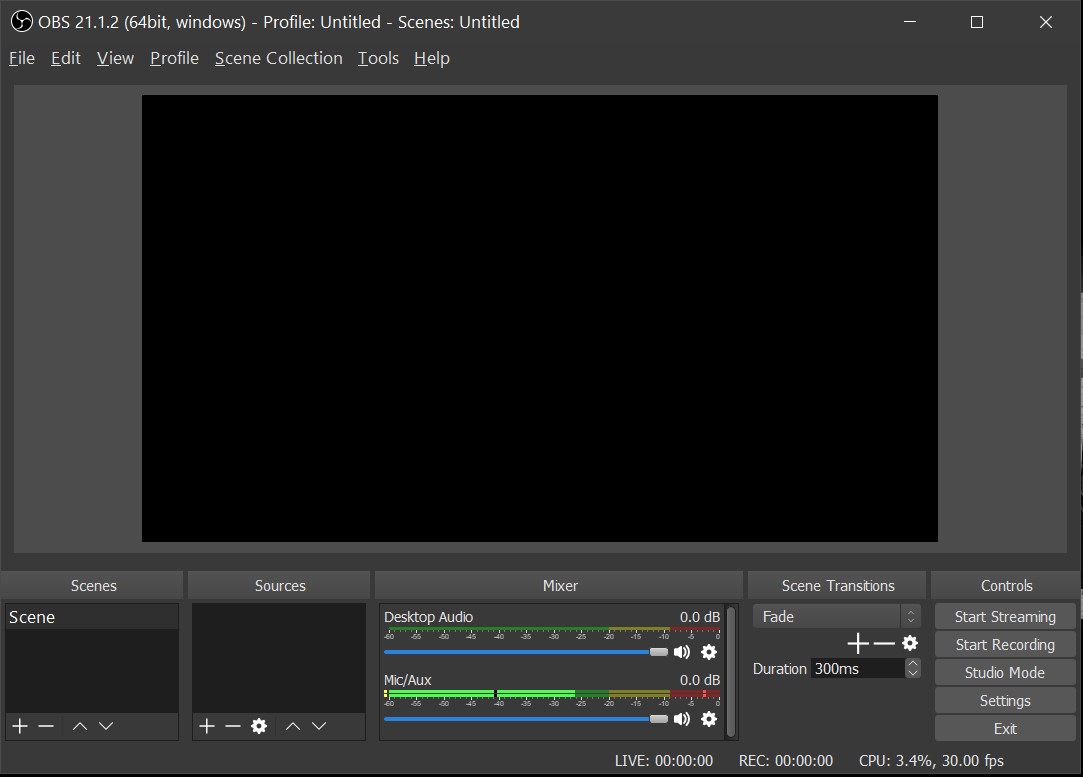 Probably the best tool of the lot, simply because of its open-source nature and flexibility, Open Broadcaster Software or OBS is the preferred tool for a lot of gamers out there. Be it simply recording your gameplay or even streaming it side by side, OBS is the tool for you. You are not required to change any special settings, just select the source which you would like to record and start recording.
However, there is a learning curve to it, which you can get accustomed to in time. OBS is capable of recording in MP4 and FLV formats and it uses your PC's GPU for High-Quality streaming. It records at a 1:1 ratio, meaning the same way as your panel. Apart from basic video recording and saving features, it has many other side features perfect for video tutorials. These features include Picture-in-Picture mode, Custom Watermarks, and Push-to-Talk mode.
Pros:
Free and open source
Cross platform support
Various plugins to enhance experience
Support for most live streaming platforms
Huge community support
Cons:
Steep learning curve
Not the most user friendly UI
Compatibility: Windows 11, 10, 8.1, 8 and 7, macOS (10.15 and newer), Linux (Ubuntu 20.04 and newer)
Pricing: Free
2. Streamlabs OBS
If you're just starting out and you find OBS's interface a bit too complicated then you should definitely check out Streamlabs OBS. Streamlabs OBS is a video recording and streaming platform which aims to simplify OBS's interface for beginners. The software is quite easy to use and is chock full of integrated features that will help you record and stream your games.
Since the software connects to your Streamlabs account, it allows you to import all the tools directly from the company's website without copying and pasting a number of URLs. The software boasts of many of the same features as the original OBS albeit with a simplified interface, making it more like a skinned version of OBS.
Pros:
Free to use
Includes a variety of plugins to enhance user experience
Easy to set up
Saves resources and settings on the cloud
Cons:
More likely to crash with all its add-ons
Fewer encoding options than OBS
Multistream functionality only available in premium version
Compatibility: Windows 10, 8.1, 8 and 7
Price: Free, $19/month
3. Nvidia Shadowplay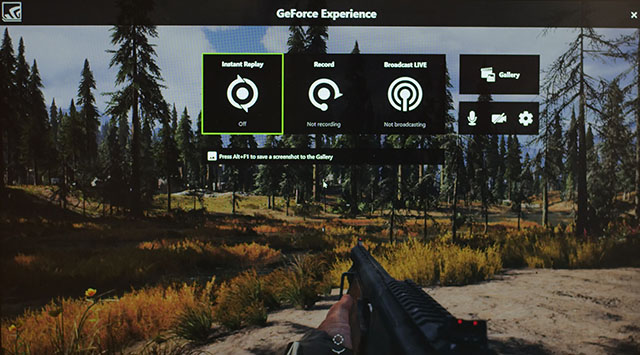 If you have an Nvidia GPU, you must have already received prompts to install GeForce Experience on your device. Well, apart from just updating your Nvidia drivers, the software includes Nvidia's Shadowplay tool as well, allowing you to record games easily. One of the best features of ShadowPlay is that it uses the GPU (Nvenc) to handle the video encoding, which means it doesn't require much in the way of CPU power.
The software can record at the same resolution as your display, so if you have a 4K panel, your recordings will also be in 4K. In case you have an Nvidia GPU, the GeForce Experience software is a must try, since it doesn't cost a penny, and usually works quite well for basic gameplay recording.
Pros:
Free to use
Simple and straightforward
Uses GPU to handle encoding
Cons:
Works only with Nvidia GPUs
Doesn't have as many features as other software on the list
Compatibility: Windows 10, 8.1, 8 and 7
Pricing: Free
Download Nvidia GeForce Experience
4. Radeon ReLive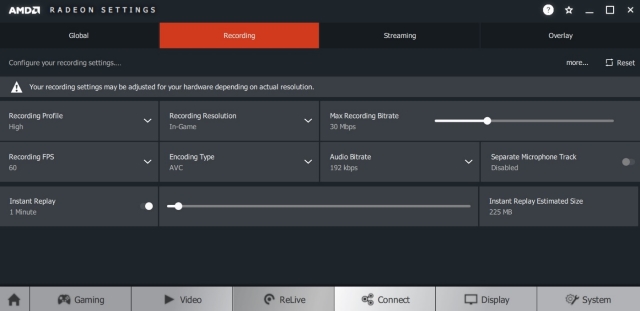 So Nvidia has its own recording software, don't you think AMD would have one too? Enter Radeon ReLive (earlier called AMD ReLive), which is the company's proprietary software for recording gameplay on an AMD card. Like the Nvidia solution, AMD's ReLive utilizes the GPU for most of the encoding, saving your CPU cycles for other stuff. The impact on framerates is pretty small (5-10 percent in most cases), but for more complex streaming setups it can fall short. What's more, is that the software comes with support for upscaling as well. As such, if you're playing at 1080p, you can still record at 4K UHD. If you have an AMD GPU, then you should definitely give Radeon ReLive a shot.
Pros:
Free to use
Easy setup and simple to use
Support for upscaling
Cons:
Works only with AMD GPUs
OpenGL game recording not available
Doesn't have as many features as dedicated recording software
Compatibility: RX Vega, 500 Series Graphics products; Radeon RX 400 Series; Radeon R9 Fury, R9 300, R7 300 Series; Radeon Pro Duo; AMD Radeon R9 200, R7 200, R5 300, R5 240 Series; AMD Radeon™ HD 8500 – HD 8900 Series; AMD Radeon™ HD 7700 – HD 7900 Series
Pricing: Free
5. Bandicam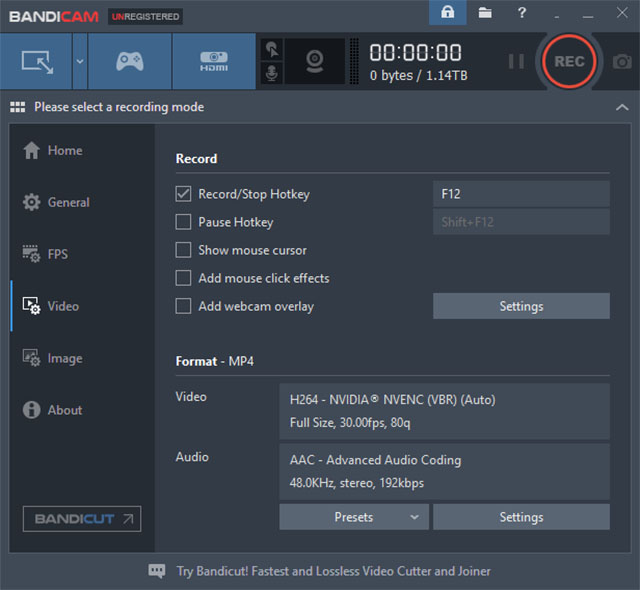 Bandicam screen recorder it is one of the most known software in terms of screen recording. While positioned as a screen recorder for Windows, the software with its great ability of recording at high bitrates and frames, doubles up as a great recording software for games as well. You can record videos at customizable frame rates and 4K Ultra HD resolution. Even at such high quality, it offers small size video recordings due to its built-in compression feature that makes sure there is no sacrifice on quality and you get the smallest file size. The recordings can be adjusted for gaming or other PC activities and the size of the window can be decreased on increased.
Pros:
Two capture modes
Ability to resize capture area
Support for numerous codecs and formats
Built-in compression feature
Cons:
Quite costly
Videos might have some lag issues
Compatibility: Windows 10, 8.1, 8, 7 and Vista
Pricing: Free Trial, $33.26/year for 1 license
6. Gamecaster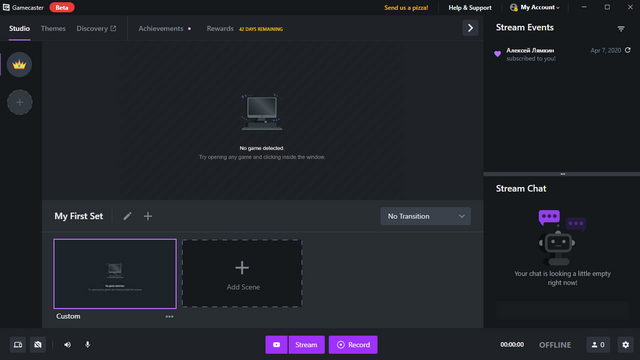 Gamecaster is one of the easiest yet power-packed recording tool out there. Apart from streaming, the software can be easily used for recording your gameplay in high quality. You can start recording with a single press of a button, and Gamecaster will configure the settings for you according to your PC.
What's more is that you can use features such as picture-in-picture mode, watermarks, video annotations, and social media integration. Gamecaster also gives you the ability to edit videos with a built-in video editor and manage all the recorded videos easily and share them with the world. With Gamecast Remote functionality, you can control the livestream of your gaming sessions using your smartphone. This is undoubtedly one of the best game recording software for Windows 10 and Windows 11.
Pros:
Free software with all features you need
Intuitive and Clean UI
Provides option to record locally or stream to all popular platforms with one click
Partner integrations
Cons:
Highlight feature not available
Not for advanced users
Compatibility: Windows 10
Pricing: Free
7. Fraps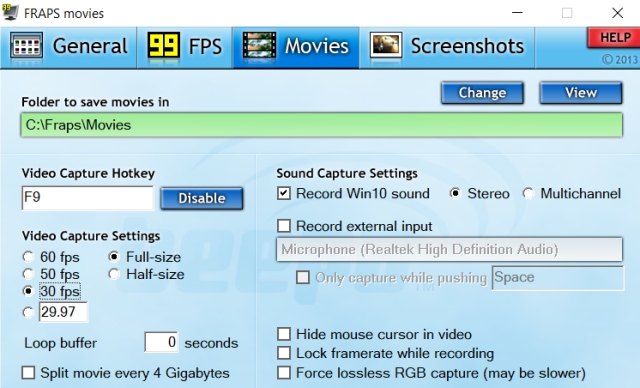 Fraps is another highly popular game recording software for Windows and it's very simple to use. Unlike other recording programs that come with overwhelming settings and configurations page, Fraps is all about ease of use. You just go to the "Movies" section and start recording, that's it.
However, Fraps gives you a few essential options: you can set the video capture frame rate manually and it can go from 30 to 120FPS. There is also an option to enter custom FPS value where you can set the frame rate even below 30. Next, Fraps has the ability to record audio through both external input and system sound which is pretty awesome. Also, you can record OpenGL and DirectXM games using Fraps.
And best of all, you can show your cursor, just like OBS Studio while recording games on your Windows PC. Not to mention, you can also get a live frame rate counter in the corner of the screen which is very helpful for heavy gamers. So to put it straight, Fraps is a lightweight screen recording tool and it can be a great utility for users who want a seamless experience while recording their gameplay on PCs.
Pros:
Lightweight and simple to use
Can set custom FPS value; Supports 120FPS video recording
Has a live FPS counter
Highlight cursor and capture audio from an external input device
Cons:
30-seconds recording limit for free version
No options to add titles
No pause button
Recorded video size is high
Compatibility: Windows 10, 8.1, 8, 7, Vista and XP
Pricing: Free; $37 for Full Version
8. Gecata Screen Recorder
Movavi's Gecata is an outstanding game recorder for Windows that bundles some really useful features for casual gamers as well as for streamers. With a well labeled user interface, using Gecata is really simple and you can start recording gameplays without much technical know-how. The software brings a dedicated Game Mode that allows you to record 4K videos with up to 120fps as soon as you start a game. You can customize overlays to display frame rate
Besides that, you have an option to record a part of the screen in the windowed mode. As I said, Monavi Screen Recorder has a lot of post-recording tools so you can convert a video into GIF; trim, cut and join videos; add animated titles and special effects and much more. Overall, if you want a game recording software with a healthy dose of editing tools then Movavi Screen Recorder can be a good pick. As an
Pros:
Feature-packed
Comes with many editing tools
Supports screen resolution up to 4K
Can record a part of the screen
Convert screen recording to GIF instantly
Cons:
A bit expensive
Limited free trial
Compatibility: Windows 10, 8.1, 8, 7
Pricing: Starts at $39.95
Download Movavi Screen Recorder
9. Dxtory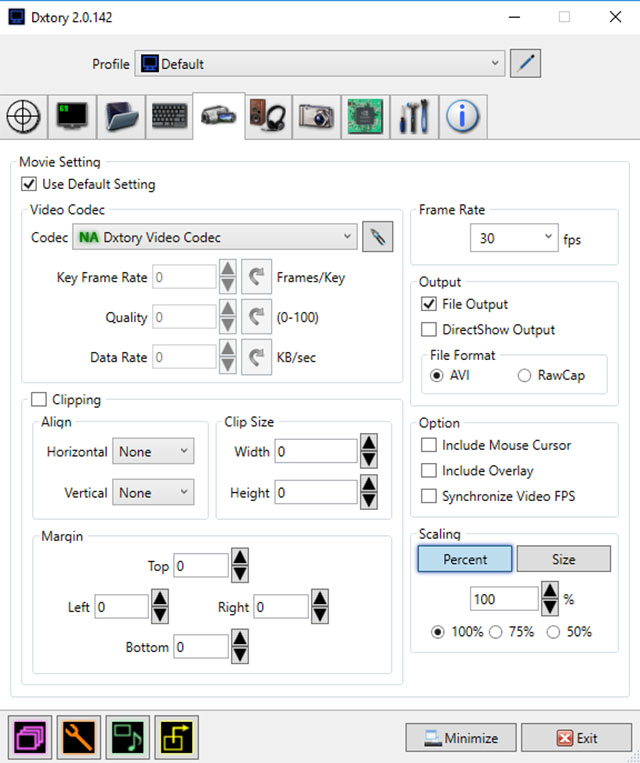 Dxtory is yet another simple tool in this list that offers tons of features while being very light on the system. In fact, it is one of the lightest software, yet quite robust. The interface is extremely simple and makes it very easy to understand all settings and tweak them. It captures lossless videos at Highest quality to ensure you get the best video (huge size, though).
Audio settings are also quite robust being able to record two sounds simultaneously, like game sound and microphone's sound which can be edited later separately. In the Video settings, you can specify video codec, frames per second from 10-120, sources, size and format. You can force the software to automatically record the game when it is started and also balance whether the software put pressure on GPU or CPU for recording.
Pros:
Basic UI
Intuitive user experience
Plenty of customization options
Cons:
Annoying trial notification
Not for casual users
Compatibility: Windows 10, 8.1, 8, 7, Vista and XP
Pricing: Free Trial, $28.29 for 1 license
10. Action!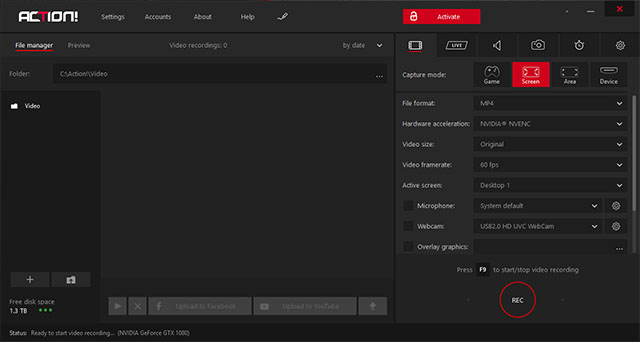 Action! is one of the best game recording software that you can use right now, that is if you have a powerful computer. The software makes use of your GPU to accelerate recordings and put less pressure on CPU. You can create high-quality videos up to 4k resolution, high frame rates and even add live commentary to it.
What's more is that the videos can be streamed over all popular services like, YouTube, Hitbox, Twitch, Livestream, and Ustream, etc. Action! also comes with Time-Shift mode, but it is limited to 10 minutes instead of 20 minutes. Your videos can also be edited, like cropping, effects like slow motion and other basic editing features.
Pros:
Feature rich
GPU acceleration
Easy to use
Great options for file sharing
High definition playback
Cons:
Higher frame rates take up more memory
No option to customize frame rates
Quite costly
Compatibility: Windows 0, 8.1, 8, 7 and Vista
Pricing: Free Trial, $29.95 per user
11. D3DGear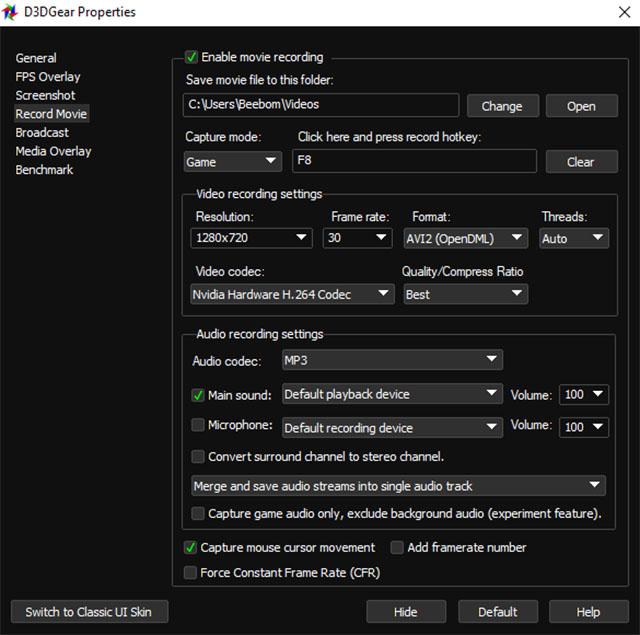 D3DGear might look like a simple and basic tool, but it is extremely useful. The game recording software doesn't require any special set up. In fact, you just install it, and you're a click away from recording your gameplay footage. Along with a lightweight design, it also has a built-in compression system that will compress all videos recorded with it.
The videos are compressed in real-time, which means even if you have less space in the drive, you may still be able to record a video. Despite its small size, it also uses GPU acceleration to put pressure on GPU, not the CPU. The software automatically identifies games and connects with them, you just need to press the hotkey to start or stop recording.
Pros:
Basic UI
Easy to use
Real-time compression
Also great for streaming on popular live-stream websites
Cons:
Limited features
Outdated UI design
Compatibility: Windows 10, 8.1, 8, 7, Vista and XP
Pricing: Free 15 Days Trial, $29.85 for 1 License
12. Xbox Game Bar (Replaces Windows Game DVR)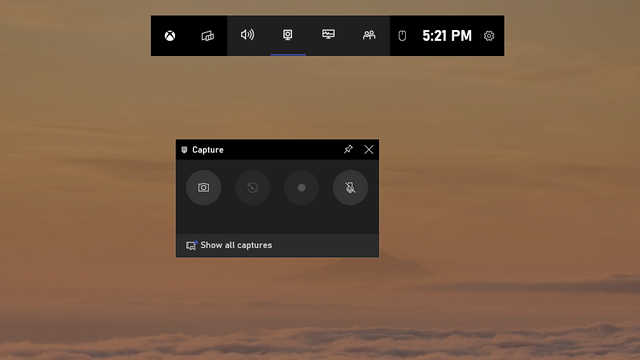 Chances are you're running Windows 10 while reading this review. If that's the case, and you just need a simple tool for recording your gameplay and nothing else, Xbox Game Bar should do the trick. Video recording (default shortcut of Win + Alt + R) allows you to specify 30 fps or 60 fps recording, as well as standard (720p) or high (1080p) quality and an audio bitrate, and that's it.
Alternatively, you launch the Game Bar by pressing the keyboard shortcut (Win + G). The fact that it is so easy to use and is completely free makes it an easy recommendation for anyone. However, it is only suitable for beginners, and if you're looking for something more advanced you can select one of the other aforementioned options.
Pros:
Free to use
Comes inbuilt with Window 10
Cons:
Limited features
Available only on Windows 10
Compatibility: Windows 10
Pricing: Free
13. ManyCam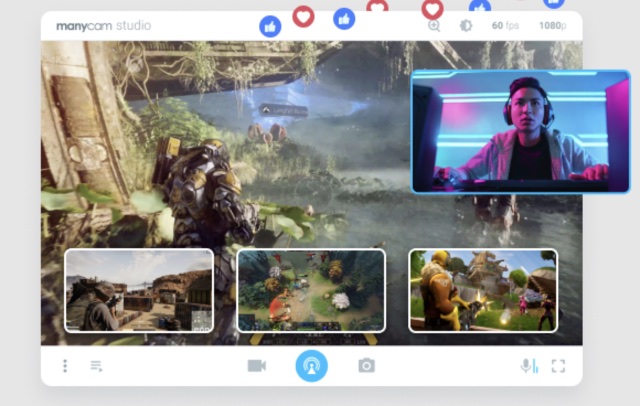 ManyCam is, at its core, a live streaming app for Windows and Mac. However, you can also use it to simply record your gameplay. It's a great tool to have on your gaming PC because you can record your games, and if you want to stream, you don't need a different software for it. That said, bear in mind that ManyCam supports streaming to Facebook and YouTube Live. Other than that, you get features like automatic bitrate setting, 3D masks and filters, green screen and more.
While you can download ManyCam for free, you will have to purchase a license sooner or later. ManyCam uses a subscription model by default, but if that's not what you like, you can actually purchase a lifetime license as well.
Pros:
Can be used for both streaming and game recording
Feature-rich
Integrations with YouTube and Facebook
Cons:
Expensive as compared to other options on this list
Compatibility: Windows 11 (likely), Windows 10, Windows 8
Pricing: subscription starts at $49/year; lifetime license starts at $59
14. Icecream Screen Recorder
Icecream Screen Recorder is another feature rich game recording software that you can use to capture your gameplay to share with friends. The software comes with useful features including the ability to record webcam along with the screen recording. There's obviously support for capturing audio along with annotation features for both screenshots and screen recordings. These tools can definitely come in handy while you're editing your game recording before sharing it on YouTube. Icecream Screen Recorder also allows you to put a custom logo on your recordings, and easily share your videos to YouTube, Google Drive, and Dropbox.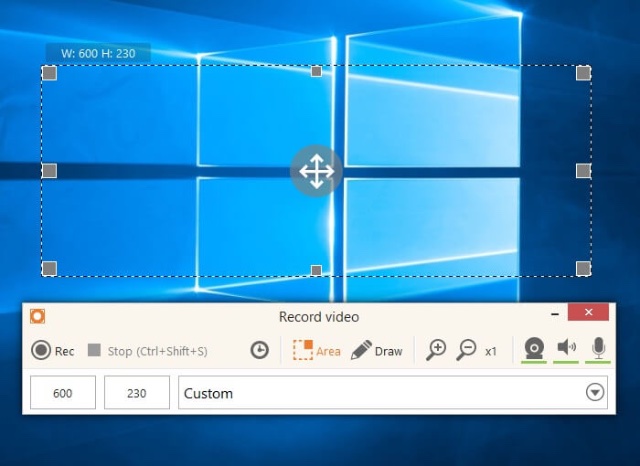 For editing, the software comes with all the basics that you'll need. You can trim recordings, change the speed, and more. You can also set up Icecream Screen Recorder to automatically start screen recordings at a scheduled time and convert videos.
Pros:
Allows webcam recording as overlay
Built-in video editor
Supports custom logo watermarks
Cons:
Free version is limited in functionality
Compatibility: Windows (including Windows 10 and Windows 11), macOS
Pricing: Free, pro version available at $29.95 one time fee
Download Icecream Screen Recorder
15. Wondershare Demo Creator
Wondershare makes a lot of useful tools, and Demo Creator is a solid screen recording software for recording PC games easily. The software records your screen and system audio separately so you can edit them individually. That means you get extra flexibility in post production. The software also supports effects such as green screen, transitions, zoom and pan, and more. While you're recording your game with Demo Creator, you can add narrations to your clips as well.
Wondershare Demo Creator comes with AI face recognition which can recognise your face and blend it seamlessly into the recording. You can add annotations, and make all the edits you need within the software itself without having to switch over to a video editing app for Windows.
Pros:
Record video and audio in separate streams
Built-in video editor
AI face recognition
Cons:
No free version, and subscription is a tad pricey
Compatibility: Windows, macOS
Pricing: Free trial, subscription starts at $39.99/year
Download Wondershare Demo Creator
Bonus: Screencast-O-Matic
Screencast-O-Matic is also a good choice for you if you want an easy to use game recording software for your PC. The interface here is simple, but you get quite a lot of features baked in. You can select the resolution of your screen recording, set a time limit, etc. The software also supports recording both mic and system audio at the same time so you can record gameplay with sound as well as your narration together.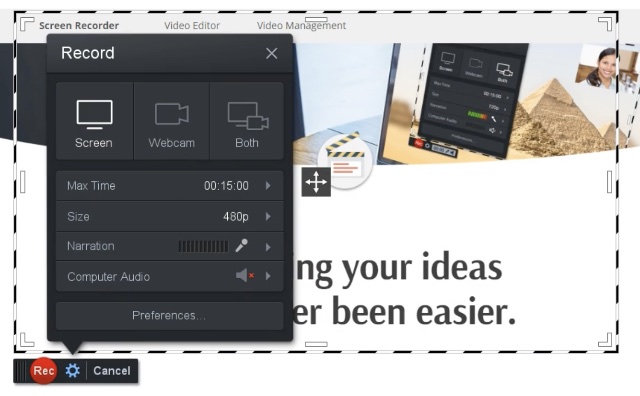 Further, Screencast-O-Matic comes with a video editor. This can come in handy when you're trying to apply some finishing touches to your gameplay footage before publishing it on YouTube or sharing it with your friends. Overall, Screencast-O-Matic brings all the necessary features you'd want in a game recording software and you should definitely give it a shot.
Pros:
Simple UI
Can record system audio and mic at the same time
Comes with a video editor
Cons:
You will need to purchase the paid version to take advantage of all the features
Compatibility: Windows, macOS, Android, iPhone, Chrome OS
Pricing: paid plans start at $4/month (billed yearly)
Record Your Gameplay with Game Recording Software
The above-mentioned game recording software provide complete control over recording your game while playing. All of them record at high quality but might differ in features and ease of use. Some may lack a few features but are very simple to use making them perfect for beginners. Others may be left best for professionals who want to make a career out of streaming and video game tutorials.
Either way, the above list of game recording software should satisfy your needs. That being said, is there any other software you feel should have been on the list? Let us know in the comments below. Also, check out our article on how to record screen on Windows 10 to find out how you can screen record your PC when you are not playing a game.
---
Load More