The newest kid on the block, Nvidia's GeForce RTX 4070, has made his entry and is now available in several markets. Nvidia is definitely taking its sweet time to expand the RTX 40 series, with no new GPU launch since the original RTX 4090 and 4080. Well, they did release the RTX 4070 Ti at CES 2023, but it is simply a rebranded 12GB RTX 4080. And now, the Nvidia RTX 4070 comes as an excellent mid-range contender with a new architecture. So, if you are curious, here's everything you need to know about the RTX 4070, including its pricing, availability, performance, and more.
RTX 4070 Price and Where To Buy
The Nvidia RTX 4070 has been introduced into the 40-series at $599 (Rs 62,000 in India). This is 100 dollars more than the asking price of Nvidia's last-gen RTX 3070 when it launched. That means Nvidia has made the GPU 20% more expensive than its predecessor, and the $599 asking price matches the RTX 3070 Ti's price when it came out.
The availability of this 40-series GPU is good so far, with only the FE model going out of stock. We will update this section once the card also becomes available on Amazon. You can also buy this card from local retailers such as MicroCenter.
Nvidia RTX 4070 Specifications
Here are the specifications of the newly launched Nvidia RTX 4070. We have listed the details of the RTX 4070 Founders Edition, and the clock speeds can differ slightly for third-party graphics cards. To use the GPU in your system, Nvidia recommends a 650W PSU. This card uses a single 16-pin PCI-e Gen 5 connector or 2x 8-pin power connectors. By the way, the Founders Edition boasts a similar footprint to its predecessor.
| | |
| --- | --- |
| Manufacturing Process | TSMC 4N (4nm) |
| TGP | 200W |
| VRAM & Effective Memory Clock | 12GB GDDR6X, 21Gbps |
| CUDA Cores | 5888 |
| Transistor Count | 35,800 Million |
| Boost Clock | 2.48 GHz |
Nvidia RTX 4070 Performance
In a nutshell, Nvidia's latest RTX 4070 graphics card performs similarly to the last-gen RTX 3080. In some games, it is faster, and in others, it falls behind. Still, the margins are quite slim, and overall, the card seems to perform similarly to the RTX 3080. In Nvidia's announcement, they compared the GPU to the last-gen RTX 3070 Ti as well as the RTX 2070 Super. This is how the card performs: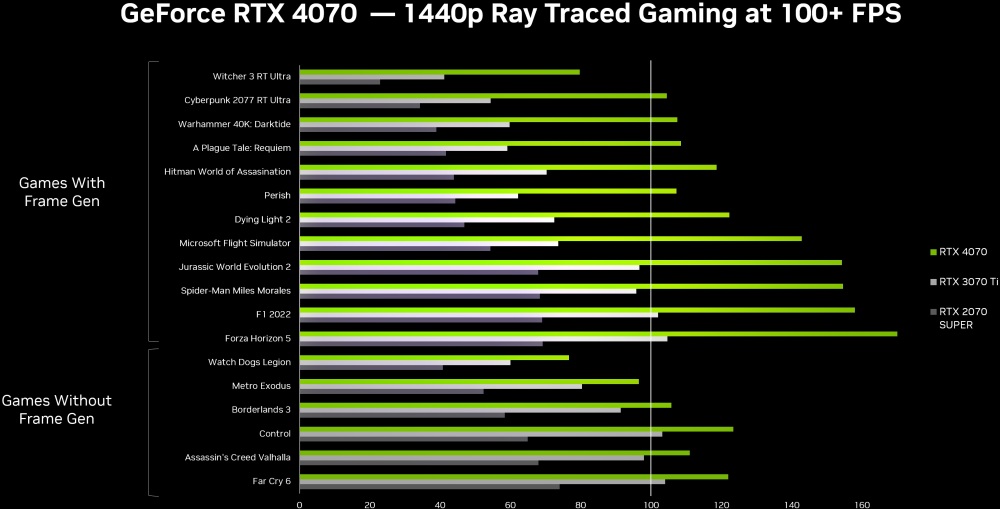 While this does give us a good measurement of performance, the games that are tested with frame gen turned on are not compared quite fairly. You see, DLSS 3 is an exclusive AI Frame Generation feature on the new graphics card lineup, and it works by artificially inserting fake frames into your game for a smoother experience. It's a great feature that we highlighted in our Alienware M18 R1 review recently, which had the laptop RTX 4080, and we will talk more about it soon.
While the feature is good, and it's wonderful that you can utilize DLSS on a mid-range GPU now, we can't really compare the pure GPU performance with it turned on. So, in the above benchmark, in order to compare the GPUs head to head, you should look at the lower section, which shows the performance in games that don't have frame generation. Once we get the card ourselves, we will certainly do a comprehensive benchmark that details how the RTX 4070 performs.
In terms of the competition, the RTX 4070 currently has none – at least when speaking of the latest-generation GPUs in the market. AMD hasn't introduced mid-range GPUs into their RX 7000 series yet. So, the only GPUs that can compete with the 4070 currently are AMD's last-gen RX 6000 series GPUs. Those are based on older architecture, and the efficiency just isn't the same when you compare it to latest-gen GPUs.
I'm eager to see the competition between AMD and Nvidia for this latest generation as soon as more GPUs launch. But for now, the RTX 4070 is the cheapest Nvidia GPU, which is part of the RTX 40 series.
RTX 4070 New Architecture & Features
Next, let's look at the architectural improvements and new features to find out what's new about the GeForce RTX 4070.
1. Ada Lovelace Architecture with 3rd Gen RT Cores
This new graphics card from Nvidia is designed on the "Ada Lovelace" architecture, which uses TSMC's 4N process. This manufacturing process is an enhanced version of the 5nm process. Since it's a new architecture, there are major improvements to the overall efficiency. In essence, this means lower power for higher performance. In an official blog post, Nvidia claims that the new architecture is so efficient that it offers "over twice the performance at the same power compared to Ampere."
The initial experience of users with the RTX 4070 shows that it is performing like an RTX 3080 but with drastically lower power consumption. This proves that the new architecture did, in fact, bring about a marginal improvement in efficiency. Moreover, this card is also powered by 3rd Gen RT Cores.
2. DLSS 3 AI Frame Generation
What is DLSS 3 AI Frame Generation, though? It is Nvidia's brand-new upscaling technology that is exclusive to the RTX 40 series graphics cards. With DLSS 3 turned on, the framerate instantly jumps on, and it increases your overall FPS regardless of the setup you are using. It's still artificial frames generated by AI, and the experience of playing games with DLSS 3 sometimes feels a bit off. Nonetheless, the added smoothness feels amazing and it's one of the best additions to this new generation of GPUs.
DLSS 3 is accelerated here, thanks to the 4th-Generation Tensor Cores that are part of the Ada Lovelace architecture. According to Nvidia, there's an all-new 8-Bit Floating Point (FP8) tensor engine that enables up to a 5x better throughput. Further, the new Optical Flow Accelerator is also part of what enables this DLSS 3 feature. This accelerator is responsible for giving the 'pixel motion data' from your game's frames to the DLSS neural network.
3. Dual AV1 Encoding
We have already explained the AV1 encoder and why it is such a major innovation in terms of streaming. This includes game streaming too. Thanks to Dual AV1 encoding on the RTX 4070, gamers can stream their gameplay to platforms like Twitch or YouTube at a higher fidelity when compared to the x264 codec.
AV1 support is slowly rolling out in many places, and one day this feature will be quite important. Today, it's something that all new GPU manufacturers are adding, whether it be Intel Arc or the Radeon RX 7000 Series.
RTX 4070 vs RTX 3070 Ti vs RTX 3070
Below, you will find the RTX 4070 compared to the RTX 3070 and RTX 3070 Ti. It is a comparison by Nvidia that also shows the average power consumption during gaming as well as the idle state. It mentions the TGP rating and compares them to many other key differences. It's a good comparison that highlights all the new stuff: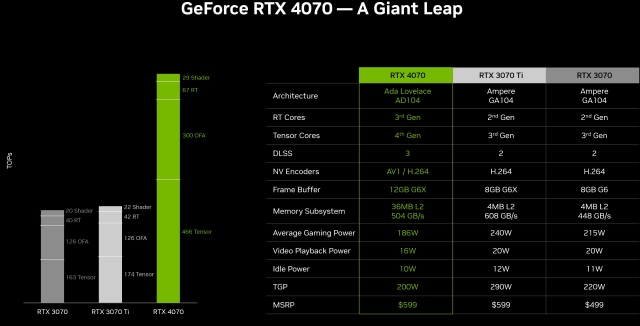 That's everything you need to know about Nvidia's latest mid-range 40-series graphics card. We discussed the pricing and where you can buy the RTX 4070, as well as the new improvements that are part of their Ada Lovelace architecture. One thing we didn't talk about is the RTX Video Super Resolution feature, which can enhance the quality of your videos on both RTX 30-series and 40-series GPUs. So, is the RTX 4070 worth buying? Let us know what you think in the comments below.
Nvidia RTX 3070: Frequently Asked Questions
Is RTX 4070 better than 3090?
No. The new RTX 4070 is not better than an RTX 3090. Even highly overclocked models won't be reaching the performance levels of NVIDIA's last-gen flagship.
How fast will the RTX 4070 be?
The RTX 4070 is plenty fast, with NVIDIA claiming that it can do 100+ FPS at 1440p (RTX On) in today's games.
How much RAM does RTX 4070 have?
The RTX 4070 has 12GB of GDDR6X VRAM made by Micron.
What is the price of RTX 4070 in India?
The RTX 4070 Founders Edition is priced at Rs 62,000 currently on the NVIDIA website.
Is 4070 better than 3080 Ti?
No. The new RTX 4070 performs similarly to an RTX 3080 though.
What is the TDP of RTX 4070?
The TDP (also called TGP) of the RTX 4070 is 200W. NVIDIA recommends a 650W PSU for this graphics card.
---
Load More