Whether you're building a new gaming PC or buying a new gaming laptop, the first thing that you look forward to, is the graphics card. This makes perfect sense, as it's the main component in your computer that's going to provide all the horsepower to drive all the latest games out there. Over the recent years, the performance that these graphics cards pack has increased multifold. In 2017, we have lots of graphics cards that promises gaming at QHD (1440p) resolutions and above. So, if you're in the market to purchase a new graphics card, you've come to the right place, as we've shortlisted some great graphics cards that you can choose from. Well then, here are the 12 best graphics cards for gaming you can buy in 2017:
1. NVIDIA RTX 2080 Ti
One of the best graphics cards you can buy right now is the RTX 2080 Ti. Released just this year, this is the latest iteration of NVIDIA's consumer and gaming GPUs and comes with support for real time ray tracing (hence the RTX branding). The GPU is powered by the Turing architecture and NVIDIA claims that it can offer up to 6x the performance. Obviously, since there are almost no games with ray tracing support (Shadow of the Tomb Raider should be getting it sometime soon), you can also opt to go for an older GTX-series GPU and save some serious cash. The RTX 2080 Ti comes with 11GB of GDDR6 memory, and depending on the brand you buy it from, you can get a variety of fan-styles (and numbers) for efficient cooling.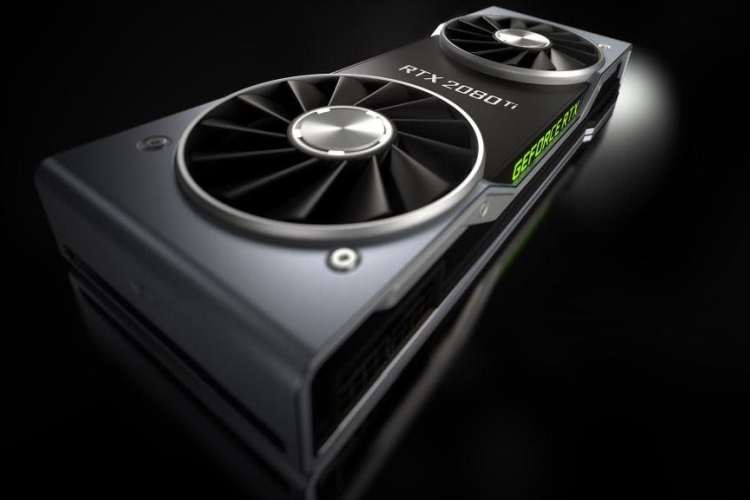 Also, if you're wondering about games that support ray tracing (or have announced that they will), we have added a list of known titles that will bring ray tracing support soon at the end of the article.
Buy the NVIDIA RTX 2080 Ti from Amazon ($1,748)
2. NVIDIA RTX 2080
If the RTX 2080 Ti is too expensive for your needs (after all, it is the most expensive graphics card on this list), you can also consider the NVIDIA RTX 2080. The 2080 is a really powerful graphics card that will definitely let you run all your games at the highest settings with ease. The 2080 is based on the same Turing architecture as the 2080 Ti, but comes with 8GB of GDDR6 memory instead of 11GB in the 2080 Ti. That said, we did an NVIDIA RTX 2080 review and we found that it's definitely one of the most powerful graphics cards for gaming right now.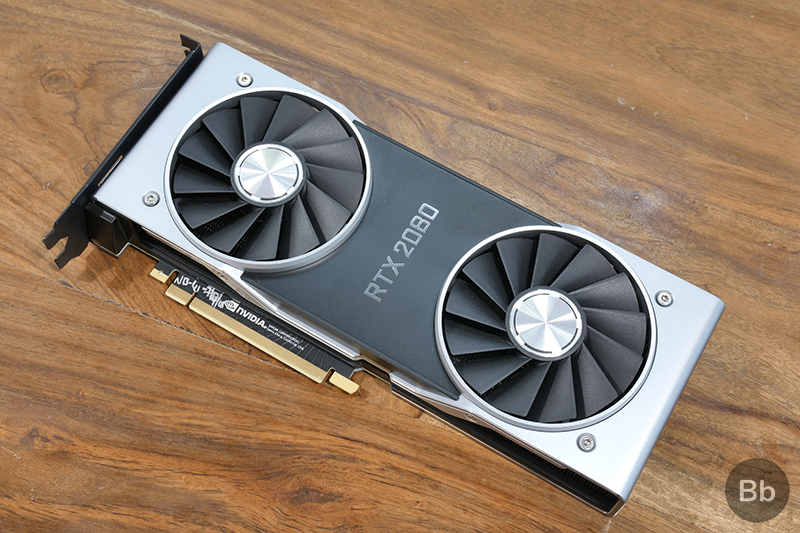 There's also the RTX 2070 that you can consider to bring the price of the GPU in your rig lower by a considerable margin. Plus, with the new 20-series of NVIDIA GPUs having been launched, the 10-series is getting more affordable by the day so that's another great deal you can get.
Buy the NVIDIA RTX 2080 from Amazon ($849)
3. NVIDIA TITAN Xp Graphics Card for VR and 4K Gaming
Hands down, the most powerful graphics card ever made. Aimed at prosumers, the latest TITAN Xp card is nowhere close to affordable for most of the people because of its price tag of more than 1200 dollars. The TITAN Xp is basically a mid-cycle refresh to last year's TITAN X Pascal, featuring a fully enabled GP102 GPU, promising 10-15% performance improvement over its predecessor for the same price. While it might sound like a sweet deal, keep in mind that the GTX 1080 Ti can be bought for almost half the price if you're willing to sacrifice that 10% performance gain.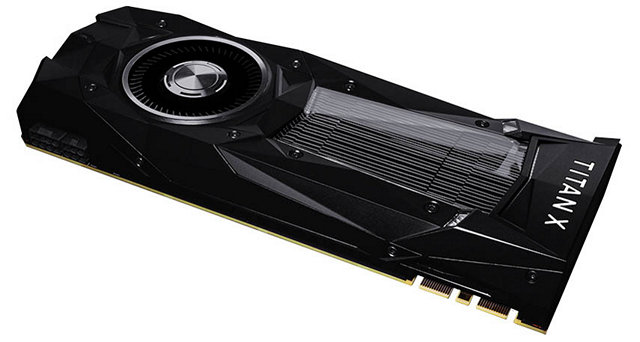 This card is definitely not for everyone, however if you still want the bragging rights of owning the most powerful graphics card right now, we won't stop you. 4K gaming at 60 fps is an absolute breeze, as it can comfortably reach 80-90 fps on most of the latest games available right now. It's currently available on Amazon at a much higher price than the official number given by NVIDIA.
Buy the NVIDIA Titan Xp from Amazon: ($1487)
4. NVIDIA GeForce GTX 1080 Ti Gaming Graphics Card
Well, this one used to be the fastest graphics card money could buy, until NVIDIA ruined everything with the announcement of TITAN Xp a couple weeks ago. Promising 5% performance over the TITAN X Pascal during it's launch, it's easily capable of handling almost all of the games at 4K resolution with a stable 60 fps frame rate. Under the hood, it packs 11.3 TFlops of computing performance and 11 GB of GDDR5X memory.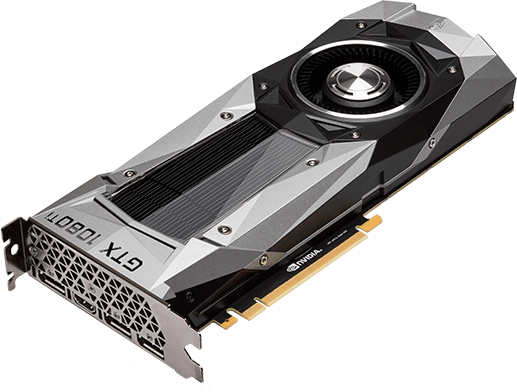 The base and boost clocks have been slightly bumped up from the Titan X Pascal. The asking price for the GTX 1080 Ti is same as the launch price of the GTX 1080 at $699, which makes it a much more compelling option than the TITAN Xp.
Buy the NVIDIA GTX 1080 Ti from Amazon: ($1,199)

5. NVIDIA GeForce GTX 1080 Graphics Card
Well, if you were expecting the TITAN X Pascal at the third spot, I'm sorry to let you know that it has been completely replaced by the TITAN Xp. Also, it wouldn't make any sense at all. So, here's our third spot, last year's GTX 1080. It received a price cut after the GTX 1080 Ti was made official recently. GTX 1080 is still quite capable for 4K gaming, being able to maintain decent frame rates on all the games. It features 8 GB of GDDR5X memory, 320 GB/s of memory bandwidth and 9 TFlops of computing performance. However, a supercharged version of the GTX 1080, boasting faster RAM expected to be made available by the end of this month. Although the asking price is $599, you will be able to find the GTX 1080 for as low as $530 on Amazon.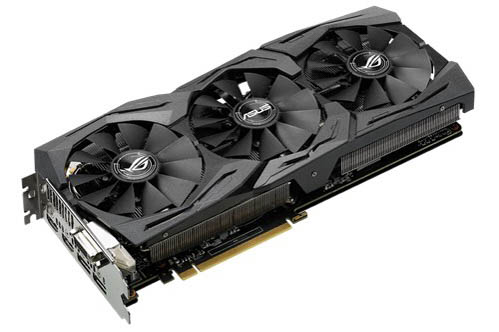 Buy the NVIDIA GTX 1080 from Amazon: ($419)
6. NVIDIA GeForce GTX 1070 GPU
This graphics card is primarly aimed at QHD (1440p) gaming rather than 4K gaming, but make no mistake, this card is still a beast for the price it's available at. During its announcement last year, NVIDIA claimed it performs slightly better than the older TITAN X Maxwell which was released in 2015. When the benchmarks were out, people realized that all the claims were in fact, true, as the card was able to edge out the TITAN X in most of the tests. Featuring an 8 GB of GDDR5 VRAM, 6.46 TFlops of computing performance and memory bandwidth of 256 GB/s for an asking price of just $379 is what makes this graphics card a steal.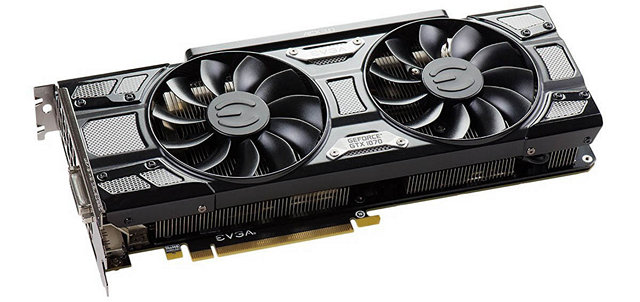 Buy from Amazon: ($379)
7. AMD Radeon R9 Fury X Graphics Card
Finally, we've got an AMD graphics card on the list. While we're still waiting for the announcement regarding the top of the line AMD Vega GPUs, which is expected to be available by the second quarter of this year, don't underestimate the Fury X. Although the card is almost 2 years old old, its still a capable card for QHD (1440p) gaming, falling just short of the GTX 1070. It's also the world's first card to feature High Bandwidth Memory (HBM), featuring 4 GB of VRAM, 512 GB/s memory bandwidth and a double precision floating point performance of 8.6 TFlops, which is still quite impressive, especially considering the time it was made available.

The graphics card has received multiple price cuts over a span of almost 2 years and it's currently available on Amazon for as low as $436, which is still quite steep if you pit it against the newer, faster GTX 1070.
Buy from Amazon: ($436)
8. NVIDIA GeForce GTX 1060 Budget Graphics Card
This mid-range graphics card from NVIDIA is aimed at budget minded consumers promising stellar gaming performance at 1080p Full HD resolution. It manages to maintain a stable frame rate of 60 fps on almost all of the games at 1080p and competes against AMD's RX 480 for the budget market. Performance-wise, it manages to edge out the RX 480 in most games while gaming in DirectX 11. The GTX 1060 features 6 GB of GDDR5 memory, although it's also available in a 3 GB variant for a slightly lesser price.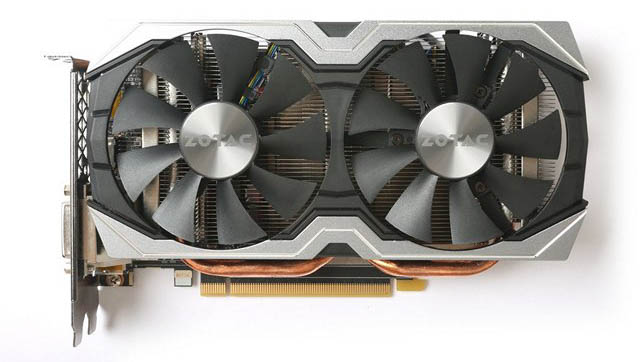 It also packs 4.4 TFlops of computing performance and a memory bandwidth of 192 GB/s. The 6 GB factory overclocked variant of the GTX 1060 from Zotac is currently available on Amazon for a price of just under $240 and the 3 GB variant can be bought for under $200.
Buy from Amazon: ($239)
9. AMD Radeon RX 480 Gaming Graphics Card
Although the GTX 1060 manages to edge out the RX 480 on DirectX 11 performance tests, it's exactly the opposite on DirectX 12 performance tests, as the RX 480 offers slightly better frame rate on most of the games, thanks to better DirectX 12 driver support from AMD. Similar to the GTX 1060, the RX 480 is also available in two variants – 4 GB and 8 GB. It's also slightly more affordable than the GTX 1060, as the 4 GB variant is available for just under $190 on Amazon. It boasts a floating point performance of 5.8 TFlops, which sounds good on paper, but when it comes to real-time performance, we barely see any gains over the GTX 1060.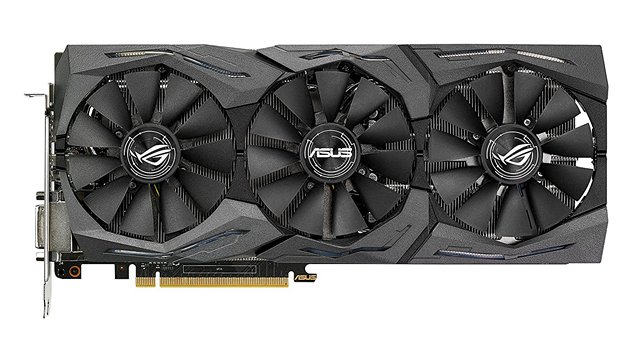 In addition to being considered as the most affordable "VR-Ready" GPU, this card should be able to handle all the latest games on the highest settings at 1080p resolution. A slightly overclocked 8 GB variant from Asus can be purchased for a price similar to the overclocked GTX 1060.
Buy on Amazon: ($239)
10. AMD Radeon RX 470 Video Card
If you're looking for a sub-$200 graphics card, this is pretty much it. It's performance lies between the RX 480 and GTX 1050 Ti. It performs noticeably better than the lower priced GTX 1050 but falls short of the RX 480. This card should still be able to handle all the games on high settings at Full HD resolution while maintaining a stable 60 fps frame rate on most of them. The RX 470 boasts 4 GB of GDDR5 VRAM, 211 GB/s memory bandwidth and 4.9 TFlops of peak floating point performance.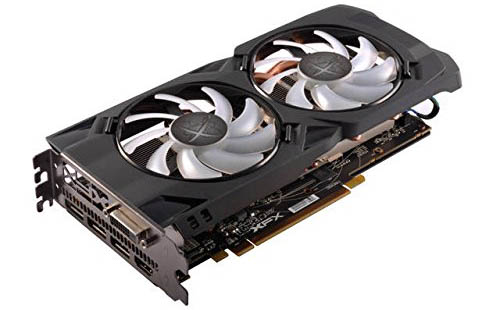 Remember the time when sub-$200 graphics cards were the worst performing ones, especially due to the price to performance ratio? Well, AMD has finally managed to solve that with their Polaris line-up of graphics cards. The RX 470 is currently available on Amazon for as low as $184.
Buy from Amazon: ($184)
11. NVIDIA GeForce GTX 1050 Ti Graphics Card
Although the GTX 1050 Ti performs noticeably lower than the RX 470 from AMD, it's priced considerably lower than the latter as well. The price to performance ratio of the GTX 1050 Ti is what makes this card a steal. This game should quench your thirst for 1080p gaming if you're willing to turn down the graphical settings to medium or high for decent frame rates. The GTX 1050 Ti packs 4 GB of GDDR5 VRAM, 768 CUDA cores, 112 GB/s memory bandwidth and 2.1 TFlops of floating point performance. All of these for an asking price of just under $140. Well, with this graphics card, NVIDIA has finally managed to satisfy the budget gaming market.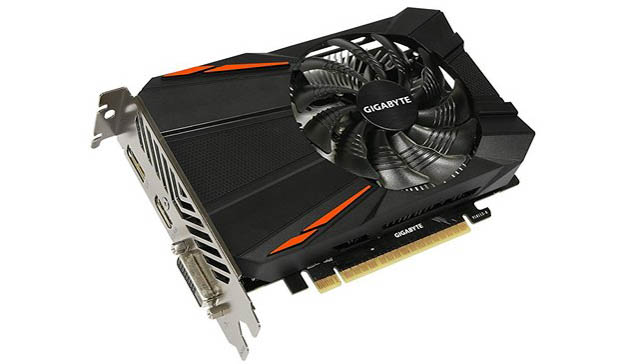 Buy from Amazon: ($139)
12. NVIDIA GeForce GTX 1050 Graphics Card
The GTX 1050 is a slightly toned down version of the GTX 1050 Ti, for an even lesser price, thereby making this, the best graphics card you can buy for under $100. The card offers a floating point performance of 1.8 TFlops, which is the same computing performance that the highest end $3500 MacBook Pro packs. It has the same memory bandwidth as the GTX 1050 Ti at 112 GB/s, but the VRAM and CUDA cores have been cut down to 2GB GDDR5 and 640 cores respectively. The GTX 1050 is usually found on laptops like the Dell XPS 15 and Inspiron 15 7000 series. If your budget is too low and your money doesn't allow for a GTX 1050 Ti, then this is the card you should be going for, without a doubt.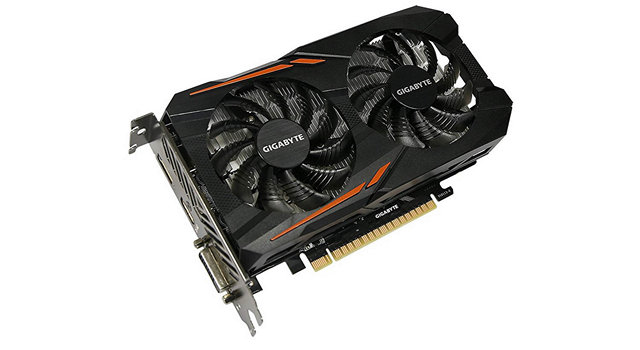 Buy from Amazon: ($99)
                         SEE ALSO: 12 Best Gaming Laptops You Can Buy
Games With Ray Tracing Support
Since the NVIDIA RTX 20-series cards are here, you may be wondering if there are many games that support (or will support) Ray Tracing to actually make good use of the new GPUs. So here's a list of all the games with ray tracing support that you'll be able to play on the new NVIDIA RTX 2080 Ti, RTX 2080, and RTX 2070:
Battlefield V
Metro Exodus
Shadow of the Tomb Raider
Ark: Survival Evolved
Assetto Corsa Competizione
Atomic Heart
Control
Dauntless
In Death
Enlisted
Final Fantasy XV
The Forge Arena
Fractured Lands
Hitman 2
Justice
JK3
Mechwarrior 5: Mercenaries
PlayerUnknown's Battlegrounds
Remnant from the Ashes
Serious Sam 4: Planet Badass
We Happy Few
Enhance Gaming Performance With The Best Graphics Cards
Well, as you can see from the list above, there's a graphics card for every single price point out there. From enthusiasts to budget gamers, it's definitely worth taking a look at all these, in order to make your decision much more easier. Although AMD is lacking in the high-end gaming market right now, it's expected to completely change once they release their Vega lineup of graphics cards. So, are you looking forward to buy a new graphics card? If so, let us know which one you're going for and why, by simply dropping a few words in the comment section down below.