Last year in June, Microsoft released the first preview build of Windows 11. It dawned a new era for Microsoft's desktop operating system as Windows 11 brought a completely new design language, centered taskbar, ambitious plans such as Android app support, a redesigned Microsoft Store, and a lot more. Fast forward, the Windows 11 stable build has been out for over six months, and it appears like Microsoft still has many new features to offer. So in this article, we have listed the 36 new upcoming Windows 11 features that will reach all users in the future. We have tested most of these new features on Windows 11 Dev build 25120 or older, and some of them are still hidden. On that note, let's not waste any more time and check out the new and upcoming Windows 11 features.
New and Upcoming Windows 11 Features (Updated May 2022)
In this article, we have included all the new and upcoming features of Windows 11. We have compiled the features list after the release of the latest Windows 11 Insider Preview Build 25120 (May 18, 2022) in the Dev channel. These features will most likely reach Windows 11 stable users after a few months. But you can read about and enable some of these upcoming features right away.
1. Tabbed File Explorer UI and More
One of the most exciting Windows 11 features that have been due for so many years is finally coming to File Explorer. In an earlier Insider build (version 22572), Microsoft allowed you to enable and test Tabs in File Explorer. Currently, the feature has been disabled, and it's not present in the latest Dev build.
Moreover, Brandon LeBlanc, Senior Program Manager for Windows Insiders confirmed that tabs in File Explorer might not come with the next major Windows 11 22H2 update, but the feature will roll out in a future build soon. Microsoft teased the tabbed File Explorer UI in its Hybrid Work event for Windows 11 in April, and we expect to see a fresh File Explorer in the coming months.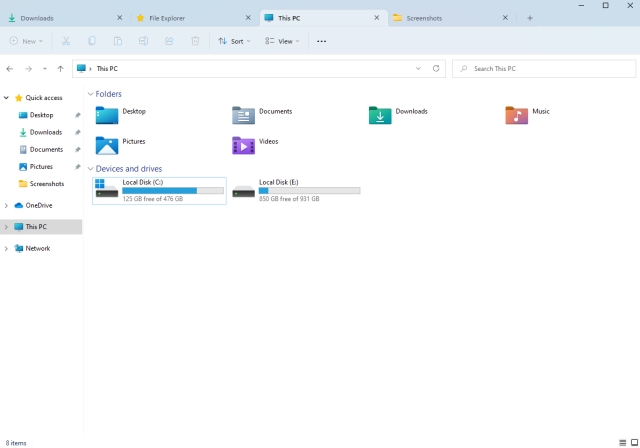 Apart from that, you can now see a preview of items within a folder, and that is awesome. Furthermore, OneDrive is now integrated into the File Explorer at the top-right corner and shows your cloud storage information. I think it's a nice change for users who have cloud backup enabled through OneDrive. Not to forget, File Explorer has a new homepage where you can quickly access your cloud files too.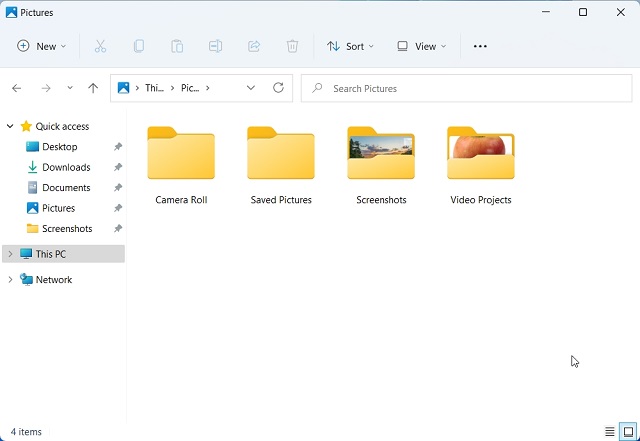 Finally, you can now pin files and folders in Quick Access. If you regularly open a file or folder by opening the File Explorer with the Windows 11 keyboard shortcut "Windows + E" and navigating to the same, this is a helpful addition. Now, when you pin a file in the Quick Access section, it won't appear on the left pane in File Explorer. Instead, they will appear under a new "pinned files" section in the window that keeps track of all your recent files and folders. Pinned folders will appear in the left pane in File Explorer.
2. Windows Subsystem for Android Based on Android 12.1
One of the upcoming features of Windows 11 is that Microsoft has updated Windows Subsystem for Android (WSA) to Android 12.1. The new WSA build (version 2204.40000.15.0) is already live for Dev users (Build 25120), and it brings a host of new features. Microsoft has added Advanced Networking to WSA, which will let Android apps connect to the existing network of your PC. Furthermore, it will allow you to connect security cameras, speakers, or other smart home devices to an Android app under WSA.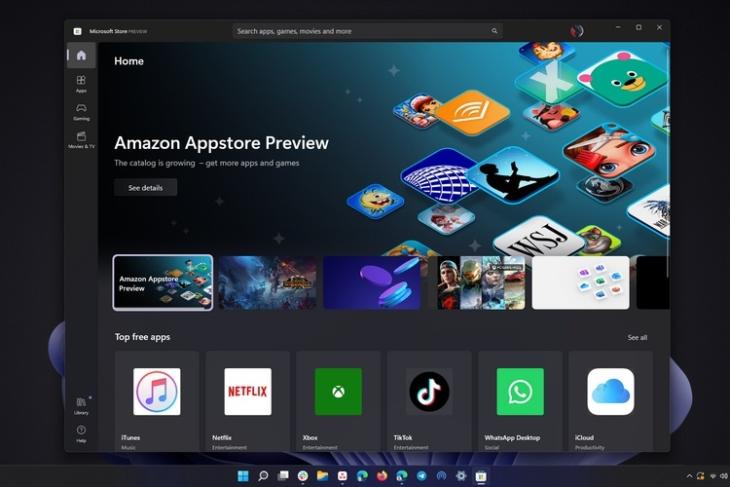 The WSA Settings app has also been redesigned to improve the UI and UX experience. The good part is that the Taskbar will show which Android apps are using the device's microphone or location. There is also support for new hardware decoding for VP8 and VP9 codecs and Android app notifications support has been improved in Windows 11. So yeah, if you are looking for a better Android app experience on Windows 11, the next feature update will bring those changes for you.
3. Windows 11 Desktop Search Box
Microsoft is testing a static search box widget on the desktop of Windows 11. It's basically a search bar that will open your search queries in the Microsoft Edge browser. The upcoming feature was released in the Dev channel (Build 25120, May 18), and it is quite barebones at the moment.
Microsoft is calling it one of the conceptual features, and it may or may not make it to the final stable build. You can enable or disable it by right-clicking on the Desktop -> Show more options -> Show Search. In case you want to use a search box like Spotlight on macOS, you can get it with PowerToys Run on any Windows PC.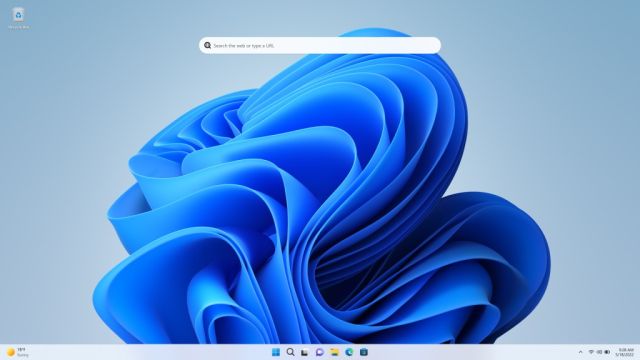 4. Suggested Actions
Among the many Windows 11 Insider features, Suggested Actions is probably the most exciting one. Microsoft is slowly adding contextual suggestions (powered by Context IQ) to actionable elements in Windows 11.
For example, if you select a date on your PC, Windows 11 will show a suggested action (in a popup) to create an event or share the event to Outlook or Calendar. And if you select a phone number, it will quickly suggest an action to make a phone call through Teams or Skype. Basically, the feature is similar to Android's Chrome Actions, and it seems promising. The Suggested Actions feature has been released in the Windows 11 Dev build 25115 (May 11), and it will take a couple of months before it reaches stable users.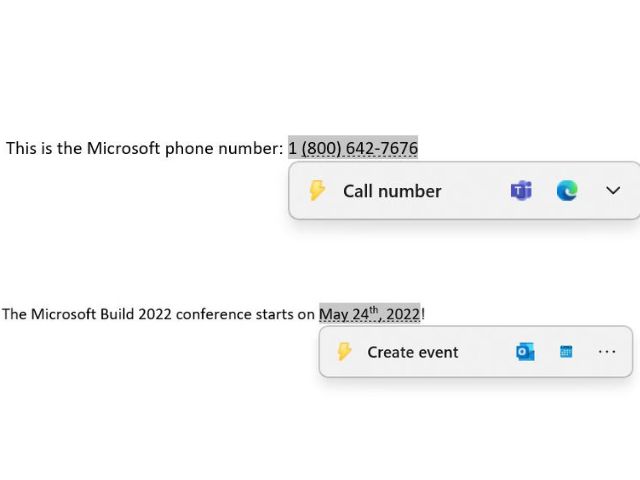 5. Redesigned Task Manager
The Task Manager in Windows 11 has finally been overhauled and now looks more in line with Windows 11's Mica design principles. While the core design is still similar, Microsoft is using XAML Islands to polish the UI. What's interesting is that now Task Manager will follow your system color accent, making it look sleek and modern.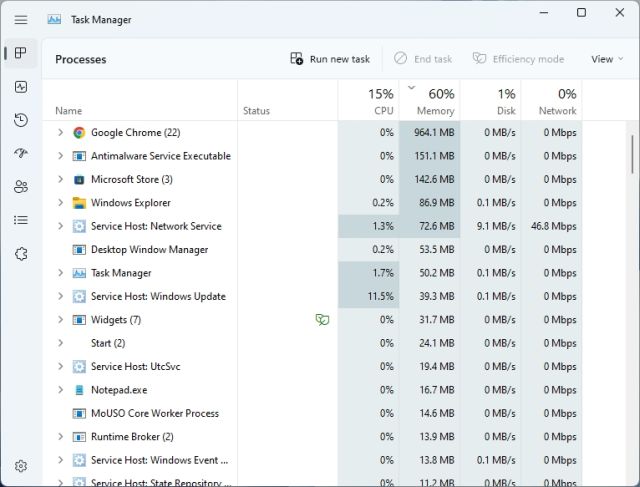 Furthermore, it comes with dark mode and Eco mode support. Eco mode is now called "Efficiency" mode in the revamped Windows 11 Task Manager, and it allows you to reduce the load that some heavy processes might be putting on the CPU. A green leaf symbol appears next to the app in Task Manager when you enable Efficiency mode.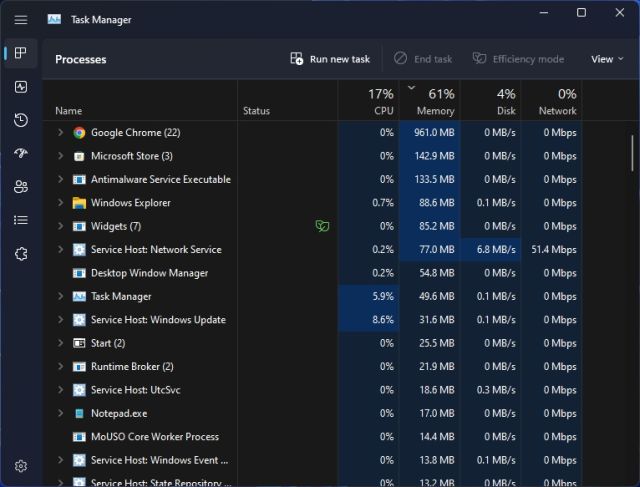 This will force apps to use fewer system resources, and as a result, will preserve the battery life on Windows 11 laptops. You can follow our tutorial on how to enable the new Task Manager on Windows 11 if you are on the Dev Insider Build 22538 or later.
6. Start Menu App Folders and More Improvements
Users who upgraded from Windows 10 to Windows 11 were miffed with the new centered Start menu. In comparison to Windows 10, the new Start menu had several features missing at launch, including App Folders, live tiles (which is a Windows 11 deprecated feature), and much more.
However, with the Windows 11 Build 22557 in the Dev channel, Microsoft has brought back App Folders in the Start Menu. You can drag an app to another app to create an App Folder right away. You can also drag and drop multiple apps in a folder, and it works similar to Windows 10's Start menu.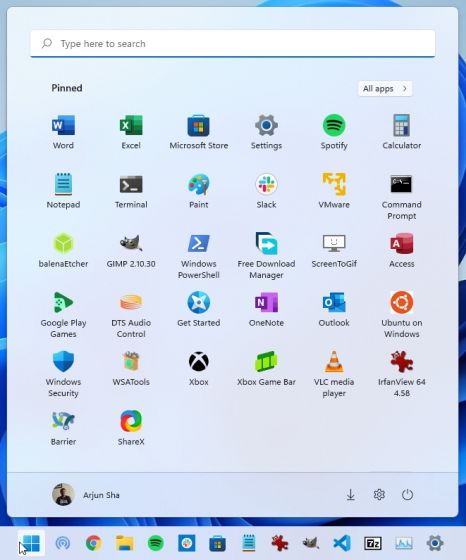 And with the recent Insider update, you can label an App folder too. However, in case you want live tiles back on Windows 11, go through our linked tutorial. Also, the latest Windows 11 insider build (22509 or later) lets you show more apps and fewer recommendations in the Start menu. But, if you want to remove the Recommended section from Windows 11 Start menu, you can do so via the Group Policy Editor.
7. Restore Apps from Another Device
At its Build 2022 event, Microsoft announced a new Microsoft Store feature that is going to make things much easier for users who keep moving from one PC to another. In Microsoft Store, you can simply click on "Restore all" or select your choice of apps to quickly install them.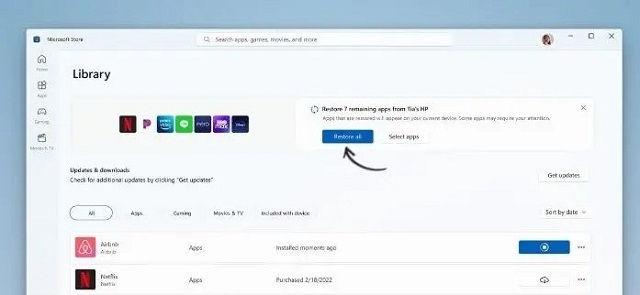 As any developers can now serve their Win32 and other legacy apps to users via the Microsoft Store, it can truly become a promising hub to find and install all kinds of apps in a jiffy. I already use Microsoft Store to find and install all my apps (including Win32), so I am happy that this feature is coming to all users soon. So those on the Dev build, wait for the new Microsoft Store update to reach your PC.
8. New Windows 11 Touch Gestures
One of the best upcoming features in Windows 11 is the new touch gestures. It comes with five new touch gestures that let you open the Start menu by swiping up from the middle of the Taskbar and swiping down to dismiss it. You can also swipe right/ left to open the app list on the Start menu.
Other than that, you can swipe up from the right corner on the Taskbar to open the Action Center and swipe left to open the Notification Center. I would say that you are absolutely going to love these new gestures if you use a touchscreen Windows 11 laptop.
9. Full-screen Widgets
Recently, at its Hybrid Work event, Microsoft teased a full-screen widgets page for Windows 11. The feature is not live in any Windows Insider channels yet, but it's expected to release soon. Also, at the Build 2022 event, Microsoft confirmed that it's finally opening third-party widgets support to make the experience even better. App developers can take advantage of Microsoft's Adaptive Cards platform to create useful widgets for Windows 11, and it will be available later this year. We are excited about this useful upcoming Windows 11 feature, but what about you?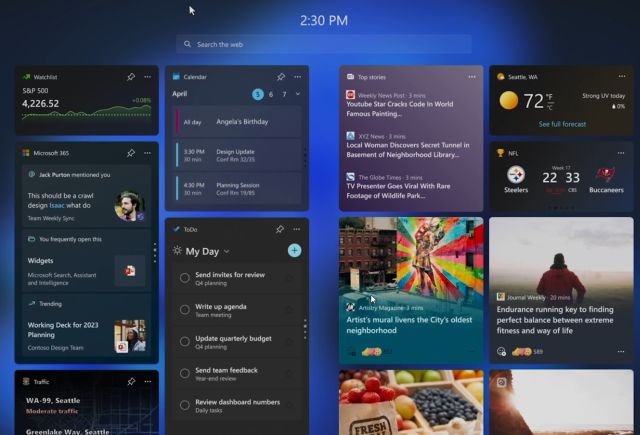 10. Snap Layout Improvement
Snap Layout is one of the best Windows 11 features, and I always use it to manage multiple windows. With a recent Windows 11 Dev build, Snap Layout has undergone a series of improvements. You can now drag the title bar of a window to the top of the screen, and Windows 11 will offer you the option to snap the window to various positions. That's awesome, right? You no longer need to wait for Snap layouts to appear upon hovering over the maximize button.
Now, you can drag the window to the top of your screen and snap it wherever you want. Apart from that, if you press "Windows + Z", it will now show a corresponding label for each position. Just press the number and the window will be snapped to that position.
11. Enhancements in Video Calls
Microsoft is slowly introducing AI-related features on Windows 11. The company is taking advantage of the NPU unit in ARM chips to deliver smart features on ARM-based Windows laptops (which developers can now test on the Project Volterra devkit). It's bringing the Voice Focus feature that will not just remove noise and echo, but also make your voice clearer and bold. This feature will be baked right into Windows 11, so other video conferencing apps like Zoom, Meet, and more, can also take advantage of this capability.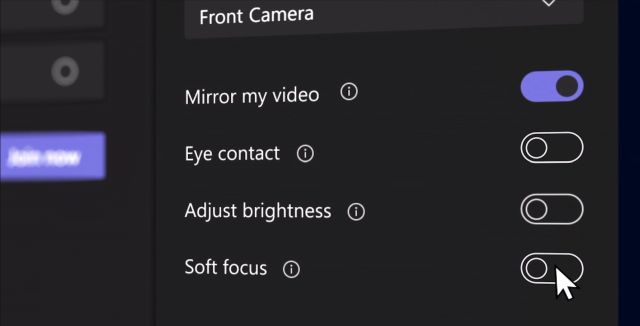 Apart from that, Microsoft's eye contact feature will also roll out to more ARM-based Windows devices in the future. Currently, the feature is just limited to Surface Pro X. For your information, the eye contact feature uses AI to automatically adjust your eyes so that you are in direct contact with all the participants in the meeting. And there is Soft focus, which will slightly blur the background during video calls. You can get these features if you have a Windows device with Snapdragon 8cx Gen 3.
12. App Folders on Desktop
This feature has not been announced yet, but it seems Microsoft is working on app folders for the Windows 11 Desktop. It will let you add multiple apps in a folder on the Desktop, just like how you can create an App folder in the Start menu. During the Hybrid Work event, the feature was spotted in a teaser video, and it's likely that Desktop Folders will arrive in Dev or Beta Insider channels soon.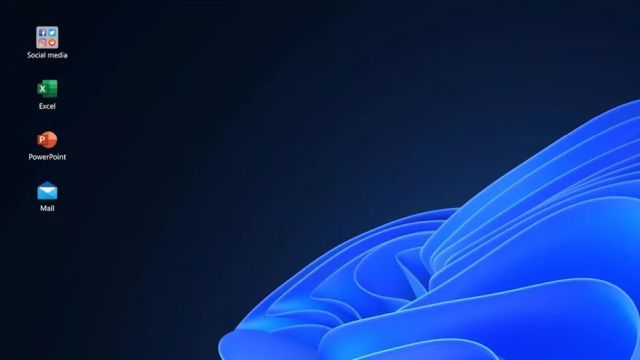 13. New Sound Recorder App
Those who are in the Dev or Beta channel of Windows 11 can test the new Sound Recorder app. The app has been developed from scratch and follows the WinUI design principles. The app shows visualization when you record sound or play it. It lets you import audio files and you can choose specific timestamps from the audio. What I love is that the new Sound Recorder app lets you choose your microphone input device from within the app. So go ahead and try the new Sound Recorder app if you are using an Insider build.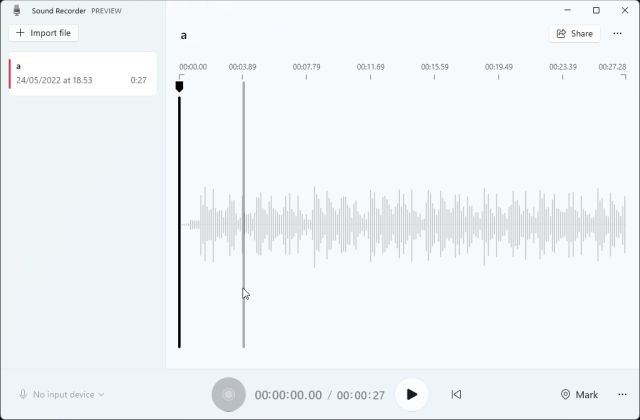 14. New One Outlook App
Microsoft has finally revamped the Outlook app, and it's coming to all Windows users. It's not part of the Windows 11 update cycle, but it seems that Microsoft will launch the new One Outlook app on Windows 11 first. The new Outlook app is a web app, wrapped in a window header with native controls.
If you use the web version of Outlook, you will not find much difference, but some native features such as ribbon configuration, integration with Calendar, etc, have been added here. You can download the new One Outlook app using the link here, but note that it won't work with personal accounts just yet. You will need a work or education account.
15. New Xbox Game Bar for Controller Users
If you use a controller to play games on your PC, Microsoft has a neat surprise for you. The company has added a Controller Bar to the already popular Xbox Game Bar. It will let you access all the features of the Xbox Game Bar with a single press. To access the feature, you will need a Controller, and you will have to enroll in the Xbox Insider program. You can download the Xbox Insider Hub from Microsoft Store and get started.
16. New Microsoft Designer App
Alongside adding new features to Windows 11, Microsoft is also working on a couple of fresh apps for Windows 11, and one of them is the new Microsoft Designer app. It was teased earlier, and it seems the Microsoft Designer app is ready to launch. It will allow you to choose pre-designed templates and create banners and posters for social media posts. The templates have a WinUI vibe to them. I am sure Microsoft fans will like this upcoming app on Windows 11.
17. Quick Bluetooth Management
After many previews and insider builds, Microsoft has finally added a way to quickly access your Bluetooth devices from the Action Center. Just like you can look for Wi-Fi networks from the Action Center, you can now do that with Bluetooth devices as well. The best part is that Windows 11 also displays the battery percentage of your connected Bluetooth devices.
We had been waiting for Microsoft to add these missing features, and I think the Redmond giant is listening to our feedback and bringing much-needed features without fail. Kudos Microsoft! If you are using any of the recently released Windows 11 Dev builds, enable the new Bluetooth menu in Windows 11 quick settings panel right away. Just follow the instructions in the linked tutorial.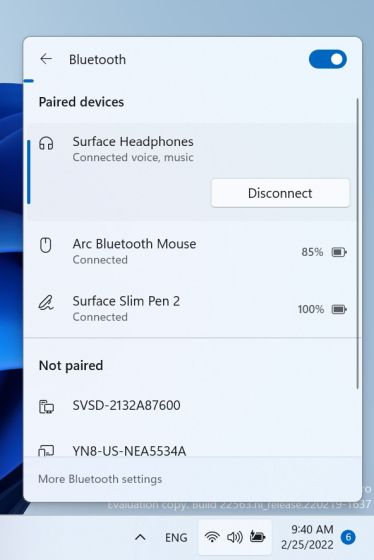 18. New AppSelector UI
While Windows 11 has managed to overhaul most of its UI elements, there were some bits and pieces that still carried the Metro design and looked old. Microsoft is finally changing that with an upcoming feature release build. When you open an app with an unknown extension or wish to choose a different app to open the file, a new AppSelector UI opens up that looks modern and is built on the WinUI 3 framework.
You can enable the new AppSelector UI in the latest Insider Build with ViveTool. Just open Command Prompt with Admin privileges in the ViveTool folder and run vivetool addconfig 36302090 2. Now, restart your PC, and you will get the new AppSelector UI shown above.
19. Desktop Background Stickers
Microsoft is bringing desktop background stickers, which is quite unusual, but I like that the company is doing something out of the box for desktop customization. A developer who goes by the name of Albacore managed to enable and demo this feature on the latest Windows 11 Insider build. Many assume that this feature might be helpful to school users, but beyond that, I don't see much use of the feature. You can take a look at how this feature works in the tweet below.
20. Overflow Taskbar
Another upcoming feature of Windows 11 is the new Overflow Taskbar. If the Taskbar gets overflowed with apps, a new floating taskbar opens up. Not many have noticed, but Microsoft has also updated the button for opening the system tray. It has a rounded design and sits well with Windows 11's aesthetics, instead of the earlier Metro design. I know these are small design changes, but we like that Microsoft is enhancing even the smallest of UI elements to make the experience better for users.
21. Smart Clipboard
There is a Smart Clipboard feature in the latest Windows 11 Dev build, but we don't know what exactly it is. It's part of the SmartActionsUX and maybe has something to do with an upcoming Clipboard History feature. Nevertheless, we will keep a keen eye on the new feature and update the list once we get more information on this subject.
22. Change Volume by Scrolling in Taskbar
Another great new feature in Windows 11 is the ability to change volume by scrolling on top of the volume button in the Taskbar. Just hover your mouse cursor on top of the volume button and scroll. You can now easily manage the volume levels from the Taskbar. That's so cool, right? You can test this feature on Windows 11 Build 22557 or later.
23. Voice Access
Voice Access is surely one of the best upcoming features of Windows 11. It lets you interact and perform actions on Windows 11 with voice input. Currently, Voice Access only supports the English (US) language, but we think Microsoft will add more language support in the future. There are many commands that you can learn to perform actions just by using your voice. This feature comes as part of Microsoft's renewed effort to improve accessibility on Windows 11. To learn more, follow our guide on what is Voice Access and how to use it.
24. Live Captions
The Live Captions feature is similar to what we already have on Android. It's an accessibility feature that lets you convert the audio being played on your PC to text on the screen. The feature uses machine learning to quickly transcribe the speech. I have used Android's Live Captions extensively, and I can say that Microsoft's Live Captions feature is also accurate and pretty fast.
Microsoft says all the data processing happens locally, and that is a good thing from a privacy point of view. If you are interested, you can learn how to enable Live Captions on Windows 11 from our detailed article.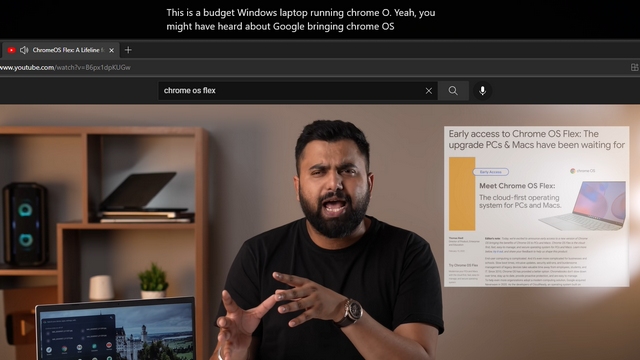 25. Drag and Drop Support in Windows 11 Taskbar
Finally, Microsoft listened to community feedback and has brought drag and drop support to Windows 11. Earlier, we had to use a third-party tool to enable drag and drop support on Windows 11, but now Microsoft natively supports this nifty feature. You can drag files to apps like Outlook, Chrome, image editors, and more seamlessly.
26. Improved Focus and DND
Microsoft has revamped Focus Assist, and it's now called Focus. When you open the Notification Center, you will now see a button at the bottom to quickly start a Focus session. The new Focus has integrated Focus Session, DND, and notifications priority list. Basically, all your notifications will be blocked except for the priority notifications that you have enabled, DND will be turned on, badges will be hidden in the Taskbar. Also, a Focus session window will open up in the native Alarms and Clock app. It seems Microsoft is trying to streamline its productivity tools under the Focus feature, and it's kind of neat.
27. New Volume, Brightness Flyouts
In line with Windows 11's design, Microsoft has finally updated the flyout design for volume and brightness controls. Many users had berated Windows 11 for using the old Metro UI for volume and brightness controls in the first stable release. Thankfully, after the latest Windows 11 Dev build 22533, the new flyout design has replaced the old metro UI. In fact, there is a subtle animation when you change the volume and brightness, and it looks awesome (and modern).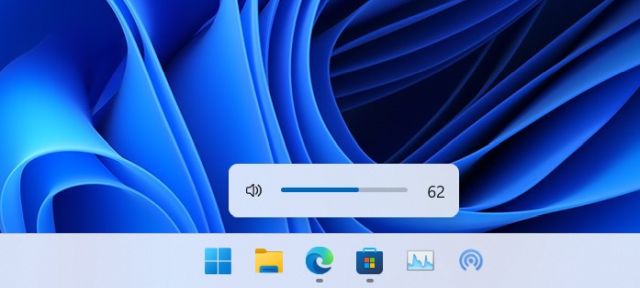 28. Windowed Alt + Tab Switcher
We are not sure if Microsoft will replace the existing Alt+Tab app switcher, but the company is currently testing a new Windowed interface for switching apps. We have even written a guide on how to enable the Windowed Alt+Tab switcher in Windows 11. That said, the new app switcher is compact, and the previews are hardly readable. I am not a big fan of the updated design, but let's see how Microsoft approaches this important multitasking feature.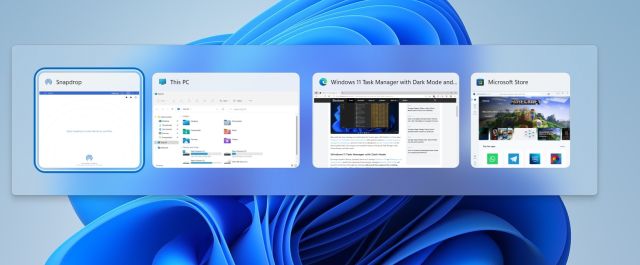 29. Your Phone Improvements
Those who use the Your Phone app on Windows 11 are in for a surprise. Microsoft has redesigned the Your Phone app, and it looks slick and modern. It comes with a new call UI, improved support for AirPods, and much more. You can also access recent apps from your Android phone on Windows 11 right from the system tray.
Having said that, keep in mind that some of these features (especially screen mirroring) only work with select Samsung phones, including the Galaxy Z Fold series, Galaxy Z Flip3, Galaxy S series, and Galaxy Note series.
30. Natural Narrator
Windows 11 now offers a more natural-sounding voice while browsing the web, reading a webpage, or writing an email. It basically reads whatever is on your screen, but now in a more natural-sounding voice. Microsoft says it uses an on-device text-to-speech engine to narrate whatever is on the screen. Currently, the Natural Narrator has support for three natural voices – Jenny, Aria, and Guy, but only in US English. The best part is that it works even when you are offline.
To select any of the three new upcoming natural voices in Windows 11 Dev builds, move to Settings -> Accessibility-> Narrator. Here, you will find a new "Add natural voices" option. Click the "Add" button next to it, and you will see the installation options shown in the screenshot below.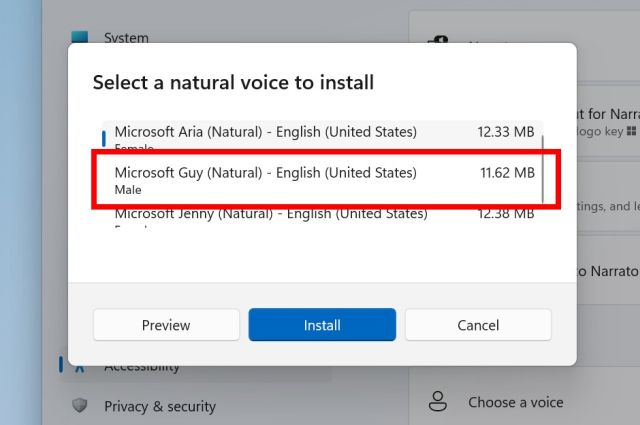 31. Online Account for Windows 11 Pro Setup
While Windows 11 Home required an online Microsoft account during a fresh installation, Microsoft has brought the same requirement for Pro users as well. I think Microsoft is getting needlessly aggressive at this point. You will now need an active internet connection and an online account to sign in to your Windows 11 PC, which is putting off a lot of users. But you don't need to worry. We recently published a detailed article on how to create a local account on Windows 11 Home during setup. We assume the same methods will work on Windows 11 Pro as well.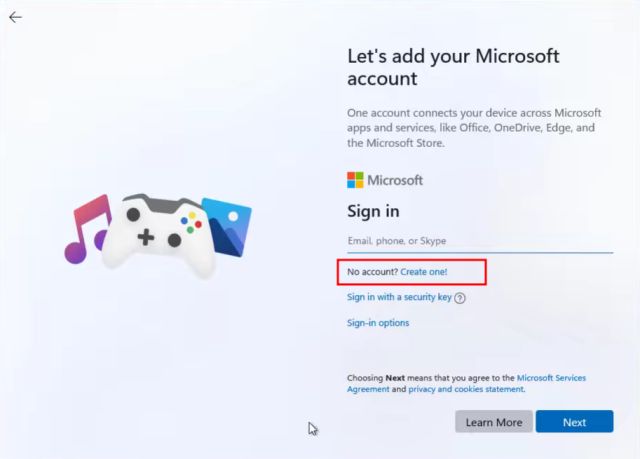 32. HDR and DRR Improvements
Borrowing a nifty feature from Xbox, Microsoft is bringing a Windows HDR Calibration app to Windows 11. It will let you improve color accuracy and consistency on your HDR display. It has also added a Vivid mode to the Action Center for users who have more than one color profile.
Other than that, the Dynamic Refresh Rate (DRR) feature in Windows 11 is also getting improvements. Now, displays with up to 120Hz can experience smooth scrolling and low latency inking beyond Office apps. DRR will soon support smooth animations and pen interaction on Windows UI elements and third-party apps as well. You can learn all about Dynamic Refresh rate and how to enable the feature on your PC via the article linked above.
33. Windows 11 Table Mode Improvements
Microsoft will significantly enhance tablet mode on Windows 11 in the upcoming feature update. We have already seen new touch gestures, which should make the experience even more fluid and enjoyable. And going forward, rotation on Windows 11 will be snappier than ever before.
When you rotate between portrait and landscape orientation, the transition will feel more responsive and smooth, just like the Apple iPad. Besides that, the Taskbar in tablet mode is now collapsible, giving you more screen estate, just like we saw on Windows 10X. In collapsed mode, only status icons will appear, and in expanded mode, you can open apps and interact with other elements.
34. Updated Cast and Charging Icons
In the recent Windows 11 Dev builds, the charging icon has been updated to show a lightning bolt while charging to give it a more cohesive look. The battery charging indicator has a minimal look and addresses the earlier objection that the indicator was not glanceable at lower levels. Apart from that, when you cast your Windows 11 screen, a Cast icon will appear on the Taskbar. Clicking on it will lead to Cast Quick Settings.

35. Cloud PC
Cloud PC is an interesting new feature on Windows 11 that will help enterprises and businesses. It's basically a Windows 365 cloud PC built on Windows 11, where you will be able to boot directly into your cloud PC or switch between various virtual desktops. These features will be deeply integrated into Windows 11, and you can switch between your local desktop and cloud PC in just a click. Further, you will be able to work on your cloud PC even when you are offline. When the connectivity is restored, the cloud PC will then sync everything without any data loss. This will ensure consistent workflow and will boost productivity.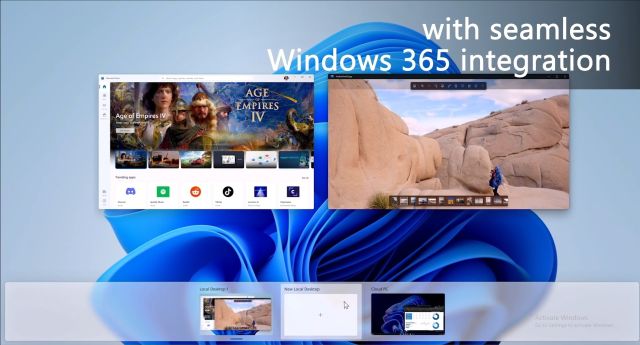 36. Device Sustainability
Increasingly, we are seeing Microsoft turn its focus towards making its devices more eco-friendly and sustainable. Windows 11 has a dedicated Settings page for Sustainability that offers Eco recommendations to make your device last longer. It also lets you find apps and settings that are consuming more energy. Then, there are also suggestions on how to recycle your device. All in all, it's Microsoft's effort to make Windows 11 an overall better offering than its predecessors.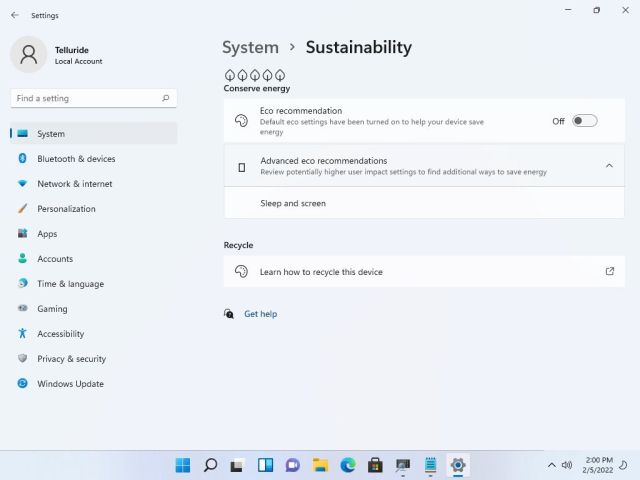 Are You Excited About New Windows 11 Features?
So these are the best new upcoming Windows 11 features that we could find on the latest Insider Dev and Beta builds. From what we can see, it appears Windows 11 will get a long list of features, including UI improvements and productivity add-ons, in the next major feature update. Anyway, that is all from us. If you are looking for hidden Windows 11 features, go through our linked article. And if you have any questions, let us know in the comments section below.