Facebook never leaves a stone unturned when it comes to giving its users reasons to use Messenger. Recently, the social media giant introduced Messenger bots, offering its users and businesses a better way to converse. With Facebook bots, you can check out the most updated content of your favourite site/service, subscribe to it, simulate communication, and much more. And between all this, you won't feel like you are talking to a bot, it's just like you are interacting with another human.
To get started with Messenger bots, Facebook has offered its own development platform called Messenger Platform. So, if you have a business, you should head over and create your very own bot. If you are a user though, like us, here's how you can access Messenger bots:
How to Access Messenger Bots?
Accessing bots in Messenger is as simple as talking to a  friend on the messaging app. All you need to do is, tap on the "+" floating button and choose "Write a message". In the search bar, type "@" followed by the bot name. An example is shown in the image below: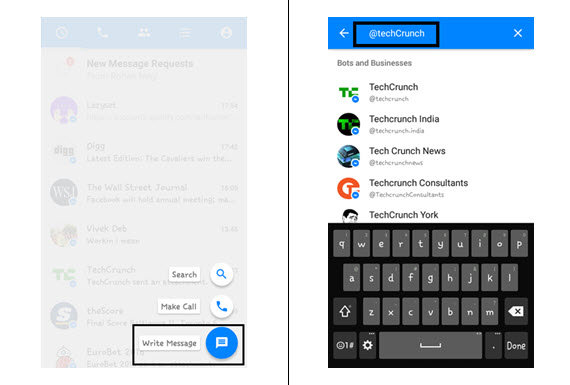 Note: Facebook Messenger bots are available for mobile and web. You can identify bots from the Messenger icon attached as a badge with the profile picture of the bot. 
Now that you know how to access bots, here is a list of the Facebook Messenger bots that are worth checking out:
Facebook Messenger Bots for News:
The AI assistant of TechCrunch promises,"A digest of trending stories". Simply start a conversation with the bot, type 'Menu' and get served with the most popular news, the latest headlines or get recommendation on the trending posts on TechCrunch.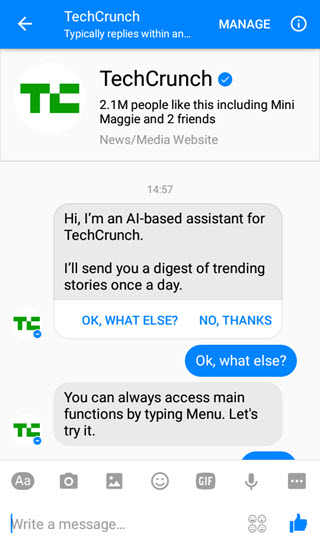 Check out the top stories for the day, from around the world through the CNN bot on Facebook Messenger. Read the story, get a summary of it, or ask CNN about what is in trend by giving a hint through a few words.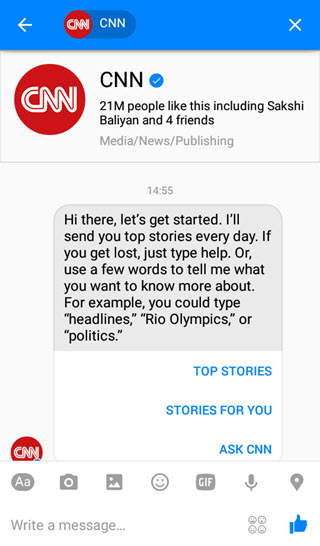 The WSJ bot brings the breaking business news and live market data to Messenger. Here, you can look out for the top news, markets, or enable alerts for latest headlines, live market overview etc.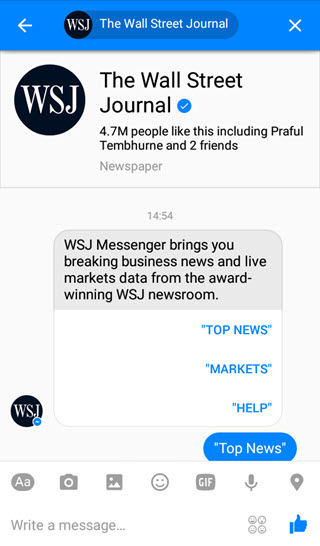 The top news and interesting stories on Digg will reach you through this bot. Check out the trending stories, the latest Digg editions, share the updates on social media and more, right from Messenger.
Facebook Messenger Bots for Sports:
The UEFA Euro 2016 followers can use this bot to stay updated about upcoming matches. With the EuroBot2016, one can check out the schedule for upcoming matches, find the nearest bar broadcasting the next Euro 2016 match, check out the last game results, and share them with friends.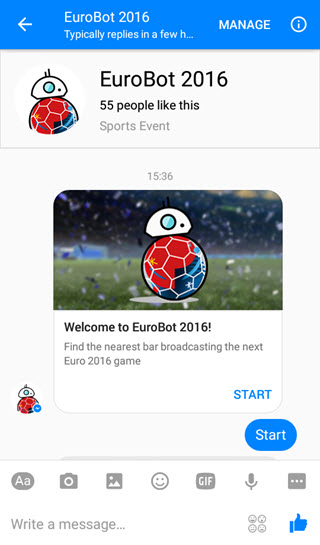 If you are a sports lover, theScore bot will keep you updated with everything you wish to know about your favorite games and their scheduled matches. Updates from MLB, NBA, NHL, NFL and soccer leagues will arrive in Messenger through theScore. You can ask about your favourite team, follow them, type 'Settings' for options to update alerts, unfollow teams and much more.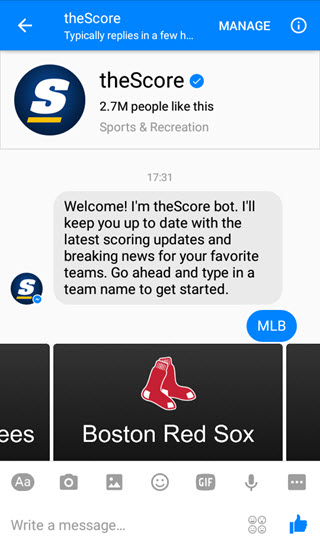 Facebook Messenger Bot For Travel:
Real time flight tracking is now easier, thanks to the Instalocate bot. This bot lets you know abut a flight status, info about its arrival or departure and more. Along with this, one gets the facility to check out the airport directions, do web-check-ins, and get info about the flights through various possible combinations like [Flight Name][Number], Track [Name][Number], Status [Name][Number] etc.
Facebook Messenger Bots for Food
If you are feeling famished and want to explore the best hotel, restaurant, cafe, lounge in your vicinity, the WhereAtBot is going to help you out. Just ask for help by taping on the "Help in Decide" button and you will be presented with a number of suggestions. You can also look out for the places to visit through landmark, pin code, city, address, or by simply typing'Nearby'.
Facebook Messenger B0ts for Productivity:
If you have photos or docs that you want to print through the web connected printer, this HP Print Bot is your aid. All you need to do is upload the file and provide the printer's email address to get the print. In case any of the information is unavailable, you can tap on the "More Help" button to work around.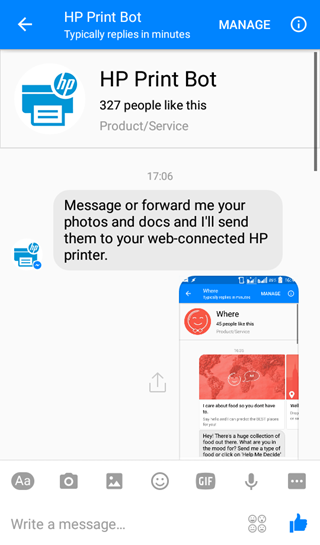 Facebook Messenger Bots for Entertainment:
How about having all the songs of your favourite artist on your Spotify account? If you want this, Lazyset will do the job for you. To get started, provide the name of your favourite artist (s) and then click on the link to enter Spotify credentials, so that the bot can save the songs list of your artist on the Spotify account.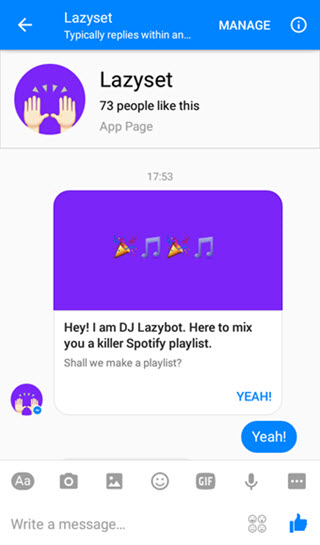 With the trading bot, you can ask about the favourite stocks, market finance, and other related info to get live market data on the Messenger app. There is an option of following your favourite stocks, trade, and also organize the portfolios, as required.
Miscellaneous Messenger Bots:
Do you like to know your horoscope, to predict your day? Well, Zodia brings you daily horoscope on Messenger. Just enter your Zodiac sign and get set with the prediction for day. It brings predictions around health, prevision for tomorrow, along with ratings for the day out of 5.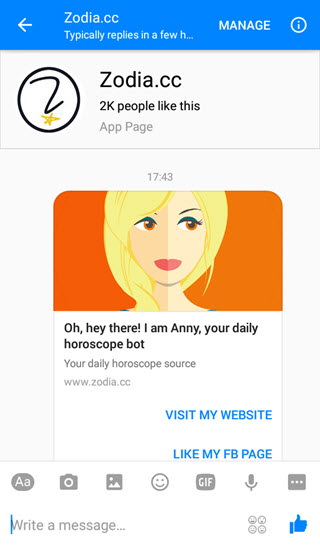 How is the weather outside? Ask Poncho, the weather cat. Just tell her the city and the pin code and get yourself updated with the weather outside.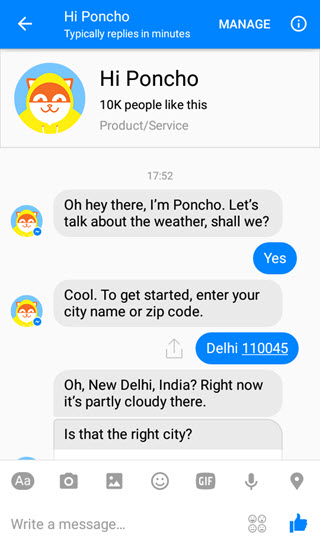 SEE ALSO: 10 Examples of Artificial Intelligence You're Using in Daily Life
How to Create your Own Bot without Coding?
If the idea of creating a Messenger bot for your brand or service is currently on your mind, you can take help of some bot building services like Chatfuel, Manychat. Building bots with these third party platforms do not require coding and does not call for development skills. Give it a try and cut down the manual effort for interacting with the customers.
Well, that's all, these are some creative and helpful bots for Facebook Messenger. Go for it and let us know about your experience in the comments section below.