Facebook never leaves a stone unturned when it comes to giving its users reasons to use Messenger. The social media giant introduced Messenger bots back in 2016, offering its users and businesses a better way to converse. And its selection of bots has increased exponentially since then. With Facebook bots, you can check out the most updated content of your favourite site/service, subscribe to it, simulate communication, and much more. And between all this, you won't feel like you are talking to a bot, it's just like you are interacting with another human. So, if you love bots, here are 17 best Facebook Messenger bots that you should in 2020.
Best Facebook messenger Bots in 2020
Before wee get to our list, let's first check a quick tutorial on how to access Facebook Messenger bots:
How to Access Messenger Bots?
Accessing bots in Messenger is as simple as talking to a friend on the messaging app. All you need to do is, tap on the "New Chat" button at the top-right corner of the app. In the search bar, type "@" followed by the bot name. An example is shown in the image below: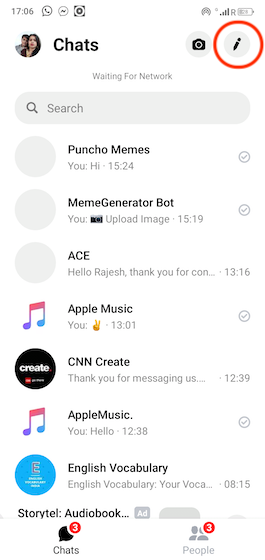 Now that you know how to access bots, here is a list of the Facebook Messenger bots that are worth checking out.
1. Hipmunk
Hipmunk's Messenger chatbot is an easy way to book flight tickets, explore flights to popular destinations, and make reservations in hotels for your next vacation. The bot lets you do all of that directly from Messenger, and works really well. You can simply tell the bot the city you're travelling from (or send it your location if you want), and it'll start off by showing you some popular destinations at low prices. Hipmunk can also find flights and hotels for specific cities if you already have a destination in mind. Along with that, the bot can give you travel advice on things like "What's the best time to fly to London?" among other travel related queries. It's a pretty powerful bot that you should definitely try out to plan your next vacation.
If you're in India, and you'd like a chatbot that does travel bookings and more, you should check out the Niki bot. It lets you book movie tickets, recharge your prepaid smartphone (or pay your postpaid bill) and a lot more. It's a very easy to use bot as well and will definitely be helpful if you're trying to quickly make all your bill payments, or book tickets to movies.
Check out Hipmunk bot here
2. Scope Bot
Have you ever been in a situation where some words from a song are stuck in your mind but you can't figure out what that song actually is? Yeah, we've all been there. That's where Scope Bot comes into play, you simply type the lyrics you remember, and the bot tells you what song it could be. If it's not the right one, you can just type 'wrong' and the bot comes up with more songs that have the same lyrics. I tried it out with 'Some nights' by Fun, and by typing 'you are my fire, my one desire' and it correctly guessed that I was talking about 'I want it that way' by the Backstreet Boys. It also guessed 'My Heart Will Go On' when I typed 'every night in my dreams.' So it should definitely work out well for you and you should check it out.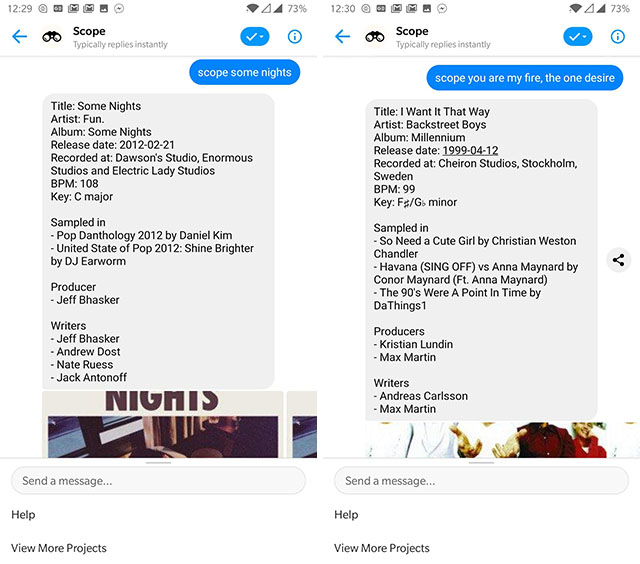 Check out Scope Bot here
3. Out of Bacon
Are you out of Bacon? Or anything else for that matter? Well, fret not, since this bot creates beautifully formatted (and completely interactive) grocery shopping lists for you. All you need to do is send the items you need to buy to the bot as messages, and when you're done, just type 'done'. The bot will then send you a link to a beautiful looking shopping list, with interactive items so you can cross them off as and when you pick them up at your local grocery store. Plus, you can also add more items to the list as well. Along with that, the bot lets you share the grocery list over Facebook, WhatsApp, or Telegram. It's pretty neat and of the useful Facebook Messenger bots.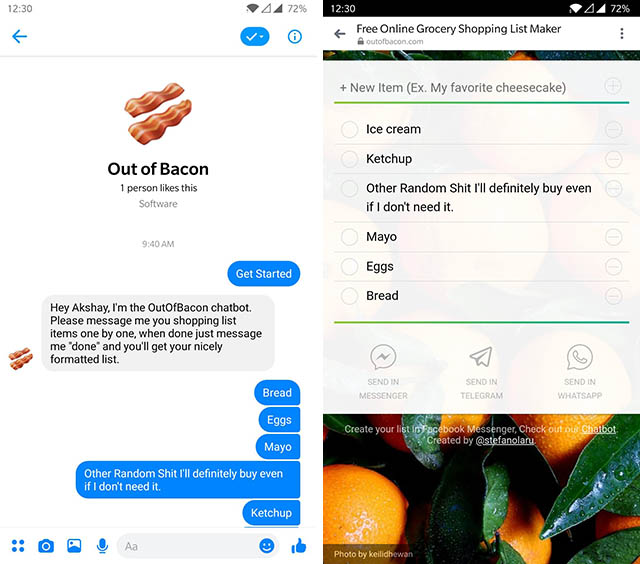 Check out Out of Bacon here
4. Dungeons & Monsters
Fan of RPG games? Have you played hours and hours of Dungeons and Dragons? Well, then check out this chatbot. Dungeons and Monsters is exactly what it sounds like — a chat bot that takes you on a journey through creepy dungeons on a quest to fight monsters and complete your journey. The chatbot lets you create a new character, choose your main strength, your armor, and more. You'll then be able to begin your quest and go through a dungeon, fighting monsters, and levelling up to gain access to closed doors, etc. It's a pretty fun game, and you can collect items along your way including potions and weapons to help you complete your quest, or to regain health after an intense battle.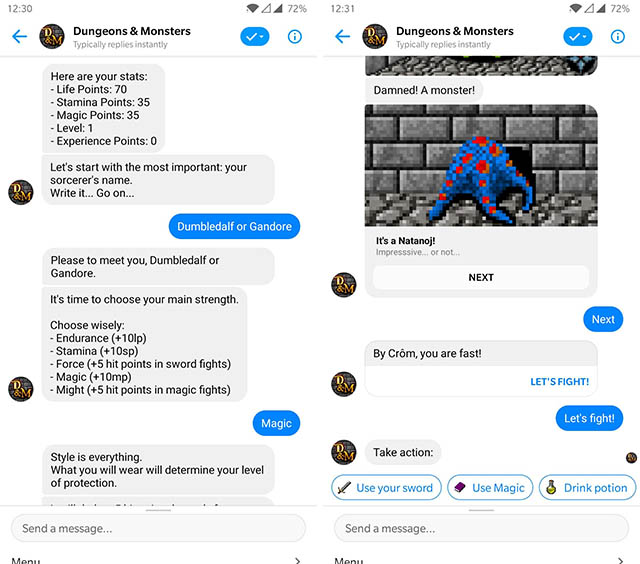 Check out Dungeons & Monsters here
5. SuperCop
If riddles are your thing, and you like to solve crimes, SuperCop is the perfect chatbot for you to pass the time. The bot puts you in the position of a detective in the police force, and presents cases to you. You get to interrogate witnesses, check out clues, and figure out who the culprit is. The first few cases are pretty easy, and will earn you a rapport with the Police Chief along with special 'keys' to access clues when you need help — which you will, because the cases get progressively harder and solving them really becomes quite difficult without using clues. It's a pretty fun game to pass the time and I love this Facebook Messenger bot.
Check out SuperCop here
6. Kylo Ren
Star Wars fans, this is the chatbot for you. Kylo Ren will try to take you under his wing, and you can choose to 'underestimate the power of the dark side' and stick with the light, or give in to the temptation of the dark side. The chatbot will let you discuss fan theories, and even asks you questions about popular fan theories on which you can give your own opinions. It consists of the characters from the latest Star Wars movies, including Rey and, obviously, Kylo Ren. It's a pretty fun chatbot to pass the time with, and will definitely let you nerd out about Star Wars.
Check out Kylo Ren here
7. Toni
If you're a football fan, you can use Toni bot to stay updated about football matches. Toni, as you can see, asks you to select the team that you want to follow, in order to provide all the necessary info that you need to know about them. You can check out the schedule for matches, their standing in the table, and more. The chatbot also lets you share the info directly with your friends, which is just awesome!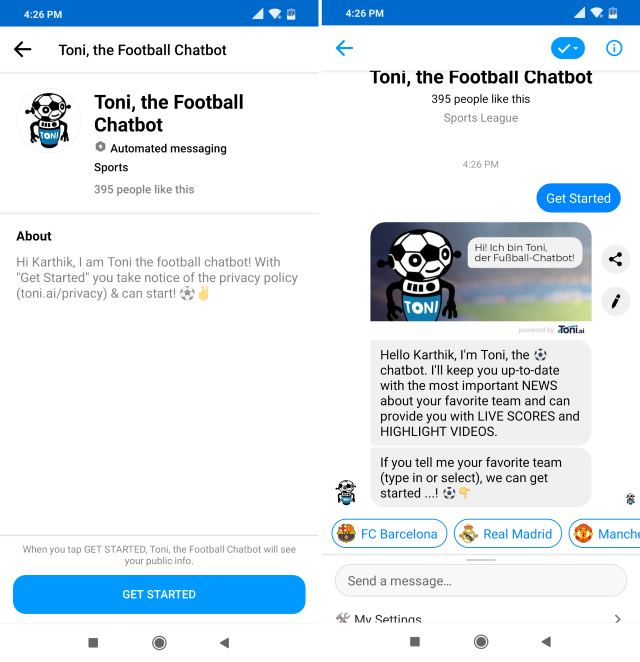 Check out Toni here
8. theScore
If you are a sports lover, theScore bot will keep you updated with everything you wish to know about your favorite games and their scheduled matches. Updates from MLB, NBA, NHL, NFL and soccer leagues will arrive in Messenger through theScore. You can ask about your favourite team, follow them, type 'Settings' for options to update alerts, unfollow teams and much more.
Check out theScore here
9. HP Print Bot
If you have photos or docs that you want to print through the web connected printer, this HP Print Bot is your aid. All you need to do is upload the file and provide the printer's email address to get the print. In case any of the information is unavailable, you can tap on the "More Help" button to work around.
Check out the HP Print Bot here
10. Zupcoin
Zupcoin is a cryptocurrency-centered Messenger bot that lets you get the price of any coin of your choice in terms of any other coin on any exchange. The bot supports 800+ coins, and you can simply ask things like 'What is the price of ether?', 'exchanges', and more. If you are really into cryptocurrency, then this chatbot absolutely worth checking out.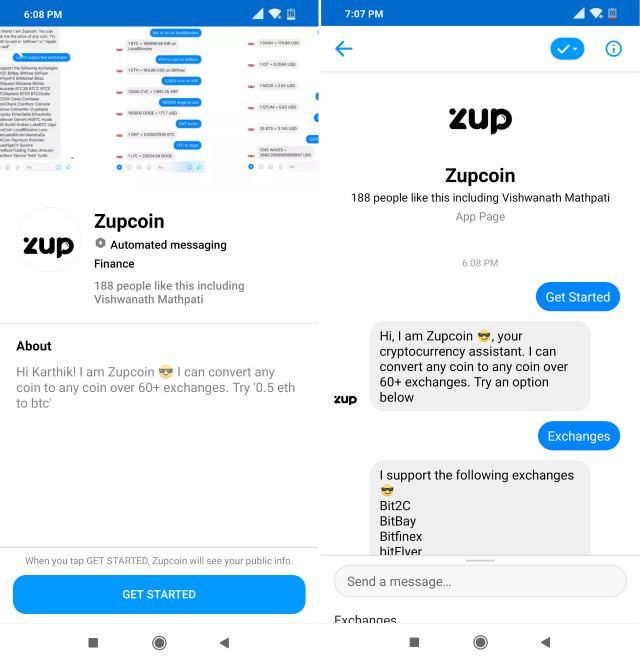 Check out Zupcoin here
11. Spotify
The name itself is enough, isn't it? The Spotify chatbot for messenger lets you stay up-to-date with the latest happenings in the world of music. The chatbot can help you find new music, create a playlist, and more. You can also search for a particular kind of music and share it with your friends directly from within the chat window. It's a great chatbot, and you must check it out if you love listening to music.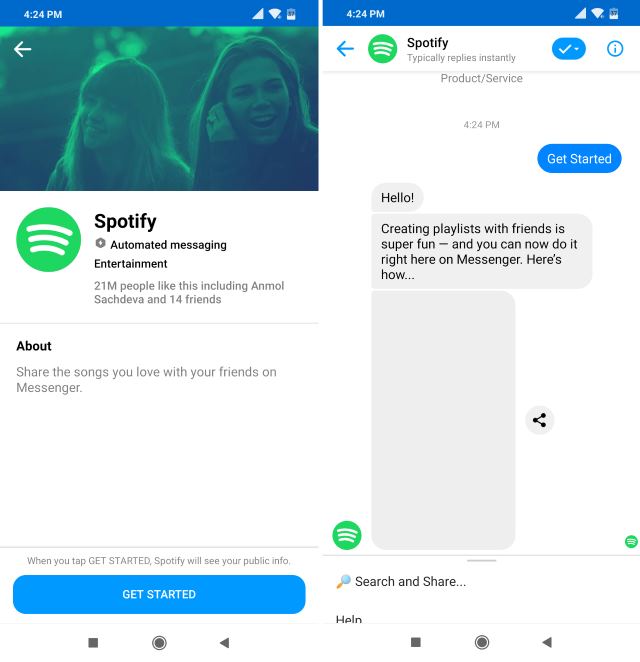 Check out Spotify here
12. Zodiac Fire
Do you like to know your horoscope to predict your day? Well, Zodiac Fire brings you daily horoscope on Messenger. Just enter your Zodiac sign and get set with the prediction for the day. It's also very quirky when it comes to conversation, so you'll have a great time using it.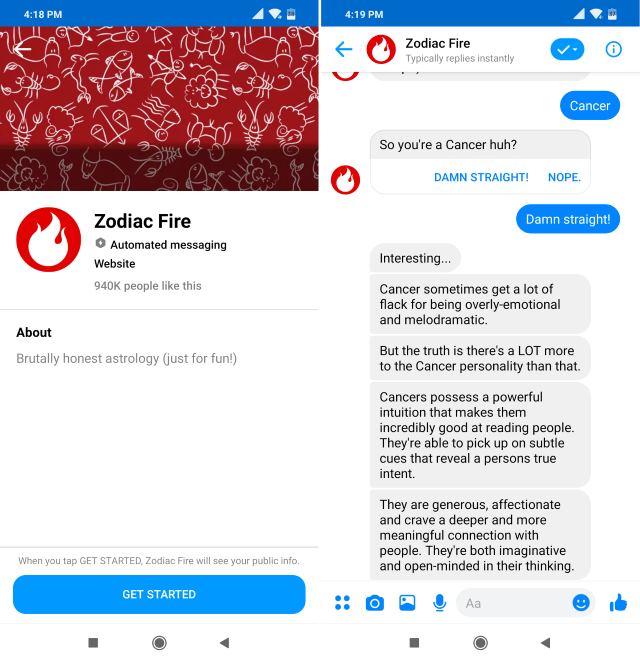 Check out Zodiac Fire here
13. Apple Music
If you are an Apple Music user, you shouldn't miss out on Apple Music chatbot. You can use the bot to listen to your favorite artists, playlists, and even share songs with your buddies. And that too without having to leave the conversation thread. Moreover, the chatbot also suggests songs based on the emojis sent to it. Perfect for the times where you want your music to be in line with your mood. One of my favorite features of this bot is the ability to allow access to the editor's collection, which comes in handy when you wish to have top-notch songs at your fingertips.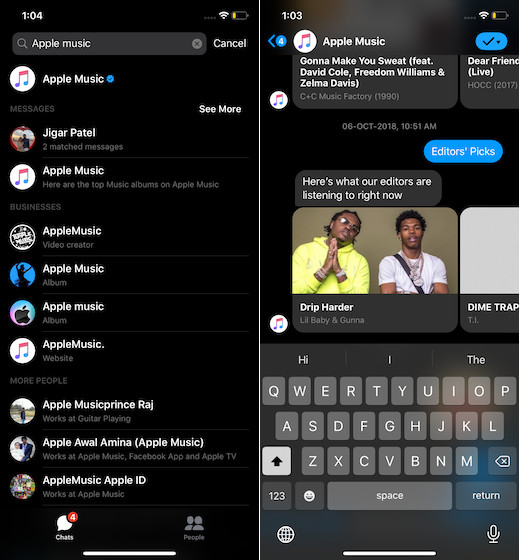 Check out Apple Music bot here
14. Health Tap
This one looks primed for health-conscious people! If you are one of them, you should keep it in the special collection of your best Messenger bots. As you may have already guessed, it offers you quick answers to your health queries from physicians around the world. Thanks to a huge community of more than 100, 000 physicians with different specialties who review and post answers to various questions, the bot is quite reliable. So, if you ever find yourself a bit under the weather, do not hesitate to take the help of this handy chatbot.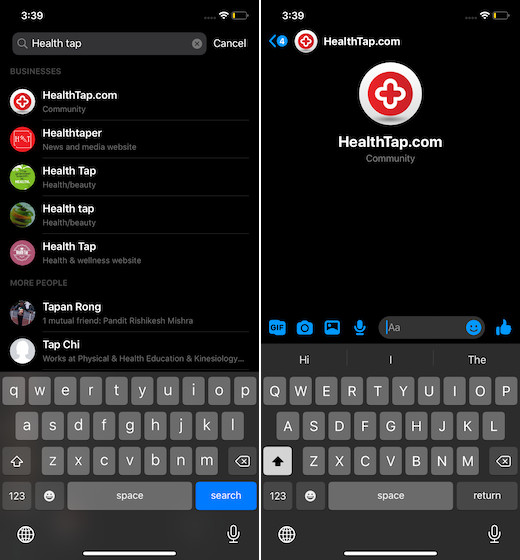 Check out Health Tap bot here 
15. Yahoo Weather
Believe me, there are very few Messenger bots that are as user-friendly as Yahoo Weather. Yeah, you heard that right! With this chat bot at hand, you can get to know what type of clothes you should wear on a particular day. To be more precise, it can offer you the weather forecast and the current weather information in your area. What's more, you can also choose to set auto alerts to stay in the loop about the weather forecasts. From what I have experienced, the bot is quite responsive and works as expected. So, don't fail to check out the weather info before going out so that you won't get stuck in bad weather.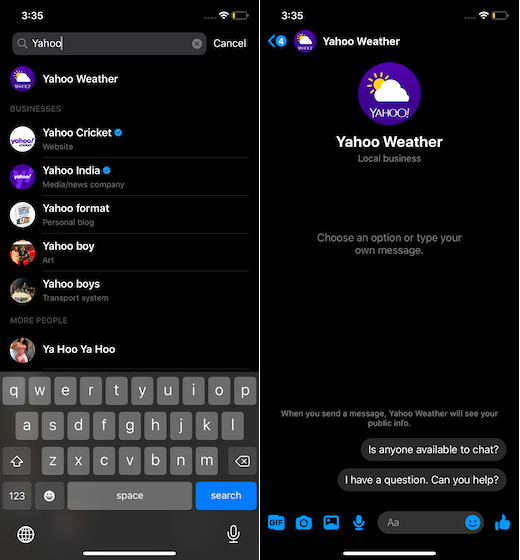 Check out Yahoo Weather bot here
16. MemeGenerator Bot
If you have a liking for fun-loving memes to share on social networking sites, chances MemeGenerator Bot may win you over right away. The chatbot is pretty smart and knows what you are after. You can use this boat to generate bone-tickling memes that can go a long way in spicing up the mood of the conversation. And that too without having to give a break to the ongoing conversation. Well-timed!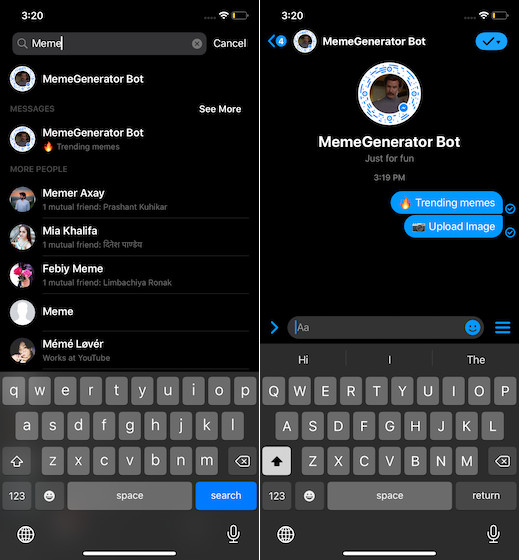 Check out MemeGenerator Bot here
17. English Vocabulary
Last but not least, English Vocabulary is what you need to enhance your vocabulary. Whether you are a student who is willing to build a solid collection of vocabulary or a profession who want to improve soft skills, this bot can turn out to be a game-changer. It works reliably in offering you the quick answers to your questions so that you can sort out the confusion. Moreover, it also offers you a new word each day, which you can learn to write and speak with confidence.
Check out English Vocabulary Bot here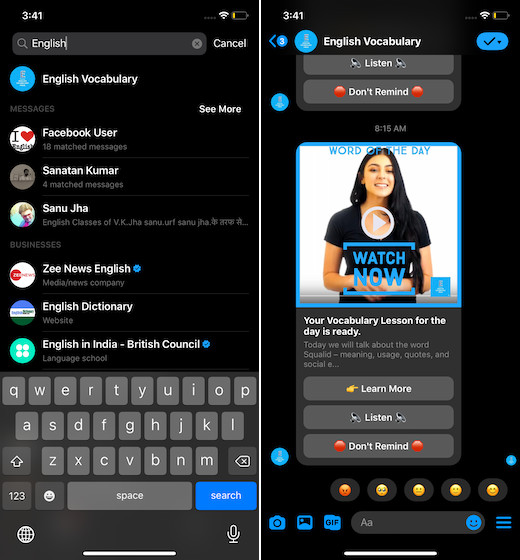 How to Create your Own Bot without Coding?
If the idea of creating a Messenger bot for your brand or service is currently on your mind, you can take help of some bot building services like Chatfuel, Manychat. Building bots with these third-party platforms do not require coding and do not call for any development skills. Give it a try and cut down the manual effort for interacting with customers. Well, that's all, these are some examples of creative and helpful bots for Facebook Messenger. Go for it and let us know about your experience in the comments section below.