Fitness gets an honorary mention every year when we're choosing our new year resolutions. But for most of us, these plans get sidelined soon after the end of the holiday season. But, if you want 2020 to be different, there is no reason to wait for the new year, and to help your fitness mission take off, we have listed some of the best workout apps for Android and iOS. These workout apps will inspire you to lose those extra kilos that you have put on binging on sugary delights. And if you're already hooked on to fitness, you can use these apps to improve your workout efficiency. So, here are the 15 best workout apps you can use to keep yourself fit in 2020.
Best Workout Apps to Keep Yourself Fit in 2020
To make the search easier for you, we have divided this article into several sections as mentioned below. You can click on the link to quickly move to the section that you want.
Best Workout Apps for Training at Home
The intention to get fitter is much more important than the best gym equipment and the following apps will help you groom your body solely with your inner strength. Here's a list of apps which will help you get fitter at home (or community gym).
1. Home Workout – No Equipment
Home Workout is an app designed to let you beef up by targeting body parts individually. It comes with preset workout routines for different body parts and you can also change the order of different exercises. These routines are grouped based on their intensities into Beginner, Intermediate, and Advanced levels.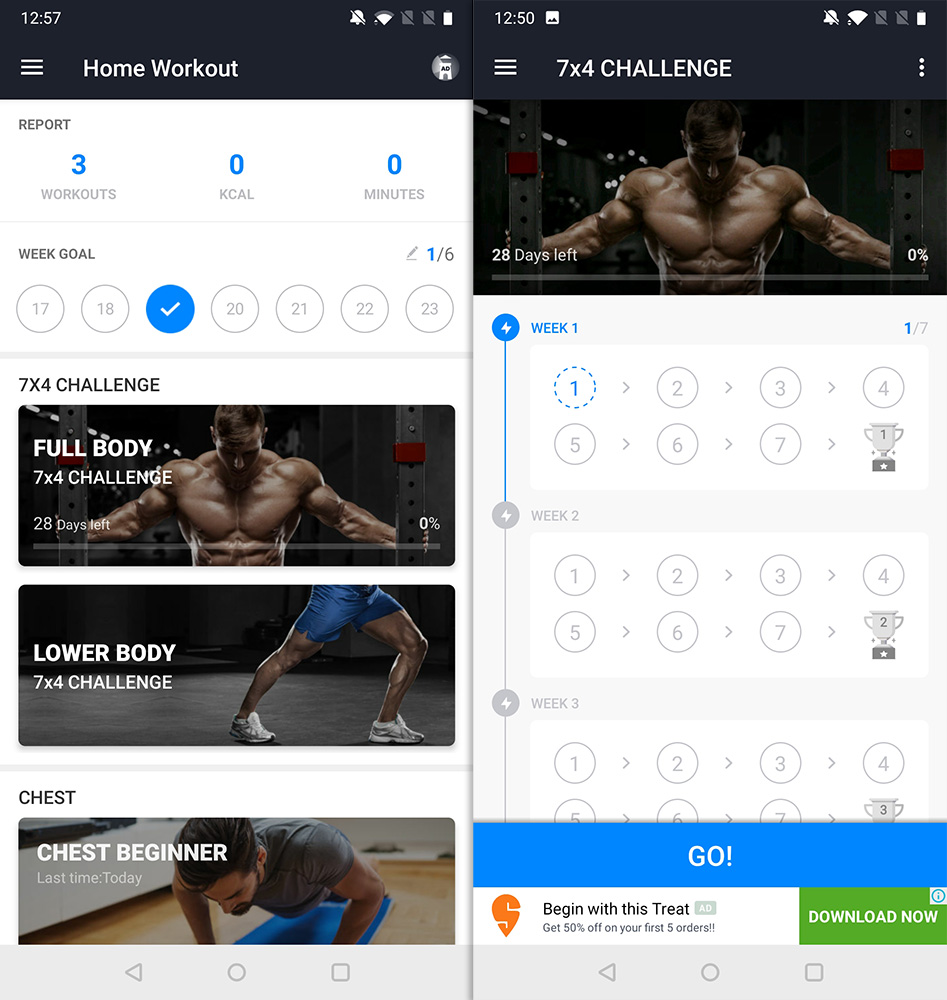 The homescreen shows you a roundup of your overall monthly progress with stats such as the frequency of workouts, calories burnt, and the minutes spent on fitness. While you can set goals to keep yourself engaged, the app also features a Reminder option to nudge you out of your comfort zone. Besides showing you a graphical animation, the app also has audio prompts.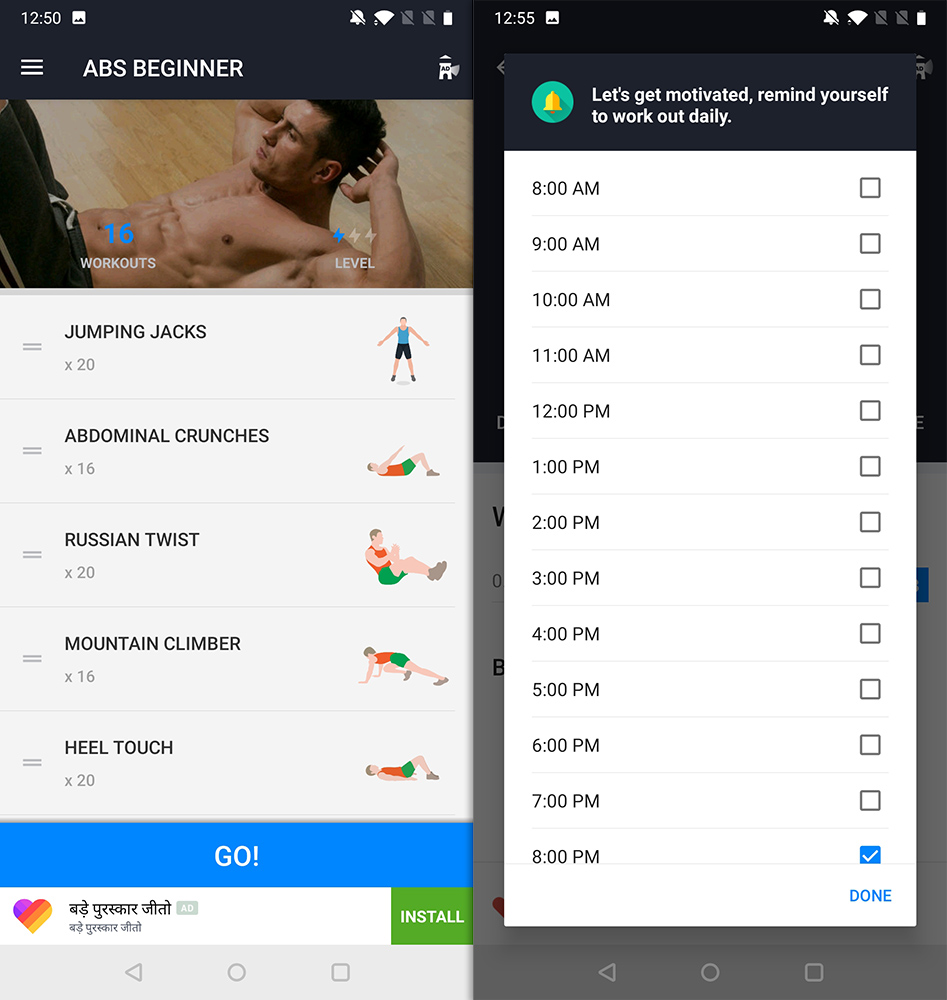 With Home Workout, you can also take up workout challenges for refining just the lower half or the overall body. On the Report page, you can track your weight, height, and BMI, along with a comprehensive history of your workouts. You can also sync your workout progress with Google Fit and the long list of features makes it one of the best workout apps. The only part of the app which might peeve users is the number of ads and there is no option to pay and remove these ads.
Download the Home Workout – No Equipment (iOS, Android)
If you want simpler instructions and want to set forth on your fitness trail without any time restrictions, 30 Day Fitness Challenge (Android) is another excellent option.
2. Spartan Body Weight Home Workout
If you're awestruck by the chiseled body which Gerard Butler had in 300, or Jason Momoa in Aquaman, Spartan Home Workout will be your companion in this journey to your fitter self. The free version of the app comes with a very long list of high-intensity exercises and a couple of pre-defined weekly schedules to help you build inner strength.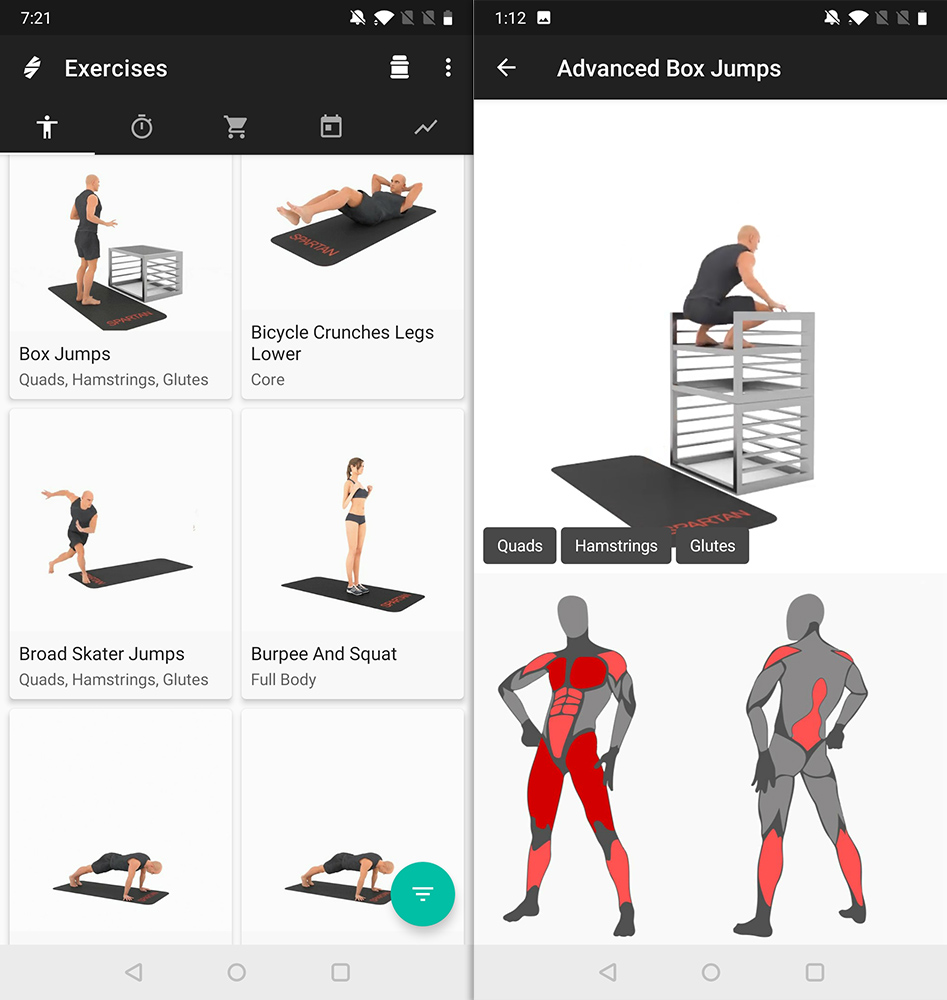 Each of the workouts is marvellously explained with 3D animations and there's a rich diversity of female and male representation to inspire both genders equally. Alongside individual workouts, you also get preset intense 20-minute-long workouts. Meanwhile, the logs page helps you keep a track of all the workouts you've taken before.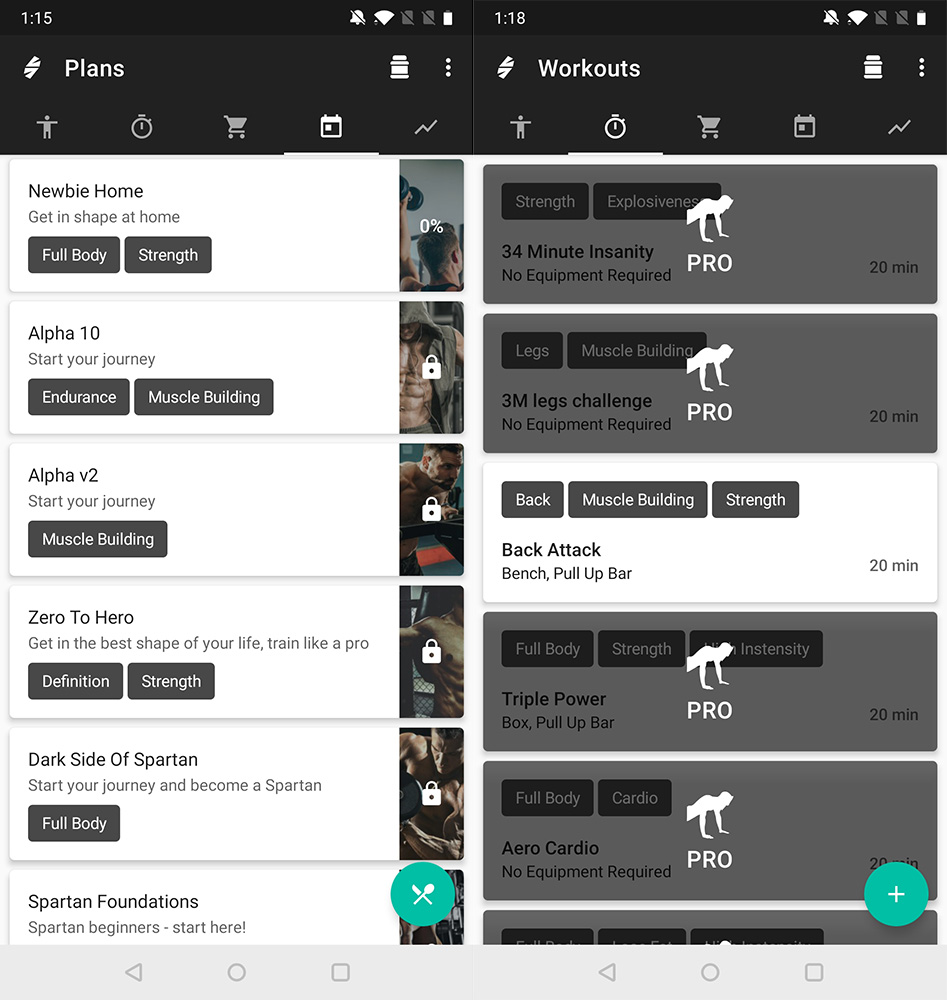 You can unlock the locked features and remove the ads within the workout app by buying the app for $3.49. Besides a diverse list of high-intensity workouts, you also get the option for personalized exercise schedules and more than 200 workouts, helping you attain the best physique.
Download the Spartan Body Weight Home Workout (iOS, Android)
3. Seven
Shortage of time can often make you neglect your fitness and that's why Seven takes up only 7 minutes of your daily busy schedule, letting you take charge of your physical wellbeing. Being dependent on the app for my daily fitness regime myself, I would especially recommend this to anyone who thinks getting fitter is a challenge when you have limited time. Among the best workout apps, Seven can help you achieve your ideal body by just dedicating 7 minutes of your day, each day for seven months.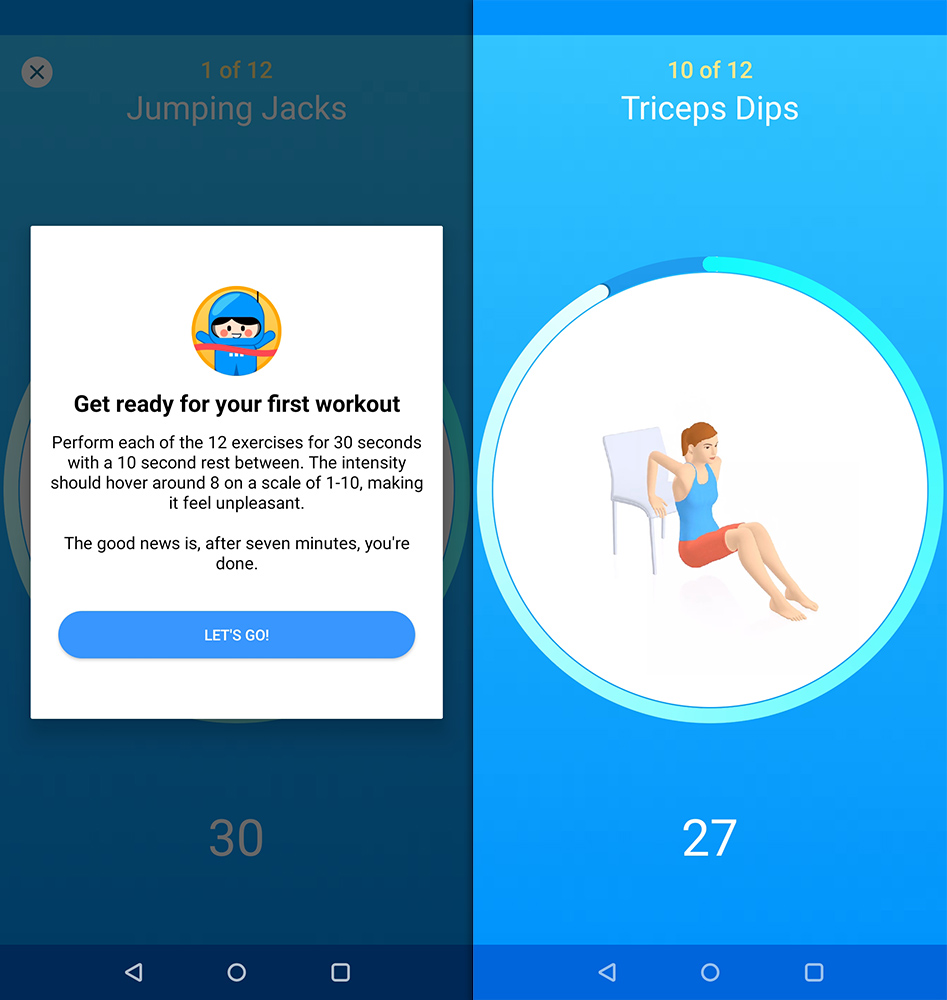 You can spare 7 minutes every day and the app guides you through 12 exercises of varying intensity for 30 seconds each, and 10 second-long breaks in between. These 7 minutes are ample for you to get your heart racing and your body sweating because there's not a lot of time to cool down in between the exercises. To make the workout sessions more exciting, you get a variety of instructor voices with unique catchphrases, and you can also do multiple circuits if you don't feel exhausted after the first one.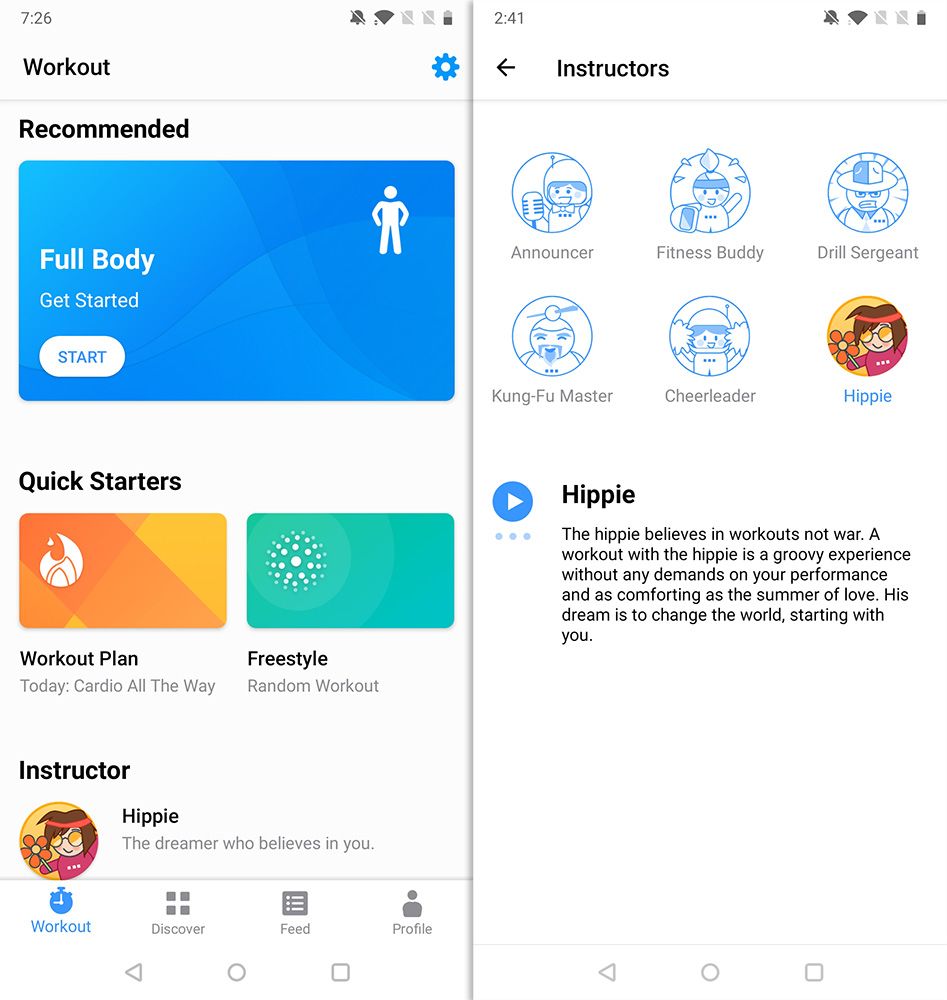 You can also customize your own workout sessions using the 12 exercises available in the free mode or use the Freestyle option to randomize these exercises. You can also unlock up to 200 exercises, workout schedules, and personalized instructions for $10 per month or $60 per year.
Download the Seven app (iOS, Android)
4. Freeletics Bodyweight
Freeletics is designed for a highly personalized fitness training experience based on your body and your fitness objectives. With a potpourri of intensive workout options to choose from, the app uses a graphically striking interface to motivate you. As implied from the name, Freeletics helps you engage in exercises that require athletic strength.
But don't be fooled by the name – there is nothing available for free here. This is primarily because Freeletics offers you personalized results. To be able to utilize the offerings, you'll have to pay at least $10 for a period of three months to get started. If you also want advice from a nutritionist, you can choose the option but for a higher price.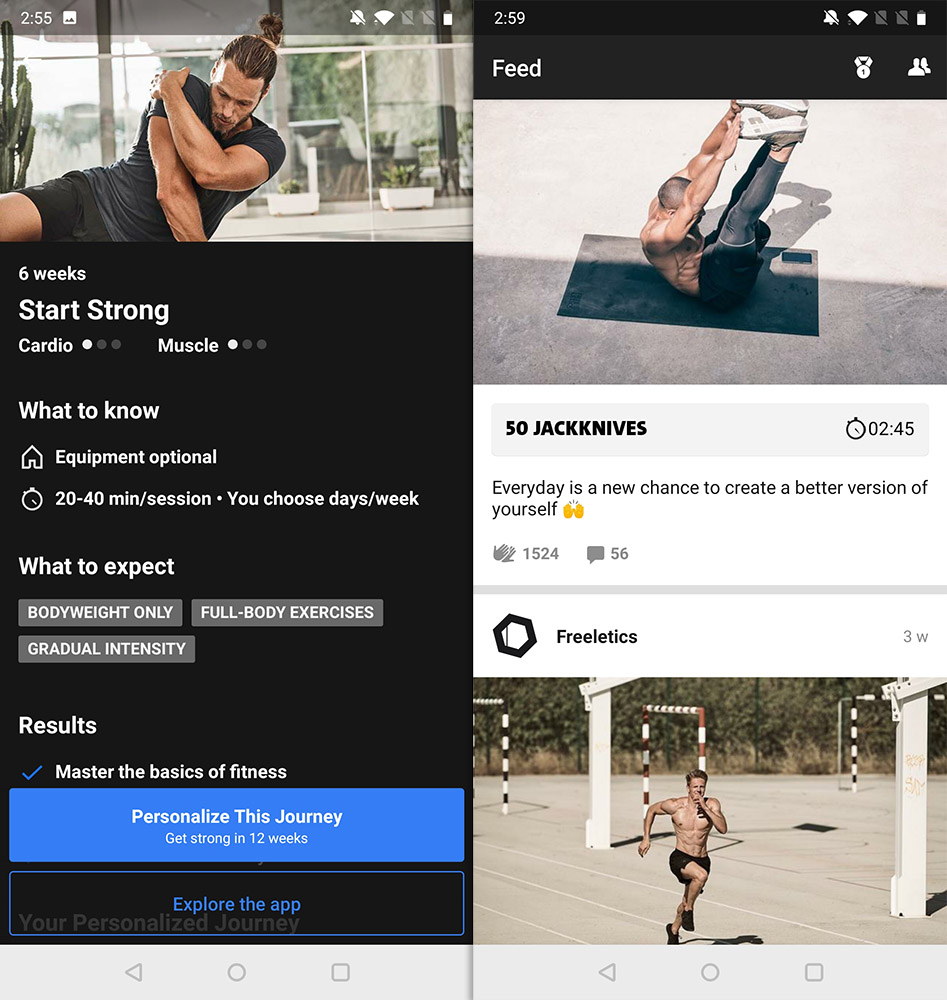 Overall, Freeletics appears to be most suited to those who are dead serious about their fitness, as well as those who want to be in the best possible shape.
Download the Freeletics Bodyweight app (iOS, Android)
5. Home Workout – Get Fit Now
Should you wish to strengthen your muscles without needing to join a gym, "Home Workout – Get Fit Now" can prove to be a handy asset for you. The app comes with a variety of professionally-designed 3D modeling and HD videos so that you can learn the right way to perfect each exercise. Primarily focused on boosting 5 major muscle groups, it can help you strengthen your arms, build a robust chest, make good-looking abs, improve leg muscles, and also build stunning V-taper with pro back and shoulder workouts.
So, how much time do you need to spare for the workouts? Well, the total body workout will require just 10-15 minutes per day for just 4-8 weeks. As the workouts are bite-sized, they can fit into an even hectic lifestyle. Not to mention, they also don't require any types of gym equipment. Moreover, you can sync your calories burned to the Apple Health to keep a tab on your progress. With these notable features, the $9.99/month and $49.99/year seems reasonable.
Download the Home Workout – Get Fit Now (iOS)
Best Workout Apps for Training at Gym
You're already hitting the gym daily but not getting the desired results? You can take your weight training activities to the next level by using some of the best workout apps listed below, which will not only help you keep a tab of the number of repetitions and sets but also motivate to you to go the extra mile.
1. Jefit
Jefit offers a diverse catalog of exercises for tracking your fitness activities. You can either create customized workout routines based on the kinds of exercises you do at the gym or at home or refer to the presets to start. Once you go about the exercise, you feed the weights you're using per exercise along with the number of reps, one by one.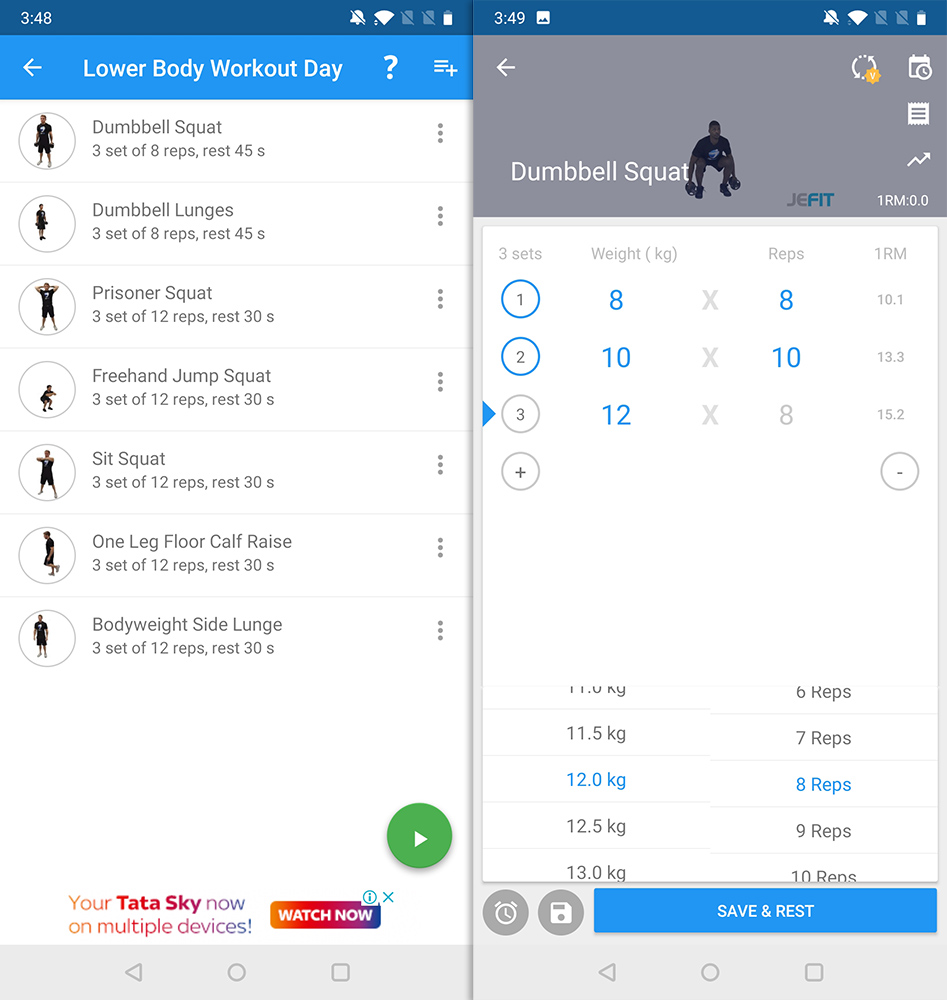 Based on your workout, Jefit will display the time you've spent lifting weights or worked on your core's strength, the total number of exercises, and the total weight you've haggled in the entire workout.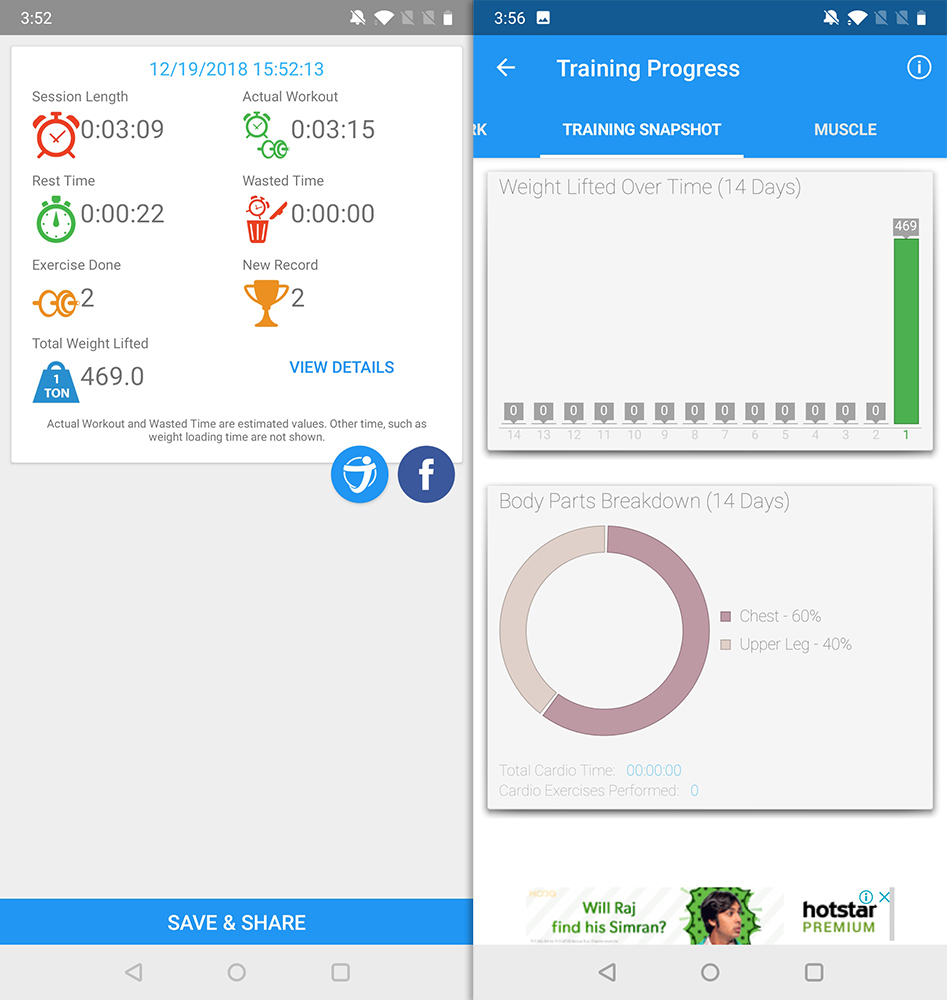 You can view your overall progress in a calendar view and keep a registry of how your ability to lift weights has improved over time. Furthermore, you can also choose from workout plans designed by experts but to access the feature, you'll be required to pay at least $6.99 each month (or $39.99 for a year).
Download the Jefit app (iOS, Android)
2. Fitness & Bodybuilding
If you want to enjoy a simple app which is ready and waiting for you to start your fitness tracking, Fitness & Bodybuilding is clearly one of the best workout apps without any nonsense hindering your experience. A long list of exercises has been compiled and categorized on the basis of different body parts.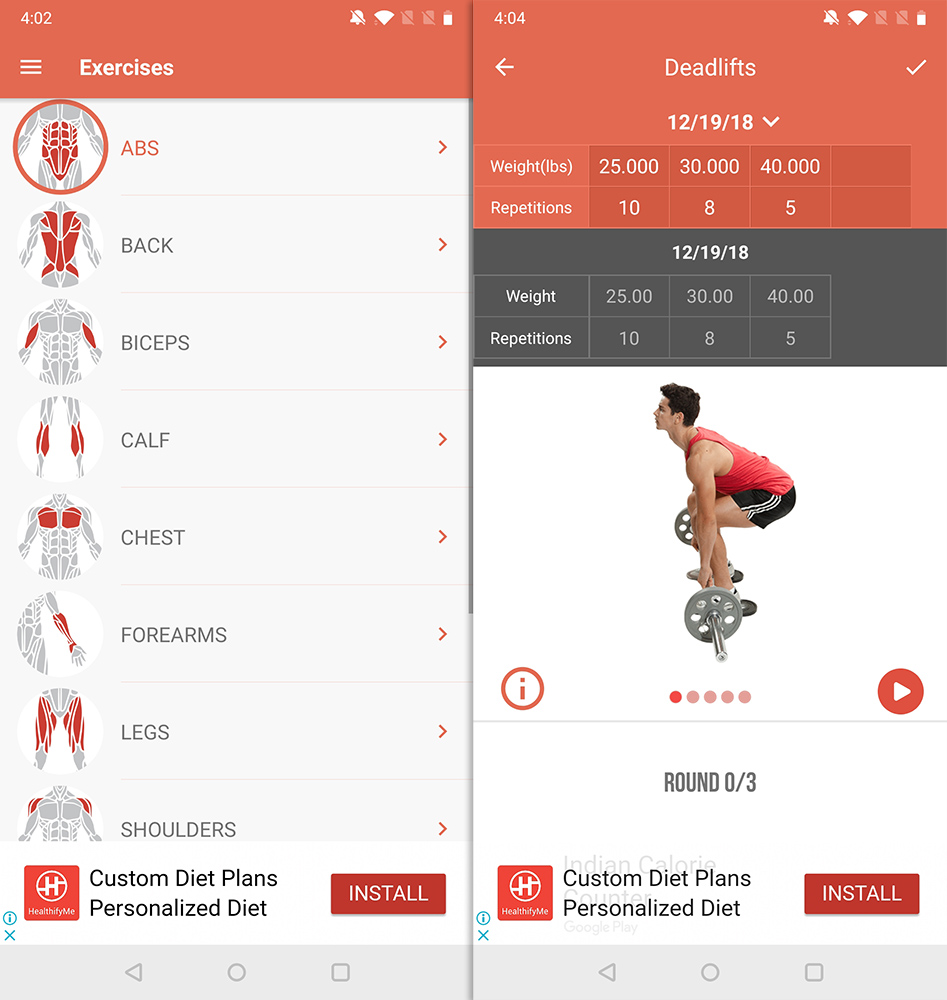 For each of the body parts, you can select from the available list of exercises or add information tailored for your use. You can watch attached videos to make sure you don't have the wrong posture. Additionally, there's an option to log the number of reps and weights per exercise – although the interface is not as visually appealing as Jefit.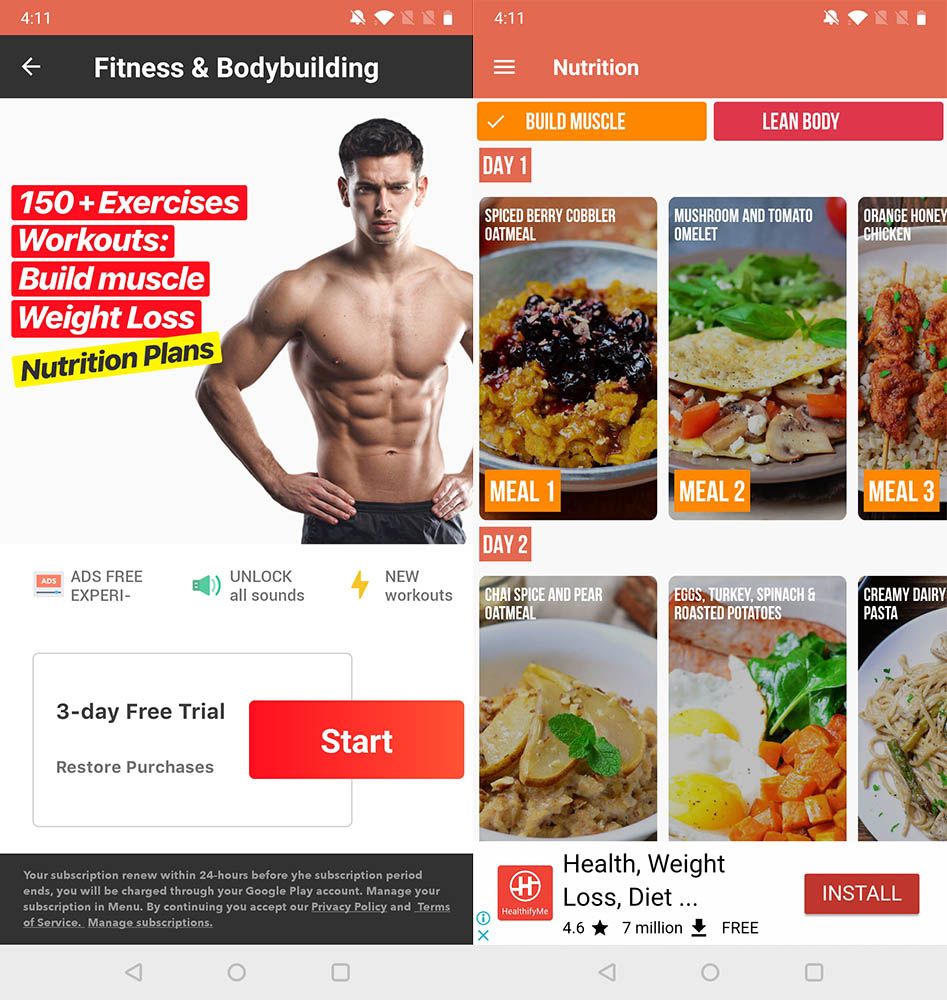 Besides these options, you can also get a customized workout plan but you'll have to pay to use the functionality and it begins at $6 per month, with three days of free trial. The app will also help you with recipes for some mouthwatering delicacies based on your requirements.
Download the Fitness & Bodybuilding app (iOS, Android)
3. Nike Training Club
This app provides for an all-inclusive and immersive workout experience with many categories to choose from. Nike Training Club is justifiably one of the best workout apps and the main reason for this is that the app offers complete workouts and not just a single exercise and these sets are curated by leading trainers, besides Nike itself.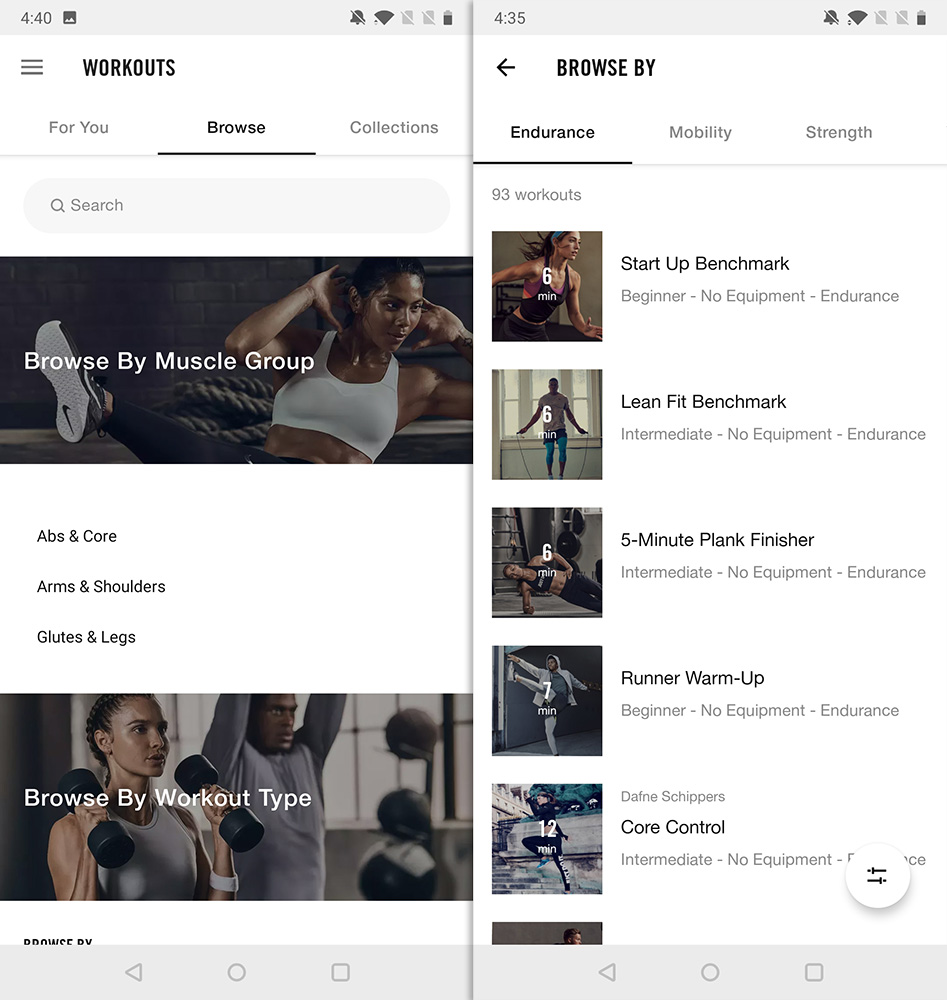 These lessons are accompanied by videos and audio instructions, making the workout an enjoyable experience. The workout regimes are categorized on the basis of what they target and you can also search for workouts based on the muscles to be worked upon or the type of the workout.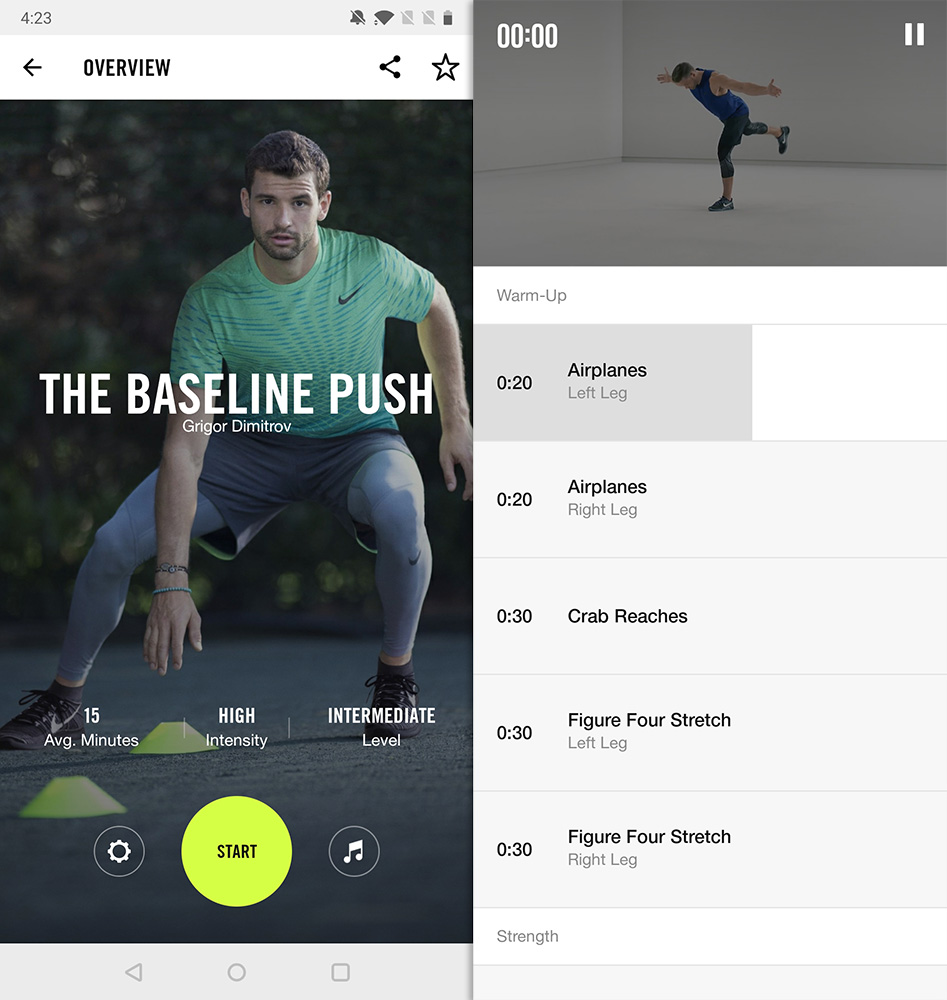 You don't necessarily need weights for all the exercises you can learn from Nike Training Club which makes it suitable for almost all use cases and users. The app also shares important tips with users via mini blog posts which may be helpful.
Download the Nike Training Club app (iOS, Android)
4. Go: Audio Workouts & Fitness
If you wish to avoid looking at the display or be distracted while working out, Go from ClassPass is your ideal partner. The key highlight of this app is that instead of showing visual cues, the instructions are spoken into your ears – obviously with earphones. The minimal interface and short workouts of varying intensities enhance the overall experience.
Another feature intended to make your workout experience better, besides freedom from peeking at the phone, is the liberty to add music tracks along with the instructions. You will be able to choose from five different types of genres and get controls to forward to the next track or change the volume of the background score.
Overall, the lightweight and easy to use experience makes the app highly useful.
Download the Go: Audio Workouts & Fitness app (iOS, Android)
5. Workout: Gym Routines Planner
If you feel the need to have a complete gym routines planner, you should keep this highly rated workout app in mind. Whether you want to build strong muscles, get toned or lose tons of extra pounds, it has got you fully covered. All the workouts are designed based on three levels: beginner, intermediate, and expert. Just in case, you don't like the predefined workouts, you can even customize the workouts as per your goal.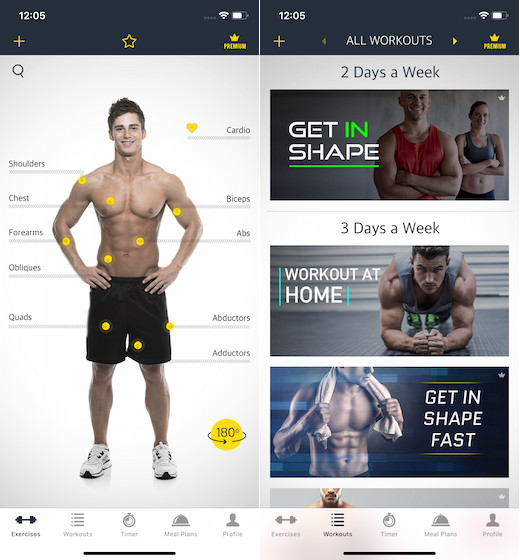 What gives this app a clear edge over many other counterparts is the guided workout plans that help you stay tuned in with your goal. And with a handy exercise tracking, the app ensures you can keep a tab on your progress with ease. One of my favorite features of this app is the workouts coach that closely tracks your exercises and also offers insightful tips. Thus, it becomes pretty easy for you to discover your strength and figure out the areas that need more attention.
Download Workout: Gym routines planner (iOS and Android)
Best Workout Apps for Activity Logging
1. Strava
Strava is among the most popular and best workout apps for tracking outdoor activities. Among its key elements is the flexibility of connecting with a multitude of fitness trackers and smartwatches as well as comparing your achievements with friends on social media. Even if you're not using an external fitness tracker, you can use any smart fitness device, you can track your outdoor activity using your smartphone's GPS.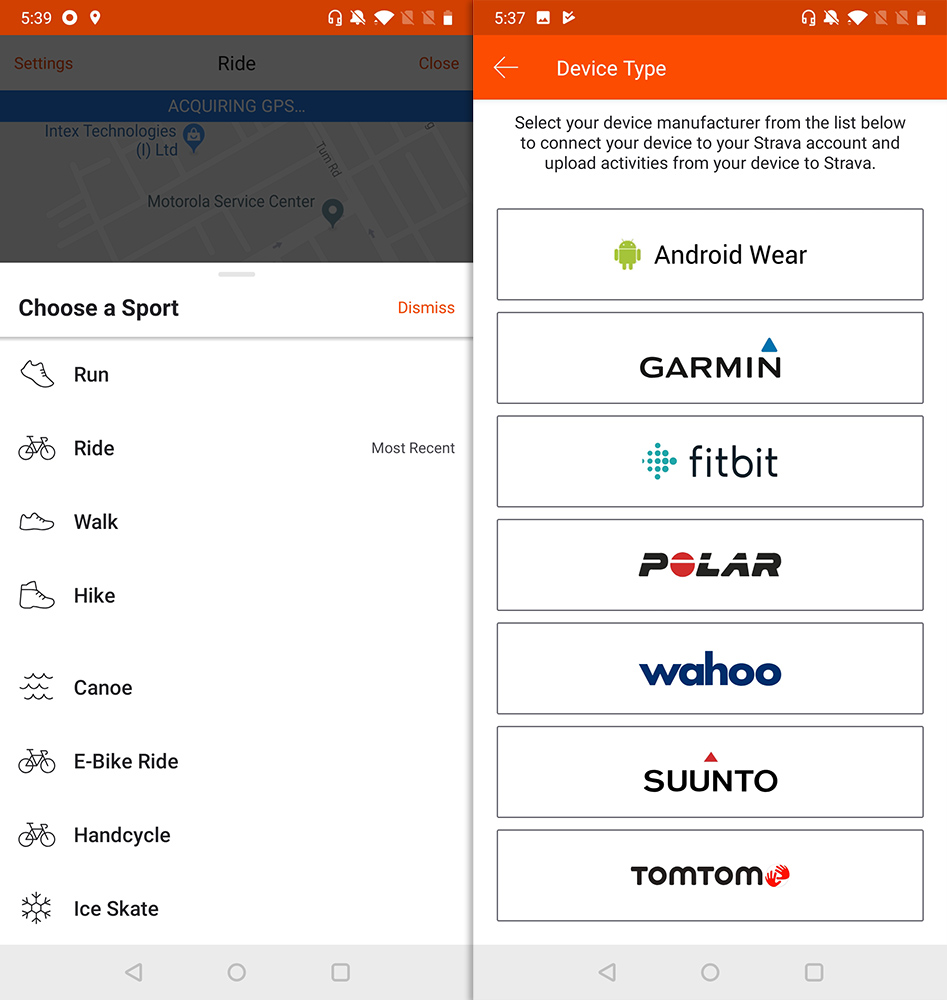 Using Strava, you can compare your physical activities with friends (or peers if you're a professional athlete). This, in turn, should motivate you to sweat harder. You can also join many of the regional and global challenges and invite your friends to make your fitness journey even more interesting.
Download the Strava app (iOS, Android)
2. Map My Fitness
Just like Strava, Map My Fitness is an app which allows you to share your fitness-related goals and achievements with other users in a social media format. Since the app is made by fitness brand Under Armour (UA), you can connect your fitness tracker or smart shoes from UA with the app for more accurate tracking and activity logging.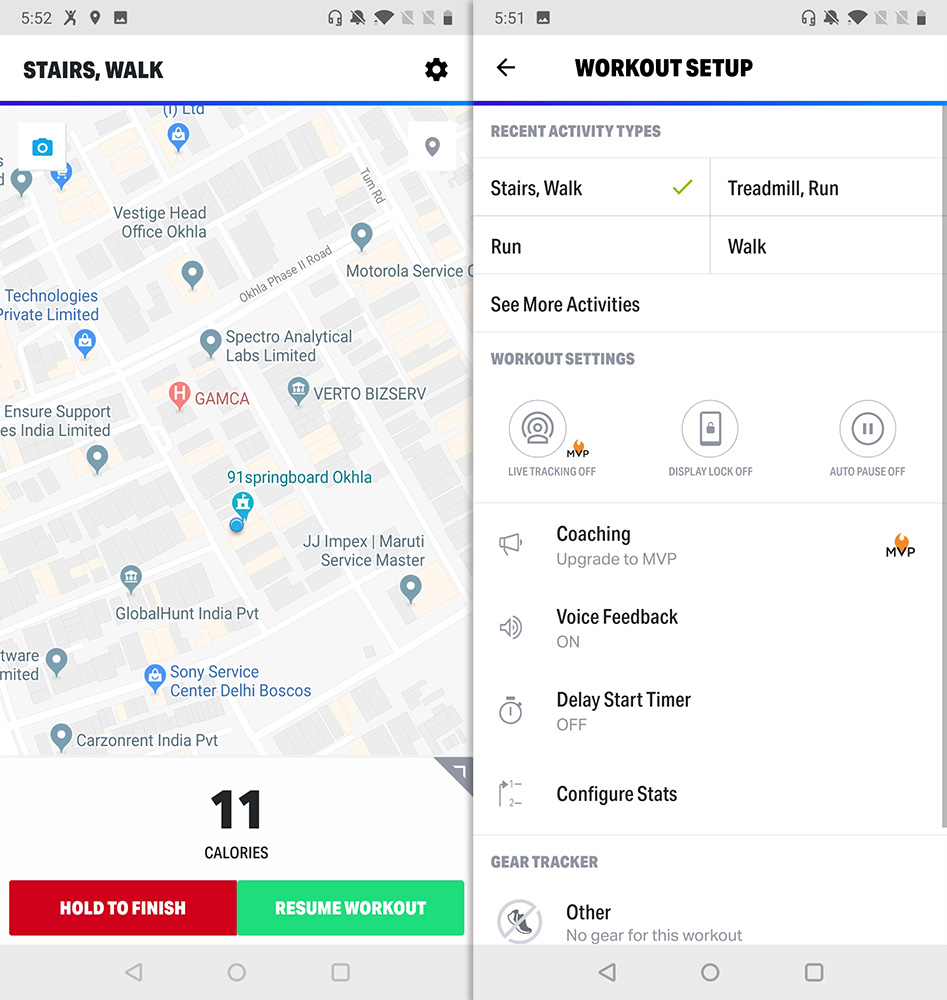 While you do get the option to choose from a range of outdoor activities, the interface might not be as delightful or easy to use as Strava. The app simply uses the pedometer and the GPS within your smartphone (in case you have not connected a UA device) and log that information with a map view.
While you cannot directly connect to friends from social media, you can invite them using Facebook, email, or SMS.
Download the Map My Fitness app (iOS, Android)
3. Progression
At the gym, you might want to avoid any wastage of time, and this is where Progression becomes relevant. It's a simple and clean workout logger, in which you can manually track your weight lifting activities. To get started, you can select the exercise you intend to do and manually log the weights and the repetitions.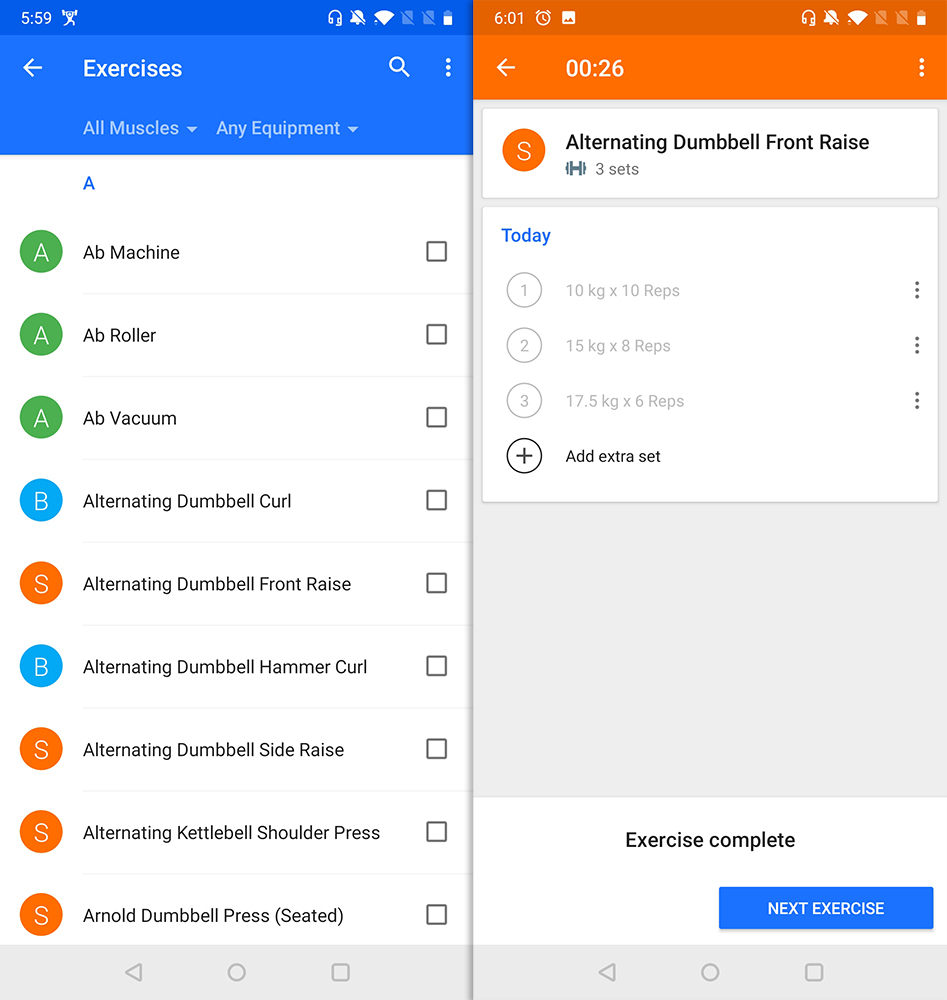 The app also records the time taken per exercise and does not dictate you, giving you full control over your actions. The information displayed shows the number of calories burnt, total time and average per exercise, total weight lifted, and the total number of sets.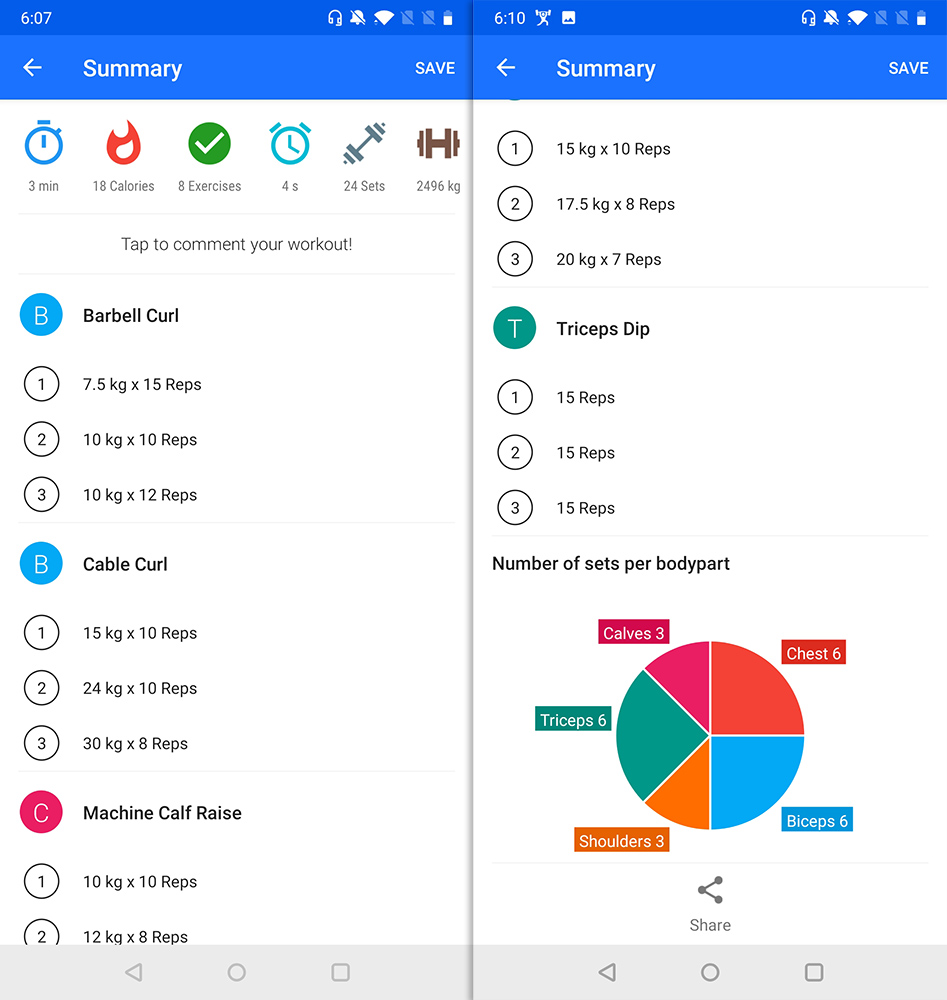 In the end, it shows you a detailed overview of your choice of exercises with a pie chart showing the share of each body part worked up during the workout. You can also connect this data to Google Fit, to have a holistic view if you're also using other fitness tracking services. You can also download other add-ons for the same developer to track attributes like your weight.
Download the Map My Fitness app (Android)
4. Google Fit
Google Fit is among the most suitable apps for anyone using an Android smartphone or a Wear OS watch. You can sync it with a host of apps like the one above to get an all-round view of your physical activities and also use the web viewer to take a look at your activity logs using a web-based interface (visit). Meanwhile, Google's peculiar 'Heart Points' merge all metrics into one, letting you understand the impact of your daily activity better.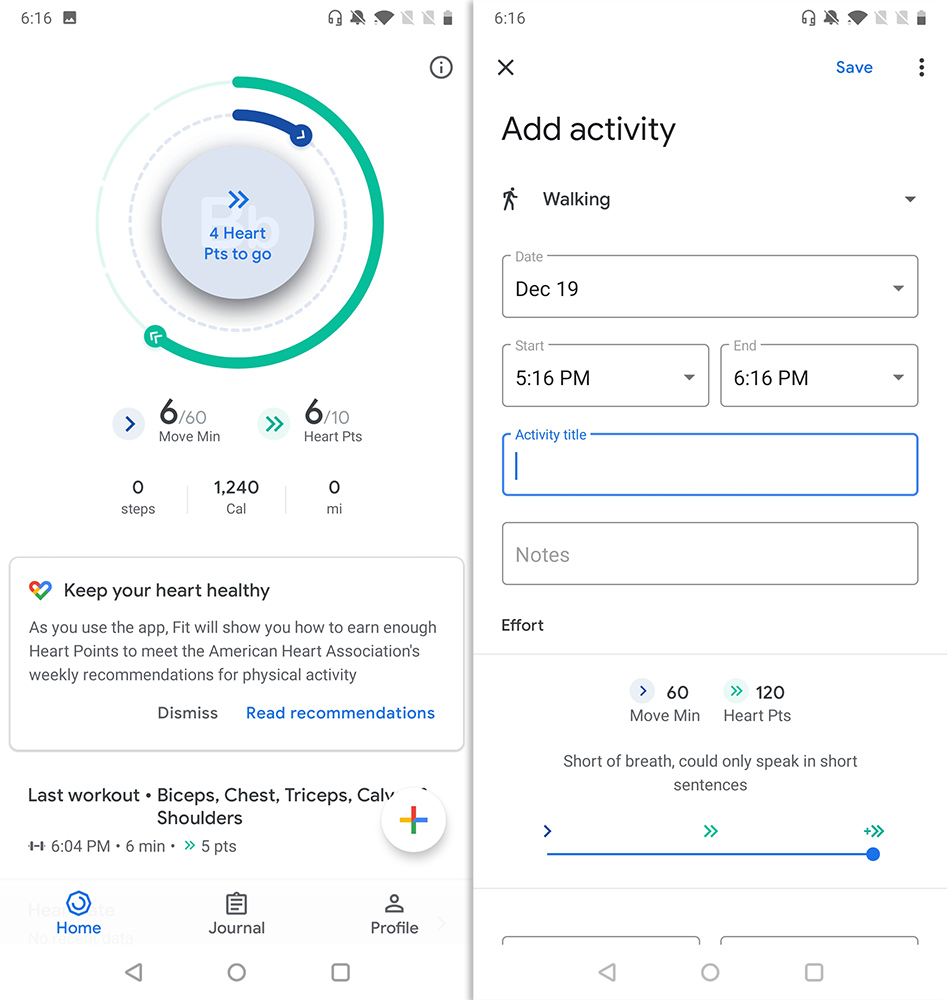 Recently, Google redesigned the entire interface to coincide with the Material Design 2.0 and earlier this month, it added a couple of new features including the two new home screen widgets and the feature to log attributes of a physical activity manually including the ability to also modify the intensity of the workout.
Download the Google app (Android)
5. Apple Health
Without mincing my words, I'd like to say that Apple Health is the most feature-rich and reliable health and fitness app for activity logging. So, if you are already a part of the Apple ecosystem, you don't need to look beyond. What makes it ahead of the curve is the support for thousands of apps that are designed to improve health. Features like Cycle Tracking, Hearing Health and accurate steps tracking make it exceptionally user-friendly. That's not all, you can also fine-tune your device to improve workout tracking.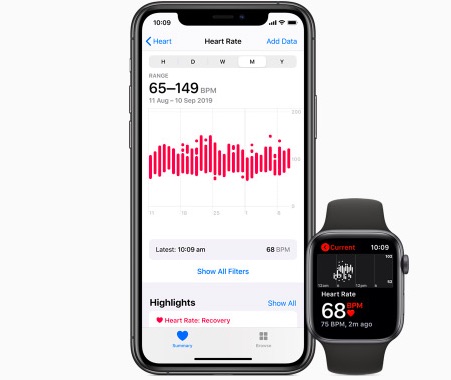 All the Health data collected from apps is kept along with the data from Apple Watch and the information you have logged right on your iOS device. Thus, it becomes pretty straightforward for you to keep track of all the essential information right from one spot. Moreover, Apple Health encrypts your entire data (except the medical ID) so that it can remain protected. And with the seamless iCloud syncing, it remains up to date across your connected devices.
Stock App for iPhone (iOS)
Best Diet Tracking & Music Apps for Workout
1. MyFitnessPal
Starting your fitness habits without setting a weight goal might not reap very satisfying results. This is why it is recommended that you keep track of your food habits – to make sure you get the essential nutrients and keep away the unwanted sugar and fat that must be avoided. Calorie Counter is one apt app perform this job for you.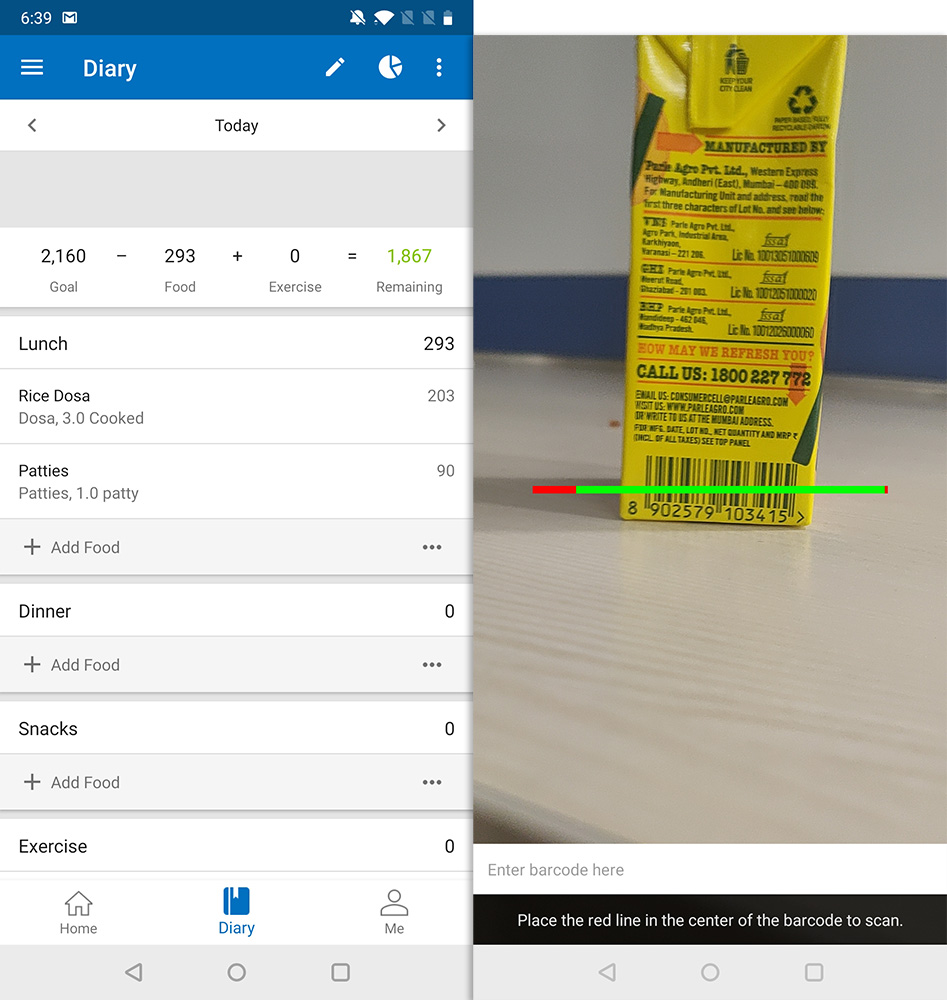 Whenever you have a meal, you can simply search it in the app and based on the portion you consumed, it will calculate your calorie intake against the required intake. You can also connect the app to other fitness tracking apps to adjust the daily calorie ticker against calories burnt due to working out. Lastly, the app also has an option to scan the barcode of the food items you're consuming, to help you let go of the stress of having to log all the details manually.
Download the Calorie Counter app (iOS, Android)
2. RockMyRun
Music is an essential part of keeping you on track, especially when you might be feeling like giving up. Using RockMyRun, you can search for the best suitable music as per the kind of activity you're engaging in. The app has a variety of parameters to help you choose the best music to assist your workout.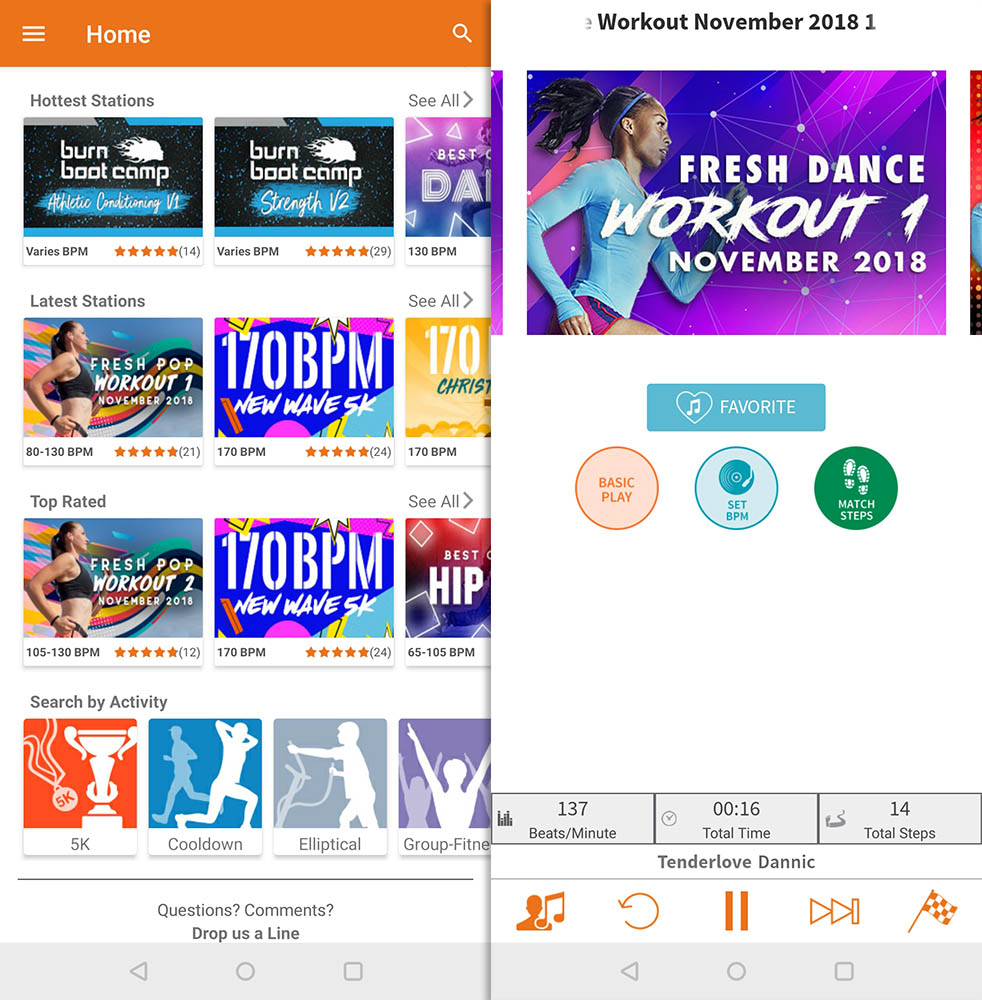 While you can select and play from the wide variety of songs, RockMyRun automatically compiles a playlist based on the BPM (beats per minute) of the track of your choice to give you an upbeat (pun intended) experience.
Download the Calorie Counter app (iOS, Android)
Best Workout Apps to Stick to Your New Year Resolution
Now that we've shared some of the best workout apps for Android and iOS according to us, you can rely on these to get back in shape this year. While these apps are vital tools and will be very helpful in adopting a healthier lifestyle, you will also require discipline to carry on with your promises to self. These workout apps will be helpful in keeping a track of your progress, but besides being disciplined, it is important to not beat yourself up, and have realistic goals. So, spare the wait and don't procrastinate. After all getting fitter might get you a good-looking date in 2020.
---
Load More