No one knows what's going to happen tomorrow, do they? Still, we wish to take a peek at everything that appears to be on the cards so that we would be better prepared to deal with challenges that lie ahead and never let once-in-a-lifetime opportunities slip away. And that's exactly what takes us closure to the astrology – the study of the impact that cosmic objects such as stars and planets have on human lives. If you believe in astrology and prefer to chart out your future course of action based on horoscopes, we have got you covered with the best free horoscope apps for Android and iPhone in 2020.
Best Free Horoscope Apps for Android and iOS in 2020
Apart from offering common horoscopes based on your zodiac signs, many of these astrology apps also let you find out your love compatibility. So, if you are in a fix unable to decide who can make a perfect match with you, these apps can play a helping hand and offer up compatibility percentage. Moreover, you can also contact expert astrologers and seek advice. That being said, let's explore the roundup to choose your favorite horoscope app for iOS or Android right now!
1. TimePassages
Whether you are new to astrology or have been a long time follower, you would find that "TimePassages" is a complete horoscope app. The best part about this app is the advanced astrology glossary that ensures you never get confused by an unknown terminology. Besides, it also plays a significant role in helping you understand everything that's lined up on the cards for you.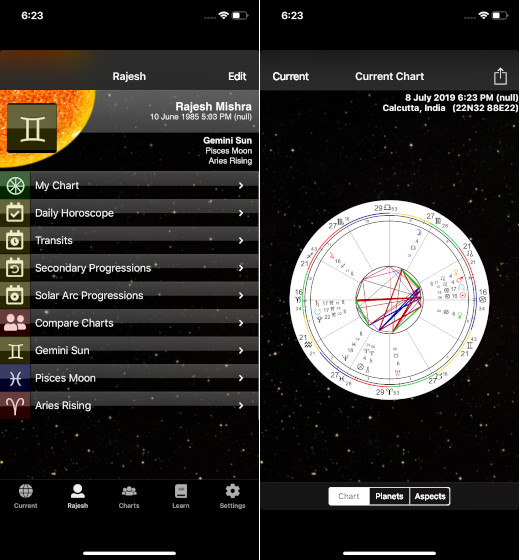 Another aspect where TimePassages seems to have an edge over many of its counterparts is the clean and intuitive interface, which makes navigation pretty straightforward. You can use this app to get the horoscopes every day and find out the meaning of the sun sign, rising sign, moon sign and more. Moreover, it features color charts that provide better insight into your future with detailed descriptions. Just in case you are a professional astrologer, you can also create chart graphics and analysis. This is one of the bet free horoscope apps that you can get for your device.
Install: iOS (free, in-app purchases available)
2. AstroMatrix
When you want to perfectly understand your birth chart, what comes in really handy is the availability of accurate reports and thoughtfully designed charts. Well, "AstroMatrix" ensures you have all the needed reports along with the expertly crafted charts so that you don't have any difficulty in understanding the birth charts.
With the help of summary sections, you will have detailed information about each of your planet position. Plus, they will also let you discover both the positive and negative impacts. The daily horoscopes, which put more emphasis on the path of the moon and how they are impacting your birth planets, keep you updated. The weekly horoscopes, which focuses on personal planets including Sun, Mercury, Mars, and Venus, let you know the challenges that lie ahead or the opportunities that are waiting in the wing for you.
Install: iOS and Android (free, in-app purchases available)
3. Signz Astro Network
Ever wondered what could be your compatibility percentage with your life partner or close friends? If yes, try out "Signz" to discover your compatibility percentage with your partner. Depending on the time and place of your birth, the app lets you know how well you stack up with anyone.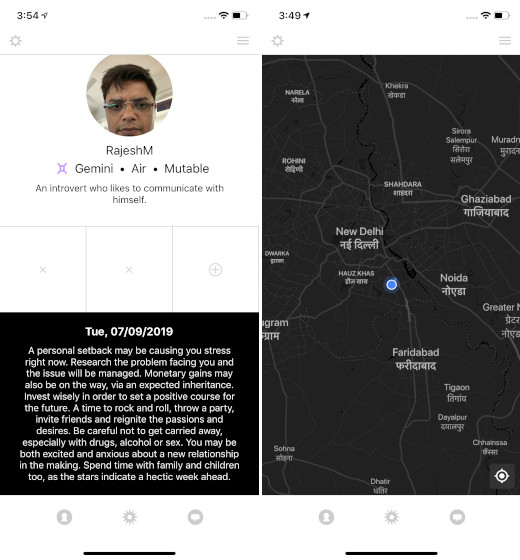 You can also use it to figure out your compatibility with your group. The app also provides daily horoscopes that can be filtered based on many pivotal aspects including age, gender, zodiac sign, and more. Furthermore, the app comes with an integrated map to let you find new people from around the world and check out how much compatible you are with him/her.
Install: Android (free, in-app purchases available)
4. Co–Star
Looking for more personalized astrology? "Co–Star" is the one that can ideally cater to your taste by offering the horoscopes that are fully geared with what you are after. Unlike other ordinary astrology apps, its forecasts are based on a map of the sky as well as the exact time and place of your birth. Furthermore, the app also takes advantage of NASA data to keep track of the movement of the planets.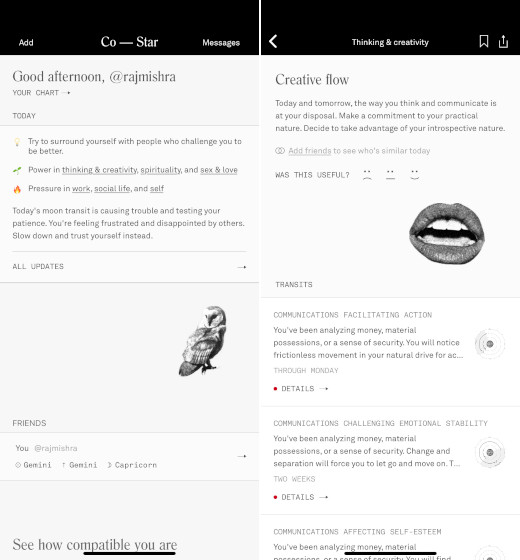 Co-Star offers plenty of customization, allowing you to dictate your own terms and view the results that are in line with your expectations. Powered by AI, it displays accurate planet-by-planet compatibility. Moreover, the app also provides real-time updates when the planets move so that you stay updated. To me, what makes this app so handy is the smart personality analysis that helps you have more insight about a person. If you like such in-depth analysis, this is one of the best free horoscope apps that you can get for your iPhone.
Install:  iOS (free, in-app purchases available)
5. AstroTalk
When it comes to providing accurate predictions, AstroTalk has long been a noted name. The reason why it's considered to be more accurate is that it uses several advanced astrology mechanisms including Nadi astrology, Vedic astrology, Hindu astrology, KP astrology, Prashant chart and more.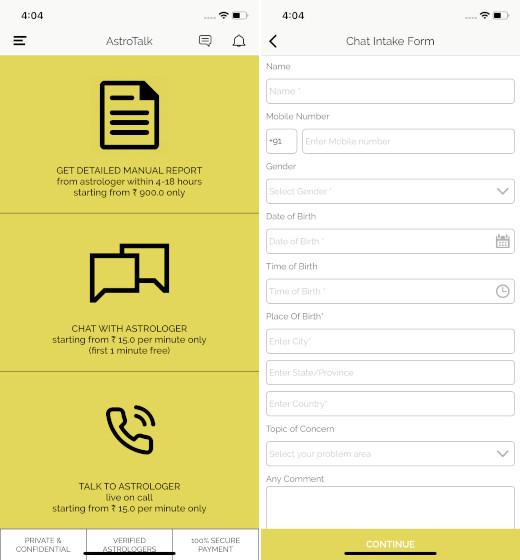 Whenever you find yourself confronted with a complicated question or unsure about the meaning of any sign, you can contact the fortune teller and ask the question. It takes about 6 hours to offer the well-researched answer to your query. To fully back its claim, it also lets you know the planetary positions. Do note that you will have to recharge your wallet (through in-app purchase) to chat or have a live call with an astrologer. This is one of the best free horoscope apps that you can use.
Install:  iOS and Android (free, in-app purchases available)
6. Astro Future
Should you want to have an app that can enable you to figure out love compatibility with ease, I would recommend you to keep "Astro Future" in mind. It's a pretty simple but highly efficient horoscope app for iOS. You can add as many persons as you want and get the compatibility percentage.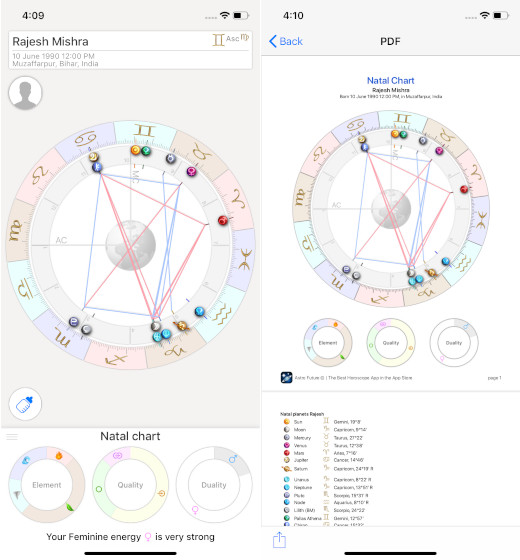 There is an interesting synastry chart that allows you to find out how two people can influence each other's horoscope. You can also view the natal charts featuring detailed horoscopes. As each aspect is explained vividly, you will be able to understand their meaning. Additionally, it offers PDF horoscope reports which is both easier to read and share. It is one of the best designed free horoscope apps, so you should definitely try it out.
Install:  iOS (free, in-app purchases available)
7. Time Nomad
If you are a pro astrologer and looking for a highly efficient toolkit, you shouldn't miss out on "Time Nomad". With this app, you will get a complete chart for any date and time. Using the built-in planetary hours' calculator, planetary hours alarm and other useful tools, it creates comprehensive and more accurate charts.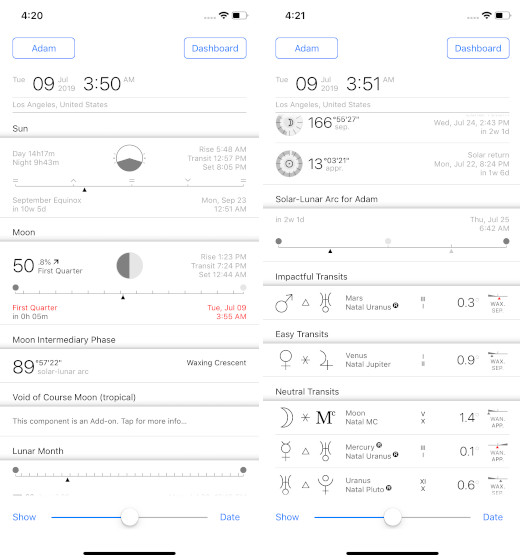 You can check out the timeline for the near future and also get real-time alerts about any celestial phenomena. And with the super handy home screen widget, you will be able to monitor the current chart along with the moon phase and cycle more conveniently. Besides, you can also view your current transits or any date and time.
Install:  iOS (free, in-app purchases available)
8. Horoscope Club
If it's time to put simplicity above everything else, "Horoscope Club" can come into the picture straightforward. The app is designed to offer not only common horoscopes but also love and business. So, whether you wish to get the daily dose of predictions for the upcoming week or want to keep track of your love/business life, it should stand up to your demand.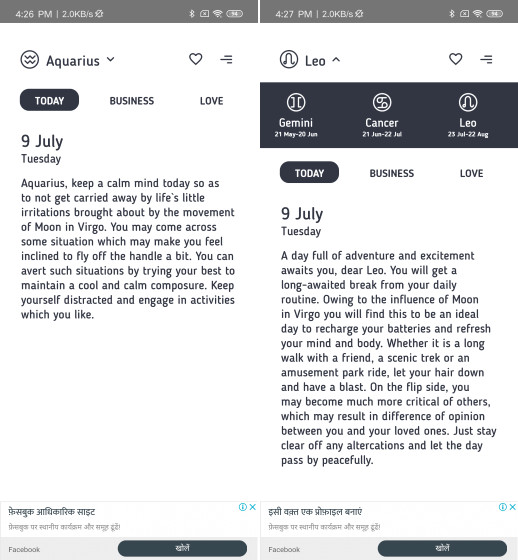 With the premium version of Horoscope Club, you can access some notable goodies like many nice-looking themes. If you are into customization or like to personalize your stuff, those cool themes could easily catch your attention. Not to mention the love tips that could help you win the heart of your soulmate.
Install:  Android (free, in-app purchases available)
9. The DailyHoroscope
It doesn't matter whether your zodiac sign is Libra, Gemini or Capricorn, you can quickly get to know your zodiac characteristics with "Daily Horoscope". The app sports a neat interface and allows you to explore alternative druid horoscopes. Depending on what you are after, you can view your daily, weekly, and monthly predictions.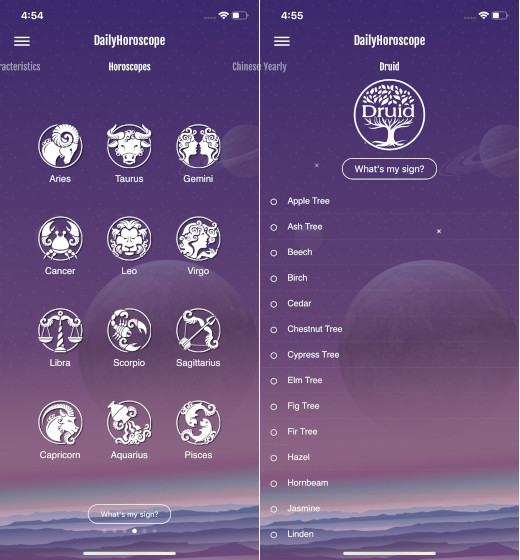 And just in case, if you ever happen to miss any forecast, you will be able to go back and check out the past forecasts. As I'm very fond of customization, I like its library of custom colors and fonts which make for handy personalization. There is also an option to favorite content and easily access it later. Furthermore, you can add your horoscope reminder so that you won't forget to do an important thing.
Install:  iOS and Android (free, in-app purchases available)
10. Sun Signs
There are many reasons why "Sun Signs" can become your all-in-one horoscope app. First and foremost, the app displays in-depth reports as per your zodiac signs, letting you know the things that are gearing up to arrive in your life. And with the daily guidance, it prepares you in a better way to take on challenges and also make the most of the great chances that are likely to knock on your door.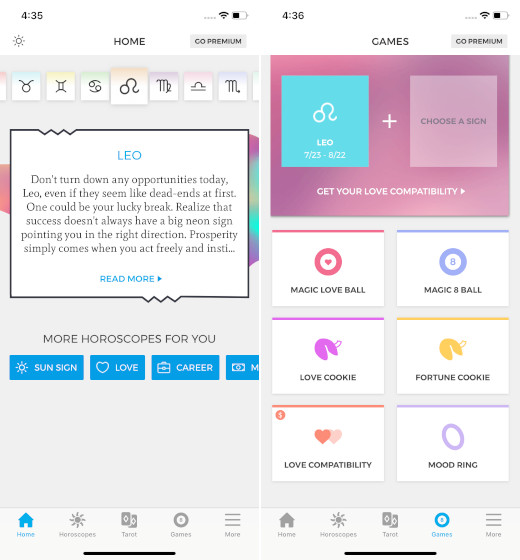 By upgrading to the premium version of Sun Signs, you can unlock several important features i.e. love compatibility, love tarot, Gemini horoscope and more. What I have found really adorable in this app are games like love cookie, magic love ball, magic & ball which bring in some fun elements into the mix. There is also a tarot tab wherein you can make a wish and then choose a card from the deck. The card you choose will reveal the eventual result of your desire.
Install:  iOS and Android (free, in-app purchases available)
11. Instantgo
At times, it's a bit tricky to understand some signs and get their real meaning. That's where it becomes crucial to contact spiritual experts. With Instantgo at your disposal, you can easily connect with a fortune teller or an experienced psychic and get all the complicated things sorted out.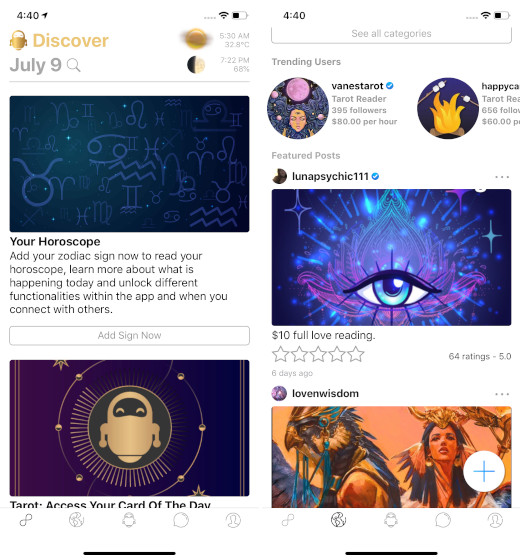 What I've personally found appreciable in this app is the option to have quick access to an ever-growing community of tarot readers, astrologers, oracles and more. Therefore, it's much easier to have accurate predictions and also get much-needed advice regarding how to handle unexpected hurdles. More importantly, the app comes with a virtual assistant that keeps a tab on your usage and helps you respond quickly with suitable answers.
Install:  iOS and Android (free, in-app purchases available)
12. iHoroscope
For tracking horoscopes and getting to know what the future is likely to hold for you, "iHoroscope" appears to be a fine option. By using this app, you can check out your forecasts for today, this week, month or even a year. And based on the predictions, you will be able to discover several things i.e. whether your career will have some amazing success or your life will finally have the love it's been waiting for many years.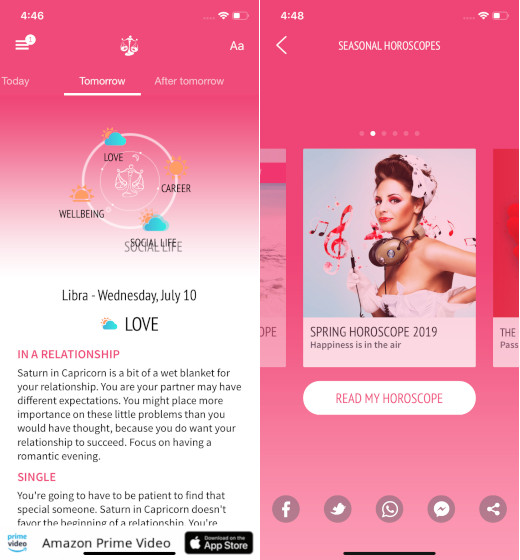 When it comes to love, it's really tough to figure out which way things could turn. And that's when you need to have an experienced psychic who would be ever-ready to guide you through with pro tips. Plus, the app will also enable you to discover your love compatibility that could play a vital role in helping you find a better match.
Install:  iOS and Android (free, in-app purchases available)
13. Nebula
Well-known for offering accurate zodiac predictions, Nebula has got everything covered to be your one-stop-platform for horoscope and astrology. The app can help you derive a better understanding of yourself and what sort of things are likely to grace your life based on zodiac signs such as Pisces, Aries, Taurus, Gemini, Cancer, Leo, Virgo, Libra, Scorpio, Sagittarius, Capricorn, and Aquarius. One of the notable features of this highly-rated horoscope app for iOS and Android is the 28 days relationship guide that can go a long way in improving your relationship or for that matter winning the heart of your Tinder match!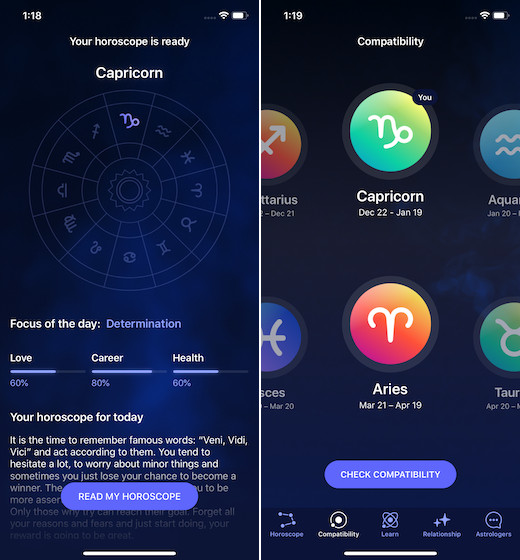 Another feature that's worth taking note of is the ability to check zodiac compatibility with your partner. From what I can tell, this feature looks primed for the folks who are looking for a dating partner or a perfect soulmate for a happy married life. Oh, not just that it can also let you figure out the toxic relationships that are secretly destroying the peace of your mind. Even better, you can use Nebula to chat with expert astrologers and get the right tips to achieve the desired love and prosperity in your life.
Install: iOS (free, in-app purchases available)
14. My Horoscope
Though My Horoscope may not be the most feature-rich horoscope app, I think it can be a fairly good asset for keeping a track of daily horoscope without getting into complexity. The app shows detailed but easy-to-understand astrological predictions for zodiac signs. So, even if you are new to astrology, getting a hang of the predictions and what can help you improve your relationship, sort out the looming problems or bring back happiness could be a little straightforward for you.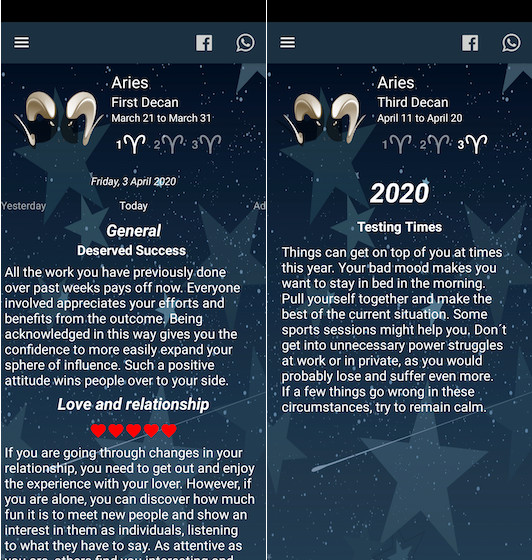 With custom notifications, the app keeps you in tune with what your life holds for you. And with the useful calculator at hand, it also allows you to calculate your signs. Thanks to the support for several languages, the app ensures you have the flexibility to use the app in your favorite language. Therefore, a language shouldn't be a barrier for you.
Install: Android (free, in-app purchases available)
15. Zodianic Astrology & Horoscope
Claiming to offer the most personalized tips on health, love, happiness, and prosperity, Zodianic Astrology & Horoscope can be worth checking for those who take a deep interest in astrology. The app delivers an in-depth characteristic of zodiac signs, thereby allowing you to figure out the horoscope of many pivotal aspects of your life including relationship, friendship, career, money, and more. One of my top picks of this app is the compatibility analysis which could turn out to be a boon for love birds or someone longing for a perfect life partner.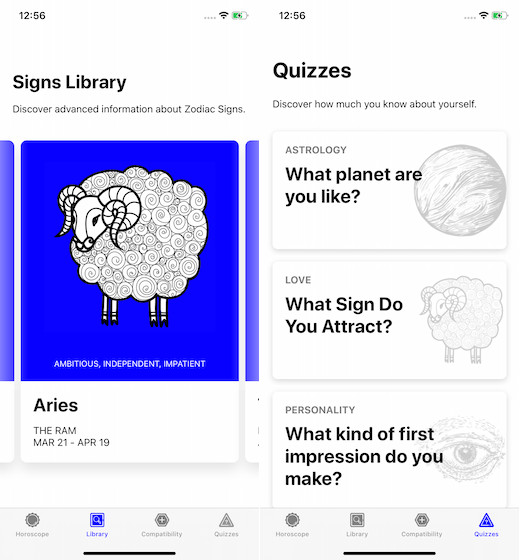 Zodianic has also looked quite good to me in terms of providing helpful tips. So, times when you seem to get entangled into riddles or unable to find the right way out of a problem, those tips could turn out to be your savior. Not to mention, the app has got a unique feature called personality quiz that enables you to not only reveal your weakness and strength but also figure out some interesting facts about your character. Like a personal guide, it can even let you see how stars may have an impact on your life.
Install: iOS (free, pro version starts at $9.99/weekly, $14.99/monthly)
Get Your Daily Dose of Accurate Predictions with These Amazing Free Horoscope Apps
Even though I'm not much into astrology, I like to keep track of what's expected to embrace my life. At times, horoscopes do sound a little funny or even beyond belief, however, you never know when those mysterious things could come true. Since when have you been tracking your horoscopes and how often have they proved right in your life? I would be really glad to know your story and the miracle that you had seen coming well before it actually arrived. So, be sure to sound off in the comments section below and tell us which are your favorite free horoscope apps.