Heard an amazing song on the radio or at a club but can't seem to remember the name or the lyrics, so that you can find the song? Well, chances are, you've used Shazam to identify the song. While there are a number of ways through which you can identify songs, Shazam has to be the most popular solution. Although Shazam is definitely a great music identifying app, it has its fair share of problems. Firstly, users have complained about bloatware on the app and there are times when it fails to identify a song or brings a wrong result. Also, there have been various complains about it being slow on occasions. So, if you are looking for a change of database or simply a different and more simple app to use, here are our top 6 Shazam alternative apps that can give it a run for its money:
1. SoundHound
The first app on any list that says "top alternatives to Shazam" has to be SoundHound. It is the biggest rival to Shazam and any argument on which app is better is never unanimously settled. With the latest update, SoundHound allows you to go hands-free and simply say: "OK Hound… what's this song?" and the app will recognize the song for you. You can also tap on the orange button to identify songs, and see live lyrics, play the video, share, stream, or buy the track. You can ask questions like "What is Taylor Swift's latest song?" and even hum the song if it's stuck in your head, all hands-free and the app will identify the song.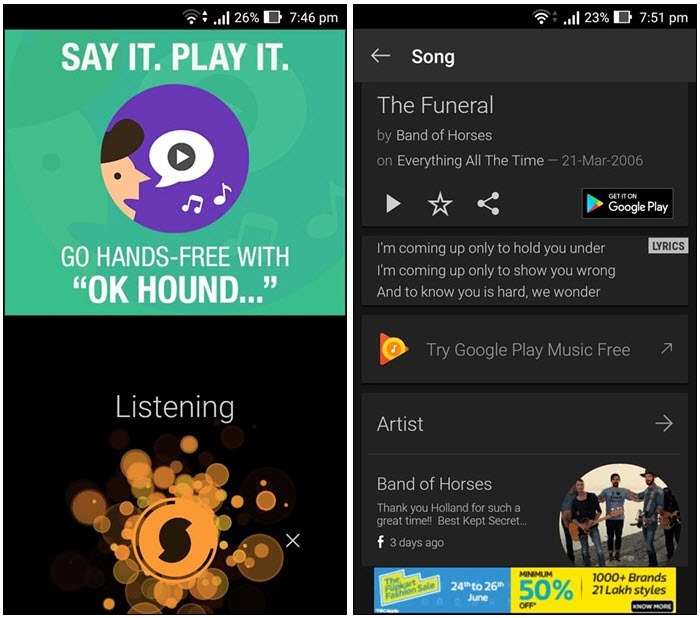 With SoundHound, you can add songs to Spotify and also easily search, discover and play music. Charts, weekly feature songs, videos, and artists, music man, artist biographies, etc. are many of the other features of SoundHound.
Install: Android, iOS and Windows (Free with in-app purchases)
2. TrackID
TrackID is an app by Sony that ranks among the best in music identification. It is one of the most reliable and high-rated apps in the various app stores under this category. To identify a song in TrackID, you simply have to tap the search button and let the app handle the rest. You can explore artist biographies, watch music videos, explore the TrackID charts etc. apart from identifying songs. You can also listen to a preview of the identified song through Spotify to make sure it's the right one and also download it right from the app.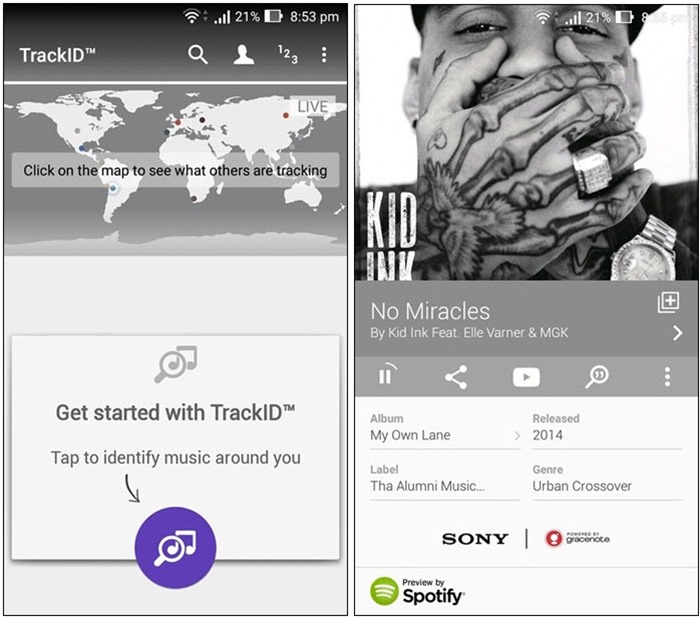 It also has a cool feature dubbed TrackID LIVE that allows you to see what's trending worldwide on a map. It is fast, reliable and has a well-designed interface with great additional features, enough to challenge Shazam.
Install: Android (Free)
3. Musicxmatch
Musicxmatch by definition is a music player but it is also capable of identifying music among other things. Its main feature is it to provide lyrics and it boasts of one of the largest lyrics databases in the market. To identify music, you actually have to tap on "Identify lyrics" and the app will simply identify the song for you. It is incredibly fast in identifying the music and also provides you with live lyrics of the song that is playing, so that you can sing along. Apart from all this, you can also create LyricCards and explore artist biographies including the latest and top tracks.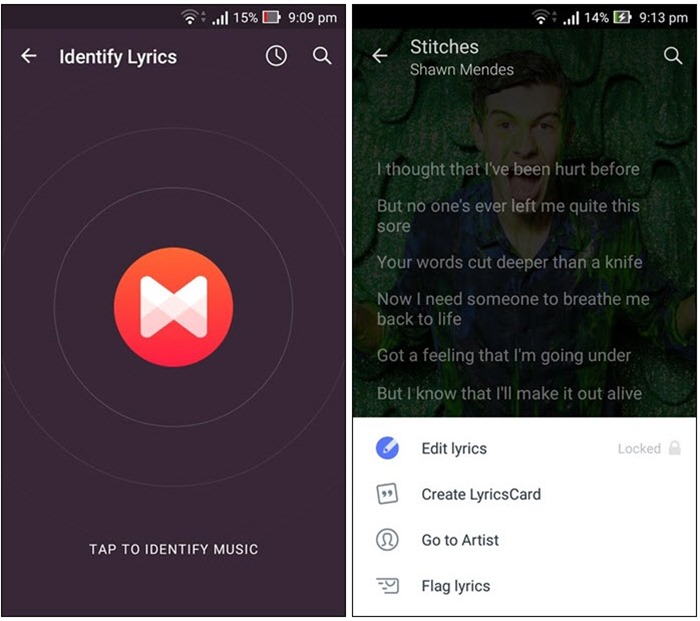 Install: Android, iOS (Free with in-app purchases)
4. MusicID
MusicID, one of the best music identification apps that on its best day can put even Shazam to shame. The identification of songs is fast and all you have to do is tap on the microphone button in the app to get it started. Once identified, the app will provide you with complete details of the song and also YouTube videos and similar songs. You can purchase the song from the app itself through Amazon and share song information with friends.. It has a clutter-free interface and just about the perfect combination of options available for the user, neither too much nor too less.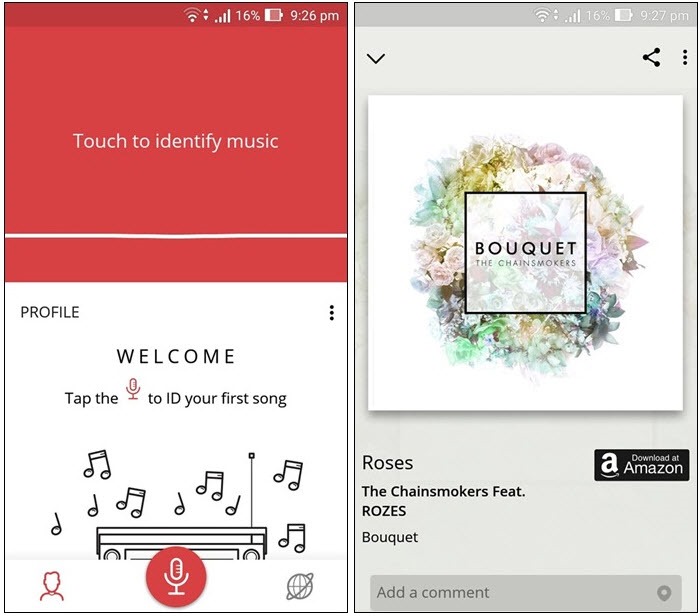 5. Music Identification
Not one of the fancier apps on this list and definitely not the best looking, but it does the job of identifying music and it does that well. It is one of the fastest apps in identifying music and is the perfect app for anyone who simply wants to identify music and nothing else. It will give you the name of the song, the artist and some other basic information in a matter of seconds. It also has a widget to identify songs quickly if needed. Not exactly pretty, but one of the fastest you will find on the market. However, the database can be a little lacking on the app, so don't expect it to identify all the songs.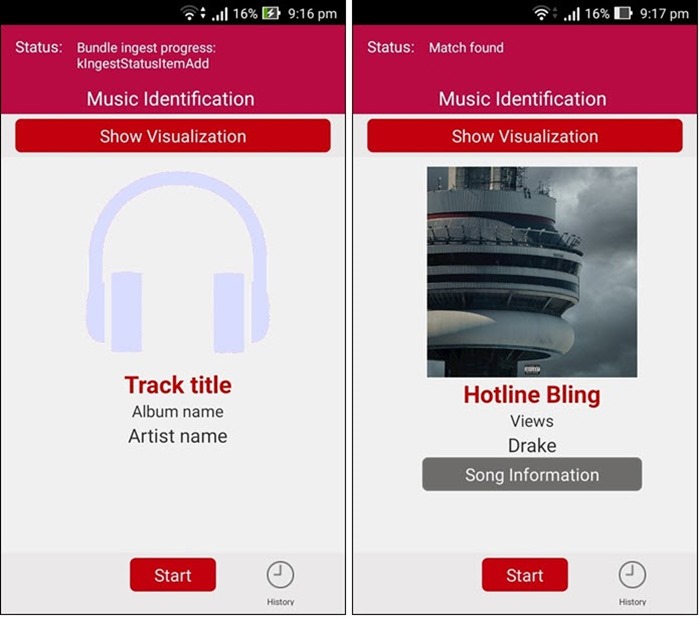 Install: Android (Free)
6. Sound Search
Sound Search is a Google offering for music identification, which is a simple widget and not a full-fledged app. It is just under 700 kb in size and is perfect for anyone who is looking for a no nonsense music identifier. To identify a song simply tap on the play button on the widget and it will start the recognizing process. The name of the song and the artist will be displayed on the widget itself.
The only major issue one would face with this widget is that it is not yet available outside of the US. So, for all our global readers who want to use the app, you will have to download and install it through other third party sites. However, since the app is not available globally, you will only be able to identify the song and its artist and taping on the widget to access other information will take you to a web page saying the service is not available in your country yet. You can use this one if you are low on storage space and just need the name of the song.
Install: Android (Free)
SEE ALSO: Top 10 Spotify Alternatives You Can Try
Some great apps like Shazam for easy music identification
Unlike the yesteryears, music identification apps like Shazam are just about as vital as decent music players. The ability to identify any song that you have heard has become very easy and this has allowed people to discover some great music. Shazam is and will continue to be one of the best apps under this category but all of our above-mentioned apps can provide good competition and in some cases, even surpass it. The features in addition to music identification are not to be ignored, as it is fun to know the name of the song but, it is even better having the lyrics, video, biography and much more, simply one tap away.