Traveling has become an exciting adventure to explore the beautiful world, mingle with different cultures, and more significantly; relish a variety of cuisines. Speaking of awesome travel experience, Airbnb has become the go-to platform for millions to find a place to stay anywhere in the world. However, the online marketplace and hospitality service brokerage company has become way too expensive of late. Moreover, many have also complained that properties aren't exactly what they are seen on the site. That's why you should check out the best Airbnb alternatives in 2020 so that you can find the right places to stay at the right prices.
Best Airbnb Alternatives You Should Check (Updated July 2020)
Covering 81,000 cities and 191 countries, Airbnb has its presence across the world. It also excels in maintaining quality hosts ensuring you can mingle with locals seamlessly. While choosing alternatives, I have kept these pivotal things in mind. And based on my findings, I can say that quite a few of them can't only match Airbnb but also beat it in most aspects.
Some of them also offer a full refund program so if your plan suddenly heads south, you won't lose all your money. That all being said, let's find out what these best alternatives to Airbnb have in store for you!
What is The Problem with Airbnb?
While there are many issues with Airbnb in varying degrees, the most common complaint travelers make is that the host cancels the reservation at the last minute. It reflects poorly on Airbnb and the kind of hosts it onboards on its platform. Apart from that, overpricing has been a long-standing issue with Airbnb.
Not to mention, the pricing structure is quite complex and there is little to no transparency on how the final price is calculated. Apart from that, since Airbnb offers many shared apartments, travelers don't have full privacy which is unsettling for many people. Lastly, the refund policy of Airbnb is not particularly encouraging where they charge you a hefty amount even if you cancel weeks before the trip.
World Wide Airbnb Competitors & Alternatives
1. Booking.com
Booking.com has always been a top-notch site for booking hotels online. So, I'm really glad to know that the site now also allows booking apartments and vacation rentals. With a pretty neat interface coupled with the fast filtering process, finding the desired hotel, apartment or vacation rental is never a big deal.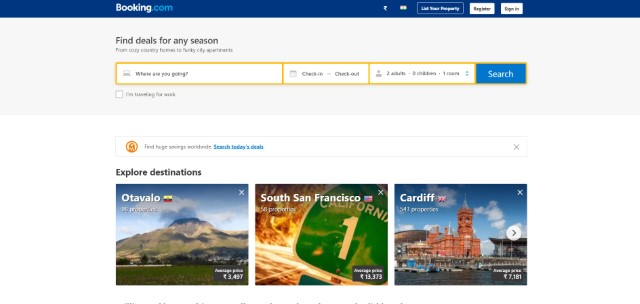 And with the massive inventory of properties, you can get the impressive stay at a much better price. This is exactly what makes it one of the best alternatives to Airbnb. If you are a property owner, you can list your property for free. But bear in mind that the fee will be applied per booking.
One of the things that I don't like in Airbnb is that you must pay the full amount at the time of booking and you will get the refund only if the host has mentioned it in the booking policy. But that's not the case with Booking.com where many properties either don't demand upfront payment or ask for only some percentage of the booking amount upfront.
Visit: Website 
2. Vrbo
When it comes to offering high-quality vacation properties, Vrbo (aka Vacation Rentals by Owner) has long been one of the best in the business. The company came into being way back in 1996 and has become a go-to platform for millions. Boasting more than two million properties, the sister company of HomeAway can let you find both luxurious vacation properties and affordable ones.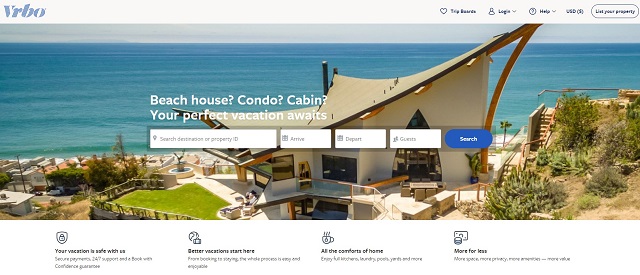 Unlike Airbnb, Vrbo provides only vacation properties, which means it's not for people who are looking for hosted experience. What I have found likeable in Vrbo is that its properties are bigger and also have backyards which can be great for both groups and families.
And with a reliable review system, you can check out the pros and cons before renting a property. The helpful reviews can go a long way in ensuring that you are able to get the vacation rental that is in line with your needs. For property owners, Vrbo provides two different models. You can either pay the full annual fee upfront or list for free and pay a fee per booking.
Visit: Website 
3. Homestay
Should your priority lies with genuine hosted experience, "Homestay" would be a great option. That means you can stay in a host home, meet locals, relish local cuisines and also get a chance to explore their culture. And that's exactly what makes Homestay one of the best Airbnb alternatives on the market.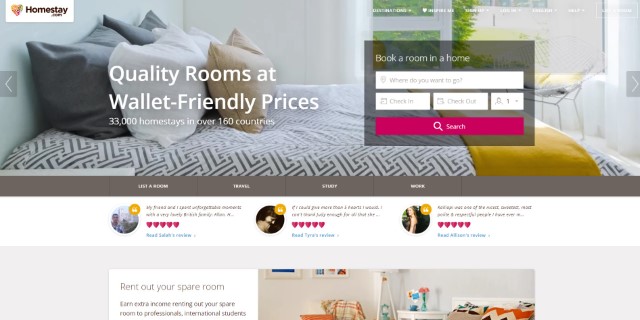 Homestay claims to have properties in more than 150 countries, ensuring you are able to find an ideal host home in most parts of the world. Whether you are hunting for a home for an entire group, a family or a couple, Homestay lets you choose the desired abode.
With smart search at the disposal, tracking down the property that meets both your budget and requirements is a pretty simple task. As for price, I would say it's competitive. If you are a host, you would love the fact that it's completely free to list a property on Homestay.
Visit: Website 
4. Agoda
Are you all geared up for a long trip in Asia? If yes, I would recommend you to try out "Agoda". Just like Airbnb, the site has a massive collection of properties and also offers plenty of discounts. So, chances are pretty high that you would find a fantastic hotel or a beautiful tourist home at a much affordable price.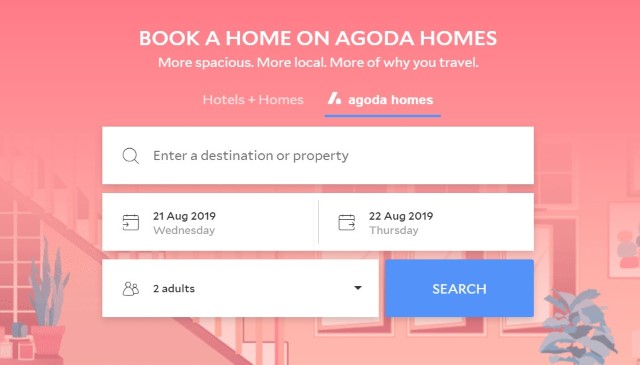 It has an incredibly fast search system and also provides a better filtering system. Therefore, you can narrow down your search and discover the property that best suits your needs. Moreover, Agoda also offers free cancellation, unlike Airbnb. That means at any time you happen to change your plan, you will get your money back without any problem.
What I have liked the most about Agoda is that it provides a bit more clarity about properties. For instance, you can check the overall cleanliness and comfort rating as well as see the location score, cheap price score, and even value for money score. As a result, you will be able to make a much better decision. On top all, Agoda has also made it pretty easy to list a place and charges much less as compared to many other rivals.
Visit: Website 
5. Flipkey
Simply put, there are very few online marketplace and hospitality service brokerage companies that can match the huge catalog of Flipkey. Owned by TripAdvisor, it provides vacation home rentals around the world. With a simple search, it shows a number of properties listed at different price points. So, you can compare the price and also read helpful reviews to decide whether or not a property meets your needs.
In terms of the massive inventory of properties and presence in many countries, Flipkey is very close to Airbnb. Furthermore, every property offers a clear cut description mentioning several important things like whether or not it's child-friendly, allows pets or not, etc.
When you change your plan, it could offer you a partial or full refund depending on when you cancel it. As a property owner, you will be able to list your place without paying any amount – which is yet another plus.
Visit: Website 
6. Outdoorsy
"Outdoorsy" claims to provide the best RV and trailer rentals in the world. And having given a close look at what it has to offer, I must say that it has got the quality to live up to the tall claim. To me, what makes it a great contender is the ever-growing catalog of RV and trailer rentals that can cater to a wide range of demands.
So, if you are in quest of the best Airbnb alternatives that can let you find the most suitable RV and trailer rentals, look no further than Outdoorsy.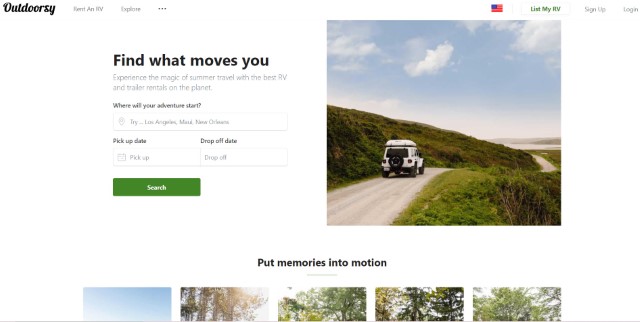 Not matter whether you are up for motorhomes, campervans, caravans, fifth-wheel trailers, popup campers or huge truck campers to carry a large group of friends, you will be able to easily find the most promising option. What's more, it also provides spot-on suggestions based on your needs. As a result, choosing a suitable RV and trailer becomes quite an easy affair.
Visit: Website 
7. Turnkey
Though not as big a name as Airbnb, Turnkey is second to none when it comes to being a reliable online marketplace and hospitality service brokerage company. This is designed to be a one-stop platform for getting a variety of vacation home rentals. So, it doesn't matter whether you are in a quest for a hotel for a couple, an elegant villa for a family or a big house for large groups, it will let you easily discover the perfect vacation home rental.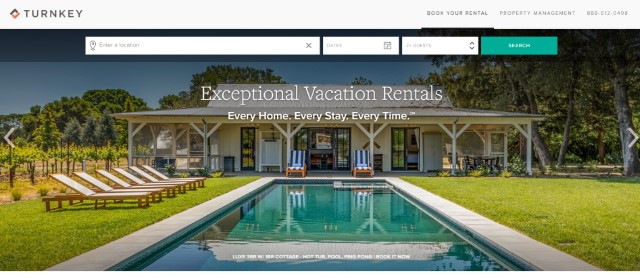 Talking about price, Turnkey shows both highly expensive and comparatively affordable properties. So, it completely depends on your budget and what sort of things you are looking for. Besides, it also provides 24/7 local in-market support.
As a result, if you ever need assistance to explore the local market to understand its culture better, it would always be readily available to help you out. Frankly speaking, TurnKey's extremely helpful local in-market support makes it a more friendly alternative to Airbnb.
Visit: Website 
8. 9flats
If you find Airbnb's collection of whole apartments to rent not up to the mark, you should keep 9flats in mind. It's known to have one of the biggest collection of vacation rentals, apartments, and guest-houses owned by locals. So, you can use this site to choose a more suitable vacation rental and also make the most of the great hosting experience.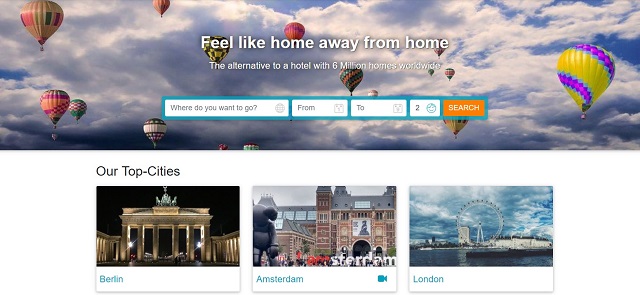 9flats offers vacation rentals in several cities including London, Berlin, New York, etc. around the world. Therefore, choosing a property in most parts of the world shouldn't be a problem. Price-wise, it caters to both expensive and reasonably affordable requirements.
And with a trusted rating score out of 10, it lets you quickly figure out how good a property is. Regarding cancellation and prepayment policies, they vary based on the accommodation type you choose.
Visit: Website 
9. SellMyTimeshareNow
What makes "SellMyTimeshareNow" a notable alternative to Airbnb is the ever-growing presence and the massive catalog of Timeshare properties. The website features more than 4000 Timeshare resorts in over 1300 locations so you can find a suitable stay at most popular vacation locations.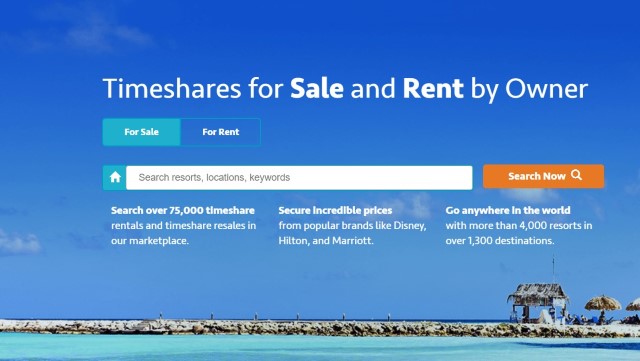 Another thing that makes SMTN a highly competitive alternative to Airbnb is the quality of properties. From well-known and luxurious names to the ones offering great service at a relatively low price, you have a ton of options to choose from.
Just like Airbnb, SMTN also offers several filtering options like type, rental price, weeks/days, beds and more. Moreover, SMTN offers a pretty simple way to let you rent your property and provides eye-catching discounts for rental services for owners.
Visit: Website 
10. onefinestay
When it comes to providing fantastic homes and services, you can count on "onefinestay" to live up to your billing. Both in terms of excellent service and affordability, it deserves to be rated as one of the finest alternatives to Airbnb. What has caught my eyes in this platform is the ability to create a remarkable collection of wishlist.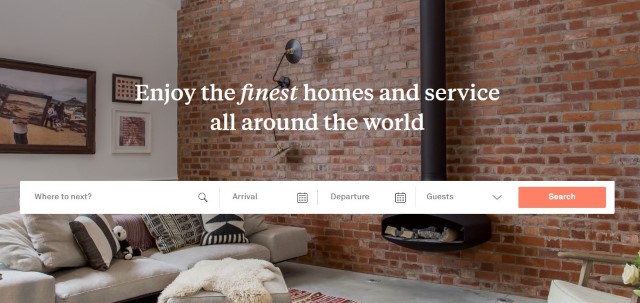 Based on what catches your eyeballs or appeals to your penchant, you can hit the heart symbol on your favorite homes to quickly add them to your personal collection. Hence, when you are planning to find a dream abode for your much-awaited holiday, you will have a ton of top-notch options to pick from.
Though onefinestay can't match Airbnb's worldwide presence, the site is fast spreading its wings in many countries of the world including famous cities and islands.
Visit: Website 
Best Airbnb Alternatives for Exploring India
Just in case you have set your sight on exploring India and its amazing places like Ooty, Manali or Leh Ladakh, let's take a peek at a couple of India specific Airbnb alternatives.
11. Wandertrails
For taking an amazing tour across India, Wandertrails has to be a top pick. As someone who has used its offerings, I can vouch for its quality. From fascinating jungle stay to waterfront stay to incredible Alibaug resorts, it has you fully covered pretty much like Airbnb. With such a wide variety of options vying for attention, picking out the most loving abode will never be a big ask.
Wandertrails provides a straightforward description of each property, mentioning all the dos and don't clearly. And just like many other notable names mentioned above, it also lets you read reviews so that you are fully aware of the pros and cons before booking a vacation rental. Regarding price, it can even put Airbnb to shame thanks to several eye-catching offerings at a much less price.
Visit: Website 
12. 99roomz
For traveling across India and exploring its real beauty, 99roomz has to be one of the best picks. The site has an abundance of properties – from exotic resorts to beautiful homes – to let you find the most charming abode of your choice.
Whether you are going to spend some memorable times with your sweetheart or all geared up to host a bachelor party full of theatrics along with your band of friends, 99roomz can help you choose much better deals than Airbnb.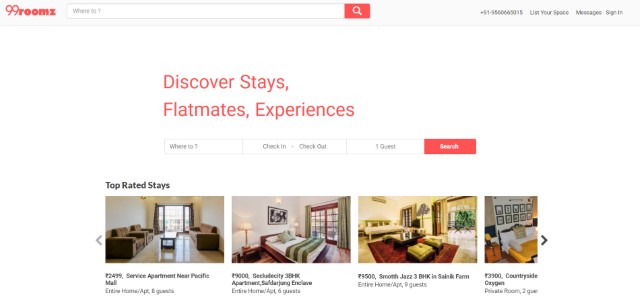 99roomz also mentions all the details about a property vividly so that there is no confusion about what you are going to get. And going by many reviews, it does offer what it shows or mentions – which isn't always a case with Airbnb. Not to forget, 99roomz can also offer a full refund (depending on when you cancel the booking). Overall, it's a trusted platform and definitely worth keeping in mind.
Visit: Website 
Asia & Pacific Airbnb Competitors & Alternatives
13. Stayz
Stayz is one of the popular Airbnb alternatives in the Asia-Pacific region. It's known for its authentic listings, flexible cancellation policy, and overall customer support. Best of all, most of the homes listed on Stayz have full kitchens, laundry, pools, gardens, and more. Basically, you will have full privacy and access to all amenities just like your home.
Apart from that, it offers something called Trip Boards where you can invite your friends and decide on the best homestay in the Asia-Pacific region. There are also options for short-term rentals on Stayz and if you wish to book homestays on islands or some obscure places then it connects you with the local website. Simply put, Stayz is among the best home rental services in Asia-Pacific and you should explore the website.
Visit: Website 
14. Vila Finder
Vila Finder is another promising homestay portal just like Airbnb that has got some great reviews from customers in Asia-Pacific. It primarily operates in Bali, Phuket, Sri Lanka, Mauritius, and more. If you concerned whether they stick to the high standards of home inspection like Airbnb then worry not. Vila Finder goes through more than 80 quality points where they check the bedding, cutlery, air conditioners, swimming pool, and more.
Hence, almost all the listings on Vila Finder are genuine and there will be no surprises when you visit your homestay location. Other than that, the costs are slightly on the higher side from other competing platforms, but it does offer you reliability and peace of mind. So if you want a service like Airbnb in the Asia-Pacific region then Vila Finder is a great pick.
Visit: Website 
Europe Airbnb Competitors & Alternatives
15. Wimdu
Wimdu is a go-to choice for many travelers who want a safe and reliable homestay in Europe. Just like Airbnb, you will find many homestays in and around the cities. The whole idea of Wimdu is to make your experience different from traditional accommodation. You have got rental apartments, homestays, cottages, studio apartments and more.
The best part about Wimdu is that homestays are not overpriced and you will have complete overview of the cost without any hidden charges. Besides that, Wimdu is quite popular in Europe making the most bookings in Berlin, Amsterdam, Paris, Rome, etc. I would say, if you are looking for a service like Airbnb in Europe then Wimdu is a great alternative.
Visit: Website 
16. HomeToGo
After Airbnb and Vrbo, HomeToGo is considered a top service provider in Europe. It has more than 1300 trusted partners and 18 million places to stay on its portal which is amazing. No matter what you want — a rental apartment, homestay, mountain cabin, castles, studio — there is something for everyone. HomeToGo also ensures that wherever you stay, all the amenities are working and available for you.

Besides that, HomeToGo panders more to the hippie crowd as it offers you places that are adventurous and ones that you won't find anywhere else. In tandem, if you are in Europe and looking for an unusual, but exciting accommodation then HomeToGo would make for the best choice.
Visit: Website 
Americas Airbnb Competitors & Alternatives
17. Vacasa
Vacasa is a rental management company just like Airbnb which promises to deliver the best accommodation in the whole of the Americas. It mainly operates in the US, Central, and South America and some parts of Europe. The portal offers more than 24,000 vacation rentals and thousands of homestays.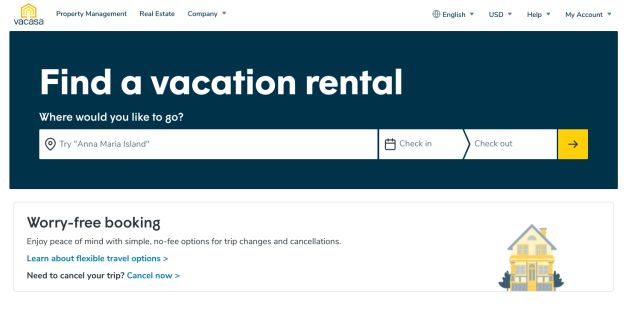 The best bit about Vacasa is its booking process. You don't need to pay full charges to make a booking and in case, you want to cancel your trip then you can receive it as a credit in your Vacasa account. Apart from that, it offers lake houses, cabin rentals, long-term vacation homes and more. To sum up, if you want to rent an apartment for holidays in the Americas then Vacasa will take you right home.
Visit: Website 
Best Airbnb Alternative for Property Owners
18. Expedia
If you are a property owner and looking for an Airbnb alternative then Expedia is a great choice. It's among the few travel companies that offer flights, hotels, homestays, cruises, vacation rentals, and more. Having such a wide service, you are likely to get more customers through its various channels. Apart from that, it offers a seamless onboarding process and everything can be done online.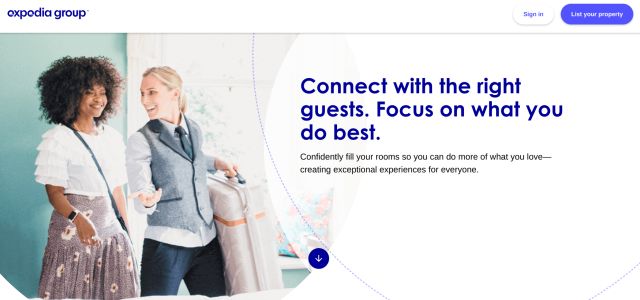 You just need to sign up and upload photos of your apartment and you will be up and running on Expedia. As for the compensation fee, the charges differ from one region to another. You will find the actual charge while the contracting process. All in all, Expedia is a widely popular aggregator and a boon for property owners to boost their business.
Visit: Website 
Best Airbnb Alternative for Small Group Bookings
19. Casamundo
Casamundo is a perfect Airbnb alternative for small groups because it caters to all your need– no matter how small your group is. You can book a rental apartment, cabin, a beach house or a complete mansion in homestay style. The company mainly operates in the US and Europe and offers some of the lowest prices for top-notch accommodation. Casamundo hosts more than 700,000 houses which is really awesome.

Besides that, the service also offers you boat rides, adventure sports, access to the best restaurants, and more. No to mention, the customer service is quite reliable and you would be truly happy with the service. In case, you have pets at home then you can travel with them as most of the houses are pet-friendly. Simply put, Casamundo is a great place to book excellent homestays for small groups and you should give it a try.
Visit: Website 
Best Airbnb Competitor for a Holiday with Complete Freedom
20. HouseTrip
HouseTrip is a way to paradise for travelers who want complete freedom on their holiday trip. It offers services just like Airbnb, but with much more flexibility and liberty. Essentially, you will have to book a whole apartment and you can make yourself at home without any restrictions. Onefinstay hosts some of the best homes in the US, UK, and Europe.

It also has something called "Holiday Vilas" where everything is set up according to your need and preferences. And if you wish to have an apartment in a central location in the city then you can find curated homes from its City Collection. To sum up, HouseTrip has a great reputation for homes and hospitality and you can give it a shot.
Visit: Website 
Best Site Like Airbnb for Short-Term Rentals
21. Housing Anywhere
Housing Anywhere is an online marketplace for homestays similar to Airbnb and offers all kinds of rentals including short and long-term rentals. The portal hosts thousands of rental apartments and you can use them for as long as you want. Do note that the service is offered mainly in Europe with the highest listings in Berlin, followed by Vienna and Brussels. Coming to the pricing, it's quite decent and comparable to Airbnb's rental cost.

The good part about Housing Anywhere is that it has a friction-less process of booking and accommodating travelers. You just need to book online and check-in without any issue. To protect your money, it transfers the amount to the landlord only after 48 hours of your check-in. To conclude, Housing Anywhere is a great place to find short-term rentals, especially in Europe.
Visit: Website 
Best Airbnb Competitor for Luxury Rentals
22. Luxury Retreats
If there is one place where you would find the best luxury rentals then it's Luxury Retreats. I would even say that you would get better and far more beautiful homes on Luxury Retreats than Airbnb. The reason is that homes on Luxury Retreats are carefully curated and handpicked from the world's most stunning locations.

There are more than 240 quality checklists before a house is selected. You can book large villas, city properties in prime locations, apartments near beaches, and more. And if you cancel your accommodation before 14 days of your trip then you would get a full refund. How awesome is that? So if you want a luxury experience then Luxury Retreats is where you should head to.
Visit: Website 
Frequently Asked Questions
Q. What Can I Use Instead of Airbnb?
There are many services like Airbnb which offer similar homestay experience at a lower cost and in stunning locations. I would recommend you to try VRBO and Booking.com.
Q. Is Airbnb better than VRBO?
VRBO is generally preferred by users who want long-term rentals whereas Airbnb hosts all kinds of rentals. If you are with a family or in a large group then VRBO is much better because it offers you the whole apartment. Apart from that, Airbnb is quite good.
Q. Is There Anything Cheaper than Airbnb?
Yes, you would find many cheaper options than Airbnb on Booking.com and Homestay. Just make sure to use the right filters.
Q. What is The Best Home Rental Site?
For home rentals, VRBO, Vacasa, and Housing Anywhere are great options. You would get short-term, mid, and long-term rentals at a much cheaper cost than Airbnb.
Find the Great Holiday Home with the Best Airbnb Alternatives
Airbnb may have been more popular than many of the sites mentioned above but it's certainly not the only one that offers memorable hospitality. In terms of affordability, there are also quite a few contenders that can beat it fair and square. So, take a look at the wide range of offerings and put your money on the one that looks spot-on for your amazing holiday. Now that my talk is over, let me know your top Airbnb alternatives and also give the reasons why they stand out for you.