Facebook introduced its Messenger bots platform this week at its F8 conference and if you have been wondering what it's all about, we are here to let you know. Well, chatbots or bots aren't entirely a new concept and it has been here since a long time. Remember Microsoft's Clippy? Also, various other platforms like Twitter, Telegram, Kik etc. already have their very own bots platform. So, what makes Facebook's implementation better? Well, here's everything you should know about Facebook Bots:
What are Facebook Messenger bots?
Messenger bots are basically Facebook accounts of businesses or pages, powered by Artificial intelligence algorithms to respond to your queries and execute specific tasks. Basically, these bots are expected to converse with users in a natural language while answering questions or doing tasks. Mark Zuckerberg's statement rightly explains the idea behind bots, "You should be able to message a business like you would message a friend".
Facebook aims to cut down app overload on devices by letting these bots do all the tasks without a user having to open an app or doing a web search. Also, these bots are expected to know you over time and remember your previous chats to make sure that they are much more useful than say a virtual assistant software like Siri or Cortana. Now that you've got a basic idea of Facebook bots, here's how to use them on your smartphone/tablet or PC.
How to find and use Messenger bots?
The Facebook bots are part of the Messenger Platform, so you can only use them on Messenger. There's no way to find or use bots on the stand-alone Facebook app or webpage. So, here's how you can find and use bots in the Messenger app on Android and iOS:
Note: Before you start finding bots on your Android or iOS device, make sure to update the app to the latest version.
1. Open the Messenger app and tap the floating "+" button and select "Search".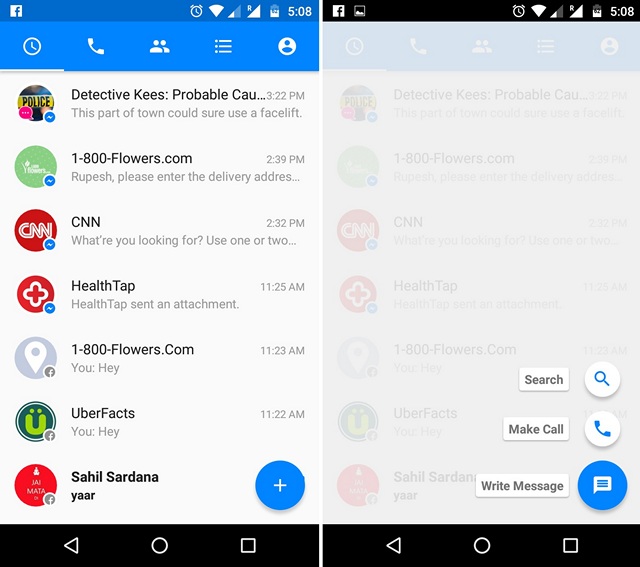 2. In the search bar on the top, search for the bot you want. For instance, search for "CNN".
3. Once the search is completed, scroll down below to find "Bots and Businesses".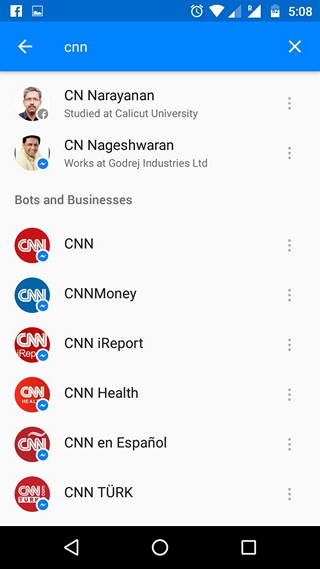 4. Then, tap the CNN bot and sent a greeting to start conversing with the bot.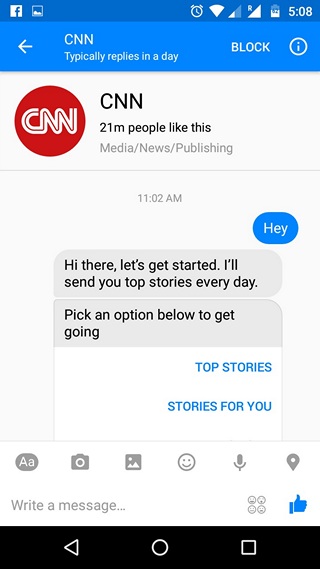 Note: To identify bots among normal business pages, look for the blue Messenger badge that we are used to seeing on people accounts that use Messenger.
You can even try conversing with the Facebook bots from a PC. Here's how to use Messenger bots on a PC:
1. Open browser and go to Messenger.com.
2. Search for a bot in the search bar on top. For instance, search for the bot 1-800-Flowers.com.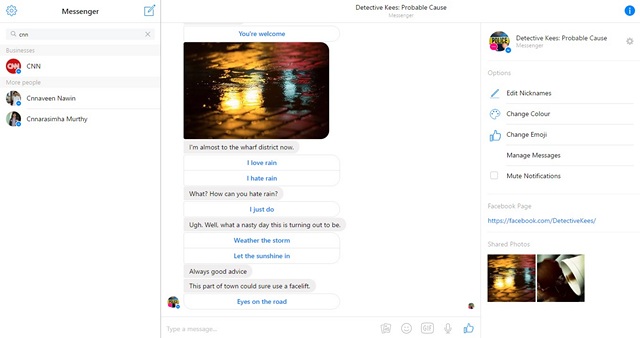 3. You will see a list of businesses and people. Click on the bot with the messenger icon and start conversing.
Once you start conversing with a bot, the bot will suggest you some questions you can ask. It will even show you options you can select instead of typing everything. For instance, the CNN bot gives you options to "Read Story", check out "Stories for you" or "Ask CNN", where you will have to tell the bot about something you want to read like politics, tech, sports etc. There are bots that even let you purchase things like the 1-800-Flowers.com bot, which lets you order flowers right from the Bot's message thread.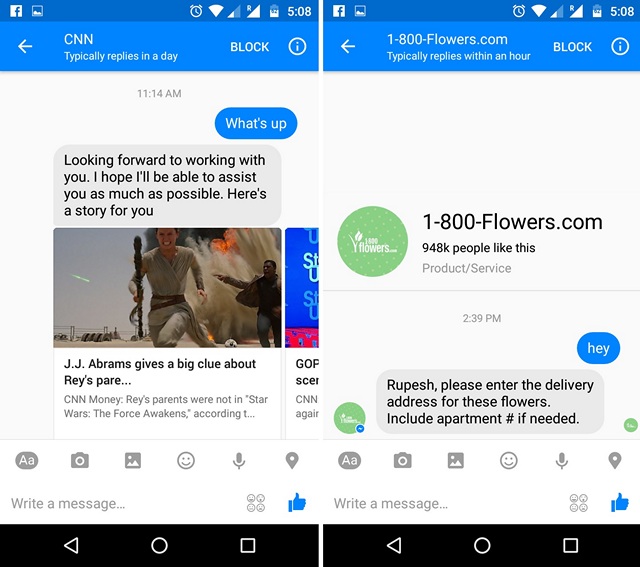 Check out all the bots available
Unfortunately, Facebook hasn't yet implemented a Bot Store in Messenger, so you will have to rely on searching for bots. However, there's a third party solution. A website dubbed Botlist features a listing of all the Messenger bots available presently. We expect the website to keep things updated, so you can simply visit the site to keep a check on new bot arrivals.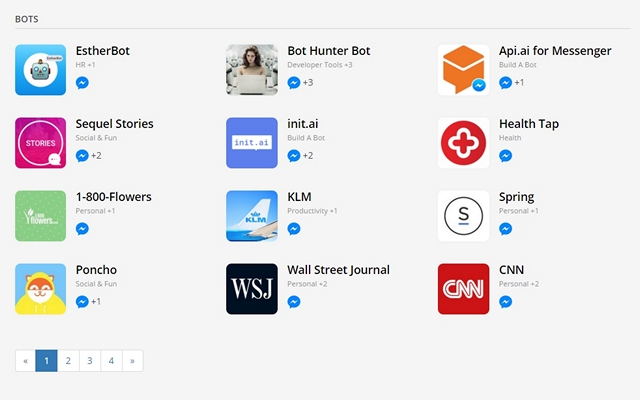 You can even start a chat with one of the bots directly from the website in a PC. To do it, simply click on the bot to see more info about it. In the bot info page, you will find a link dubbed "m.me", which will take you directly to the Messenger website with a new chat thread with the bot. Not all the bots in the website include a m.me link yet but we can expect things to improve soon.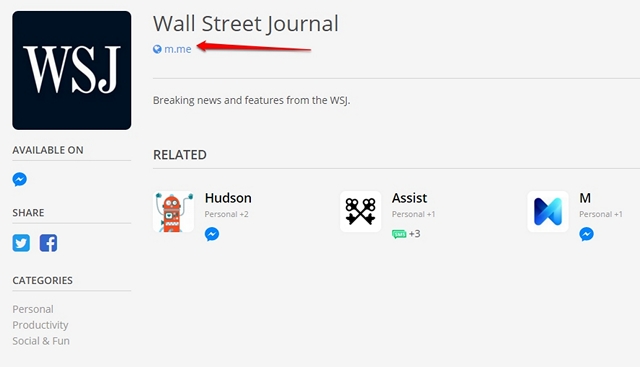 Are bots useful?
The answer of this question is both yes and no, because bots in its current iteration are nowhere near the functionality Facebook promises us. However, we can expect them to become a whole lot smarter and functional in the future. In a nutshell, bots are a good start but there's still some time before it actually becomes a useful solution. While bots are supposed to make talking to businesses a lot more friendly, the present bots aren't that flexible and they only seem to respond to a few specific pre-set questions.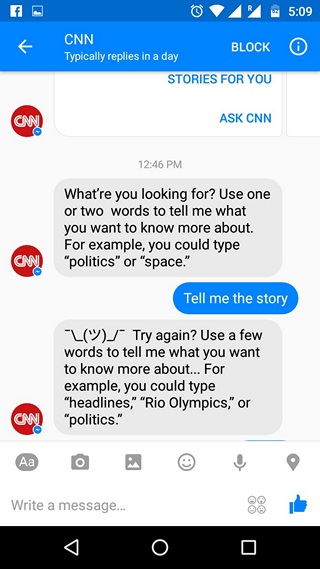 Also, as we've come to expect from Microsoft's Tay Twitter bot, things don't always go well when it comes to bots. So, while we can order flowers or know the weather through these bots, it'll take quite some time before we entrust a bot with some complex and important task. To sum things up, you can give these Messenger bots a shot but chances are, you will come back unimpressed. Well, here's hoping that bots become a lot more functional in the coming times and become as useful as Facebook really wants them to be.
Build bots for your business
If you own a business, you'd want to jump over to the Messenger Bots bandwagon. It doesn't matter if your business is small or huge, bots can come in really handy for you. Thankfully, Facebook has detailed everything around the Messenger platform, which makes creating bots pretty easy. Here's everything you need to know about building bots.
SEE ALSO: 15 Awesome Twitter Bots You Should Follow
Ready to talk to Facebook bots?
While these Messenger bots might not be ready for prime-time usage, they are the future, so you should give them a shot. It's pretty easy to use, so you should have no problems with it. Well, that's all from our side, do let us know how you like the cool new Facebook bots. Sound off in the comments section below.