Apple is often lauded for the security infrastructure surrounding its macOS and iOS devices, all thanks to its walled-garden philosophy. There's a saying that security is only as strong as its weakest link and in this case, the weakest link could arguably be some of the Apple users. Don't get me wrong, iOS could very well be the most secure mobile operating system, but the number of ways this security could be compromised is profuse. Therefore, it is the need of the hour to learn how to safeguard your personal data — whether it be having encrypted conversations or protecting your online identity. So, today I'll be doing a round-up of the 10 best iPhone security apps you should use:
1. Secure Messaging and Calling With Signal Messenger
Signal Messenger, developed by Open Whisper Systems, lets you text and make calls to other users, all secured by end-to-end encryption. If the name rings a bell, it's because most of the messaging apps like WhatsApp, Facebook Messenger and Google Allo use its secure protocol to implement encryption. Despite sporting a similar encryption technique, Signal is considered way more secure than WhatsApp and most other alternatives available in the market right now. The open-source nature of the app means that anybody with a sound knowledge of security can audit the source code and verify its security infrastructure.
It comes with a group-chat feature, so you can have private conversations with multiple people. Feature wise, Signal cannot compete with WhatsApp or most other messengers for that matter because it was designed with security in mind, and I'm glad that it lives up to the hype. If you're looking to have a private conversation with someone, either over call or text, Signal for iOS is your best bet right now.
Install: (Free)
2. Use Opera VPN to Protect Your Online Identity
Despite its pros and cons, a VPN can enhance security by faking your location and also help bypass geo-restrictions on certain websites. Opera VPN for iOS provides a free and reliable VPN service that lets you choose between 5 locations: including US, Canada, Germany, Netherlands, Singapore, with support for more countries coming soon. It can also block online trackers to enhance your privacy.
Installing Opera VPN on iPhone is extremely easy: just download the app and proceed to install the relevant profile. I'm really impressed with Opera VPN because it works as advertised, doesn't slow down your internet speed and perhaps most importantly, it's a product of a reputed company. Still, if you'd like to explore more choices, you can check out some other great VPN apps available for iPhone.
Install: (Free)
3. Surf the Web Anonymously With Onion Browser
Onion browser for iOS is a free security-focused browser that routes all your Internet traffic through the Tor network to help you stay anonymous online. For the uninitiated, here's what Wikipedia has to say about the Tor network:
Tor directs Internet traffic through a free, worldwide, volunteer network consisting of more than seven thousand relays to conceal a user's location and usage from anyone conducting network surveillance or traffic analysis. 
So, how anonymous are you with Onion browser? Well, websites cannot see your actual IP address and therefore, cannot determine your location. Also, ISPs cannot see your browsing history. Perhaps the only catch is that pages will load a lot slower because all the traffic has to be encrypted and relayed through the Tor network. If you're really paranoid about privacy, I recommend you to check out our detailed article on how to browse anonymously on the iPhone or iPad.
Install: (Free)
4. Store Your Passwords Securely With 1Password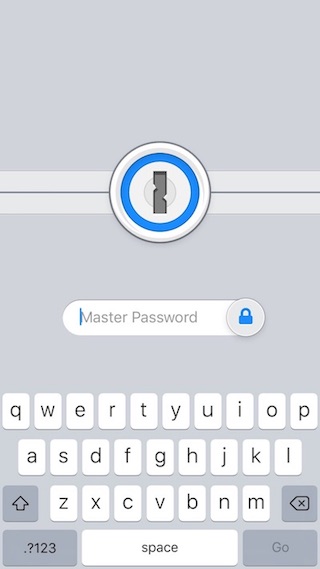 There's no shortage of password managers available, but 1Password is my personal favorite. 1Password for iOS lets you store all the important information like website logins, credit cards, identities and more in one place and secures it by end-to-end encryption. For extra peace of mind, it also supports two-factor authentication and locking down the app with TouchID. It also has full support for family accounts, so you can share passwords amongst your family members in a secured way. Along with iOS, it also offers apps for Windows, macOS and Android.
It offers a free trial for 30-days, after which you can choose to opt in for the individual plan that costs about $3.99/month or the family plan that costs $6.99 for 5 members.
Install: (Free 30-day trial, $3.99/month individual subscription)
5. Password Protect Your Personal Data With Avira Vault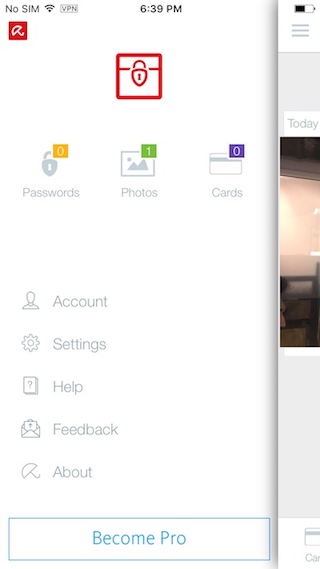 Avira Vault is a digital vault by Avira that lets you password protect your photos, videos and more with TouchID or a PIN. You can choose to hide all the confidential photos in the vault and delete them from the camera roll. It lets you encrypt your photos even before they are uploaded to iCloud. It's Avira vault's primary feature, but it is so much more than that. It doubles down as a password manager by saving your credit cards and online passwords securely. It also comes with Avira Scout, an always-incognito browser that protects your privacy.
In the free version, you can password protect only 30 files, 1 credit card and 3 passports. The Pro version does away with all these limitations and unlocks new features like password protecting with TouchID and encryption of already backed up data. It also features something called as "decoy account" that lets you create a dummy account with separate PIN to fool other nosy users.
If you are looking for more apps to lock or hide photos and other files on iOS, you should check out our list on the same.
Install: (Free, $3.99 Pro version available)
6. Encrypted Cloud Storage With SpiderOak ONE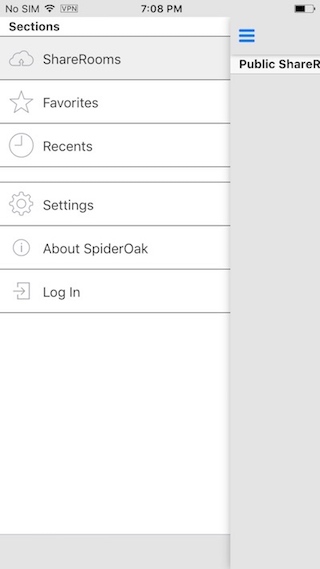 Most of the top players in the cloud storage segment including Apple, Google and Dropbox do not offer a solid promise to protect your data from law enforcement agencies. Don't trust me? I'll let this sentence buried in Apple's iCloud agreement do the talking:

So, how do you make sure that the content you store in a cloud-based service is safe from prying eyes? Enter SpiderOak One. SpiderOak ONE provides end-to-end encryption for the files you store in the cloud. It takes pride in its "zero-knowledge" policy, which means that even they do not have access to your stored content. It features real-time sync across all your devices and lets you access the previous version of your modified files. It comes with a feature called "Share rooms" that let you password-protect and share your files/folders with anyone.
Besides iOS, it is also available for Android, Windows, macOS and Linux. Please note that before using it on your iPhone, you'll have to create a new account by downloading their desktop app first.
Install: (21-day free trial, Pro version starts $5)
7. Secure Your Phone From Theft With Prey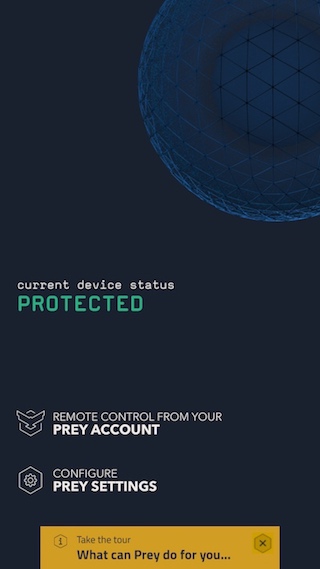 Apple includes a "Find My iPhone" feature on the iPhone which does a pretty good job of locating your phone. It works but it is fairly basic. If you're looking for an anti-theft app with more features, Prey is what you need. Prey is an anti-theft app which is available for iPhone, iPad and Mac. Once you've set it up on your Apple devices, you can remotely control from the Prey account using the browser-based interface. You can remotely locate your iPhone on a map using GPS and WiFi, take pictures using the camera and even trigger an alarm. It features a "Camouflage mode" that disguises it as an iOS game, essentially concealing the apps' intended nature from the thieves.
The free version lets you tie up to 3 devices to a single account. The Pro version unlocks some new features like full real-time control, SSL encryption and also provides priority email support.
Install: (Free, $29.99/year Pro version)
Till now, we've discussed some of the best security apps for the iPhone. If your iPhone is jailbroken, there are certain jailbreak-specific tweaks that can help you secure your iPhone. I know that sounds funny because jailbreaking itself can expose your iPhone to a lot of vulnerabilities. You shouldn't jailbreak your iPhone just for the sake of installing these tweaks, especially if you don't understand the security risks. Overall, what I'd recommend is that if you happen to jailbreak your iPhone, do give these tricks a try.
Note: As already mentioned, the following apps are for jailbroken iPhones only. If you're looking to jailbreak your iPhone, head up to our detailed tutorial on the same. If you need help installing these tweaks, refer to our Cydia guide. 
8. Lock Your Apps With BioLockDown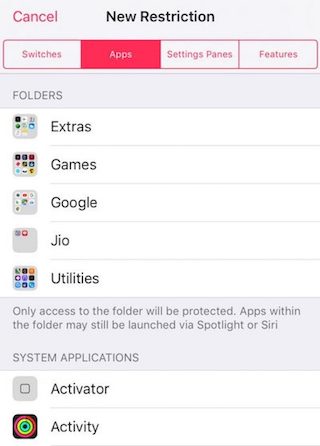 Apple may have integrated TouchID seamlessly on the iPhone, but it still falls short when it comes to locking individual apps. BioLockDown extends the functionality of TouchID by enabling you to lock down individual apps, folders, settings panel, control centre toggles and much more. I've already covered BioLockDown in a previous article, so head up there to learn more about its features and how to install it.
Source: BigBoss (Default) ($2.99)
9. Firewall IP7 Selectively Blocks Outgoing Connections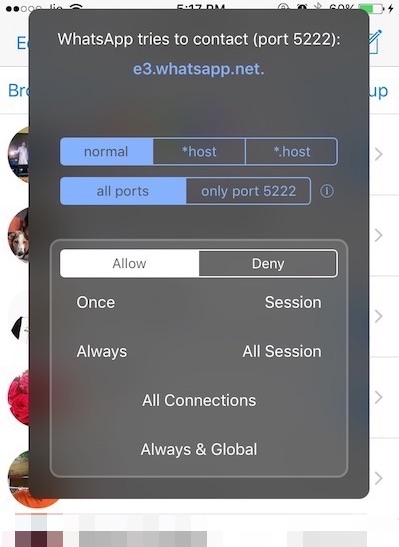 Firewall IP7 intercepts all the outgoing network connections and lets you selectively block outgoing connections on a per-app basis. When an app tries to connect to the Internet, it can instantly provide you with the whois data of the hostname so you can allow or deny the request. It also includes port-specific blocking so you can block all the outgoing connections from a particular port. An important thing to note is that it will not work if you're using a VPN. I've tried it on iOS 10.2 and it seems to be compatible.
Install: ($4.99)
10. Protect My Privacy Protects Your Personal Information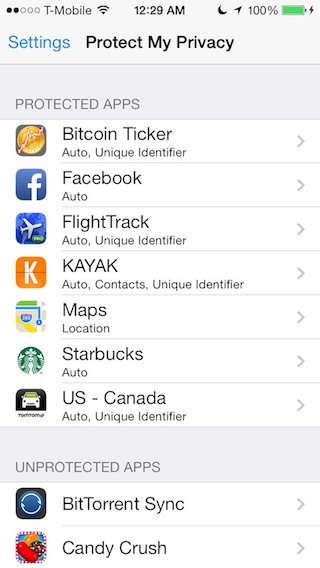 Protect My Privacy (PMP), as its name suggests, protects your personal information on your iPhone. Every time an app requests any personal information such as contact details or your location, it prompts you to either "protect" or "allow" access. If you tap "protect", PMP can supply "dummy" information to protect your privacy. The developers say that they are working on adding more kinds of information. I've tried it on iOS 10.2 and can confirm that it mostly works, although it crashes sometimes.
Download: BigBoss (Default) (Free)
SEE ALSO: 20 Best Cydia Tweaks To Customize Your iPhone
Use These Best iPhone Security Apps to Stay Secure
Whether you're looking to have a private conversation, or you are looking to password protect your personal files, the above mentioned are some of the best apps to stay secured on your iPhone. With ever growing privacy concerns, security is of utmost importance. So, do try out these apps on your iPhone and also, if you think I may have missed your favourite app, mention it in the comments section below.
---
Load More