Amidst all the growing privacy concerns, we've been constantly battling to protect our privacy online. Most of the things you search, read and interact with on the internet can be tracked to either identify you or deliver personalized advertisements. So, if you are worried about your privacy while surfing the web on your iPhone or iPad, there are ways to browse privately on your iPhone. Before we learn how to browse anonymously on iPhone, let's answer an important question —
Why Should You Browse Anonymously?
A classic question I get asked all the times. People ask why to strive for privacy when they aren't engaged in any illegal activities online and are certainly not linked to any terrorist organisation. It's simple. Today, business models of many private companies are built around information provided by users. Although all companies promise to keep your data safe, there's no telling when a company could go haywire. But that's not it. Even Governments run mass surveillance programs to monitor all your personal data on the Internet (I'm looking at you, PRISM). Therefore, to protect our freedom rights, we should know the basics of browsing anonymously.
When it comes to the iPhone, Apple has always made a strong emphasis on privacy. Today, let's take a step further and learn how to browse anonymously on the iPhone:
1. Onion Browser for iOS
While you can use the Private browsing more in Safari or any other browser, it's not really as straightforward as you'd like. So, if you're a privacy buff, the Onion browser should definitely ring a bell. After all, it was released as a paid app for iOS back in 2012 but is back in the headlines as it's now free. Onion browser encrypts all your web traffic through the Tor network to help you stay anonymous online. Some of the privacy benefits of using the Onion browser are:
Websites cannot see your real IP address and so cannot trace your location.
Even ISPs cannot see what you're browsing.
Access websites regardless of geographical barriers.
Getting started with Onion browser is really easy. The first time you open the iOS app, it presents you with a "Connecting" screen and shouldn't take more than a minute. After that, you'll be presented with a success message as shown below —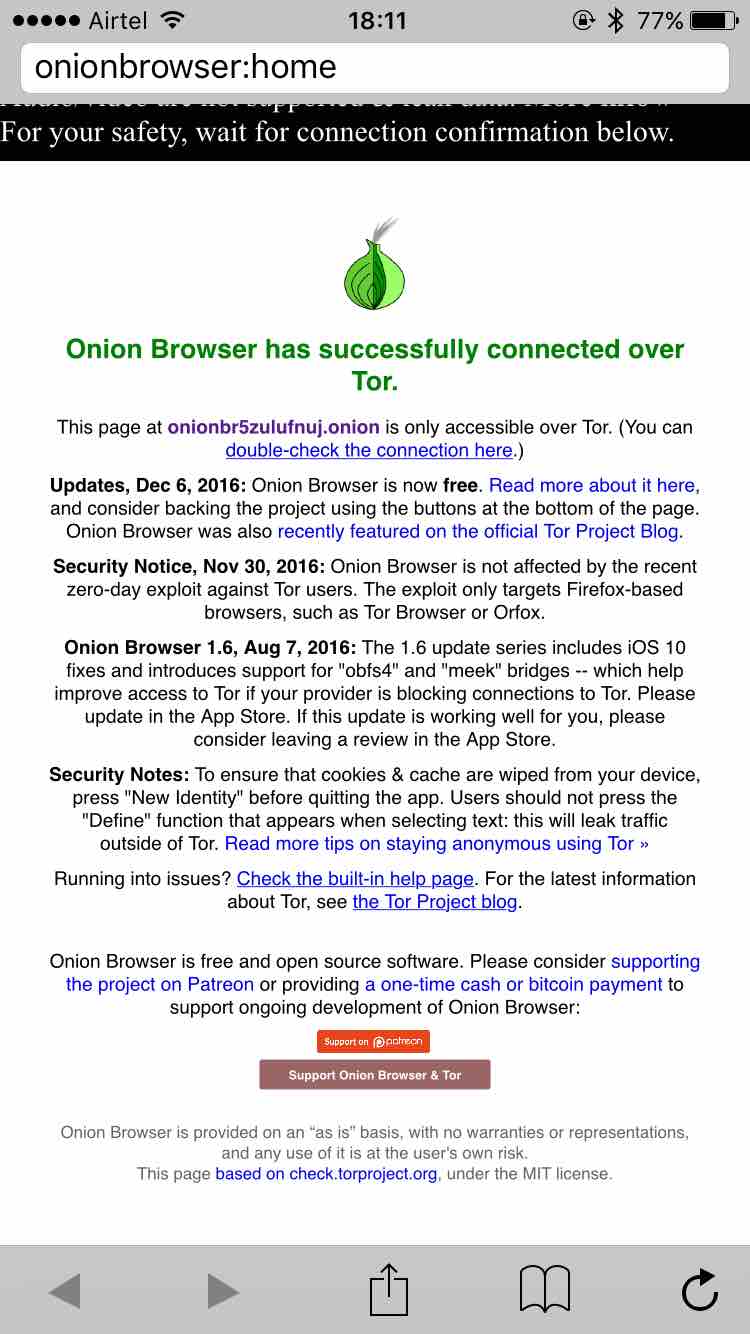 From here on, you can browse any website anonymously. An important thing to remember is that Onion browser encrypts all the traffic from inside the browser only. Also, if you login to websites where you've already stored your information (Facebook, Gmail etc) even inside the Onion browser, you are not really anonymous. One downside of using this browser is that it is much slower in loading pages when compared to regular browsers. This is because all the traffic has to be encrypted and relayed through the tor network. It's a trade-off you need to make for browsing anonymously.
Download Onion Browser (Free)
2. TunnelBear for iOS
TunnelBear is a popular cross-platform VPN service. TunnelBear's free version offers 500 MB of data per month (additional data through paid plans or social media activities) and allows you to browse from 20 different locations including UK, US, Japan and India. Alternatively, there are a lot of free VPN apps available for the iPhone.
Let's see how a VPN can help you stay anonymous on the Internet —
Hides your real IP address from websites so they cannot track you or your location.
If you're connected to a public WiFi network, a VPN can encrypt all the information, thus preventing anyone from stealing your important information (Man-in-the-middle-attack).
A VPN can "fake" your location as another country, thus helping you to get around blocked sites and censorship.
Getting started with TunnelBear is very easy, too. The first time you open the iOS app, it'll ask you to create a new account. Tap on "Allow" on the next prompt to install the VPN configurations.
The next step is to confirm your email address and tap on "Continue".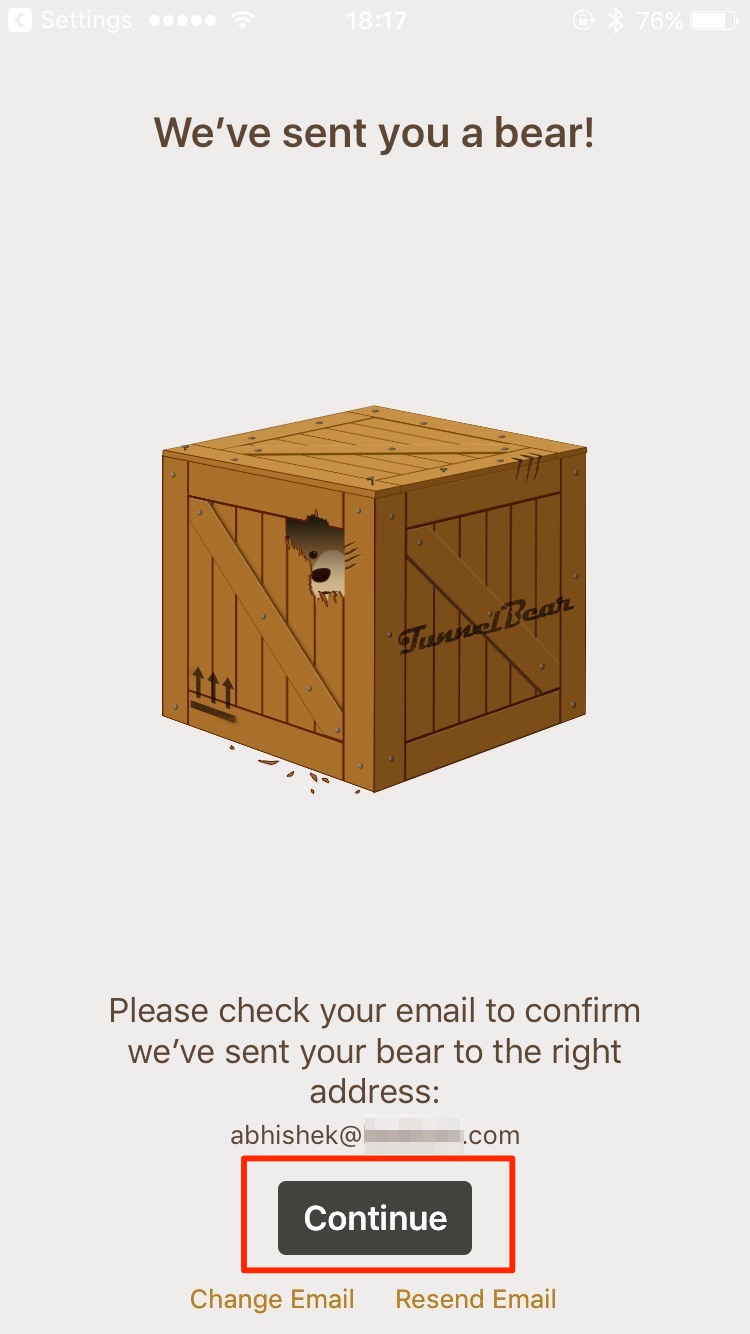 Here is how TunnelBear looks like when it's up and running.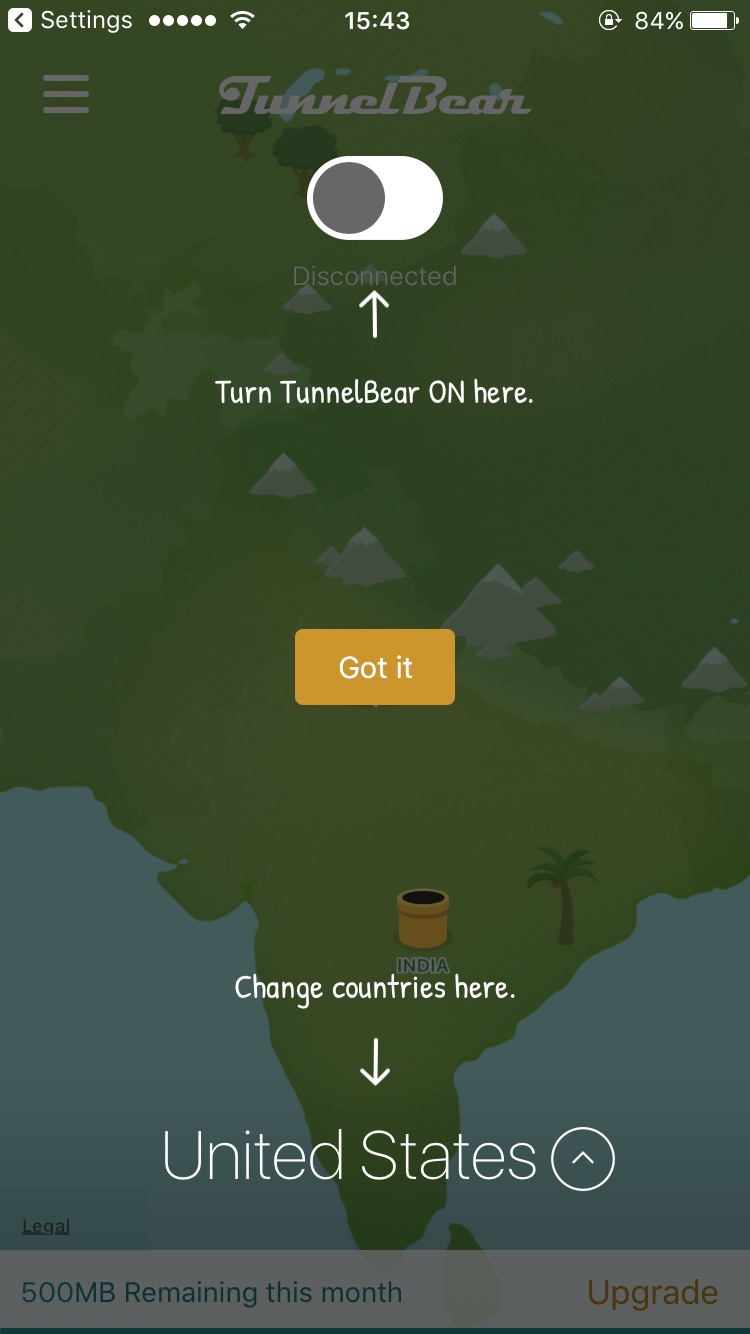 One of the benefits of using a VPN is that it encrypts all the outgoing data from your iPhone, regardless of the app you are using. Unlike the Onion browser, TunnelBear VPN doesn't slow down your browsing experience.
Download TunnelBear VPN for iOS (Free, with in-app purchases)
3. DuckDuckGo Search Engine for iOS
DuckDuckGo is a private search engine company that takes pride in the fact that it doesn't track you. First, let's see what data is collected when you make a search on say, Google —
You actual search term is sent to the site which you click from the search results.
It also sends the user agent of the browser and your IP address which can be potentially used to uniquely identify you.
The search engine stores the history of your search results and uses it to deliver personalized advertisements.
On the other hand, DuckDuckGo doesn't track you using any of the methods above. A point to be noted is that it anonymizes only your searches. If you navigate to a different website, the privacy policy of that particular website will apply.
Alongside the privacy features, DuckDuckGo also has a few neat tricks up its sleeve like instant search and (!) bangs. The (!)bang feature is extremely useful if you feel like doing a Google search anonymously. For instance, just append "!g" (without the quotes) after your search query and you will be taken to the Google search results, and all this without being tracked. Pretty neat stuff, right?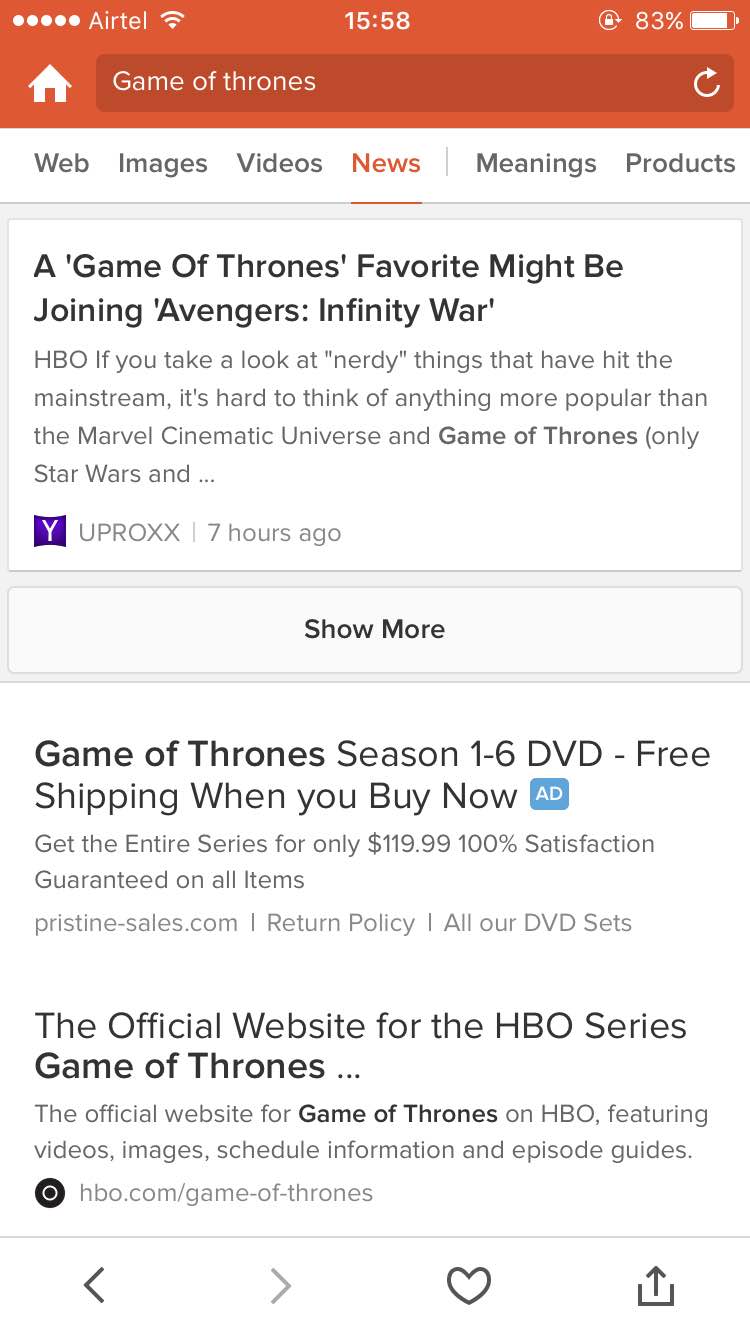 You can search on DuckDuckGo online but you may want to install their iOS app for extra convenience. You can also check out our detailed article on DuckDuckGo to know why you should switch to it.
Download DuckDuckGo for iOS (Free)
SEE ALSO: 12 Hidden iPhone Features You Should Be Using
Use These Methods to Browse Anonymously on iPhone
Humans have all kinds of insecurities, and tracking only makes it worse. We should all endeavour for online privacy because it has the potential to change the way you live your life online. If you own an iPhone, you can browse anonymously using the above mentioned methods. Let us know if you've any other tip for browsing anonymously for our fellow readers.