It's been a few weeks since the iPhone 15 series launched, and it has already created a lot of buzz in the markets. The iPhone 15 Pro models might have gotten all the limelight, but we can't deny the fact you have to shell out a hell lot of cash to get that high-end experience. This is where the iPhone 15 comes in. It might be the smallest iPhone in the lineup, but it has got a much-needed makeover which brings it closer to the premium siblings, in terms of looks. Just a quick glance at the iPhone 15 will instantly make you feel that it has pretty much changed compared to its predecessor, the iPhone 14. But, here comes a big question- is the iPhone 15 a worthy upgrade? After all, it isn't only about the looks and design changes, the performance should also fall in the right place. I have been using the iPhone 15 as my daily driver for about a week and have a lot to talk about it.
In this in-depth iPhone 15 review, we'll figure out if the iPhone 15 is worth the hype or not. I have talked about the design, display, cameras, performance, and other important aspects to give you an idea of my experience with this brand-new iPhone. So, let's get started and find out what the iPhone 15 brings to the table and if it's worth an upgrade.
iPhone 15 Specifications
| Specs | iPhone 15 |
| --- | --- |
| Dimensions | 5.81 x 2.82 x 0.32 inches |
| Weight | 171 grams |
| Dust and Water Resistance | Yes, IP68 |
| Display | 6.1" Super Retina XDR OLED |
| Chipset | A16 Bionic Chip |
| Operating System | iOS 17 |
| RAM | 6GB LPDDR5 |
| Storage | 128GB, 256GB, 512GB |
| Rear Camera | 48MP Main, 12MP Ultra-wide |
| Selfie Camera | 12MP |
| Battery | 3349mAh |
| Charging | 20W wired, up to 15W MagSafe |
| Colors | Pink, Yellow, Blue, Green, Black |
| Price | starts at $799 (Rs 79,990) |
iPhone 15 Specifications
iPhone 15: What's in the box?
Back in 2020, Apple decided to remove the power adapter and wired earphones from the box. Since then, there's been no turning back. In fact, today all the major smartphone brands follow the same trend. So, talking about the iPhone 15 box contents, you have the phone, a SIM ejector tool, the instruction manual, signature Apple logo stickers, and a braided Type-C to Type-C cable in the box. So, if you're new to the Apple ecosystem, you'll have to buy an iPhone 15 compatible charger separately.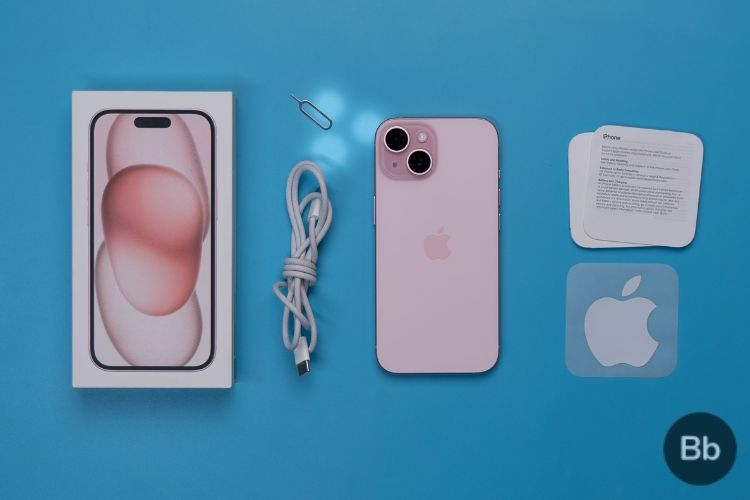 iPhone 15: Design and Build
At a glance, the iPhone 15 is instantly recognizable and easily distinguishable from its predecessor, iPhone 14. Well, the credit goes to the Dynamic Island, the color-infused glass back, and the USB-C port. The iPhone 15 rocks an aluminum build with Ceramic Shield front and color-infused glass back. As soon as I held the iPhone 15, I was impressed with its refreshed chassis design, meticulous details, and of course, the addition of Dynamic Island. Below are the major design changes that I like in the iPhone 15.
Contoured Design
Talking about the size, I feel the much-loved 6.1" size is just perfect for your hands and pockets. I'm not a fan of really big-sized smartphones, I rather find them difficult to use. People with smaller hands like me will definitely agree. Although the 5.78 x 2.82 x 0.31 dimensions of the iPhone 15 closely match the 5.81 x 2.82 x 0.32 dimensions of the iPhone 14; the latest model feels lighter and sleeker. Also, I feel the iPhone 15 is more comfortable to hold, thanks to the curved design and the new aluminum enclosure around the edges.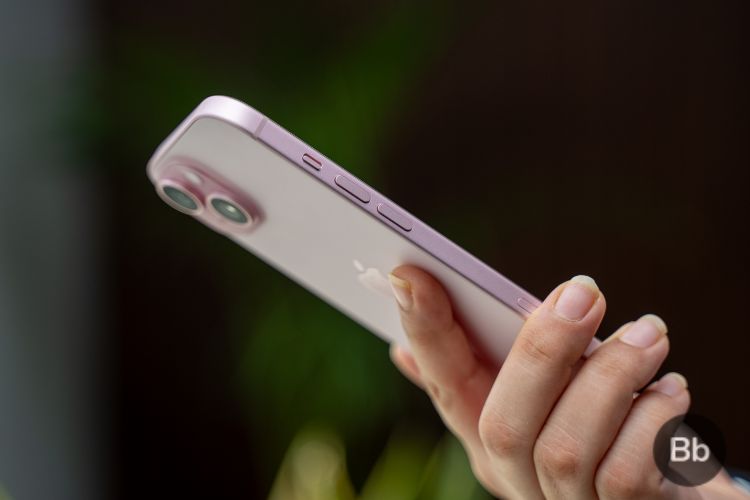 Compared to the iPhone 14 models which have a flat-edge design, the contoured sides on the iPhone 15 definitely offer a more comfortable in-hand feel. The camera design and placement remain the same as the previous models. You'll find the square-shaped camera hump with diagonally-placed dual cameras, now with bigger sensors.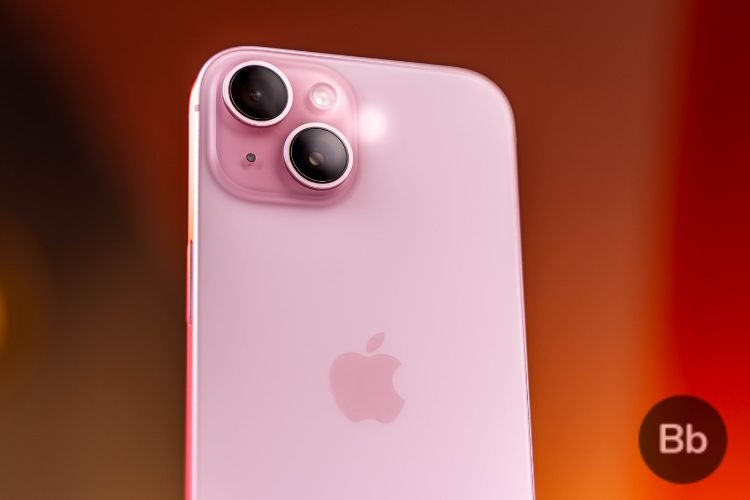 Color-infused Matte Glass Back
The brand-new color-infused glass back is also a fantastic upgrade. I love how pretty it looks with the contoured edges, giving a chic and classy look to the overall design of the iPhone 15. Oh, did I mention how gorgeous the matte glass back looks? Yes, the iPhone 15 boasts a matte finish which was earlier a pro-exclusive thing. Compared to the glossy back on iPhone 14 and earlier models, I personally adore the matte finish, it just makes everything look and feel better.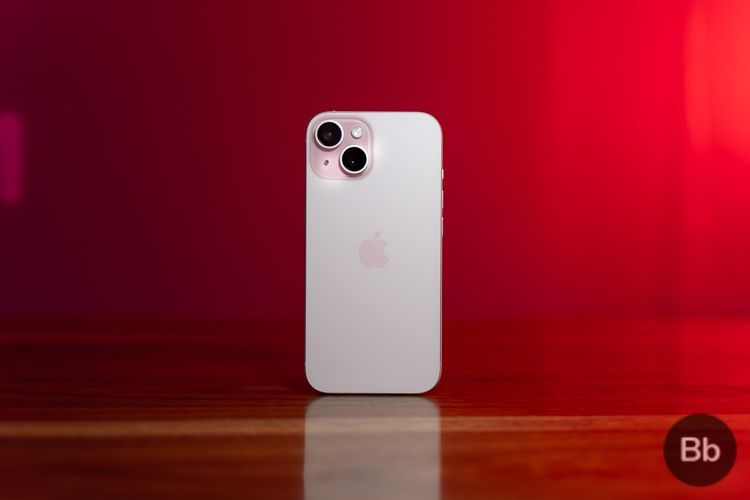 I reviewed the iPhone 15 in the Pink colorway, damn, it's definitely a head-turner. It looks so much better in person than it looked in the photos. The other iPhone 15 colors include Blue, Yellow, Green, and Black. Rather than neutral tones, I prefer the pastel hues more. They look charming, add a lot more character, and show off the color-infused glass back much more gracefully.
USB-C Port
One very significant change that Apple introduced with the iPhone 15 is the USB-C port. So, even if you have last-year's iPhone 14, it might feel old with that Lightning port. If you've already invested in multiple Lightning accessories, you might feel sad because they won't work with your brand-new iPhone. However, Apple supplies a braided Type-C to Type C cable in the box.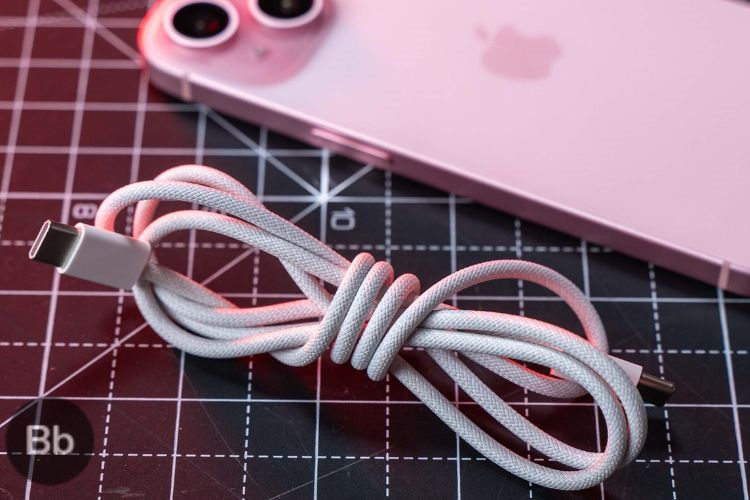 The USB-C port is there on all the models, though the faster USB 3 speeds (up to 10Gbps) are reserved for Pro models only and the vanilla models are capped at USB 2 standard. The USB-C port on iPhone 15 and 15 Plus supports USB 2 so the peak transfer speed tops out at 480Mbps. I usually don't find any need to transfer heavy files from my iPhone to a computer, so the massive speed difference doesn't bother me. That said, if you're a content creator or videographer who often has to transfer heavy 4K files, you might want the USB 3 speeds on the iPhone 15 Pro models.
To sum up, I think the iPhone 15 has got a much-needed design upgrade that makes it look and feel much better than its predecessor. Although it's not a major redesign, it's definitely refreshing. With the exciting Dynamic Island, color-infused matte glass back, USB-C charging port, and pretty pastel colors, I feel the iPhone 15 would surely charm you with its design.
iPhone 15: Display
I feel Apple has finally done some work on the display on its standard iPhone model. This is gonna be one of the prime reasons why anyone would love using and feel attracted to the iPhone 15. Apple finally ditched the years-old notch and offered Dynamic Island even on the standard models, making them look like the elder siblings.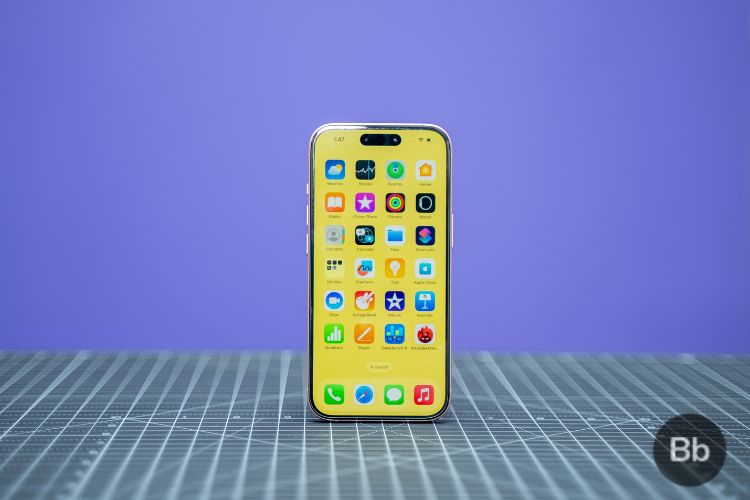 The 6.1" Super Retina XDR OLED might not be the most stunning smartphone display I've ever sat my eyes on, but it offers a great experience and didn't disappoint me. For someone like me who isn't a mobile gamer or a power user, the iPhone 15 ticks all the essentials I expect from my iPhone's display- high brightness levels, eye-candy visuals, and super-slim bezels. Frankly speaking, these things matter to me the most in a display, everything else can be put to a secondary level.
Apple claims the iPhone 15 offers 1,600 nits peak brightness in HDR and 2,000 nits brightness outdoors. I watched YouTube videos, binge-watched web series on Hotstar, scrolled through IG Reels, and the display felt amazingly bright and vivid. The color reproduction was spot on even in the dark scenes. Using the phone on a bright sunny day wasn't an issue either. I must say the display on iPhone 15 is much brighter than what I had experienced with the iPhone 14 and iPhone 14 Pro.
However, what might bother some users is the old 60Hz panel, especially those switching from the Android family. You might miss the buttery-smooth scrolling and much more fluid transitions on the 120Hz displays. It won't be a deal breaker for a casual user, but a gaming enthusiast would surely miss out on a high refresh rate and envy the 120Hz display found on the Pro models. The 60Hz refresh rate panel didn't bother me. I had a smooth, jitter-free experience scrolling through apps, photos, and quickly typing long messages. That being said, the fact that Apple still doesn't offer some essential display traits that are even found on the entry-level and mid-range Android smartphones might dishearten some users.
Moving to my experience with the Dynamic Island, it feels good to see that the infamous notch is finally gone. The standard models also have the pill-shaped cutout aka Dynamic Island that adapts and fluidity expands based on what you're doing. It displays outputs and alerts like Apple Pay confirmations, AirDrop file transfers, Silent mode on/off, accessory connects, low battery & charging alerts, and more. For me, it's an impressive show off of hardware and software integration, which Apple is known for. If you're switching from iPhone 14 or older models, the Dynamic Island is sure to make you feel welcomed. That said, I don't like the fact that Apple didn't add any new features and interactions that could be possible with the Dynamic Island.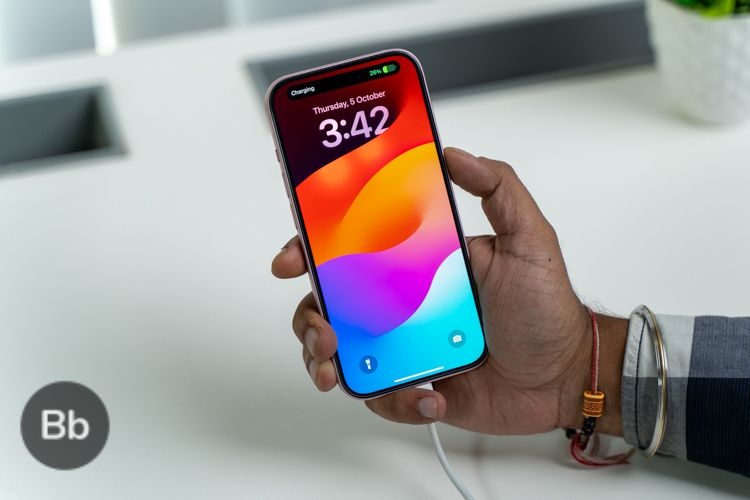 Unarguably, it was a highlighting feature of the iPhone 14 Pro models launched last year. Since then, it has remained pretty much the same. For iPhone 15, the Dynamic Island isn't a new or improved addition, it's a simple pass-on from the previous year, which again Apple is known for. In my opinion, if you're coming from older iPhone models, the iPhone 15 will surely attract you. However, if you're planning to upgrade from iPhone 14 to iPhone 15, just for the sake of Dynamic Island, it won't be a wise decision. You'll surely appreciate its presence, like I did. But, when I got back to my older iPhone, the absence of Dynamic Island didn't hit me. I missed the brighter display, though.
iPhone 15: Performance
Now comes an important aspect of the iPhone 15 review – the performance. While it is noteworthy that the iPhone 15 features last year's A16 Bionic chipset based on the 4nm architecture, there are some noticeable improvements.
Day-to-Day Usage
A year-old chipset might be a turn-off for some Apple fans. Many would think that the iPhone 15 would deliver the same performance that we've already seen on the previous iPhone 14 Pro model, making no performance difference between the two. Interestingly, that's not the case. The iPhone 15 offers an amazing performance when you throw a mix of light and heavy tasks. Everyday tasks like watching Netflix, keeping up with social media, scrolling through apps, and surfing the web are handled easily.
Gaming
Not only everyday tasks, but gaming performance was also equally enjoyable on the iPhone 15. I played some games like BGMI and CoD. When I played CoD at the max possible settings, I experienced minor frame drops at times and the phone got slightly warm during the gameplay. That said, there were no signs of perceptible CPU throttling, overheating, or lag issues.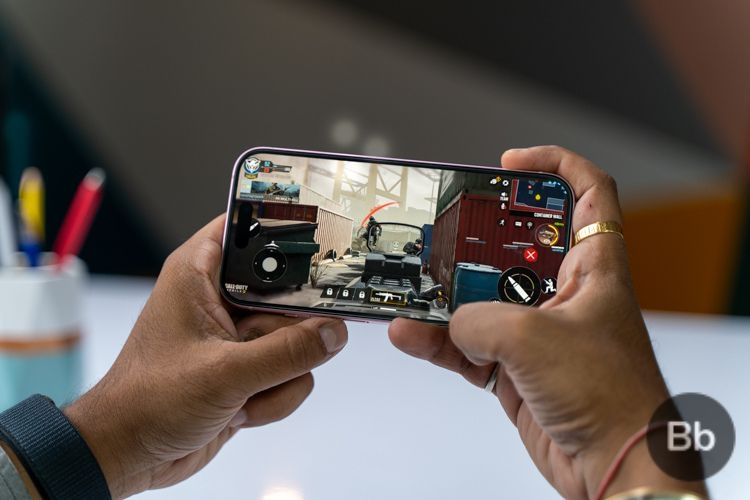 My unit has an amped-up storage of 512GB, and that's more than enough to buckle me up for some years. You can also go for 128GB or 256GB options.
iPhone 15 Benchmarks
The iPhone 15 showed extraordinary resilience during our usual extreme stress test. It outclasses the iPhone 14, iPhone 14 Pro, and even the iPhone 14 Pro Max in every way with an impressive single-core score of 2,585 and multi-core score of 6,445.
| Phone | Chipset | Geekbench Single-core Score | Geekbench Multi-core Score |
| --- | --- | --- | --- |
| iPhone 15 | A16 Bionic | 2585 | 6445 |
| iPhone 14 | A15 Bionic | 2222 | 5374 |
| iPhone 14 Plus | A15 Bionic | 2235 | 5424 |
| iPhone 14 Pro | A16 Bionic | 2517 | 6355 |
| iPhone 14 Pro Max | A16 Bionic | 2517 | 6375 |
The benchmarks corroborate my experience with the iPhone 15, where I didn't come across any instance where the phone would throw any lag or stutter. So, if you're doubtful about the older A16 Bionic chip, you shouldn't worry as you're bound to get a solid performance.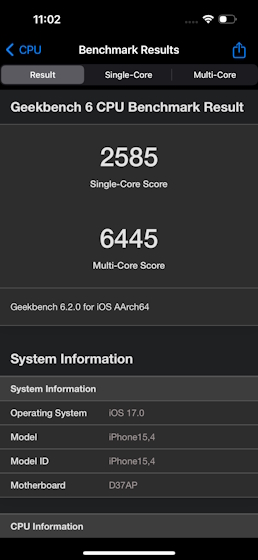 I also ran the AnTuTu Benchmark Test and achieved a score of 1421517, easily beating the 1324887 score of iPhone 14.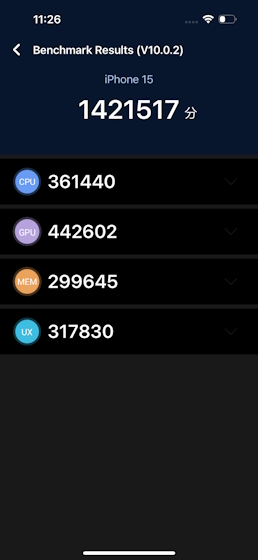 In addition, running the 3D Mark Wildlife Extreme Stress Test gave me the 3066 Best loop score and 2277 Lowest loop score 2277 with a Stability of 74.3%. This backs the claims in my iPhone 15 review, and even my observation that the iPhone 15 is a powerful phone.
Lastly, I did the APSI Benchmark test to check the CPU performance. Under the Long-term Load test, the iPhone 15 did heat but it wasn't too much to call it overheating. The temperature didn't go over 40-degree in any scenario and the CPU was throttled to 91.47% in the Standard load test and 83.78% in the Long-term load test.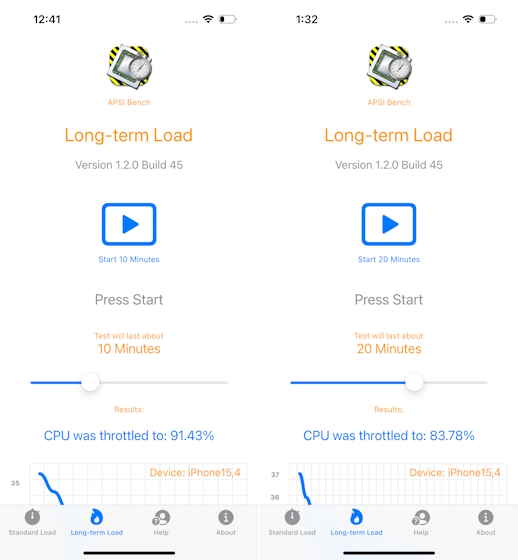 iPhone 15: Software
The iPhone 15 comes with iOS 17 out of the box, which is the latest iteration of Apple's mobile OS. Unarguably, it offers a buttery smooth, and intuitive experience. The latest iOS 17 comes with a bunch of exciting features like Live Stickers, Contact Posters, StandBy Mode, and more. One of my favorite iOS 17 features is NameDrop. It's a super-cool feature that lets you exchange contact details just by tapping two iPhones together or bringing the top of the iPhones close to each other. Also, I like how AirDrop in iOS 17 lets you share files just by tapping the two phones. It's damn useful when AirDrop won't show nearby devices. The other software experiences I have enjoyed on iPhone 15 include StandBy Mode, FaceTime gestures, Live Voicemail, Interactive Widgets, and iMessage Check In.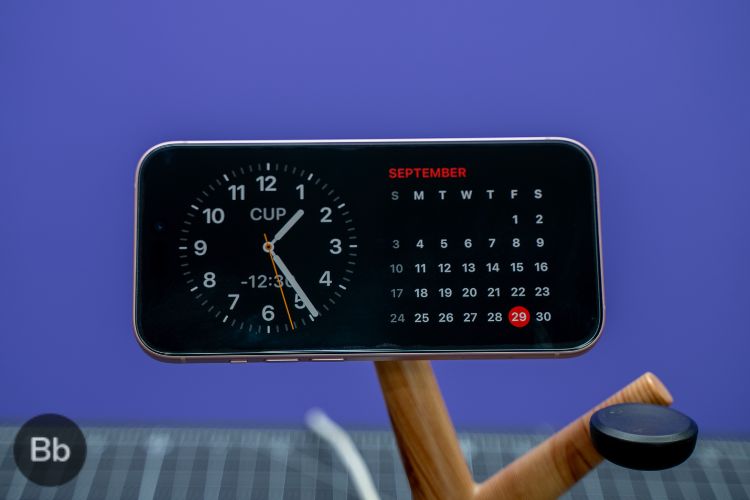 You may encounter a few bugs or glitches in the new features, here and there, though. Like, the most significant for me was the fact that Contact Posters didn't show up while making a call. Also, the other person didn't see my Contact Poster, even though I've created one. Apple released iOS 17.0.3 on October 4, but it didn't fix it. We might have to wait for another update. Well, this isn't something to worry about as Apple will fix these in coming updates.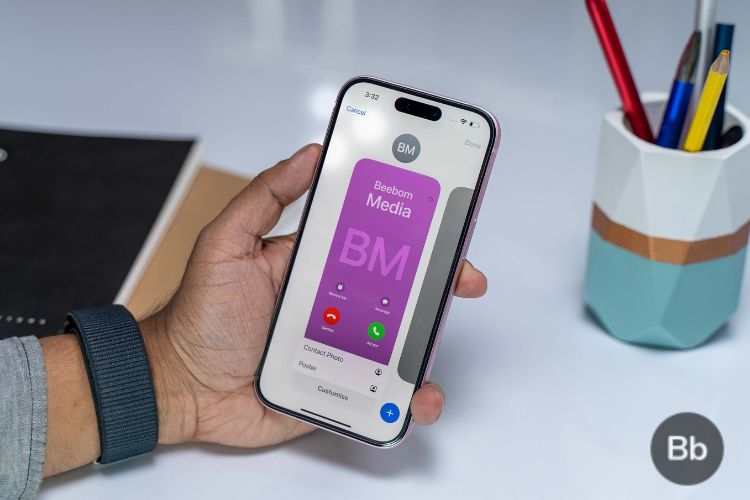 Since the latest iOS 17 packs a whole lot of new features, you're bound to feel a revamped software experience. So, even if you're someone like me who's been using iOS for quite a long time now, the latest iOS 17 has a lot for you to explore. As for the phone's longevity, Apple promises a robust five years of iOS updates, which is pretty impressive.
iPhone 15: Camera
Well, this is another compelling reason to buy an iPhone 15. Out of all the bells and whistles added to the iPhone 15, nothing stands out for me more than its upgraded 48MP main camera on the rear panel. While the camera bump might look exactly the same as the iPhone 14, the brand-new 48MP primary sensor makes a whole lot of difference, making it an entirely new and insanely powerful camera.
Coming to my experience with the iPhone 15 camera, I could easily click beautiful pictures, from bright daylight to low light conditions. The 48MP main camera has really amped up the photography game on the iPhone 15. In the daylight shots, I got lifelike colors, excellent details, and accurate color temperature. I feel it truly captures what my eyes see, allowing me to frame a moment as it is. In addition to this, the rear camera module houses a 12MP ultrawide sensor, allowing you to fit more of a scene into the frame. I felt the ultrawide performance was also up to the mark, with no distortion around the edges.
I also love clicking selfies, and I must say it's a treat when you're holding an iPhone 15. The selfies were crisp and detailed and also preserved the natural skin tone and overall colors. Well, is it only me, or do you also feel that iPhones capture lifelike selfies rather than filtered ones that's pretty common on Android smartphones? Let's not get into this right now, we'll save it for some other day.
When I compared it to the iPhone 14, the new iPhone 15 definitely offers a better camera performance. I captured a scene on iPhone 15 and iPhone 14. While I didn't find an eye-popping difference between the two, the iPhone 15 has definitely captured mode details. One noticeable difference between the two photos (as you can see below) is that the shot captured from iPhone 14 are a bit cooler in colors while iPhone 15 shots appear to be on the warmer side.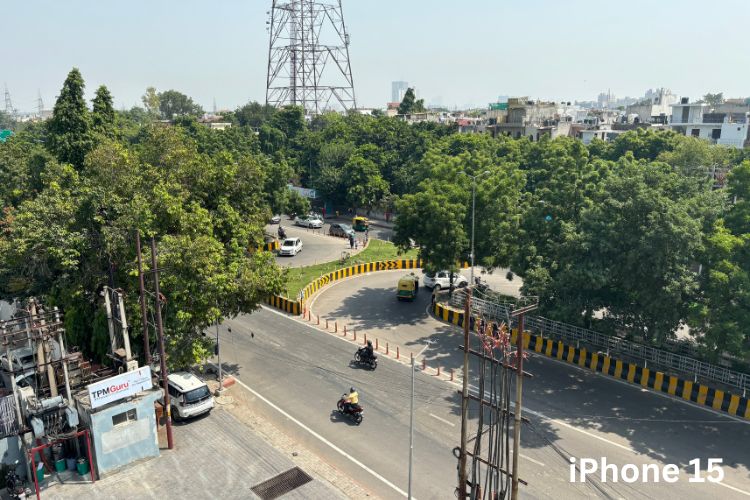 I also took some close-up shots, which were nice and detailed. The portrait shots are also handled well on the iPhone. The subject was sharp, and the blurred background blended in seamlessly, all details were preserved. Unlike the aggressive bokeh effect on some Android smartphones that overpowers the subject with weirdly blurred backgrounds. In case you didn't switch to the Portrait mode, you can also convert a standard photo into a portrait one.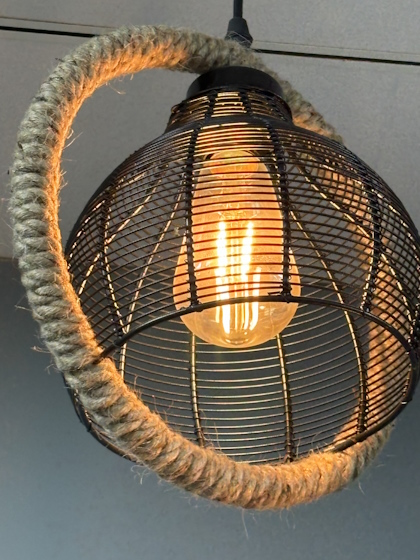 I'm surprised at how well the revamped 48MP primary camera performed under low-light conditions. If you're someone who loves posting to your Gram while walking down the streets of your favorite night market, enjoying a concert in a nightclub, or chilling with friends at a dimly lit house party, the iPhone 15 will blow your mind. No, I'm not exaggerating. Even in low-light or high-contrast scenarios, the shots had balanced colors with rich details, with no yellow or warm tints to filter up the natural beauty. I clicked a picture of my terrace at night where literally couldn't see anything clear. My iPhone managed to capture that night shot really well.
Now, coming to the video shooting capabilities, the iPhone 15 tops out at 4K@60fps and produces sharp footage while preserving the actual colors and taming highlights. There's also a Cinematic mode that keeps a sharp focus on the subject. If you're a content creator or often shoot Reels, you get to choose from three frame rate options- 24, 30, and 60fps. You can also go for the Action Mode to get a nice stabilization and do sway with shaky footage.
See the Full resolution iPhone 15 Camera Sample on Google Drive.
iPhone 15: Network and Connectivity
When it comes to network and connectivity, the iPhone 15 does a pretty good job. I used my Airtel SIM on this iPhone and faced no issues at all. The network reception was good. The iPhone 15 and iPhone 15 Plus come with Wi-Fi 6 support, just like we saw on all the models of the iPhone 14 series last year. On the other hand, the iPhone 15 Pro models ship with even faster Wi-Fi 6E standard. They promise to deliver blazingly fast wireless speeds. However, it didn't face any issues while browsing the internet, watching videos, or during FaceTime calls. On the Bluetooth front as well, the iPhone 15 did not disappoint. It has the latest Bluetooth 5.3 support. I used the phone with my AirPods Pro (my daily driver), Major III Bluetooth Headphones, and Boat AirDopes. I didn't face any glitches or connection drops or anything unusual when listening to music or taking calls. Apple CarPlay was also working as expected.
iPhone 15: Battery and Charging
Apple never advertises the battery size of its iPhones. Recently, the iPhone 15 series battery capacities were revealed, and it suggests that the iPhone 15 packs a 3,349 mAh battery, slightly bigger than the 3,279 mAh battery aboard its predecessor. Thanks to the power-efficient A16 Bionic chip, the iPhone 15 offers an impressive battery life.
During my testing, iPhone 15 easily lasted me a day and half with mixed usage, including streaming videos on YouTube and Hotstar, social media scrolling, messaging, phone calls, and some photography. For instance, I watched a 35-minute video on YouTube, and the battery only dropped by 3%. I was like wow, that's impressive. Based on my testing and observations, the iPhone 15 can easily last the whole day and still leave enough juice before bedtime. That's one of the major reasons why I believe the iPhone 15 is a worthy upgrade and should be on your wishlist.
Moving to the charging speeds, iPhone 15 supports the same 20W wired charging support like the previous models. Well, it seems that the USB-C port didn't add any meaningful upgrades to the iPhone 15 charge time. Honestly speaking, I would have loved to see faster charging support on the iPhone 15. But, Apple has set some boundaries and it isn't ready to push them, at least not for now. Talking about the wireless charging support, the iPhone 15 retains the 15W MagSafe and 5W non-MagSafe wireless charging support, the same as its predecessor. And yes, I also tested the reverse charging on the iPhone 15. When I connected with the 15 Pro Max, the one with low charge got charged at 4.5W speed. On the flip side, when I tested it on an Android smartphone, the latter got charged, even if the iPhone 15 was low on battery.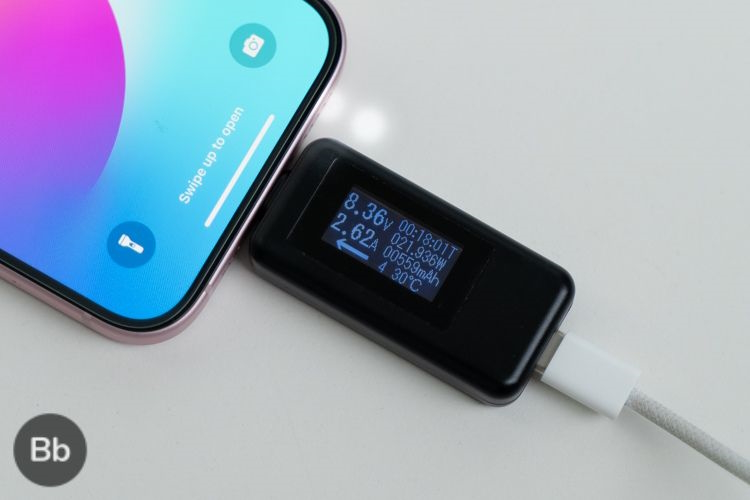 Apple claims that the iPhone 15 can charge up to 50% in 30 minutes when paired with an original 20W adapter. In a real scenario, I got slightly better, with the iPhone 15 going from dead to 53% in 30 minutes. The phone did get slightly warm while charging, but there were absolutely no signs of overheating.
That said, I was disappointed to see the iPhone 15 taking approximately 2 hours and 15 minutes to reach 100%. Also, the Optimized Battery Charging and 80% charging limit options were disabled, and I paired it with Apple's own 20W charger. I mean, come on Apple, we were expecting something better. Today, we can easily spot a bunch of Android smartphones topping up to their full capacities in an hour or a little over. So, users who crave faster charging tech standards might get disheartened. Also, for someone who has a really hectic schedule that they can't let their phone attached to the charger for more than 2 hours, this could be an issue. I was also disappointed with this, but it isn't a big turn down for me. In case you don't mind 2 hours of charging time in exchange for an amazing battery life, the iPhone 15 can suit your needs.
iPhone 15: Price
Coming to the price, iPhone 15 starts at $799 (Rs 79,990) while the previous year's iPhone 14 will cost you $699 (Rs 69,990) for the same configuration at the moment. So, you'll have to shell out an extra $100 to get the same-sized slice of Apple's new cake. So, is the extra money worth it? If you would ask me, it's definitely worth it. After all, for $100 price difference, you're getting a powerful 48MP main camera, a pretty & brighter display, Dynamic Island experience, and faster performance. Also, if compared to Android smartphones in similar price brackets like Google Pixel 8 (Rs 75,999) and Galaxy S23 (Rs 74,999), the iPhone 15 feels a tempting deal. Of course, you get the Apple ecosystem experience, then there are promising software updates, powerful performance, and stunning design.
iPhone 15: Pros and Cons
| Pros | Cons |
| --- | --- |
| Faster performance | Still stuck with a 60Hz refresh rate |
| Impressive battery life | No improvements in charging speeds |
| The 48MP main camera is a big upgrade | |
| Brighter display with Dynamic Island | |
| A refreshing design with a gorgeous matte finish | |
| Charming color options | |
iPhone 15 Pros and Cons
iPhone 15 Review: Should You Buy it?
After using the iPhone 15 for a few days, I can certainly say that it's the first time the most affordable option from an iPhone's lineup doesn't feel miles apart from the high-end flagship models. I would surely agree big time that we would be overjoyed to see the Action Button, a faster USB-C port, and the lucrative 120Hz refresh rate on the iPhone 15. It would have made it a killer iPhone.
That said, with attractive additions like the 48MP main camera, the brighter 2,000 nits display, Dynamic Island, and the powerful A16 Bionic chip, the iPhone 15 is still a solid upgrade to the iPhone 14. Not to forget, you get a solid battery life that can easily push you through the day.
So, even if you're coming from an older iPhone or are an Android user who's looking to grab a bite of Apple's smartphone pie, the iPhone 15 is the best-value iPhone you can buy today. If you crave Pro experience, you can definitely go for the iPhone 15 Pro or 15 Pro Max if you have a budget of over Rs 1,34,990 (by the way that's the starting price of the iPhone 15 Pro model). For a much more affordable price tag, the iPhone 15 packs a punch and would definitely be my strong recommendation to all users. Do let us know if you're planning to get a new iPhone 15!
Pros and Cons
The iPhone 15 packs hearty upgrades that brings it closer to flagship iPhone 15 Pro models. It offers a brighter display, powerful performance, and an amazing battery life, at a significantly lesser price than the Pro variants. You also get improved camera performance with the 48MP primary sensor that performs well in any lighting conditions. You do miss out on a newer chip, charging speed, and a high refresh rate display, but with several great things thrown to the mix, I think you don't need to shell out a fortune to experience premiumness.
---
Load More