In 2019, we came across the fact that NSA collects almost 200 million text messages every day. That is when we realized that our privacy was indeed being invaded. The truth is, we live in an age of internet surveillance and data logging, where companies do almost anything to get our personal information. Thankfully, there has been a rise in private messaging apps, which focus on keeping our privacy intact through end-to-end encryption and other ways. Well, we explored some of the best secure messaging apps in 2023 that claim to be secure and found the best secure messaging apps among them.
1. Signal Private Messenger
In our comparison between Signal vs Telegram vs WhatsApp, we found that Signal is the most secure messaging app out there. Signal uses the gold standard, open-source Signal Protocol to implement end-to-end encryption. And it implements E2E encryption on all forms of communication on Signal– be it voice/video calls, chat messages, media, or audio clips.
While other messaging apps also encrypt messages and calls, Signal goes one step further and encrypts the metadata too. In order to protect user privacy from all corners, Signal devised a new way to communicate between the sender and the recipient and it's called Sealed Sender. Basically, with Sealed Sender, no one will be able to know — not even Signal — who is messaging whom, which is great.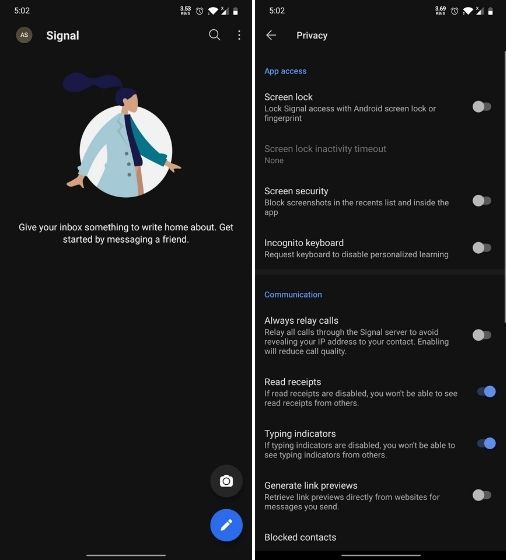 In addition, you have some incredible privacy features on Signal that is going to make your messaging experience even more private and secure. For instance, you can lock Signal with a passcode or biometrics. Then there is 2FA and an option to block screenshots within the app and the recent screen. And recently Signal added a new feature to blur faces automatically before sending images. That's cool, right?
Not to mention, Signal by default encrypts all the local files with a 4-digit passphrase. And if you want to create an encrypted local backup then you can do that as well. All in all, in terms of security and privacy protection, Signal stands head and shoulder above the competition. You can learn more about its feature from our article on the best Signal tips and tricks.
Major Security Features:
End-to-end encrypted
Encrypted metadata
2FA available
Encrypted local backup
Missing Features:
Needs a phone number to sign up
2. Session
Do you like the anonymity that Tor browser offers on the internet? Well, consider Session messaging app as a Tor browser, but for messaging. This open-source messaging app uses peer operated servers for routing messages and you can start messaging without registering your email or phone number. Messages are sent and received via decentralised onion routing network similar to Tor. The messaging app uses Session Protocol, the company's proprietary end-to-end encryption protocol based on Libsodium. You can initiate audio calls and video calls and everything is end-to-end encrypted. Moreover, Session removes EXIF data from the attachments you send to ensure that anonymity is maintained for senders and receivers.
While Session is fully focused on offering a secure messaging experience, it also ensures that it doesn't miss out on the features that other messaging apps have. You get emoji reactions similar to WhatsApp and you can also modify themes. The user interface is super slick and you won't feel that you are using a not-so-popular messaging app.
Major Security Features:
Decentralised servers
No need to use email ID or phone number to start messaging
Messages can be locked with a passcode
End-to-end encrypted calls and messages
Missing Features:
No group call feature
Attachments only up to 10MB are supported
3. SimpleX Chat
One of the recent secure messaging apps that has entered the scene is SimpleX Chat. It claims to be the first messaging app that has no user IDs. This private messaging app uses its proprietary platform called SimpleX. It consists of different components including SimpleX Messaging Protocol, TLS protocol, and more. Leaving the technical jargon behind, SimpleX Chat offers privacy features such as an incognito mode which generates a random username to chat with a contact.
Another great feature that's included in this secure messaging app is Live message. Interestingly, this feature allows the person you are communicating with to read messages that you've not sent! Without making this too confusing, this feature works by allowing the other person to read the messages that you are typing. You don't need to send the message at all. The live message feature is unique and can be quite useful.
Major Security Features:
End-to-end encrypted
Edit messages
Per-contact read-receipt
Connection security code verification
Missing Features:
Notification may be delayed
4. Wire
Wire is a secret messaging app available on iOS, Android, and other desktop platforms. The E2E encryption is turned on by default so that is great and the encryption applies to all forms of communication on Wire. It also supports group collaboration with enhanced security so if you are running an organization or a business and need a private messaging app then Wire is just perfect.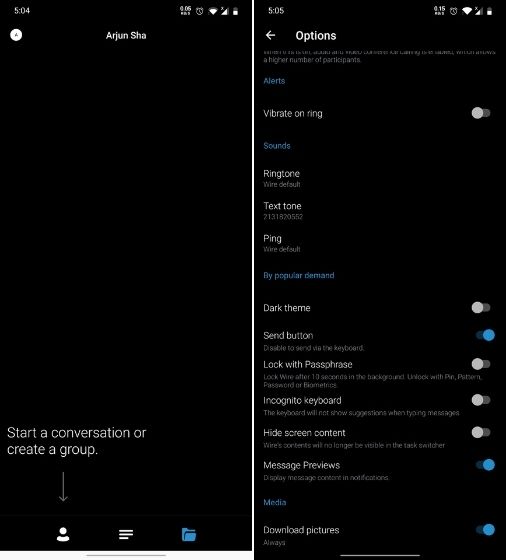 Next, the company is based out of Switzerland so you have ironclad privacy laws of the EU to protect your data. In terms of data collection, Wire has been found to gather minimal data only for the purpose of transmitting messages in a secure manner. What I like about Wire is that it also encrypts the metadata which should enhance user security by many folds.
Not to mention, Wire encrypts all the backup files— both on Android and iOS– so that no one can read your data. To sum up, Wire is a highly secret messaging app for iPhone, Android smartphones and you should give it a try.
Major Security Features:
End-to-end encrypted
Based out of EU
Minimal data collection
Fully open-source
Locally encrypted backup
Missing Features:
Not all metadata are encrypted
Install: Android, iOS, Windows, macOS, Linux, Web (Free, Pro plan starts at $5.83 per month)
5. Element.io (Riot)
Element.io, which was earlier known as Riot, is a secure chat app that is built around protecting user privacy. It offers end-to-end encryption out of the box, which means that your conversations are fully encrypted and only the sender and receiver can read the messages. After the transition from Rio to Element, the secure messaging app has become more enterprise-friendly.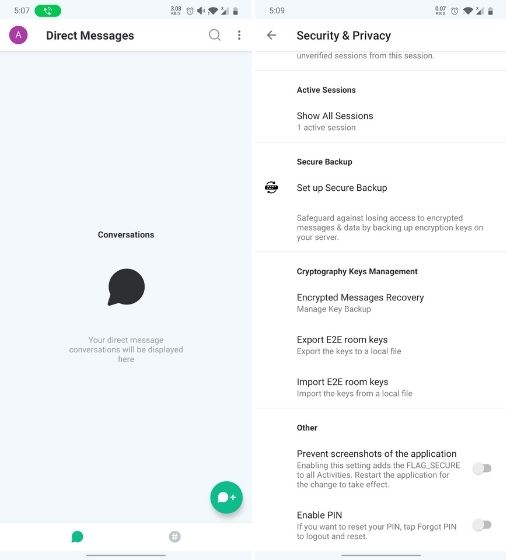 You can now use it for team collaborations and as such, it includes a bunch of tools to help you streamline your team's workflow. The messaging app is developed using the low-latency Matrix open communications protocol which means the performance will be top-notch despite hardened encryption.
Apart from that, Element can be used to share messages, images, videos, and files of any type within groups of any size. Not to mention, now there is support for group video and voice calls too. Simply put, if you run a medical, legal, or any kind of business where confidentiality is a top requirement then Element.io is your best secure chat app.
Major Security Features:
Supports E2E, but need to opt-in
Based in UK
Completely open-source
Private key stored on device
Missing Features:
Install: Android, iOS, macOS, Windows, Linux, Web (Free, Paid plans available)
6. Telegram
Everybody is pretty well acquainted with Telegram, the very popular WhatsApp competitor. Telegram's ticks all the boxes when it comes to being a secure messaging app, thanks to its "Secret Chats" feature.
Telegram is a secure messaging app but its Secure Chats bring end-to-end encryption (E2E) along with the ability to send self-destructing content like texts, media, and files. Even without the Secret Chats feature, Telegram brings standard encryption to all your data, but that is not end-to-end.
Along with being secure, Telegram is a highly capable messaging app that's available on most platforms including a web version and it can go toe to toe with any other messaging app when it comes to features.
Apart from that, Telegram is fast, reliable, and packs features like large group chats, broadcasts, file and media sharing with incomparable size limitations and more. It also features cloud syncing so that you don't lose your chats even when you are changing your devices. You can go through our article on Telegram tips and tricks to learn more about its features.
Major Security Features:
Optional E2E
No data handover to intelligence agencies
Self-destructing Message

Feature-packed
Missing Features:
E2E Encryption not turned on by default
Not fully open-source
Install: Android, iOS, Windows PC, macOS, Linux, Web (Free)
7. WhatsApp
WhatsApp is another highly popular messaging app that has brought end-to-end encryption to the masses. And the best part is that the encryption is enabled by default and extends to all forms of communication on WhatsApp, be it messages, audio or video calls, and WhatsApp Web. It uses the encryption protocol developed by Open Whisper Systems — the company behind Signal messenger.
The cryptographic protocol has been named as the Signal protocol and it's entirely open-source. Further, the protocol has been peer-reviewed by many security researchers. Apart from that, on the user's side, WhatsApp now offers a native app locker which is great. Next, you also have the option to enable 2FA on WhatsApp and that's again commendable.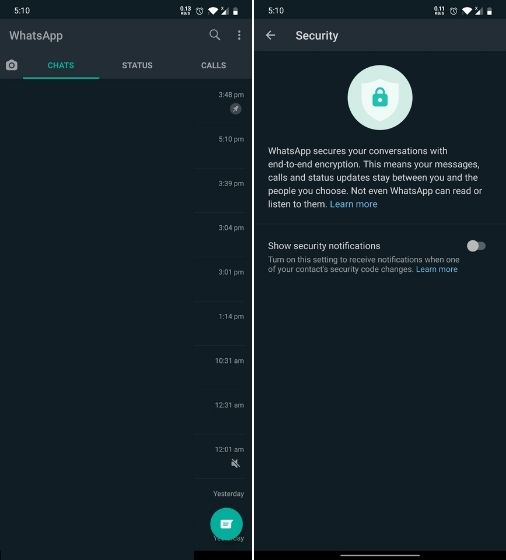 That being said, keep in mind, WhatsApp does not encrypt cloud backups on Android. Also, it does not encrypt the metadata which is used to carry communication between two endpoints. This is one of the major criticisms of WhatsApp's security model. While metadata does not allow anyone to read your messages, it lets authorities know whom and when you messaged someone and for how long.
Next, WhatsApp is owned by Facebook which is a major point of concern. In addition, the company is implicated in giving customers' data to intelligence agencies. All in all, while on paper, WhatsApp remains quite secure, the owner's controversial stand on privacy makes it a less appealing choice among privacy-minded users.
Major Security Features:
End-to-end encrypted by default
2FA available
Uses Signal protocol
Simple and easy to use
Missing Features:
Does not encrypt metadata
Back-ups not encrypted
Owned by Facebook
Install: Android, iOS, Windows PC, macOS, Web (Free)
8. Olvid
Olvid is another open-source secure messaging app that comes loaded with features like any other messaging app out there. With a focus on privacy, Olvid offers end-to-end encrypted. You don't require a phone number or email to set up the app. You can initiate messages to contact by sharing your Olvid ID via a QR code or receiving a message request. Thus, nobody can message you unless you don't want to be connected with them. The interface is similar to iMessage and quite easy to grasp. The app relies on a cryptographic engine which the company claims have
You can create groups on Olvid, chats can be backed up and there's also a feature that notifies you when any of your contacts captures a screenshot. You can set a personalized PIN to lock chats and even send audio clips using the app. However, one downside of Olvid is that it does not support video calls.
Major Security Features:
End-to-end encrypted messaging
No email ID or contact details required
Chats can be locked with a PIN
Missing Features:
No video calls
No multi-device functionality
Install: Android, iOS (Free, In-app purchases)
9. ChatSecure
ChatSecure is a free and open-source encrypted messaging app for iOS. It takes various measures to make sure there are no loopholes in your security and privacy needs. The secure messaging app features OTR (Off-the-record) encryption over XMPP (Extensible Messaging and Presence Protocol). You can enter your Facebook or Google accounts to use it or create an account on public XMPP servers.
The app also gives you the ability to use your own server for your account, so you don't have any doubts about your info. ChatSecure uses open-source cryptographic libraries and its source code is auditable as well. It also uses SQLCipher to encrypt conversation logs locally on your device's storage.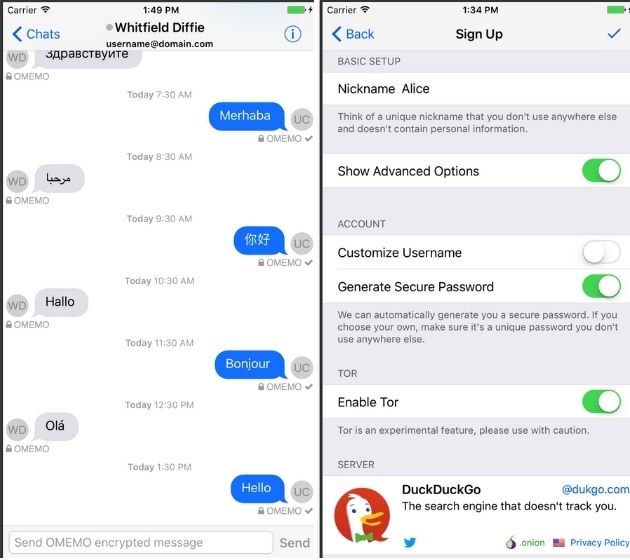 ChatSecure's security and privacy features might be a little confusing but they are very strong indeed. The app uses everything there is to make sure you have a secure chatting experience.
On the messaging front, it features the usual features like the ability to send text, audio, files, images, video, and more. It's available for free on the Google Play Store and iTunes.
Major Security Features:
OMEMO encryption and OTR encryption
Use open-source cryptographic libraries
Best secure messaging app for iOS
Send all kinds of files
Missing Features:
Install: iOS (Free)
10. Dust
Dust, formerly known as Cyber Dust, is a cool secure messaging app, which along with security & privacy brings features that are pretty sleek. It likes to call its messages Dust and broadcast messages Blast. All the Dusts and Blasts are heavily encrypted and are never stored in permanent storage.
The app along with others on this list prevents screenshots as well. The messages disappear within 100 seconds or in 24 hours if it remains unopened by the recipient. Every Dust message is encrypted with its own unique 128-bit AES encryption along with added security through the RSA 2048-bit key.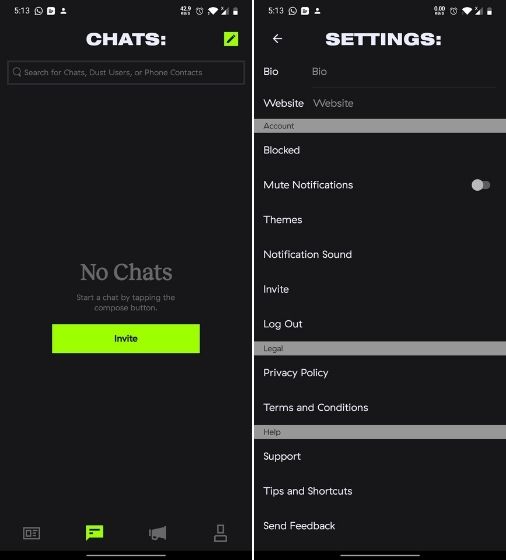 Dust is a social media platform as well as being a secure messaging app, as it lets you follow people. You can send your followers a blast or create a group of people with similar interests.
It also brings you exclusive content from celebrities along with news that might interest you. To sum things up, Cyber Dust is a secure messaging as well as a secure social media community platform.
Major Security Features:
End-to-end encrypted
Self-destruct message
Sort of social media
Private key stored on device
Missing Features:
No metadata encryption
Cannot send videos
Frequently Asked Questions
1. Which is the Most Secure Messaging App?
In my opinion, Signal is the most secure messaging app in the market. It's open-source, has a well-audited cryptographic protocol and lastly, the messaging app has received top score in EFF's Secure Messaging Scorecard.
2. Which Messaging App is Encrypted?
Nowadays, almost all messaging apps are encrypted using the standard SSL/TLS encryption. What you should look for is End-to-End encryption which is a gold standard when it comes to protecting user data. Signal, WhatsApp are some of the messaging apps that are by default E2E encrypted.
3. Which App is Best for Secret Chat?
I would recommend Signal if you are looking for the best app to chat secretly. It's not only E2E encrypted but also encrypts the metadata.
4. Is Signal App Really Safe?
Yes, Signal is really safe and in fact, it's arguably the best secure messaging app out there.
5. Can Signal App be Hacked?
So far, there has been no instance of hacking as far as Signal is concerned. Its source code and cryptographic protocol are open to the public and security researchers so the vulnerabilities are patched as early as possible.
6. Is WhatsApp More Secure than Email?
It may sound weird, but yes, WhatsApp is more secure than e-mail. WhatsApp uses E2E encryption to relay messages whereas e-mail uses the standard SSL/TLS encryption. ProtonMail is one of the few email services that offer E2E.
---
Load More