The Telegram Messenger might be known as the WhatsApp competitor but the app has created quite a following for itself, thanks to some really cool features. One of those cool features is bots, which Telegram introduced last year. The free and open Bot Platform from Telegram gained a decent traction from developers and users and now, the company has introduced a cool new bot-powered Gaming Platform. The new platform allows users to play games in Telegram chats, complete with graphics and sound. How cool is that? So, if you are confused on how it works, here's how you can play games in Telegram Messenger:
Note: To play the games in Telegram Messenger, you will need an Android device running 4.4 KitKat or higher and an iPhone 4 or higher. Also, you need to update the app to its latest v3.13
1. If you aren't using Telegram Messenger but want to try out the new game bots, you can install the app from the Play Store or App Store, depending on your device.
2. As of now, there are around 30 games ready to be played in Telegram, with most being offered by @gamee and three by the official @gamebot. You can start a game by starting a chat thread for the bot or triggering the bot in a chat or group chat.
3. For instance, you can hit the new chat floating icon and search for the "gamee" bot. Then, when the bot chat thread opens up, tap on "Start" to get going.
4. Then, you can choose to play a random game or trending games or check the various categories. Simply select a game, choose whether you want to play solo or with friends and the game should load up.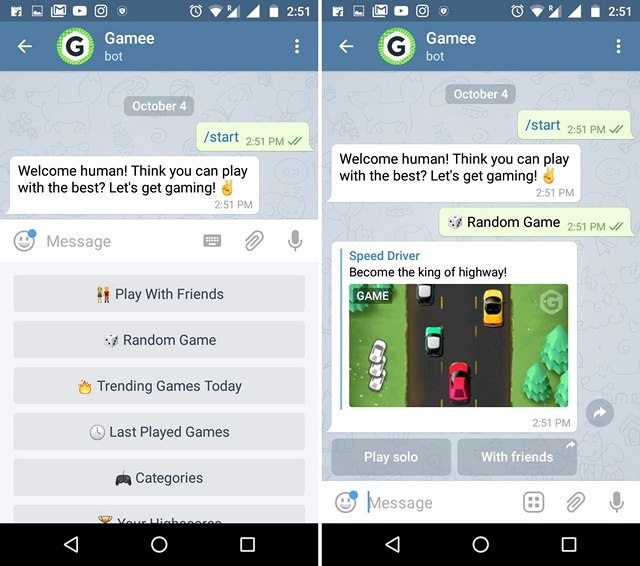 5. Most of the games feature simple two-button controls, so you should not have any problems playing them. Telegram also makes sure to save your scores and scores of your friends in a group, to keep a check on the competition.
The @gamee bot offers a number of different games in categories like arcade, jump & run, puzzle & logic, sports & racing and retro. On the other hand, the @gamebot offers games like Math Battle, Corsairs and Lumber Jack. The number should increase soon, as Telegram has opened up the Gaming Platform API for developers.
When it comes to the performance, we are quite pleased with the games that Telegram bots offer. Sure, they are pretty simple and if you are looking for extravagant games, you will be disappointed but if you don't mind playing some casual games with your friends, these games are pretty fun. Also, the new Gaming Platform brings no changes to the size of Telegram or its experience, as the games are built in HTML5 and they load up as a webpage would.
SEE ALSO: 15 Cool Telegram Messenger App Tricks
Make your messaging experience more fun with Telegram Games
Telegram Messenger is loved by many and the new Gaming Platform should make sure they love it even more. These bot games are simple yet very addictive and a lot of fun. You should try it out even if you aren't using Telegram. So, try out these games on Telegram Messenger and do let us know what you think. Sound off in the comments section below.
---
Load More