Speed, security, and simplicity are a few of the virtues that make Telegram a very nifty communication medium. True to its metaphorical ancestor which also inspired the name, the messenger is minimal and focuses on conveying message clearly. It also lets you customize the interface as well as the overall messaging experience. Above all, Telegram is completely free and does not come with the hidden cost in form of a threat to your privacy or security. Whether you're bothered about declining privacy and the dirty business of ads almost everywhere online, or just want to cut loose of the noise from ever-buzzing WhatsApp and Facebook Messenger chats, Telegram is a good place to start. Here we have listed out some Telegram Messenger tricks and tips that will help you know the messenger better and use it more effectively.
Cool and Best Telegram Messenger Tricks in 2019
1. Turn Off Notifications for Individual Contacts
We all have that one person that annoys us by sending too many forwarded messages. Well, Telegram makes it really easy to silence such a contact. Just open the chat and tap on the profile photo of the contact.
Now tap on Notifications and mute the contact for either a custom period of time or forever. I generally leave it for forever.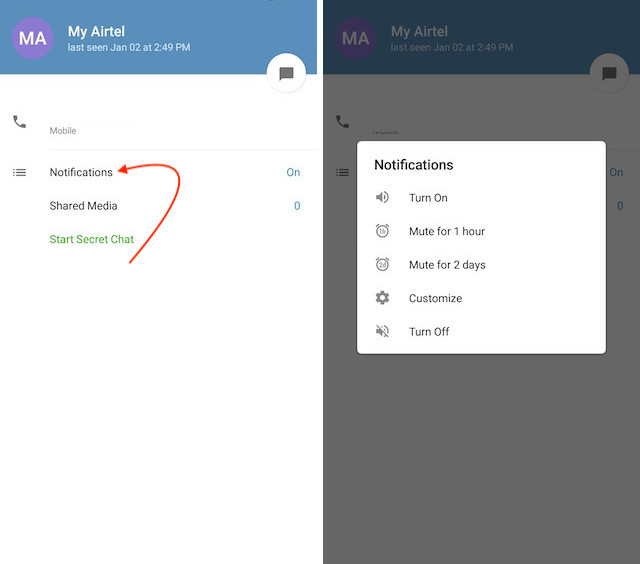 2. Change Phone Numbers
One of the things that I love about Telegram is that the service gives me an easy way to change my phone number attached to my account without making me lose all my previous chats. If you also want to switch your Telegram number, it's pretty easy to do. First, tap on Settings and then tap on your mobile number.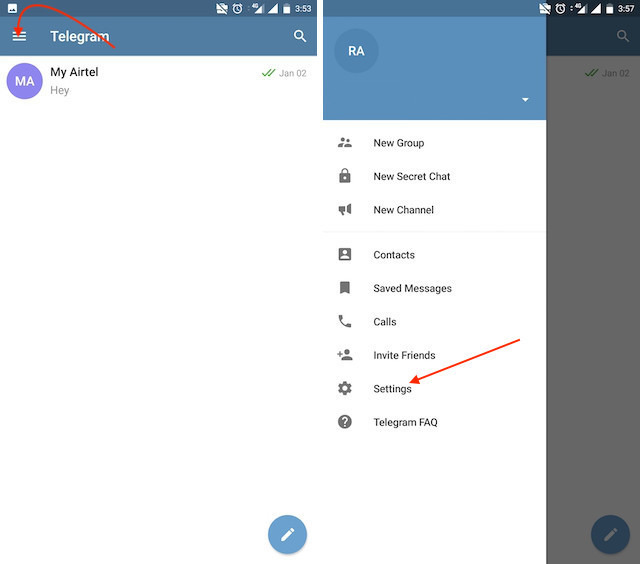 Here, Telegram will give you some information about what happens when you change your number. Basically, all your messages will be moved to the new number and your new number will be automatically added to all your existing Telegram contacts, barring the blocked contacts. It's way easier then re-sharing your new number with everyone. To change the number, tap on the "Change Number", enter the new number and follow the process on your screen.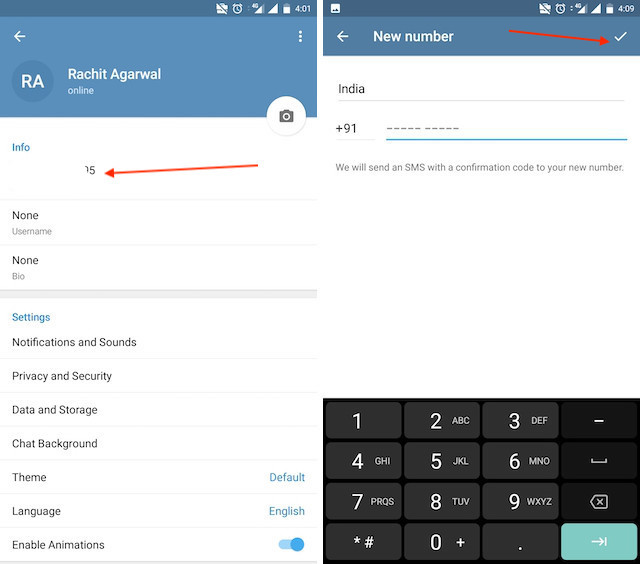 3. Use Multiple Telegram Accounts
With the latest updates, Telegram also allows users to have multiple accounts. This is great for people like me who like to keep their work and personal accounts separate. To add a new account, tap on the arrow beside your name and tap on Add Account.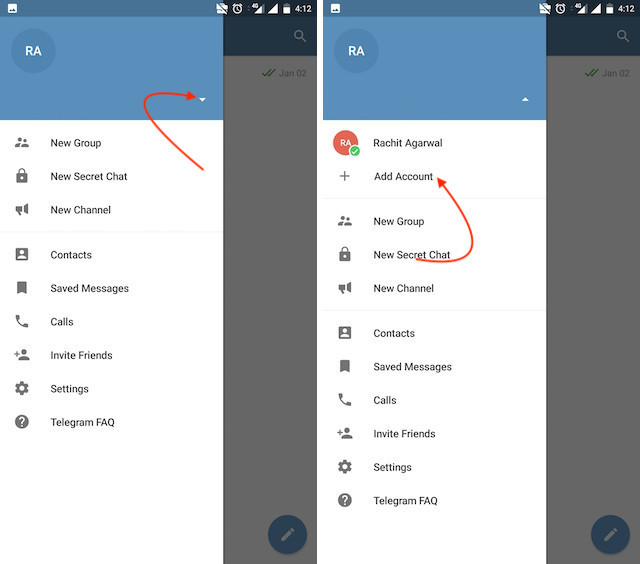 After you have done, that all you need to do is enter your new number and then follow the process on your screen. Once you have created your account, you can switch between your accounts by clicking on the down arrow and selecting the account that you want to choose.
4. Custom Theme Telegram
The fact that Telegram allows users to create and install their custom theme makes using the service a joy. Basically, you can customize your Telegram app to look however you want it to. To create your own theme go to Settings->Chat Settings ->Theme and tap on "Create New Theme". Here, first add a custom Name of your Theme and then tap OK.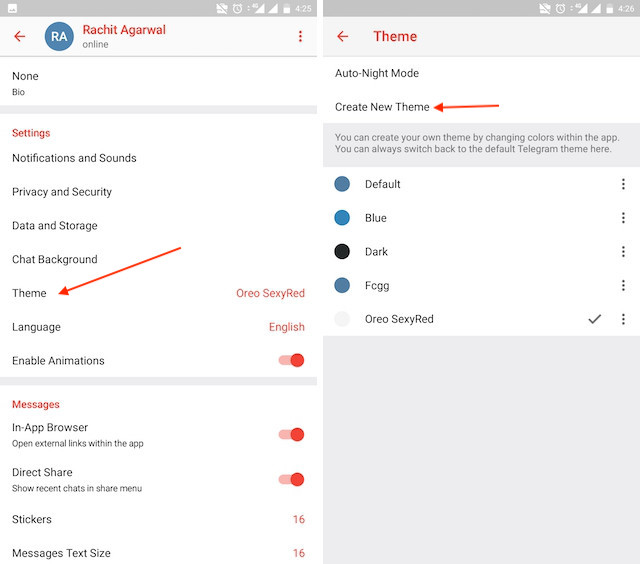 Once you have added your theme, you will see a new paint button has appeared at the top. Tap on it and then you will see the names of different elements that you can edit.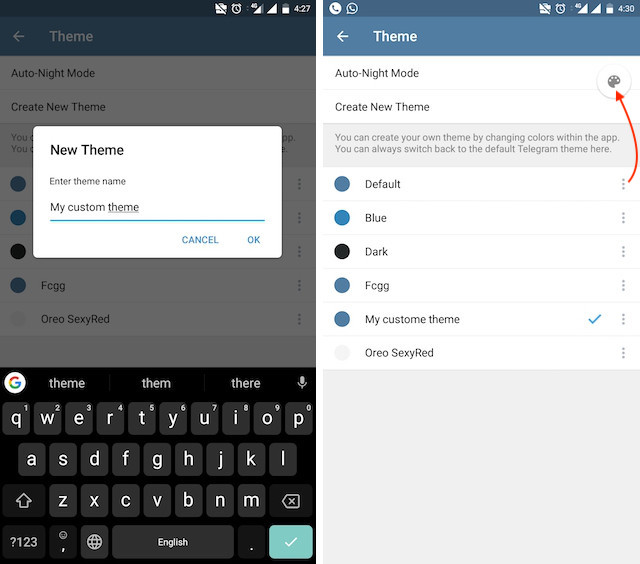 To edit any element's color, tap on it and then select your desired color. Once you are done editing, tap on Save Theme and your customized theme will be saved and applied.
If you don't want to go through the hassle of customizing your own theme and still want to theme your Telegram, you can do that too. To do that, tap on the search icon and search for the word Themes. In the results, tap on Android Themes Channel. The channel houses the list of all the themes that people create and share. Just scroll to find the one you like. Once you find a theme that you like, tap on the download icon. Once it's downloaded, tap on it again and then tap on Apply button.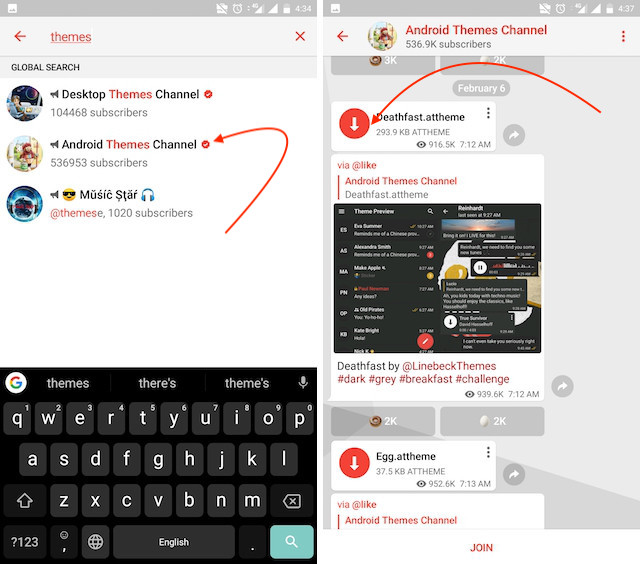 And Now you have your own newly themed Telegram. There are so many themes on the Android Themes channel that you can change them daily and still won't run out of them in years, so enjoy!!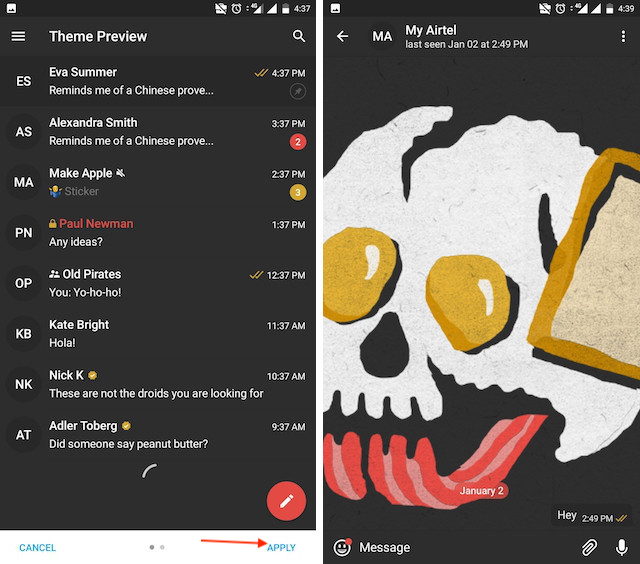 5. Enable Auto-Night Mode
If you like to use dark themes only in the night so that the app doesn't blind you, enabling auto-night mode can save you a lot of hassle. Once you turn the auto-night mode on, the app will automatically switch to dark mode at the scheduled time. To enable auto-night mode go to Settings-> Chat Settings-> Themes and tap on Auto-Night Mode. Here you can select between Automatic and Scheduled.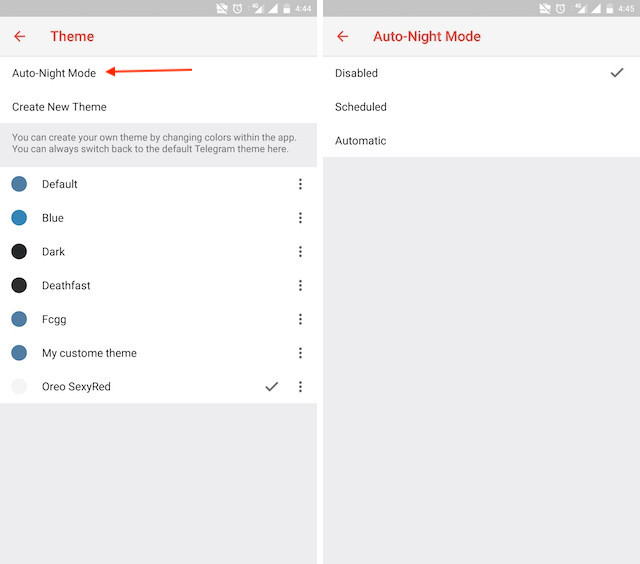 If you select the Scheduled option, the auto-night mode will kick in at a pre-defined time which you can change. If you select the Automatic mode, the auto-night mode will start depending on the ambient light. You can slide the slider to select at what percentage of the ambient lighting do you want the night mode to start at. Personally, I prefer the scheduling option, however you can use the one you like.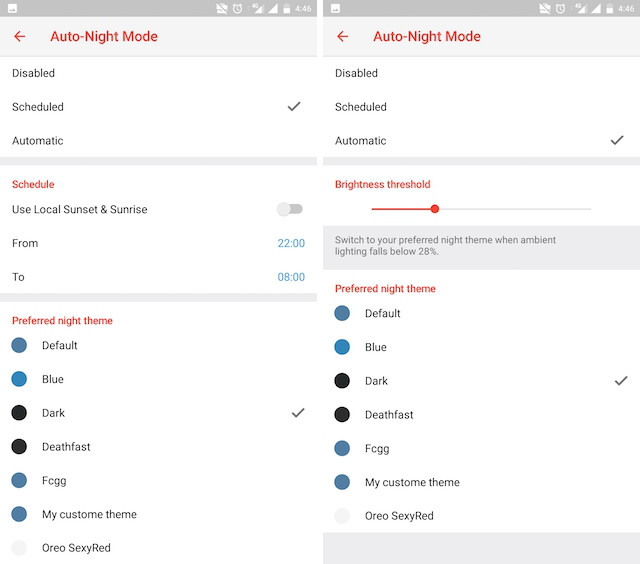 6. Customize Chat Backgrounds
Telegram messenger also allows you to customize the chat background image. To do that open Chat Settings and tap on "Chat Background". Here select that background that you want and tap on the checkmark button at the top right to apply it.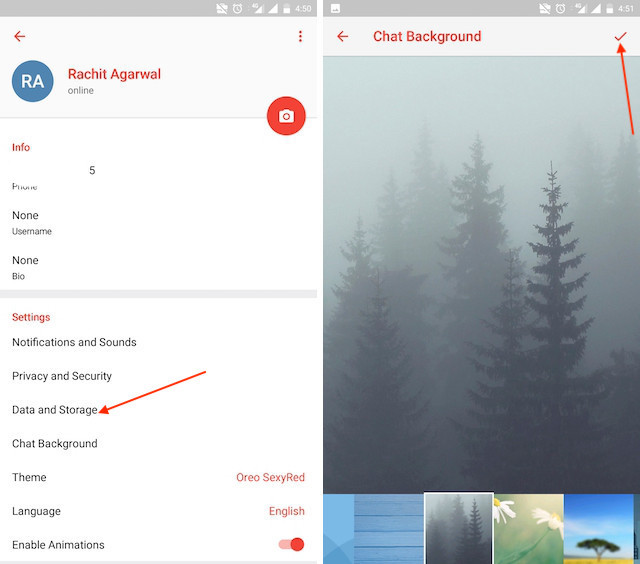 There are tons of backgrounds to choose from so just try it out a couple of times to find the one which not only looks great but also allows the chats to pop making it easier for you to read them.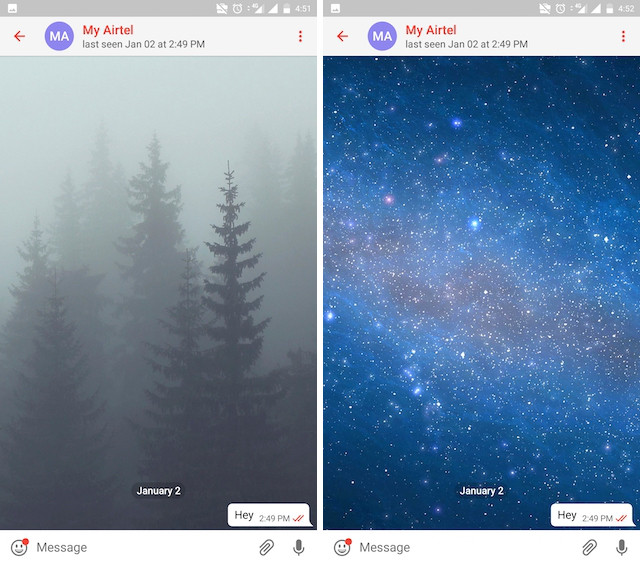 7. Lock Your Chats
There's no denying the fact that Telegram became as popular as it is because of its focus on privacy. The service not only provides end-to-end encryption on the server side of the things but also allows users to lock their chats. This is great for safeguarding your personal chats when you are handing out your device to anyone else.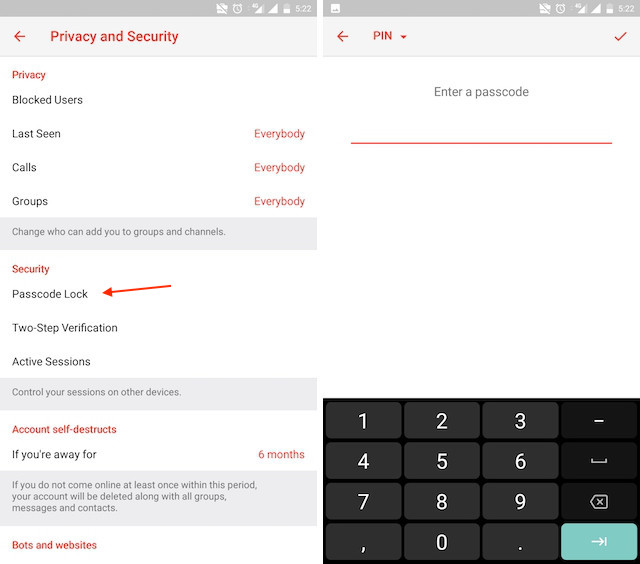 To lock a chat go to Settings->Privacy and Security->Passcode Lock and enable it. Once you create a passcode and enable it, you will be able to lock and unlock your chats by tapping on the lock icon at the top right of the app.
8. Delete Sent Messages for Everyone
Before WhatsApp introduced its new feature which allows users to delete sent messages, Telegram already had this feature. To delete a sent message, tap and hold on a message to select it and tap on the trashcan icon at the top right. In the pop-up window select the option to delete the messages for receiving party and tap on delete. Do remember that this feature is the only available for the first 48 hours of sending the message. Once you pass the threshold, you won't be able to delete the sent messages.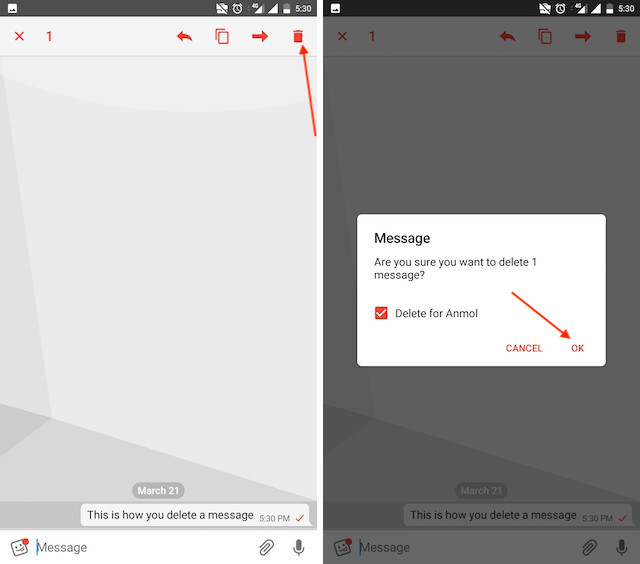 9. Pin Messages in Channels
As you might now, Telegram allows you to create Channels which is a tool for broadcasting public messages to large audiences. The basic difference between a group and a Channel is the fact that a Channel can have unlimited numbers and the messages you sent inside a Channel are marked with the Channel name and not yours. However, if your channel is very large, it might become difficult to broadcast a message which is ready by everyone before it is lost in other messages. To solve this problem, you can pin messages inside a Channel. To pin a message, just tap on it and tap on Pin. Now the message will always be on top before the reader removes them.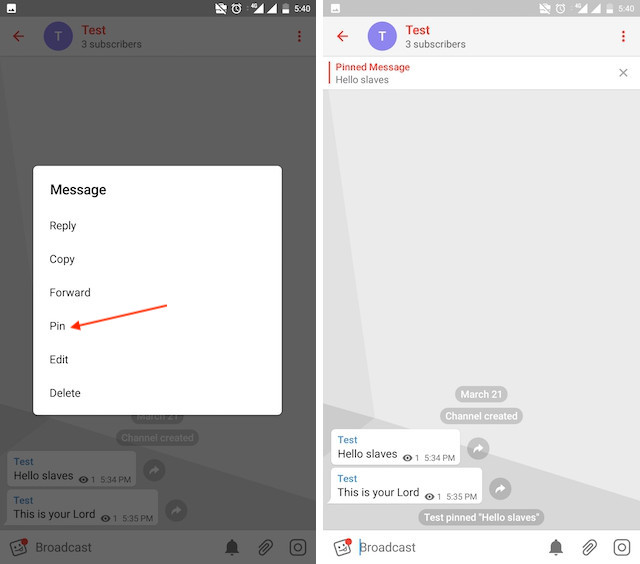 10. Use Hashtags to Organize Your Chats
A great way to organize your chats inside a group or channel is by using hashtags. When you use a hashtag in a message, that word becomes searchable allowing you to see all the messages relating to that topic. For example, if the group is discussing the new Avengers movie, everyone can use the Avengers hashtag. If you want to see all the messages in one location, you can just tap on the hashtag and all the messages with that hashtag will come up.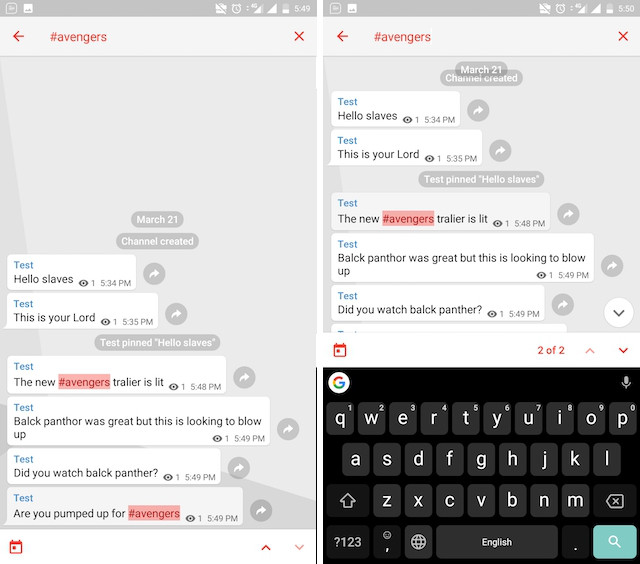 11. Upload Multiple Profile Photos
Did you know that Telegram allows you to upload multiple profile photos? Well, if you didn't, I am going to show you how you can do that. All you need to do is open the Settings app and tap on the Camera icon to upload a photo. Do that again and you can upload the second photo without removing the first photo. You can do that as many times as you want to upload as many pictures as you want.
For your viewers, the latest picture will be profile picture but they can swipe to see rest of your photos as shown in the image below.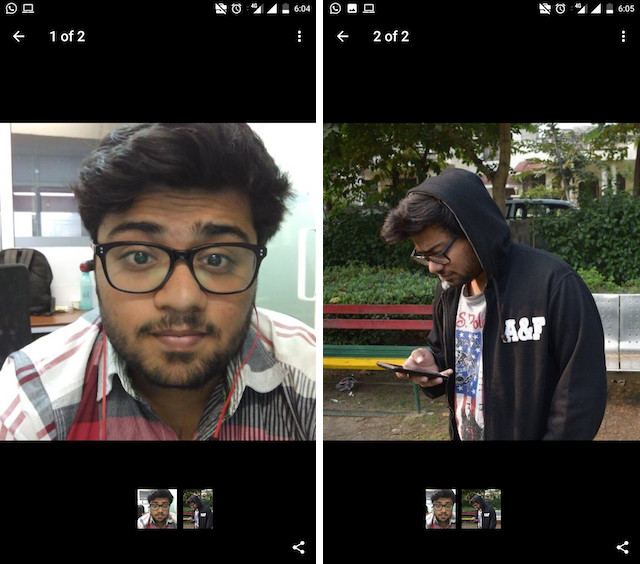 12. Share Live Location
Just like WhatsApp, Telegram also allows you to share live location with your contacts. This is a very handy feature which I personally use on a regular basis. To share your live location with someone, first open the chat and tap on the attachment button. Now, tap on location.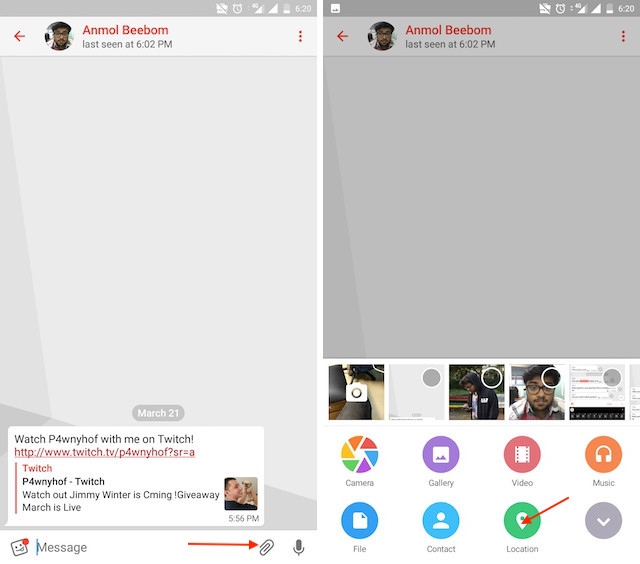 Here you will get the option to share either your current location or your live location. Select the live location option and then select the time limit for which your location will be shared with the person. Now, all you need to do is hit that share button to share your live location.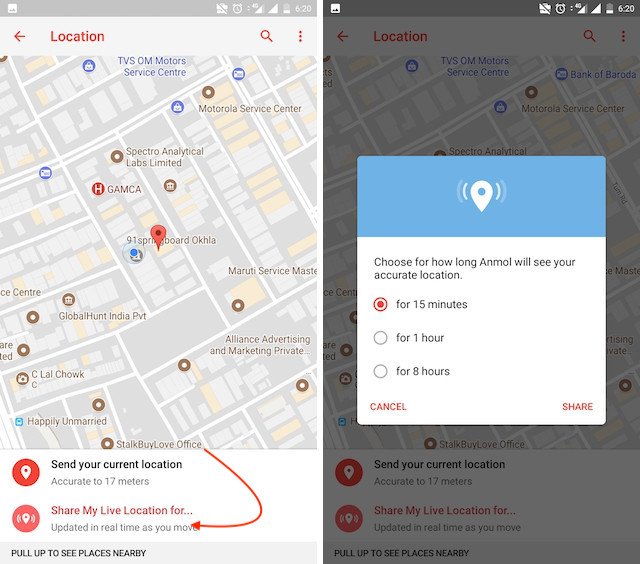 13. Stop GIFs from Autoplaying
While GIFs are a good way to share your emotions without words, if you receive a ton of them, their ability to autoplay can cause a lot of problems. To stop GIFs from auto-playing, go to Settings-> Chat Settings and scroll down to find the Autoplay GIFs options and disable it.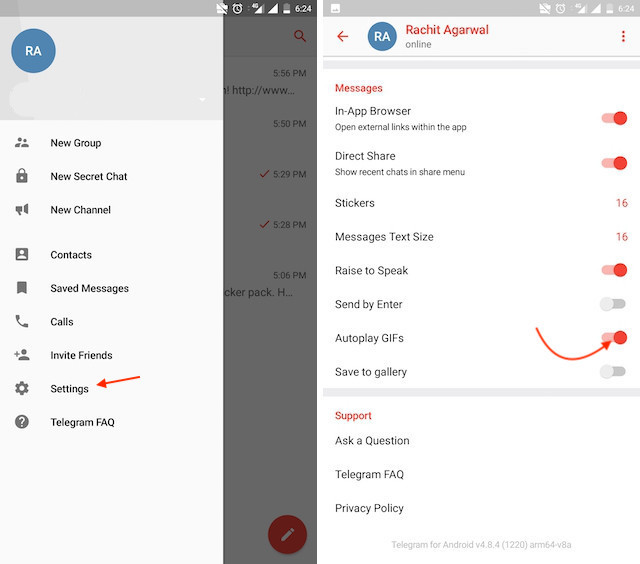 14. Use a Proxy Server
Telegram also allows you to use a proxy server which comes in really handy if you want to either protect your data from state organizations or live in a country where Telegram is banned. To set up a proxy server, go to Settings->Data and Storage, and scroll down to find Proxy Settings. Tap on it, and fill all the required information to use Telegram on a proxy server.
15. Use Telegram X
Telegram X (iOS and Android) is an alternative version of Telegram, which aimed at bringing a more modern and striking user interface as well as experimental features. The app also brings significant improvements to the traditional Telegram app's speed and animations and has a dark and relatively more fluid interface, and it is only going to improve your productivity.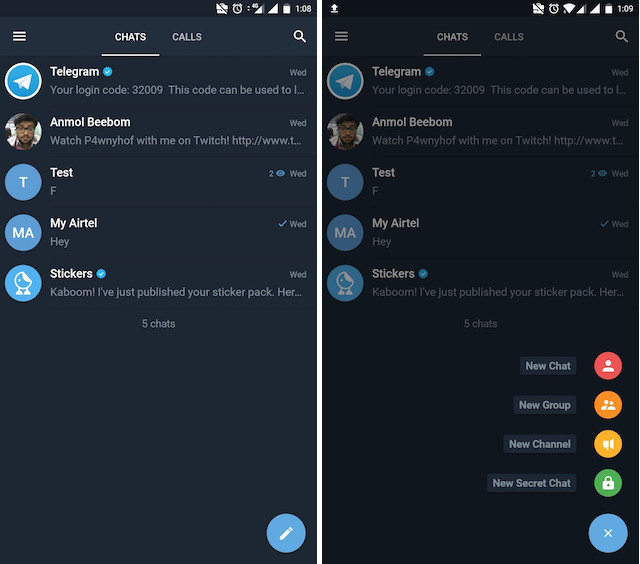 16. View Articles Within Telegram
Using Telegram, you can view links directly without exiting the messenger. You can just tap on the "Instant View" button beneath shared links to view the article from Telegram itself and the opened links are displayed in a reader mode. Besides accessing links, you can also change the color of the background as well as the type and size of the text font just like an e-reader application.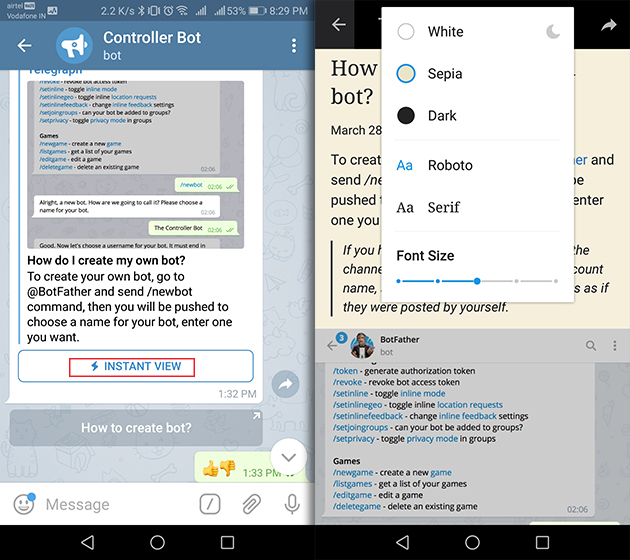 One caveat to this feature is that it requires the admins/developers of the publishing website to add support for Telegram's Instant View 2.0 protocol. If you're enthusiastic about the feature and own a blog or website, you can enable support by referring to a host of guides available online.
17. Manage Audio Files With Integrated Music Player
Telegram features an inbuilt music player which, unlike WhatsApp, can play and manage music files which you share with other users irrespective of whether or not are you currently in a specific chat. The music player is minimized and sits on top of the Telegram window and when you tap on it, it opens an interface which resembles common music players. You get options like play, forward, rewind, as well as options to play tracks in the order you're sent or received the files.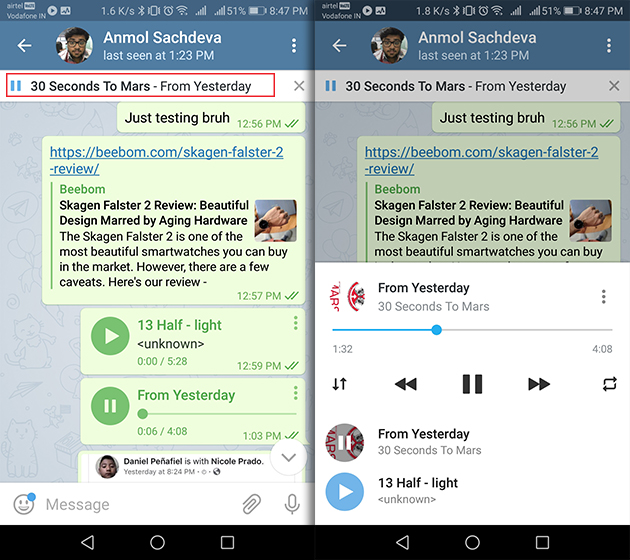 But if you don't want that, you can either reverse the order of playback, toggle total or track-wise repeat on, and even choose the option to shuffle tracks. You can continue listening to the tracks as you jump from one Telegram chat to another but currently, there's no option to view all the tracks at a single place as the interface shows the media files shared only within a single chat.
18. Turn on Secret Chat
If you prefer keeping the sensitive content of your chats limited to yourself and avoiding it from being intercepted by a hacker or the authorities in your country or region, you must use the Secret Chat option. While normal chats in Telegram are user-to-server encrypted and cannot be read unless someone breaches Telegram's servers, Secret Chats take it to a new level by providing user-to-user encryption. These chats are meant to be short-lived and not stored on Telegram's servers.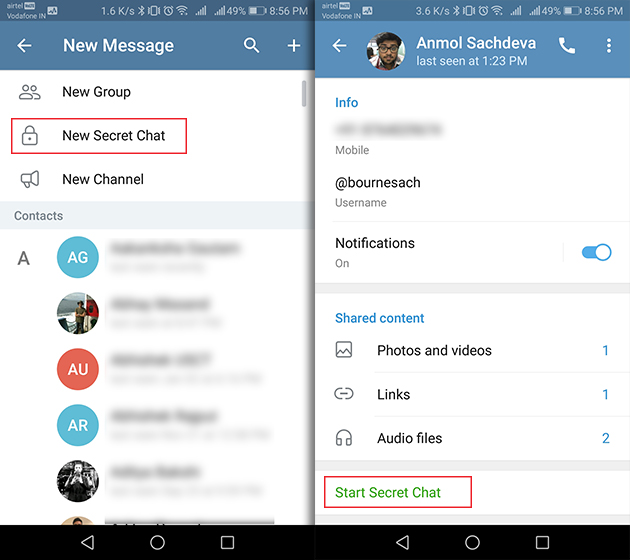 Besides these security enhancements, you can set a self-destruct timer of duration varying from one second to one week. Furthermore, you or the other person cannot forward messages that you receive within the Secret Chat and taking screenshots (or screen recordings) is completely blocked. Currently, the Secret Chat is limited to conversations between only two people and Secret Groups are not supported within Telegram.
To start a Secret Chat, you can either tap on the option in the hamburger menu and select a contact to start the chat. Alternatively, you can go to an existing chat, tap on the top bar for user's information and scroll down to find the "Start Secret Chat" option at the very bottom of the page. Once you tap on the option, the other person will have to accept your invitation to initiate the Secret Chat.
19. Use Bots to Your Service
Telegram supports a host of official and third-party bots, which are dummy users created to accomplish some task on your behalf and improve your secure messaging experience. These bots also help you get more out channels, which offer means for you to broadcast your opinions to others or if you have some informational/educational content to offer.
While there are a lot of bots, you will be off to a better start by knowing just a couple – the first out of which is VoteBot. As the name suggests, VoteBot lets you create polls where you can seek votes from others and its conversation-styled interface make creating and sharing polls makes it a nifty tool. Here's a look at how it works:

Another bot that you can utilize is Giphy GIF Search bot which allows you to simply add a GIF to a conversation by starting your message with @gif followed by what to search. After activating the bot it works in any chat and should be useful for those who find it easy to convey their thoughts with GIFs instead of words.
If you're already a Telegram pro and, in fact, a developer, you might want to check out BotFather, which lets you create and christen new bots. Or if you're someone who likes to maintain a microblog via Telegram, you can use telegra.ph which helps you create compelling and visually striking Instant View articles as we saw in point 16. Moreover, to offer customer support or feedback via Telegram, you can use LivegramBot.
20. Create Your Own Custom Masks
One obscure feature of Telegram is that the service allows you to create custom mask. Yes, you can create your own custom masks and use them on your selfies to share with your friends. To create a custom masks, first, search for @stickers and tap on it to open the bot.
Now, in the message field type /newmasks, which will intimate the process of creating the new mask. Now all you need to do is follow the instruction from the bot and you will be able to create your new mask. If you have any problem in following the steps, do let us know in the comments section and we will be happy to help you out.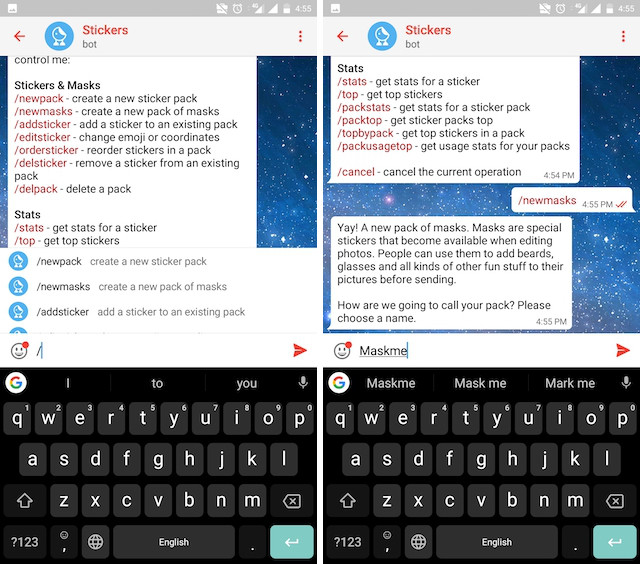 SEE ALSO: 15 Cool Instagram Tips and Tricks You Should Try
Telegram Messenger Tricks for Better Communication
Telegram is a great tool focussed on making communication better and safer. Not only does Telegram warrant more security through features like end-to-end encryption and self-destructing but also lets you customize the interface and experience significantly. Using these tips and tricks we've listed above, we hope you should have a better chance at being able yourself to call a Telegram tricks expert.
Do you think we missed out on something? Make sure you tell us in the comments below because that's we'll learn about your expectations and our shortcomings.