Pushbullet is one of the best utility tools you can use to quickly and conveniently transfer files between your Android device and PC, send SMS messages from your PC, set reminders, and more. The free version of Pushbullet, however, is somewhat crippled when compared to the 'Pro' version, and that might some users off.
Here are some features you'll miss in Pushbullet's free version
Actionable notifications
Universal copy and Link sharing
100/month restriction
Send files up to 25 MB only and 2 GB storage space limitation
Pushbullet Pro is priced at $39.99/year or $4.99/month, which might not be affordable for some. Well, Pushbullet users will either have to pay for the "Pro" subscription or look for an alternative. If you don't plan on paying for Pushbullet Pro, here are the best alternatives you can use.
Best PushBullet Alternatives
1. AirDroid
AirDroid is hands down the best PushBullet alternative. With AirDroid, you can share files, install apps, check notifications, answer & make calls, sync SMS & contacts and reply to WhatsApp messages. Additionally, it also lets you mirror your Android device's interface to PC, which means you can control your Android smartphone or tablet right from your PC.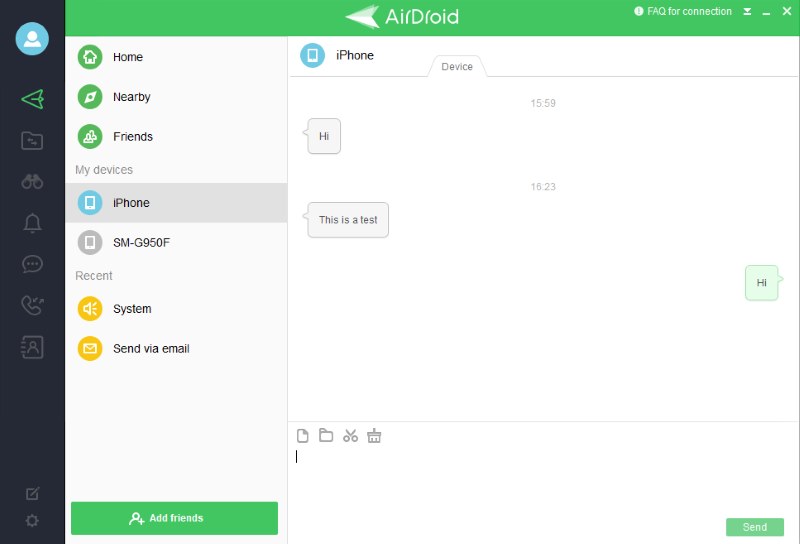 That being said, AirDroid has some limitations of its own. AirDroid lacks features like universal copy & paste and the ability to share links. It's also a resource intensive tool, so you may find it a little laggy at times. AirDroid also has a Premium subscription plan that's priced at $1.99/month or $19.99/year. It is, however, more cost-effective than Pushbullet's paid plans.
Overall, AirDroid is one of the best alternatives of Pushbullet as it brings most of the important Pushbullet features along with some additional features of its own.
Availability: Android, iOS, Windows, macOS, AirDroid Web
Download AirDroid (Free)
2. Pushline
Pushline, as the name suggests, is very similar to Pushbullet, both in name and features. The service works through an Android app & Chrome extension and it mirrors smartphone's notifications to a PC but you can only view & clear the notifications. The app also lets you send notes, share links, make or accept calls, send SMS, mute your phone, find your phone and more. The Pushbullet features missing here are actionable notifications, universal copy and the ability to transfer files.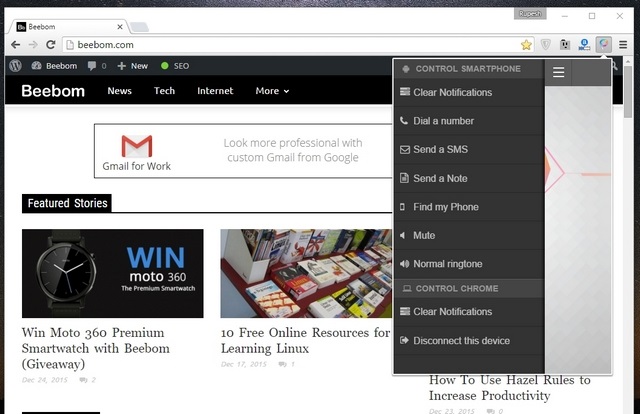 While it matches some of Pushbullet's features, it's not as reliable. The app does not sync messages, contacts or your apps and sometimes it just fails to bring a notification. Well, you can give Pushline a shot since it is free with no ads, no premium version and no in-app purchases.
Availability: Android, Chrome Extension
Download Pushline: Android (Free), Chrome Extension (Free)
3. Desktop Notifications
As the name suggests, Desktop Notifications is strictly aimed at bringing your Android smartphone's notifications to your PC. It uses an Android app and a Chrome or Firefox extension to mirror all your notifications. Once you enable notification access to the app on your Android smartphone, it will mirror your notifications and you will see popups on your PC through the browser extension. Sadly, you cannot do much, as it only lets you view the notifications from your Android smartphone.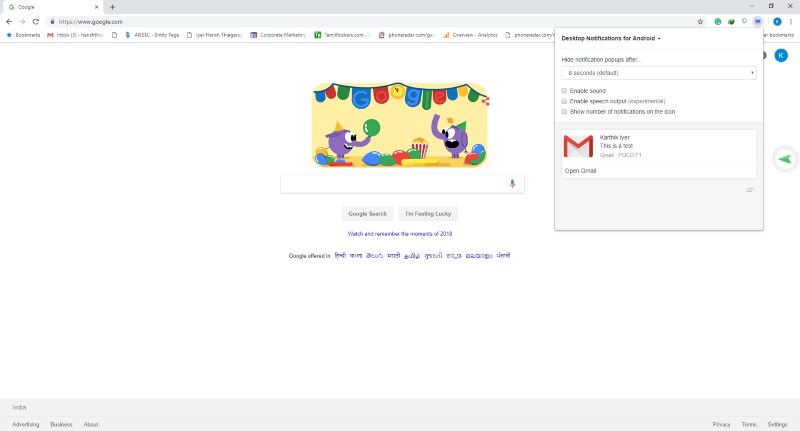 Availability: Android, Chrome extension
Download Desktop Notifications: Android (Free), Chrome (Free)
4. My Phone – Windows Companion
As the name suggests, My Phone is a Windows companion app that's developed by Microsoft. Unlike AirDroid, My Phone is not a full-fledged device manager, at least not yet. However, Microsoft says that they're working to add new features to the app.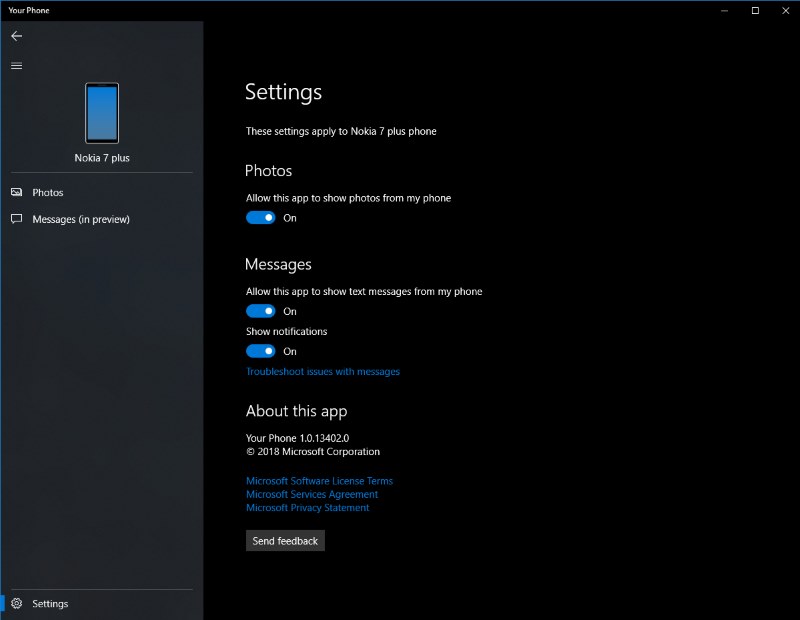 For now, My Phone can be used to keep tabs on text messages, Skype notifications, Microsoft Edge notifications, viewing photos, etc. Yes, it is not as feature-rich as some other tools, but you can expect this app to get more updates in the future. It is also worth pointing out that this particular companion will only work with Windows and Android. So if you are an Android phone user who owns a Windows laptop, then My Phone is definitely worth checking out.
Availability: Android, Windows
Download My Phone: Windows (Free), Android (Free)
5. MightyText
MightyText is one of the best PushBullet alternatives that you can use. Similar to Pushbullet, Mighty Text syncs your text messages and you can reply to your messages right from your PC. It also mirrors your notifications and lets you make calls, rings your phone, lets you uninstall an app, sends photos & videos, check battery status, etc., all right from the MightyText app.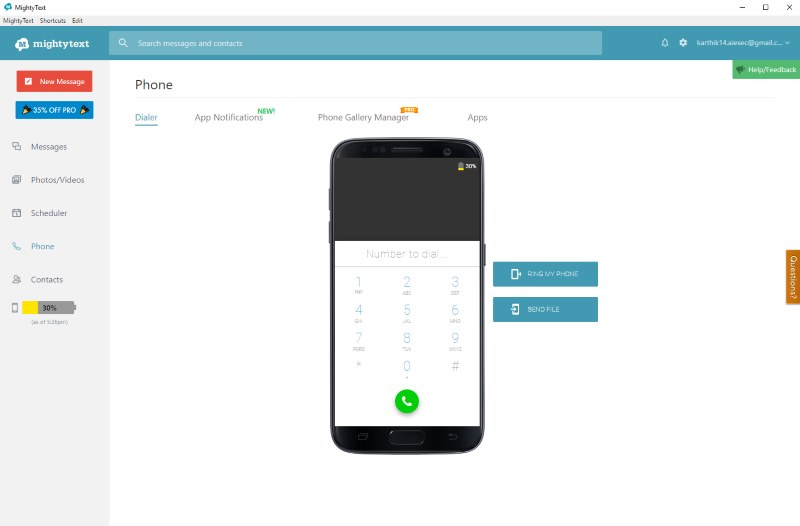 Mighty Text's free version has a limit of 500 text messages a month, which is 5 times than what Pushbullet's free version offers. Mighty Text also has a paid version, which lets you schedule messages, removes the limit on messages, removes ads, lets you sync 100 GBs of photos & videos and more. The Pro version of MightyText is priced at $9.99/ month or 79.99/ year. Mighty Text should work well if you are okay with its 500/month limit of messages in the free version but if you are not, you can check out some other alternatives.
Availability: Android, Windows
Download MightyText: Android (Free), Windows (Free)
6. Yappy
Yappy is more similar to Mighty Text than Pushbullet but it's still a a great Pushbullet alternative if you love texting from your PC. Yappy syncs your messages, contacts & gallery and lets you send texts or reply to them, make calls or answer them remotely and even mirrors notifications. There's also a cool YAP mode, which lets you send encrypted messages.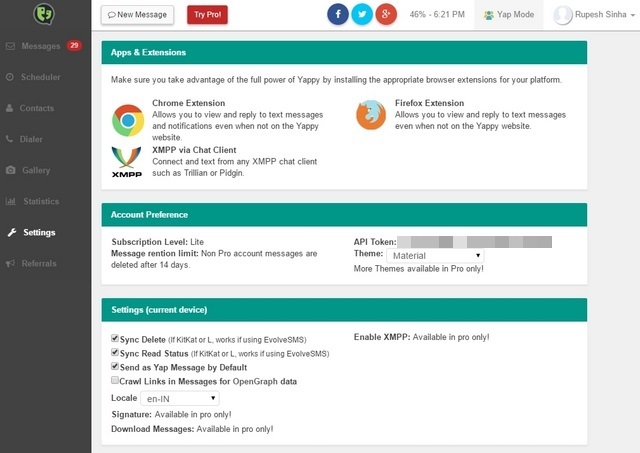 Sadly, that's about it, as it lacks other features from Pushbullet like actionable notifications and universal copy. One good thing about Yappy is that even in its free version, it does not have a limit to the number of texts you can send. It is also available in a Pro version, which removes ads, lets you schedule messages, search texts, in-depth analytics etc..
Availability: Android, Chrome, Firefox, Windows
Download Yappy (Free)
7. Send Anywhere
Send Anywhere is a simple service that lets you transfer files with ease. It's available as a standalone app across multiple platforms like Android, iOS, Kindle, Windows, macOS, etc. All you have to do is select the file to be transferred and hit upload. Send Anywhere uploads it to its servers and generates a six-digit key. You can then enter the key on any device within 10 minutes to download the file.
Send Anywhere does everything anonymously, and everything is 100-percent free. No sign-ups or payment info required. It is also worth pointing out that there are absolutely no limits on the number of files or even the size. So, be sure to give it a shot.
Availability: Android, iOS, Windows, macOS, Kindle, Linux, Outlook Add-in
Download Send Anywhere (Free)
8. Xender
Xender is a popular file sharing app known for its capabilities to transfer data between two Android devices but it also lets you share files from your Android device to PC and vice versa, that too without any data transfer limitation. The best thing about the app is it allows you to transfer files without the need of a PC software. Once you connect your Android smartphone to Xender's web client by scanning the QR code on your PC, you will see the storage details of your smartphone. You will then have the ability to download or delete pictures, videos, music, documents, apps and other files as well. In the Files tab, you also have the ability to download files in batches, move, copy and manage files. Moreover, the Xender web client lets you transfer files from your PC to your smartphone as well. So, if you've used Pushbullet for your file sharing needs, Xender is a good enough alternative for you.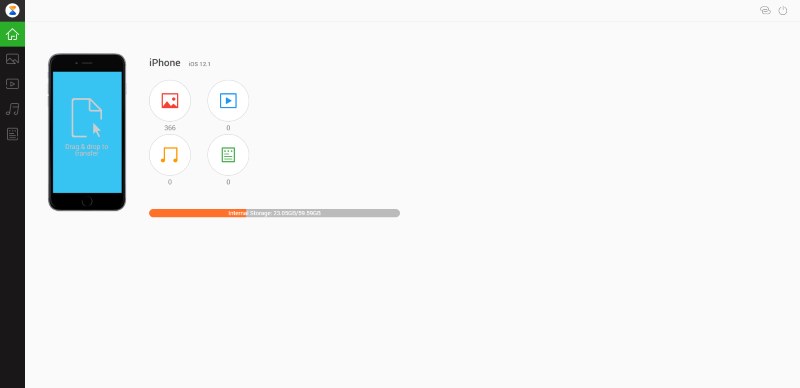 Availability: Android, iOS, Web
Download Xender: Android (Free), iOS (Free)
SEE ALSO: How To Mirror Your Android Display to PC
These Apps do their best to match Pushbullet
Pushbullet is a great app and sadly, there's no single app that brings all of its features (although AirDroid comes close). However, these are the best Pushbullet alternatives for your different use cases. So, how are you dealing with Pushbullet Pro's arrival? Which alternative are you using? Do let us know in the comments section.