If you frequently browse the Play Store for new instant messenger apps, chances are that you know about Telegram. Yes, the one that came out in 2013, not the one from the previous century. Telegram was one of the first messengers to bring in encrypted messaging to the masses, something which rival WhatsApp took years to offer. Although you won't find it on everyone's phone, Telegram still has some pretty amazing cool tricks up its sleeves. One of them is the ability to use programmed chat services, or simply chat bots.
So, you are possibly thinking that how will chat bots benefit you? Well, there are a lot of things in which some of these bots are better than their app counterparts. We bring you the 20 best Telegram Bots that can change the way you use Telegram:
 1. @wiki
Want to share Wikipedia links to your "friends" group for class assignments? Well, you can use the @wiki bot for that. You can type @wiki followed by your search term and select the desired link. The Wikipedia link will be sent to your contacts or group. This is an inline bot, meaning that you can use it directly from your contact's chat thread.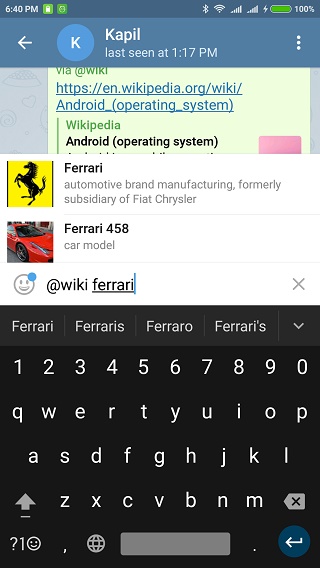 2. @vid
There are some videos on YouTube that draw your attention, unlike anything you have ever seen and make you want to share them with your contacts. Well, Telegram's @vid bot lets you search for a YouTube video and share the link with your mates. You can do that by simply typing @vid followed by your search query and select the desired video link.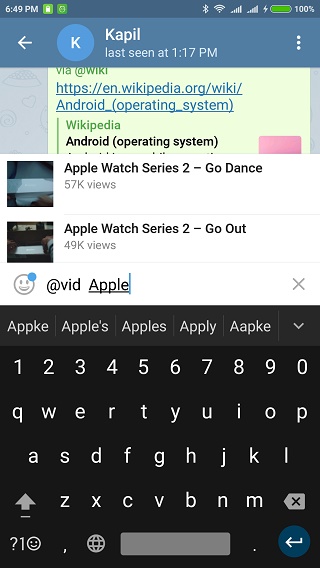 3. @imdb
You want to go out for a movie with your friend but both of you can't decide what to watch. The @imdb bot can help here by letting you search for movie details from IMDb and send it to your friend. You just have to type @imdb, followed by the movie name and select the result from the list. The IMDb movie info will be sent to your contacts.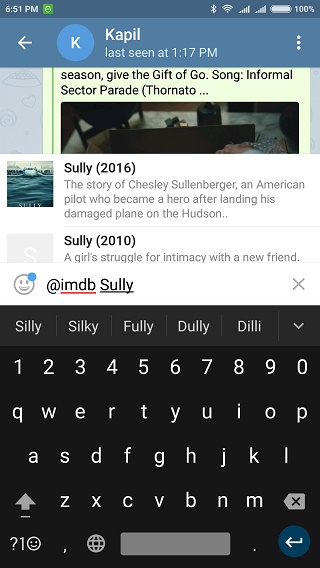 4. @gif
GIFs are always pretty fun, as they help you express your emotions. You can send cool GIFs to your friends in Telegram by typing @gif followed by your search query, and select a suitable GIF from the list. The bot will send the GIF to your friend from giphy.com.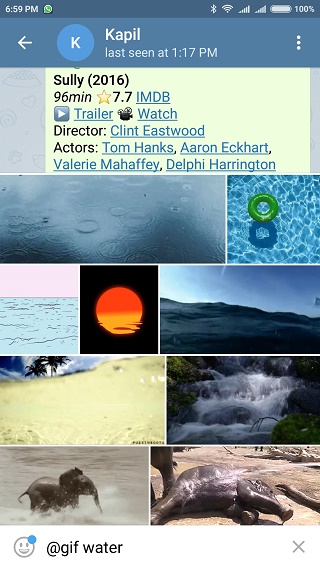 5. @bing
It is said that pictures speak a thousand words. If you want to express your emotions through pictures to your Telegram contact, you can do that with the @bing image search bot. Use the tag @bing followed by your search query and select the desired image from the list. The chosen image will then be sent.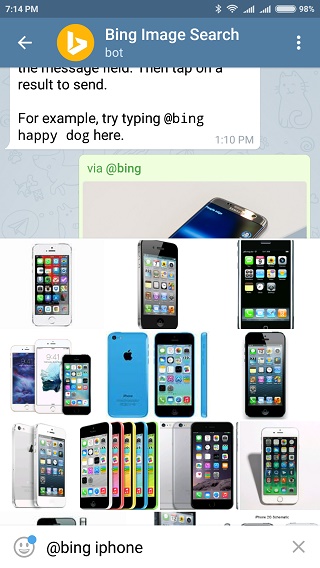 6. @bold
Sometimes, a simple text message isn't enough. On Telegram, you can express more effectively through various formatting styles to make the messages as impactful as possible. The @bold bot does just that. Type in @bold before your message & select your desired formatting style. You can format your text in bold, italics and Fixedsys styles.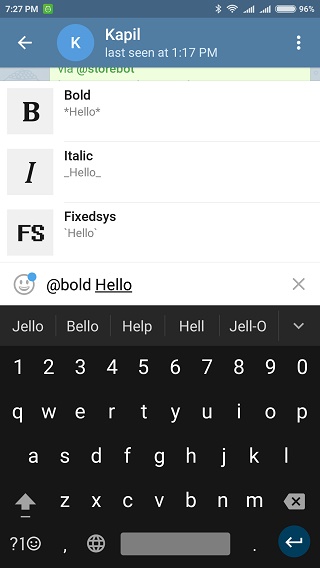 7. @storebot
Telegram is full of hundreds of interesting bots that you should explore. There's an official Telegram Store Bot that helps you do exactly that. You can type @storebot in the message box, which generates a list of all the bots in Telegram and then tap on a bot to send its link to somebody. You can also use the Telegram search box to open a different chat thread with this @storebot and browse through the endless list of bots. The commands to interact with the bot are very simple, easy and well laid out, which make bot hunting on Telegram a lot more fun.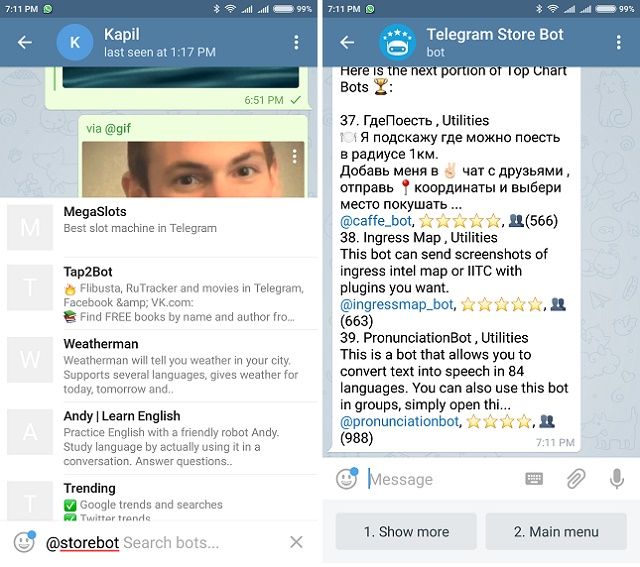 8. @gamebot
Want to flaunt your gaming talent in front of your buddies? Well, you can play games in the Telegram app itself. Type in @gamebot and select a game from the list to play with your contact. You can choose from Math Battle, Corsairs and Lumber Jack. You can play the game with your contacts or play in single mode through the bot's chat thread. You can even compare the scores with your contacts. There are other game bots available too, like @gamee and @Gamee_bot, with various other games to battle it out with your contacts.
9. @mokubot
The @mokubot is a very useful and productive bot. It lets you get results from Google Search, Google Images, Google Maps, Google Translate, YouTube, Reddit, Wikipedia, IMDb and many more services in one chat thread. It provides you with its own set of tag-based commands (like /lastfm) to get the best out of its abilities. You can search for it in the Telegram search bar (the bot's name is otouto). It is surely a practical addition to the chatting experience on Telegram and you should definitely try it out.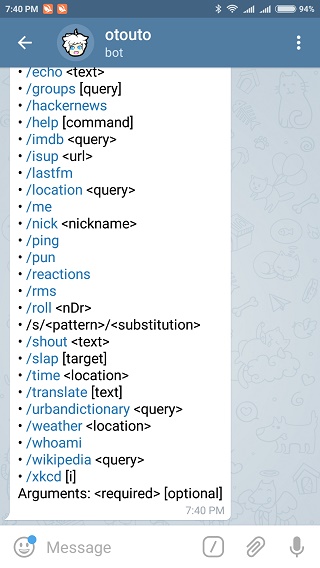 10. @prismabot
Yes, you guessed it right. This is a bot that can put Prisma filters on your photos. It provides you with certain filters to apply on your images. All you have to do is send your photo on the bot's chat thread and you will get your image back, processed in the Prisma style. Isn't it a cool thing to try it out with your selfie-loving friends?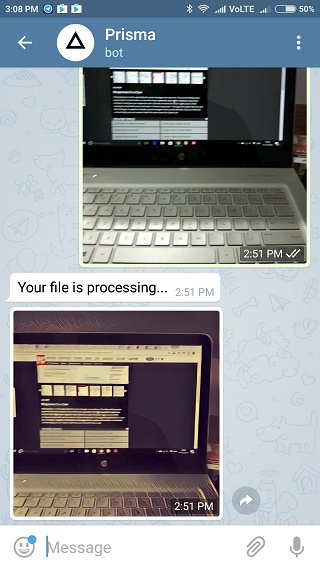 11. @voicybot
We all have been through situations when one of our friends starts an interesting chat while we are extremely tired and lazy to type anything. Wouldn't it be nice if someone could type the text for you? @voicybot does that for you in its separate chat thread. You can record your voice in its chat thread and tap on the send button. The bot converts the voice file into text and sends it to you in the form of a text message. Sounds cool right?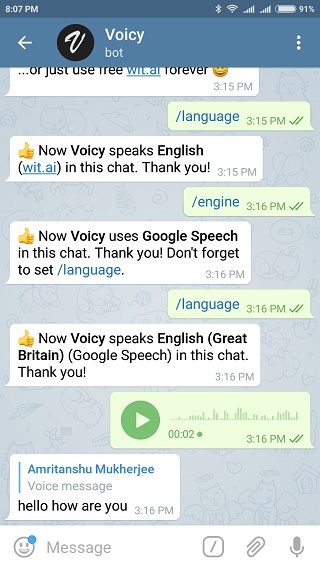 12. @ImageUploadBot
This is a bot that can be useful especially if you are into social media promotion and website designing. @ImageUploadBot creates a URL for the image you sent to it. Simply upload your desired image in its chat thread & you will receive the URL in the form of a text message.
13. @whatmusicbot
Plainly, this is Shazam on Telegram. You need to open its chat thread from the search box and hold the audio recording button while the music is playing. Release the button to send it to the bot and it will return an answer with the song's info. This is useful for such situations when you want to send a song's info while chatting to someone, without leaving the app.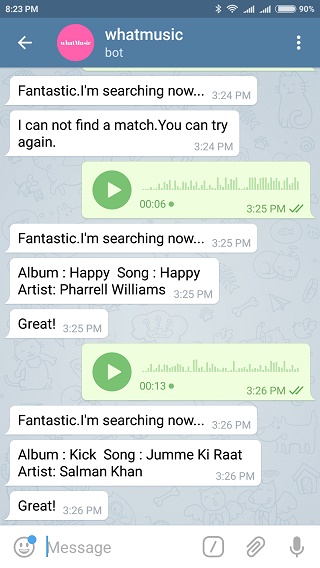 14. @photosetterbot
Want to have the OCR functionality in your phone without having a separate resource-hogging app? Thankfully, Telegram lets you enjoy that functionality through the @photosetterbot. Search for it on the Telegram search bar & upload an image with some text to its chat thread. The bot will return a message with the text that can be copied to various other applications.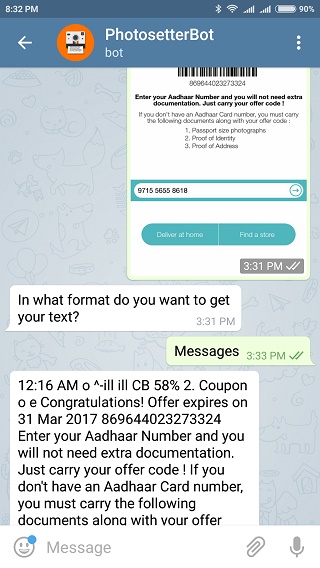 15. @imagevisionbot
The @imagevisionbot is able to describe what the subject is doing in the photo. It scans the photo and brings out a caption using AI, in various languages. As you can see in the image, it identified a photo of a neon Iron Man as a close up of a cell phone, which is pretty weird. But it worked for pictures having people in them for sure.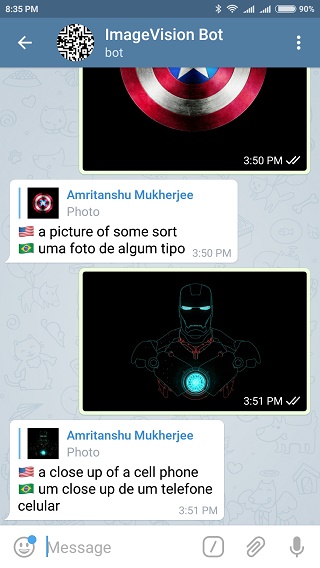 16. @WelixUberBot
So, you don't have the latest Google Pixel with its Assistant on your phone yet but want your phone's AI to book a cab? Well, you can book a cab from Uber right from Telegram with the @WelixUberBot. It takes in your account details & lets you book a cab, complete with setting the destinations. Amazing!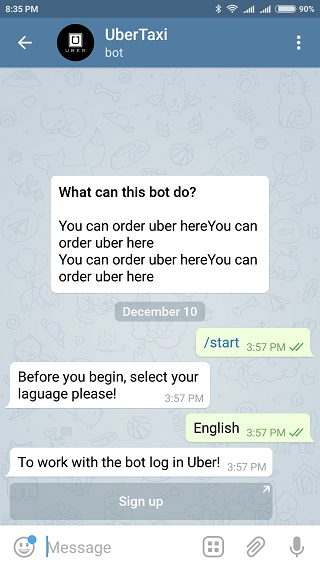 17. @weatherman_bot
Yes, you have guessed it right. This bot gives you the weather details of your city/town in its own chat thread. You are served with various temperature predictions throughout the day, sunrise/sunset time, humidity and much more. We have to say that the details are pretty much accurate. You can use it certainly to check the weather and share it with your mates before heading out for the picnic.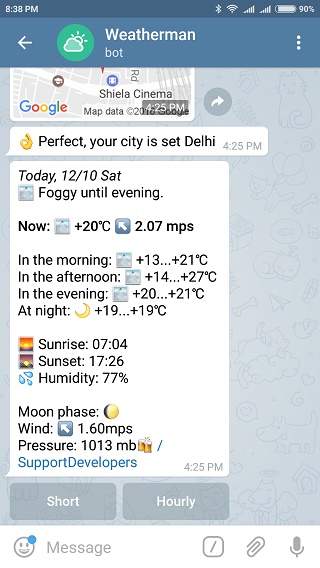 18. @NowTrendingBot
We like to often check out the latest trending videos on YouTube or current Twitter trends but wonder how to share them easily with our contacts. Well, you can do that with @NowTrendingBot. This lets you check top YouTube trends, top Twitter trends, top Dailymotion trends and much more on the go. The listings that this bot provides in its separate chat thread are links, with a lot of options regarding them, right from viewing them in-app to sharing them on your social media timeline.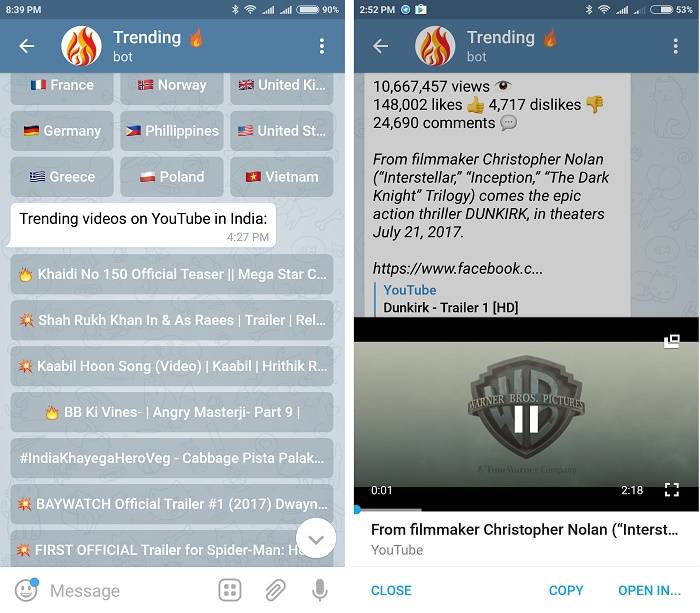 19. @delorean_bot
No, this has got nothing to do with the movie "Back to the Future". This is a bot that acts as a reminder. You can set your reminder with all the details using preset commands to get notified in the form of messages. The question and answer format of taking the information is pretty neat and easy. It can prove to be helpful in situations when you want to be reminded about your school homework or your data pack recharge date or about the evening party.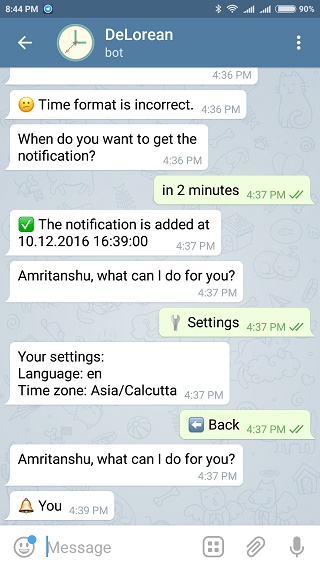 20. @exactlyappbot
This can come in handy especially in those lengthy literature classes. @exactlyappbot is your own dictionary inside Telegram. Simply type the word in the message box of its chat thread and you will be greeted with its meaning and pronunciation, presented in the form of an actual dictionary layout. No need for additional tags to be put alongside the word.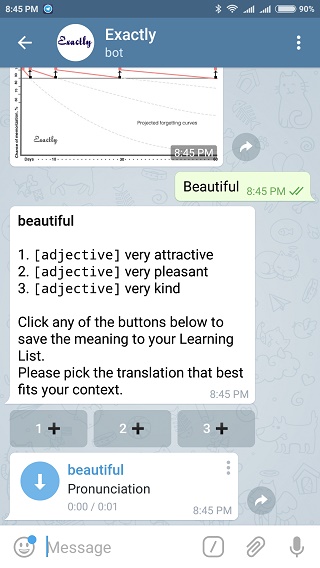 SEE ALSO: 15 Cool Telegram Messenger App Tricks
Make the most out of Telegram with these cool bots
So, these are definitely some of the best Telegram bots. We had a good time trying these out and were hugely impressed. However, there are many other bots in Telegram, waiting for your attention. All of them are unique in their own ways and represent the individual visions of various budding programmers. If you find a good bot that isn't mentioned here, do write to us about it in the comments section below.
---
Load More