Of the billions of people that use Facebook across the world on a daily basis, a fairly large number also use its companion instant messaging service, the Facebook Messenger. It not only lets you chat with your buddies conveniently, but also includes features like voice/video calls, funky stickers, and then some more. And the fact that Facebook Messenger is a cross-platform app only makes it better. But as incredible as it is, do you think that's all there's to Facebook Messenger? Well, the short answer is no. Just as there are hidden Facebook tricks, there are many hidden Messenger features which people are not familiar with. If you are someone who would like to learn those hidden features, read along as we show you the best Facebook Messenger tips and tricks that you should know in 2019.
Note: We have not included features such as stickers, video messages, and more in this article as we are assuming that Facebook Messenger users must be familiar with these basic tips.
Facebook Messenger Tips and Tricks in 2019
1. Adjust the Size of Emojis Before Sending
Emjois have become an integral part of our daily communication. If you are using any kind of text messaging service whether it be Facebook Messenger, WhatsApp or any other similar service, I can bet my life that you are using emojis. While everyone knows how to use Emojis in Facebook Messenger, not many people know that they can change the size of emojis before sending them.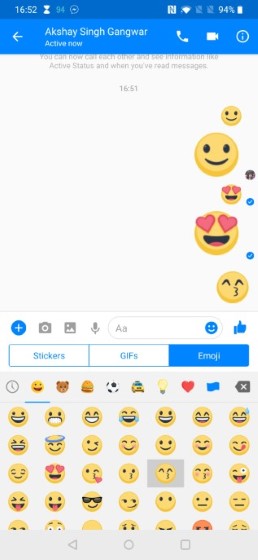 This feature makes it great for times when you want to over-emphasize your emotions. The best part is that it's pretty easy to change the size of emojis before sending them. Just tap and hold on the emoji that you want to send and it will start getting bigger until it pops. Let go of the emoji before it pops and you will send an enlarged emojis. Now, how cool is that?
2. Quickly Find Messages Using Search in Conversation
We all have been through that situation where we need to find a specific message inside a thread and spend minutes scrolling through our whole chatting history. Well, with this neat trick, you will be able to find that special chat within seconds. Dubbed as "Search in Conversation", the feature allows users to search and find the specific chats that they are looking for you.
To use this feature, open the chat which you want to find the message in and then tap on the (i) button at the top right. Here, tap on "Search in Conversation" and type in the words that you remember. Facebook Messenger will now instantly find the chat that you are looking for.
3. Share Live Location
The ability to share live location is a great feature for anyone who wants to keep an eye on their loved ones for a brief period of time. I find this feature especially useful when I am traveling to an unknown location as it allows me to share my location with anyone whom I want in the know how. Facebook Messenger also makes it very easy to share your live location with friends or family.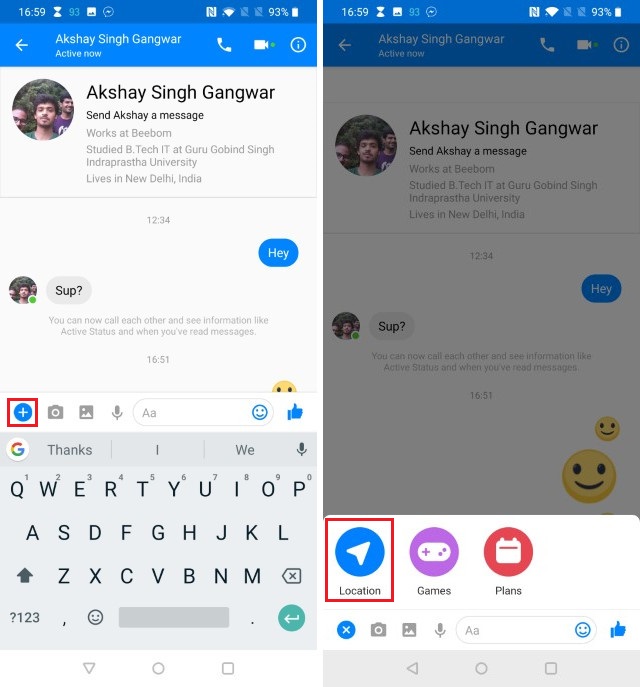 To share your live location, open a chat and then tap on the (+) icon. Here, tap on Location and then "Share Live Location" to share your current status. Once you share your live location, it is active for sixty minutes before it expires. Of course, you can cancel the sharing anytime you want to.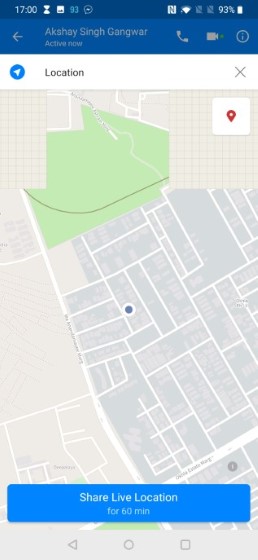 4. Start Encrypted Conversation with Secret Chats
If there is one thing Facebook is not good at, it's privacy. Even though we know Facebook Messenger is not the most secure chat application on the market, most of us still use it because it's the place where all our friends can be found. Well, there's no reason you should not be able to start a secure conversation even while using Facebook Messenger, especially when there's a method to do it.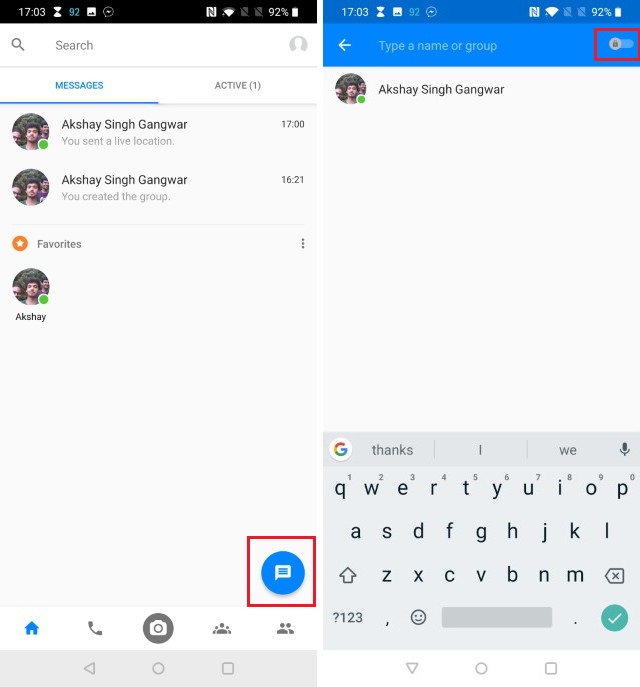 To start a private and encrypted conversation, just tap on the start conversation button and then flick the switch at the top right. You will see that the accent color changes from the default blue to black. This indicates that you are now in a secure conversation mode. Now all you need to do is select a contact and start chatting with them. All your messages will be encrypted and deleted after a specified period of time.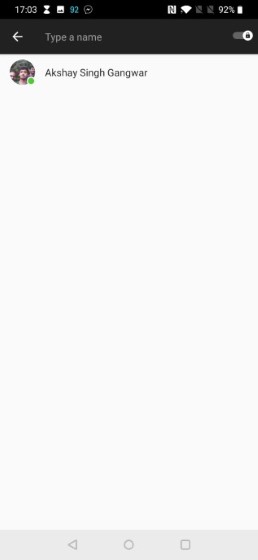 5. Conduct Polls
If you run a message group, you know how hard it is to get them to agree to something. It's also hard to parse through all the other messages in the group to get to the answers that you are looking for. Thankfully, you don't have to do that if you know how to use the "Polls" feature in Facebook Messenger.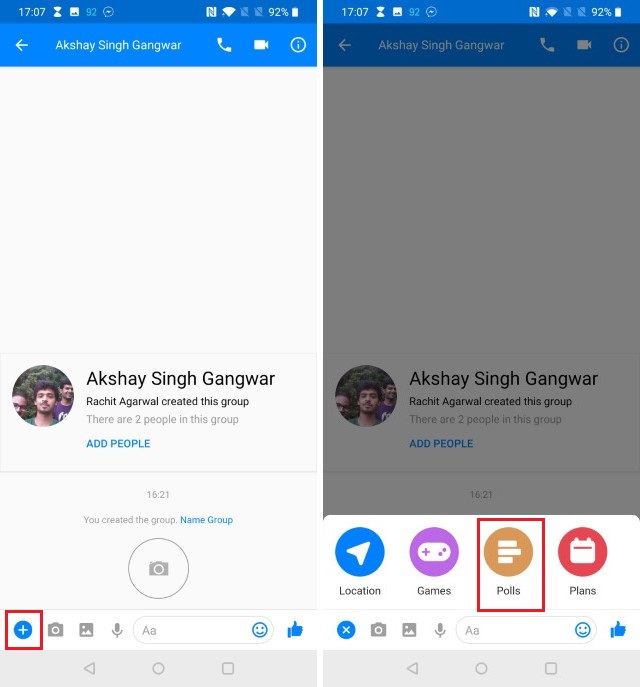 To use Facebook Polls, open a group chat and then tap on the (+) button. Now tap on "Polls" and then enter your question and answer choices. Once you are happy with your poll, tap on the "Create Poll" button to post the poll to the group.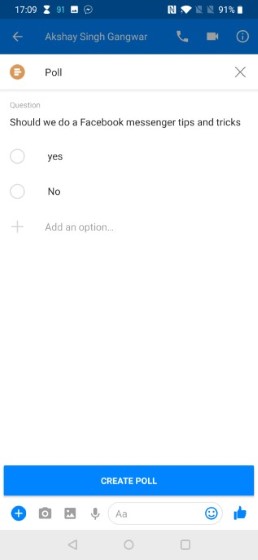 6. Start a Group Video Call
Facebook introduced a new Group video call feature back in November 2016 and I am still surprised that not many people know about it. Starting a group video call is as easy as it can be. Just open a group chat or create a new one with people whom you want to call. Now, tap on the video button at the top right and Messenger will automatically initiate a group video call. That's how easy it is.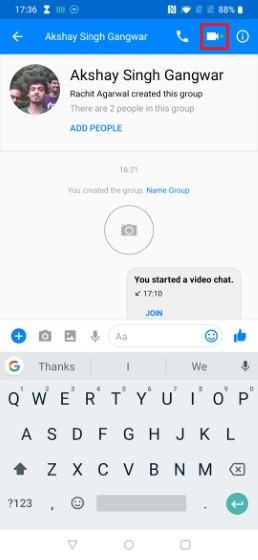 7. Mute Chat Notifications
Facebook Messenger's constant chat notifications can (and do) get really intrusive and annoying, especially in certain situations when you don't want to be disturbed. Thankfully, they can be easily muted, either for a specific time (15 mins – 24 hours), or until you un-mute them manually. To do this, tap and hold on the conversation (alternatively for iOS, swipe left on the conversation), go to Mute notifications, and specify the time period for which you want to mute the notifications. Check out the companion screenshot above.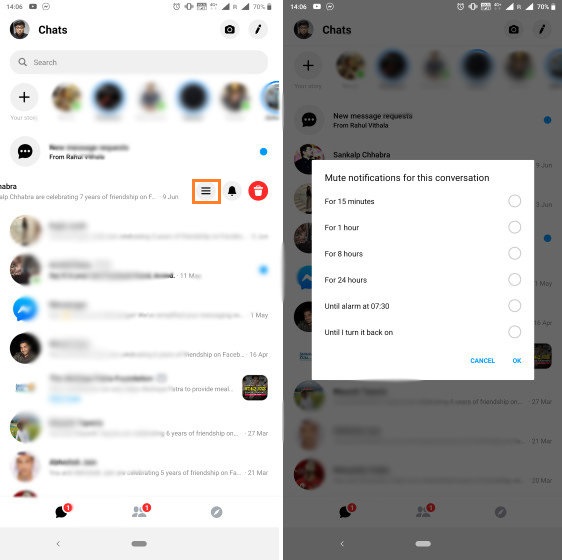 8. Download Photos and Videos Over Wi-Fi
Apart from text messages and stickers, Facebook Messenger also lets you send/receive photos and videos. However, the received photos & videos are downloaded automatically, which can be quite a problem if you're on the limited data plan. Thankfully, you can set Facebook Messenger to download photos and videos only over Wi-Fi, thus helping conserve data. Go to Facebook Messenger's Settings > Data Saver, and disable the download over mobile data option.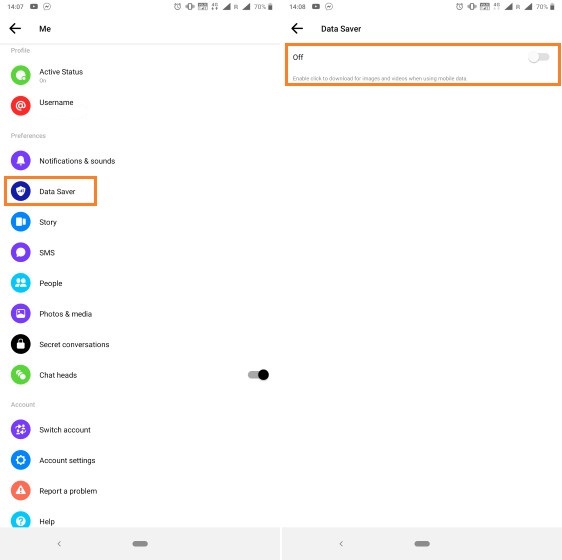 9. Play Games with Contacts
Believe it or not, Facebook Messenger comes with a built-in mini chess game that you can play with your buddies. To start a game with a contact, click on the four-dots menu next to the message box. Here, click on the "Games" icon. you will several games here which you can play with your friends. These Facebook Messenger games are pretty fun so you will have a good time with your friend.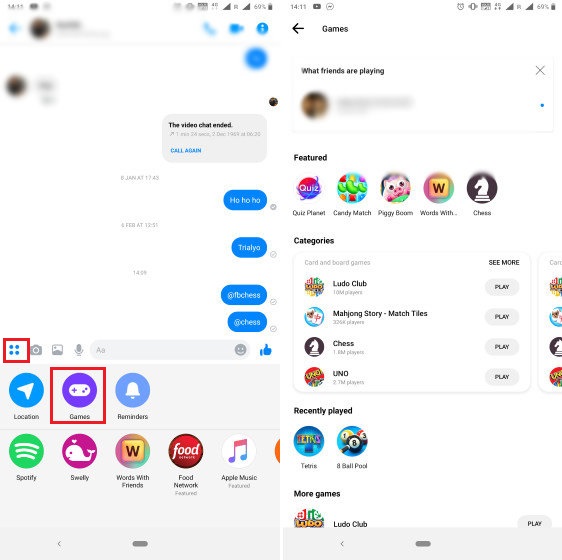 10. Use Facebook Messenger with Your Phone Number
What if you want to use Facebook Messenger for chatting with your friends, but don't have a Facebook account? Not a problem. It might not seem that way, but you can use Facebook Messenger even if you don't have a Facebook account. All you need is your phone number. For this, just tap on the Create Account button and sign up with your phone number. You don't need a Facebook account to make it work. So, if you ever wanted to delete Facebook but didn't because you don't want to lose Messenger access, you can do it now.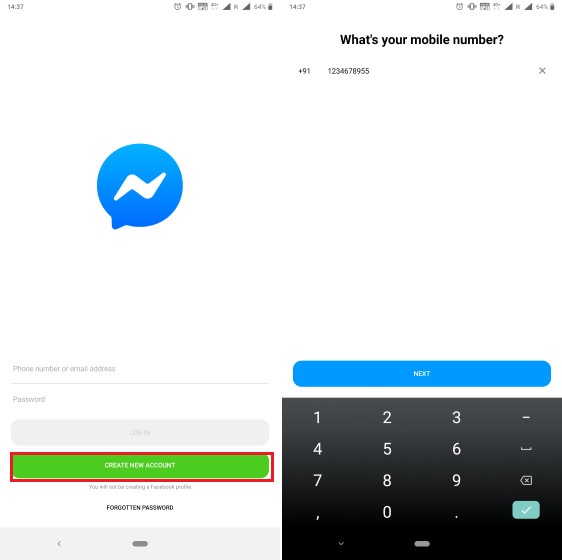 11. Use Multiple Accounts with Facebook Messenger
This is yet another bonus for Messenger users. You can add multiple accounts to Facebook Messenger at the same time, and switch between accounts on the fly. The app automatically loads the chats, contact list etc. of the account that is currently active. For this, go to Settings > Switch Accounts, and use the "Add Account" button to add another account to Facebook Messenger. You can even specify whether to require the account password or not, when switching accounts.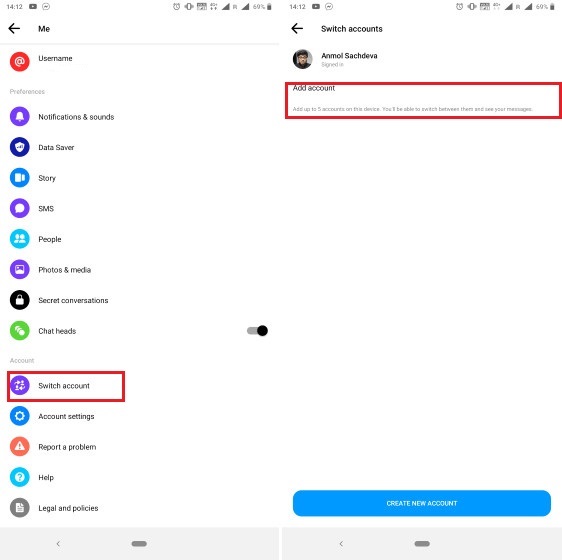 12. Integrate additional apps with Facebook Messenger
Even though Facebook Messenger is pretty awesome on its own, you can integrate a whole bunch of additional apps into it to enhance its functionality even more. Some of these apps include GIPHY, Memes, Spotify, Apple Music, and The Weather Channel. Just Click on the four-dot button and then tap on the apps that you want to use. The best part is that you don't need to install the apps separately. You can find them directly inside the Facebook Messenger, as shown in the pics below.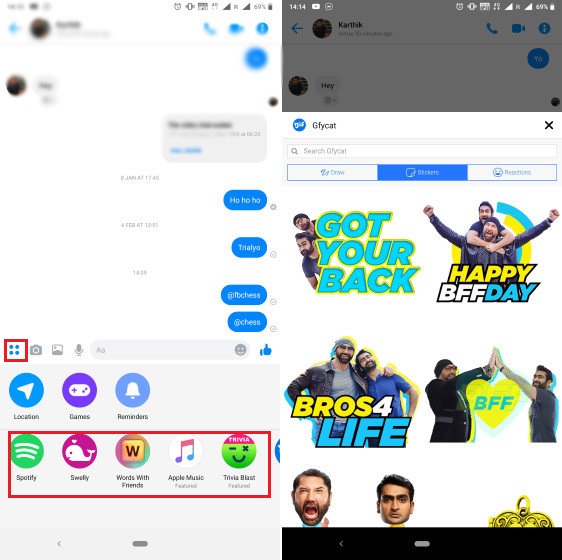 Bonus: Send & Receive Money with Facebook Messenger
Want to quickly loan a couple of bucks to/from a friend? Facebook Messenger is here to help. All you have to do is add a debit card (issued by US banks only) to your Facebook account, and use it to send/receive money, directly through Facebook Messenger. You can even use the app (Settings > Payments > Security) to add a PIN, for securing the transactions. Check here for detailed information on how to do it. Again, this feature (for now) is restricted to the US. Facebook is also going to launch its own cryptocurrency Libra later in 2019 which should enable faster and regulation free payment service all across the world. So, keep an eye out for that.
SEE ALSO: Top 4 Facebook Messenger Alternatives That Actually Work in 2019
Get Creative with Awesome Facebook Messenger Tips and Tricks
That ends our article on the best Facebook Messenger tips and tricks that will help you get the most out of the chatting service. Do let us know which is your favorite trick by writing in the comments section below. Also, if there is a tip or trick that you want to share with us and the community, don't hesitate to share it down too.