One of the top Android 12 features is the new privacy dashboard that lets you keep an eye on apps that access sensitive permissions. Although Google will not officially bring this feature to older Android phones, India-based developer Rushikesh Kamewar has released a free app under the same name. Dubbed Privacy Dashboard, this app lets you track camera, location, and microphone permissions on any phone. With that said, let's see how you can get Android 12's Privacy Dashboard on any Android phone.
Get Android 12's Privacy Dashboard on Any Phone (2021)
You can use the Privacy Dashboard app on phones running Android 7.0 (Nougat) and above. If your phone happens to be running a compatible Android version, here's how you can download and use the Privacy Dashboard without upgrading to Android 12. It also saves you the trouble of purchasing a new smartphone that will get the Android 12 update when it releases later this year.
Download Privacy Dashboard App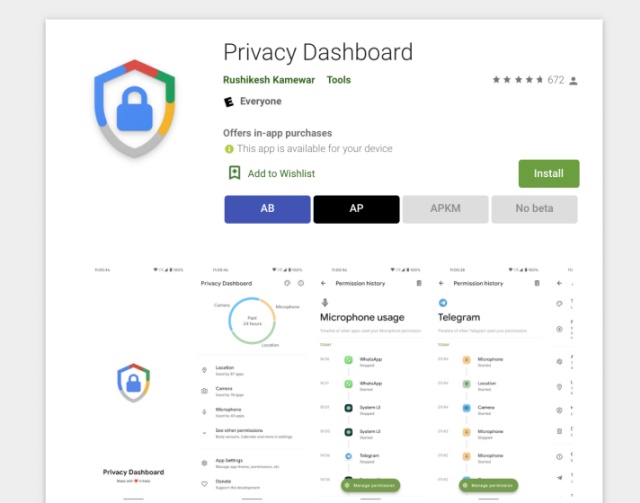 As mentioned above, we will be using a free app called Privacy Dashboard to replicate Android 12's privacy dashboard feature on older phones. The app is available for free, and the developer promises to keep it ad-free as well. If you find the app useful, do not forget to donate to support the development through in-app purchases.
Download Privacy Dashboard from Play Store (Free, offers in-app purchases)
Setup Privacy Dashboard App on Your Android Phone
When you open the Privacy Dashboard app for the first time, you will need to allow location access and accessibility permissions. Location permission access is required to log location app usage, while accessibility permission is required to keep track of camera and microphone usage by apps on your phone.
1. To permit location access, tap on "Allow Access" under Location access and allow the permission from the pop-up that appears. Based on your device's Android version, you will see the option to allow location permission all the time or while using the app.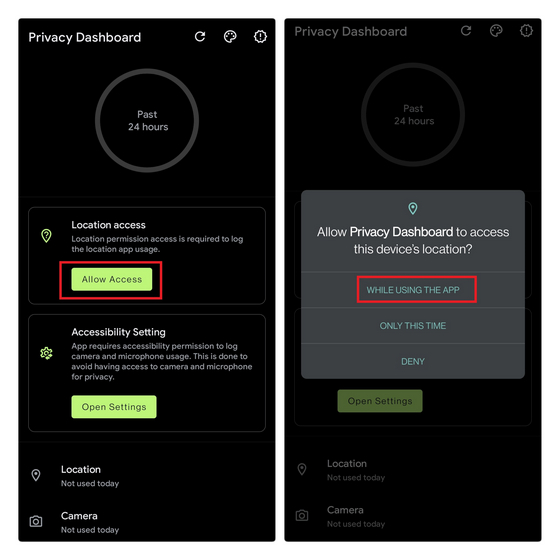 2. Next, you should allow accessibility permission for the app to access the camera and microphone usage on your device. To do that, tap on the "Open Settings" button under Accessibility Setting. You will now be taken to your phone's Settings app. Locate the app and tap on it to provide accessibility permission.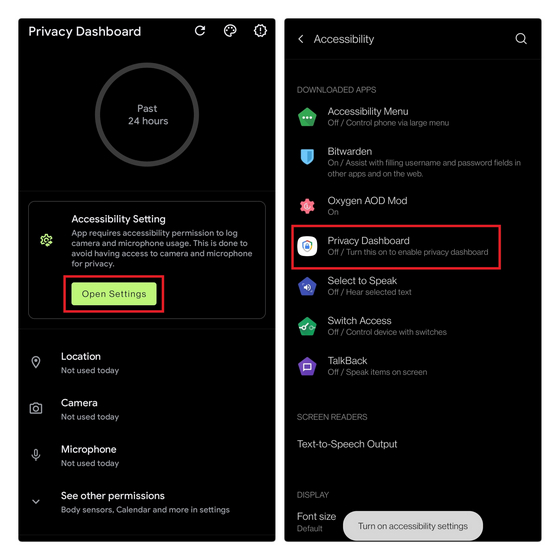 3. Once you open the dedicated accessibility page for Privacy Dashboard, enable the "Use Privacy Dashboard" toggle and tap on "Allow". You are now all set to use the app.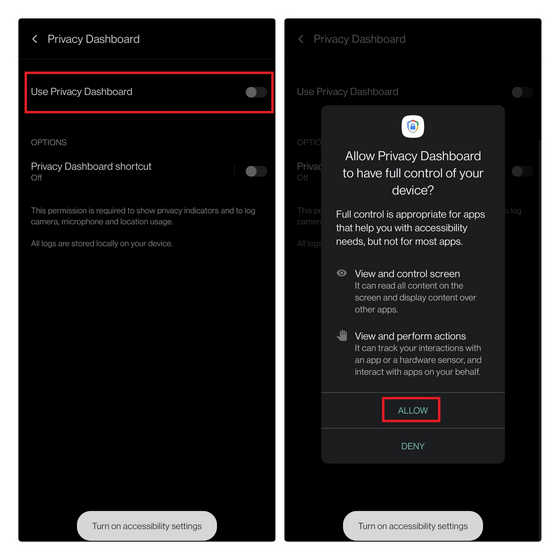 4. After setting up the app, you will see a persistent "app is running in the background" notification. To disable that notification, open the app, tap on App Settings, and tap on "Hide notification". Here, disable the All "Privacy Dashboard" notifications toggle. You can also long-press the notification to quickly reach this settings page. Meanwhile, if you often get spam notifications on Android, check our linked guide on how to disable them.
Using Privacy Dashboard App on Android Phone
1. Once you have set up the app, you will see a chart on the home page that represents the camera, microphone, and location usage over the past 24 hours. You can tap on the Location, Camera, or Microphone options below the chart to view the respective timelines.
You can check when an app started using a particular permission and when it stopped. Moreover, you can also choose to get notification alerts when an app accesses sensitive permission.
2. If you notice an app that shouldn't have access to the camera, mic, or location, tap on the "Manage permission" pill at the bottom of the screen to go to your phone's permission manager page. This way, you can tweak permissions for apps that might be using permissions unnecessarily.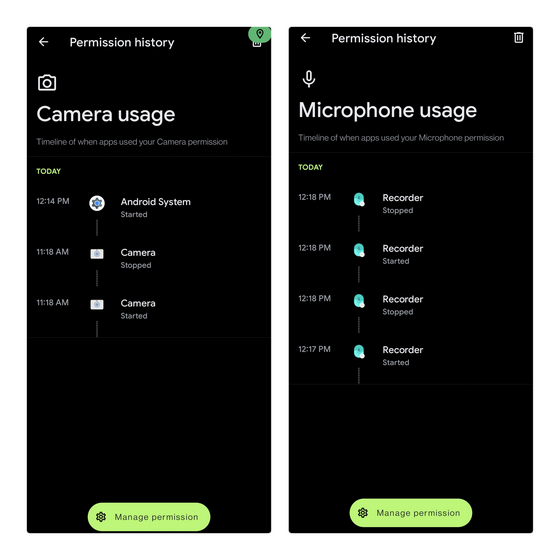 There's one limitation to the app, though. Since the Privacy Dashboard app focuses on apps running in the foreground, the developer points out that it may mistakenly log apps running over the main app, say the keyboard app or the launcher, at times instead of the main app.
3. The app also comes with an optional privacy indicator that you can customize to change the position, size, opacity, bezel margin, and more. You can enable the privacy indicator toggle from the app's settings to enable Android 12-like privacy indicators on your phone. You also have the option to exclude specific apps from showing up in the log.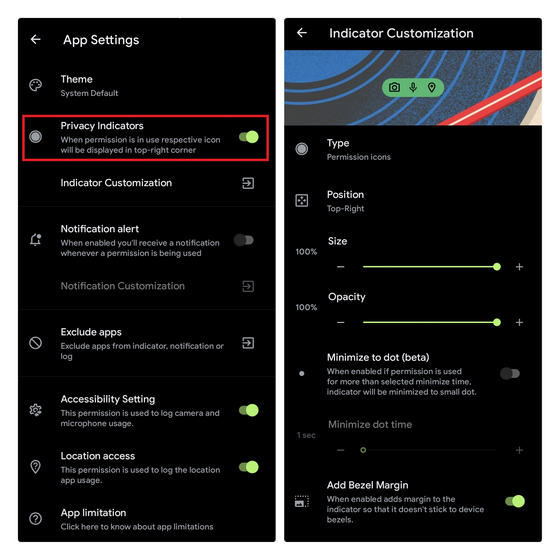 4. Once enabled, here's how the privacy indicators will look like when an app is using the camera, microphone, or location permissions.
Get Privacy Dashboard on Older Android Phones
So, that's how you can get the Privacy Dashboard on phones that may not receive Android 12 update. If you are interested in other Android 12 features, we have a list of Android 12 features you can use on any Android phone. On the other hand, if you are more interested in iOS 15 features, go through our linked article to how to get iOS 15 features on Android right now.
---
Load More