Following the first Android 12 developer preview last month, Google has now released the second developer preview. The update brings a myriad of new features and fixes to enhance the user experience even further. If you're someone wondering what you can expect from Android 12, here are the best Android 12 features coming to your Android phone.
Best Android 12 Features (Updated March 2021)
We've divided this article into two separate sections to highlight features that are currently live and features hidden by default. The live feature list will primarily include user-facing changes in Android 12. We will regularly update this article when any new Android 12 developer preview and beta builds arrive, so make sure you keep an eye out on this one.
Features Live in Current Android 12 Build
1. Improved Notification Shade
As is the case with all Android updates, Google has worked to improve the notifications shade on Android 12. The black bar that accommodates the clock just above the quick settings panel is no longer black. Moreover, there is a snooze button to quickly snooze notifications for 15 minutes, 30 minutes, or 2 hours.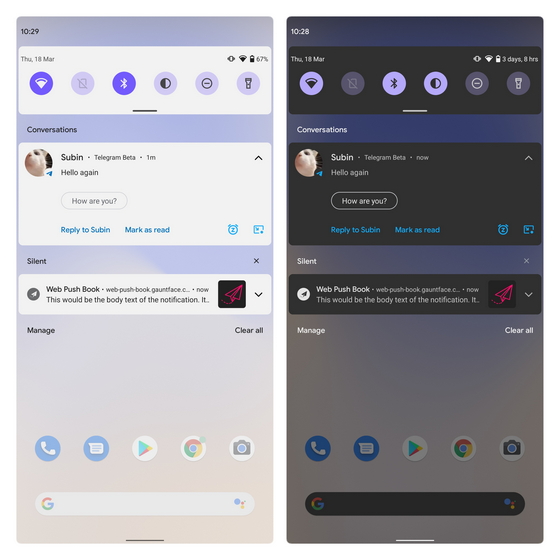 While the notification shade's background was too translucent in the first developer preview, that's no longer the case. Although Google has not introduced a blur effect just yet, the opacity has increased in the second developer preview. We will have to wait to see if Google has plans to introduce background blur to the notification panel in upcoming builds.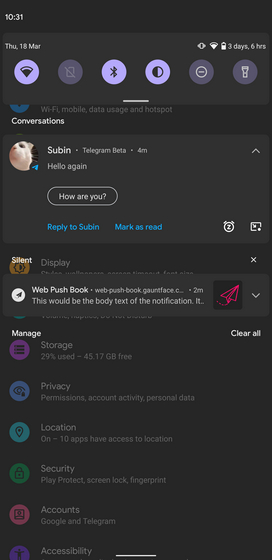 2. Quick Settings Improvements
Coming to the Quick settings panel, Google continues to experiment with the dark theme's color. The company moved away from using AMOLED black as the dark theme's color and embraced a dark shade with the HEX code #171C21 in the first DP build. In the new build, however, Google has made the dark theme even lighter. The HEX code of the new dark theme is #303030.
In addition, the toggles in the 'off' state are now a variant of the system accent as opposed to gray color. For instance, if your system accent color is green, the inactive QS tiles will now have a pale green color, thereby improving consistency. Another change is the addition of a QS toggle for the 'Reduce Brightness' accessibility feature to quickly reduce brightness.
3. Media Player Revamp
The persistent media player has received a major facelift with Android 12. The album artwork is given more emphasis and the overall size of media controls is larger now. While the device name in the media player UI has been replaced by just the icon at the top-right corner, Google has added a pop-up to help you quickly pair a Bluetooth headphone when you tap on it. Starting with Android 12 developer preview 2, the media player respects the system accent color and no longer picks the accent from the album artwork.
Another much-needed improvement is the ability to disable specific apps from quick settings media controls. You now have toggles to allow apps to show up in the media player interface. The path to access these toggles is Settings -> Sound and vibration -> Media. The feature is now functional, and the app disappears from the media player interface as soon as you remove it from the recent apps switcher.
4. One-Handed Mode
One-handed mode is finally here on Android 12. The feature was in development in the first DP, and it now works perfectly in the second developer preview. The feature resembles Apple iOS 14's reachability that displays content only on the bottom half of your screen. You can enable one-handed mode on Android 12 from Settings -> System -> Gestures -> One-handed mode.
Once enabled, swipe down from the bottom portion of the display to activate the feature. Similarly, you can swipe up from the bottom of the screen or tap on the unused area to switch back to the standard view.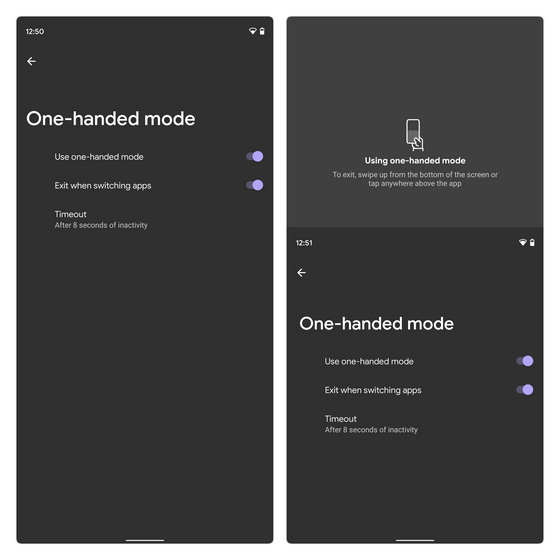 Check out the Android 12 one-handed mode in action right here: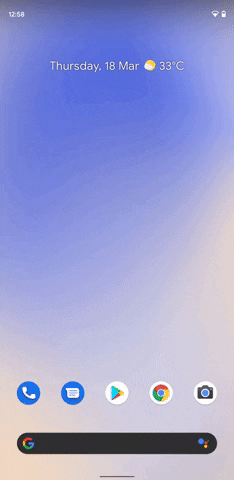 You can configure one-handed mode to turn off when it is not in use. The available timeout options are never, 4 seconds, 8 seconds, and 12 seconds. There's also an option to disable one-hand mode when you are switching apps, but it doesn't seem functional at the moment.
5. UI Changes in Settings App
Google has tweaked toggles with pill-shaped state indicators across various high-level components in Settings. Although minor, this should help new Android users understand the current state of a toggle better. This could also be a part of upcoming changes Google may be planning to bring to the Settings app.
6. Share Wi-Fi Passwords with Nearby Share
With Android 12, Google is improving the ability to share Wi-Fi passwords with other Android devices. Going forward, you can use Nearby Share to share Wi-Fi passwords. The option to share passwords via Nearby Share appears on the QR code generation page, which can be accessed by tapping the Share button of a Wi-Fi connection in Settings.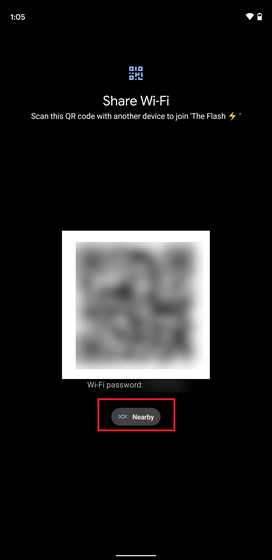 7. Redesigned PIN and Pattern Lock Screens
A minor yet noticeable change in the second Android 12 developer preview is a new look for PIN and pattern interface on the lock screen. The emergency call button is more prominent and matches the system accent now. Those who use pattern locks will notice that the trail while drawing the pattern is now thicker in Android 12.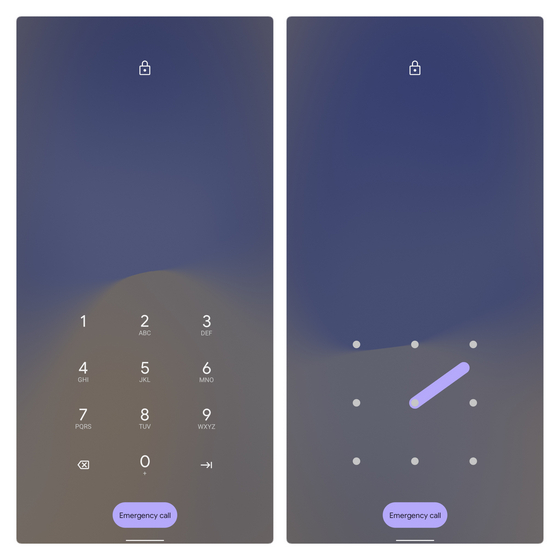 8. Revamped Widgets Page
Google has long ignored the existence of widgets on Android. However, with iOS 14 gaining widget support, the company is trying to improve the widget experience on Android 12. In the second developer preview, there is a new widget picker UI. Notably, the new UI is compact and shows the number of widgets offered by an app. Here's a comparison of widget picker in the first and second developer previews of Android 12.
9. Markup Tool Improvements
Apart from these changes, Google has improved its markup tool. You can now add text to images. In addition, you can now import any image from your gallery to the markup tool and edit it. To do so, share the image and tap on the 'Edit' button present in the share sheet. While the first developer preview build had also added emoji support to the Markup tool, Google has removed the ability to add emojis in DP2. We could expect emoji support to make a comeback in future builds.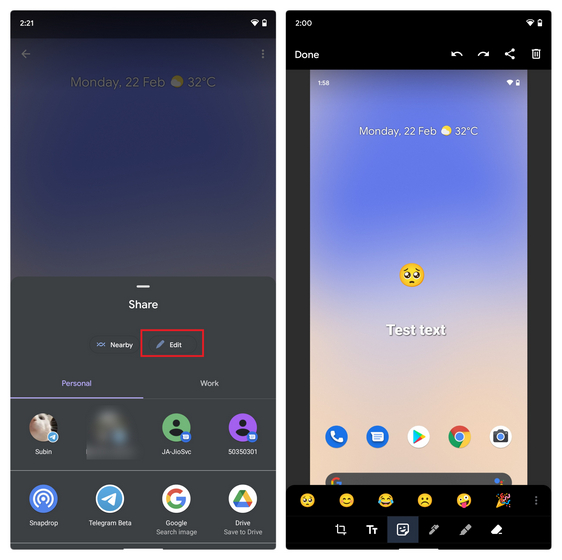 Upcoming/Experimental Features
The following features are in the works and are hidden by default. Not all features listed below will make it to the final build that Google hopes to release in the second half of the year. With that in mind, take a look at the potential Android 12 features below:
1. Silky Home Settings
Silky Home UI brings One UI-inspired design to the Settings app that we partly saw in the leaked Android 12 document earlier this month. Since this new design is hidden by default, it remains to be seen if Google adds this layout in the final build. Nevertheless, take a look at the UI at its current state below:
This slideshow requires JavaScript.
You can use the following ADB commands to enable or disable Silky Home if you've installed Android 12:
Enable Silky Home UI:
adb shell settings put global settings_silky_home true
Disable Silky Home UI:
adb shell settings put global settings_silky_home false
2. Wallpaper-based Theming System
Android developer kdrag0n has managed to enable the wallpaper-based theming system codenamed 'Monet' on Android 12. The new theming system changes the accent based on your wallpaper and applies it throughout the interface. You can take a look at the changes in the screenshots posted below:
I've managed to get the new wallpaper-based theming system, Monet, working on Android 12 DP1. Here are some examples of predominantly purple and orange wallpapers: pic.twitter.com/jXHvWq7K81

— kdrag0n (@kdrag0n) February 20, 2021
And here are the improvements to Monet added in the second developer preview:
Android 12's wallpaper-based theming system, Monet, is now using the CAM16 perceptual color model to generate color palettes and overlays on-the-fly, directly from the wallpaper colors. pic.twitter.com/qreT69gKGf

— kdrag0n (@kdrag0n) March 18, 2021
3. Scrolling Screenshots
Google is also working to natively add scrolling screenshots on Android 12. This means that you can finally stop relying on one of those scrolling screenshot apps to take long screenshots. It is hidden by default in the two Android 12 developer previews released so far.
SCROLLING SCREENSHOTS ARE STILL A BIT JANKY/BROKEN, BUT IT ACTUALLY WORKS! (IT'S NOT ENABLED BY DEFAULT SO YOU WON'T SEE IT WHEN YOU UPDATE.) PIC.TWITTER.COM/7IH2ZQGVZK

— MISHAAL RAHMAN (@MISHAALRAHMAN) FEBRUARY 18, 2021
4. Game Dashboard
In the second developer preview, Google seems to have added a Game Dashboard widget. This feature will help gamers start a live stream via YouTube Live, take screenshots, record the screen, view the FPS counter, and activate DND mode.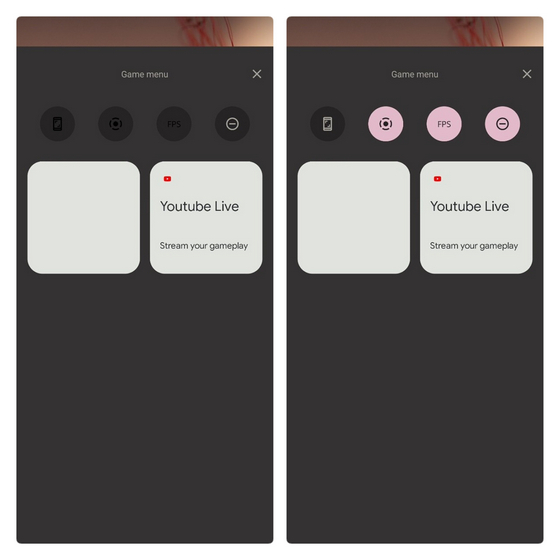 5. Privacy Indicators
First spotted in the leaked screenshots, Google may bring privacy indicators to help you identify when your camera or microphone is in use. Until that happens, you can use apps like Access Dots to replicate the feature on your device right now.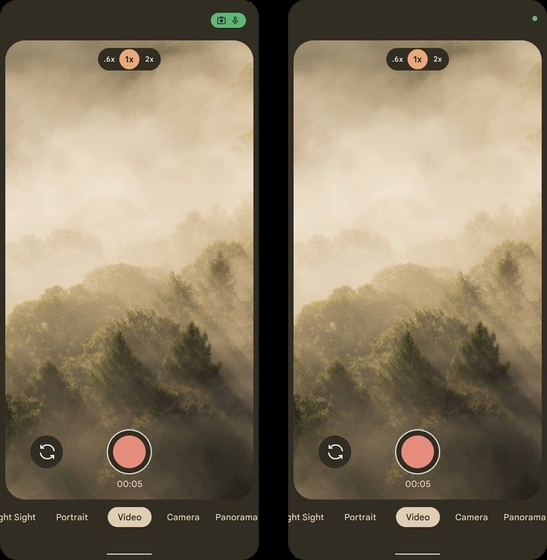 6. People Space Widgets
Google continues working on the conversation/ people space widget seen in the leaked Android 12 document. Using these widgets, you can track recent messages, missed calls, and activity statuses for contacts you choose. Here's how the widget looks like as of the second Android 12 developer preview: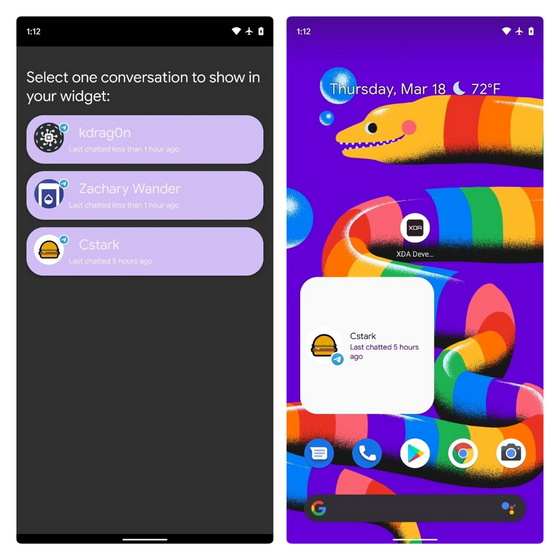 7. Face-based Auto-rotation
The feature I'm personally excited about is face-based auto-rotation. It utilizes the front camera to detect when you're looking at the screen and adjusts the screen orientation accordingly. It would come in handy when you're using your phone in bed, hopefully eliminating any unwanted auto-rotations to landscape mode. Those can be pretty annoying.
8. Double Tap Back Gestures
Google may bring double tap back gestures with Android 12, at least on Pixel 5. If you're using a Pixel 5, you can access the feature from Settings -> System -> Gestures. Once enabled, you can use double-tap gestures to open Assistant, take screenshots, control media playback, open recent apps switcher, and check notifications.
Android 12 Best Features
So, those are the best Android 12 features you'll get when it launches later this year. While most of these features are available in custom skins now, it is good to see that Android 12 is packing these by default. So, which one of these features are you waiting for? Let us know in the comments.