Google announced Android 12 at its I/O 2021 developer conference last month. Given the radical UI overhaul, many Pixel users have already installed the Android 12 beta on their devices, making it the most downloaded Android beta ever. While the wallpaper-based theming system and one-handed mode are exciting Android 12 features, a major privacy-friendly change in Android 12 is the addition of a "Privacy Dashboard". In this article, you will learn how to use the privacy dashboard in Android 12 to take control of your privacy.
Android 12 Privacy Dashboard: Explained (2021)
The Privacy Dashboard is currently available on Pixel phones running Android 12. If everything goes according to plan, we could expect the privacy feature to reach other Android 12 phones running OEM skins as well. So without further ado, here's all you need to know about the privacy dashboard on Android.
What is Privacy Dashboard in Android 12?
Privacy Dashboard is a new feature on Android aimed to help users keep track of apps that access sensitive permissions. It neatly represents a timeline of apps that accessed your phone's permissions in the last 24 hours. With Privacy Dashboard, Android users can easily spot and uninstall rogue apps that may be snooping on their data.
You might be wondering about what all permissions you can track using the Privacy Dashboard feature. Well, you can use Privacy Dashboard to track the following permissions:
Location
Camera
Microphone
Body sensors
Calendar
Call logs
Contacts
Files and media
Nearby devices
Phone
Physical activity
SMS
You won't get the timeline of apps that accessed permissions for all these categories, though. With Android 12, you will get app access timelines for location, camera, and microphone permissions. Wider support for all permissions is something Google may add in future Android updates.
How to Use Android 12 Privacy Dashboard?
Now that you know what Privacy Dashboard is, here's how you can access and use the privacy-friendly Android 12 feature on your phone.
1. To open the Privacy Dashboard, head to the Settings app and scroll down until you find the "Privacy" section.
2. When you are in Privacy settings, tap on "Privacy dashboard". You will now see the visual representation of permissions accessed in the past 24 hours. It looks similar to the Digital Wellbeing chart.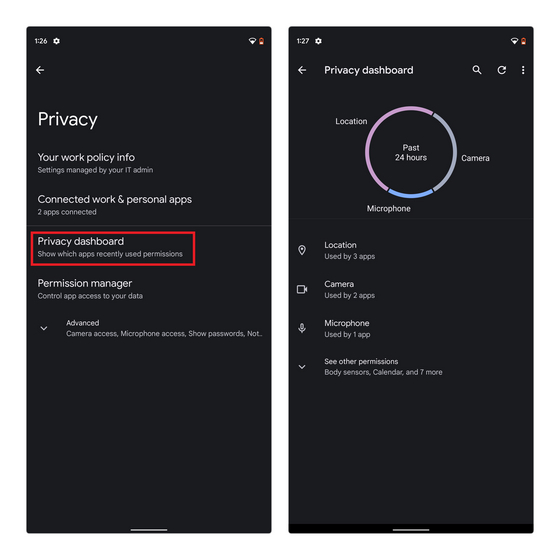 3. To see the list of apps that accessed specific permissions, say location permission, tap on individual permission options below the chart. For instance, if you would like to check the apps that accessed your location in the last 24 hours, tap on "Location" and check out the complete timeline. Android 12 will also show the duration for which apps accessed the permission below the app's name, but that's not here as of Android 12 beta 2.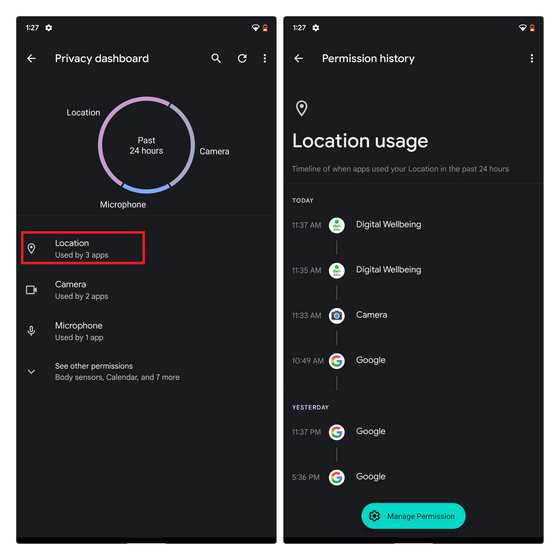 4. If you spot an app that shouldn't be accessing the permission, tap on "Manage Permission" to revoke access. When you press Manage Permission, you will see the list of all apps with that specific permission. Pick the desired app from the list and tap on it to proceed further.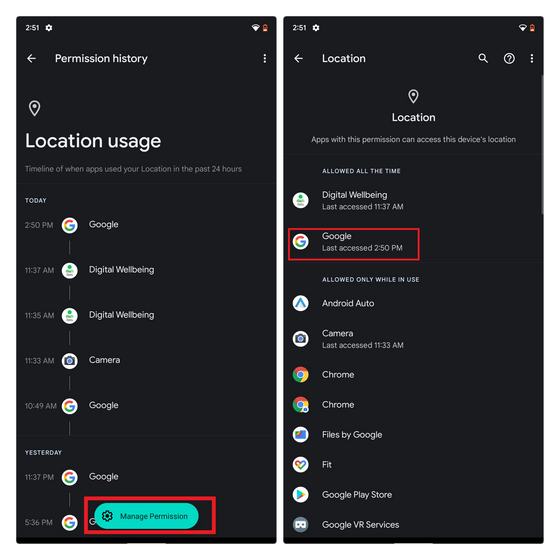 5. You can now set the appropriate permission for the app. One new feature worth pointing out is the "Use precise location" toggle. When you disable this toggle, apps will get an approximate location, and it is sufficient in many use-cases. You can also choose to deny permission entirely for an app.
Get Privacy Dashboard on Any Android Phone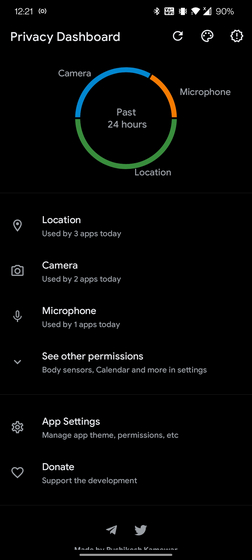 If you are using a phone that's unlikely to get Android 12 or will get Android 12 update sometime in the future, you can use a third-party app called Privacy Dashboard to get a privacy dashboard-like feature. You can also check when your phone will receive Android 12 update. Anyway, the Privacy Dashboard app will show you a timeline of apps that accessed your device's sensors and you can also disable the permission when the app takes you to the permission manager page. The path to disable permissions is "Settings -> Privacy -> Permission manager". We have a separate guide on getting Android 12 privacy dashboard that you can check out for detailed instructions. Meanwhile, to get other Android 12 features on your phone, check our linked guide.
Download Privacy Dashboard from Play Store (Free, offers in-app purchases)
Use Privacy Dashboard to Monitor Apps on Android
Privacy Dashboard is just one privacy feature Google has added with Android 12. The company has also added privacy indicators, Quick Settings toggles to quickly disable camera and microphone access, clipboard access alerts, to name a few. Hence, if you are an Android app developer, this is your friendly reminder to use data auditing APIs to review your app's permission requests. Anyway, the Privacy Dashboard will come in handy in safeguarding your privacy and personal data on your Android device. What is your opinion on this new privacy feature in Android 12? Share your thoughts with us in the comments section below.
---
Load More