There are times when the default set of emojis is just not enough, and you can't even find the perfect GIF to convey how you are feeling. However, you don't have to worry about all this if you are a Discord user, thanks to custom emojis support. Discord lets you upload and use custom emojis on servers to make interactions more fun. If you are someone looking to spruce up their server, you will learn how to create and add custom emojis to your Discord server in this article.
Create Custom Emojis for Your Discord Server (2021)
Although custom emojis are widely used in Discord servers, you can use them in DMs too, if you have a Discord Nitro subscription. With that out of the way, here's all you need to know about custom emojis support on Discord.
What is a Custom Emoji on Discord?
Discord lets you use custom emojis to express yourself better. These emojis can either be static or animated ones. You can upload up to 50 static and 50 animated emojis to your Discord server for free. However, you and other server members need Discord Nitro to use animated emojis on Discord. Moreover, having a Nitro subscription also makes it possible to send emojis across servers.
As mentioned above, you have 50 free emoji slots in your server by default. If a Discord server unlocks Level 1 perks (2 Nitro boosts), you get an additional 50 emoji slots. That means you will now have a total of 100 available emoji slots. Moreover, Level 2 servers (15 Nitro boosts) have 150 slots, and Level 3 servers (30 Nitro boosts) get a whopping 250 slots, respectively.
Steps to Create Custom Emojis for Discord
You need to keep a couple of things in mind before you go ahead and create custom emojis for your Discord server. Note that the emoji image size should be 128×128 pixels, and the image size shouldn't exceed 256KB. With that said, let's dive in.
1. Pick the image you want to use as a custom emoji and crop it in a 1:1 ratio. I am using FastStone Image Viewer here, but any photo editing software should do the trick.
2. After cropping, resize the image to 128×128 pixels and save it as PNG. Your emote is now ready for use.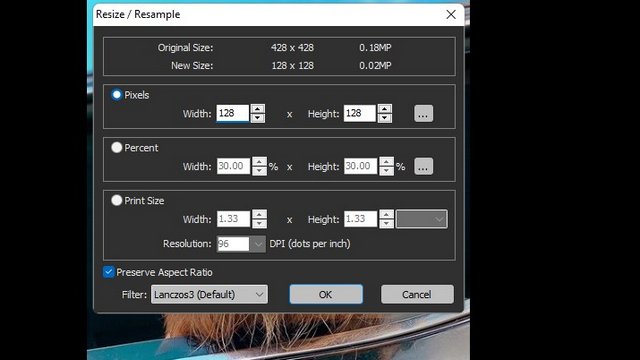 If you prefer your Discord emojis to have a transparent background, you can remove the background using Photoshop or popular websites such as Remove.bg. You can check our guide to remove background from images without Photoshop for detailed instructions.
Easiest Way to Collect Discord Custom Emojis
If all those steps sound too time-consuming, you can just easily cherry-pick good emojis from existing Discord servers. As the saying goes, good artists copy and great artists steal. Here's how you can s̶t̶e̶a̶l get inspired from cool emojis on existing servers. Do note that this method is limited to the Discord Desktop app and web. You can't do this on Discord's mobile app.
1. Now, whenever you see an emoji you like, all you have to do is right-click on an emoji sent to a server.
2. If you are using Discord from a web browser, choose "Save Image as" and save the image to your PC.
3. Those using the official Discord app should choose the "Save Image" option after right-clicking the emote.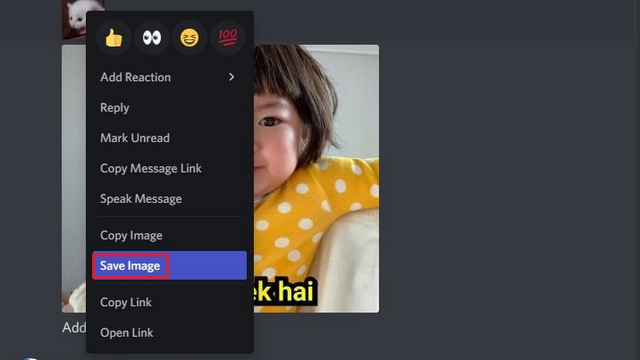 Since someone has already done all the boring resizing work to add emojis to their own server, you can simply head to your server settings to upload these custom emojis you have so carefully selected. To learn how to add custom emojis to your Discord server, check the next section.
Upload Custom Emojis to your Discord Server on Desktop and Web
Once you have created custom emojis, you are all set to add them to your own Discord server. Here's how to add custom emojis to a Discord server on desktop and web.
1. Open your Discord server and click on the down arrow at the top-left corner next to the server's name.
2. From the list of options that appear, choose "Server Settings".
3. From the left sidebar, click on "Emoji" to switch to the Server Emoji section, and hit the "Upload Emoji" button.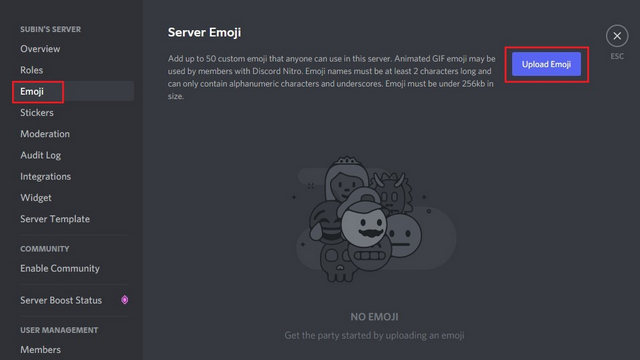 4. After you upload an emoji, set an alias for it. This is important, and do not forget to set the name that represents the emoji because you will be using this shortcut to access it. To quickly send an emoji on Discord, you can type the alias between ':'.
For instance, the keyword to send the emoji in the image below is ':umm_okay:'. Repeat these steps to add all your emojis to the Discord server.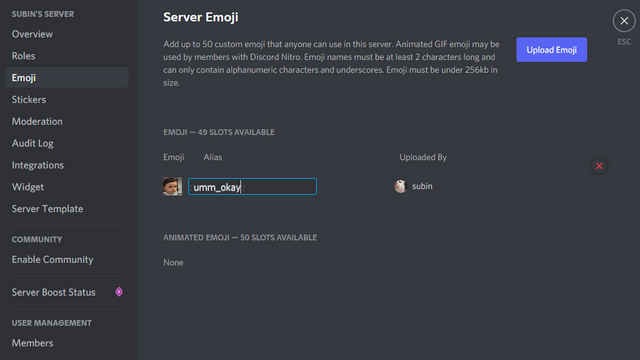 Upload Custom Emojis to your Discord Server on Mobile
The method to add custom emojis on mobile is similar to desktop, but the steps are a bit different. Check out the steps below to add custom emojis to your Discord server via the Android or iOS app.
1. Open your Discord server on mobile and tap on the vertical three dots menu next to the server name. On the next page, tap on "Settings".
2. Once you are in the Server Settings on Discord, tap on "Emoji" and press the "Upload Emoji" button present at the top of the page.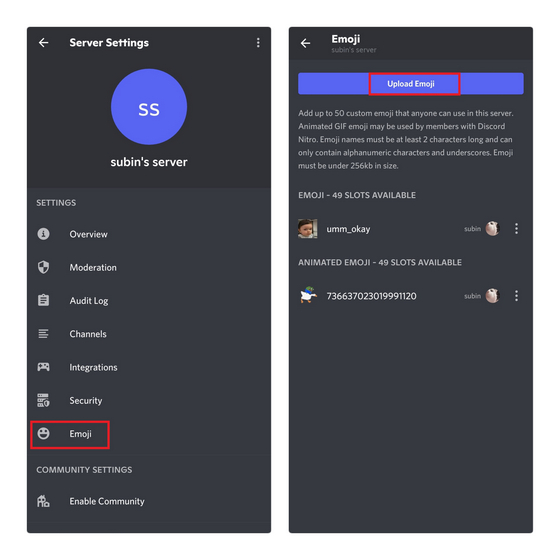 3. Pick the emoji you created from your phone's file manager app and tap "Upload". Set the alias and press the "Save" button at the bottom right corner to save the custom emoji. You and all the server members can now start using the custom emoji you have added.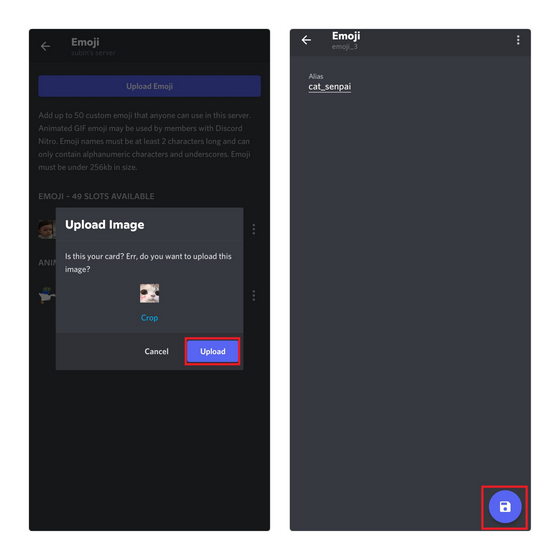 Best Discord Emoji Maker Websites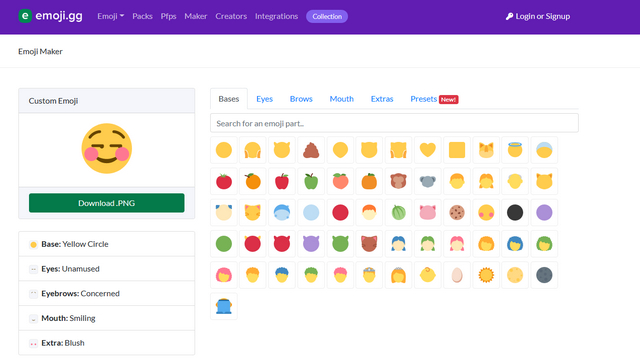 If you prefer creating custom emojis by mixing and matching existing ones, Emoji.gg is a website you should not miss out on. You can download custom emojis from this website or even create one yourself by picking the right combinations. Hitting the "Download.PNG" button will download the custom emoji you just created to your PC. The website is fairly straightforward to use, and you can check it out from the link below.
Try Emoji.gg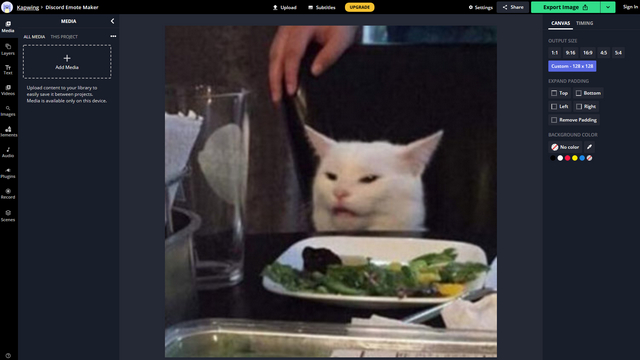 Kapwing is another website you can use to make custom emojis for your Discord server. The website's in-browser editor makes it convenient to add layers, text, and tweak the emote to your preference before exporting them. Once your emoji is ready, click on the "Export Image" button to save the emoji to your PC.
Try Kapwing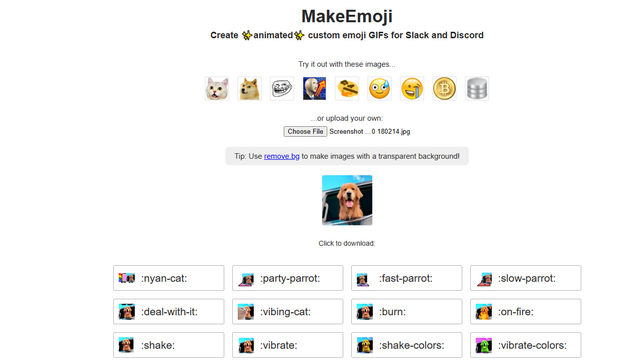 If you are not interested in manually resizing images to make your custom emoji, you can directly upload the image to MakeEmoji. You can then download the emoji from the website in seconds. MakeEmoji also offers ready-to-use animated emojis based on your original image to elevate your custom emoji experience. That makes it one of the best Discord emoji maker websites out there.
Try MakeEmoji
Personalize Discord Server with Custom Emojis
So, that's how you can create and upload custom emojis on Discord. If custom emojis are not enough for you, you can also check out Discord's new Stickers feature. Unlike custom emojis, however, you need Discord Nitro to use these Stickers. While you are at it, check out our list of useful Discord bots and learn how to add bots to your Discord server. They can help manage your server, assign roles, listen to music with a group, and more.