Whether it's photos taken to commemorate special events, or random selfies shared on social networks, or anything else, Digital images are probably (one of) the most common type of files that we work with on a regular basis. That being said, there are times when we capture a perfect photo, only to have it ruined (or photobombed) by a not so perfect background. Bet that has happened quite a times with you, hasn't it?
Now, if you have a professional grade image editing software (read: Photoshop), it's easy to remove background from images. But not everyone wants to shell out cash for (and learn using) a full-blown image editor application, for something as simple as the occasional background removal.
Thing is, you don't have to, as there are many online tools (and even mobile apps) that can help you do the same, the easy way. Sounds like something you can use? Read on to find out how you can remove background from images without Photoshop.
Tools to Remove Background from Photos without Photoshop (2022)
There are a lot of tools that can remove backgrounds from photos, whether you're looking for something that works completely online, or a smartphone app to remove backgrounds. We will be covering both types of tools in this article, and you can use the table of content below to jump to whichever tool suits your needs.
Online Tools to Remove Image Background
1. Remove.bg

Remove.bg is yet another handy website which allows you to easily remove the background of photos in a jiffy. This website proves to be particularly helpful when you want to click an image and want the background removal to be performed on the smartphone itself. All you have to do is just enter the keyword 'remove.bg' in a browser's search bar, click a photo and then download a copy with a white background. Here's how it works:
1. Open the Remove.bg website and tap on the "Select a photo" button. You can choose to instantly click a photo, select one from the background or enter an image's URL on the homepage to erase its background.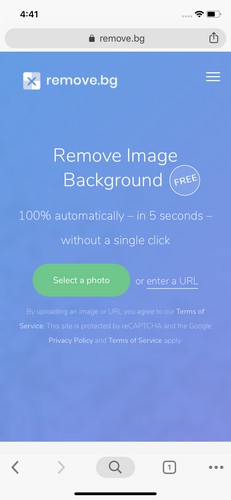 2. Once you click on the "Take Photo" button, it will open the camera app to let you capture an image.
3. Click a photo and tap on "Use Photo" to let the website process it and erase the background.
4. Within a matter of a few seconds, you'll get a new version of your image with a white background that you can download by tapping the "Download" button.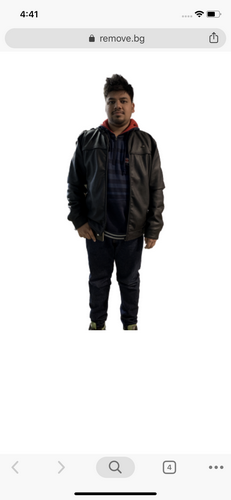 2. Icons8 Background Remover
Another really powerful tool that you can use to remove backgrounds from images, the Background Remover tool from Icons8 is definitely an easy, one-click solution to your requirements. The website is easy enough to use: simply upload the image, and the website removes the background from it in a matter of minutes.
The results, in our testing, have been fairly good, with only minor flaws in more complex images and areas. However, do note that the website only lets you remove background from 3 images without registering. However, you can create an account on the website to continue using the tool as much as you like.
Go to the Background Remover website (visit) and click on the 'Browse' button to upload an image.
Select the image to upload, and Background Remover gets right to work, giving you a processed image in a minute or so.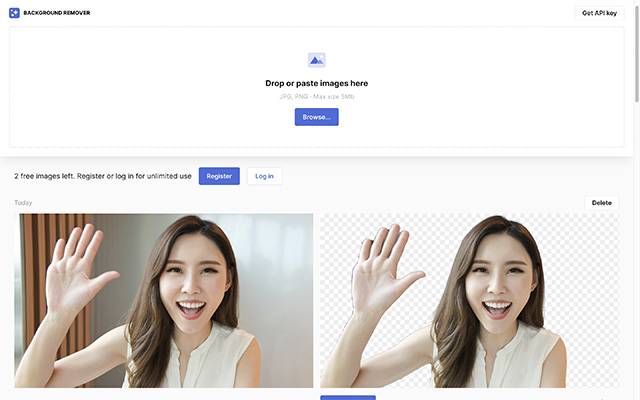 Mobile Apps for Removing Background from Images:
If your choice of device is a mobile/tablet then below mentioned apps will work just fine, but keep in mind that the quality of output provided by online tools will be far more superior than mobile apps.
1. Background Eraser (Android) – by MediaCoding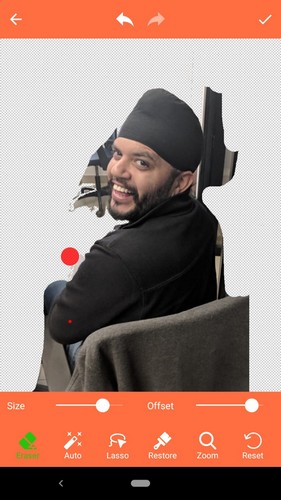 While image processing for removing a photo's background on a website yields impressive results, it also limits users to remain online. But what if one can't access any of the above websites? Well, in that case, apps come in handy. Background Eraser is one of the best free Android apps which you can use to remove the background of a photo and also add an assortment of filters such as black & white, fade, classic and film among others.
Just install the background eraser app and go through the short tutorial to learn the controls. In order to easily remove the background, just tap on the "Auto" button to remove large portions of the background by moving the crosshair and bring out the object in focus. Once you are done, you can shift to the manual mode and use the offset to remove the residual background colors by magnifying different regions of the image. And don't worry, there's an undo option to revert the image back to its previous state as well as a restore option too.
Download Background Eraser (Free)
Important Tip for Android Users: If your aim is to not remove the entire background from images, but get rid of specific objects (and people) in the image background, you can check out CyberLink PhotoDirector app. The app's "Removal" tool makes quick work of removing objects from image backgrounds.
2. Background Eraser (iOS) – by SunWoong Jang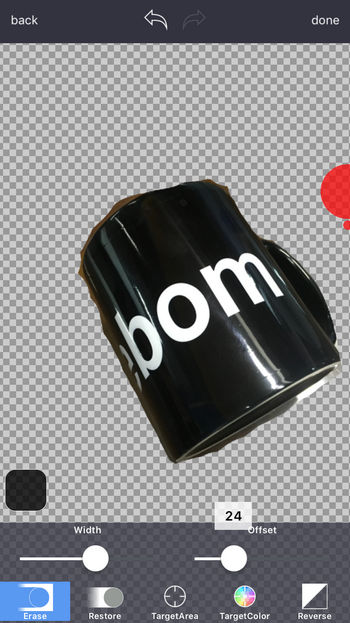 Background Eraser offers a simple and quick way of removing background from the images saved on your iPhone's camera roll. All you have to do is load up the image to be edited, and use the Erase tool to delete the background behind the foreground subject. There are also other built-in tools (e.g. TargetColor) for a much granular editing. There are even some really nice backgrounds that you can apply to the processed images, and they can be unlocked by completing simple in-app actions (e.g. rating the app on the App Store, following on Twitter).
That said, Background Eraser can't effectively remove complicated backgrounds from images, and you'd be better off using advanced tools (such as the previously discussed Background Burner and Clipping Magic) for the same. The ad-supported app is free, but you can pay $1.99 to get rid of them.
Tip for Android Users: If your aim is to not remove the entire background from images, but get rid of specific objects (and people) in the image background, you can check out CyberLink PhotoDirector app. The app's "Removal" tool makes quick work of removing objects from image backgrounds.
SEE ALSO: Best Reverse Image Search Engines, Apps And Its Uses
Remove Backgrounds from Images the Easy Way
Quite a lot of our images end up being useless, all due to unwanted backgrounds. But as seen above, there are online tools and apps available that you can use to rid your favorite photos of those nasty photobombs without using Photoshop. And it's not only super easy, but doesn't involve shelling out (too much) moolah for a copy of Photoshop either. So try the above, and shout out your thoughts about them in the comments below.