Discord, if you're unaware, is currently one of the most popular chat platforms among the gaming community. It is intuitive and has been adopted by gamers across the globe, thanks to its robust and customizable nature. If you've ever got your hands on Discord and set up your server, you already know that it's highly customizable. The best part is that you can add bots to your Discord server to enhance the functionalities of your server. They can both help you better manage your server while bringing fun add-on features in tow. So, we've compiled a list of the 25 best Discord bots that will enhance your server in 2023.
Top Discord Bots to Enhance Your Server (2023)
There are a lot of amazing and useful Discord bots out there, and in this article, I am sharing the 25 coolest Discord bots you can use. As always, there's a table of contents below that you can use to easily move to any specific bot you're interested in checking out.
1. GAwesome Bot
If you're looking to add a multipurpose bot to your Discord server, GAwesome is a perfect choice. It's a highly customizable and powerful bot, which is not just perfectly good at moderating the chats but also brings a ton of fun features to increase user activity on your server. It can kick, ban or award member ranks but can also be used to conduct polls and giveaways, generate sick memes, and much more.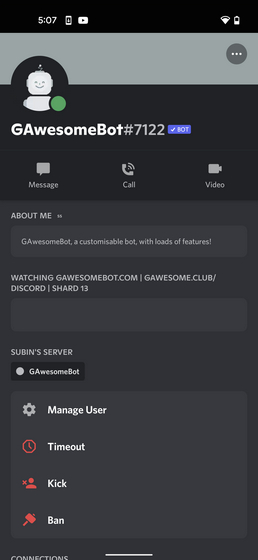 The highlight of this bot will, however, have to be the fact that it features a robust extension system. This means you can ask GAwesome Bot to show results from Google, Wikipedia, YouTube, or even Reddit. You even have the option to organize your own in-chat custom RSS feeds.
Add GAwesome Bot to your server
2. Tatsu
Tatsumaki is an extremely capable Discord bot, which many online game streamers swear by. It extends you a ton of commands for moderation, setting welcome messages, notifications, and several other features.
The bot is not just restricted to Discord but allows you to change the bot's settings from a dedicated dashboard. It also allows you to search the web, stay up to date with an RSS feed, and more right within Discord.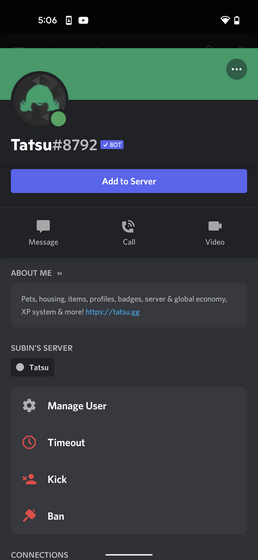 The most notable feature of Tatsumaki is its much-talked-about incentive system, which pushes users on servers to be more active by letting them earn XP and Levels. Your standing in a Discord server is shown in the form of a visually pleasing card, which pushes you to interact with users more often. You can use real money to customize the appearance of your cards.
Add Tatsu to your server
3. ChatGPT
AI text generation has become mainstream over the last couple of years, and it keeps getting better every single day. Naturally, Discord bot creators have also figured out a way to integrate them for channel users to take advantage of the AI. The ChatGPT bot is the answer to that.
This bot allows users to utilize the ChatGPT, GPT4, Open Assistant, and GPT3 chat modules in their entirety to generate text responses. Wanted to get some ideas to write your own short story? Send some prompts to the bot by typing /chat, followed by the message, and then by selecting the module. This bot can practically answer and generate every prompt thrown at it. If you want a helpful text generator to give you ideas for your next, best write-up, this bot is recommended to add to your Discord channel.
Add ChatGPT to your server
4. AI Image Generator
Midjourney's image generator initially started the whole craze around AI prompt generation, and the Discord bot was quite popular among the general public. After all, you can generate your favorite ideas into an image by typing proper prompts. Unfortunately, the bot is free for limited usage, after which users need to pay in order to use it.
In comes AI Image Generator, a bot that does the task of Midjourney, without breaking the bank of average users. This bot can generate images from text prompts given by a user. So if you wanted an image of a Capybara sitting on top of a Dragon to be a thing, this bot can do it. The only downside of AI Image Generator comes from the fact of it being free. Since GPU computation takes a while to generate images, there will be queue times. Hence, if you are willing to wait for just a bit, this is a great bot to experience.
Add AI Image Generator to your server
5. Dank Memer
Dank Memer is one of the top Discord Bots on the Top.gg list and deservedly so. As the name suggests, the bot is all about memes. With this bot, you can create memes within seconds, manipulate images, gamble with memes and yes, there are specialized meme commands as well. You can generate more than 100 kinds of memes in real time with prefix commands while you manage your Discord Server.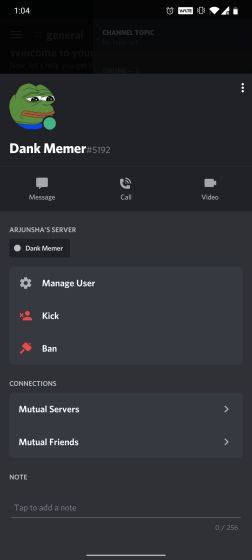 Other than that, Dank Memer has its currency system which is really funny and also rewarding at the same. As I said above, there is stealing, gambling, and bank robbing which you can customize within the server.
Further, Dank Memer also offers an in-depth moderation system where you can set up keywords and image examples for banning and muting unruly users on the server. All in all, if you love memes then Dank Memer is a must-have Bot for your Discord Server.
Add Dank Memer to your server
6. FreeStuff
FreeStuff is one of the most useful Discord bots out there. The bot does basically what the name suggests — it sends you updates and messages for games that are available for free. It's pretty much the best Discord bot for deals that you can use. Once you have added the bot to your server, it will send you messages whenever a paid game is available for free. The best part is that FreeStuff doesn't bother you with messages for games that are free to play by default.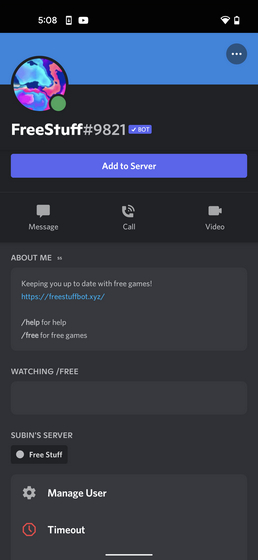 Add FreeStuff to your server
7. Mudae
Mudae is another top Discord Bot that you should add to your server. More so, if you are an Anime fan or a hardcore gamer who loves gaming characters. Mudae is a Discord Bot full of anime and gaming characters where you can customize your profile and fight against other such characters. It has a repository of more than 35,000 characters like waifu and husbando from Manga, and 100,000 images and GIFs from the community.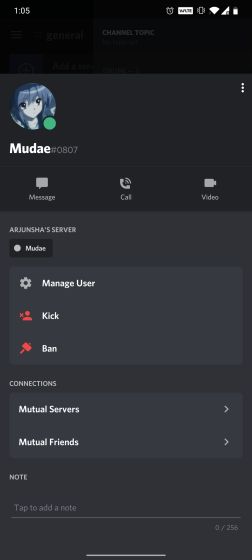 You can also take part in multiplayer games like waifu arena, catch pokémon, and several other word-based games within your server. Further, there is a dedicated option for Anime quotes auto-generation which you can set up on multiple servers.
Not to mention, Mudae also allows you to create and set commands just like Dank Memer for providing some degree of moderation.
Add Mudae to your server
8. Jockie Music
Jockie Music is a popular music bot you can use on Discord. If you ever wanted a bot dedicated only to music, Jockie Music is one of the best Discord bots that you can add to your server. With the Jockie Music bot, you can play music from Spotify, Apple Music, Deezer, TIDAL, Soundcloud, and more. To play music using the bot, you should either type the keyword in the channel after the "m!play" prefix or directly paste the song link after the prefix to start the playback.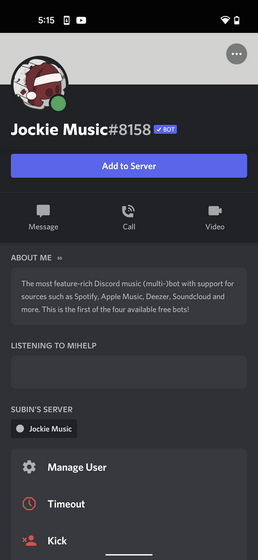 Notably, Jockie Music has four instances, and you can add a total of 4 Jockie bots to the same server, making it perfect for simultaneous listening sessions. In addition, you have the option to support the project on Patreon membership to access additional perks such as 24/7 access in the voice channel even when idle, exclusive premium Jockie bots, and more. If you have a large Discord server, you should add Jockie Music to keep the party going!
Add Jockie Music to your server
9. YAGPDB
Similar to Tatsumaki and Dyno Bot, YAGPDB is another Discord bot for managing a range of tasks on the server. YAGPDB stands for 'Yet Another General Purpose Discord Bot' so you can get a good idea about this bot. To be clear, YAGPDB is developed by the same developer who has created MEE6, a widely popular Discord Bot.
However, the only difference between the two bots is that YAGPDB brings many new features that were lacking in MEE6. On top of that, the stability is rock-solid no matter how you are configuring the bot to behave.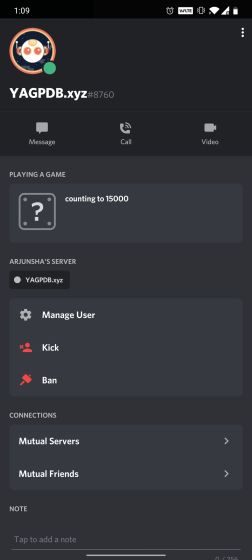 To give you a brief idea about the features, you can get feeds right on your server from multiple sources within a minute. It supports Reddit, and you can also configure other web pages manually. Other than that, you can create self-assigned roles for different purposes: reaction, moderation, banning, ignoring, and much more.
There is also a powerful Automatic Moderator that allows you to set rules to mute, kick and ban after a series of violations of rules. Simply put, if you want a useful Discord bot that is feature-rich in every aspect then you should test out the YAGPDB bot on your server. I am pretty sure you won't be disappointed.
Add YAGPDB to your server
10. Sesh
If you look closely, you would find that Discord does not have any kind of scheduling or calendar management features available natively. So in such a case, you can use the best calendar bot for Discord, Sesh. It's a dedicated bot for calendar management, scheduling, reminders, event creation, and more.
You can easily create events in no particular format because it does not have any rigid structures to follow. Create tasks and specify the time in your most comfortable and natural language.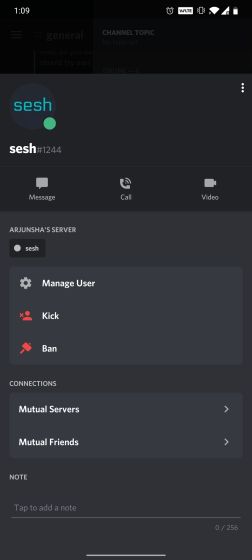 Apart from that, if you are a gamer then I would highly recommend this bot as it can help you set the correct time while connecting with players from all over the world. It supports automatic timezone conversion and reminds you about a gaming event in your local time.
You can also integrate Google Calendar with Sesh so that is super convenient. Furthermore, you have support for polls to pick the best time, countdowns, recurring events, and configurable time zones. Simply put, if you want a proper calendar bot for Discord then Sesh is the one you should add to your server.
Add Sesh to your server
11. Dyno Bot
If you've just set up your Discord server, Dyno should most likely be the very first bot you install on the same to upgrade its capabilities. It's a feature-rich bot that gives you total control over its features using a dedicated dashboard, including auto-moderation with a Mod log, timed mutes, and bans. It has also been updated to detect mass-mention or raid spam in your community chats.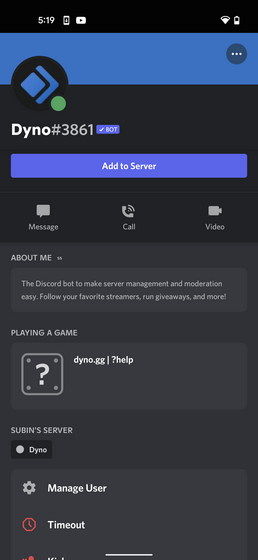 Dyno is also useful for airing custom announcements, especially when someone joins, leaves, or is banned from the server. It can also assign roles to users and post AFK statuses on your behalf. However, what I like even more is the fact that it comes with Cleverbot integration and can be used to post Overwatch stats, and Google results but most importantly stream music from YouTube.
Add Dyno to your server
12. EPIC RPG
Epic RPG is currently one of the best Discord bots that allows you to play text-based RPG games and level up in an incredible battle. The highlight of this game is not just RPG, but you can also earn and sell armor and weapons to server members. It has more than 15 dungeons where you have to beat the dungeon bosses to unlock new commands and features.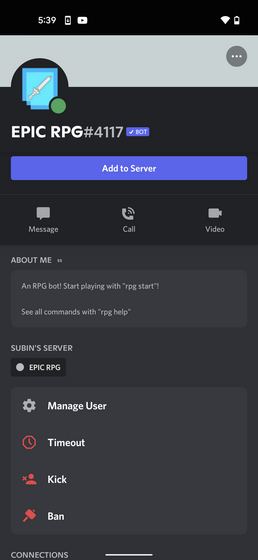 If you are completely new to this game, simply type "rpg start" and the server will introduce all sorts of commands and gameplay rules. You can check your profile, and inventory and fulfill quests as you do in an interactive game. It also supports hunting and adventure which I am sure many are looking for. So go ahead and play this amazing game on Discord.
Add Epic RPG to your server
13. Karuta
Karuta is another anime bot on this list. If you loved Mudae then you are going to be hooked on Karuta. It has more than 70,000 anime characters where you can earn and collect cards and burn them on more collectibles.
You can trade your cards and earn money too. Karuta has become immensely popular because of its growing economy and the ability to use your cards across various Discord servers.
In this regard, Kartua trumps Mudae. Also, the best part about Karuta is that the server remains active even during high server activity such as dropping or seeing the cards. I would say, if you love anime characters then Karuta is another fun Discord that you must try.
Add Karuta to your server
14. PokeMeow
After Pokecord, PokeMeow has moved to the top spot under the best Discord bot list. It's very addicting as you expect from a game based on catching Pokemon. You can play this game with your friends and show off your Shinies and other rewards. The best part about PokeMeow is that it has different rarities of Pokemon that you won't find anywhere.
Further, you can earn PokeCoins after Pokemon and spend on Pokeballs, Ultraballs, and Masterballs. There are also time-based quests where you have to find Pokemon in under two hours. You can then collect loot boxes, balls, and other useful items. As I said, it's an addicting game and one of the best Discord bot ideas executed well. Go ahead and add the server to your Discord.
Add PokeMeow to your server
15. TacoShack
TacoShack is another business-adventure game where you have to sell Tacos to earn more money. The game is something like this: you buy upgrades to improve your shack to bring in more customers.
The more customers you have, the better will be your income. You can use the income to run advertisements, decorate your shack and make it more appealing to your customers, and much more.
Basically, you will have to spend your resources in such a way that you can improve your Taco Shack while also earning side cash. There are also side hustles in which you can participate to boost your shack. All in all, if you are into economy Discord bots then you will simply love TacoShack.
Add TacoShack to your server
16. Arcane
Arcane is a leveling bot you can use to set roles as members in your Discord server level up. It also has a bunch of other cool features including reaction roles, YouTube notifications for new videos, and moderation controls. You can also keep track of who's joining and leaving the server through Arcane's logging feature.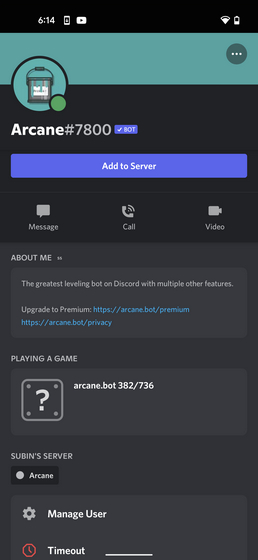 If you're looking for a capable bot that offers all the features you need to effectively manage your server, Arcane is what you should consider. You can also get Arcane Premium for more features such as customizable XP, extended logging, unlimited reaction, and booster roles.
Add Arcanebot to your server
17. GameStats
The name of this Discord bot, GameStats, says it all. You can simply use this bot to set up a profile of your gaming aliases and share all of your stats with friends. It can also help you see your stats from a wide variety of games, including PUBG, Rust, Rainbow Six: Seige, Paragon, World of Worships, Xbox Live, and many others.
The commands for GameStats are a little bit different, so it might take some time to get used to. You can create a profile by typing in ".gs profile' and add a game account by typing '.gs add uplay'. And if you want to check what all accounts are supported by this bot, then type in .gs accounts, and that's it.
Add GameStats to your server
18. Typical Bot
As the developers themselves put it, the Typical Bot is an ironically-named bot that's actually quite powerful and easy to use. It provides you with the necessary tools that you can use for moderation, where it can soft-ban, kick, ban, or announce either of these on a server. It also provides you with several fun features and mini-games, along with music, which can be streamed via YouTube.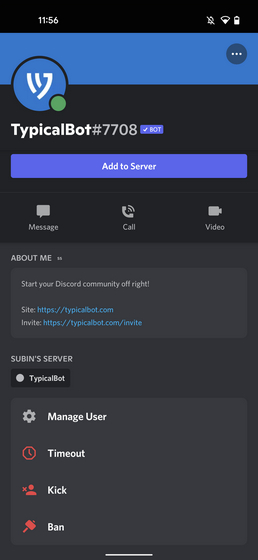 And it's not like anyone on the server can start playing music. You have complete control over its permissions, i.e admin, DJ, and can also queue or skip the songs. It can serve you swoon-worthy cat or dog pictures, random jokes, and important information such as the ServerID, ChannelID, and more as well.
Add Typical Bot to your server
19. TriviaBot
While Discord is prominently used for voice chats and discussion post the game, you can add the TriviaBot to have endless fun times with the community. It's a multiplayer trivia game, which holds over 3,000 questions and 24 categories to test your knowledge. The categories range from film, television, and manga to sports, nature, and science.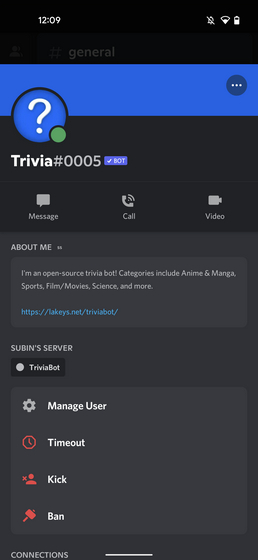 This is a very simplistic bot with just three commands. You can type out 'trivia help' to check out all these commands, 'trivia start' to start playing the game, and 'trivia categories' to pick the topic for the questions. I've been busy playing (and losing!) this brain-racking game with my friends, but it's fun to learn something new.
Add TriviaBot to your server
20. Uzox
Uzox is another bot you can use to play music with friends on your Discord server. Unlike most Discord music bots, Uzox offers premium features such as music filters and lyrics without requiring a subscription to access them. You can use the bot to play music from SoundCloud, Spotify, Twitch live streams, and more.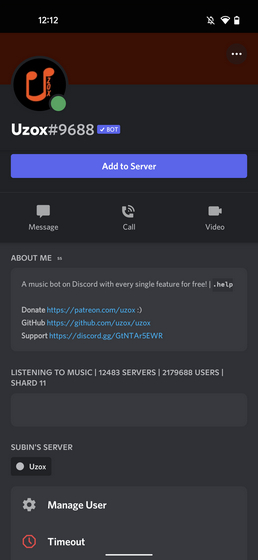 The Uzox bot is fairly reliable and has minimal downtimes. If you want more flexibility with the bot, consider joining Uzox's Patreon membership to use custom commands and up to 8 private instances of the Uzox music bot. These extra bots will come in handy if you are a server owner with thousands of active participants.
Add Uzox to your server
21. Fredboat
Another great Discord bot is the Fredbot. While most of the other bots featured above are jack of all trades, this one has a specific function. And that function is to play music. FredBaot can play music from Soundcloud, Bandcamp, direct links, Twitch, and more. Fredboat also supports playlists which will allow you to set a playlist and let the songs play without interruption.
Another cool feature of Fredboat is its search functionality. This means you can search for the names of the songs that you want to play and Fredbot will find them for you. It will give you different options and then you can select the version that you want to play. If you want your server to flow with the music, you should install this bot. If you want, you can check out even more Discord music bots by clicking on the link.
Add Fredboat to your server
22. Discord Translator
The gaming community should not be hindered by a language barrier. In a world full of battle royale games, where we are playing with gamers of different countries, language can be a big barrier to creating a community where we all can hang out.
If that's the problem that you are facing, then the Discord Translator bot is just for you. The bot allows users to type messages in their language and then automatically translates them into the language they want.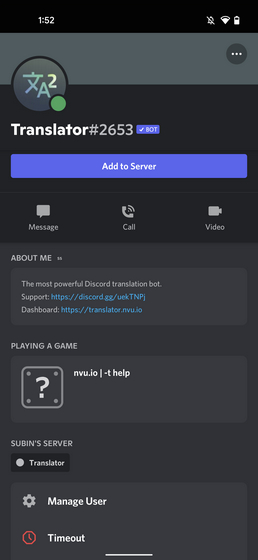 In fact, with a simple command, you can ask the bot to automatically translate your message into multiple languages. And it all happens instantaneously which is just great. If your Discord server is full of people from different nationalities, you should install this bot.
Add Discord Translator to your server
23. Miki
Are you looking for a powerful yet fun Discord bot? If yes, then you should check out Miki. When it comes to features Miki is second to none. It gives you full control of your Discord server.
You can control your server, give incentives to members in the form of role rewards, make level-based roles to foster positive competition, and more. Miki also brings a ton of moderation tools allowing you to clean up chats and remove problematic individuals.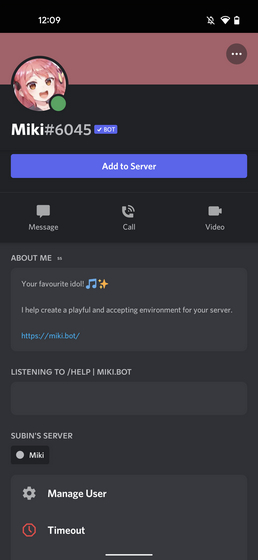 One of the best features of Miki is probably the leaderboard structure. Members receive experience points based on sent messages, being active and collecting daily bonuses, and more.
Miki also allows members to gamble with their experience points in a game of blackjack so members can enjoy and win experience points for fun. Miki is a great Discord bot for both you and your members.
Add Miki to your server
24. Discord Dungeons
Want to bring a fun RPG game to your server? Well, look no further than Discord Dungeons. The bot allows you to bring your own Roleplaying Adventure to your discord server.
Since the game runs on Discord, you can play it on your browser, using desktop apps, or even on Discord mobile apps. While Discord Dungeons is meant for single-players you can also share it with your friends.
When playing with friends or other Discord members, Discord Dungeons allows you to compete against, and trade with, your fellow server members and friends. With regular updates, the bot gives you access to hours upon hours of gameplay so you are never bored. As far as Discord bots go, this is something unique and you should check it out.
Add Discord Dungeons to your server
25. Counting
Counting is one of those games that seem too simple until you try it. With the Counting Discord bot, you get to count numbers with other server members. The idea of the game is simple: All you have to do is send the next number without consequently sending it. For instance, if you sent the number "1", someone else on the server should send "2" to keep the game going. You can then join in with the number "3" or let other members participate.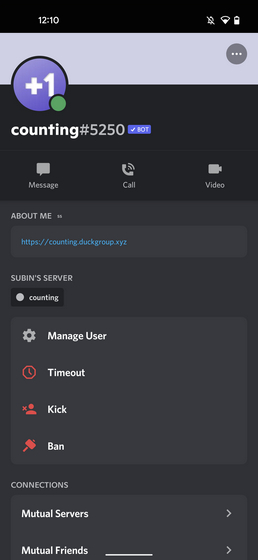 Server members should count as high as possible until one of the members accidentally sends the incorrect number and ruins the progress. The game will then start again from 0. This game is more entertaining than it sounds, and we recommend giving it a shot to make your server more active.
Add Counting to your server
Frequently Asked Questions
Q. Is MEE6 a Good Bot?
MEE6 is ranked among the best Discord bots. It allows you to highly moderate your server, lets you create custom commands, assign roles, and support private messaging. It's simply one of the best multipurpose Discord bots.
Q. How Safe are Discord Bots?
Discord Bots are generally safe if you add them from reliable sources. As far as intruders are concerned, if you have properly customized the bot then your safety will certainly be better. Make sure to check who can message you, what kind of content is allowed, and other settings. Apart from that, don't give secure permissions to bots.
Q. Why are All the Discord Bots Offline?
When Discord Bots are offline then it means two things. Either you have not properly coded and added the required dependencies or you have not run it. Merely creating the bot on the Developer Portal does not make it online.
Q. Is it Illegal to Use Discord Under 13?
Technically, using Discord under the age of 13 is illegal. According to Discord's Terms and Services, the minimum age requirement is 13 years.
Q. Why is Discord 13+?
Discord is not just for game discussions, chats, messages, and hosting servers, but it also hosts a lot of NSFW content. To protect underage children from such content, Discord restricts its usage below the age of 13.
Q. How do you use the NSFW bot on Discord?
You should set a channel as NSFW to use NSFW bots on Discord. To do so, right-click a channel, choose 'Edit Channel', and flip the 'NSFW Channel' toggle.
Q. Is there an official Discord bot?
No. Bots claiming to be official Discord bots are usually scams; you should stay away from them.
Q. Can discord bots trigger other bots?
No, bots are programmed to ignore commands issued by other bots in the server.
Add these Useful Bots to Your Discord Server
Now, as you just saw, Discord bots are now a significant part of your chat experience and can help you do a lot more with your servers. If you have a community, you don't need to be hovering around the servers to keep the community in check. The aforementioned bots are some of the most popular ones, but a bot for every function exists out there. So, if you believe we've skipped on other great Discord bots, do let us know in the comments below.