GIFs have become insanely popular on social media networks as well as messaging platforms, so it's no surprise that various companies are starting to offer GIF friendly features. Apple's iOS 10 recently introduced GIF support in iMessage, Twitter lets you share GIFs with ease on any platform, plus there are various cool GIF keyboard apps like Giphy Keys, GBoard etc. available for iOS. However, these apps are still not available for Android. Thankfully, Android has its own share of cool GIF keyboard apps.
While there are various GIF apps like Giphy, which let you share GIFs easily, we are only including keyboards that come with the ability to send GIFs instantly, without having to switch apps. So, without further ado, here are 7 cool GIF Keyboards for Android to make your chatting experience way more fun:
1. Fleksy Keyboard
We have always liked Fleksy for bringing the best tap typing experience on Android and the cool thing is, it also supports GIFs. The keyboard comes with "Extensions", which lets you add features like GIF support, launch apps from the keyboard and more. The GIF extension can be accessed from the keyboard pretty easily and it includes three tabs for GIFs: recently used, categories and trending. Moreover, you can even search for GIFs, which is certainly very cool.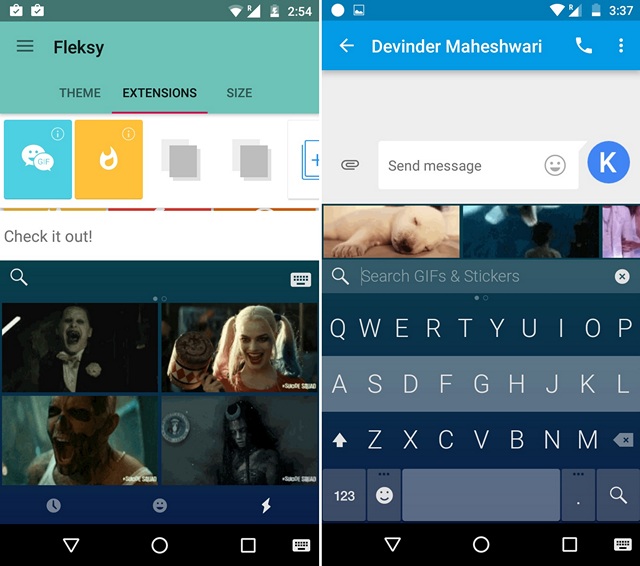 Moreover, you get Fleksy's great auto-correction and various customization options, support for various layouts and more. However, if you are a fan of gesture/swipe typing, you might miss the feature in Fleksy.
Install: (Free with in-app purchases)
2. Kika Keyboard
Kika Keyboard might be a new name for some but if you take a look at its Play Store downloads and ratings, you'll know that it's a very popular app. As you might have guessed by now, the keyboard brings some pretty cool GIF features. Firstly, you can easily access GIFs through the emoji key in the keyboard and here you will find different tabs for recently used GIF, GIFs based on emotions, movies and trending images. Moreover, it also lets you search GIFs through text and even emojis. Also, you can hit the magic icon in the keyboard while typing a message and it'll show you corresponding GIFs. Pretty cool, right?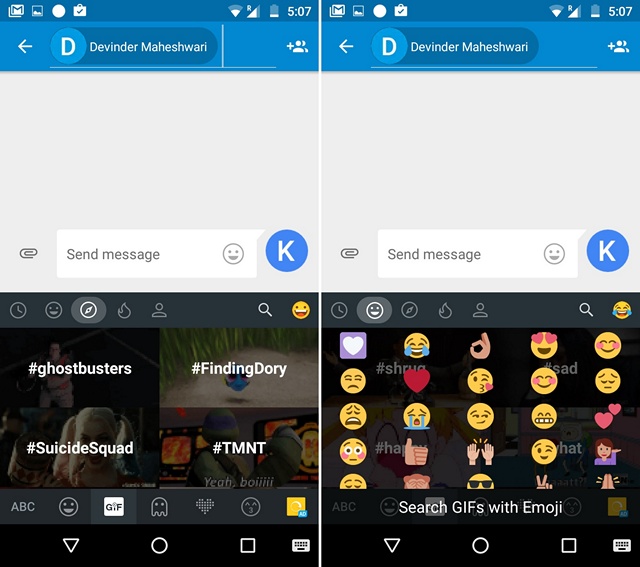 That's not all though, as the keyboard also brings a ton of other features like swipe typing, latest emojis, stickers, fonts, keypress sounds, themes, one-handed mode, split screen layout and more.
Install: (Free)
3. Slash Keyboard
We have already talked about Slash keyboard in detail, considering it's the best GBoard alternative for Android users. The keyboard brings a number cool capabilities and one of them is the ability to send GIFs with ease. The keyboard lets you add a number of third party apps and services to its top bar and you can set up GIF here. Then, you can just tap the GIF icon to see trending GIFs and you can even go ahead and search for GIFs based on emotions, news, movies or anything else.
With Slash keyboard, you can not only send GIFs but you can even send links or info from services like Google Search, Maps, YouTube, Twitter, Apple Music, Spotify etc., which means you never have to switch apps in between a conversation again. While it's all good, Slash Keyboard too lacks swipe or gesture typing, which can be a deal breaker for some.
Install: (Free)
4. Joy Keyboard
Joy Keyboard is a fairly new offering, so we won't blame you if you haven't heard about the app. While the app is new, it's no slouch when it comes to features. The app developers know the ongoing GIF trend and thus, have included not one but two GIF icons in the keyboard's top bar. Joy Keyboard lets you check out GIFs based on categories, GIFs "you may like" & "trending" and the latest additions to its GIF catalog. To sweeten the deal, it also lets you upload your very own GIFs to share. Also, you can search for GIFs as well.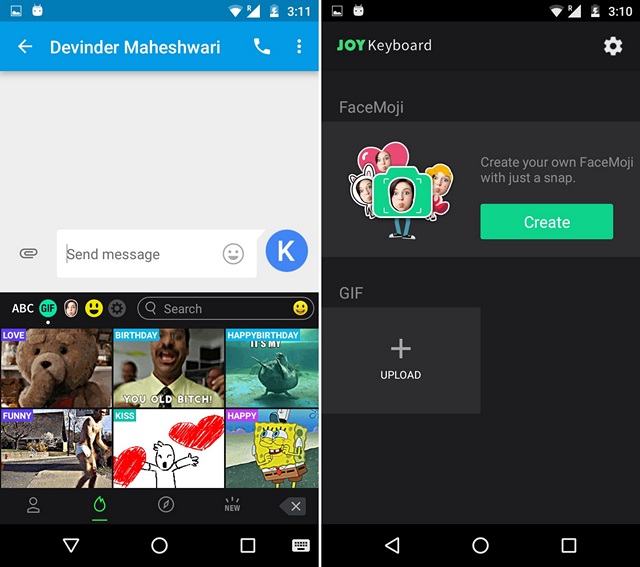 The GIF features might be great but along with that, the app brings some very cool features like the ability to create "Facemojis", where you can capture your face to create its emoji or sticker. Other than that, the keyboard keeps things simple with swipe typing, auto-correction & prediction support and different fonts.
Install: (Free)
5. TouchPal Keyboard
TouchPal is a much loved keyboard app for Android, thanks to its rich features and its long feature list also includes GIF capabilities. You can check out GIFs in various categories, the trending ones or you could just search for GIFs with ease. Along with GIFs, the app brings features like contextual predictions, swipe typing, clipboard, various themes and more.
Moreover, it includes the cool TouchPal Cloud feature, which basically brings you predictions from the cloud suggesting you words that are trending. Also, you can customize almost every element of the keyboard, you can resize it, use it in split mode, edit the layout or change the sound, vibration, font, height or width of the keyboard. While we love the features TouchPal offers, the app recommendations can irk some people.
Install: (Free with in-app purchases)
6. Ginger Keyboard
You must be aware of Ginger as the popular grammar checking tool, well, guess what? The Ginger keyboard brings the company's writing & proof-reading tools to your smartphone. Plus, it includes GIF features. The keyboard lets you send trending GIFs and GIFs based on different categories. However, there's no way to search for GIFs in the keyboard.
You can get Ginger Keyboard if you want GIFs as well as grammar & spell check features. The keyboard also brings some unique features like in-app games, translation in different languages right from the keyboard, sentence rephrasing, smart bar and more. Also, it supports swipe typing and other usual keyboard features.
Install: (Free with in-app purchases)
7. Go Keyboard Pro
The Go Keyboard app comes in a number of variants, which can be pretty confusing to say the least. So, if you are looking for GIF capabilities, you should download the Go Keyboard Pro – Emoji, GIFs. Yes, that's what it's called on the Play Store. The GIF menu in the Go keyboard lets you see your recently used GIFs, different categories of GIFs and the ones that are trending. While you can send GIFs with ease on the Go Keyboard, you cannot search for GIFs.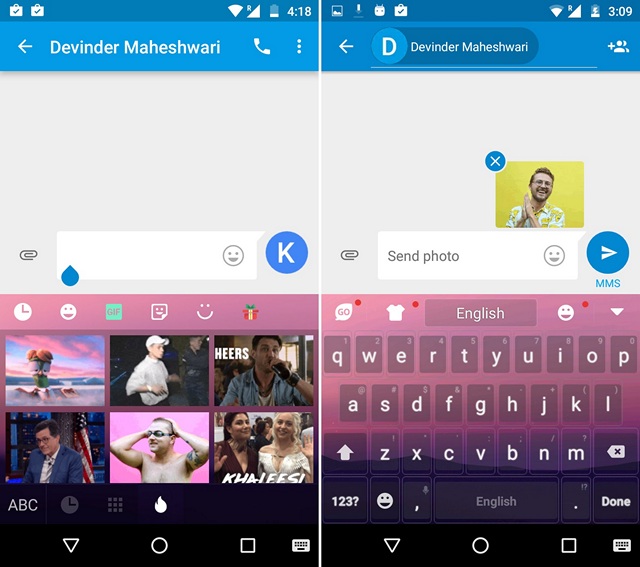 Apart from that, the Go apps are always packed with features and the keyboard is no different. It comes with various new emojis, stickers, tons of themes, fonts, different layouts, gesture typing support and more.
Install: (Free with in-app purchases)
SEE ALSO: Best Customizable Keyboard Apps for Android
Ready to share GIFs from your keyboard?
Honestly, I love GIFs and sharing them through messaging apps is fun. They certainly bring a smile to your face and chances are, you love them too. So, share GIFs easily with these GIF keyboard apps on Android. However, keep in mind that the keyboards will send GIF files like they are supposed to but you need to have a messaging app that supports GIF files.
Well, that's all from our side, check out these apps and let us know your favorite GIF keyboard for Android. Sound off in the comments section below.