Whether you call them 'Jiff' or 'Giff', GIFs are all the rage right now. Be it social media or messaging platforms, people have now started sharing GIF images instead of emojis to share their emotions. Heck, some of them including Twitter, Facebook, and Instagram have built-in features that let you share with ease. However, not all platforms have native GIF support, which is where the GIF keyboards come in the picture. GIF keyboards are super handy. They let you send GIFs instantly without having to switch apps. And if you are on the lookout for some cool keyboards with GIF support, then you've come to the right place. In this article, we'll be taking a look at some awesome GIF Keyboards for Android in 2020.
Best GIF Keyboards for Android in 2020
If you are a list of best overall keyboard apps for Android, click on the link to check them out. Also, if you want to create your own GIFs, check out our article on best GIF creator tools and apps. With that out of the way, let's get to our list, shall we?
1. Gboard
Google's Gboard app needs no introduction, does it? It has everything you can expect from a modern keyboard app. It's fast, reliable, supports gestures, has AI-assisted prediction, and a lot more. In one of the recent updates, Google also added the ability to send GIF images from within the Gboard app. While typing, you can simply tap on the "G" logo on top of the keyboard to pull up the GIF option. From there, you can search for the desired GIF by typing the keyword in the search box. In addition to Gboard's GIF collection, you can also choose to make your own GIFs, which is simply awesome. And if you are looking for a bit more personalization, then you can also use Gboard's 'Minis' feature to create your very own Bitmoji-like avatar.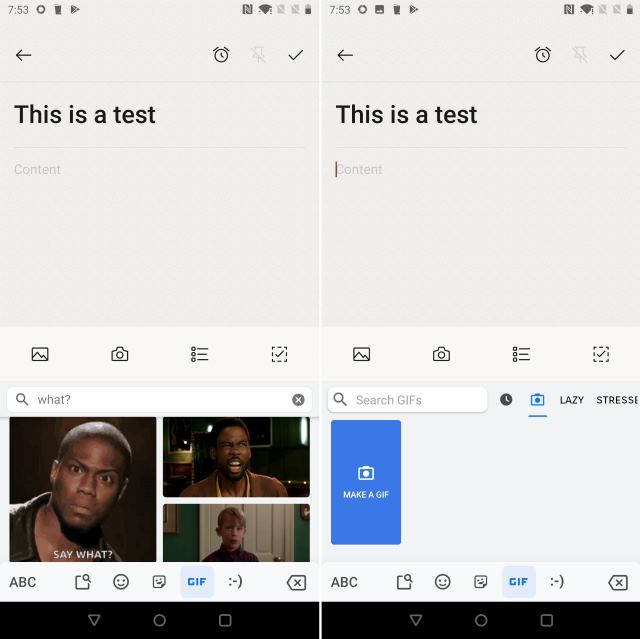 Download Gboard (Free)
2. SwiftKey Keyboard
SwiftKey is the go-to keyboard app for a lot of users who replace their native keyboard app. It's popularly known for its highly efficient auto-correct feature and text predictions. But do you know what else is SwiftKey known for? It's GIF support. Yes, SwiftKey is not only a spectacular keyboard with a ton of features, but it also brings a ton of emojis and GIFs. To send GIF images, you can simply tap on the Emoji button on the keyboard and then select the 'GIF' option. From there, you can browse SwiftKey's collection of GIF images. Since SwiftKey sources its GIFs from GIPHY (which is one of the biggest GIF websites in the world), you can rest assured that you'll find almost any GIF you're looking for. So if you are looking for a good keyboard app with GIF support, then SwiftKey is worth checking out.
Download SwiftKey (Free)
3. Fleksy Keyboard
Next up, we have Fleksy in our list. This is a powerful keyboard that has made it to a lot of our "top keyboard apps" list mainly for its features like customizable keyboard sizes, support for keyboard shortcuts, and more. Lately, Fleksy has also been gaining a lot of traction among modern-day smartphones users for its GIF support. Much like the other apps that we've listed in this article, Fleksy keyboard also lets you search for the GIF image of your choice without having to open any other app. In addition to GIF images, you can also choose to send Memes, stickers, and more. Personally, Flesky is one of favorite GIF keyboards so I don't have any qualms in recommending this one.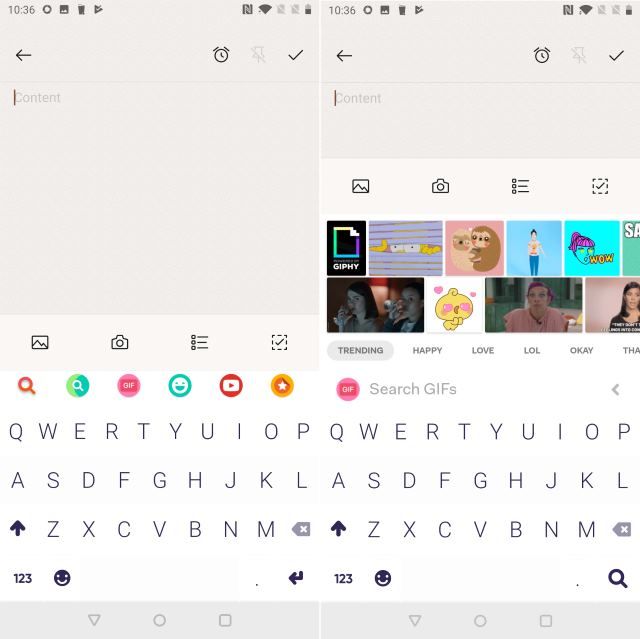 Download Fleksy Keyboard (Free)
4. GIF Keyboard by Tenor
GIF Keyboard, as the name suggests, is a dedicated keyboard app that works more like a search engine for GIF images. It's got a huge library of GIFs and is also pretty fast when it comes to pulling up the results after you enter a keyword. It is, however, worth noting that the GIF Keyboard works as a supplementary app to compliment your existing keyboard app. Unlike the other keyboard apps that we've listed in this article, it doesn't have an alpha-numeric keyboard of its own so, your default keyboard will kick in at times when you're typing something.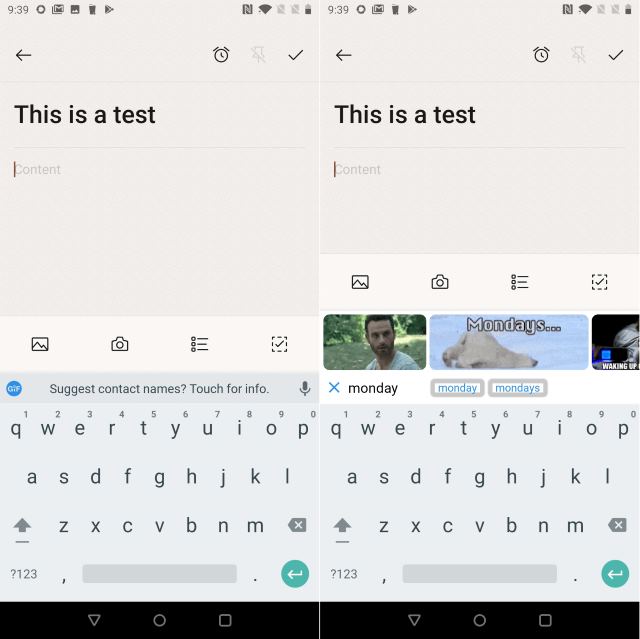 Download GIF Keyboard by Tenor (Free)
5. Facemoji Emoji Keyboard
Don't let the name fool you here because Facemoji Emoji Keyboard has a lot more to offer than just emojis. Yes, this keyboard has thousands of emojis, but it also supports GIF, and it's very much capable of competing with the other keyboards in this list. Facemoji Emoji Keyboard has a huge library of GIFs, and it's a lot of fun to use. The keyboard also has a search function to find more GIFs on the web, which is always handy to find just the right GIF image. Besides that, the keyboard also lets you turn your face into an emoji/ animoji. So yes, this keyboard was built for people who really like sharing their emotions with GIFs or animated emojis.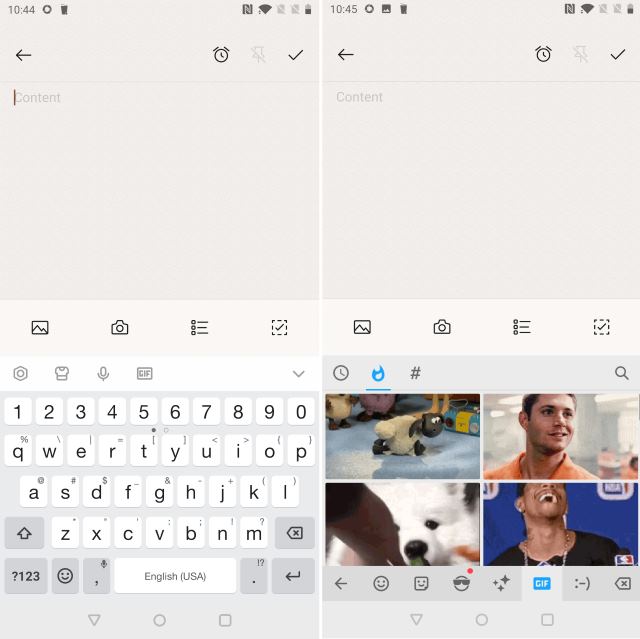 Download Facemoji Emoji Keyboard (Free)
6. Go Keyboard
Lastly, we have the Go Keyboard on the list, which is yet another promising keyboard app. It has a dedicated GIF button on the top that lets you browse its vast library of GIFs. You'll also see dedicated tabs for recent, trending GIFs, and more. The keyboard also lets you search for the GIF image of your choice, which makes it really easy to use. Besides GIFs, Go Keyboard also supports emojis, stickers, tons of themes, fonts, different layouts, etc. Yes, there are a ton of Go keyboards on the Play Store, so be sure to click the link below to download the one with GIF support.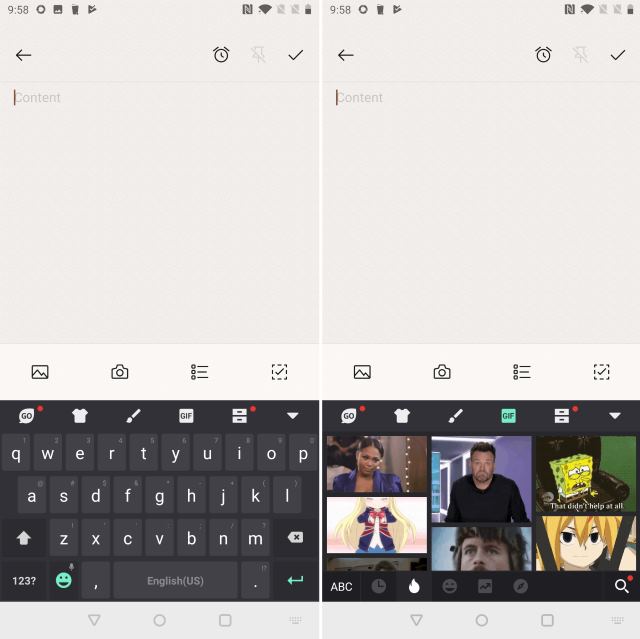 Download Go Keyboard (Free)
7. Emoji Keyboard Cute Emoticons
Going by a huge library of emojis, this one can safely stake the claim of being one of the coolest GIF keyboards for Android. With a variety of GIFs at hand, you can spice up your conversation to your heart's liking. But is this Android keyboard app just about fun-loving GIFs? Nope! It's equally good in terms of boosting your typing experience. Thanks to smooth gestures, helpful predictions, and the super handy auto-correction, you can type faster. What's more, it also offers a good collection of eye-catching themes so that you can customize your Android keyboard like a pro.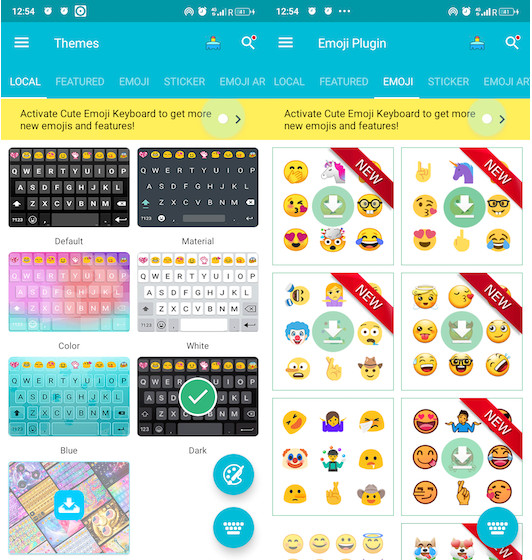 Download Emoji Keyboard Cute Emoticons (Free)
8. Kika Keyboard
If a colorful emoji keyboard app with all the bells and whistles is what you are after, give a try to Kika Keyboard. What makes it a fine asset for fun-filled messaging is a solid collection of GIfs and emjis. So, you can count on it to let you express a variety of emotions in a hilarious way. Beyond GIFs, the keyboard app offers some pretty smooth typing gestures, auto-correction, and the next word suggestions to help you speed up typing. If you ever like to give some rest to your fingers, the voice board can come into play. And just in case you have a liking for customization, it can live up to your taste with over 60 beautifully designed keyboard layouts. In a nutshell, Kika Keyboard app is not just a nice GIF keyboard app for Android but also the one that can let you customize your keyboard and also bolster your typing speed.
Download Kika Keyboard (Free)
9. Xploree AI Keyboard
Though not as feature-rich as some of its counterparts, Xploree AI Keyboard can prove to be more than handy in letting you spice up your messaging. Featuring an ever-growing GIF library, the app ensures your armory always has enough variety. So, irrespective of what your mood demands, chances are you will always have plenty of different emojis to express your feelings. That aside, Xploree AI Keyboard comes with a ton of colorful animated themes so that you can personalize your Android keyboard with aplomb. On top of all, it also supports glide typing to help you enhance your multilingual typing.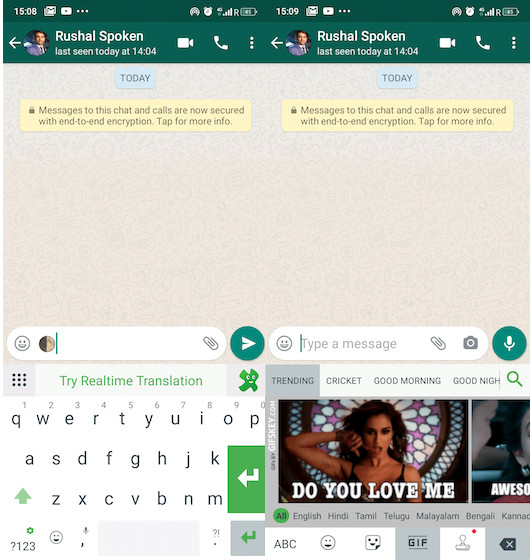 Download Xploree AI Keyboard (Free)
10. iKeyboard
So, how long can you keep a top-notch keyboard app like "iKeyboard" out of sight? Apart from boasting a massive library of GIFs and emojis, the app can also leave behind several rivals in terms of having cool keyboard themes – courtesy a collection of over 5000 professionally-designed themes. So, if customizing the keyboard with nice-looking themes appeal to your fancy, it can win you over. One of my favorite features of this app is an ever-growing roster of stickers that come in super handy during fun-loving messaging. Not to mention, it also offers smart auto-correction, word prediction, and voice board to speed up tying. Everything considered; iKeyboard is your all-in-one keyboard app.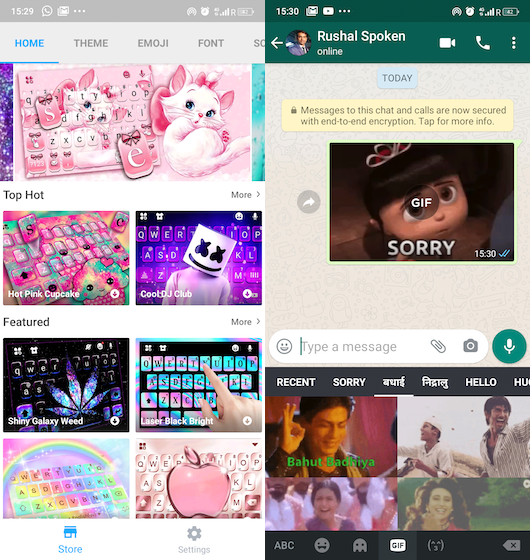 Download iKeyboard (Free)
Native GIF Support in Popular Apps
Remember at the beginning of the article we said how most popular apps come baked with built-in GIF support? That's right, most messaging and social media apps like WhatsApp, Instagram, Twitter, etc. now have built-in GIF support that lets you easily search and send GIF images without the need for a third-party keyboard. Here are a couple of examples –
1. WhatsApp
When you are in a WhatsApp conversation window, simply tap on the emoji icon to expand it. You'll now see a GIF option at the bottom, tapping on which will show you all the available GIFs. You can also search for the ones you are looking for.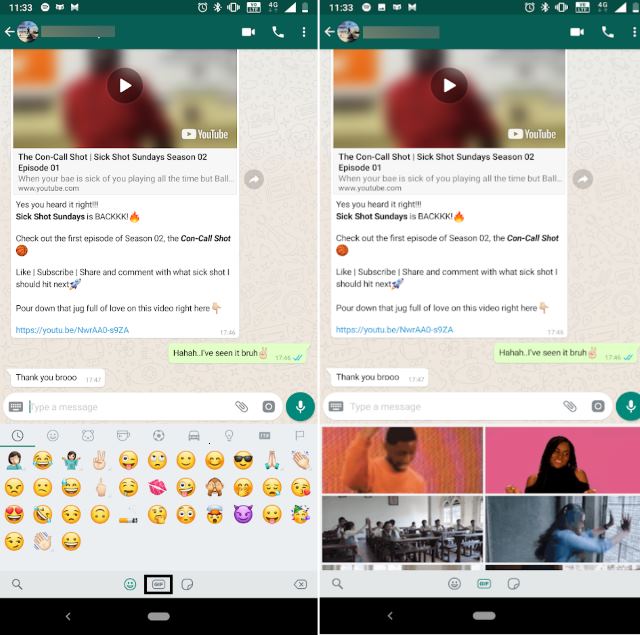 2. Instagram
Just like WhatsApp, Instagram also lets you send GIF images when you are having a conversation via DMs. You can pull up the GIF option by tapping on the "+" icon followed by "GIF" option. Instagram uses GIPHY's rich repository of GIFs, so you'll find almost anything you are looking for.
3. Facebook Messenger
Facebook Messenger's long list of features also includes GIF support. When you are the chat window, you can tap on the emoji icon on top of the text field to see the GIP option. Tapping the GIF option will show you all the available GIF images. Much like the other platforms, you can also search for the GIF of your choice.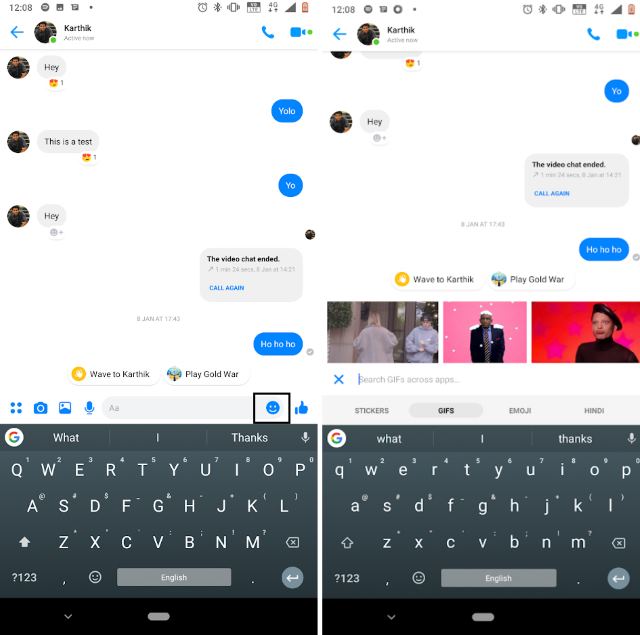 4. Twitter
Twitter is yet another popular platform that supports GIF. You share GIF images through both your tweets and through the DMs. In both cases, you can find the GIF option right next to the text field. You can tap it to see all the available GIFs. All the GIFs here are separated into different categories, so it's very easy to use.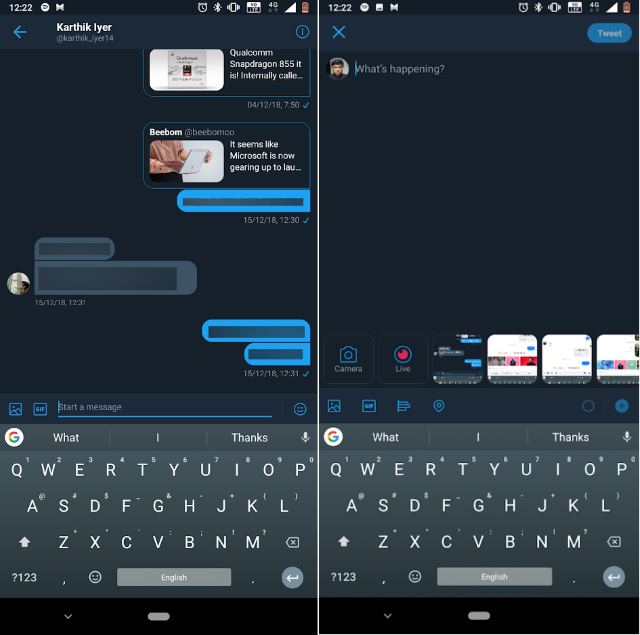 Which Are Your Favorite GIF Keyboards for Android
Well, that wraps up our list of Best GIF Keyboards for Android with which you can send GIF images with ease. Considering the fact that most messaging and social media apps now supports GIF, you shouldn't have any issues using them. In any case, if you do face any difficulty while using any of these keyboards, then be sure to drop a comment down below and we'll take a look.