There's no doubt that modern-day smartphones are pretty great. Android smartphones and iPhones come with some great hardware and operating systems that feature millions of amazing apps and games. So, when you buy a new smartphone these days, you get a great package. However, smartphones are just a platform that can be enhanced using awesome accessories. While there are various accessories designed specifically for some smartphones, some accessories are compatible with almost all devices. So, we are taking a look at the 20 most essential accessories for smartphones you can buy in 2020.
Essential Smartphone Accessories (Updated August 2020)
Here are the 20 best smartphone accessories that you should buy to have a complete experience. You can simply click on the link below and move to the particular gadget seamlessly. You can also go through our mini-explainers below and learn what you should look for in accessories.
What to Look for When Buying Accessories?
Before you buy any accessory, you should make sure the manufacturer is authentic and reliable. Most of the accessories are produced by third-party manufacturers so it becomes doubly important to buy only from genuine sellers. Apart from that, you should check the description and reviews to find if the accessory is compatible with your smartphone.
If the said accessory is offered by your smartphone manufacturer then you should get it from first-party for better compatibility and support. So these are the bare minimum things you must give heed to before buying accessories for your smartphone.
Pros and Cons of First-party and Third-party Accessories
As I stated above, first-party accessories will always have better compatibility with your smartphone. You will get good support from customer service as well. Not to mention, it's generally found that first-party accessories last much longer than third-party ones. However, keep in mind, first-party accessories also cost much higher than their counterparts.
Coming to third-party accessories, well, they are not bad at all. In fact, the world of accessories is filled with third-party manufacturers who bring out innovative solutions. In some cases, third-party products are also certified by the original manufacturer so always look for those products.
And the best part about third-party accessories is that they are quite affordable and usable. There are many brands like Spigen, Anker, Zhiyun, etc. which have made a reputable name in the market. You should have no problems getting products from these manufacturers.
Top Smartphone Accessories
1. Portable Chargers
Portable chargers or power banks are something that almost everyone buys these days and that's because, no matter what the battery capacity your smartphone has, it's never enough.
If you are looking for a power bank that covers almost all your devices, you should get the Anker PowerCore 20100mAh ($45.99), which packs in three ports, two USB ports with one supporting Qualcomm's Quick Charge 3.0 tech and a USB Type-C port.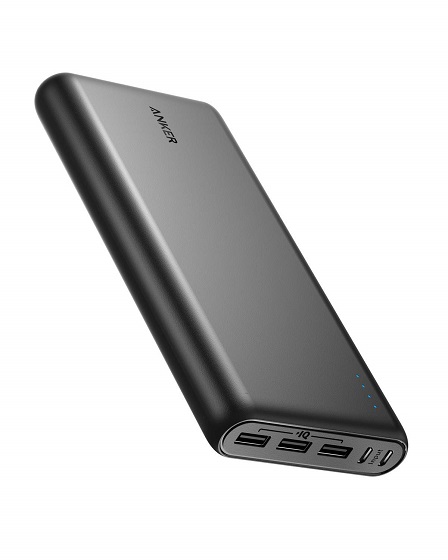 Another cool offering is the RAVPower Portable Charger ($13.99), which is very pocket friendly and includes built-in cables with microUSB, Lightning, and USB-C connector.
It even brings a built-in AC plug that allows you to directly connect the power bank to a wall outlet to easily charge it. If you just want an affordable portable charger that gets the job done, you can check out Anker PowerCore 10000 mAh portable charger ($19.99).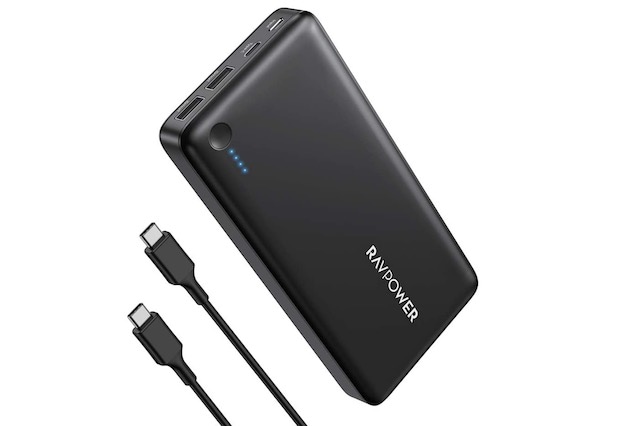 If you are looking for something different, check out this graphene power bank from Apollo ($88) which recharges in just 18 minutes. Finally, if you are looking for USB Type-C power banks, you can click on the link to check them out.
2. Car Mounts
If you tend to use your smartphone to navigate around in your car, you must get a car mount. We'd recommend you to get Maxboost DuraHold ($11.99), if you want to set up the mount on the car's dashboard or the windshield. You can also get WizGear magnetic car mount holder ($9.49), which fixes on the car's air vent.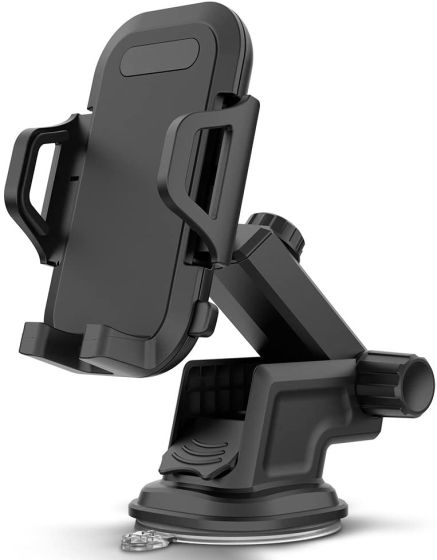 Both these car mounts support almost all types of devices, so no matter which smartphone you use, these should be fine. If you want more options, you can check out our list of the best car mounts. While the list is made for iPhone 7 and 7 Plus, the car mounts mentioned on the list are versatile and will work with any smartphone.
3. Selfie Sticks
Selfies are all the rage these days and if you love taking selfies, you must be planning to get a great selfie stick, right? While there are numerous selfie sticks available, if you want a Bluetooth selfie stick that offers great battery life, you should get the Mpow Selfie Stick ($18.99), which offers 20 hours of battery life. The selfie stick is very compact, features a highly adjustable cradle and can be extended to 29-inches.
Another very portable and compact offering is the Yoozon Selfie Stick ($16.99), which is only 7.1-inches long when collapsed, so you can even carry it on your pocket. If you want a selfie stick that even works as a tripod, you should buy the Fugetek Selfie Stick ($24.99).
It comes with a Bluetooth remote that supports both iOS and Android smartphones. It will come in really handy if you want to include all your family members or friends in your selfies. Want to check out more selfie sticks? Click on the link.
4. Camera Lens Attachments
Most smartphones these days come with great cameras and while they take decent pictures, what if you want to improve their performance even more? Well, you can always buy a camera lens attachment.
The best of the lot is Moment which offers wide-angle, telephoto (58mm), macro, fisheye and anamorphic lenses. They are compatible with both Android and iOS devices. You can browse all kinds of Moment lenses from here.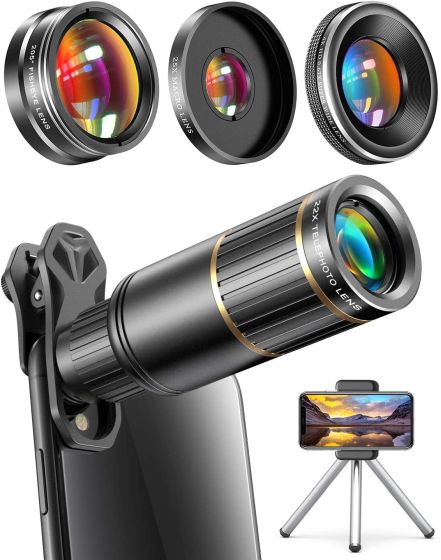 Apart from that, there are different camera attachments available for fish eye lenses, macro and wide-angle but you can get all of those lenses in CoPedvic Phone Camera Lens kit ($33.99), which supports almost all the smartphones & tablets out there.
The package brings macro lens, wide angle lens, zoom lens, universal macro lens, fish eye lens and more. You can also check out the Leknes Camera Lens Kit ($17.99) if you are looking for something cheaper. It brings different lenses for fish eye, macro, wide angle, and more.
5. Gimbals
Gimbals have become an essential accessory for users who want to shoot professional-grade videos on their smartphones. Gimbals allow you to take super steady videos even on phones that don't come with OIS. Simply put, if you want to shoot highly stable videos for vlogging or other purposes then gimbals are must to have.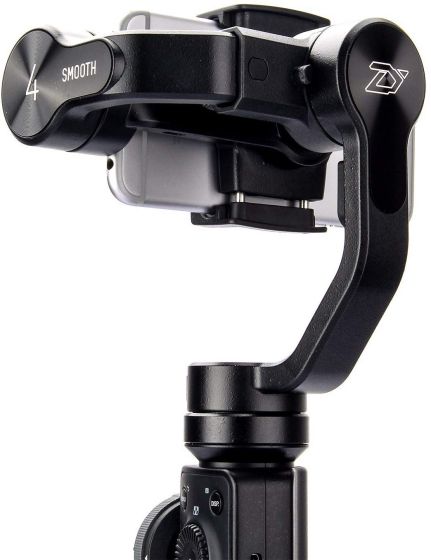 We recently wrote about the best gimbals for iPhone 11 series so go through that to find the best gimbals for iPhones. For Android devices, I would recommend Zhiyun Smooth 4 ($99).
6. USB OTG Flash Drives
The USB OTG feature on Android smartphone has been here for quite some time now and you can use it in a lot of different ways. Having said that, it comes in especially handy when you have a smartphone with a rather modest internal storage.
USB OTG flash drives are to smartphones what portable hard drives are to computers. If you are an Android smartphone owner, there are a plethora of great USB OTG flash drives available. If you are looking for a microUSB OTG flash drive, you can buy SanDisk Ultra offering (starts at $8.99).
For a USB Type-C OTG flash drive, you can buy the SanDisk Ultra USB Type-C version (starting at $8.99). In  you want both USB-A and USB Type-C flash drive, you can buy Samsung's 2 in 1 64 GB USB OTG flash drive ($19.99).
If you own an iPhone, you'd know that there's no support for USB OTG but don't worry, SanDisk offers its iXpand Flash Drive (starting at $19.99), which works on iOS devices using an app.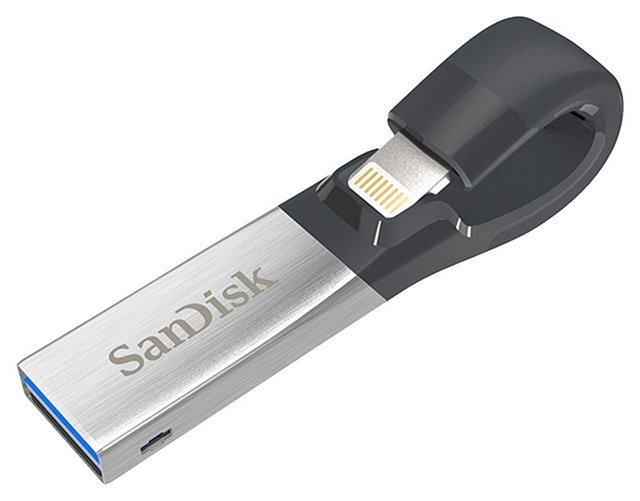 7. Headphones
Most smartphones come with an in-ear headphones that are just fine but nothing great. However, if you are a music aficionado, the first accessory that you will get is a decent pair of headphones.
When it comes to in-ear headphones, the Sony MDRXB50AP earphones ($29.99) is arguably the best in its price range. If you want something way more affordable but still pretty great, you can get the Panasonic ErgoFit ($8.99).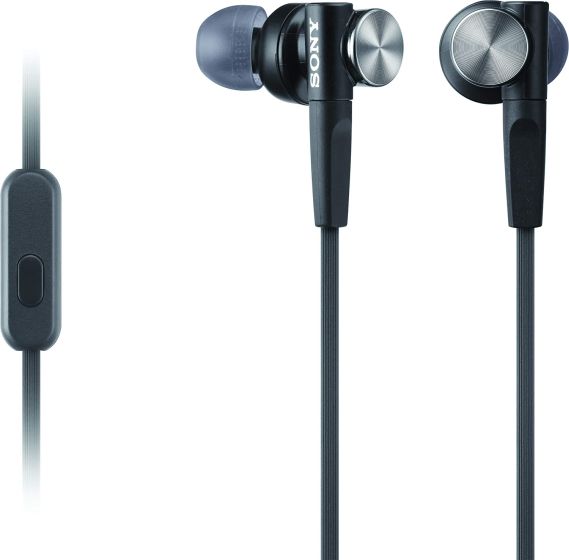 Talking about headphones, if you want the best, you should check out the much regarded Audio-Technica ATH-M20x ($49). They don't only sound great but are also quite comfortable to wear.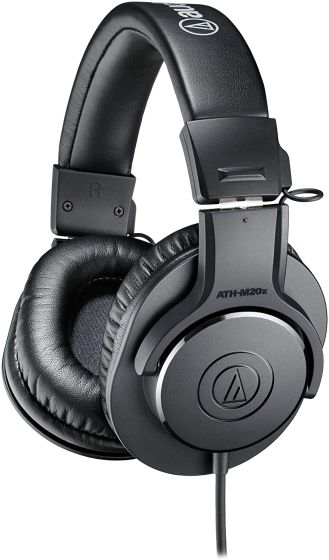 8. Bluetooth Earbuds
The world is going wireless, as all the new smartphones including iPhones, the OnePlus 7, the latest Note 10, and more cancelling the headphone jack. While you can use adapters to use your old wired headset, I suggest that you invest in a decent wireless earbud.
If you are looking for something affordable, you can check out the TOZO T10 ($34.99) but if you want something premium you should get the Apple AirPods Pro ($234), which is arguably one of the best wireless earbuds available right now.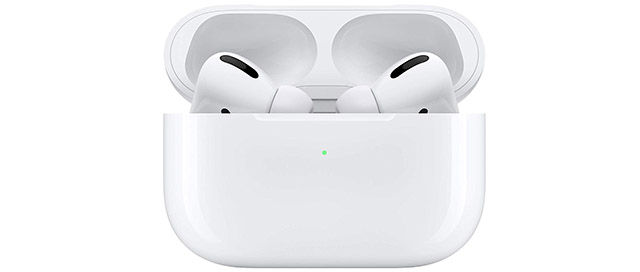 If you are looking for a pair of over the ear wireless earphones, you should check out the Sony WH-1000XM4 ($349.99) which are currently the best wireless noise-canceling headphones on the market.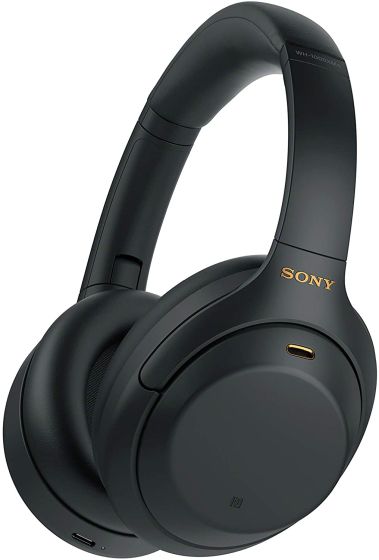 The Gen-2 AirPods bring wireless charging case which makes them easier to charge.  If you want something more substantial, you should check out the PowerBeats Pro ($199). They bring the convenience of AirPods with much better sound quality and noise cancellation. Wireless earbuds have become the most essential smartphone accessories right now and you should definitely invest in one.
9. Smartwatches
Smartwatches have become a must-have accessory for smartphones because of its multi-purpose use-case. You can manage your notifications, attend calls, ask questions to voice assistants and more. But that is not all. Now, smartwatches act like a fitness tracker and a medical device too.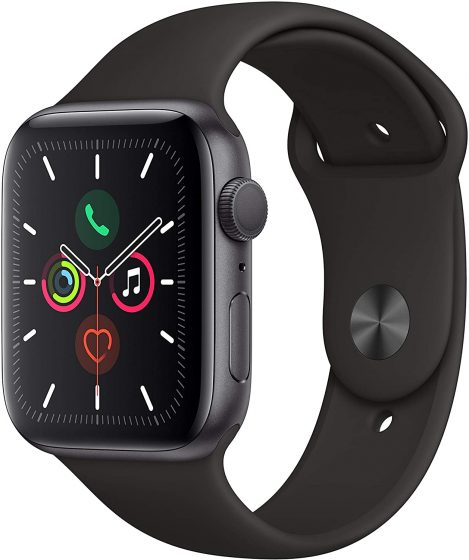 For example, the Apple Watch allows you to take real-time ECG and can also detect heart attacks which can actually save lives. So if you are into the Apple ecosystem, the Apple Watch (starts at $419 for Series 5) is your best bet. And for Android users, you can either go for Samsung Watch 3 (starts at $399) or Oppo Watch ($200). If you are looking for a smartwatch for your kids, click on the link to read the article on the same.
10. Gaming Controllers
While most games available on the App Store or the Play Store are designed for the touchscreen, there are games that can be played better using a controller. Games running in emulators or VR games will be a lot of fun when played with a controller. Although there are various gaming controllers out there, you should check out SteelSeries' Bluetooth gaming controller.
It's available in an Android & Windows version dubbed Stratus Duo ($36.98) and an iOS, macOS and Apple TV version dubbed Nimbus ($65). The controller features a design reminiscent of the Xbox controller and offers a number of features. It packs in a phone holder, customizable triggers and more.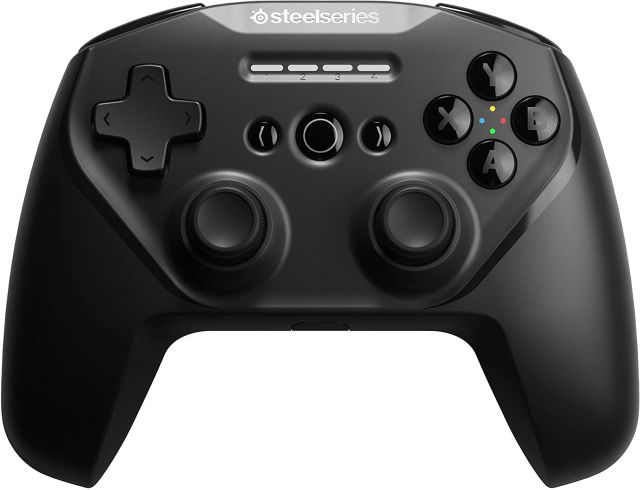 As you might know, with the update to iOS 13 and Apple Arcade, iPhone and iPads now support both PlayStation ($46.32) and Xbox wireless ($43.99) controllers. If you own an iPhone and have extra cash to spare, I believe that they will serve you better than the SteelSeries controller mentioned above. If you play games, these are the best smartphone accessories that you can buy.
11. Skins
Not all smartphones look great, some just look too bland, but don't worry, you can always install a custom skin on your device. You can use SlickWraps, Dbrand or Gadgetshieldz to create your very own custom skin.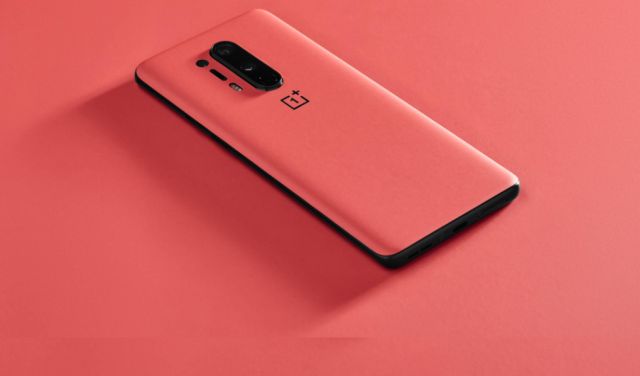 You can just head over to their websites and customize the look of the back, front, side, camera lens and even the company logo through different textures and materials. Now that's cool, isn't it?
12. Cases and Covers
For most people, cases or covers are the first accessory they buy for their smartphones. Well, it's important because smartphones are prone to drops, which can result in minor scratches or even shattered display. You can check out for the best cases and covers from popular manufactures like Spigen, Incipio, Otterbox or you could just head to Amazon and search for your specific device's case.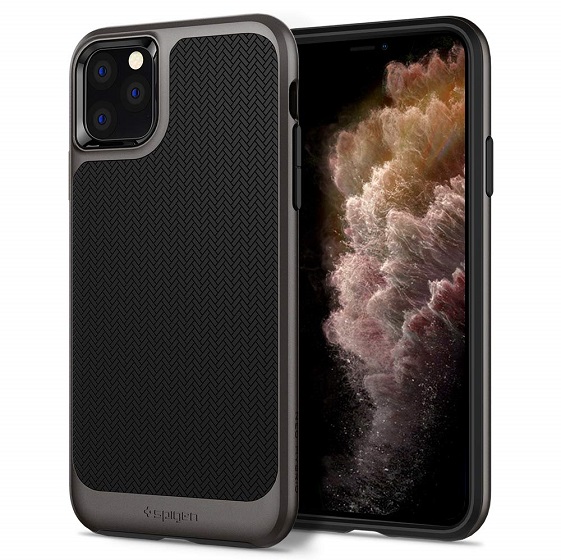 You can even check out our articles on cases and covers for different devices. We cover cases and covers for almost all popular smartphones. Some of our latest coverage include Note 20 Ultra cases, Galaxy S20 Cases, iPhone 11 Pro Cases, Pixel 4a cases, and more.
13. Screen Protectors
Screen protector or screen guard is another very essential accessory, because no matter what phone you have, the display will get scratched after a point of time. Thus, it's best to apply a screen protector on your device's display.
For screen protectors, you can again check out the aforementioned makers or head to Amazon or check out our lists of screen protectors for different devices. Some of the recent coverage includes iPhone 11 Pro Screen Protectors, iPhone 11 Screen Protectors, Note 20 Screen Protectors, Galaxy S20 Screen Protectors, and more.
14. Portable Bluetooth Speakers
While some smartphones pack in great speakers, some just offer lackluster sound quality. In that case, it's always better to get a portable Bluetooth speaker that you can carry around with ease to your different trips.
The JBL Flip 4 ($79.90) is a great Bluetooth speaker, with features like 360-degree sound with bass, IP67 rating for water & dust resistance, and 15-hour battery life.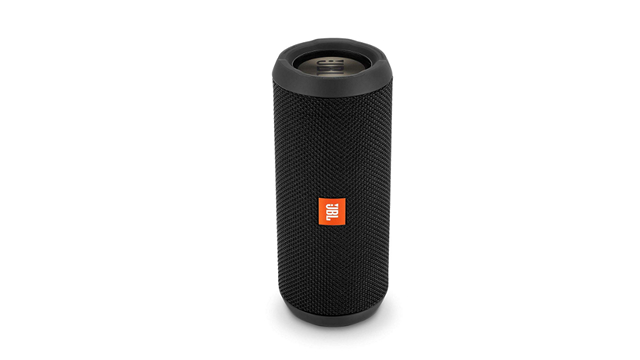 If you are looking for something cheaper, you can check out the OontZ Angle 3 ($25.99) wireless speaker which brings great range (up to 100 feet) and sound quality with emphatic bass. It is also available in multiple colors.
15. Car Chargers
While you can always use portable chargers, carrying it with you all the time can be a hassle. So, if you want to charge your Android smartphone or iPhone while you are on the go, you should get a car charger.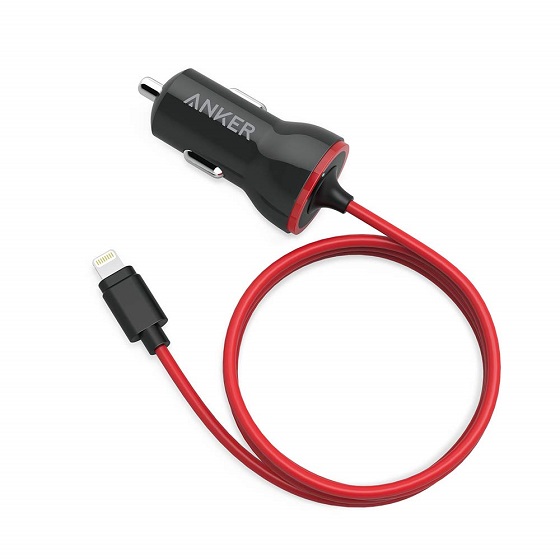 Like most other accessories on this list, there's no dearth of great car chargers. You can check out the Anker USB Car Charger ($8.99), which is an affordable offering that brings two 2A USB ports and an LED indicator. There's also RAVPower 48W car charger ($19.99) which brings QC 3.0 fast charging.
16. Charging Stations
If you want your smartphone to act as a nightstand at night while it charges or you want to make sure that charging your multiple devices does not look like a mess, you can get a charging station.
If you want a single device charging station, you can check out Anker Wireless Charger ($18.99). For an iPhone-only charging station, you can get Yootech Wireless Charger ($13.99).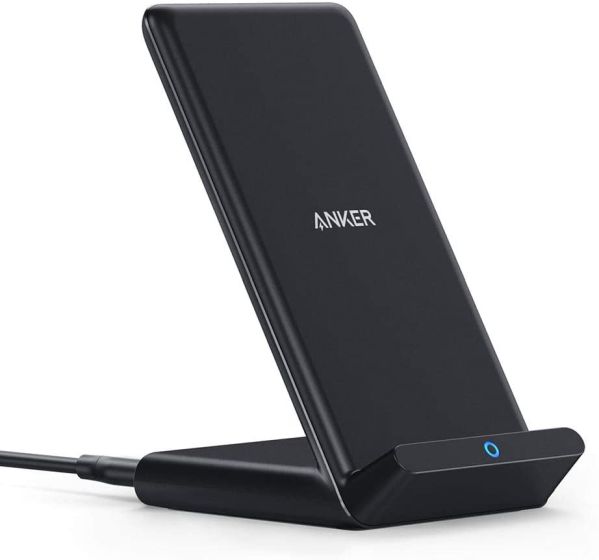 If you want a charging station that charges multiple devices of yours, you can buy Simicore 6-Port Charging station ($34.99) that looks great and gets the job done.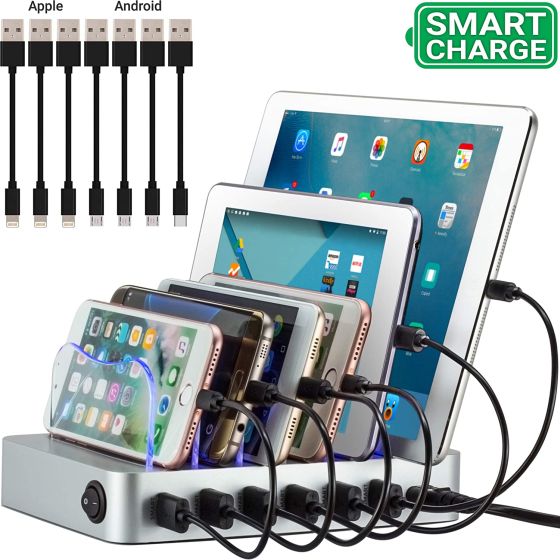 And if you want a wireless charging station for multiple devices then I would recommend Moing charging station ($36.99) for Android devices, Belkin Wireless Dock ($125.25) for Apple devices.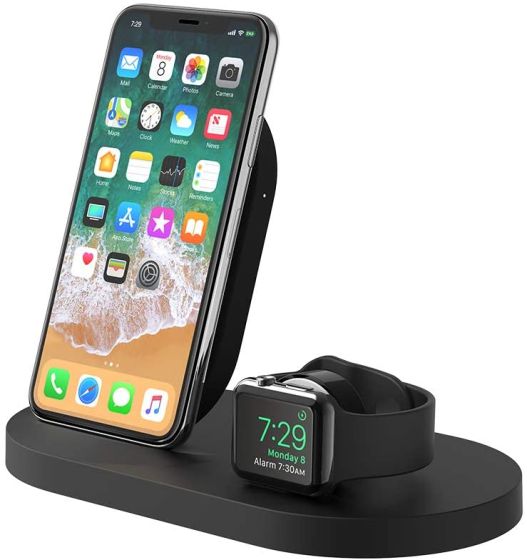 17. Headphone Adapter
Smartphones nowadays don't come with the headphone jack and that's a bummer. But there is a way out which allows you to use your old wired headphone on your smartphone. Yes, you can use a headphone adapter which is basically a USB-C/Lightning to 3.5mm adapter. iPhone users can get the official Apple Lightning to 3.5 mm Headphone Jack Adapter ($7.99) and Android users can get JSAUX USB C to 3.5mm adapter ($12.99).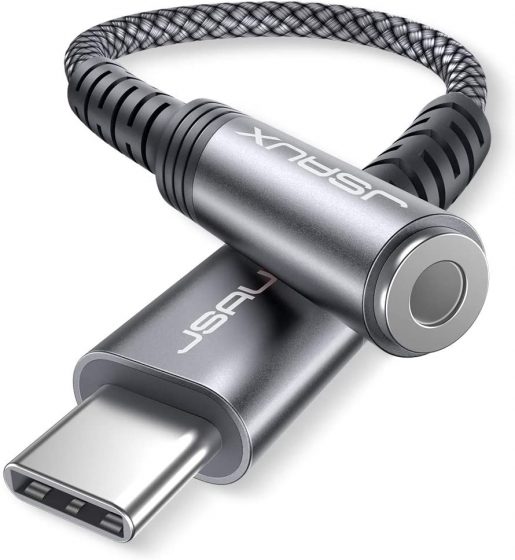 18. Phone Ring Holder
With most smartphones coming in glass build, it has become harder for users to get a firm grip on the device. In that case, you can get the phone ring holder accessory for your smartphone.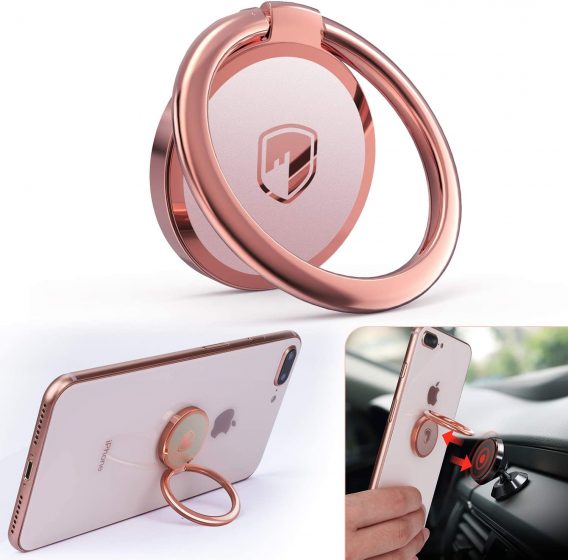 It stays on the back of your phone and you can always hold it using your finger. On top of that, the ring holder also acts as a kickstand. How cools is that. So for both Android and iPhone users, I have only one recommendation to make: Fitfort phone ring holder ($8.99).
19. Waterproof Pouch
Not all phones have IP certification and even the ones that have water resistance, can't survive for long under high water pressure. In that case, you should get a waterproof pouch that will allow you to take your smartphone while swimming, kayaking, snorkeling and more.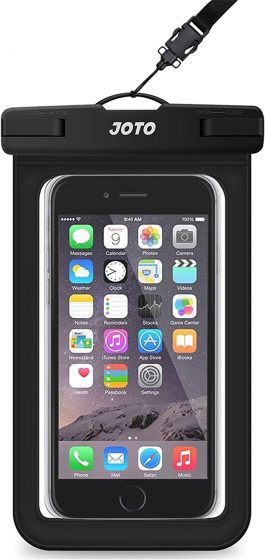 The waterproof pouch will allow you to operate your smartphone and take photos and videos without any water damage. That's really great, right? So just go ahead and get the OTO Universal Waterproof Pouch ($7.49).
20. Multiport Wall Charger
With multiple smartphones and gadgets, it has become harder for users to charge them simultaneously. But worry not, multiport wall chargers can solve this particular issue. It comes with multiple USB A ports and you can connect up to four devices.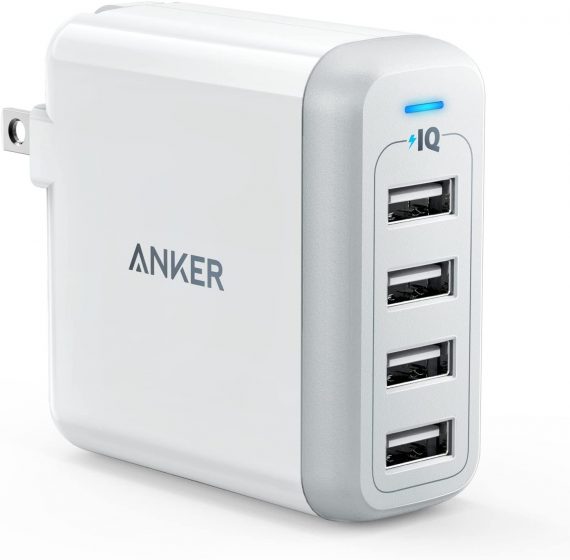 The best part is that charging speed is pretty high and it can go up to 40W. So if you want the best multiport wall charger that is compatible with all kinds of smartphones and gadgets then go for Anker Wall Charger ($25.99).
Frequently Asked Questions
Q. What are the Most Popular Cell Phone Accessories?
I would say cases, screen protectors and wireless earbuds are the most popular cell phone accessories right now.
Q. Which is the Best Brand for Phone Cases?
There are many brands that produce excellent phone cases but I would pick Spigen, Caseology, and OtterBox.
Q. Which is the Most Protective Phone Case Brand?
Spigen has the Tough Armor series which is considered to be the most protective of all cases. Apart from that, OtterBox Defender Series offers legendary protection from all sides.
Q. What is the Toughest Cell Phone Case?
As I mentioned above, you should either go for Spigen Tough Armor or OtterBox Defender Series case.
Q. What Should I Look for When Buying a Phone Case?
First of all, you should look for protection from all sides and corners, better if it's rugged. Secondly, the case should offer you a good grip over your smartphone. And if the case is thin and lightweight then that is an added bonus.
Check out Useful Smartphone Accessories for Android and iPhones
A smartphone is only as good as the apps available on it and the accessories available for it. Thankfully, there are some great accessories available for both Android and Apple devices. So, check out these essential accessories and do let us know you like them. Sound off in the comments section below.
---
Load More