A beautiful display, like the one that the brand-new Galaxy Note 20 flaunts, deserves a lot of praise, and of course the needed care. Unlike Galaxy Note 20 Ultra which is equipped with highly durable Gorilla Glass Victus (the latest version of Gorilla Glass) which is said to deliver twice the scratch resistance and nearly twice the drop resistance of Gorilla Glass 6, the smaller sibling is still stuck with Gorilla Glass 5 that is way less protective. That means, your gorgeous 6.7″ OLED display is more vulnerable to scratches and impact. But don't worry, this is where these 7 best Galaxy Note 20 screen protectors have a role to play.
Best Galaxy Note 20 Screen Protectors (2020)
As is always the case post the introduction of any flagship smartphones, accessory makers have launched high-quality screen guards for Galaxy Note 20. With some many options lingering around, now the biggest question that comes to the mind is – which screen protector is better for your Note 20 or for that matter your needs?
Well, if you don't want to give scratches or bumps any chance of damaging your OLED display, a tempered glass screen protector would be a better choice. However, if you wish to give more priority to high-definition clarity and touch sensitivity, a film screen guard would be a slightly better option.
Note: We have already compiled an extensive roundup of the top screen guards for Note 20 Ultra. SO, if you want a solid screen defender for the bigger sibling, check them out. Besides, also take a peek at the best cases and covers for Galaxy Note 20 and Note 20 Ultra, if you haven't yet found a right suit for your all-new device. 
1. Mr.Shield – Japanese Ballistic Glass Screen Protector
Mr.Shield has long been a noted manufacturer of screen protectors for smartphones and tablets. And its offering for Galaxy Note 20 has got all the qualities to be a reliable defender for the 6.7″ display. Made of high-grade Japanese ballistic glass, the screen guard is strong enough to endure the impact of drops.
The 9H hardness coupled with the oleophobic coating helps it not only survive bumps but also keeps fingerprints and sweat away. Thanks to the extra coating, Mr.Shield retains smoothness for long, offering smooth scrolling and gliding. Even in terms of clarity, it's top-notch thanks to the ability to deliver 99.99% HD clarity.
Priced at $6.95 for three-pack, Mr.Shield is among the cheapest screen protectors for Galaxy Note 20 in the market right now.
Buy from Amazon: $6.95 (pack of 3)
2. Dome Glass – Protective Screen Guard for Galaxy Note 20
If you can stretch your budget in favor of an exceptionally protective screen guard for your Galaxy Note 20, give serious consideration to Dome Glass. Equipped with liquid dispersion technology, it works seamlessly with the Qualcomm ultrasonic fingerprint reader. Thus, unlocking the smartphone or authenticating purchases will always feel smooth sailing.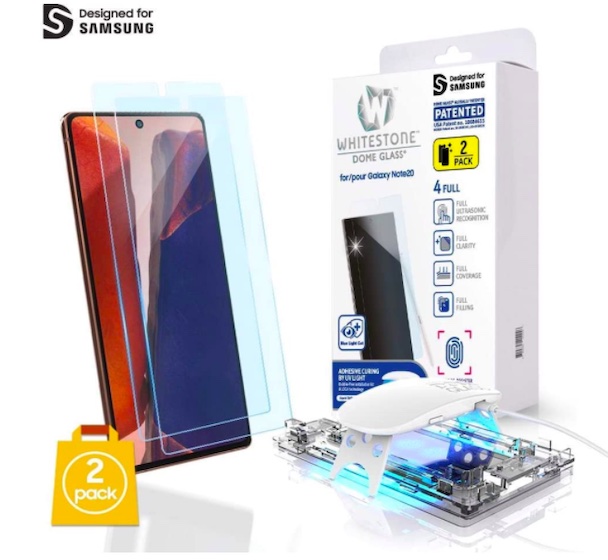 Another feature that warrants attention in this premium Note 20 screen guard is the ability to provide maximum clarity. Hence, the OLED display will remain at its absolute best, and watching movies or binging TV-series will not be affected at all.
That aside, you can also count on Dome Glass screen defender to offer high-end protection and also resist scratches. Priced at $70, it comes in two-packs. Keeping in mind these impressive specs, it can safely stake the claim of being one of the best screen guards for Galaxy Note 20.
Buy from Amazon: $69.99 (pack of 2)
3. FilmHoo – Anti-Scratch Screen Guard for Galaxy Note 20
What makes FilmHoo screen protector a notable defender for the 6.7″ display of Note 20 is the anti-scratch capability. Made of TPU material, the screen defender can fight out scuffs with ease. Moreover, it also features self-healing technology to ward off ugly scratches.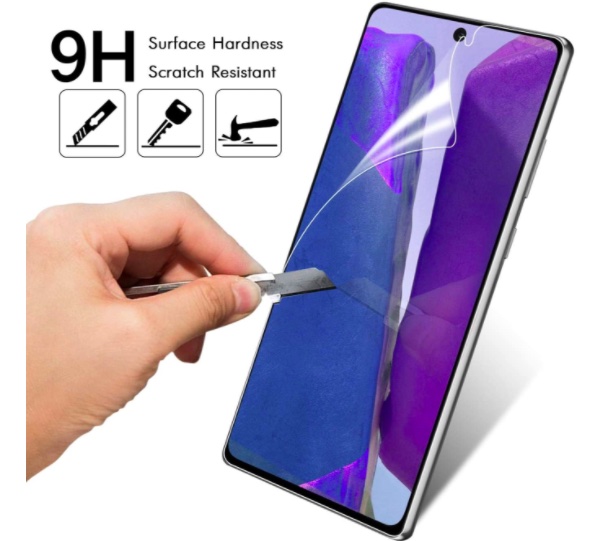 Scratch protection aside, FilmHoo sports neat cutouts that help it fit perfectly on the screen. The screen guard also works with most cases and covers of Galaxy Note 20. With the presence of oleophobic coating, it's able to resist grime, oil, and fingerprints. As a result, this TPU screen guard keeps the clarity and smoothness of the 6.7-inch large OLED display intact. Priced at $13, FilmHoo screen protector comes in three-packs.
Buy from Amazon: $12.99 (pack of 3)
4. ESR – Edge-to-Edge Protection for Galaxy Note 20's Display
Sporting rounded edges, ESR screen guard is designed to offer full-coverage to the touchscreen. Made of top-grade tempered glass, it's very strong in terms of absorbing shock. The company claims that it can withstand up to 5 KG of pressure, which is more than capable to keep threats from accidental drops at bay.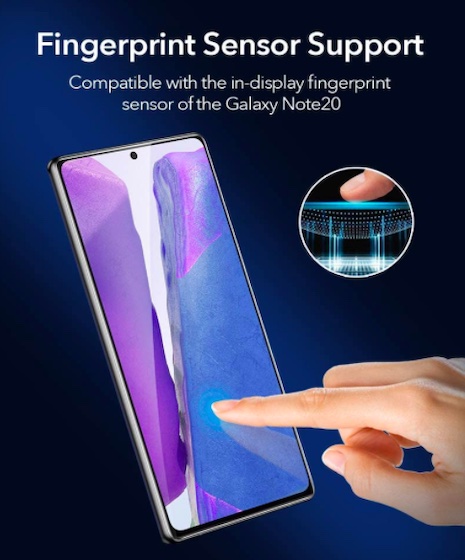 Aside from protection, ESR screen guard is also top-notch when it comes to delivering high-clarity. Thus, you can trust this screen protector to preserve the original clarity of the 6.7″ OLED display.
Notably, it also has the support for the in-display fingerprint sensor, ensuring you can unlock your device without any pain. Taking all these features into account, ESR screen guard seems to be reasonably priced at $14 for a two-pack.
Buy from Amazon: $13.99 (pack of 2)
5. Luibor – Reliable Camera and Lens Protector for Galaxy Note 20
If you are looking for a relatively cheap deal that can help you offer the needed safeguard to both the 6.7″ display and triple-camera setup, this offering from Luibor would be a smart pick. The company offers three-pack screen guards and two-pack camera lens protectors under $16.
With the tempered glass construction, the screen defenders boast 9H hardness for additional protection against impact. Courtesy the industry-standard hardness, the screen guard can also keep scuffs at a fair distance.
Besides, they also deliver better clarity and fight out unwanted things like smudge and dust. As for camera lens protectors, they are precise and offer complete safeguard to the camera bump. Moreover, they are also waterproof, which is yet another plus from protection point of view.
Buy from Amazon: $15.99 (pack of 3+2)
6. Venoro – Anti-Fingerprint Screen Guard for Galaxy Note 20
Equipped with a durable tempered glass construction, Venoro screen defender is second to none when it comes to fighting out the impact of accidental drops. At 0.33mm thickness, it's one of the thickest screen guards for Galaxy Note 20. A bit extra thickness strengthens the casing for impact resistance.
Courtesy the rounded edges, it provides full-coverage to the display without interfering with the selfie camera and mic. As for clarity, Venoro delivers 99.99% high definition transparency, ensuring the OLED display continues to look at its best.
With the incorporation of oleophobic coating, it also has additional protection from oil, sweat, and fingerprint. Long story short, Venoro screen is a trusted screen guard for Galaxy Note 20.
Buy from Amazon: $11.99 (pack of 3)
7. maxboss – Bubble-Free Screen Protector for Galaxy Note 20
Bubbles make the installation of a screen guard a painful exercise. Touted to be completely bubble-free, maxboss promises to be a notable protector of the OLED display. The TPU screen protector has laser-cut dimensions that play a vital role in the precise installation.
Not to mention, the 3D curved design that provides the edge-to-edge protection to the beautiful display. The neat cutouts make it case-friendly, allowing you to pair your phablet with any case without any issue.
Even on the clarity front, maxboss looks on par with the best thanks largely to the 99.98% light penetration ratio that retains the original viewing quality of the OLED display. And when you add the compatibility with ultrasonic fingerprint, it becomes a high-quality screen protector for your device.
Buy from Amazon: $13.99 (pack of 3)
Top Screen Protectors for Galaxy Note 20
There you go! So, these are our top screen defenders for Galaxy Note 20. Made of durable material, they are fully equipped to safeguard the OLED display against unwanted damage. Furthermore, they also ensure the original clarity and touch sensitivity of the display remain intact. By the way, which one have you chosen for your Note 20? We would truly appreciate your feedback in the comments below.