While the market is flooded with smartwatches claiming to be better than Apple Watch at a much lower price point, none can match the efficiency and seamless experience that Apple's wearable device offers. Be it the innovative ECG, immensely helpful cycle tracking, or Hearing health, Apple Watch has a lot to offer to both normal users and fitness freaks. That said, it's not for kids. By not giving the smartwatch a more kid-friendly form-factor and pricing it as a premium product, Apple has made clear that Apple Watch is not for kids. Anyway, I have handpicked some of the best Apple Watch alternatives for kids, which you would love to present to your little champ. Take a look!
Best Apple Watch Alternatives for Kids in 2021
Just in case, you have begun to expect a bit too much, let me put a little disclaimer upfront.
What Should You Expect from Kids-Friendly Smartwatches?
While none of these smartwatches can match the repertoire of Apple Watch, I have been surprised to see what they offer. Most of them come with GPS tracker, camera, SOS feature, and two-way calling.
Oh yes, these funky-looking watches are also equipped with a pedometer to count steps and offer some exciting games to thrill children during free time. That's not all, they are all priced way below $100, which means you can buy a fairly good smartwatch for your champ without having to dole out a lot of bucks. So, let's dive along with me to take a quick look at the roundup!
1. Vowor – 4G Smartwatch with 90° Rotatable Camera
If a premium kids-friendly smartwatch is on top of your demand, Vowor could be worth checking out. The smartwatch sports a modern-looking design with a large 1.54″ IPS touchscreen that provides a much-improved viewing experience. And with the support for 4G, it provides a top-notch two-calling experience.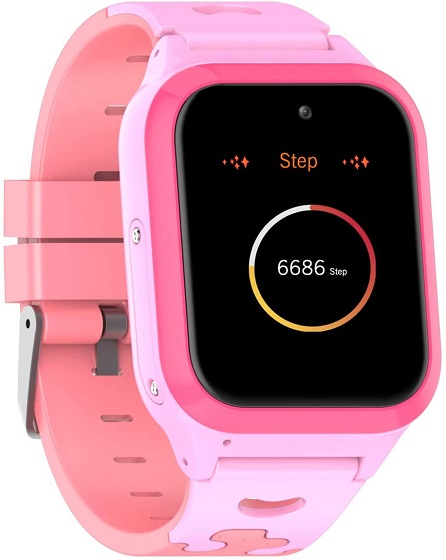 Thanks to the large screen and the strong 4G connection, it offers a better video-calling experience. Apart from the audio/video calling, the smartwatch supports voice chat as well so that your kid can communicate with ease. Notably, the IP67 waterproof construction offers the needed freedom to kids to enjoy watersports or learn swimming without worrying about the protection of the watch.
Vowor comes with GPS/LBS tracker for more accurate real-time location tracking. Hence, you can keep a tab on the activity of your kid with ease. What's more, the smartwatch has also got SOS functionality for emergency calls. Considering all these notable features, it deserves to be rated as one of the best smartwatches for kids.
Key features: 
Modern-looking design 
Large 1.54″ IPS touchscreen
Better video-calling experience 
IP67 waterproof construction
GPS/LBS tracker
Buy from Amazon: $89.99
2. Karaforna – A Good-Looking Watch with 9 Essential Functions
Karaforna's offering seems to be a complete smartwatch for kids in more ways than one. First and foremost, the watch has a pleasing design that can instantly grab the attention of children. The ultra-large touch screen and funky looking band enhance its profile. Not to mention, the wearable device can also hold the fort when it comes to resisting wear and tear.
Aside from nice design and durability, Karaforna offers nine essential functions including an alarm clock, phone, contacts, calculator, music player, game, camera, photo album, and a super handy call recorder. Kids can easily press the power button to activate the SOS call for help. And with the class mode app, the watch ensures children can concentrate on the study without any distraction.
As the smartwatch supports memory cards (comes with 1GB micro SD card), they can save selfies and even play their favorite songs. When you want to keep a close watch on the activities of your child, the GPS tracker would become really helpful. Additionally, it also comes with a setting to let you ideally customize all the features. Priced at just $20; Karaforna is easily one of the best smartwatches for kids.
Key features: 
1.54″ ultra-large touch screen
Nice-looking band 
Alarm clock
 Music player 
Supports memory card
Buy from Amazon: $19.99
3. Prograce – A Robust Kids Smartwatch at an Affordable Price Point
Claiming to be the best kids smartwatch, Prograce has got a lot to offer. Design-wise, it looks elegant thanks to the vibrant appearance. The large 1.54″ IPS screen further enhances its design. Equipped with 90-degree rotatable camera, the smartwatch is also equally good when it comes to capturing photos or fun-filled selfies.
Moreover, Prograce comes with a built-in pedometer to count steps, which is a big plus if you are encouraging your kid to be more proactive. With the music player, it allows children to tune into their favorite music. Notably, the storage is expandable up to 32GB through micro SD card. Hence, children can store plenty of music and photos.
Prograce also features a flashlight for emergency. But what has grabbed my attention in this smartwatch is a set of four intriguing games including Whac-A-Mole, Ninja Run Online, Welcome the God of Wealth, Brave Money which children would always enjoy playing. Boasting a solid battery of 600mAh, it can deliver several hours of battery life.
Key features: 
Attractive design 
90-degree rotatable camera
1.54″ IPS screen
Expandable up to 32GB through micro SD card
Built-in pedometer
600mAh battery
Buy from Amazon: $38.97
4. Beacon Pet – Waterproof Smartwatch with a Built-in Camera
Featuring a sporty look, "Beacon Pet" is a pretty good Apple Watch alternative for kids. The 1.44″ LED touch screen along with a soft and durable band makes it a great choice. It comes with a reliable GPS tracker that offers real-time location tracking. Therefore, you can keep track of the activity of your little champ using the companion app (works with both iOS and Android).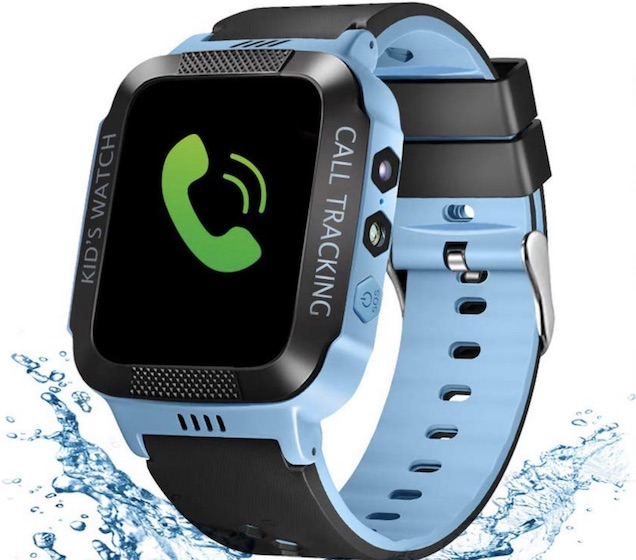 With the SOS button, your kid can immediately call the set phone numbers whenever they are in danger or need help. Thanks to the remote voice monitor, you can secretly hear your child. Times when you want to keep a tab on all the activities of your kid, this feature can come in super handy. Furthermore, the alarm clock helps children stay in sync with time.
Another feature worth noting is the built-in camera that allows children to snap pics. As the smartwatch is IP67 waterproof, they don't need to take it off before taking a bath or swimming in the pool. Oh yes, Beacon Pet also comes in some attractive colors so that your champ can pick the right fit!
Key features: 
Real-time location tracking 
IP67 waterproof
Built-in camera
Remote voice monitor
SOS button
Buy from Amazon: $18.99-$22.99
5. Amazqi – Powerful Smartwatch with Large Screen and Solid Battery
If you are looking for a good-looking smartwatch for your teen girl, give serious consideration to Amazqi. Flaunting a large screen and a sleek band, the watch has an adorable profile. The 1.54″ display with 240 X 240 pixels is quite bright so that you can view information comfortably. Equipped with a 380mAh battery, it offers up to 48 hours standby time which is more than enough to last a day – of course with normal usage.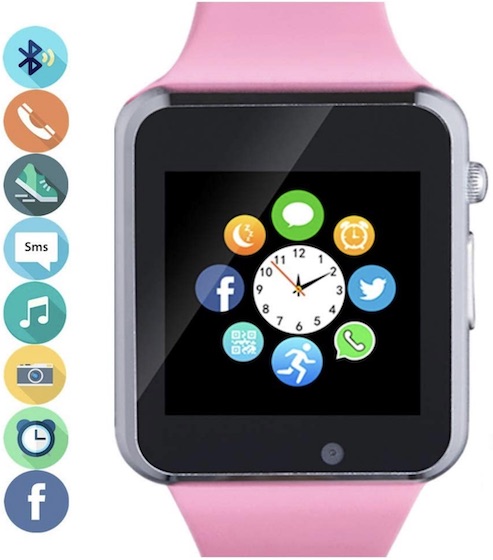 The built-in pedometer works efficiently in tracking steps, while the sleep monitor helps you track the sleep of your child. Just like Apple Watch, it also offers sedentary reminders so that kids won't remain passive for too long. Moreover, it also offers notification reminders from Facebook, Twitter, email, calls, texts so that they can stay in the loop.
Other notable features include a music player, anti-lost functionality, image viewer, and sound recorder. Lastly, you can choose this smartwatch in seven attractive colors including pink, black, brown, and silver.
Key features: 
1.54″ display with 240 X 240 pixels
Features 380mAh battery
Built-in pedometer 
Anti-lost functionality
Comes with a music player 
Buy from Amazon: $23.99
6. SZBXD – Stylish Smartwatch with Super Comfy Strap
Just a glance at SZBXD and you would know that your sweetheart you would be glad to have this stylish smartwatch. The super comfy strap is ably complemented by a large touchscreen that looks pleasing to the eyes. As the watch is waterproof, your kid will have a bit more freedom to enjoy watersports.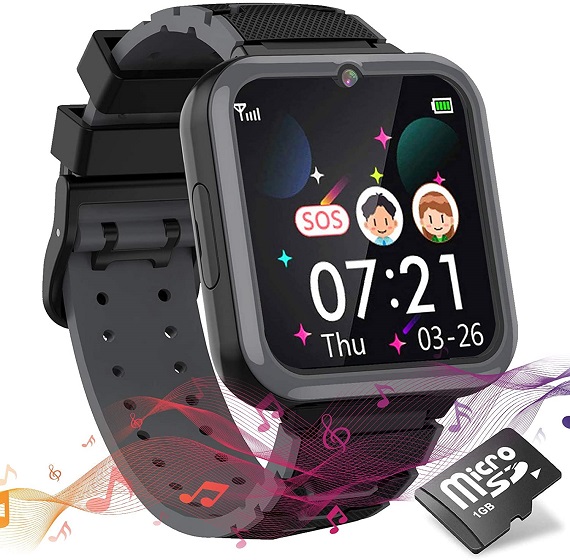 With the built-in AGPS LBS, you can track the activity of your kid when he/she is outdoor. There is also a two-way communication feature that lets both parents and children communicate freely. Using the app, they can even send/receive voice and text messages.
If you find your kid struggling to stay at pace with time, the alarm clock will prove to be very crucial in keeping him/her in line with time. Moreover, the company also offers a 1GB free SD card to let children store photos and music. Additionally, it comes with some interesting puzzle games which kids would enjoy playing repeatedly. Taking everything into account, SZBXD is the sort of watch that most kids would like to flaunt.
Key features: 
Built-in AGPS LBS
Supports two-way communication 
Ability to send/receive text messages 
Offers a 1GB free SD card
Comes with some interesting puzzle games 
Buy from Amazon: $32.99-$33.99
7. YENISEY – Pretty Nice Smartwatch with Responsive Screen
This one is the sort of smartwatch that ticks off all the boxes. Whether it's the trendy design or the bunch of notable features to keep kids excited, YENISEY has got everything covered. The 1.4″ HD touch screen is responsive and offers a much-improved viewing experience.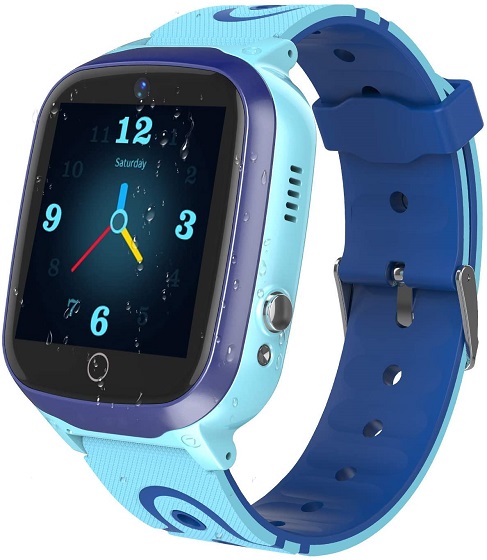 As a concerned parent, you would appreciate the two-way calling feature that allows hassle-free calling. The addressbook supports up to 10 contacts. Plus, there is also an SOS feature which can be customized to automatically call three 3 phone numbers. Notably, it also supports voice chat so that kids and parents can communicate freely.
What's more, YENISEY features a "silent mode" that disables call, camera, and game except SMS to let kids concentrate on study. But hold on for a moment before you think that the watch is just about some notable features! It comes with some awesome games that can not only fascinate kids but also improve their intelligence.
Key features: 
Addressbook supports up to 10 contacts 
Built-in camera 
Useful voice chat feature 
Features a silent mode 
Comes with a handful lof fascinating games 
Buy from Amazon: $31.99
8. Marvel – Eye-Catching Spider-Man Design
For all the kids who are a huge fan of Spider-Man, Marvel Smartwatch seems to be a great pick. Exhibiting the famed spider-man design, the watch is primed to catch eye-balls. But is the wearable device just about looks? Nope. Marvel watch has got a lot of more under-the-hood to stake the claim of being one of the coolest Apple Watch alternatives for kids.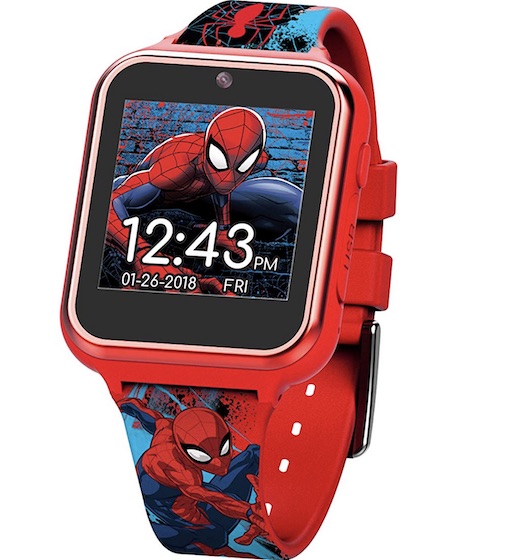 Featuring an impressive display, a useful voice recorder, and a selfie cam, it's equally good as far as functionality is concerned. With the incorporation of a pedometer, the watch enables children to track steps. Not to mention, there is also a handy calculator app to help them quickly get their Maths right.
That's not all, it has got a handful of fun-loving games that can both entertain and educate kids. Pick this one for your little hero/angle and I'm sure he/she won't be able to hide their happiness.
Key features: 
Attractive design 
Super handy calculator 
Useful voice calculator 
Selfie camera 
Comes with some fun-loving games 
Buy from Amazon: $34.99
9. VTech KidiZoom DX2
Elegant seems to be an ideal word for this smartwatch from VTech. The watch features a nice-looking screen along with a sophisticated band. And with two cameras, your kid has the luxury to snap beautiful images. Probably the biggest highlight of this watch is a solid collection of 55 digital and analog watch faces. What's more, it also offers a ton of customization so that children can personalize the watch face using filters, frames, stamps, and photo effects.
Beyond customization, KidiZoom DX2 also offers parental controls so that you can disable games and even set daily time limits to prevent your kid from breaking the set rules. The watch comes with a built-in motion sensor for active play challenges. With the presence of a pedometer, it counts the steps accurately.
But what brings plenty of fun into the mix is a monster catcher game that provides a fun-loving augmented reality gaming experience. Keep in mind, KidiZoom DX2 is sweat and splash-proof only so do not submerge it in the water.
Key features: 
Built-in motion sensor
Dual cameras 
Exciting AR games 
Over 50 digital and analog watch faces
256MB of internal memory 
Buy from Amazon: $49.37
10. PTHTECHUS – Rugged Desing for Enhanced Durability
Should you want to have a bit rugged smartwatch for your kid, look no further than PTHTECHUS. As compared to all the smartwatches mentioned above, it seems to have a slightly more durable form-factor. Thus, it would be an automatic pick for your adventurous kid. Aside from the rugged appearance, the watch also scores pretty well in the functionality aspect.
Features like an accurate GPS tracker and the presence of the SOS feature make it a top-notch bet for children. The two-way communication goes a long way in keeping parents and kids connected to each other. With the course mode, they can disable all the functions of the watch when the kid is in the class or at school. Add to that the IP67 waterproof rating and you have got a smartwatch that can easily entice your loving child.
Key features: 
Durable design 
Anti-fall mechanism 
GPS tracker
SOS functionality 
Waterproof 
Buy from Amazon: $39.99
11. Fediman – Lightweight and Sophisticated Design
The Fediman smartwatch has got all the qualities to win over your child. Design-wise, the smartwatch looks trendy. The silicone strap is pretty smooth and sweat resistant. So, your kid would love to wear it for hours. It comes with one of the finest GPS tracker powered by LBS position technology which provides a more accurate location tracking experience.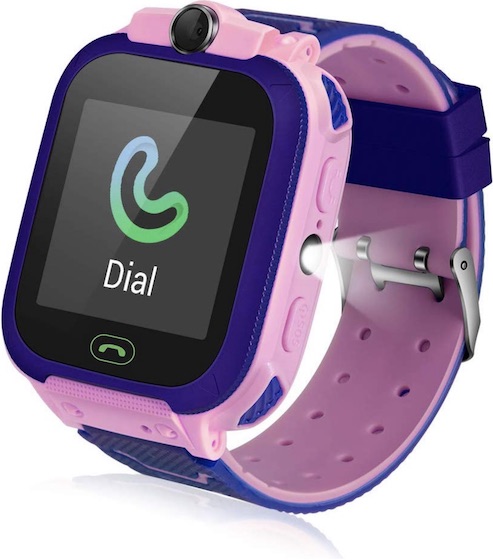 The watch offers weather forecasts so that you can keep a tab on the bad weather and help your kids avoid them easily. With the flashlight, they can deal with dark environments. Not to underestimate the precise alarm clock, remote camera, and the two-way call features that are so essential in a kid-friendly smartwatch. As for pricing, Fediman comes at just $20 which makes it one of the cheapest Apple Watch alternatives for kids.
Key features: 
Pretty soft silicone strap 
Remote camera 
Accurate location tracking 
Weather forecasts 
handy flashlight 
Buy from Amazon: $19.99
12. Enow – Durable Construction with Waterproof Design
Another rugged smartwatch for kids, the Enow smartwatch packs in almost everything your kid and you might want in their smartwatch while also being protected from the elements. The smartwatch comes with a rugged exterior, with IP67 rating so it can be worn through swim-sessions and even if its raining outside. It's also packed with features like two-way calling so you can stay in touch with your kid, a clock (because obviously), a flashlight, voice chat, and more.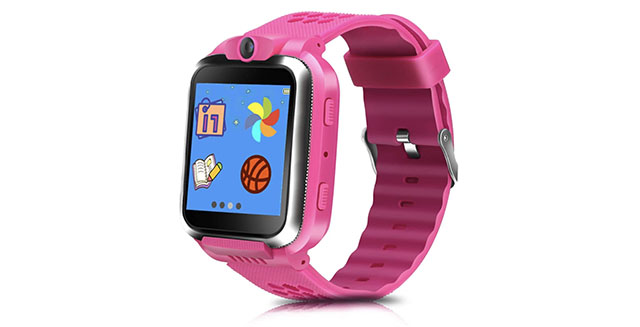 There's also a remote voice monitor that lets parents listen to what's happening around their kids — a somewhat invasive feature, but one that can come in useful if you're wondering what's going on around your child. The watch also lets parents set time-spans for a class mode where all the watch features are disabled except SOS mode, so your kid won't be distracted but can still reach you in case of an emergency.
Key features: 
Rugged exterior 
Waterproof design 
Remote monitoring feature 
Two-way calling feature 
SOS mode 
Buy from Amazon ($25.99)
Frequently Asked Questions
Q. Can I get my kid an Apple Watch without a phone?
Yes, you can. Though Apple Watch is designed to be an extension of the iPhone, it can now carry out quite a lot of things without having to rely on the paired iPhone. Whether it's calling, messaging, or streaming to music, Apple Watch can do plenty of essential things without needing the help of the iPhone.
Q. What is the best smartwatch for a kid?
While there are several smartwatches that claim to be the best, I think Prograce, Karaforna, and Vowor have an edge over their counterparts as they are packed with several notable features.
Q. What is the best smartwatch for a 10-year-old?
Both in terms of design/features and affordability, Prograce and Karaforna can safely claim to be one of the best smartwatches for a 10-year-old kid.
Q. What are the disadvantages of giving an Apple Watch to a kid?
While there are many advantages of giving an Apple Watch to a kid, there is an equal number of disadvantages of giving the smartwatch to a kid. For instance, kids would indulge in too many games and unnecessarily spend a lot of time chatting with their friends.
Q. Do I need a cellular Watch for my kid?
If you want your kid to be connected through calls and messages, a cellular watch should be a preferred choice.
Q. How the video call will function on the Watch without a mobile phone?
Many smartwatches come with a decent camera which can be used for not only capturing photos but also video calling. They take advantage of the cellular connection to activate audio/video calls without having to rely on the connected phone.
Explore the Top Kids-Friendly Smartwatches
So, these are our top kids-friendly smartwatches. I hope they have lived up to the taste of your loving child. May I know which one are you going to buy? Is it the one that has a rugged profile or the one with an elegant appearance? Also, share your thoughts about the latest iteration of the Apple Watch and the things that have caught your eyes in it.