While the market is flooded with watches claiming to deliver more than Apple Watch at a much lower price point, none can match the efficiency and seamless experience that Apple's wearable device offers. Be it the innovative ECG, immensely helpful cycle tracking or Hearing health, Apple Watch has a lot to offer to both fitness freaks and health-conscious people. As someone who has closely tracked the smartwatch's evolution from a fashionable gadget to the beloved fitness device, I have been demanding Apple Watches exclusively designed for kids. By not giving the smartwatch a more kid-friendly form-factor, the tech giant is either missing a trick or perhaps doesn't consider tiny tots targeted consumers. Anyway, I have handpicked some of the best Apple Watch alternatives for kids, which you would love to present to your little champ. Take a look!
Best Apple Watch Alternatives for Kids in 2020
Just in case, you have begun to expect a bit too much, let me put a little disclaimer upfront.
What Should You Expect from Kid-Friendly Smartwatches?
While none of these smartwatches can match the repertoire of Apple Watch, I have been surprised to see what they offer. Most of them come with GPS tracker, camera, SOS feature, and two-way calling. Oh yes, these funky-looking watches are also equipped with a pedometer to count steps and offer some exciting games to thrill children during free time. That's not all, they are all priced under $50. So, dive along with me to take a quick look at the roundup!
1. Karaforna
Karaforna's offering seems to be a complete smartwatch for kids in more ways than one. First and foremost, the watch has a pleasing design that can instantly grab attention from children. The 1.54″ ultra-large touch screen and funky looking band enhance its profile. Not to mention, the wearable device can also hold the fort when it comes to resisting wear and tear.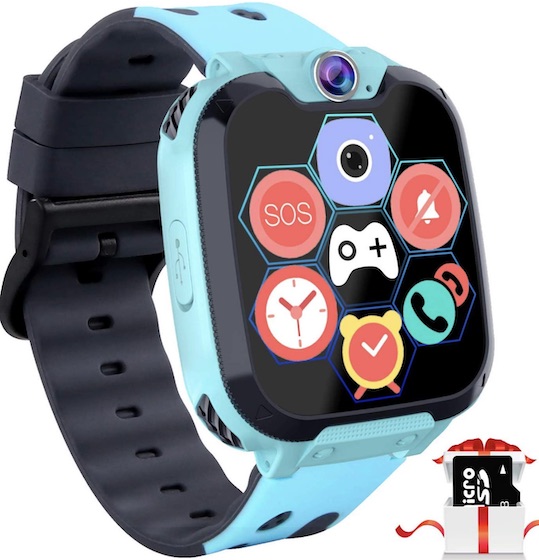 Aside from nice design and durability, Karaforna offers nine essential functions including an alarm clock, phone, contacts, calculator, music player, game, camera, photo album, and a super handy call recorder. Kids can easily press the power button to activate the SOS call. As it supports memory cards (comes with 1GB micro SD card), kids can save selfies and even play their favorite songs.
When you want to keep a close watch on the activities of your child, the GPS tracker would become really helpful. On top of all, Karaforna also comes with a bunch of exciting games so that your child can enjoy gaming in free time. Everything considered; it's easily one of the best smartwatches for kids in the market.
Buy from Amazon: $35.99
2. Beacon Pet
Featuring a sporty look, "Beacon Pet" is a pretty good Apple Watch alternative for kids. The 1.44″ LED touch screen along with a soft and durable band makes it a great choice. It comes with a reliable GPS tracker that offers real-time location tracking. Therefore, you can keep track of the activity of your little champ using the companion app (works with both iOS and Android).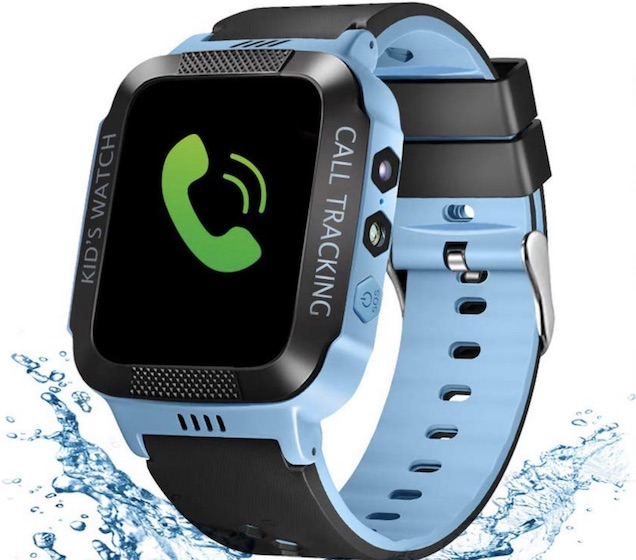 With the SOS button, your kid can immediately call the set phone numbers whenever they are in danger or need help. Thanks to the remote voice monitor, you can secretly hear your child. Times when you want to keep a tab on all the activities of your kid, this feature can come in super handy. Furthermore, the alarm clock helps children stay in sync with time.
Another feature worth noting is the built-in camera that allows children to snap pics. As the smartwatch is IP67 waterproof, they don't need to take it off before taking a bath or swimming in the pool. Oh yes, Beacon Pet also comes in some attractive colors so that your champ can pick the right fit!
Buy from Amazon: $26.99
3. Amazqi
If you are looking for a good-looking smartwatch for your teen girl, give serious consideration to Amazqi. Flaunting a large screen and a sleek band, the watch has an adorable profile. The 1.54″ display with 240 X 240 pixels is quite bright so that you can view information comfortably. Equipped with 380mAh battery, it offers up to 48 hours standby time which is more than enough to last a day – of course with normal usage.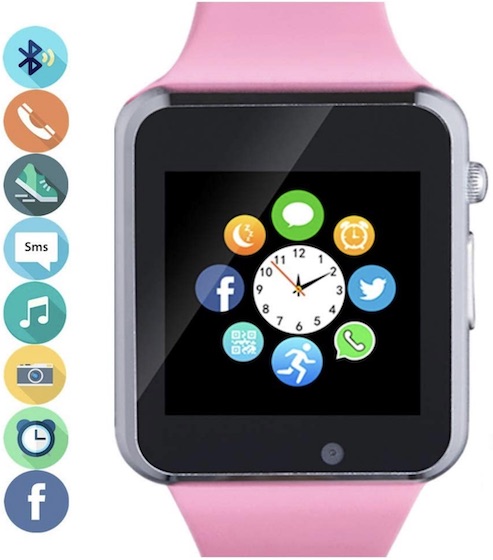 The built-in pedometer works efficiently in tracking steps, while the sleep monitor helps you track the sleep of your child. Just like Apple Watch, it also offers sedentary reminders so that kids won't remain passive for too long. Moreover, it also offers notification reminders from Facebook, Twitter, email, calls, texts so that they can stay in the loop.
Other notable features include music player, anti-lost functionality, image viewer, and sound recorder. Lastly, you can choose this smartwatch in six attractive colors including pink, black, brown, pink-silver, and silver.
Buy from Amazon: $25.59
4. SZBXD
Just a glance at SZBXD and you would know that your sweetheart you would be glad to have this stylish smartwatch. The super comfy strap with two-tone colors is ably complemented by a large touchscreen. As the watch is IP68 waterproof, your kid will have a bit more freedom to enjoy watersports.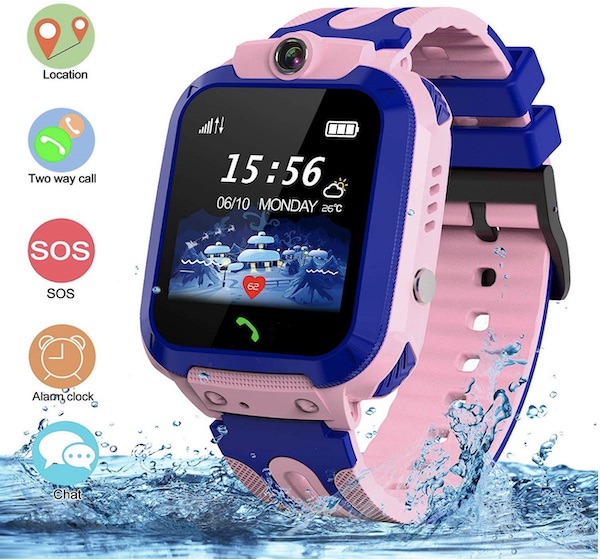 With the built-in AGPS LBS, you can track the activity of your kid when he/she is outdoor. There is also two-way communication feature that lets both parents and children communicate freely. Using the app, they can even send/receive voice and text messages. And if you often find your kid struggling to stay at pace with time, the alarm clock will prove to be very crucial in keeping him/her in line with time. Long story short, SZBXD is the sort of watch that most kids would like to flaunt.
Buy from Amazon: $39.99
5. YENISEY
This one is the sort of smartwatch that ticks off all the boxes. Whether it's the trendy design or the bunch of notable features to keep kids excited, the smartwatch has got everything covered. The 1.54″ HD touch screen is responsive and offers a much-improved viewing experience. Courtesy the built-in MP3 player, kids can enjoy listening to the music.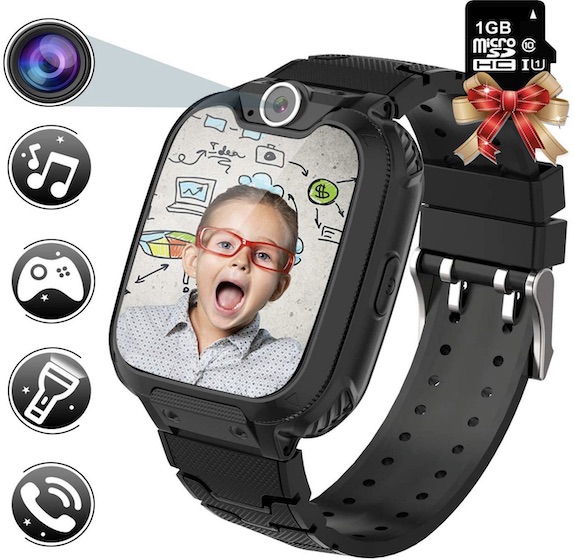 The watch also comes with a 1GB Micro SD card and supports up to 32GB which would be more than enough to store plenty of images and music. As a concerned parent, you would like to have the two-way calling feature that allows hassle-free calling. But hold on for a moment before you think that the watch is just about some notable features! It comes with some awesome games including Crawl 2048, Basketball Shoot Master, Bee War, Pinball Hit Bricks, Car Grab Goods, Mario Eat Gold, and Ultimate racing which will bring hours of fun to your kid.
Buy from Amazon: $32.99
6. Marvel
For all the kids who are a huge fan of Spider-Man, Marvel Smartwatch seems to be a great pick. Exhibiting the famed spider-man design, the watch is primed to catch eye-balls. But is the wearable device just about looks? Nope. Marvel watch has got a lot of more under-the-hood to stake the claim of being one of the coolest Apple Watch alternatives for kids.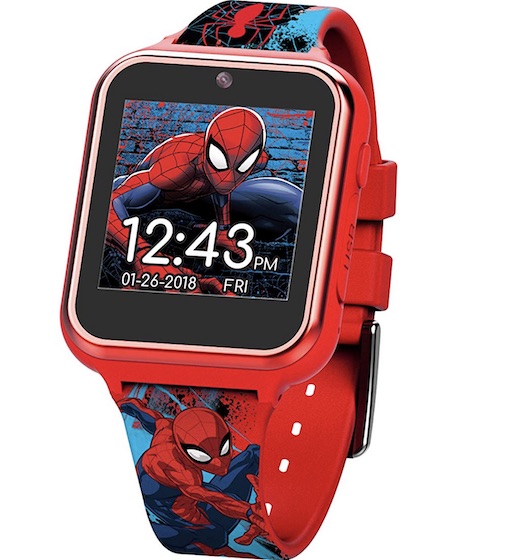 Featuring an impressive display, a useful voice recorder, and a selfie cam, it's equally good as far as functionality is concerned. With the incorporation of a pedometer, the watch enables children to track steps. Not to mention, there is also a handy calculator app to help them quickly get their Maths right. Pick this one for your little hero/angle and I'm sure he/she won't be able to hide their happiness.
Buy from Amazon: $34.97
7. Lsflair
What has appealed to me the most in Lsflair smartwatch is the seamless experience. Apart from having a fairly good design, the watch scores pretty high in the functionality department. With the two-way calling feature, parents can stay connected with their children. The wearable device also comes with a unique feature called "Do not disturb mode" which allows parents to disable all the features of the watch when kids are at school.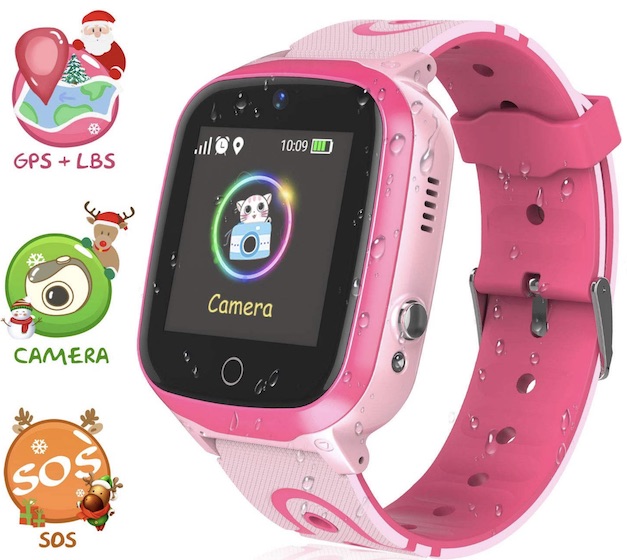 Just like most counterparts, Lsflair has SOS functionality that enables kids to quickly call the selected phone numbers for help. To ensure children don't get bored, the watch has packed in some interesting games as well. And if your kid likes to have vibrant colors, you would be glad to have multiple eye-catching hue options like blue, pink, green, and more.
Buy from Amazon: $29.99
8. VTech KidiZoom DX2
Elegant seems to be an ideal word for this smartwatch from VTech. The watch features a nice-looking screen along with a sophisticated band. And with two cameras, your kid has the luxury to snap beautiful images. Probably the biggest highlight of this watch is a solid collection of 55 digital and analog watch faces. What's more, it also offers a ton of customization so that children can personalize the watch face using filters, frames, stamps, and photo effects.
Beyond customization, KidiZoom DX2 also offers parental controls so that you can disable games and even set daily time limits to prevent your kid from breaking the set rules. The watch comes with a built-in motion sensor for active play challenges. With the presence of a pedometer, it counts the steps accurately.
But what brings plenty of fun into the mix is a monster catcher game that provides a fun-loving augmented reality gaming experience. Keep in mind, KidiZoom DX2 is sweat and splash-proof only so do not submerge it in the water.
Buy from Amazon: $39.99
9. PTHTECHUS
Should you want to have a bit rugged smartwatch for your kid, look no further than PTHTECHUS. As compared to all the smartwatches mentioned above, it seems to have a slightly more durable form-factor. Thus, it would be an automatic pick for your adventurous kid. Aside from the rugged appearance, the watch also scores pretty well in the functionality aspect.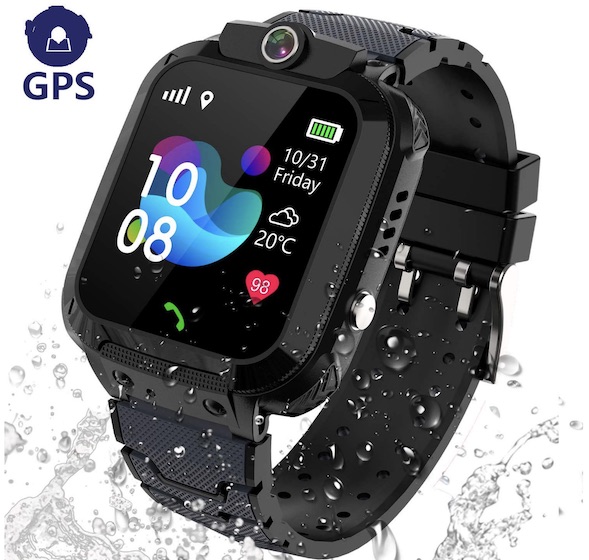 Features like an accurate GPS tracker and the presence of the SOS feature make it a top-notch bet for children. The two-way communication goes a long way in keeping parents and kids connected to each other. With the course mode, they can disable all the functions of the watch when the kid is in the class or at school. Add to that the IP67 waterproof rating and you have got a smartwatch that can easily entice your loving child.
Buy from Amazon: $45.99
10. Fediman
The Fediman smartwatch has got all the qualities to win over your child. Design-wise, the smartwatch looks trendy. The silicone strap is pretty smooth and sweat resistant. So, your kid would love to wear it for hours. It comes with one of the finest GPS tracker powered by LBS position technology which provides a more accurate location tracking experience.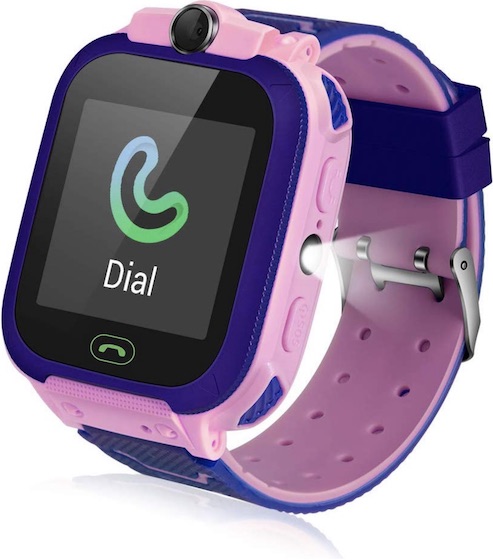 The watch offers weather forecasts so that you can keep a tab on the bad weather and help your kids avoid them easily. With the flashlight, they can deal with dark environments. Not to underestimate the precise alarm clock, remote camera, and the two-way call featres that are so essential in a kid-friendly smartwatch. As for pricing, Fediman comes at just $27.99 which makes it one of the cheapest Apple Watch alternatives for kids.
Buy from Amazon: $27.99
11. DUIWOIM Smartwatch for Kids
Another kids smartwatch you can consider for your kids is the Duiwoim smartwatch. It comes packed with features such as built-in games that are sure to keep your child entertained. The smartwatch also features a camera that can be used to take pictures and even record videos.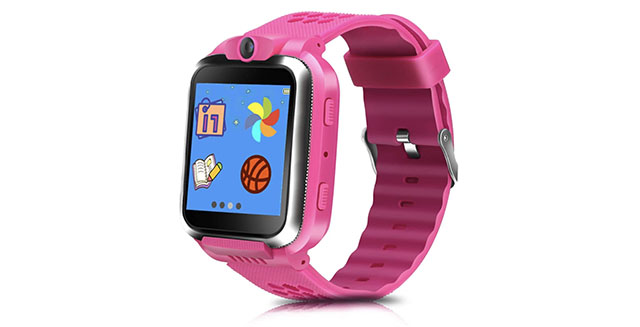 Games and camera features aside, the smartwatch also comes with things like alarm functionality, stopwatch, and timers that will help your kid learn better time management skills, or to wake up on time by themselves. The watch charges over microUSB, and you can also use the port to transfer recorded pictures and videos to a computer.
Buy from Amazon ($35.99)
12. Enow
Another rugged smartwatch for kids, the Enow smartwatch packs in almost everything your kid and you might want in their smartwatch while also being protected from the elements. The smartwatch comes with a rugged exterior, with IP67 rating so it can be worn through swim-sessions and even if its raining outside. It's also packed with features like two-way calling so you can stay in touch with your kid, a clock (because obviously), flashlight, voice chat and more.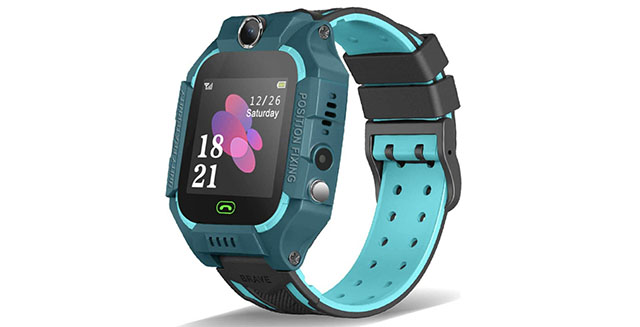 There's also a remote voice monitor which lets parents listen to what's happening around their kids — a somewhat invasive feature, but one that can come in useful if you're wondering what's going on around your child. The watch also lets parents set time-spans for class mode where all the watch features are disabled except SOS mode, so your kid won't be distracted but can still reach you in case of an emergency.
Buy from Amazon ($21.99)
Choose the Best Kids-Friendly Smartwatches
So, these are our top kids-friendly smartwatches. I hope they have lived up to the taste of your loving child. May I know which one are you going to buy? Is it the one that has a rugged profile or the one with an elegant appearance? Also, share your thoughts about the latest iteration of Apple Watch and the things that have caught your eyes in it.