Graphene is the next big thing in battery technology. Researchers have been working to make Graphene batteries mainstream because they are far better than the Lithium Polymer batteries that we are using today. Thanks to its properties like higher energy density, higher electrical conductivity, flexibility, strength and more, Graphene batteries are superior to Li-Po batteries. They are lighter, more durable, last longer, and can store more charge than Li-Po batteries in the same size. However, one thing that is holding Graphene back is the cost of production which is very high. Still, there are some Graphene power banks in the market which you can buy right now. In this article, we are going to list the best Graphene power banks that you can buy right now.
Best Graphene Power Banks You Can Buy in 2020
Since Graphene is very costly, creating batteries for mass consumption is still not financially viable. However, researchers found that you don't need a Graphene only battery to get better performance. In fact, just using a hybrid battery made of regular Li-Po and Graphene results in higher capacity and better lifetime charge cycles. Currently, all the Graphene power banks that you can find on the market are these hybrid batteries. Once the production cost of Graphene comes down, we will see pure Graphene power banks on the market.
List of Best Graphene Power Banks
1. Apollo Traveller
Apollo Traveller is the first Graphene power bank that is available to purchase. The product was launched as an Indiegogo campaign and is now available to purchase. The biggest feature of Apollo Traveller is its super-fast charging speed. Even the best Li-Po power banks need overnight to charge fully, whereas you can charge Apollo Traveller from 0 to 100% in just 18 minutes. That is some crazy recharging speed which is only possible in a Graphene battery.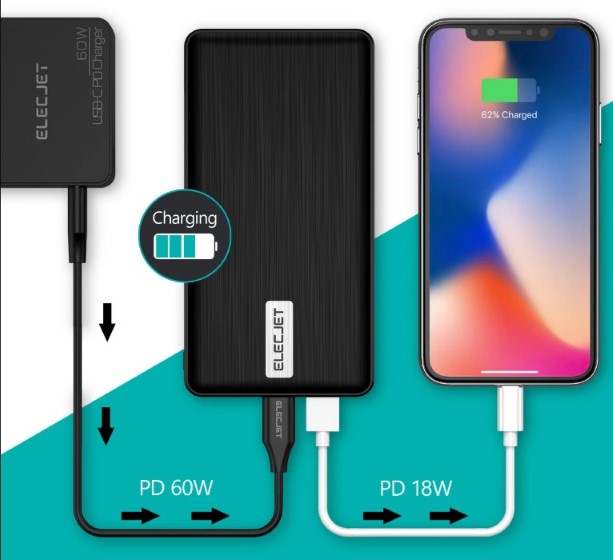 Apart from the charging speed, Apollo Traveller also brings other benefits over lithium polymer batteries. It has an excellent charge cycle life of 10,000 which is 10 times better than your normal power banks. Also, it supports USB-C PD which means you can charge smartphones, tablets, and even laptops that support USB-C charging. Also, it supports fast charging for supported Android and iOS devices. The only drawback of Apollo Traveller is that it comes with only 6,000 mAh capacity which is a bit on the lower side.
Buy from Elecjet: $88
2. Real Graphene
If you are looking to buy a graphene power bank with exceptional charging speed then I would recommend Real Graphene. Contrary to its name, it's not an actual graphene battery, but a Graphene composite power bank that can deliver up to 60W of power output. It basically means that the battery is made of traditional lithium-polymer cells, but Graphene nanoplatelets are mixed to create a graphene monolayer on the electrodes. What the layer does is, it enhances the charging speed significantly giving you a full charge within 50 minutes. For instance, you can charge your OnePlus device in just 55 minutes which is faster than the company's Warp Charger which takes 1 hour and 16 minutes for a full recharge.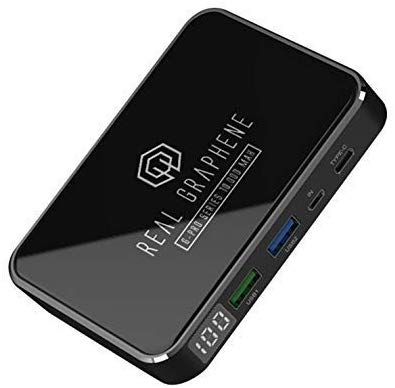 Other than that, the power bank supports Power Delivery so you can use it to charge your iPhone, MacBook and supported Android devices as well. On the I/O front, you have three output ports including 2 USB-A and 1 USB-C port. So, if you want the best Graphene power bank that is commercially available right now, go with Real Graphene. The company offers two power banks having 10,000mAh and 20,000 mAh of capacity so you can choose according to your need.
Buy from Amazon [10,000 mAh]: $69.99
Buy from Amazon [20,000 mAh]: $89.99
3. Flash by Chargeasap
Flash by Chargeasap is another graphene power bank that comes with a humongous 20,000mAh of capacity and power output of up to 150W. While we can't test the claims, the company has reportedly partnered with Tesla and Panasonic to build this superfast Graphene power bank. Chargeasap is currently crowdfunding the project on Indiegogo and has recently moved to the Prototype stage. The tech behind this power bank is similar to the Real Graphene power bank. You are essentially getting a lithium-polymer battery but with 5% of composite graphene mixed to make the power bank superconductive.
As the company claims, Flash can charge smartphones having standard-sized batteries within 25 minutes. Apart from that, this graphene power bank is compatible with Power Delivery, Qualcomm Quick Charge and supports low-power charging for Apple Watch and AirPods too. On the tech front, Flash seems a top-notch product and similar is the case with features as well. It has three ports including one type-C and two USB-A ports. Further, there is wireless charging on top of that so that is amazing. All in all, I would say, if you want a Graphene power bank with ultra-fast charging speed with all the modern features then Flash by Chargeasap can be an awesome pick.
Buy from Indiegogo: In Prototype Stage (Starts at $149)
4. ULTRON Graphene Power Bank
If you are looking for a higher capacity Graphene power bank then check out Ultron which brings a Graphene power bank of 20,000 mAh capacity. The product is currently on Indiegogo and is in the production phase. It is supposed to start shipping by the end of the year. Like the Apollo Traveller, the USP of Ultron is its super-fast recharging speed. You can charge Ultron from 0 to 100% in just 85 minutes. That's for a battery of 20,000 mAh capacity which is something unheard of.
Ultron also brings a higher recharging life cycle of 2000 which is five times better than the life cycle of best power banks out there. The power bank also supports both Power Delivery 2.0 and Qualcomm's Quick Charge 3.0 charging technologies. It means that it supports fast charging for both Android and iOS devices. You can also charge multiple devices at once. Another unique feature of Ultron Graphene power bank is that it supports wireless charging and brings a built-in wireless charging pad at the top. Overall, this is a great product and if you are looking for a Graphene power bank you should buy it.
Buy from Indiegogo: Waiting for production
Use These Graphene Power Banks to Up Your Charging Game
Graphene power banks are superior to lithium polymer power banks. Not only they recharge quickly but they also last longer. It's still early stages for Graphene power banks so there are not a ton of options on the market. But we will see more and more power banks being released in the future. And we will keep updating this article every month to include the newer ones. So, keep checking back to find the best Graphene power banks that you can buy.