Samsung Galaxy S20 may not boast high-end specs like its bigger siblings, S20 Plus and S20 Ultra, but the smartphone has got enough to appeal to those who want to be at the bleeding edge of tech without having to cross the $1000 mark. While I find S20's triple-camera system quite capable, it's the 6.2-inch Dynamic AMOLED display that has tickled my fancy the most. Combine that with the 120Hz refresh rate and you have got a gadget that can take on games like PUBG easily. Not just that, it can also make day-to-day affairs feel more responsive and snappier. If you are already gushing over the display, you better choose one of the best Samsung Galaxy S20 screen protectors to keep the beautiful screen safeguarded.
Best Samsung Galaxy S20 Screen Guards
Screen protectors for S20 are a dime a dozen in the market. But keep in mind, not all of them are designed to get the most out of the Dynamic AMOLED display. Moreover, there are quite a few screen guards that don't support the ultrasonic fingerprint scanner that's available on the S20 Series. So, be a little more choosy while getting a screen defender for your smartphone. To make your job a tad easier, we've lined up the top screen guards for S20.
But before we move onto our list, if you have also purchased other Galaxy S20 series devices for you or your family members, you can check the list of best cases and screen protectors for them using links below:
With that out of the way, let's get to our list, shall we?
1. AsBellt
For uncompromised protection against shatter and nasty scratches, AsBellt screen guard promises to be a safe bet for your S20. What gives it an edge over many other rivals is the high-grade tempered glass that boasts 9H hardness. That means the screen defender can knock down both impact and even the sharpness of knives. And with the rounded edges, it also gets installed perfectly on the screen. Another notable feature of AsBellt screen protector is the ability to work with the ultrasonic fingerprint scanner so that you can unlock your smartphone and authenticate payment without any issue. Everything considered; it's easily one of the top screen guards for S20 right now.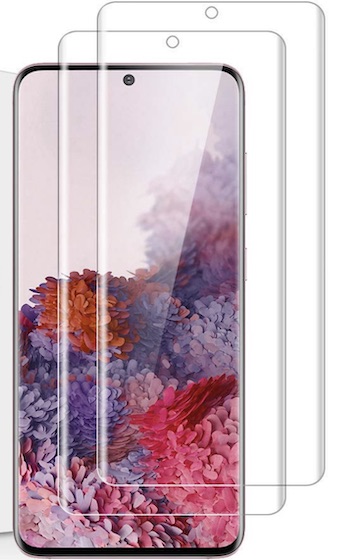 Buy from Amazon: $14.99 (pack of 2)
2. QITAYO
If you prefer to have a pretty smooth and responsive screen guard, this offering from QITAYO could be the right option for you. The screen guard is made of TPU and features precise cutouts to fit perfectly on the 6.2-inch display. And with the curved edges, the screen defender also ensures full-coverage so that the entire screen remains protected from scratches. Aside from offering reliable protection from scuffs, QITAYO screen guard for S20 also delivers high clarity for an improved viewing experience. Moreover, the accessory maker offers the screen protector in three packs at $9.99 which makes it one of the cheapest screen protectors for Galaxy S20.
Buy from Amazon: $9.99 (pack of 3)
3. Caseology
Though Caseology is more known for its range of pretty impressive cases, it has come up with a fairly good liquid screen protector for S20. And after giving this screen guard a close look, I must say that it's up to the task. The screen defender is quite thin and delivers high transparency for a better viewing experience. Thanks to an additional coating, it can also thwart scratches and keep smudges away. So, you can expect Caseology film to retain its smoothness for long.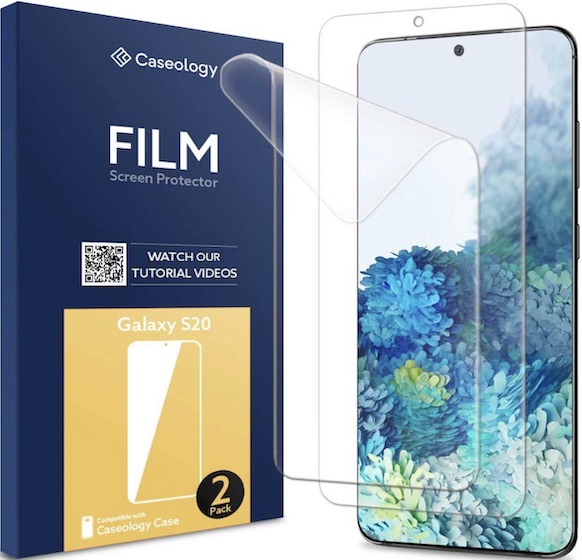 Buy from Amazon: $10.99 (pack of 2)
4. Spigen NeoFlex
What I really admire in Spigen is the unbeatable passion to produce a range of accessories at a comparatively low price. And guess what, the accessory maker hasn't disappointed this time either. The NeoFlex is a liquid screen protector designed for S20. The highlight of this screen guard is the crystal clear design and the curved edges that play a vital role in providing the full protection to the Dynamic AMOLED display. Moreover, it also comes with the self-healing technology to ward off fingerprints and scratches. That makes it one of the best Samsung Galaxy S20 screen protectors that you can buy.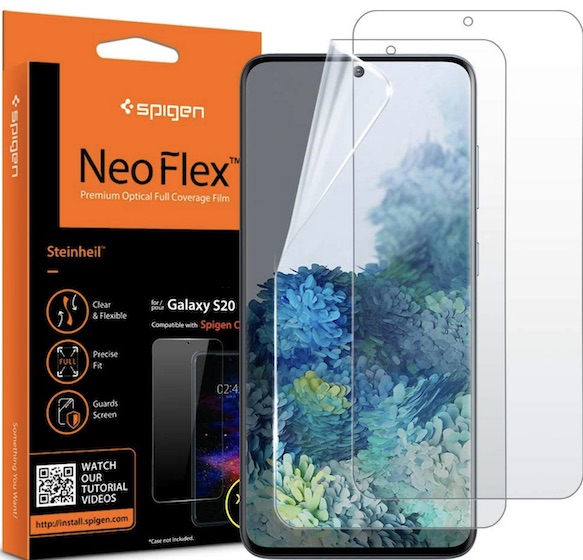 Buy from Amazon: $8.99 (pack of 2)
5. TAURI
Featuring HD clarity (99.99% transparency), TAURI screen guard is designed to let you get the most out of the S20's beautiful display. The screen protector is just 0.13mm thick and feels quite smooth to the touch. So, you can use the ultrasonic fingerprint sensor and all the quick gestures without any pain. On the protection front, TAURI screen protector shouldn't disappoint you as it can resist dust, sweat, and even keep scuffs at bay. Moreover, you get three packs for just $9, which is another plus from an affordability point of view.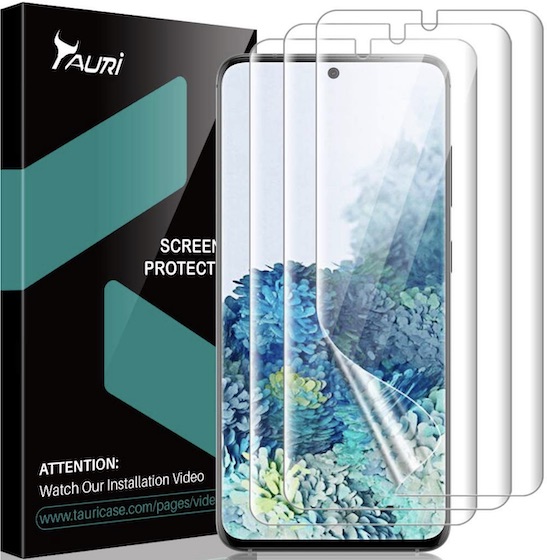 Buy from Amazon: $8.99 (pack of 3)
6. FilmHoo
There are three notable reasons why FilmHoo deserves a shot in this coveted lineup. First and foremost, the screen guard is completely bubble-free and provides high-definition transparency so the screen can always look pristine. The second, it's yellow resistant, unlike many other liquid screen guards. Being made of soft TPU material, it offers a true touch sensitivity so that you can feel comfortable using your device. Furthermore, FilmHoo can also be trusted to ward off sweat and dust to retain its smoothness and transparency.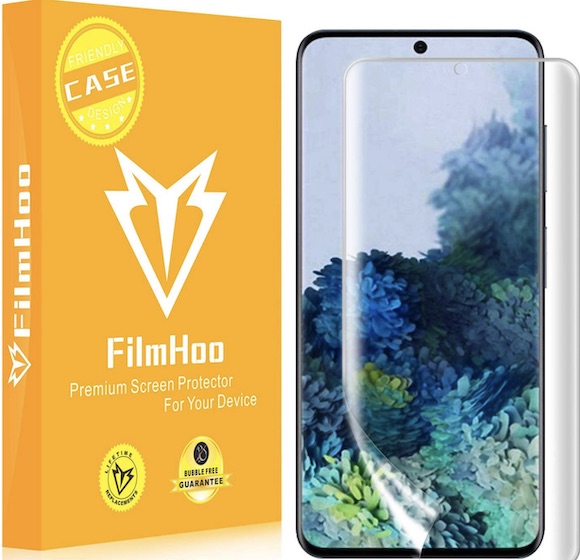 Buy from Amazon: $12.99 (pack of 3)
7. LK
Simply put, the LK screen guard has checked off all the essential bases to be a reasonably good screen defender for S20. Probably the best part about it is the case-friendly design. It intentionally leaves extra space around the borders so that your device can comfortably fit most cases. And if you are looking for best Galaxy S20 cases, check out our list. Courtesy the soft TPU material, it has got true touch sensitivity to let your finger glide on the screen smoothly and also allow you to use the on-screen fingerprint reader without any hassle.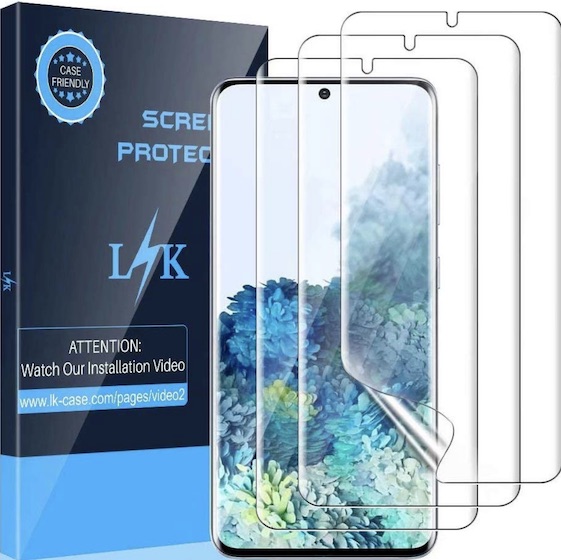 Buy from Amazon: $9.99 (pack of 3)
8. TOCOL
When it comes to providing top-notch liquid screen guards, TOCOL has long been a well-known name. So, you can expect its offerings to be a durable companion for the S20. With the laser cutting technology, it provides maximum coverage to the screen without interfering with the front camera and sensor. Besides, it's also designed to work with most cases so that you won't have any problem while using any type of covers with your smartphone.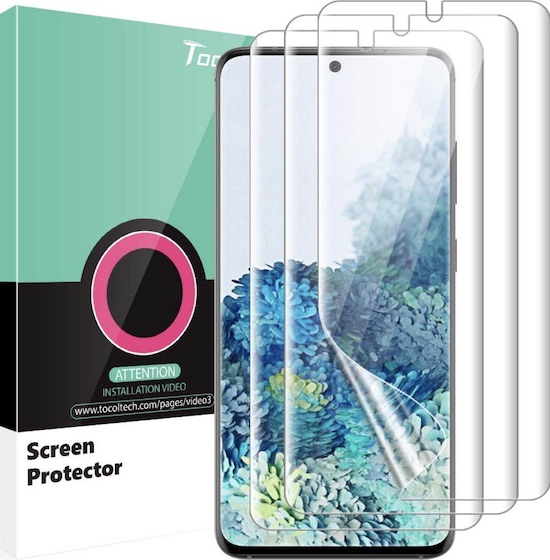 Buy from Amazon: $8.99 (pack of 3)
9. MP-MALL
As someone who can't stand fingerprints, smudge, and sweat, I have found MP-MALL's screen guard one of the better options. What has caught my attention in this film is the oleophobic coating that ensures the screen remains free from things like dust and fingerprints. The coating also helps it retain transparency for long. As for scratch resistance, the MP-MALL screen protector can endure the onslaught of keys and even sharp objects to keep the display shielded.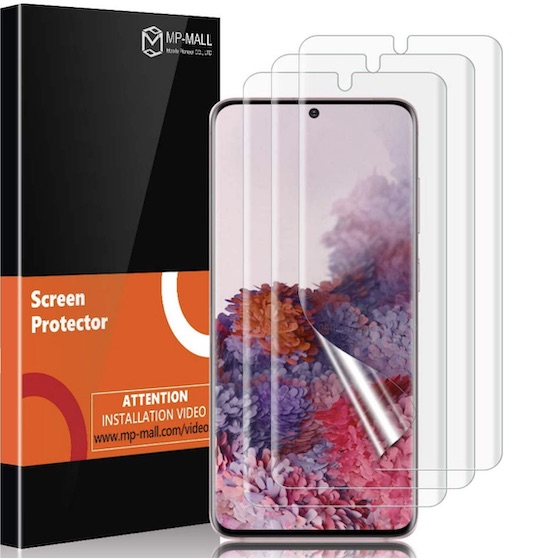 Buy from Amazon: $9.99 (pack of 3)
10. Orzero
With four layers of protection, Orzero has got a lot of promise to be a long-lasting protector of your S20 display. Despite having four layers, the screen protector is just 0.15mm thin. So, you can rely on it to live up to the mark in both aspects: clarity and smooth. Plus, it's also readied to deal with the annoying rainbow effect so that your screen always looks bright and clear. Being bubble-free, it won't leave behind any residue when removed.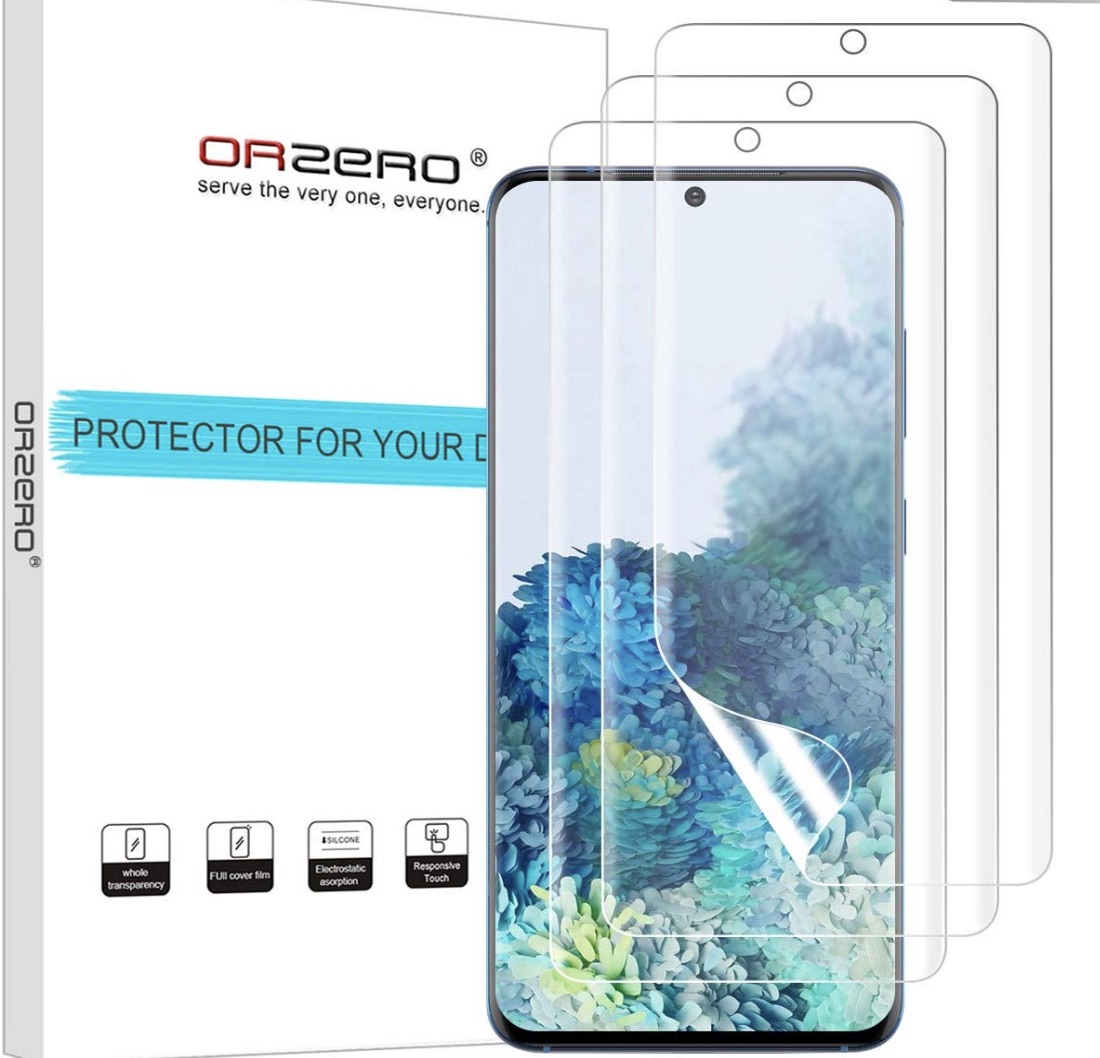 Buy from Amazon: $9.99 (pack of 3)
Best Samsung Galaxy S20 Screen Protectors
Now that you have explored the best screen protectors for Galaxy S20, let me know the ones that have looked more promising for your needs. Is it the one that's made of tempered glass or the one that's readied with soft TPU? We would like to know your favorite S20 screen guard in the comments below. Just in case you find any notable accessory maker missing from the lineup, let us know its name as well.