While Apple and Google have been working on taking over your car with Android Auto and CarPlay, both the offerings are currently limited to a few cars. Thus, if you use your car a lot to commute to work or just travel, the car mount is an important accessory to have. And if you have just bought an iPhone 7 or 7 Plus, you should get a car mount that works perfectly with your brand new iPhone. You can just put your iPhone in the car mount and get directions, play music, take calls or check out messages, all hands-free, thanks to Siri. So, what are you waiting for? Here are the 8 best iPhone 7 and 7 Plus car mounts you can buy:
1. iOttie Easy One Touch 3 Car Mount for iPhone 7 and 7 Plus
The very popular iOttie car mount brings a one size fits all design, which means it not only supports the iPhone 7 and iPhone 7 Plus but a host of other smartphones. It achieves that with its taller side locking arms and an increased arm tension. The telescopic arm is also pretty flexible, as you can pivot the case up or down for a total of 180-degrees to get the best viewing angles. The car mount can be used to mount your iPhone on the dashboard of your car or the windshield.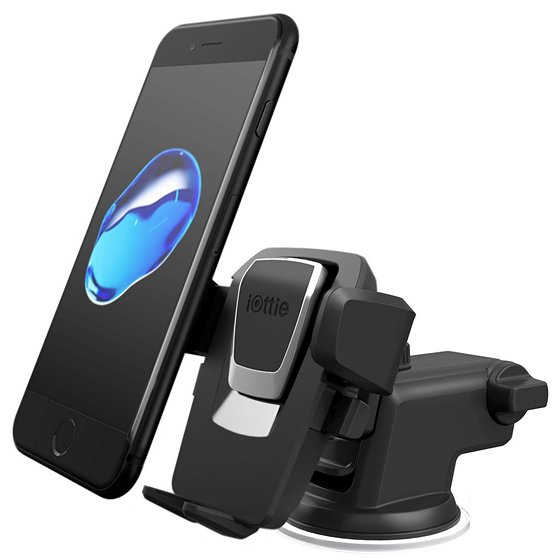 You can also extend the arm of the mount to get an extended mounting and a more closer look at the iPhone's screen. The iOttie car mount includes the product's base & mount, along with the dashboard pad and instructions.
Where to Buy: Amazon.com
Price: $24.95
2. Jamron 2-in-1 Car Mount
The Jamron 2-in-1 car mount is a universal mount, which means it should work fine with all smartphones including the new iPhone 7 and 7 Plus.  It is dubbed 2-in-1 due to the fact that you can use the mount on the windshield or the dashboard air vent. The car mount is highly adjustable and can be adjusted from 2.16″ – 3.62″. It offers full 360-degree rotation, so you shouldn't have any problems getting the perfect viewing angle for you.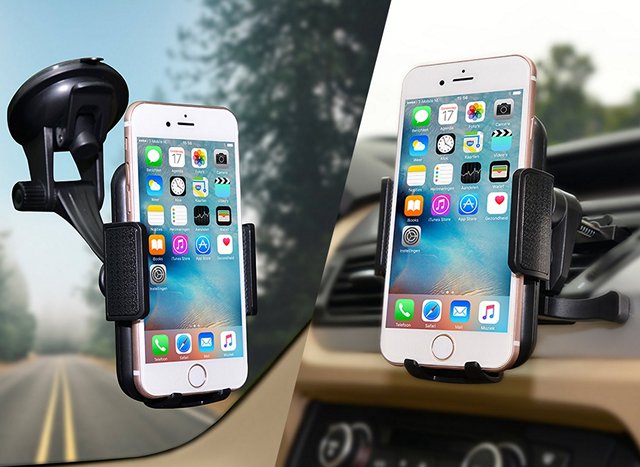 Also, the mount is a pretty robust offering and you can expect it to have a great grip on your iPhone even when you hit potholes or bumps. Jamron offers 3 years of warranty on the car mount and you should get a refund in case of mishap. So, yes, it's a pretty good deal.
Where to Buy: Amazon.com
Price: $11.99
3. Kenu Airframe+ Car Mount
Want a car mount specifically to place it on your car's AC vent? Well, the Kenu Airframe+ is arguable the best car mount for that. The mount works perfectly with any type of vent, be it horizontal, vertical or even angled. It features an expandable jaw, which means the iPhone 7 and 7 Plus will fit in pretty easily. Since the mount is portable, you can also use it as a kickstand for your iPhone 7 to watch movies or make Facetime calls. If you are looking for a more popular offering, you can check out the Spigen car mount ($12.99) that works specifically with AC vents.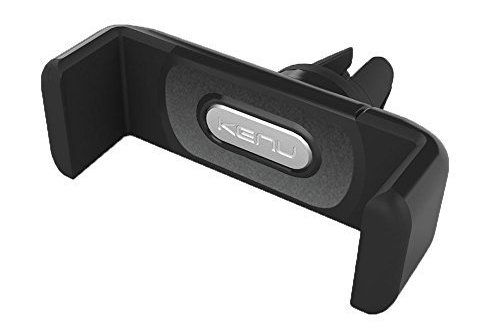 Where to Buy: Amazon.com
Price: $29.95
4. TechMatte MagGrip Car Mount
TechMatte's MagGrip car mount is another universal car mount, which lets you mount your iPhone 7 or 7 Plus to your car's windshield or dashboard with ease. The base of the mount features a suction-cup gel pad, which provides strong hold while making sure there's no residue when you remove it. Also, it holds the phone with powerful magnet bonds, so you should not worry about the iPhone 7 dropping off when you hit a bump. Techmatte offers a 30-day money back guarantee and a 1-year replacement warranty on the mount.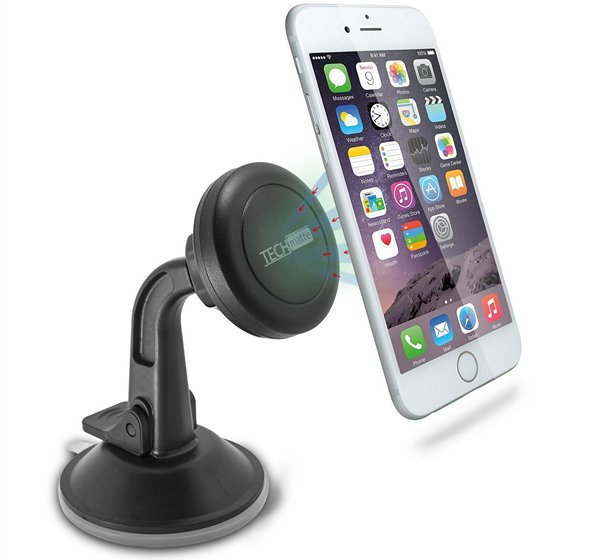 Where to Buy: Amazon.com
Price: $7.99
5. Ipow Dash Pad Car Mount
The Ipow Dash Pad car mount is a pretty handy mount due to the fact that you can use it to mount your iPhone on your car's dashboard or you can use it as a kickstand for watching videos or making video calls. The mount is adjustable in nature and can fit in any smartphone including the iPhone 7 and 7 Plus. We also like it due to the fact that it is non-magnetic and does not need a glue or adhesive to adhere to the dashboard, instead it features two pairs of rubber holders with a hoop type design, which fix it perfectly on the dashboard. Using the Ipow Dash Mat car mount, you can mount your iPhone 7 or 7 Plus vertically or horizontally with ease.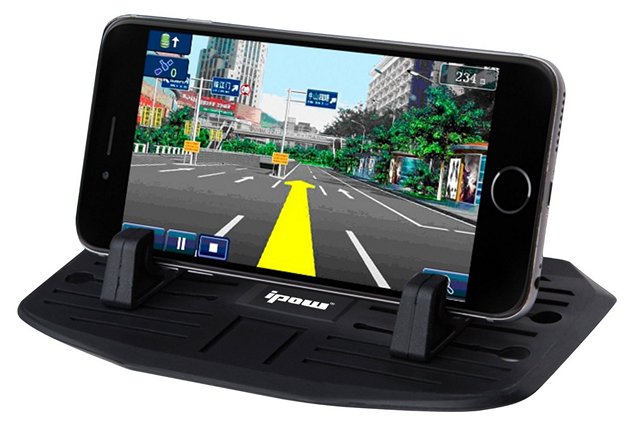 Where to Buy: Amazon.com
Price: $13.95
6. Newward Long Arm Car Mount
The Newward universal car mount features the ability to even hold tablets, so it should obviously fit the iPhone 7 and 7 Plus pretty easily. The USP of Newward's offering is the high quality ABS long arm, which goes up to 13-inches, so that you can get the best visibility. The arm is also very flexible, so you can adjust it accordingly. The windshield car mount also offers 360-degree rotation and features a pretty robust suction cup along with an extra base on the dashboard for even more stability and security. It's easy to install and you get lifetime warranty with the mount.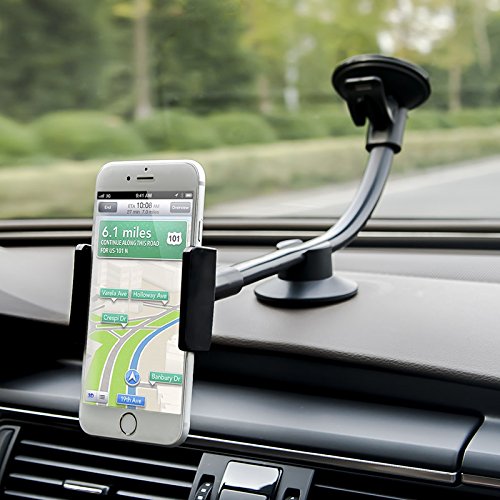 Where to Buy: Amazon.com
Price: $15.99
7. Vena CD Slot Car Mount
If you want to mount your iPhone 7 near the music system of your car, as it's near to the driver's seat and is also distraction free, you should check out the Vena CD Slot car mount. The Vena car mount holds any smartphone including the iPhone 7 and 7 Plus with ease, thanks to an easily adjustable design. It features a 360 degree multi angle rotating holster and you can place your iPhone horizontally or vertically.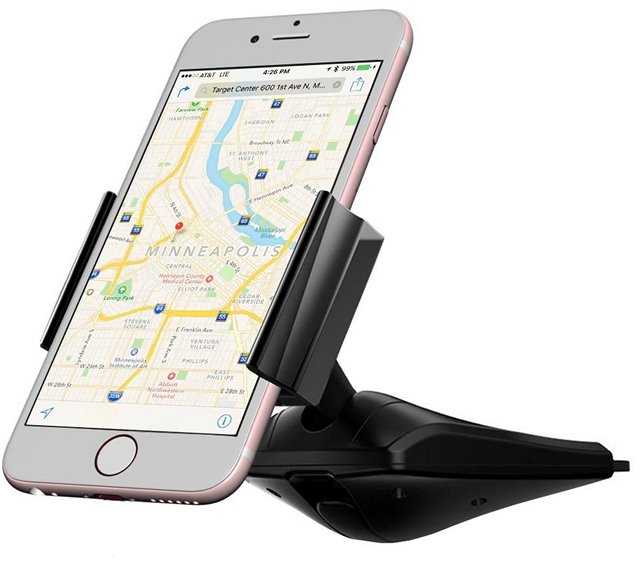 The mount even features a cool slide mechanism to mount the device, which makes the process very snappy. It has pretty decent ratings on Amazon and Vena offers 18 months limited warranty on the mount, so you should definitely check it out.
Where to Buy: Amazon.com
Price: $12.99
8. Wuteku Ultra Slim Car Mount
The Wuteku car mount is a minimal looking car mount, which should be a good choice if you don't want the mount to take up a lot of space. It's a magnetic car mount, which uses strong Neodymium magnets to hold the iPhone 7 firmly. The mount can be easily tilted and rotated for an adjustable viewing experience and it comes with a heat resistive adhesive that is super sticky but makes sure to leave no marks when removed. Over all, the Wuteko car mount looks sleek, thanks to the steel design and we'd definitely recommend you to check it out.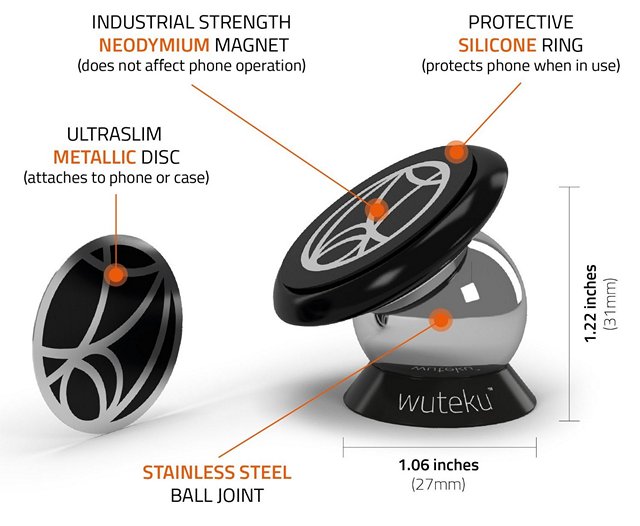 Where to Buy: Amazon.com
Price: $21.95
SEE ALSO: 12 Best iPhone 7 and iPhone 7 Plus Accessories You Should Buy
Looking for a Car Mount for the iPhone 7 or 7 Plus? Look no more!
Chances are, you already have a car mount that you use for your older iPhone or Android smartphone but we will recommend you to get a brand new one to go with the new iPhone 7 or 7 Plus. In our opinion, these are the best iPhone 7 and 7 Plus car mounts you can buy. What about you? Like any car mount that we listed? Let us know in the comments section below.
---
Load More