Loaded with high-end specs, Galaxy Note 20 Ultra looks every bit the smartphone to beat in the market right now. While you can argue the top-of-the-line price tag ($1299 starting price), you can't deny the fact that Samsung's latest ultra-large smartphone stands out on many fronts including raw horse-power. With all these top-notch specs come the responsibility to offer the phablet extra safeguard against accidental damage. Take a look at these best Galaxy Note 20 Ultra cases and covers, if you want your pricey investment to remain shielded against ugly scuffs or heart-breaking bumps!
Best Galaxy Note 20 Ultra Cases You Can Buy (2020)
I get it, very few would like to choose a cover for Galaxy Note 20 Ultra just for the sake of protection, putting style and elegance on the backburner. That's why I have picked cases from several different categories like clear, vintage leather, and cute covers.
Not to mention, there are also some anti-slip covers boasting impressive ergonomic design so that your hand can comfortably hold the ultra-large smartphone. That all being said, let's explore the top cases and covers designed for Note 20 Ultra!
1. Official Cases – Luxurious Suits for Galaxy Note 20 Ultra
Should your priority lies with luxurious Galaxy Note 20 Ultra cases that can be as eye-grabbing as the smartphone itself, Samsung's official cases would be the right way to go. Yeah, you got that right! The South Korean tech giant has come up with top-notch cases designed to look elegant on the all-new phablet.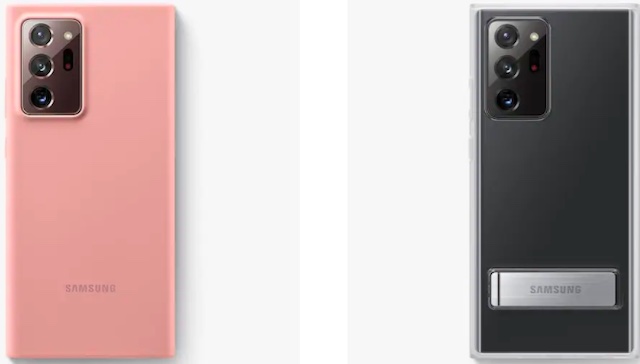 Whether it's the Smart LED View Cover, Smart Clear View Cover, or Kvadrat Cover, the official cases have got the looks to warrant immediate attention. Not just that, they are equally well-built and can also withstand shock and even put scratches at bay.
If you prefer to have a professional look and feel, the official leather cover with brushed aluminum buttons would be a better choice for you. However, if you want to offer the needed freedom to your phablet to catch eyeballs, the clear protective case will be a suitable companion.
Buy from Samsung: (Price varies based on the case you choose)
2. Spigen Liquid Air Armor – Sleek Case for Galaxy Note 20 Ultra
If a slim and sleek profile is what you are looking for, keep Spigen Liquid Air Armor in mind. The case sports a pretty lightweight and form-fitting design that wraps around the Galaxy Note 20 Ultra snuggly.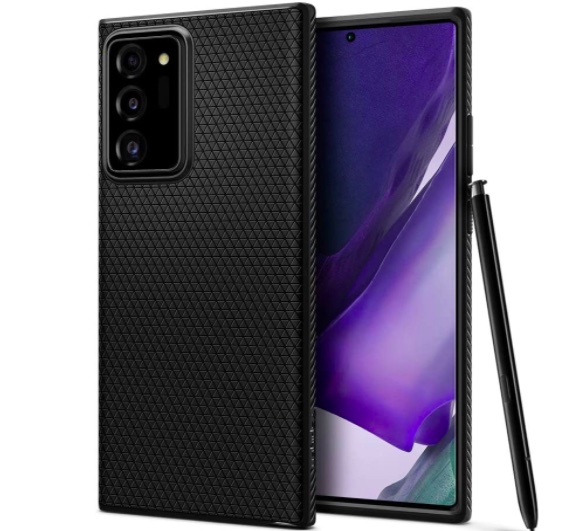 Thanks to the anti-slip matte surface, the case fits comfortably in the palm; thereby reducing the chance of accidental slip-offs. Being fingerprint-resistance, it retains the good-looking design for long. But what makes Spigen Liquid Air Armor Case for Galaxy Note 20 Ultra stand out is the military-grade protection in a slim casing.
Long story short, Liquid Air Armor keeps both the style and protection of your phablet intact.
Buy from Amazon: $11.99
3. Caseology Parallax – Grip Your Galaxy Note 20 Ultra Comfortably
Just a look at Caseology Parallax and you would know that it's got all the bases covered to be a trendy companion for the Galaxy Note 20 Ultra. What makes Parallax catch attention is the ergonomic 3D design that provides much-improved gripping.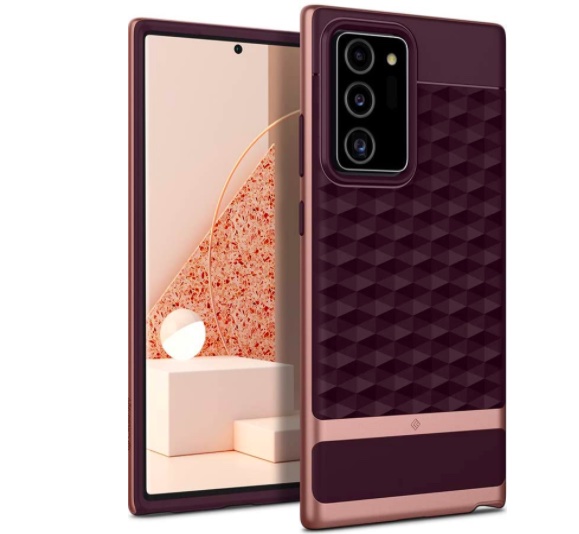 In terms of protection, the case has got the durable casing to live up to the expectation. With the dual-layered casing, it delivers trusted military-grade defense against drops and scratches. So, you can bank on this cover to keep your pricey 6.9″ smartphone protected.
Moreover, Caseology Parallax supports wireless charging and comes in multiple color variants to let you choose the right fit for your device.
Buy from Amazon: $13.99
4. dbrand Grip Case – Brings True Ergonomics to Galaxy Note 20 Ultra
dbrand is well-known for producing slim and grippy cases. And this offering looks perfectly in line with its reputation. At just 2mm thickness, it's one of the thinnest Galaxy Note 20 Ultra cases in the market right now. With the grippy material, the case allows you to hold the 6.9″ smartphone conveniently.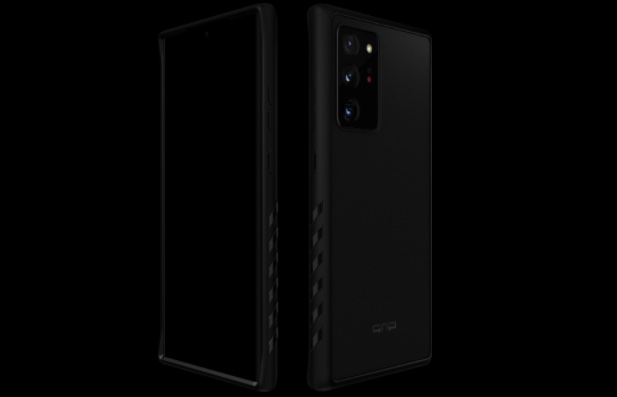 Made of high-quality shock-absorbing polymers, the case is quite durable despite having a sleek form-factor. Not to mention, the Grip case delivers military-grade impact protection.
The case features precise cutouts for painless access to all the ports. And with the tactile buttons, it's easy to take control of buttons. Considering these notable specs, the Grip Case deserves to be rated as one of the best Galaxy Note 20 Ultra cases.
Buy from dbrand: $29.95
5. TORRAS – Super Handy Kickstand Case for Galaxy Note 20 Ultra
Times when you want to give some rest to your hands without bringing your gaming or video-calling to a halt, a built-in kickstand comes into play. And it's for this purpose, I have chosen Torras Freedom Series kickstand case for Galaxy Note 20 Ultra.
The case sports a slim yet very protective form-factor. So, your phablet can continue to look eye-catching without putting the defense from shock and scuffs at the backburner.
The combo of hard PC casing and soft TPU bumper endows it additional strength to last long. With the built-in stand, you can prop up your Note 20 Ultra both horizontally and vertically, which is yet another plus from the user-experience point of view.
Buy from Amazon: $19.99
6. Cutebe – Cute-Looking Case for Galaxy Note 20 Ultra
For those hunting for a beautiful looking case that can make an impressive pair with the Galaxy Note 20 Ultra, Cutebe appears to be a better contender. Made of rugged PC and soft TPU, the case provides the required safeguard to the 6.9″ Galaxy Note 20 Ultra, while also ensuring it doesn't kill the fashion quotient of the smartphone.
Beyond protection, the hybrid design also enhances grip so that it's convenient to carry the smartphone in hands. Another notable feature of this case is the wireless charging compatibility. As a result, you don't have to take the pain of removing the cover from your Galaxy device before charging it wirelessly.
Priced at $10.99, Cutebe is also among the cheapest cases for Galaxy Note 20 Ultra in the market.
Buy from Amazon: $10.99
7. DualPro – A Complete Protective Suit for Galaxy Note 20 Ultra
Another case that's got everything covered to be a premium suit for Galaxy Note 20 Ultra is DualPro from Incipio. Boasting double layers of protection, the case puts defense from accidental drops at the forefront. The rugged polycarbonate outer shell can survive up to 10-foot drops. So, you can bank on it to keep your phablet secure even after a nasty fall.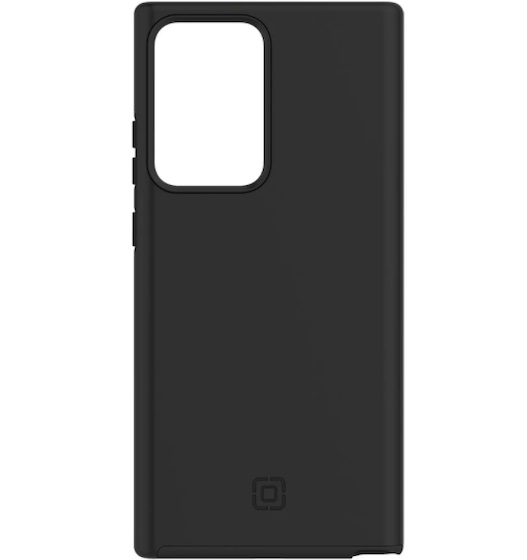 Though protection remains DualPro's main aspect, it doesn't hurt the looks of Note 20 Ultra intact by minimizing the bulk. Courtesy the precise cutouts, the access to ports and buttons remains easy-going. As for the gripping, DualPro shouldn't disappoint you with anti-slip hold.
Keeping in mind these specs, this Incipio offering looks pretty balanced at $30.
Buy from Amazon: $29.99
8. SALAWAT –  Vintage PU Leather Galaxy Note 20 Ultra Case
Should you wish to pick out a retro-style leather case for your Galaxy Note 20 Ultra, give serious consideration to this offering from SALAWAT.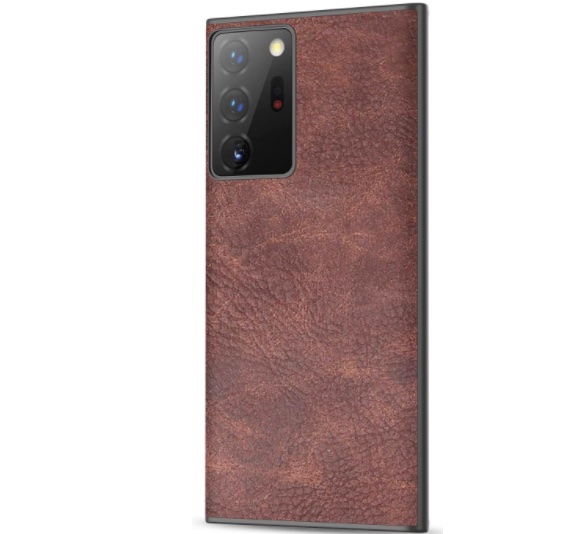 The case is made of PU leather and features soft TPU and rugged PC for additional protection from shock and scratches. While the soft TPU bumper plays a key role in enhancing the grip, the hard PC frosted shell does a reliable job of absorbing impact.
With the anti-slip exterior, SALAWAT leather case feels pretty comfortable in the hand. As for buttons, they are easy to press thanks to the tactile feedback. Coming in at $11, it's also comparatively affordable than many other counterparts.
Buy from Amazon: $10.99
9. Ringke Fusion X – Highly Protective Case for Galaxy Note 20 Ultra
If you wish to double down on protection from impact, Ringke Fusion X is the one I would recommend you to check out. Probably the best part about this case from Ringke is the ability to offer an uncompromised shield without adding unnecessary bulk to the smartphone.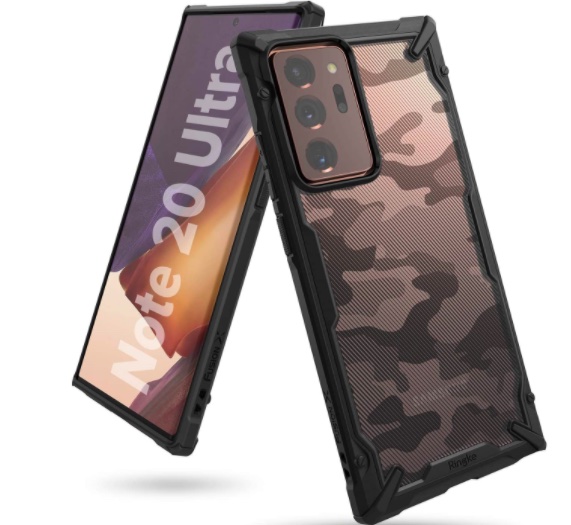 The case features a rugged bumper that can withstand a nasty impact. Apart from enduring shock, the bumper also plays a vital role in improving the gripping. With the raised front lip, it ensures the 6.9″ ultra-large display remains protected from scratches.
Despite being a highly protective cover, Ringke Fusion X supports wireless charging. So, there is no need to take off the cover before putting the Galaxy Note 20 Ultra on a wireless charger.
Buy from Amazon: $12.99
10. ESR – Crystal Clear Case for Galaxy Note 20 Ultra
If all you want is a simple and crystal clear case for your Galaxy Note 20 Ultra, look no further than ESR Classic Series. The case features a hybrid design that allows the Note 20 Ultra to showcase the design while also ensuring it has got enough safeguard against scuffs.
The integration of hard-back and flexible frame strengthens the casing so that it can survive wear and tear. With the additional bezels, both the camera bump and massive 6.9-inch 1440p OLED display remains shielded against scratches.
Protection aside, it also feels comfortable in the hands, thanks to the soft finish. Being available for $9.99, ESR Classic Series can is a cheap yet reasonably good clear case for Galaxy Note 20 Ultra.
Buy from Amazon: $9.99
Choose the Best Cases and Covers for Your Galaxy Note 20 Ultra
There you go! So, these are our top cases and covers for Galaxy Note 20 Ultra. A high-end smartphone like Note 20 Ultra deserves all the care. So, never fail to pick a suitable cover for it to keep it away from scuffs and accidental damage that seem to arrive when you least expect it. Have we missed out on any notable case? Feel free to let us know its name in the comments section below.