iPhone cameras have improved by leaps and bounds in the past few years. We can now shoot 4K videos at 60 FPS, use the new Cinematic Mode in iPhone 13, and so much more. With all the advancements in camera technology, along with things like Optical Image Stabilization, Sensor Shift Stabilisation, and more, the video shooting capability of these devices is at a great point. However, if you're looking to shoot any sort of professional looking videos, you will need a gimbal to ensure a stable video. So, if you're wondering which gimbal to buy, here are the 10 best gimbals for iPhone to shoot stabilized videos:
10 Best Gimbals for iPhone in 2021
DJI OM 4 (Osmo Mobile 4)
Pros:
3-axis stabilization
ActiveTrack 3.0
Advanced zoom effects
Cons:
Slightly expensive as compared to the competition
Not the latest offering from DJI
DJI is pretty much the best company to look for when it comes to gimbals for your iPhone, and the DJI OM 4 is still one of the best gimbals to get.
The OM 4 brings all the good stuff you'd expect from a high-quality gimbal, including 3-axis stabilization, a bunch of fancy zoom and focus effects, and more.
What's more, you get DJI ActiveTrack 3.0 which lets you track subjects in your frame. Then, the gimbal can automatically pan/tilt to ensure the subjects remain in the frame while still getting you a stable shot. It's pretty neat.
Sure, DJI has launched a new OM 5 gimbal as well, but the OM 5 isn't the one we'd recommend you get. There have been many reports of the gimbal being unable to support the weight of bigger smartphones such as the iPhone 12 Pro Max and the iPhone 13 Pro Max, and people are, in general, not very happy with it. Plus, it's more expensive.
Zhiyun Smooth Q3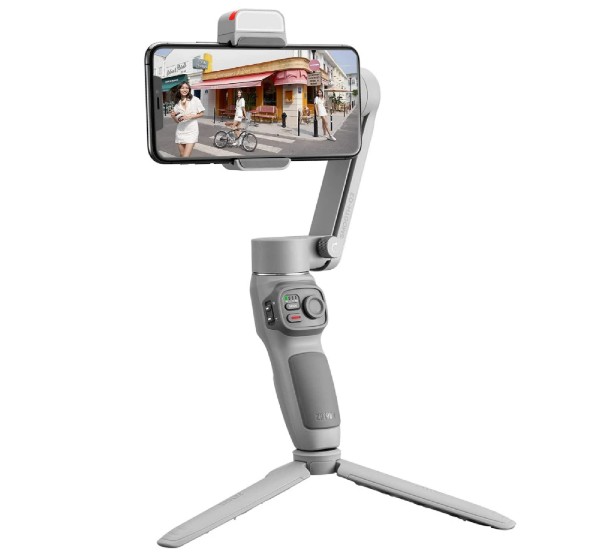 Pros:
3-axis stabilization
SmartFollow 3.0
Built-in LED fill light
Cons:
Doesn't offer 2-way charging
The Zhiyun Smooth Q3 is the successor to the hugely well received Smooth 4 from the company, and it brings quite a lot of good stuff to the table, especially considering its price.
Similar to most other gimbals on this list, the Smooth Q3 offers 3-axis stabilization, that's pretty standard. However, the gimbal also comes with an LED fill-light. this is great if you want to have a fill-light on your videos — the gimbal's built-in LED offers 3 levels of brightness and it can be rotated 180 degrees so you can use it for the rear or front cameras easily.
The Zhiyun Smooth Q3 also comes with 'SmartFollow 3.0' which is Zhiyun's tracking-tech that will let you easily track subjects in a video. This way you can let the gimbal automatically pan/tilt to ensure the subject remains within the frame without having to do it all manually.
Apart from that, there's also the cool MagicClone Pano feature that lets you clone yourself to show multiple sides of yourself; this isn't exactly something a lot of people are looking for, but it's a fun feature to have. The gimbal can easily support even the iPhone 13 Pro Max, so you can rest assured it's a solid choice for your iPhone videography kit.
Moza Mini-Mi
Pros:
3-axis stabilization
360 degree rotation across all axes
Wireless charging
Cons:
Not the best build-quality
One of the most feature-packed, yet affordable, gimbals that we have on this list is this one from Moza. For starters, the gimbal offers the standard 3-axis stabilization that you'll find in most gimbals.
The Moza Mini-Mi, however, also brings a ton of other features to the mix. The gimbal supports 360-degree rotation along any of the 3 axes. You can use the software to set-up the rotation based on the shot you want, which allows for quite a lot of cinematic freedom when shooting with the Mini-Mi.
The controls on the handle include a joystick to control the pan, tilt, and roll of the gimbal, and you also get a jog-wheel to switch between shooting modes.
Moreover, the Mini-Mi comes with wireless charging built into the phone holder, so your iPhone will remain charged throughout the shoot, which is definitely a bonus.
Similar to the DJI OM 4 and the Zhiyun Smooth Q3, the Moza Mini-Mi also comes with follow-modes, and you can use the timelapse feature to shoot stunning timelapse shots as well.
Moza Mini-S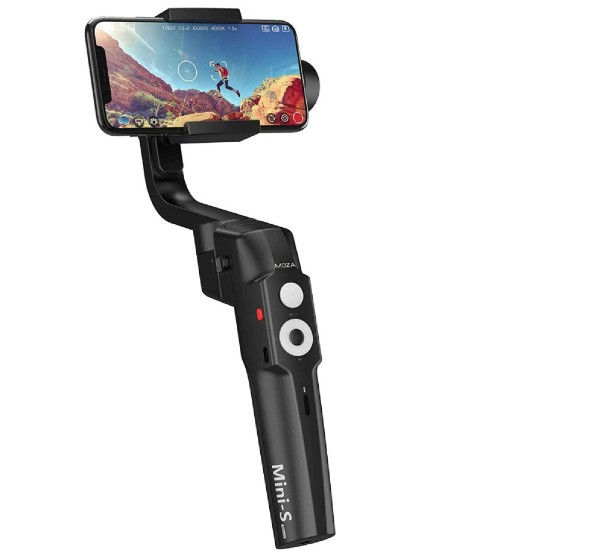 Pros:
Compact gimbal
Feature packed
Cons:
Can be erratic with heavy phones
For an even more affordable gimbal option, you can consider the Moza Mini-S as well. This gimbal may not offer the independent 3-axis rotation that the Mini-Mi offers, but it makes up for it with its lower price, and feature-packed body.
The Mini-S is a very compact gimbal once folded, which makes it a great option for people who are always on the go. You get 3-axis stabilization here as well, along with automatic balancing, and advanced shooting modes. With the Mini-S you can use modes like the Inception mode, Vertigo mode, and a lot more to get some cool looking shots.
It also brings a ton of control straight to your fingertips. Mounted on its handle are buttons for controlling focus, panning and tilting the gimbal with the joystick, a playback button to quickly view the video you just shot, and a dedicated button for launching the Inception mode.
For $59, the Moza Mini-S is definitely one of the most affordable, feature-rich gimbals I can recommend for your iPhone.
Hohem iSteady Mobile Plus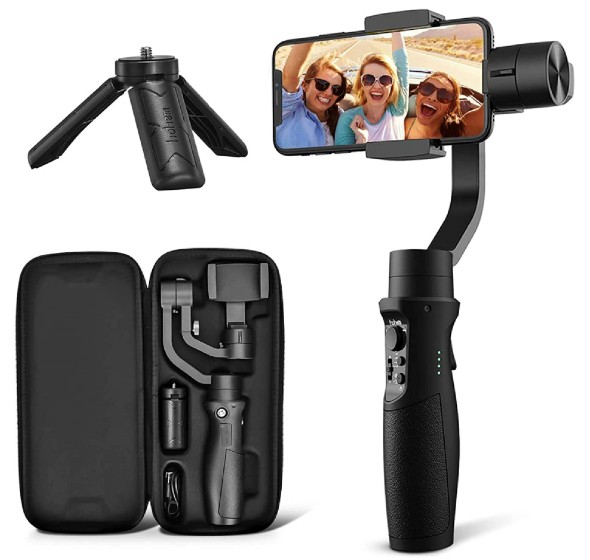 Pros:
3-axis stabilization
Feature rich
Cons:
No subject tracking modes
The Hohem iSteady Mobile Plus is yet another really good gimbal for your iPhone that you can check out. For starters, the gimbal offers 3-axis stabilization, so you know you're not missing out on any of the basic stuff.
Apart from that, the iSteady Mobile Plus brings modes such as the new Inception mode that's becoming very popular across gimbal-makers, as well as an updated Sports mode that can come in handy in extremely unstable environments. Obviously, you also get manual control over the zoom and focus modes, as well as a variety of locking and following modes.
The gimbal is great for almost any iPhone out there, and can accommodate the iPhone 13 Pro Max as well, so you can rest assured your iPhone will be compatible with it as well.
FeiyuTech VLOG Pocket Gimbal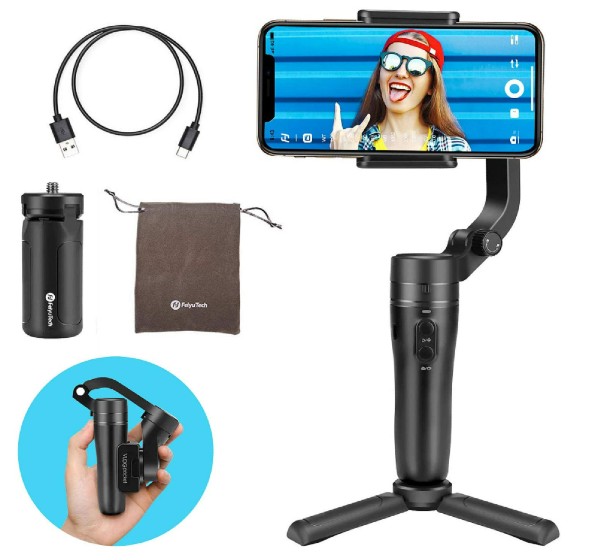 Pros:
3-axis stabilization
AI Face and object tracking
One-click orientation button
Cons:
Not as feature packed as other options
When it comes to gimbals, FeiyuTech is a brand that's definitely going to make an appearance on any list. The VLOG Pocket gimbal brings all the usual stuff you'd expect, including 3-axis stabilization. Plus, for times when you quickly need to change the orientation of your smartphone, the gimbal comes with a one-key orientation feature.
This pocket-sized gimbal is also useful for people who want portability, and it comes with wings at the bottom that you can open up to use it like a makeshift tripod.
Face and object tracking is built-in, to allow for smooth, automatic tracking shots, and there's also a selfie-mode built in, for times when you are standing in the coolest place you've ever been in, and you want to click a selfie.
Zhiyun Smooth 4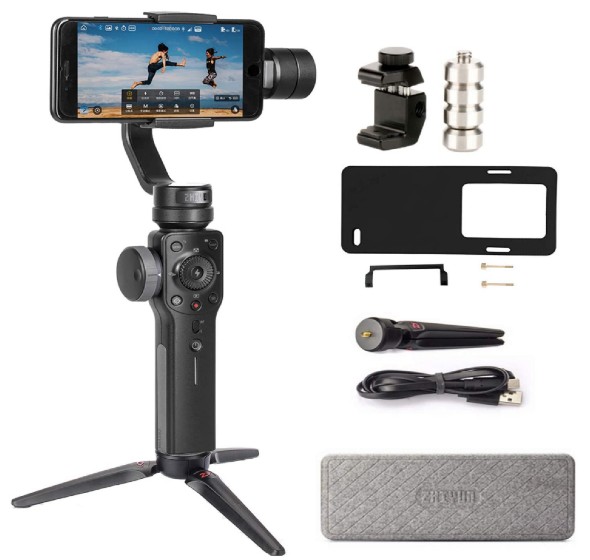 Pros:
Filmic Pro compatibility
GoPro compatibility
Cons:
Doesn't support 360 degree rotation like the Smooth Q
Another offering from Zhiyun, the Smooth 4 is a feature packed smartphone gimbal that will make a solid pair with your iPhone. One of the coolest aspects of the Smooth 4 is its compatibility with Filmic Pro, so you can use all the capabilities of Filmic Pro directly with the gimbal.
The gimbal can easily handle any iPhone, including the latest iPhone 13 series, and if you want to use a GoPro, the gimbal is compatible with GoPro cameras as well. There's even a counterweight included to ensure stability with GoPro cameras.
With the buttons on the gimbal, you can control many aspects of your shooting experience. Whether it's controlling the pan/tilt of the camera, or if you want to pull focus with zoom options, the Smooth 4 lets you do all of that easily.
Moreover, there's object tracking built-in, so you can simply select the object to track, and the gimbal will do the rest for you.
Hohem iSteady V2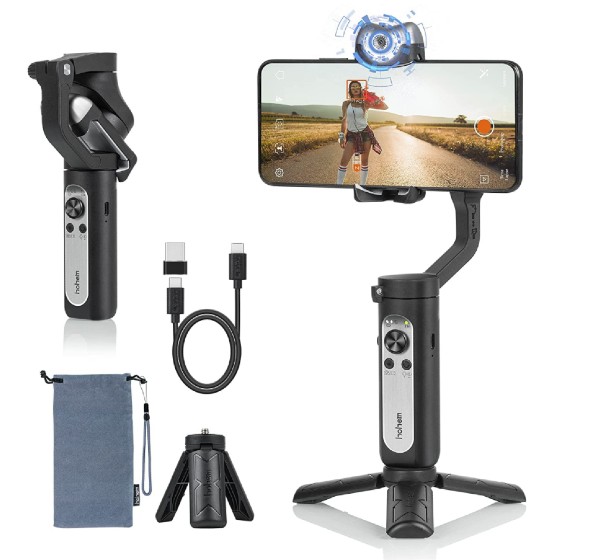 Pros:
Two-way charging
Built-in fill light
Another offering from Hohem, the iSteady V2 is yet another good gimbal for the iPhone you just bought. It features 3-axis stabilization, and just like the Zhiyun Smooth Q3, the iSteady V2 also brings a fill light that you can use when you need that extra touch of professionalism in your footage.
There's gesture control here as well, so you can easily take pictures or start recording by just using palm gestures, and the leather-grain handle makes the gimbal exceedingly comfortable to hold as well.
Similar to a bunch of other gimbals on this list, the iSteady V2 also features a few cinematic modes to give you that extra edge when shooting cinematic footage. You can use the gimbal to shoot Inception mode videos, Dolly Zoom, timelapses, and more. Moreover, the gimbal supports 2-way charging with the USB-C port, so you can keep your iPhone charged up during the shoot.
FeiyuTech Vimble One
Pros:
Very affordable
Extension pole built-in
Cons:
Doesn't offer many features
One of the more affordable options on this list, the Vimble One is a palm-sized gimbal from FeiyuTech which can prove quite useful for people looking to take nice and steady photos and some videos. It comes with a brushless motor and sensors to detect shake and eliminate it.
Even though it's a tiny gimbal, if you're worried about taking selfies or group photos, it does come with an extension pole. It also supports quick switching between portrait and landscape orientations.
For $39, this is a really nice gimbal for your iPhone.
Zhiyun Smooth X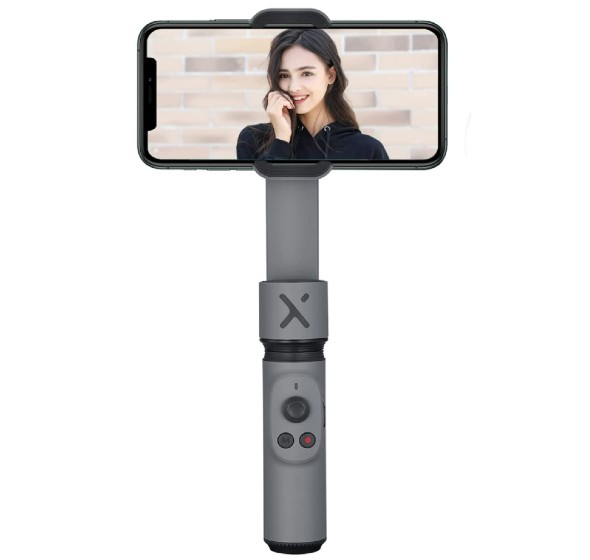 Pros:
Very affordable
Face and object tracking
Quick mode switch
Lastly, the most affordable gimbal I can suggest for your iPhone shooting experience, is the Smooth X from Zhiyun. This $29 gimbal doesn't offer a whole lot, but for the price it's coming in at, it's a fairly good option.
You get controls on the handle for a couple of handy features. There's a quick mode switch which lets you between landscape and portrait modes, as well as a recording button. Plus, you can use the control jog to pan the gimbal while shooting for smooth pan shots.
The Zhiyun ZY CAMI app also brings some more advanced features, including face and object tracking, as well as dedicated options for slow motion capture, time lapse, and panorama functions.
The Best Gimbals for iPhone to Shoot Stabilized Videos
Even though the newer models of the iPhone, including the iPhone 13 series and iPhone 12 Pro Max come with optical image stabilization and sensor shift stabilization, it never hurts to have a little extra help to get that perfectly stabilized shot. You can use these handheld iPhone gimbals to improve the quality of your videos, and get more cinematic looking shots at a relatively lower price point. Depending on your requirements, you can choose between 3-axis, and 2-axis gimbals, but I would recommend going for a 3-axis stabilization gimbal, regardless.
As always, do let us know your thoughts on the best iPhone gimbals, and whether you think they are worth it, now that iPhone stabilization has gotten so much better. Also, if you know of any other iPhone gimbal that deserves to be on this list, do let us know about it in the comments section below.
---
Load More