iPhone cameras have improved by leaps and bounds in the past few years. We can now shoot 4K videos at 30 FPS, and slow motion videos at even 240 FPS. With all the advancements in camera technology, along with things like Optical Image Stabilization, and more, the video shooting capability of these devices is at a great point. However, if you're looking to shoot any sort of professional looking videos, you will need a gimbal to ensure a stable video. So, if you're wondering which gimbal to buy, here are the 12 best gimbals for iPhone to shoot stabilized videos:
1. Moza Mini-S Smartphone Gimbal
So, first up on the list is the Moza Mini-S gimbal, which is super affordable, very compact and packs in all the features you need to shoot super stable videos from your iPhone. The Moza Mini-S has an extremely foldable design, and when folded, you can easily carry it in your pocket. The gimbal comes with 3-axis stabalization and it comes with no-tool adjustment algorithm, so that you can quickly set up your iPhone on the device without much effort. When it comes to the controls, the Mini-S has a joystick, buttons to quickly focus, zoom, capture and play the videos you have captured.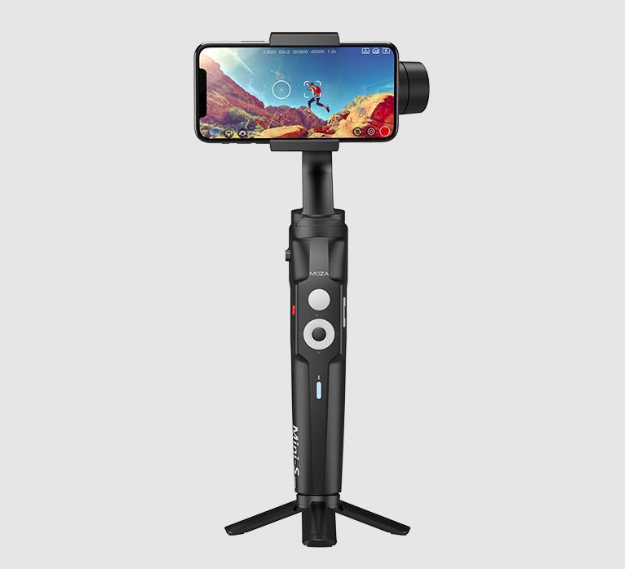 The Mini-S can be connected to the Moza Genie app, which brings a lot of controls and some cool shooting modes. First up, you can quickly switch between portrait and landscape with the Moza Mini-S. Then, there are features like object tracking and different modes like timelapse, inception mode, vertigo and more. The Moza Mini-S is available for $79 in a Black and a White variant, so check it out.
Buy from Amazon.com: ($79) or Official Store
2. DJI Osmo Mobile
The DJI Osmo Mobile is quite simply one of the best smartphone gimbals you can buy. The device comes with 3 axis stabilization, and uses brushless motors to keep your device in place. Along with that, the smartphone sensor in the Osmo's cradle ensures that the stabilization is only in effect, when a smartphone is present in the Osmo – this ensures that it doesn't waste battery needlessly. Talking about the battery, the Osmo's battery lasts almost 4 hours on a single charge, and charges with an AUX port, present behind the grip.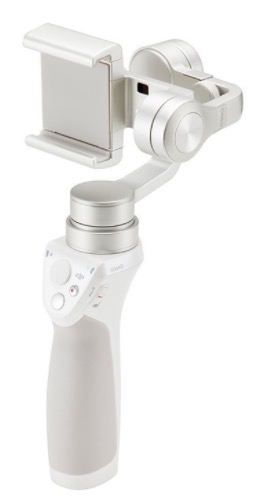 You can use the joystick to pan the phone around while shooting videos, and you can use the shutter, and recording buttons to click pictures, or start/stop recording when using the DJI Go app on your phone. One of the biggest advantages of using the DJI Go app, is the "Active Track" tracking technology that allows you to set up an object you want your camera to track, and then the DJI Osmo will automatically pan according to the movement of the object. It's a really great feature. You can also go live on Facebook and YouTube with the DJI Osmo app. The stabilization is good enough that you can even take long-exposure shots without a tripod.
Buy on Amazon.com ($299.00)
3. LanParte HHG-01
If you're looking for an iPhone gimbal that costs a little less than the DJI Osmo, but comes with all the bells and whistles, the LanParte HHG-01 is one of the best you can get. The gimbal comes with a total of three interchangeable clamps – two for different sized smartphones, and one that can be used with a GoPro action camera. With 3-axis stabilisation, you can rest assured that your video will be stable no matter how you're shooting it. Plus, with brushless motors, the device has a much longer life than other, gimbals with brushed DC motors.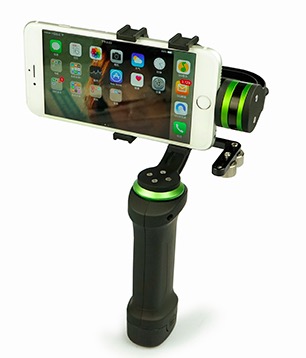 If you're planning on using a heavier smartphone with the LanParte HHG-01, you can easily use the included counterweights, to properly balance it out, so heavy smartphones, or smartphones with third-party add-on lenses can be easily accommodated by the LanParte HHG-01 gimbal. The battery life on the gimbal is nowhere near as good as the DJI Osmo, as it lasts for almost 2 hours (half of the Osmo), and takes approximately 2 hours to charge. So, if you're planning on using the gimbal for a longer shoot, it'd be advisable to keep an external battery handy (approximately $40 on Amazon.com).
Buy on Amazon.com ($239.00)
4. Zhiyun Smooth-II Gimbal
The Zhiyun Smooth-II gimbal comes with 3 axis stabilization for your iPhone, and a full 360º pan. Add to that the 5-way joystick, and the Zhiyun Smooth-II offers complete control over the angle you need for that perfect shot. The gimbal comes with a battery that can last you up to 5 hours on a single charge, which is really great. Also, with the 1/4″ mounting thread on the bottom of the gimbal, you can easily mount any 1/4″ accessories to the gimbal, if need be.
With the Zhiyun iOS, or Android app, you can connect your phone to the gimbal via Bluetooth, and use the shutter button on the gimbal's grip, to click pictures. The gimbal also supports the Zhiyun remote control ($35 on Amazon), to pan and tilt your iPhone remotely. The gimbal also comes with protection against the circuitry being damaged if the motors are over-strained.
Buy on Amazon.com ($270.85)
5. Ikan Fly X3 Plus
The Ikan Fly X3 Plus is an iPhone gimbal with 3-axis stabilization, brushless motors, and a gesture control system for shooting great, and smooth videos with your iPhone. The gimbal is easy to set up, and easier to operate. The Ikan Fly X3 comes with two smartphone cradles, so you can easily fit smartphones of any size in the gimbal. However, if you intend on using the gimbal for larger phones, you will have to use the included counterweights to properly balance it out. However, when used as an iPhone gimbal, it just works.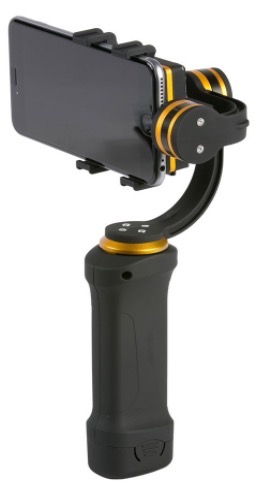 The Inertial Measurement Unit in the Ikan Fly X3 keeps the gimbal level, and anticipates the movement of the user. This helps in getting the smoothest video possible. Plus, the easy to charge battery lasts around 2 to 3 hours, and is replaceable, so you can carry multiple batteries for longer shoots.
Buy on Amazon.com ($258.70)
6. Zhiyun Z1-Smooth
Yet another gimbal from Zhiyun, the Z1-Smooth is a more affordable iPhone gimbal capable of 3 axis stabilization, and comes with a 4-way joystick for easy panning, or tilting your iPhone while shooting a video. For larger phones, the gimbal comes with a counterweight that you can use to properly balance the phone before starting the video shoot.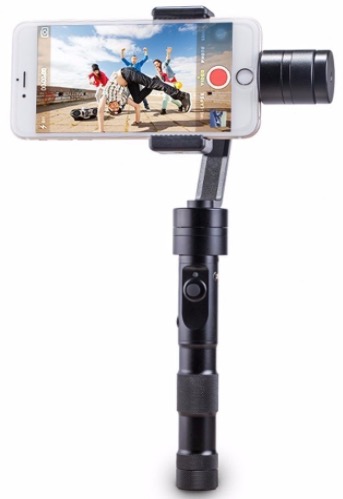 Unlike the Zhiyun Smooth II gimbal, you can't connect the Z1 Smooth to an app, and click pictures with it, because the gimbal doesn't come with a shutter button. Setting up the Zhiyun Z1-Smooth is very easy, and you can just slide your phone in the gimbal to get started. No calibration is required prior to use, as the gimbal balances itself quite well. However, if you're using a heavy phone, you may need to attach the included counterweight to properly balance out the gimbal, and adjust the center of gravity to the optimum position.
Buy on Amazon.com ($185.00)
7. Feiyu Tech G4 Pro
The Feiyu Tech G4 Pro is great for easily capturing well stabilized video footage from your smartphone. The iPhone gimbal comes with 3 axis stabilization, along with brushless motors for better longevity, and performance. The gimbal comes with five modes – Pan Following, Tilt and Pan Following, All Axis Lock, Inverted, and Standby. Switching between these modes is easy, and can be done with the LED push button on the handle.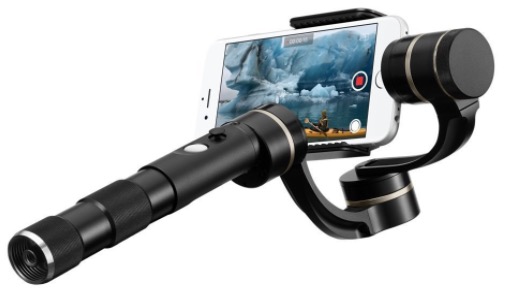 The gimbal is powered by two rechargeable 900 mAh batteries, and the battery indicator on the gimbal provides an easy way to know when you need to recharge the batteries. The Feiyu Tech G4 Pro even comes with a tripod mount built into the bottom of the gimbal. What's more, Feiyu Tech G4 even comes with a set of extra batteries.
Buy on Amazon.com ($177.99)
8. EVO SP 3 Axis Gimbal
The EVO SP gimbal for iPhone and other smartphones is another great option to go with, as far as stabilization of smartphone videos is concerned. The gimbal comes with 3 axis stabilization to avoid shake in the videos, and shoot great quality, stabilized video with your iPhone. The gimbal also comes with 1/4-20″ threaded end cap for easy attachment to tripods.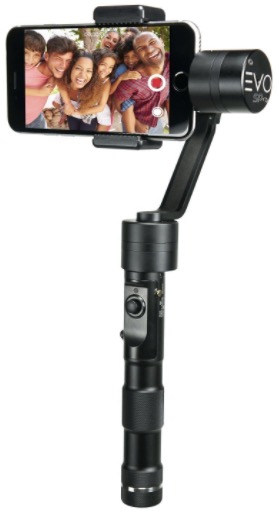 The gimbal features high-power, high torque motors to deliver the best stabilization performance, and help you shoot amazing videos, and long exposure shots with your iPhone. The EVO SP 3 has four modes that you can switch between: heading follow mode, heading lock mode, heading/pitch follow mode, and inverted mode. You can choose the mode that suits your shooting needs best.
Buy on Amazon.com ($249.00)
9. MyCell 3-Axis Gimbal
If you're looking for a gimbal that will let you shoot stabilized videos, both from your iPhone, and your GoPro action camera, the MyCell 3-axis gimbal is for you. The gimbal comes with 3-axis stabilization, keeping your iPhone stable, without any unwanted pan, tilt, or roll. The gimbal comes with precision sensors, and brushless motors to ensure the best stabilization for your videos.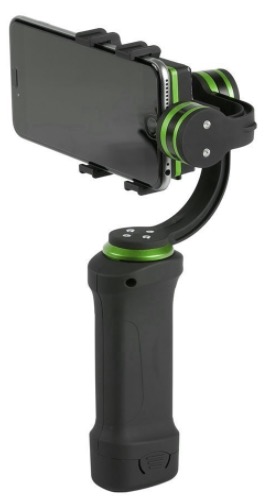 The MyCell 3-axis gimbal comes with two separate mounts, so you can easily use both your iPhone, or your GoPro with the gimbal, and shoot high quality stabilized videos. The handle is also made of aluminium and provides an exceptional feel, and great grip, making it comfortable to shoot videos.
Buy on Amazon.com ($395.83)
10. Hohem iSteady T1
The Hohem iSteady T1 is another great iPhone gimbal you can use to improve the quality of your iPhone videos. The iSteady T1 features brushless motors, and 3 axis stabilisation to ensure a high level of stabilization. The gimbal features a 360º pan angle, which can be used for some great looking photos, and panning shots.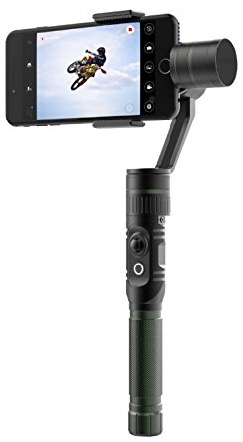 With the Hohem iSteady T1's visual tracking technology, you can get your phone to keep a track of objects in the video, and automatically pan, and tilt to keep them in the shot. This is a feature that can definitely come in very handy, especially as it doesn't require you to ensure that the camera is pointing at the subject. You can simply set it up, and the camera does the rest. The rechargeable Li-ion battery lasts for almost 2 hours, which is definitely not on the higher end.
Buy on Amazon.com ($199.99)
11. X-CAM Handheld Gimbal
If you don't really need 3 axis stabilization for your videos, you can do a lot of cost-cutting in the kinds of gimbals to consider. For example, this 2 axis stabilizing affordable gimbal from X-CAM is a really great gimbal you can get. It comes with a portable, and foldable design, making it incredibly easy to carry anywhere. The gimbal works to stabilize the phone's tilt, and roll. However, the panning will not be stabilized. Also, if you're a large phone (screen size greater than 5″), the gimbal might not work perfectly with it. So, make sure you check that before buying the X-CAM handheld gimbal.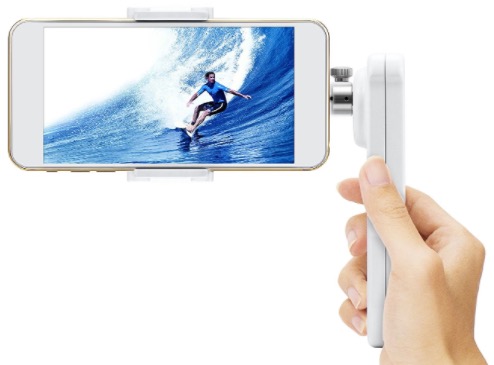 Buy on Amazon.com ($53.00)
12. ASHANKS GB2 Handheld Gimbal
Yet another affordable gimbal with 2 axis stabilization, is the ASHANKS GB2 gimbal. This gimbal keeps your phone stable in both roll, and tilt. However, if you're looking for panning stabilization, then you should buy a different gimbal with 3 axis stabilization. However, if panning is not a deal breaker, the ASHANKS GB2 is a decent choice for an iPhone gimbal. It supports two modes for head locking, and head following. Plus, with Bluetooth built right into the gimbal, you can easily control your iPhone, and capture images, as well as videos with the buttons on the gimbal itself. While powering up the gimbal, ensure that you've attached the smartphone to the gimbal properly.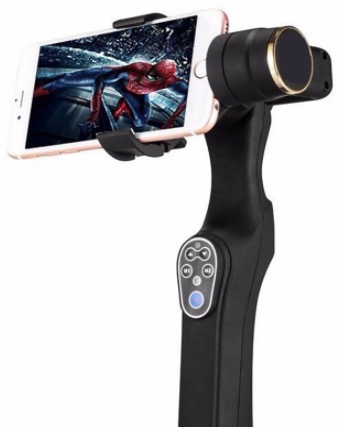 Buy on Amazon.com ($99.00)
SEE ALSO: 10 Best Drones Under $100 You Can Buy
The Best Gimbals for iPhone to Shoot Stabilized Videos
Even though the newer models of the iPhone come with optical image stabilization, it never hurts to have a little extra help to get that perfectly stabilized shot. You can use these handheld iPhone gimbals to improve the quality of your videos, and get more cinematic looking shots at a relatively lower price point. Depending on your requirements, you can choose between 3-axis, and 2-axis gimbals, but I would recommend going for a 3-axis stabilization gimbal, regardless.
As always, do let us know your thoughts on the best iPhone gimbals, and whether you think they are worth it, in this age of OIS enabled cameras on smartphones. Also, if you know of any other iPhone gimbal that deserves to be on this list, do let us know about it in the comments section below.