Don't you hate it when you want to play a free new Android game on your smartphone, but don't have access to the internet? Sure, multiplayer Android games are a lot of fun, but they don't work without an active internet connection. Well, don't worry anymore because if you have been looking for some decent shooters for Android that also work offline then we've got you covered.
While all the free games on this list offer in-app purchases, they do not hamper your game progression in any way. You can buy things to upgrade and customize your arsenal, but it is not required. You can check the entire list by clicking on the table of content below.
1. N.O.V.A. Legacy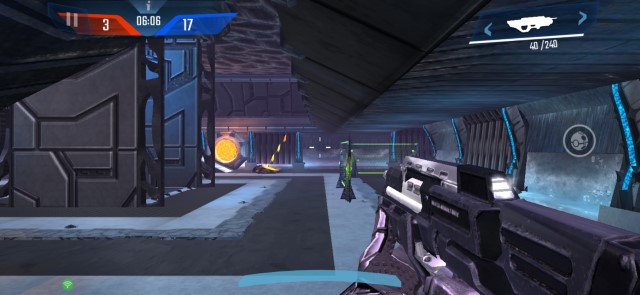 N.O.V.A. is one of the most popular offline shooter game franchises on Android and its latest N.O.V.A. Legacy game only strengthens its position as one of the best offline shooter games on the Play Store. The game picks up where the last game left off as you play as N.O.V.A. veteran Kal Wardin whose mission is to defeat the Colonial Administration forces. Apart from the normal game mode, N.O.V.A. Legacy is also introducing a new "Deathmatch" mode where you fight with other online players around the world.
I also love the new "Death cam" feature which allows you to see a third-person view of all the kills that you make. The gameplay remains the same and yet it still doesn't feel aged. Finally, the new game still comes under 40 MB in size which is still something only the N.O.V.A. franchise has been able to pull off.
Download (Free)
2. Cover Fire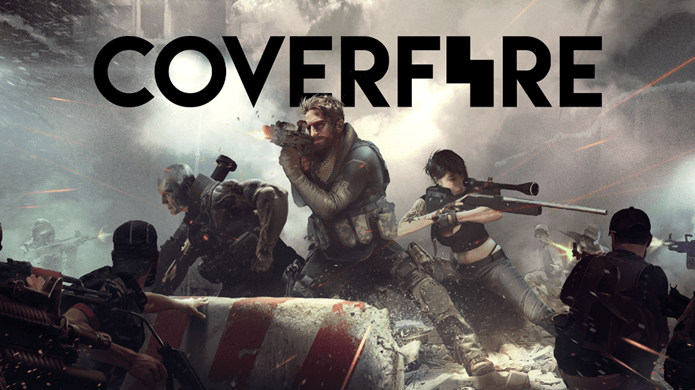 Cover Fire is one of the most good-looking offline shooting games available for Android. If you want an explosive action-packed shooter for Android then Cover Fire will surely be a good choice. You get to choose from a diverse roster of characters to play as and there is a large collection of deadly weapons that you can use against the enemies. The graphics are very good and the game looks as if it was a console game.
You get to use multiple soldiers in the battle each with their own unique abilities and skill sets that will come in handy during the battle. Lead your army to victory and bring revolution against the evil organization in this exciting game.
Download (Free)
3. Max Payne Mobile
There's a very low chance that you're a fan of shooter games and haven't heard of Max Payne. It's one of my favorite classic games from my days on an old Pentium 3 PC. Now, Max Payne is available on Android, and you can enjoy the storyline, and the adrenaline-pumping action right on your smartphone.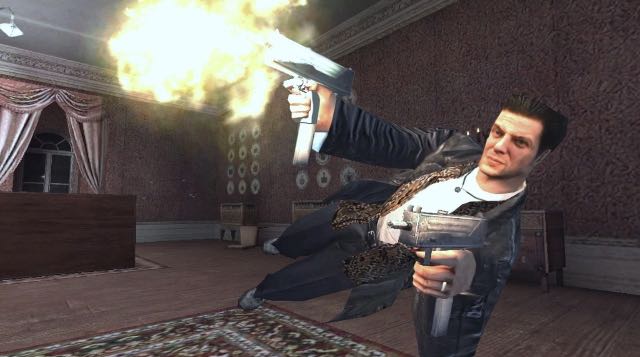 The game's intense storyline is still one of the best out there, and it offers plenty of missions, customizable controls, and in classic PC game fashion, cheat codes. So yeah, there's a lot of fun to be had in Max Payne Mobile on your smartphone.
Download ($2.99)
4.

Major Mayhem 2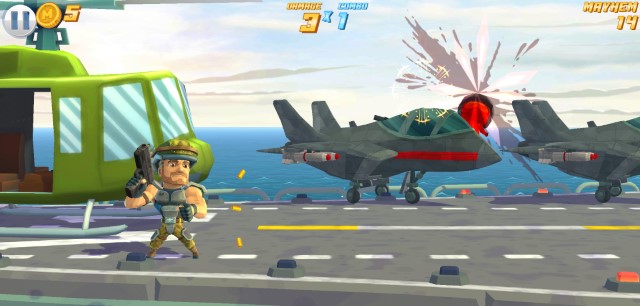 I fell in love with the new first Major Mayhem game which brought a side-scroller shooter game where you get to shoot at everything that moves. The new "Major Mayhem 2" game builds upon its predecessor by bringing new missions where you will have hundreds of bad people to shoot and dozens of hostages to save.
The game brings 7 unique guns, each with its own shooting style so you never get bored. I love the colorful graphics which I am a fan of and its gameplay is more relaxing. This is a game you want to play when you don't have the time and energy to create strategies. Just launch the game and start shooting.
Download (Free)
5. Mad Bullets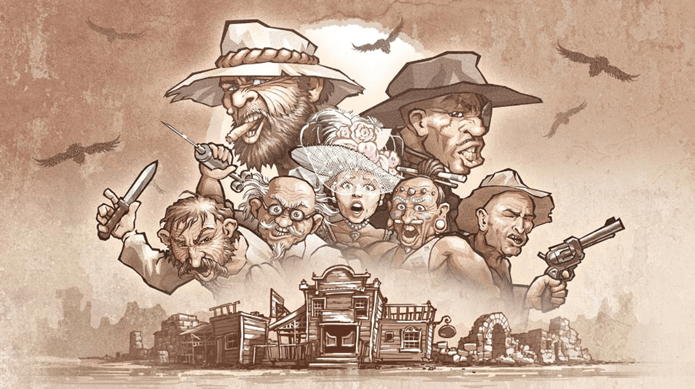 A hilarious yet exciting gameplay awaits you in the Wildest of Wild West with Mad Bullets which actually does away with boring storylines and tutorials. Jump right into the fast-paced action and start shooting things from the get-go. The game is filled with hilarious content and it will force you to laugh out loud with its quirky characters and fun gameplay style.
Take on characters ranging from ninjas to cowboys and defeat everyone that tries to cross you. Get ready for some serious shooting action in Mad Bullets. If you prefer a more light-hearted action and exciting gameplay then Mad Bullets is the game for you.
Download (Free)
6. Lone Wolf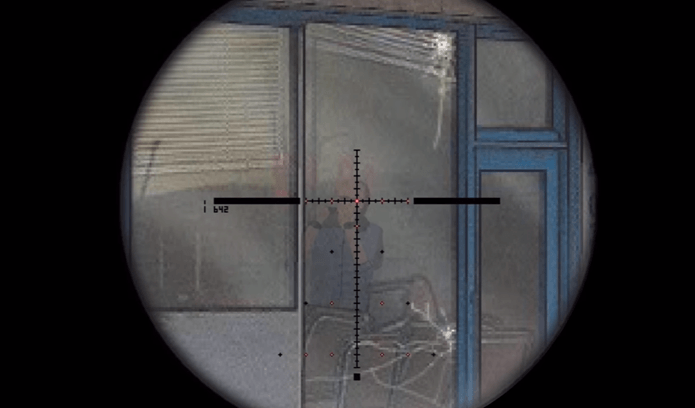 Lone Wolf is quite intense game that really tests your morals. It's definitely not suitable for anyone below 18 years of age. It offers great sniper gameplay and an amazing storyline that keeps unfolding through comic strips between gameplay. The gameplay is exciting and challenging at the same time.
The storyline will keep you hooked for a long time. Get ready to dive into real sniping action and make the toughest decisions of your life in Lone Wolf which challenges your morals at every point. If you are looking for a serious and downright brutal offline shooting game for Android then Lone Wolf perfectly hits the mark.
Download (Free)
7. Doom and Doom II
The Doom series of first-person shooter games is also one that you should check out. For me, playing Doom isn't just fun, it's also nostalgic, and the gameplay is just as good as the original title. The controls can be a little finicky to get used to, however. Both Doom and Doom 2 are titles that I would recommend you check out. Even Doom III is available for smartphones, but it does require an internet connection.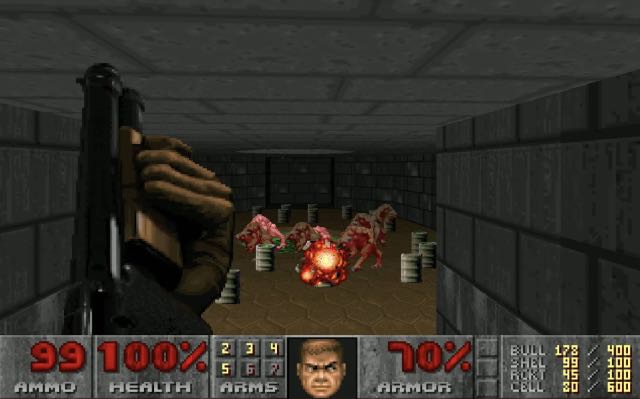 Coming back to the two games I'm recommending here, the concept is simple. You will find yourself running through hallways and rooms, using a variety of weapons to absolutely wreck demons. Beware that the game does have plenty of gore, so maybe don't hand this one to young kids.
Download Doom ($4.99) and Doom II ($4.99)
8. Dead Effect 2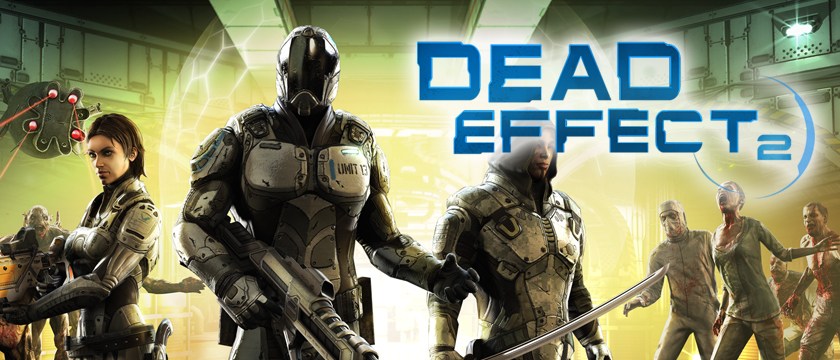 Dead Effect 2 is an amazing shooter for Android that continues the legacy of its predecessor. The first Dead Effect was actually the first competent shooter on Android. Dead Effect 2 improves upon everything that Dead Effect brought to Android. You get to enjoy amazing graphics, a great story, and high-octane gameplay that will absorb you right in. The game offers a lot of content for you to enjoy. This horror-themed shooting game is the perfect way to kill your time.
A plethora of weapons and gadgets and around 20 hours of single-player campaign that's both intriguing and highly exciting will keep you hooked. If you want an offline shooting game for Android that provides you with a great storyline then try out Dead Effect 2.
Download (Free)
9. Hitman: Sniper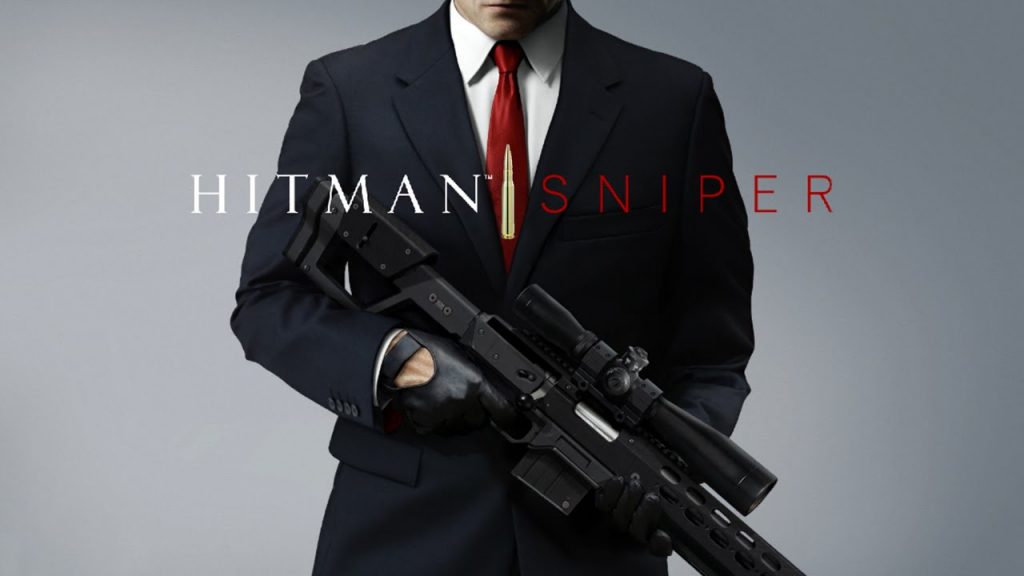 Agent 47 has made his way onto Android where he's going to take out all his enemies one by one through a sniper. Hitman: Sniper actually focuses on assassination through a sniper rifle. You can't get up close and choke someone in this game instead you must focus on eliminating your enemies through the sniper.
You are going to set up shop outside an estate and take out your enemies one by one through the scope. You can take your time and plan your course, but you must eliminate all your enemies to complete the contract. If you are a Hitman fan then you will love this game because who doesn't like Agent 47 cracking open some skulls? Become the ultimate assassin in this exciting game.
Download ($0.99)
10. Overkill 3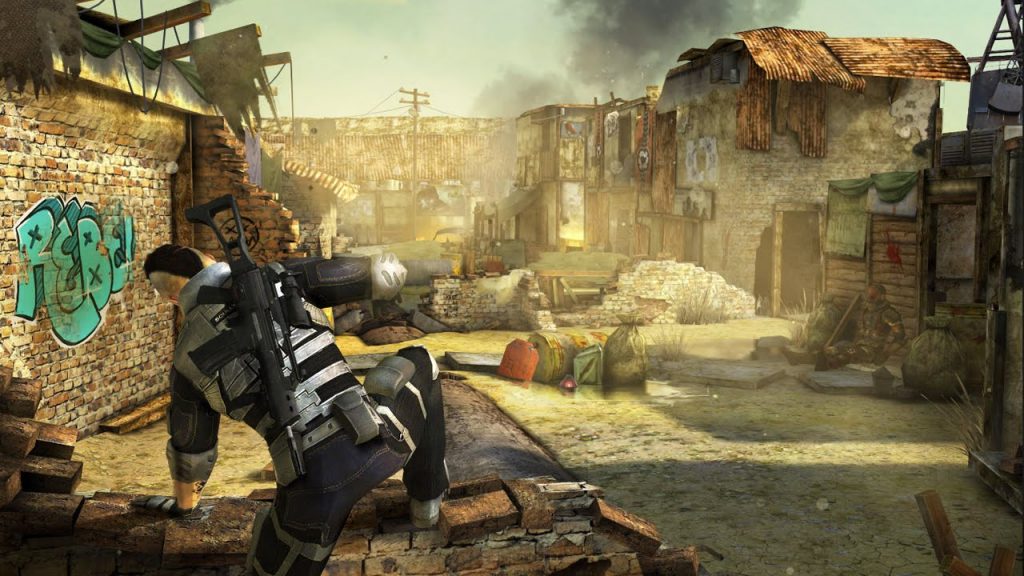 Overkill 3 is a fast-paced third-person shooter that guides you through different levels where you just have to find and shoot bad guys. This approach of guided levels is called being on rails. However, it only sounds simple; when you start the game you are presented with a difficulty level and the higher you choose the difficulty, the harder the game gets.
Especially when you are confronted by a boss, you will actually feel the heat. Boss battles are amazing and require a lot of quick reflexes to actually defeat the bosses. The graphics are quite amazing and Overkill 3 provides a great shooting experience for Android.
Download (Free)
11. Dead Trigger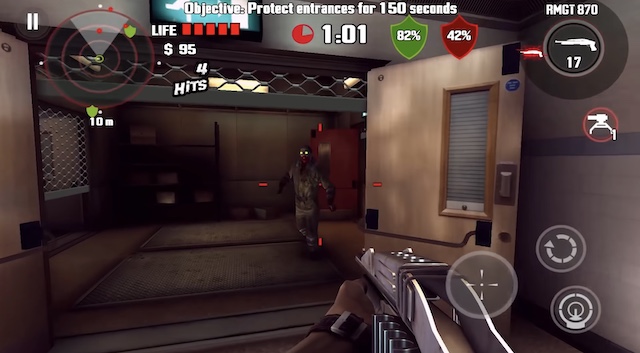 Unlike its sequel Dead Trigger 2, the original Dead Trigger game is an offline zombie shooter. You get powerful weapons including Colt 1911, Scorpion, Striker, Enfield, and Minigun to shoot down zombies as you spot them. Moreover, the game offers 13 character upgrades to keep the excitement going. Although the game isn't being actively developed these days, the current version is stable enough and will keep you engaged. If you always wanted to kill zombies, you should certainly check out Dead Trigger, and trust me, you won't regret it.
Download (Free)
12. Into the Dead 2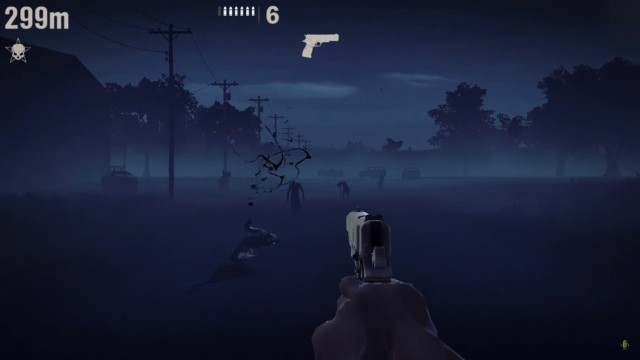 Just like its predecessor, Into the Dead 2 is not your traditional shooter game rather it's an endless runner game which mixes enough FPS elements to give you a unique experience that is fun to play. You are playing as a survivor in a world infested by zombies and your aim is to save your family.
In your quest, you will have to collect weapons, upgrade them, and form a friendship with your loyal dogs so that you can complete the journey and save your family. The game has seven different endings so the choices you make will affect your outcome. If you love shooting and endless runner games, this is one of the best shooting games for android that you can play offline.
Download (Free)
13. DEAD TARGET: Zombie Plague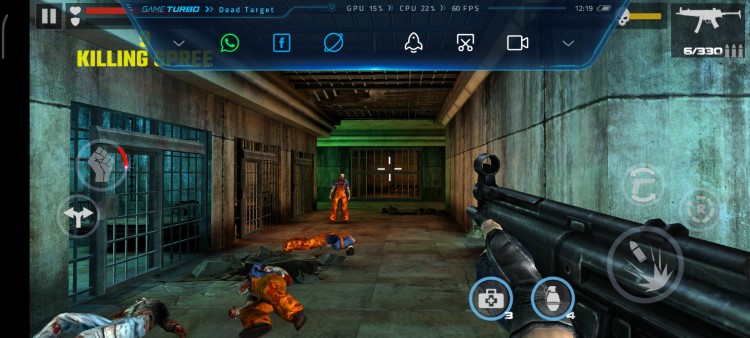 With over 50 million downloads and 1 million reviews, "DEAD TARGET: Zombie Plague" is one of the most popular offline zombie shooter games on the Play Store. I have played this game for countless hours and enjoyed every minute of it. Not only the gameplay is interesting and fun but the graphics are good too. The game is based in a dystopian future where the world has been ravaged by World War III.
A new zombie virus has struck and the zombie apocalypse is near. Your aim is to kill all the zombies. I loved the game and recommend it to anyone who is looking for a fun playtime. However, note that the first few levels are too easy so you will have to play for an hour or so before the fun starts.
Download (free)
14. Blazing Sniper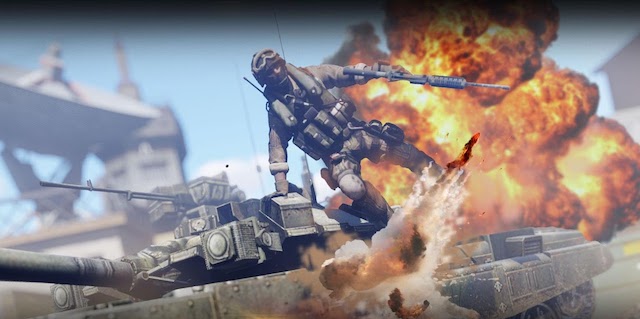 Blazing Sniper is one of the best offline shooting games that you can play on your Android device. In this game, you need to fight zombies and enemies to defend your country. There are over 50 shooter tasks that give you enough content to last for months.
I love the weapon and gear selection on this game. There's a large arsenal of weapons to choose from, and all the guns are exciting to use. The loot drops are frequent, so you never run out of new ammo. Finally, there are no ads in the game, and you can enjoy it without any interruptions.
Download (Free)
15. Gun War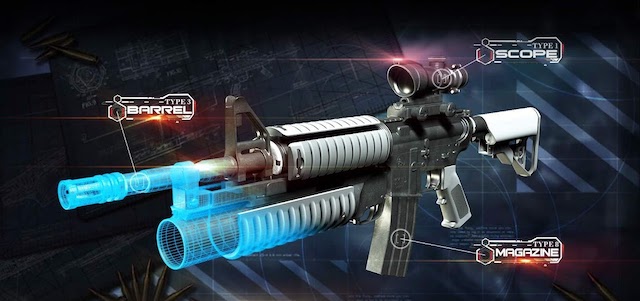 Gun was is an excellent offline shooter for Android that offers phenomenal gameplay. There are more than 124 exciting shooter tasks along with 6 special game types. The weapon selection is also good here with players getting to choose from 50+ guns.
There's also a robust weapons upgrade system that keeps the game exciting. You don't need to swap weapons if you love a gun as you can just keep upgrading it to get better firepower. The graphics are good, and built-in audio never gets monotonous. Overall, this is a very entertaining offline fps game for Android.
Download (free)
Bonus: Ramboat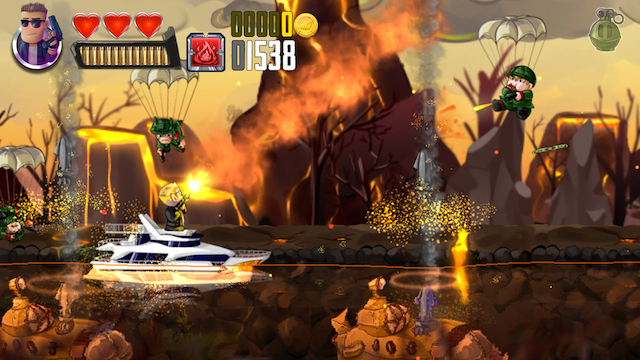 This is one of my favorite shooting games on Android. If you love cartoonish graphics with quirky gameplay, you are going to love this game. This is an offline arcade shooter game that will invoke your childhood memories. You play as an army warrior, and you aim to clear levels by killing enemies. The game is pure chaos, and I enjoy every minute of it. Once you get past the first few minutes of the tutorial, it will be mayhem. This is one of the best offline FPS games for Android.
Download (free)