Don't you hate it when you want to play a game on your Android, but don't have access to the internet? Especially, when these games don't even work without an active internet connection. Well, don't you worry anymore because if you have been looking for some decent shooters for Android that also work offline then we've got you covered. You don't have to burn your data plan anymore because we bring you the best offline shooters for Android. These are not just cartoony games, but instead some of the best looking games as well. So, without further ado check out the 15 amazing offline shooters for Android:
Best Offline Shooting Games for Android
1. Cover Fire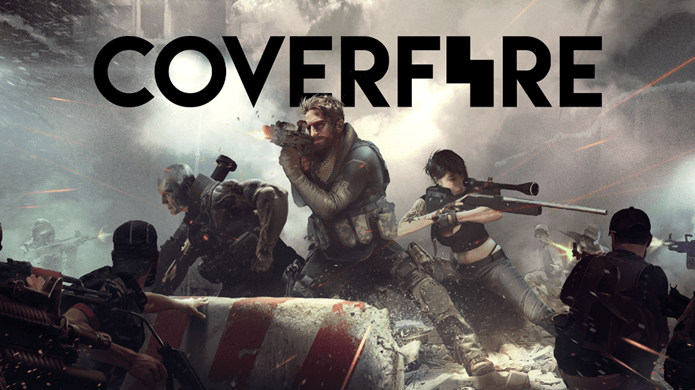 Cover Fire is one of the most good looking offline shooters available for Android. If you want an explosive action-packed shooter for Android then Cover Fire will surely be a good choice. You get to choose from a diverse roster of characters to play as and there is a large collection of deadly weapons that you can use against the enemies. The graphics are very good and the game looks as if it was a console game. You get to use multiple soldiers in the battle each with their own unique abilities and skill sets that will come in handy during the battle. Lead your army to victory and bring the revolution against the evil organization in this exciting game.
Download (Free)
2. Sniper X With Jason Statham
Yes, this game is officially endorsed by the action superstar, Jason Statham. You get to team up with the superstar and take out enemies with your extreme sniping skills. The game is a lot of fun and reminds us of Sniper series on consoles. You get to be part of Statham's own team of elite mercenaries called the "Spear". You get to wreak havoc on all terrorist organizations that are trying to destroy your land. You will be lead by Jason Statham himself through voice commands and he will help you carry out your missions with ease. If you enjoy sniper games then this is the shooter you must try. Also, nothing beats Jason Statham telling you how to kill the bad guys.
Download (Free)
3. N.O.V.A: 3 Freedom Edition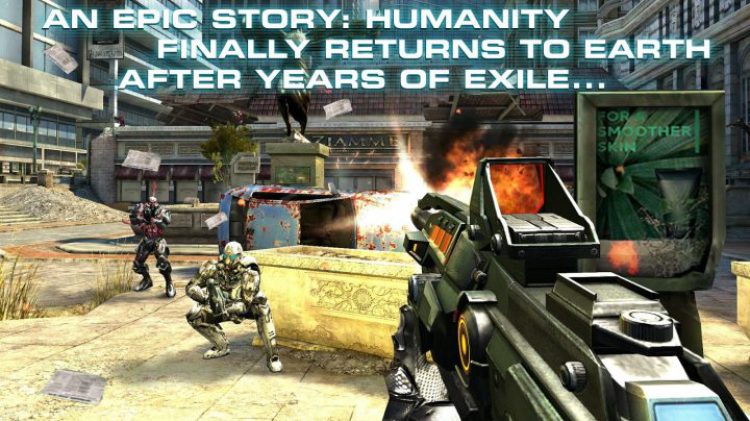 N.O.V.A 3: Freedom Edition picks up the story where the previous game left it. You get to play the story of commander Kal Wardin of N.O.V.A who accidentally crashes in San Francisco right in the middle of a raging battle. The gameplay is simple yet the story is quite intriguing. The gameplay is enhanced by the added cutscenes which actually tell you the story in depth adding to the overall experience of the game. You can either play the story mode or the single player mode against A.I. which works offline. However, the multiplayer mode would either require a local Wi-Fi hotspot or internet connectivity. N.O.V.A. 3 is definitely a must play offline shooting game for Android.
Download (Free)
4. Major Mayhem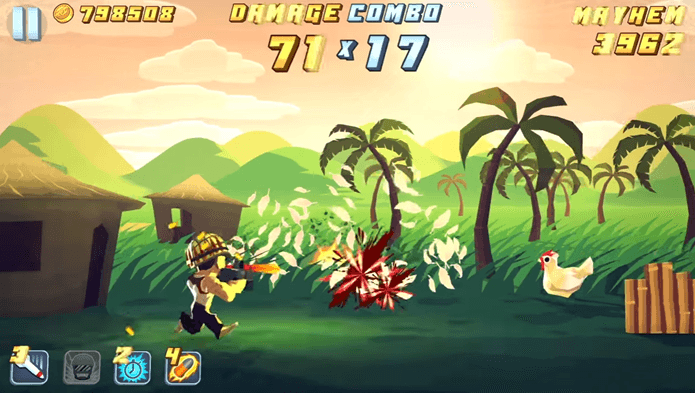 Major Mayhem is a side-scroller shooter. It's run-n-gun style game where you get to shoot everything that moves. You are going to cause major mayhem (Pun intended) in the world. Go around on a shooting spree and mow down everyone that comes in your way. The president has tasked you with a simple mission, kill all the bad guys. These bad guys can be anyone, from Ninjas to secret agents, and you must eradicate and each every one of these guys. Just tap on the bad guy to shoot them. The game sounds simple, but it's still highly enjoyable with an over-the-top action and a hilarious storyline. It's a perfect offline shooting game for Android.
Download (Free)
5. Mad Bullets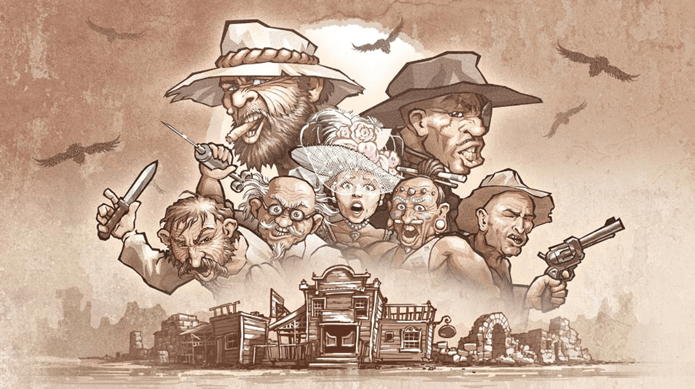 A hilarious yet exciting gameplay awaits you in the Wildest of Wild West with Mad Bullets that actually does away with boring storylines and tutorials. Jump right into the fast-paced action and start shooting things from the get go. The game is filled with hilarious content and it will force you to laugh out loud with its quirky characters and fun gameplay style. Take on characters ranging from ninjas to cowboys and defeat everyone that tries to cross you. Get ready for some serious shooting action in Mad Bullets. If you prefer a more light-hearted action and exciting gameplay then Mad Bullets is the game for you.
Download (Free)
6. Lone Wolf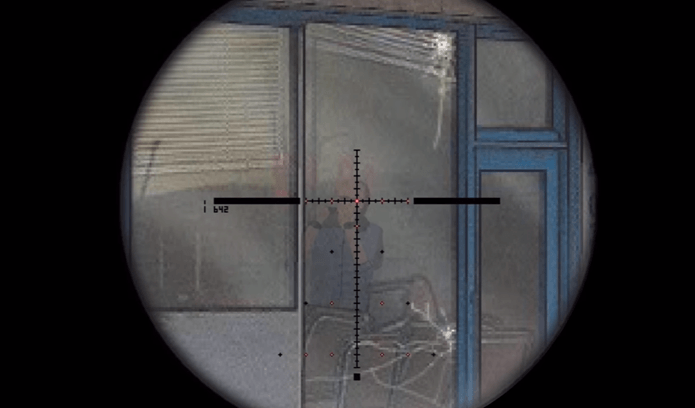 Lone Wolf is a quite intense game that really tests your morals. It's definitely not suitable for anyone below 18 years of age. It offers a great sniper gameplay and an amazing storyline that keeps unfolding through comic strips between gameplay. The gameplay is exciting and challenging at the same time. The storyline will keep you hooked for a long time. Get ready to dive into real sniping action and make the toughest decisions of your life in Lone Wolf which challenges your morals at every point. If you are looking for a serious and downright brutal shooting game for Android then Lone Wolf perfectly hits the mark.
Download (Free)
7. Suicide Squad: Special Ops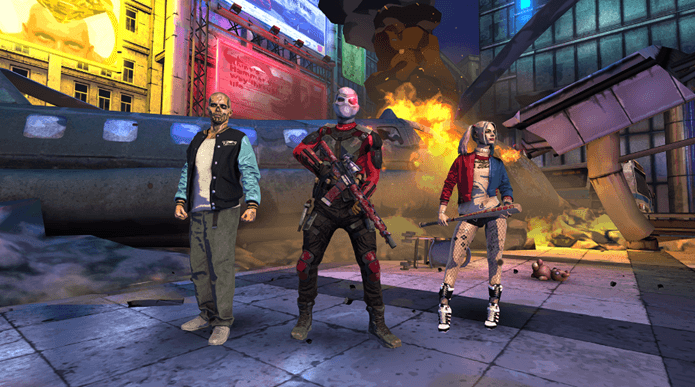 If you are a fan of the Suicide Squad and want to actually experience how the big bad squad actually works then you are in luck. The movie may not have been the most fun for everyone, but the game sure brings a lot of fun to your Android. You can now experience the Suicide Squad's workings on your Android in this exciting shooter. You get to experience the craziness of Harley Quinn with her trademarked baseball bat, you can shoot enemies from afar with DeadShot's sniper, and you can burn everyone alive with Diablo's inferno. Walk and shoot in the shoes of your favorite Suicide Squad villains (heroes?). If you want a quirky and exciting shooter on your Android then try out Suicide Squad and you won't be disappointed.
Download (Free)
8. Dead Effect 2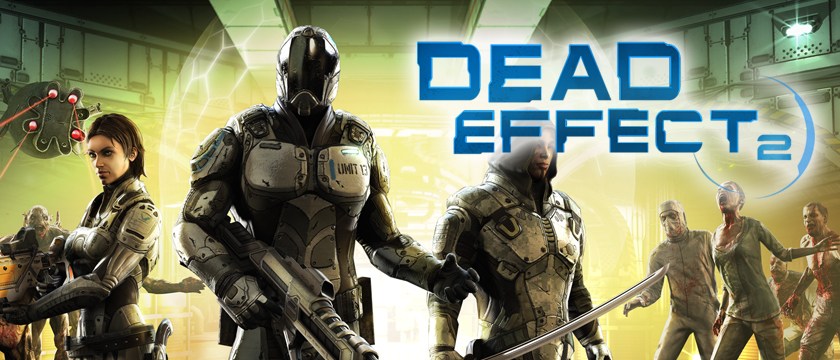 Dead Effect 2 is an amazing shooter for Android that continues the legacy of its predecessor. The first Dead Effect was actually the first competent shooter on Android. Dead Effect 2 improves upon everything that Dead Effect brought to Android. You get to enjoy amazing graphics, great story, and a high-octane gameplay that will absorb you right in. The game offers a lot of content for you to enjoy. This horror-themed shooting game is the perfect way to kill your time. A plethora of weapons and gadgets and around 20 hours of single-player campaign that's both intriguing and highly exciting will keep you hooked. If you want an offline shooting game for Android that provides you with a great storyline then try out Dead Effect 2.
Download (Free)
9. Hitman: Sniper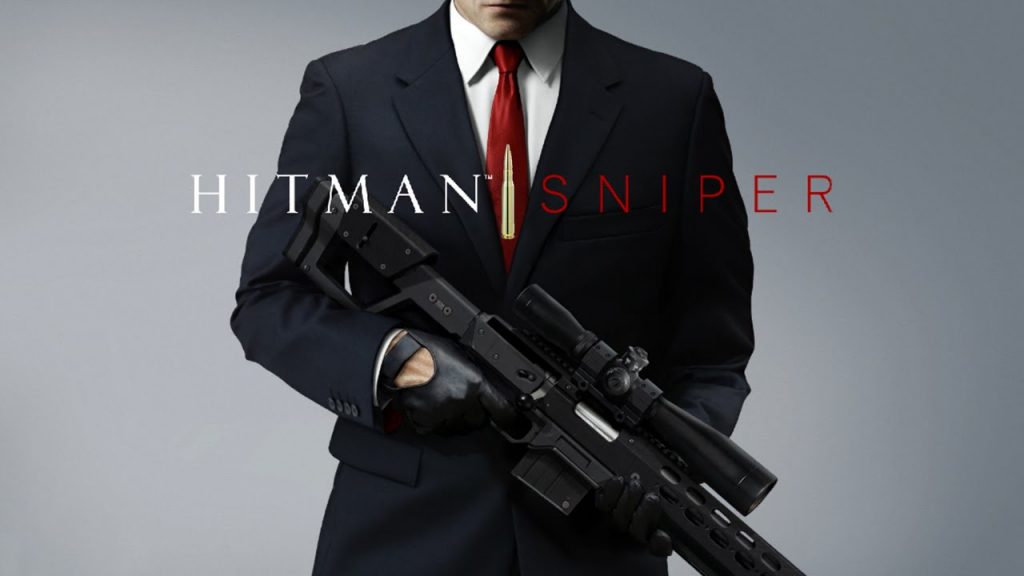 Agent 47 has made his way onto Android where he's going to take out all his enemies one by one through a sniper. Hitman: Sniper actually focuses on assassination through a sniper rifle. You can't get up close and choke someone in this game instead you must focus on eliminating your enemies through the sniper. You are going to set-up shop outside an estate and take out your enemies one by one through the scope. You can take your time and plan your course, but you must eliminate all your enemies to complete the contract. If you are a Hitman fan then you will love this game because who doesn't like Agent 47 cracking open some skulls. Become the ultimate assassin in this exciting game.
Download ($0.99)
10. Overkill 3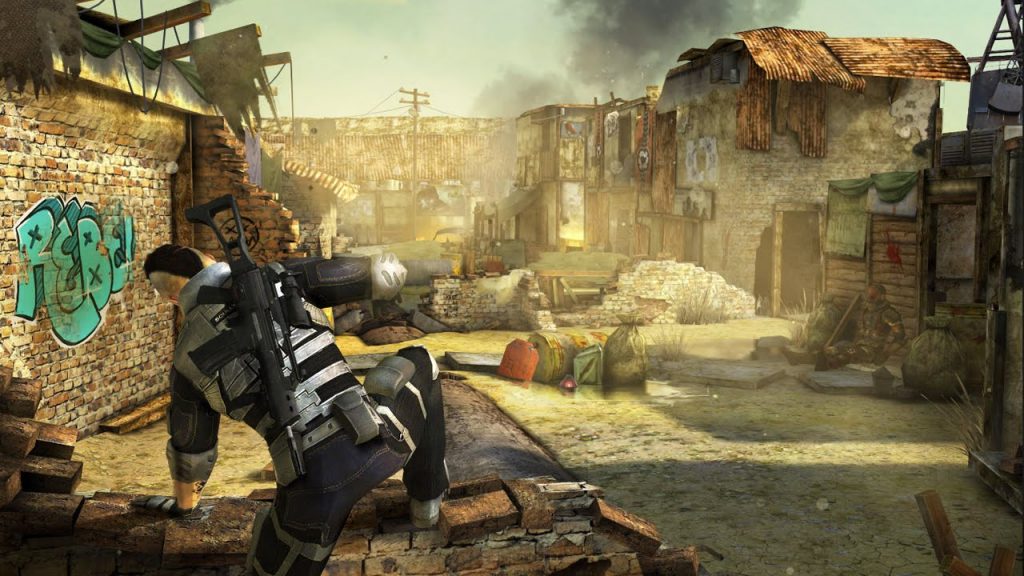 Overkill 3 is a fast-paced third person shooter that guides you through different levels where you just have to find shoot bad guys. This approach of guided levels is called being on rails. However, it only sounds simple, but when you start the game you are presented with a difficulty level and the higher you choose the difficulty, the harder the game gets. Especially, when you are confronted by a boss, you will actually feel the heat. Boss battles are amazing and require a lot of quick reflexes to actually defeat the bosses. The graphics are quite amazing and Overkill 3 provides a great shooting experience for Android.
Download (Free)
11. Dead Trigger 2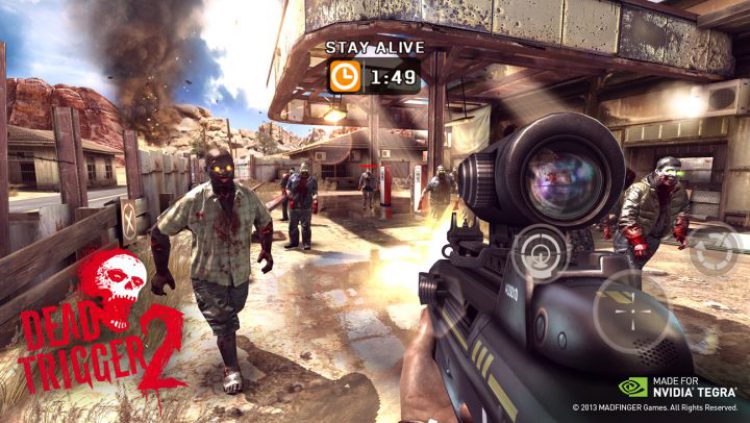 Dead Trigger 2 is the sequel to the popular zombie-killing game, Dead Trigger. This game is all about killing oncoming hordes of zombies in different ways. Use a plethora of weapons to mow down these undead bastards. Use flamethrowers to incinerate them or use a Gatling gun to blast them into tiny little pieces. The game also incorporates a lot of humor and quirky references that will at least give you a chuckle while you are mowing down zombies wave after wave. If you like great graphics and a challenging gameplay then Dead Trigger is definitely the perfect game for you.
Download (Free)
12. Into The Dead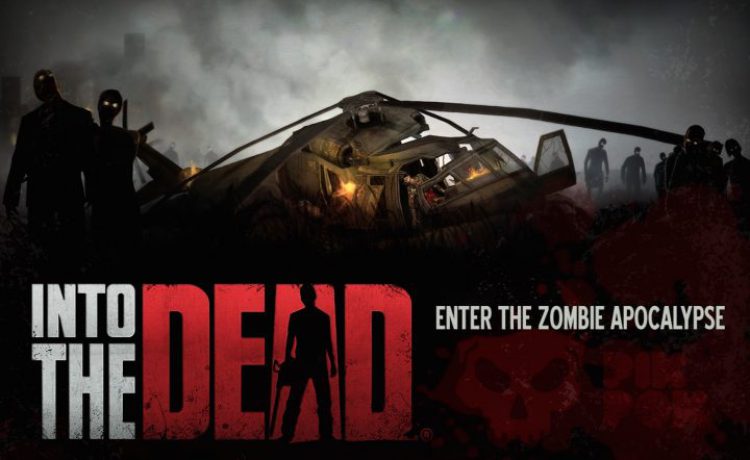 Into The Dead is not your traditional shooter instead it's an endless-runner that mixes enough FPS elements to make it a unique game. You will be running endlessly through fields infested by zombies, you must tear your way through these evil undead bastards any way possible. You can complete missions and challenges during your run to gain extra bonuses at the end. This is an endless-runner, so the objective is to keep running and gunning for as long as you possibly can. If you are a fan of endless-runners as well then Into The Dead is the perfect game for you. Also, the developers recently released Into The Dead 2, so you can check that out as well.

Download (Free)
13. Shadowgun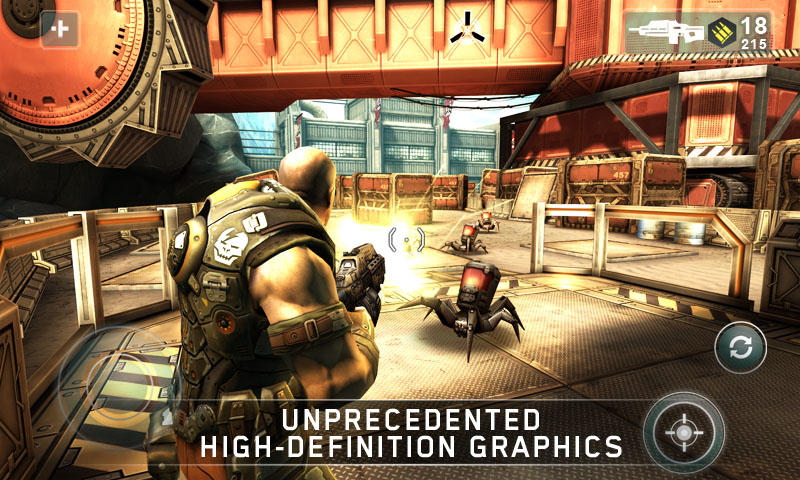 Shadowgun feels inspired by the famous Gears of War franchise and it definitely plays similar to it. Shadowgun is a third-person shooter that looks like it was made for a console. The graphics are stunning and the gameplay is quite solid. In this game, you are put into the shoes of the galaxy's infamous bounty hunter, John Slade. You must hunt down your target and collect your bounty. However, it's not going to be an easy task and you will have to gun down a lot of enemies along the way. The campaign is exciting and offers a decent amount of content to keep you happy for a long time. The gameplay is solid and so are the controls. If you want a shooter with amazing gameplay and great graphics on your Android then Shadowgun is the perfect game for you.
Download ($4.99)
14. Unkilled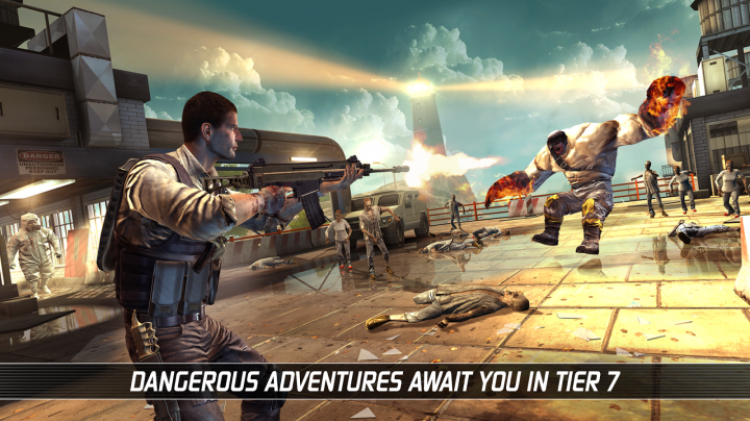 Unkilled takes you on a shooting rampage where you try to kill as many zombies as possible with a large arsenal of deadly weapons. There are numerous missions in the game and each mission requires you to use different weapons. So, you must go to your armory and upgrade or buy newer weapons to actually stand a chance against the powerful zombies. You can either enjoy the campaign mode that offers a decent amount of content or try our your hand in the Skirmish mode where you will have to survive against the onslaught of the undead. If you are looking for a good-looking, zombie killing shooter then Unkilled definitely one of the strongest choices you can make.
Download (Free)
15. Geometry Wars 3: Dimensions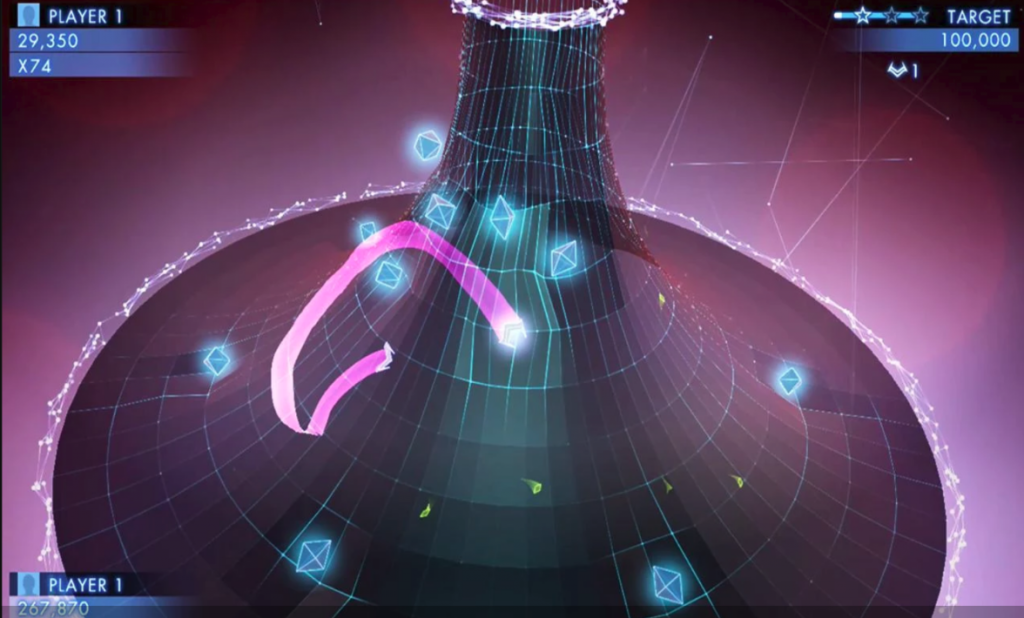 Geometry Wars 3: Dimensions is an arcade style shooter that has been going strong for quite a number of years now. This series lets you enjoy spectacular shooting gameplay. The game may sound dull, but trust us when we say that this is the most fun shooter you will ever play. You get to shoot and destroy thousands of bad guys and when they blow up it even puts Michael Bay to shame. The game offers the best offline content with more than 100 levels and multiple modes to keep you entertained for a very long time. The game offers great replayability with its various modes so you are never bored of its gameplay. If you want a vibrant and colorful shooter with unique graphics then Geometry Wars 3: Dimensions is the perfect game for you.
Download ($9.99)
SEE ALSO: 15 Best Shooting Games for PS4 You Must Play
The Best Offline Shooters You Can Play on Android
Well, so now any time you don't have access to the internet or just don't want to play online shooters then you can play any one of the above-mentioned games offline. These are the best offline shooters for Android, but our opinion is not final. If you think there are other better offline shooters for Android then feel free to mention them in the comments below and we'll try them out as well.