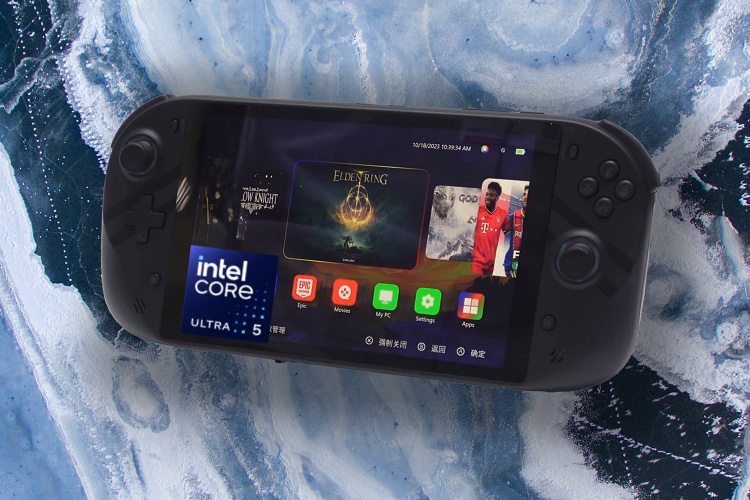 The upcoming Intel 14th Gen Meteor Lake mobile processors are already generating a massive amount of hype. And now it appears that the first gaming handheld powered by these chips has been showcased by a brand. The Emdoor EM-GP080MTL is an upcoming gaming handheld and comes with a lot of exciting features while setting a precedent. So, let's check out the specifications and features of this upcoming Meteor Lake-based handheld!
Emdoor Unveils First Gaming Handheld with Intel 14th Gen Processor Lineup
The Chinese company showcased the Emdoor EM-GP080MTL at the Hong Kong Electronics Fair 2023 event. The media fraternity Notebook Italia was there to check out the handheld. As mentioned, it is based on the upcoming Intel 14th Gen processors that fully tak advantage of the brand-new architecture. This Empoor handheld is powered by the Intel Arc 5 graphics card, integrated into the Meteor Lake-H-based CPU. This also confirms the branding the company will use for its integrated GPUs.
The Meteor Lake processor is a big deal, and this particular SoC will go up to 20-35W. While the processor model has not been shared, the glimpse shows that the Arc 5 GPU can boost up to 3.0GHz. Talking about the performance expectations, an Intel Arc Alchemist-based GPU was showcased to us exclusively by Intel in Malaysia a few months back.
And now we witness an un-named Intel 14th Gen Meteor Lake processor being able to play Forza Horizon 5 at ~60FPS on 1080p. However, this particular gaming handheld showcased by Emdoor has no performance numbers yet. Still, the Xe-Cores in this graphics card are expected to be powerful enough for today's latest AAA games. The video (via: Notebook Italia) did show God Of War running smoothly on the gaming console.
Talking about its display specs, it has an 8-inch screen with a 1920 x 1200 resolution. It will be available with up to 32GB LPDDR5X RAM. The storage support is for up to a 2TB PCIe Gen 4×4 drive. The device actually looks pretty robust and able to withstand the pressure and heat. With this product, the company is targeting handhelds among the likes of the Asus ROG Ally, Nintendo Switch, and, of course, Valve's Steam Deck.
Emdoor is one of the first companies to showcase a new handheld based on this processor. Intel is even renaming the entire processor naming scheme to represent this massive inflection point in their microprocessor architectural innovation. While you're here, you can check out more about the Meteor Lake architecture in this detailed article.
What are your thoughts on the upcoming Emdoor EM-GP080MTL handheld? Let us know in the comments below.
Featured Image Courtesy: Notebook Italia
---
Load More