Intel Meteor Lake has been announced officially, making this their 14th-generation lineup of processors. The American chipmaker recently held its Intel Innovation 2023 event, where it announced the new Intel 14th Gen laptop CPU architecture. We are discussing Intel's Meteor Lake processors here, which will be included in many new 14th-Gen powered Windows laptops soon. These Meteor Lake-powered laptops could land in the hands of consumers by the end of 2023 or early 2024. Officially, Meteor Lake is launching on December 14th, 2023. So, without further ado, let's learn everything there is to know about Intel 14th-Gen Meteor Lake architecture, including the new Intel 4 process node, upgraded GPU, and more.
Intel 14th Gen Meteor Lake: 'Intel 4' Manufacturing Process
Intel Meteor Lake marks the company's biggest innovation in the last 40 years. The new 14th-generation microprocessor architecture marks an inflection point for Intel, making Meteor Lake CPUs quite a big deal.
This is also why the company has rebranded the processors, as explained above. The new Intel 4 manufacturing process brings 20% better power efficiency, as compared to the previously used Intel 7 process that was on Raptor Lake (12th gen) & Alder Lake (13th gen) processors. Intel also leverages machine learning & AI technologies to bring a 20% power reduction with Meteor Lake.
The tile architecture has been innovated upon, with dedicated SoC, Compute, and Graphics tiles each having their respective functions. Intel has changed the game on Meteor Lake, by encompassing together many of their latest microprocessor architectural innovations.
Intel's Foveros 3D Packaging offers high-density inter-die connections between the graphics, compute, and SoC tiles. Intel's latest design allows them to simplify the creation of different processors, and also bring higher yields making the manufacturing process more efficient.
There are optimizations done on the operating system level too. Meteor Lake also brings low-power island E-Cores for superior efficiency along with improved compute tile P-Cores & E-Cores. There is also a new NPU, which accelerates on-device AI. We will discuss all these innovations, starting with the graphics tile.
Intel 14th Gen Meteor Lake: Supercharged Intel Arc Graphics
Intel Meteor Lake features new and improved integrated graphics. Now, Intel is bringing the power of the Arc graphics architecture to mobile CPUs! This is a big change and essentially means that the integrated graphics performance of Intel 14th-gen laptop CPUs is getting much faster.
Intel Arc graphics is part of Meteor Lake processors and is built on the Xe LPG microarchitecture. There is a dedicated graphics tile on every Meteor Lake processor, containing the Intel Arc graphics. The new Xe Media Engine comes with AV1 support, as well as variable rate shading. DX12 API performance is quite competitive now, with the integrated GPU now being capable of running AAA games like Forza Horizon 5 at playable framerates on 1080p.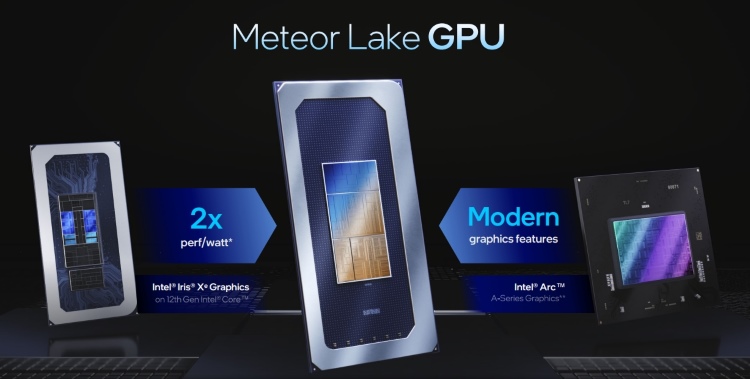 Intel Meteor Lake GPU also supports real-time ray tracing. If you didn't know, ray tracing is one of the biggest innovations recently in the 3D graphics space. You can learn more about what is ray-tracing and how it changes your games here.
The new Intel Meteor Lake GPU supports 8K resolution, up to 60Hz. It supports the latest standards such as HDMI 2.1 and DisplayPort 2.1 – which makes the Nvidia RTX 40 Series the only graphics card manufacturer that is still stuck on DisplayPort 1.4, with even AMD having made the switch.
With the new Arc-powered Intel Meteor Lake GPU, users can supercharge their content creation or gaming experiences. While the ray-tracing here is not comparable to the more powerful dedicated graphics, such as the Nvidia RTX 40 Series, the Intel Arc graphics chip that makes up Intel Meteor Lake's GPU is still highly competitive.
Intel 14th Gen Meteor Lake: Low Power Island E-Cores
Intel's previous processors already featured a hybrid P-core + E-Core architecture, so they switched to dedicated cores for performance & efficiency respectively. Now, Meteor Lake also implements Low Power Island E-Cores, also referred to as LP E-Cores.
These are similarly designed Crestmont cores, just like the E-Cores present on the compute tile. But, these are designed differently and the LP E-Cores are placed in the SOC tile instead. What do they do?
The Low Power Island E-Cores are built for the best efficiency, for all sorts of tasks that don't really require the P-Cores to become active. The LP E-core section has its integrated low-power AI engine and it supports various light workloads.
For example, background work (like IT) runs on low-power E-Cores. Intel also showed a pre-production laptop that had a Meteor Lake CPU, in which a movie was running in a loop. The CPU usage of the compute tile was not going up! Essentially, the LP E-cores were active in this case.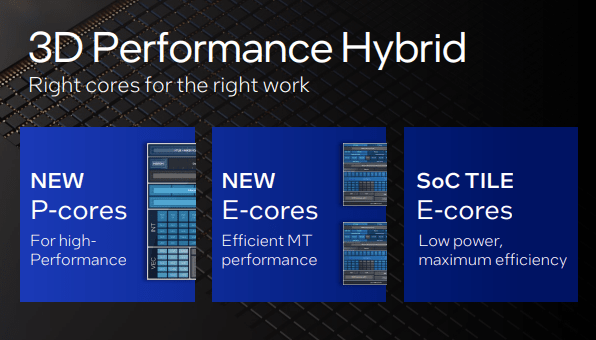 Accordingly, if a workload requires more compute performance, the task can be assigned to the compute tile E-Cores & P-Cores instead. In the case of a presently-running, compute-heavy application (such as a content creation app), Meteor Lake CPUs will assign the P-Cores to the compute-heavy task. Certain low-utilization background apps would run on the compute tile E-core or SoC tile LP E-cores.
With the addition of low power island E-cores, Intel has definitely made Meteor Lake even more hybrid and versatile as compared to previous generation processors.
Intel 14th Gen Meteor Lake: Hybrid Tile Architecture
The Intel 14th Gen Meteor Lake processors use an evolved hybrid architecture, made up of P-Cores and E-Cores in the compute tile, as well as dedicated SoC, Graphics, and IO tiles that have their respective functions. This time around, Intel has added the low power island to the SoC tile as well. As we explained above, this saves on energy by running many low-power tasks on the LP E-cores, keeping the compute tile free.
Let's talk about what each of the respective tiles (IO, SoC, Graphics, and Compute) in Meteor Lake are responsible for.
The Graphics tile is what contains Intel's Arc graphics that accelerate 3D performance on the Meteor Lake CPU. So, the new Intel Xe LPG graphics are present in the graphics tile and responsible for high-performance graphics acceleration.
The SoC tile contains Intel's new NPU for accelerating AI, along with the low-power island E-cores. This also includes the Silicon Security Engine and more.
The IO tile is responsible for PCI Express ordering. The IO fabric also includes components for PCI Express, WiFi & Bluetooth, USB4, Thunderbolt, and more.
The Compute tile is where the new Redwood Cove Performance (P) cores and Crestmont Efficiency (E) Cores reside in Meteor Lake processors. All the computational efforts are handled here and shared between the P-cores & E-cores based on their workloads.
Intel 14th Gen Meteor Lake: NPU AI Engine
According to Intel, artificial intelligence has become the technology of today, rather than the future. So, in the present era of computing, the artificial intelligence industry & ecosystem are rapidly growing.
With that, Intel is bringing many new AI advancements to Meteor Lake CPUs. All these are powered by the new NPU, and we previously did know that AI would play a key role in Intel 14th Gen CPUs. With the new NPU, Intel is bringing artificial intelligence to the modern PC and opens up many new possibilities. Previously, AI tasks were done on the cloud, but now they can be done on-device!
Typically, if you have any task for an AI such as GPT, you give it the data that it needs (such as reports, emails, etc.) for your prompt. Now, you can do things like this on the device itself. With Intel Meteor Lake, the company brings AI on the PC. Thanks to this, there are many advantages:
Lower latency & running costs
No more slow-downs caused by internet problems
Improved privacy & security
Makes using AI on the daily a more convenient affair
Up to 8X more efficient in workloads compared to previous-gen CPUs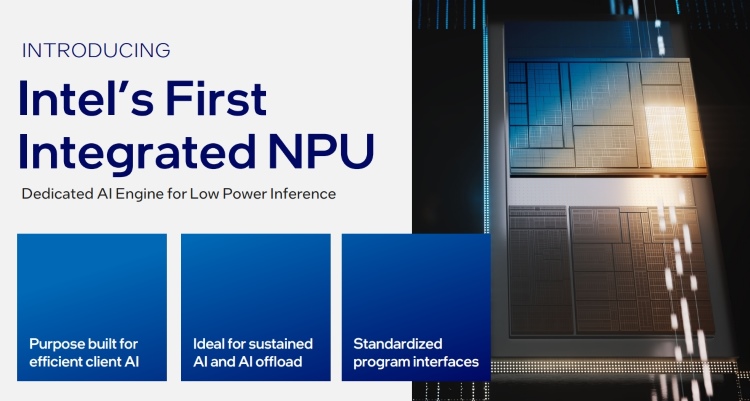 Intel has essentially created Meteor Lake CPUs to be a power efficient platform that is purpose-built for the AI era. Many new possibilities open up with this, and the tech demos shown for Intel Meteor Lake were quite impressive.
Intel Meteor Lake 14th-gen processors also come with an on-device Silicon Security Engine, that ensures the user's data is protected while they use the on-device AI platform powered by the NPU. Intel touts Meteor Lake CPUs will feature improved security because of this. We will soon see many on-device AI enhancements, thanks to the NPU in 14th-generation Meteor Lake CPUs!
Intel 14th Gen Meteor Lake: WiFi 7 5Gbps & Bluetooth LE Audio
Wi-Fi 7 is being introduced in Intel Meteor Lake processors, bringing a new standard of connectivity that increases reliability, speed, and lower latency. Wi-Fi 7 supports 5Gbps speeds, with GCMP-256 encryption. It also supports the new 6GHz band, which reduces latency up to 60% lower (~4ms vs ~10ms) as compared to Wi-Fi 6.
In addition to this, Intel Bluetooth LE Audio is coming to 14th Gen Meteor Lake processors. It brings many new benefits, including features like shared listening and improved accessibility with hearing aids. Compared to the previous Bluetooth standards, Bluetooth LE Audio requires less power and brings superior quality with lower latency.
In Intel Bluetooth LE Audio, there is also a new LC3 Codec which improves listening quality even at lower bitrates, as compared to the SBC codec used in previous Bluetooth standards. It has lower power and bandwidth requirements overall, so new wireless audio products that support it could bring improved battery life.
Intel 14th Gen Meteor Lake: New Branding & Variants
Intel Meteor Lake introduces the company's latest branding update, which removes the 'i' from their Intel Core processor model names. This has been done to mark the monumental shift to a much newer manufacturing process.
Intel's new branding will name Meteor Lake CPUs under the new naming scheme. Intel has only announced the architecture for now, and not the variants. So, we will update this section once we know more about new Meteor Lake CPUs. Still, here is what they would be called according to the revised CPU model names:
Base Variants:
Core 3
Core 5
Core 7
Core 9
Ultra Variants:
Core Ultra 5
Core Ultra 7
Core Ultra 9
As you might know, Intel's latest processors use a hybrid architecture featuring specific cores for different tasks – the performance cores (P-Cores) and efficiency cores (E-Cores). In Meteor Lake, Intel has implemented faster Redwood Cove P-Cores and even more efficient Crestmont E-Cores.
'Core Ultra' variants are faster, as denoted by their suffix. Essentially, the successors of high-performance H or HX series processors like the Intel Core i9-13980HX will come under the new Intel Core Ultra 9 branding.
Similarly, successors of lower power, U/P series processors such as Core i5-1340P or the Core i7-1365U will now come under the Core 5 & Core 7 brandings respectively. Intel's rebranding for the new 14th-Gen Meteor Lake processors as well as future products looks like this: