If you desire to be in the thick and thin of the limelight, you've got to be trending on Instagram. Yeah, you heard it right! From the world's most popular brands, ever famous celebrities, to fun-loving people, almost everyone is making the most of Instagram to win attention. Going by the high engagement and impressive impact, this photo and video sharing app is fast turning out to be a go-to platform for marketing. Should you think of ramping up your campaign, bolstering your interaction with followers or simply enhancing your user-experience, make the most of the best new Instagram features that are getting plenty of traction in 2019.
Best New Instagram Features You Should Try Out in 2019
Faced with stiff competition from TikTok and Snapchat, the Facebook-owned app seems to be leaving no stone turned to stay ahead of the race. The addition of a bunch of new features plays a vital role in keeping users engrossed. These all-new goodies also go a long way in enhancing user experience. So, without any further ado, let's check out the 10 best new Instagram features that you should use in 2019.
1. New Stickers: Countdown, Questions, and Donation
Instagram stickers have proved to be a huge hit both for brands and normal users. And guess what, the social networking app has once again added three cool stickers to its already rich roster: Countdown, Question, and Donation.
Talking about the Countdown sticker, it seems right on the money for creating euphoria and making sure your followers are equally excited for an upcoming event. So, the next time you want the entire Instagram community to get into the waiting mode for your much-awaited event or party, do not forget to give it a shot. What's more, the countdown can also be spot on for speeding up sign-ups and driving sales.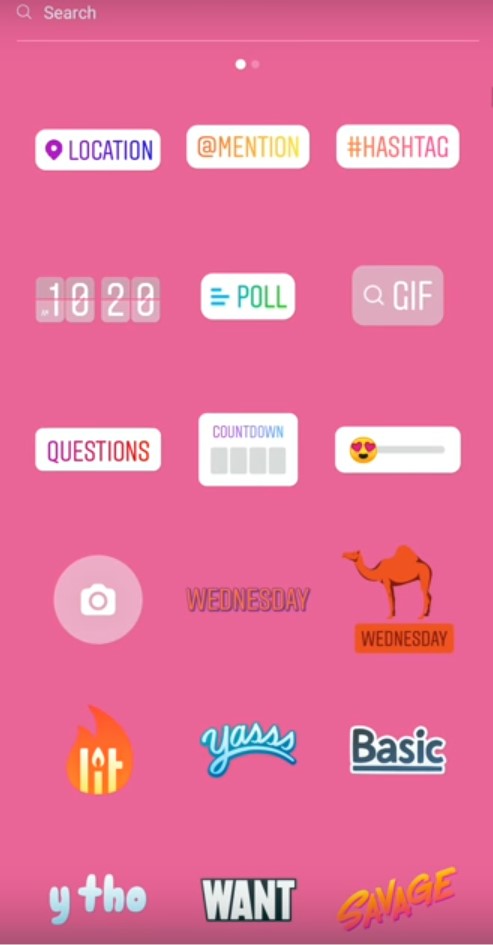 As for Question sticker, it can come in really handy when you want to ask a certain question to your followers and get the most appropriate answer. You can also save it for the times where you want to have a bit more straightforward feedback about any campaign or strategy.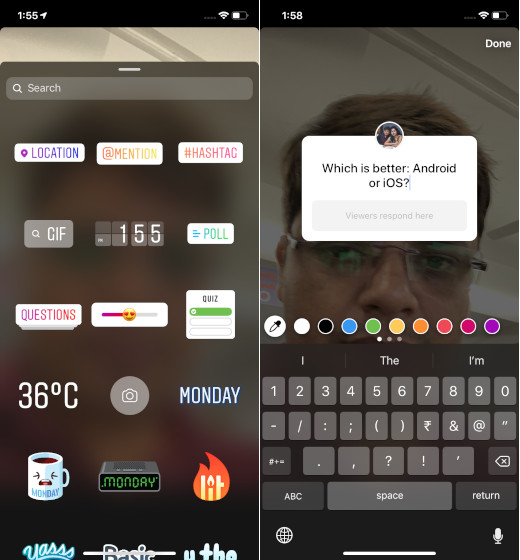 Regarding the Donation sticker, it's self-explanatory. You can use it to ask your fans to donate some amount for a noble cause. All the collected money will directly go to the charity. You will be able to keep track of all the funds by usernames and amounts just by tapping on the sticker. It's pretty simple to get started. Do note that Donation Sticker is currently available only in the US.
Note: Countdown sticker hasn't yet been rolled out in all the countries and regions. If you don't get it, try to update Instagram on your device. If this sticker doesn't appear even after the update, wait for this feature to arrive in your region.
2. Reshare and Promote Instagram Stories
Do you know that you can now reshare an Instagram story? Well, whenever anyone will @mention/tag you in a post, you will get a notification along with the link to add the post to your story. Keep in mind, you will need to repost on Instagram within 24 hours as the link will expire and won't be valid after 24 hours expire.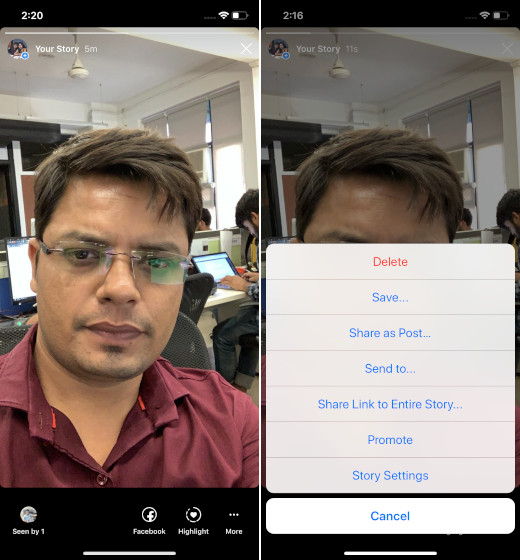 Another notable addition to Instagram is the option to promote your story. Now, you don't need to take the roundabout ways to get it done as the app has made it a lot easier. So, whenever you wish to boost your post, all you need to do is just hit the three dots and choose Promote in the menu. After that, it's business as usual.
3. Add Paragraph Space In Your Instagram Caption
Well, this one may not be an eye-grabbing feature but if you had been craving for a bit more freedom to make your post more expressive, it could be your thing. The social networking app now lets you add paragraph space to your caption. So, the next time you are typing out your Instagram caption, look for the return button on your software keyboard and hit it to add paragraph space. It works intuitively and may just give your words or for that matter message a little more liberty to express vividly.
4. All-New Camera Mode
Right from the moment I stumbled upon this brand new camera mode, I like every bit of it. And, I bet you will also like to have a go at it. In this camera mode, you don't need to upload a photo or video. Instead, you have to use all the nice creator tools like awesome stickers, eye-catching text and drawing tools to express your feeling.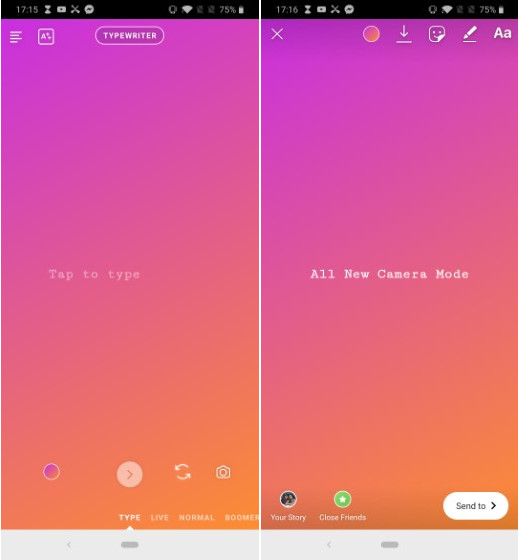 To invoke it, simply access the camera within Instagram by tapping on the camera icon at the top left or swiping left from the right edge of the screen. Then, look for the "Type" option beneath the Shutter button and select it. After that, tap on the screen to enter a message. Next, you have tons of stickers and handy drawing tools to add more fun elements to your creativity. By the way if you are looking to create awesome videos for your Instagram, you should check out our best Instagram video editors article.
5. Shop Right from Your Creators
Many of us follow famous stars as well as well-known influencers and like to buy the stuff that they recommend. Instagram has tried to cash-in-on this age-old trend and allowed public figures, creators, athletes, publishers, and artists to tag the products that they promote. As a result, users will be able to buy those products right from within the app.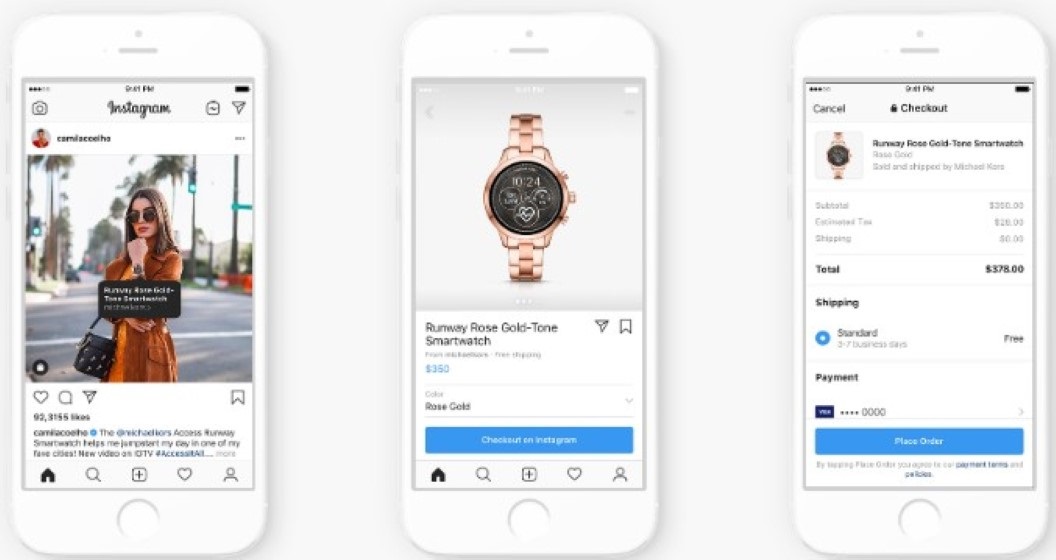 Well, this new feature has turned influencers full-on salespeople of the brands which they endorse. Both from a user's perspective and business, I find it a worthy addition and well-timed. If you are into marketing, get the most out of it to drive sales big time!
6. Activity Tracking
So, you think that you are overusing Instagram and want to keep track of how much time you spend using this app? Well, the built-in Activity Tracking feature can be enormously helpful in letting you track the usage of this app on your device.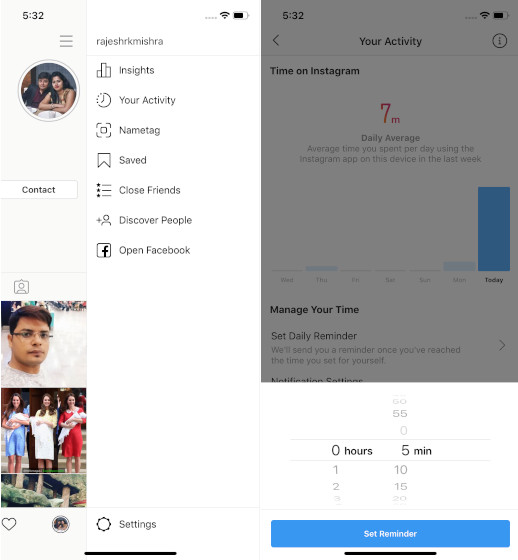 You can find out the average time you spent per day using Instagram on your device in the last week. Moreover, there is also an option to set a reminder so that the app can alert you once you have reached the threshold. Take advantage of it to cut down unnecessary usage or get rid of app addiction for good.
To check out your activity, open Instagram -> tap on the profile icon at the bottom and then tap on the menu button at the top right. Now, choose Your Activity. On the next screen, you should see your time on Instagram of the last week.
7. Nametag
Nametag is one of the most appreciable features that have recently arrived on Instagram. What it basically does is allows you to not only create & customize your own nametag but also scan others' nametag to easily find and follow new accounts. To get started, fire up Instagram on your device and hit the profile tab at the bottom. Then, tap on the menu button at the upper right and tap on Nametag.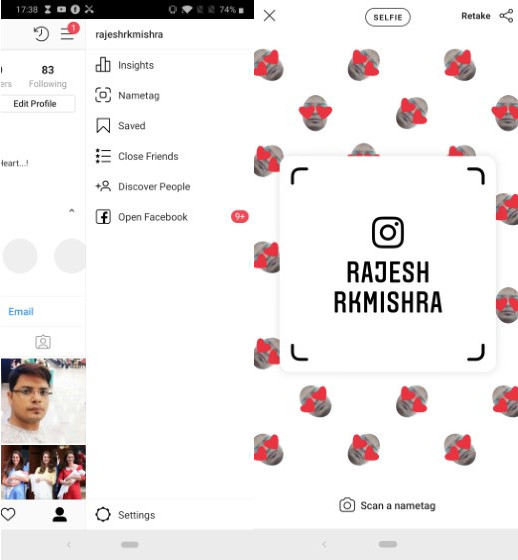 Now, if you want to customize your nametag, tap anywhere on the screen or hit the button at the top center to choose from several designs like color, selfie, emoji and much more. After you have crafted a nice one, you can tap on the share button at the top right and choose the preferred medium to share it with your friends. There is also an option to scan a nametag. Tap on it and then point the device' camera on the tag to scan it.
8. Manage Posts on Multiple Accounts
If you are running multiple Instagram accounts, then this tip can ideally fit into your needs. When sharing any new post, you can choose to blast it on multiple Insta accounts at the same time. On the last page where you get the option to share the post on Facebook, Twitter, and Tumblr, there is also an option to turn on the toggles for other accounts. Simply set the switches next to the Instagram accounts to the ON position and then keep sharing the posts everywhere all at once.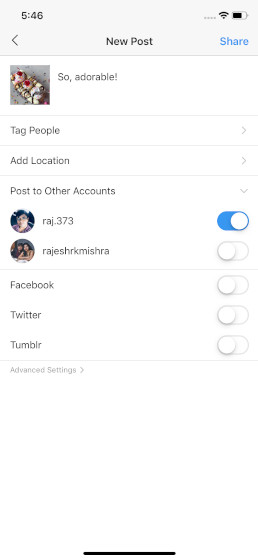 9. Reduce Cellular Data Usage (Available Only for Android)
This one is primarily designed for the folks who often find their cellular data running out of gas before the deadline. If you are one of such users, then take advantage of this useful feature. What it basically does is that it prevents high-resolution media from eating up your cellular data by allowing use to restrict download of hi-res media only on Wi-Fi. Do note that this feature is available only for Android users.
To get it done, open Instagram on your Android device and hit the profile icon at the bottom right. Now, tap on the menu button at the upper right corner, then go to Settings -> choose Account -> Cellular Data Use. Next, make sure that the switch for Data Saver is ON. Then, tap on High-Resolution Media and select either "Never" or "Wi-Fi only".
10. Create Your Own Instagram Stories Filter (To be Rolled Out Soon)
Even though Instagram has a boatload of attractive filters, they can't live up to everyone's billing. And just in case, you always want to have some out-of-the-box filters to adorn your Instagram stories, there is good news for you.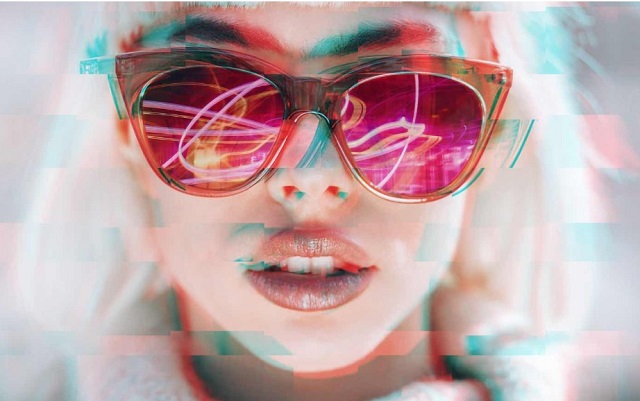 At this year's F8 conference, Facebook announced that soon everyone would be able to craft their own Instagram stories. Before you start wondering how will that be possible, let me tell you that the social networking giant has decided to roll out Spark AR Studio, which is the software that designers and brands take advantage of to create unique filters, to everyone. Going by the wind, it's just a matter of time before it will hit Instagram for good.
Meanwhile, If you like to try out a lot of filters and special effects, I would recommend you t read our best Instagram filters articles which give you a lot of options to find and use new filters.
SEE ALSO: 10 Best Instagram Filters You Should Use in 2019
Get the Most Out of New Instagram Features
As you've finally put your hands on all the hottest new and best Instagram features, get the most out of them to not only boost the overall Instagram engagement but also enhance your experience. As the app keeps on adding new gems every now and then, stay tuned in with us as we'll keep sharing them as and when they are rolled out to help you stay in the loop. By the way, let us know your favorite new Instagram features in the comments section below.