The Indian government has banned TikTok along with other Chinese apps that it considers as a threat to privacy and sovereignty of the country. The list of 59 banned apps includes many apps that offered an alternative to TikTok. So not only you won't be able to use TikTok, but also its noted rivals such as Likee, Kwai, Vigo Video, and more. That's why, to help you find a suitable alternative, we have created this list of 10 best apps like TikTok that you can use to unleash your creative potential.
Best TikTok Alternatives for iPhone and Android (2020)
Before we start our article, I want to mention that we have created an exhausitve list of Chinese apps alternatives. You should click on the link to read it if you want to find alternatives for apps like CamScanner, ES File explorer, AppLock, and more. With that out of the way, here is the list of apps that are in this article.
We have added anchor links the above list. You can click on the links to quickly move between apps.
1. Triller
Triller is one of the best apps that you can use to replace TikTok right now. Just like TikTok, Triller is a social video platform that allows you to create creative videos. Using Triller, you can create professional-looking videos and share them with your fans in seconds.It has all the features that you expect from a worthy TikTok alternative.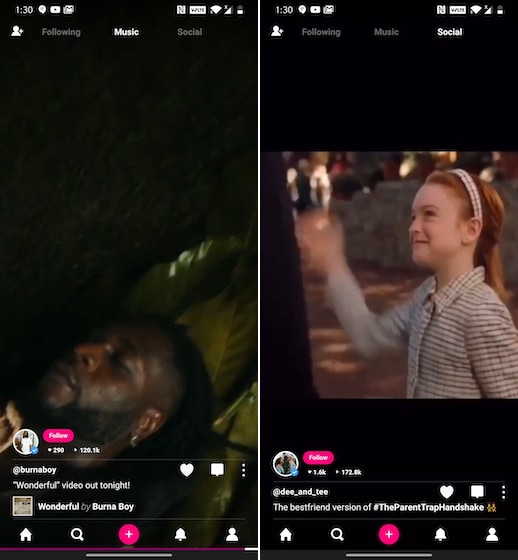 You can create amazing music videos, participate in trending challenges, use filters, emojis, and drawings, collaborate with friends, and more. The platform is pretty popular among celebrities which include Justin Bieber, Rita Ora, Kevin Hart, and more. So, you are going to get a ton of exposure here.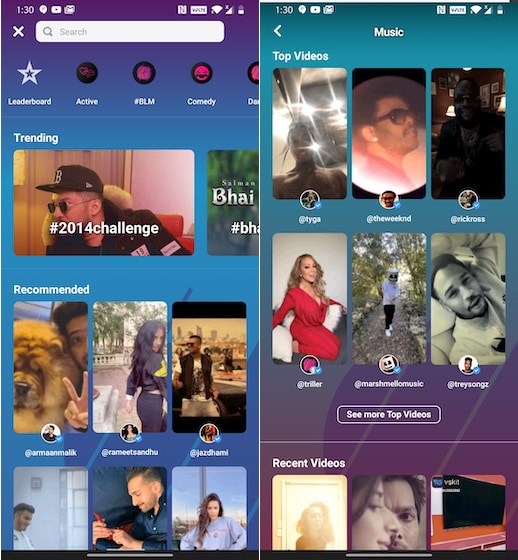 Triller also lets you access trending tracks just like TikTok. So, you won't have to hunt for music to use in your videos. You can get them directly from the app. Overall, Triller seems to be a great alternative to TikTok and you should check it out.
Install: iOS and Android (Free, offers in-app purchases)
2. Dubmash
Every time I have tried my hands-on Dubmash, I have come out impressed with the video-sharing platform. And it's the huge library of trending sounds as well as music clips that make it stand out. So, Just in case you aren't pleased with TikTok's collection of soundtracks, Dubmash could be the right replacement for you. As the company keeps on adding new sounds every day, you will always have exciting music to try out.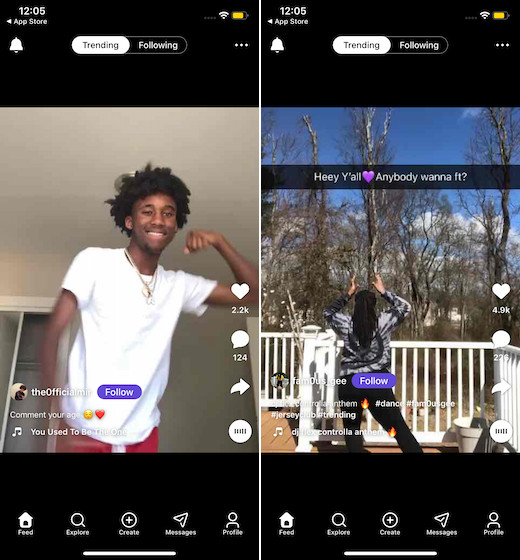 Though Dubmash may not boast as many effects and filters as TikTok, you can count on the former to let you beautify your clips with a nice selection of effects and the professionally-designed filters. As for the interface, it looks a touch better and snappier than that of TikTok. Moreover, it's also integrated with several social networking apps like Snapchat, Instagram, and WhatsApp to let you easily share your videos with your friends and loved ones.
Install: iOS and Android (Free)
3. Funimate Video Musical Editor
Sporting a striking similarity with TikTok, Funimate is a readymade replacement for TikTok. Apart from having an ever-growing collection of effects and filters, the app has got more efficient video editing tools. So, if TikTok seems light to you in terms of video editing, Funimate has the tools to let you style your lip-syncing videos with a bit more flair.
Depending on your needs, you can crop your videos to remove unwanted parts, add still images, and even make the most of some glamorous effects to make the clips look stunning.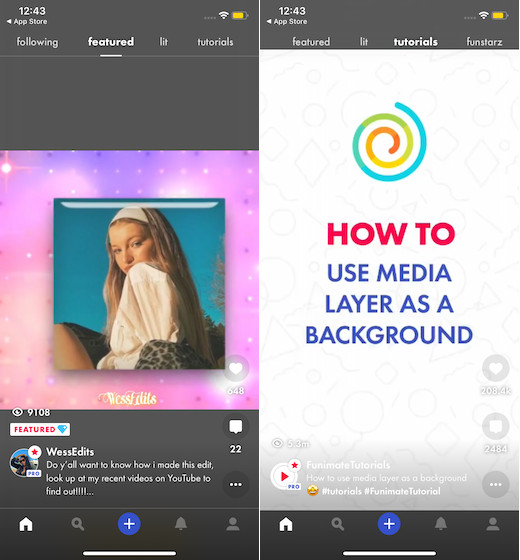 Regarding user-interface, there is very little to choose between TikTok and Funimate. Just like TikTok, it also offers a fully personalized video feed where you can explore all sorts of recommended videos based on your taste.
Being integrated with several popular video-sharing platforms like YouTube and Facebook, it also lets you share your masterpiece on several platforms so that you can start breaking the internet within no time. Do you still need to master a few hacks? No problem. Funimate also offers super handy tutorials to help you enhance your video-creation skills.
Install: iOS and Android (Free, offers in-app purchases)
4. MuStar
For creating sensational music videos and indulging in lip-sync musical battles, you can't go wrong with MuStar. If there was a head to head battle between TikTok and MuStar in terms of songs collection, the latter could prove to be a hands-down winner. So, I would recommend you to give this video editor in mind, if you always like to have the luxury of a huge database of songs to choose from.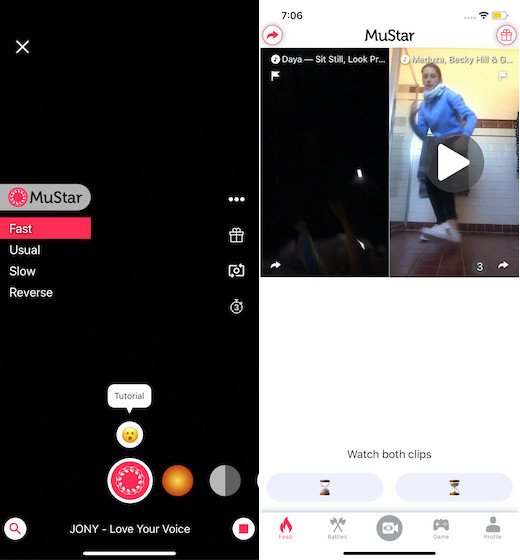 As for the video effects, I think MuStar is on par with TikTok. But unlike ByteDance owned video platform, MuStar has a pretty intuitive UI that makes for exploring videos a bit smooth-sailing. Overall, it's a pretty good substitute for TikTok and I bet you would love to have a go at it!
Install: iOS and Android (Free, offers in-app purchases)
5. Chingari
Chingari is a homegrown app like TikTok that launched back in 2018. The app has recently become popular and has crossed 2.5 million downloads in a short amount of time. It went from 550,000 downloads to 2.5 million downloads in just ten days.Talking about the app itself, TikTok users will feel right at home here. Both its user interface and feature-set have taken huge inspirations from TikTok. That means you won't have to relearn the app to create videos.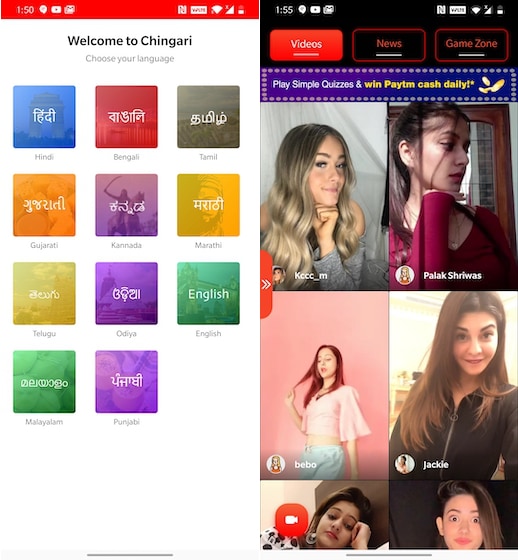 Yes, the user-base is minuscule when compared to TikTok, but the app is rising fast and it has the potential to reach new heights. I love that the app is available on both Android and iOS platforms so you can use it regardless of your smartphone's operating system.A good thing about Chingari is that it promotes content creation in regional languages. When you launch the app for the first time, you are greeted with a screen that lets you select your languages.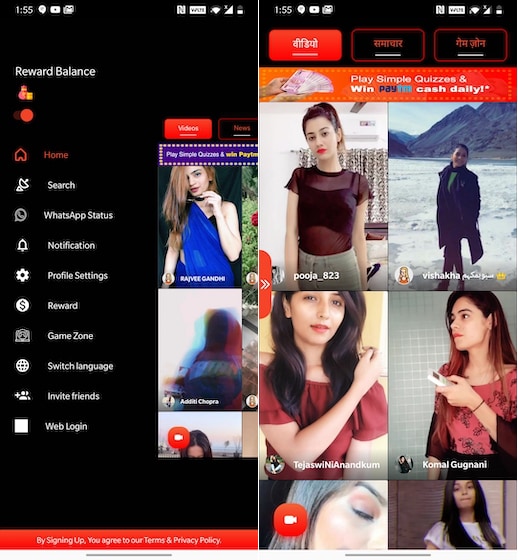 Apart from Hindi and English, it also supports Bengali, Gujarati, Tamil, Kannada, Telugu, Marathi, and more. That said, I do hate the constant banner ads on this app. If you don't want to use a foreign app for the fear that it might be banned, this is the perfect app to build your following. By supporting regional languages, it's also opening its doors to a lot more creators. It's definitely an app to keep an eye on.
Install: iOS and Android (Free, offers in-app purchases)
6. Lomotif
Another app that can make a nice match with TikTok is Lomotif. Whether it's creating amazing music videos or making attention-grabbing slideshows that can get a lot of traction on social networking sites, the app looks quite good in most aspects. But it's in the video-editing department where Lomotif is way than many other rivals. You can use the app to crop, trip, and even duplicate clips with ease.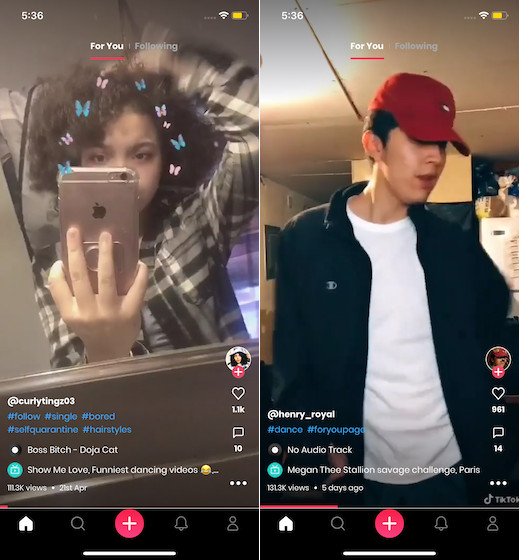 As for the music collection, Lomotif can put TikTok to shame thanks to the millions of chart-topping songs. What's more, it also adds new songs every day so that you always have a range of nice songs to make great music videos. Beyond music, it's also got animated stickers, a solid collection of filters, and effects so that your arsenal never runs out of variety.
Install: iOS and Android (Free, offers in-app purchases)
7. byte
Though byte may be relatively new in the market, it's got everything covered to take the crown away from TikTok. Yeah, you read that right! For those unfamiliar, byte has been created by Dom Hofmann who had also developed Vine. Currently, byte allows you to record videos only up to six seconds long as compared to TikTok's fifteen seconds (1 minute if you are uploading per-recroded videos) video length limitation.
But just like its more famed rival, it also features a personalized feed, notifications, and profile. However, it lacks remixability, augmented reality filters, and transition effects that TikTok boasts. As for UI, it's snappier and more intuitive than its rival. Long story short, byte may not be a fully-featured TikTok alternative right now but it has the promise to dominate the landscape down the line.
Install: iOS and Android (Free)
8. Instagram Reels
Instagram was already testing its TikTok competitor, Instagram Reels, in Brazil, Germany, and France. And after TikTok's ban in India, the company promptly released the app in India too. Instagram Reels is the closest platform to TikTok when it comes to reach. You get the already large audience of Instagram, and don't even have to create a new account to use this feature.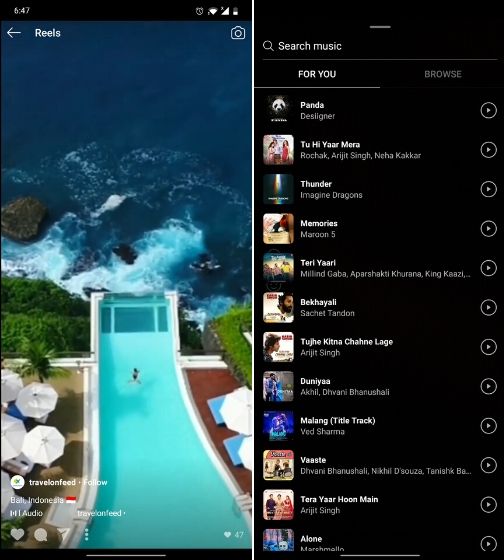 Just like TikTok, you can use Instagram Reels to create a 15-second short-clip video with lip syncing, effects, and more. You can either use your own audio or select music from the app. You can share Reels both as part of your normal Instagram posts and Stories. You can learn more about using Instagram Reels, by heading to our linked article. We have also compared Reels with TikTok, so click on the link to see its advantages and shortcomings.
Install: iOS and Android (Free)
9. Firework
Claiming to be the best platform for short videos, Firework is designed to take on TikTok. What puts this app at the forefront of attention is a wide variety of videos including travel, beautify, recipe, fitness, comedy, and more. So, irrespective of what sets the tone for your interest, chances are pretty high this video-sharing platform can cater to your interest with aplomb.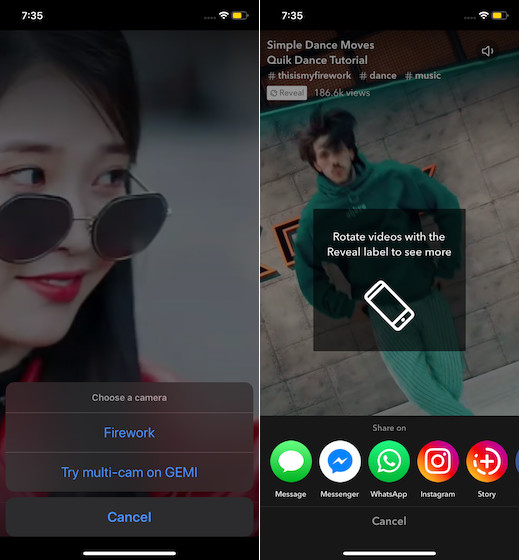 Just like TikTok, Firework also offers a fully personalized feed where you can watch the sort of videos that drive your fancy. What's more, you can also make a collection of all the videos you love and share them with your friends and loved ones.
Install: iOS and Android (Free, offers in-app purchases)
10. Mitron
Mitron is an Android-only app that came into limelight as a homegrown alternative for TikTok. The app recently surpassed 1 crore installations on Google Play Store. This number shows that the app is rising in popularity and hence gives a good platform to creators.
I think Mitron is perfect for TikTok users who were not able to rise in ranks thanks to the platform's saturation with popular celebrities and content creators. You can create an account on Mitron and get access to its user-base without being surpassed by popular creators.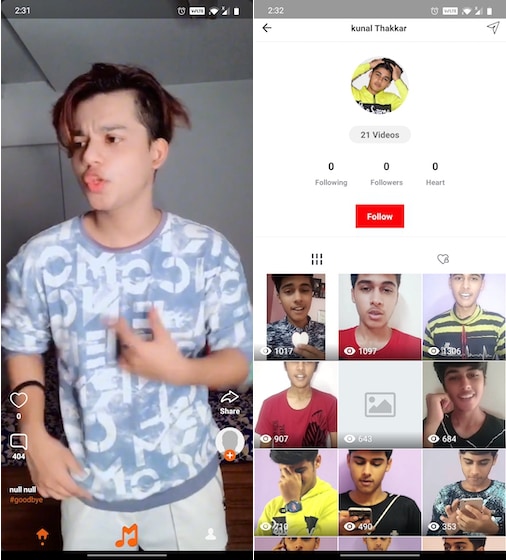 If you are a popular TikTok creator, you can find your home at Mitron too. Mitron offers most of the features that TikTok was famous for and provides a good platform for rebuilding your audience.
That being said, just because Mitron is a home-grown start-up, it doesn't mean that it doesn't have privacy concerns. It was embroiled in controversies, soon after the launch and its privacy policies are generic and the app still has miles to go to satisfy the privacy conners of users and regulators alike.
Install: Android (Free, offers in-app purchases)
Note: The app has too many clones on the Play Store with the same name so make sure to use our link to download the right app.
Choose the Top Apps Like TikTok for Creating Fun-Loving Videos
There you go! So, these are the highly-rated apps like TikTok, which you can use to create awesome short videos and explore them. Do you find some notable names missing from the above lineup? Feel free to let us know. Just in case you are planning to switch to TikTok rivals for good, I would recommend you check out our complete guide about deleting the TikTok account without losing data. And if you are on the lookout for stunning lights to light up your clips, head over to this roundup.
---
Load More