Don't get me wrong! TikTok is probably the hottest platform for watching bite-sized videos today. And if you have a penchant for exploring cool videos, it would be hard to miss out on the ByteDance-owned video sharing platform. But, despite the meteoric rise to fame from a relatively unknown entity to the record-shattering 2 billion downloads, the app has come to be known as controversies kingpin – courtesy a series of sensational accusations. Controversies aside, TikTok lacks a massive library of soundtracks and also doesn't have the top-notch video effects and filters, which are a must for the creators of lip-syncing videos. Not to mention, the app doesn't have an intuitive UI either. So, if these shortcomings (or some of your own) have compelled you to look for the highly-rated alternatives, this lineup of the 10 best apps like TikTok in 2020 has got you fully covered.
Best TikTok Alternatives for iPhone and Android (2020)
So, which video-sharing platform would be right for you? When there is a luxury to choose from an extensive collection, there is a high chance to get spoilt for choice. That's why I've highlighted each of the best TikTok alternatives for iPhone and Android so that it's a tad easier for you to pick the right bet based on your interest such as soundtracks, filters, and effects. As all these rivals are available for free, you can give a shot to each one of them before deciding to stick with the ones that look bang on for your taste.
1. Likee
If there is a video-sharing app that can make a match with TikTok on most fronts, it has to be Likee (formerly LIKE video). Just like the ByteDance' offering, Likee also boasts a nice collection of special effects so that you can adorn your clips to your heart's liking. Beyond effects, the video-sharing app has also got a wide range of filters that can let you design your videos instantly. Whether you wish to add some glamor quotient to your video or want to make the clip look insanely crazy, chances are those filters can fit into your taste.
Even in terms of video editing tools, Likee can give a strong competition to TikTok. One of my favorite features of this app is the all-new makeup and micro-surgery feature that lets you put on attractive makeup in a quick time. Save it for the times where you wish to look at your absolute best without having to go through a long makeup drill. Not just that, features like the cool 4D magic, superpowers, FaceMagic, hair color, and fun-loving stickers ensure you always have plenty to experiment with. While Likee doesn't have a massive community of creators as that of TikTok, it can safely claim to be the best TikTok alternative for iOS, Android, and web due largely to a solid roster of filters, effects, and easy-to-use video editing tools.
Install: iOS and Android (Free, offers in-app purchases)
2. Dubmash
Every time I have tried my hands-on Dubmash, I have come out impressed with the video-sharing platform. And it's the huge library of trending sounds as well as music clips that make it stand out. So, Just in case you aren't pleased with TikTok's collection of soundtracks, Dubmash could be the right replacement for you. As the company keeps on adding new sounds every day, you will always have exciting music to try out.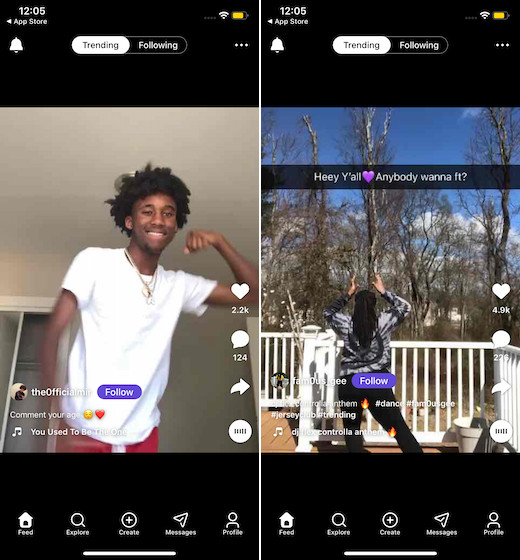 Though Dubmash may not boast as many effects and filters as TikTok, you can count on the former to let you beautify your clips with a nice selection of effects and the professionally-designed filters. As for the interface, it looks a touch better and snappier than that of TikTok. Moreover, it's also integrated with several social networking apps like Snapchat, Instagram, and WhatsApp to let you easily share your videos with your friends and loved ones.
Install: iOS and Android (Free)
3. Vigo Video
If I were to pick a TikTok alternative purely based on fun-elements, Vigo Video would comfortably finish right at the top. The app comes with a beauty camera that lets you play around with a variety of looks. And with stunning makeup and beauty effects at the disposal, it's pretty high in terms of raising the beauty quotient. Moreover, you also get plenty of fun-loving motion stickers to make your clips appear pleasing to the eyes.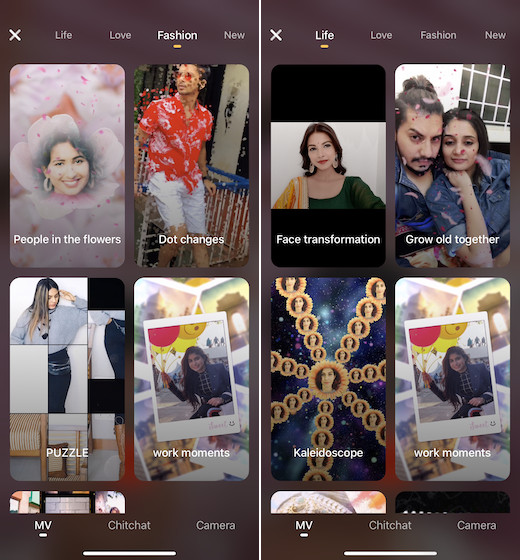 In terms of filters and effects, Vigo Video has a slight edge over TikTok. So, if you prefer to use cool effects to style your videos, it could be a better bet for you. Aside from creating videos, it also lets you discover and share the latest music. Perfect for the fans who enjoy listening to music. On top of all, there is also a live mode so that you can stream live video to your followers. And if your video happens to hit the jackpot, you will also win a lot of rewards and cash prizes. Keeping in mind these features, Vigo Video deserves to be called a top-notch app like TikTok.
Install: iOS and Android (Free)
4. Funimate Video Musical Editor
Sporting a striking similarity with TikTok, Funimate is a readymade replacement for TikTok. Apart from having an ever-growing collection of effects and filters, the app has got more efficient video editing tools. So, if TikTok seems light to you in terms of video editing, Funimate has the tools to let you style your lip-syncing videos with a bit more flair. Depending on your needs, you can crop your videos to remove unwanted parts, add still images, and even make the most of some glamorous effects to make the clips look stunning.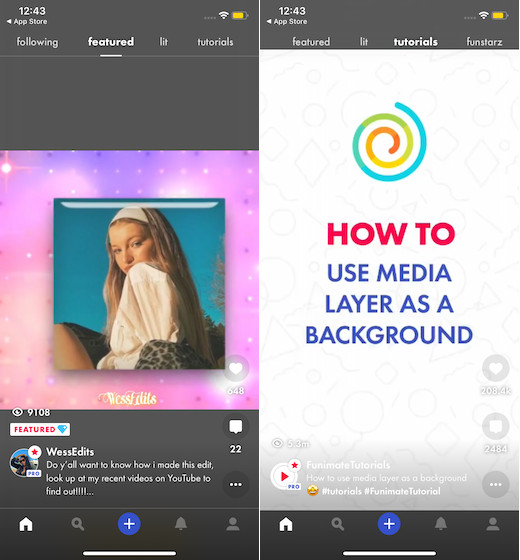 Regarding user-interface, there is very little to choose between TikTok and Funimate. Just like TikTok, it also offers a fully personalized video feed where you can explore all sorts of recommended videos based on your taste. Being integrated with several popular video-sharing platforms like YouTube and Facebook, it also lets you share your masterpiece on several platforms so that it can start breaking the internet within no time. Do you still need to master a few hacks? No problem. Funimate also offers super handy tutorials to help you enhance your video-creation skills.
Install: iOS and Android (Free, offers in-app purchases)
5. Kwai
If creating awesome 3D Kmoji has compelled you to look beyond TikTok, you can count on Kwai to live up your expectation. With a huge roster of animated stickers, the app makes it pretty straightforward to create eye-catching 3D kmoji. That aside, it's got probably the most effective beautify tools that let you beautify your looks, remove blemishes, brighten the eyes, and smoothen the skin instantly. Looks bang on to become your always-on makeup tool, doesn't it?
Another feature that's worth taking note of is the proficient lip-sync and dubbing function which you can use to lip-sync to your favorite song and movie scenes. Besides, you can also choose from several soundtracks and the latest music to make a trending music video. And once your clip is ready to go live, you can blast it on several popular platforms including Facebook, Instagram, Twitter, YouTube, FB Messenger, WhatsApp, and Snapchat.
Install: iOS and Android (Free, offers in-app purchases)
6. MuStar
For creating sensational music videos and indulging in lip-sync musical battles, you can't go wrong with MuStar. If there was a head to head battle between TikTok and MuStar in terms of songs collection, the latter could prove to be a hands-down winner. So, I would recommend you to give this video editor in mind, if you always like to have the luxury of a huge database of songs to choose from. As for the video effects, I think MuStar is on par with TikTok. But unlike ByteDance owned video platform, MuStar has a pretty intuitive UI that makes for exploring videos a bit smooth-sailing. Overall, it's a pretty good substitute for TikTok and I bet you would love to have a go at it!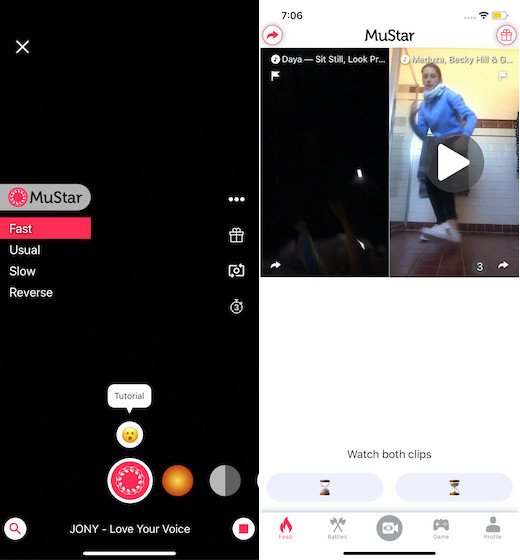 Install: iOS and Android (Free, offers in-app purchases)
7. Lomotif
Another app that can make a nice match with TikTok is Lomotif. Whether it's creating amazing music videos or making attention-grabbing slideshows that can get a lot of traction on social networking sites, the app looks quite good in most aspects. But it's in the video-editing department where Lomotif is way than many other rivals. You can use the app to crop, trip, and even duplicate clips with ease.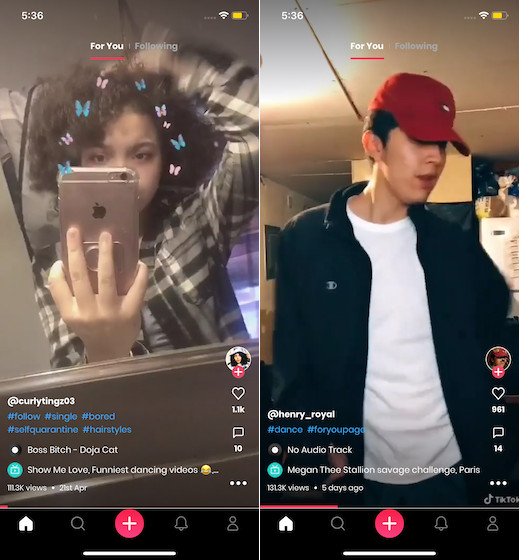 As for the music collection, Lomotif can put TikTok to shame thanks to the millions of chart-topping songs. What's more, it also adds new songs every day so that you always have a range of nice songs to make great music videos. Beyond music, it's also got animated stickers, a solid collection of filters, and effects so that your arsenal never runs out of variety.
Install: iOS and Android (Free, offers in-app purchases)
8. byte
Though byte may be relatively new in the market, it's got everything covered to take the crown away from TikTok. Yeah, you read that right! For those unfamiliar, byte has been created by Dom Hofmann who had also developed Vine. Currently, byte allows you to record videos only up to six seconds long as compared to TikTok's fifteen seconds (1 minute if you are uploading per-recroded videos) video length limitation. But just like its more famed rival, it also features a personalized feed, notifications, and profile. However, it lacks remixability, augmented reality filters, and transition effects that TikTok boasts. As for UI, it's snappier and more intuitive than its rival. Long story short, byte may not be a fully-featured TikTok alternative right now but it has the promise to dominate the landscape down the line.
Install: iOS and Android (Free)
9. IGTV
Facebook's highly ambitious IGTV may not have set the stage on fire or for that matter taken away the spotlight from TikTok (as intended) but it's got enough to stake the claim of being one of the best apps like TikTok. What puts this video-sharing platform ahead of the curve in the integration with Instagram. So, you can sign in to this app using your Instagram account and watch the videos from creators you follow. And with the discover tab, you can browse through a smartly curated collection of trending videos. Talking about UI, I find IGTV smoother and faster. So, you won't get stuck in the loading loop that has long been associated with TikTok.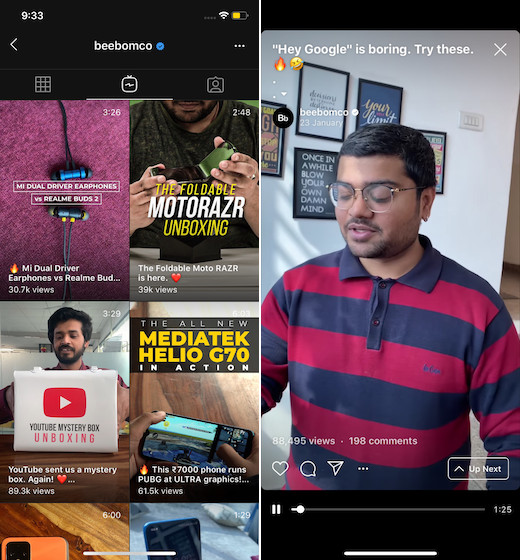 Install: iOS and Android (Free)
10. Firework
Claiming to be the best platform for short videos, Firework is designed to take on TikTok. What puts this app at the forefront of attention is a wide variety of videos including travel, beautify, recipe, fitness, comedy, and more. So, irrespective of what sets the tone for your interest, chances are pretty high this video-sharing platform can cater to your interest with aplomb. Just like TikTok, Firework also offers a fully personalized feed where you can watch the sort of videos that drive your fancy. What's more, you can also make a collection of all the videos you love and share them with your friends and loved ones.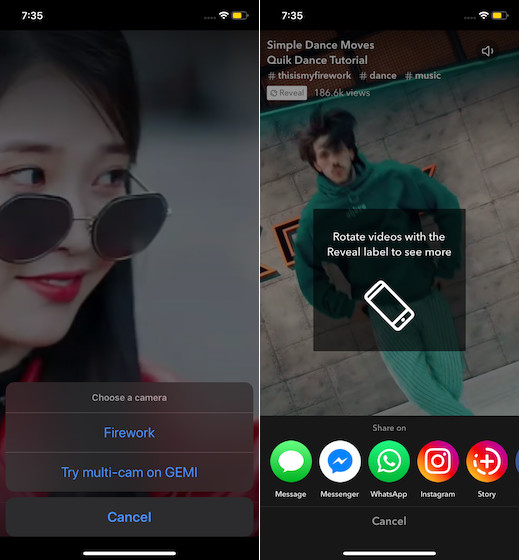 Install: iOS and Android (Free, offers in-app purchases)
Choose the Top Apps Like TikTok for Creating Fun-Loving Videos
There you go! So, these are the highly-rated apps like TikTok, which you can use to create awesome short videos and explore them. Do you find some notable names missing from the above lineup? Feel free to let us know. Just in case you are planning to switch to TikTok rivals for good, I would recommend you check out our complete guide about deleting the TikTok account without losing data. And if you are on the lookout for stunning lights to light up your clips, head over to this roundup.