Whether you want to make a new base or truly explore the wilderness of Minecraft, there is no better place than the mountains. With that in mind, we have compiled a list of the best mountain seeds you can find in Minecraft. All these seeds can lead you to a world with beautiful cliffs, remarkable ranges, and easily the best locations to build your Minecraft house. With that said, let's stop beating around the bush and jump into all the best mountain seeds available right now!
If you are not a fan of mountains, we have also compiled the best lush caves seeds and the best dripstone cave seeds for you to explore. All the mountain seeds in this article work on both Bedrock and Java editions. We have also included the coordinates for important locations in each seed on the list.
1. Endless Mountain Forest
This seed spawns us in the middle of a seemingly endless spruce forest surrounded by tall snow mountains. Here, the trees are the main theme of this seed's mountains. You even spawn on top of a tree. Almost all trees are covered in snow, and you can even walk on them to explore the area. But when you do leave the trees, try avoiding powdered snow, or you will find yourself stuck in the freezing cold. If you plan on creating a hidden mountainous base, this seed might be the perfect solution for you.
As for the resources, you have to rely more or less on the trees in the area, or you can jump into one of the many cave openings. They are a hub for most Minecraft ores. The only major concern about this otherwise perfect mountain seed is the lack of food. So, unless you are playing in creative mode, you should come back to this area once you have gathered enough resources.
Seed Code: 331124596
Biomes: Grove, Jagged Peaks, and Frozen Peaks
2. Huge Savanna Mountain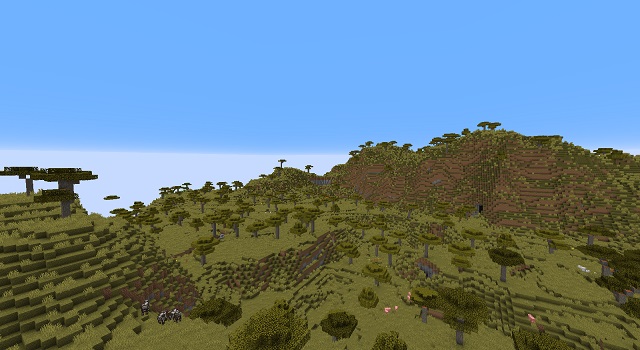 In this spectacular seed, we spawn in a large savanna biome with multiple savanna mountains. The highest one goes up to 127 blocks. You'll find multiple cave openings and plenty of acacia trees in this area to help you get started. As for the food, you can find pigs, sheep, and pumpkins in the area.
But savanna mountains aren't the only high ground here. There is a desert and badlands biome next to our spawn with hills and mountains of their own. If exploring other biomes isn't your plan, you can make a boat in Minecraft. There's an ocean behind the savanna waiting to be explored.
Seed Code: -1342434286
Biomes: Savanna
3. Badlands Mountains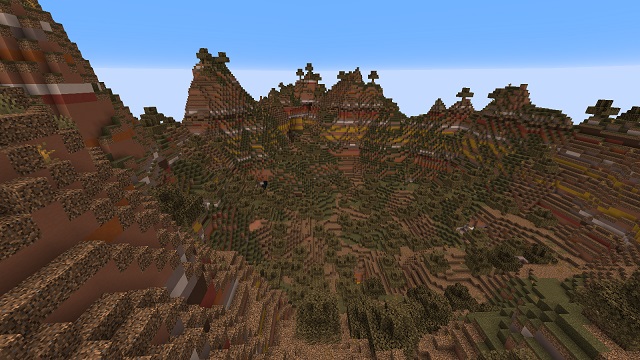 Badlands is one of the most interesting biomes in the game, and gold ores are most abundant and easy to find in this biome. There are also several mineshafts in the area to provide you with quality loot. But that's not the reason why this seed is one of the best Minecraft mountain seeds.
We spawn close to multiple badlands mountains in this seed. The tallest one of these mountains is 209 blocks tall, which is almost as high as many snowy mountains. And behind one of these is a valley with mountains on all sides. If you want to create a base surrounded by mountains only, this is the most colorful option that you can get.
Seed Code: -632509719
Biomes: Badlands and Wooded Badlands
4. Frozen Mountain with Exposed Dripstone Caves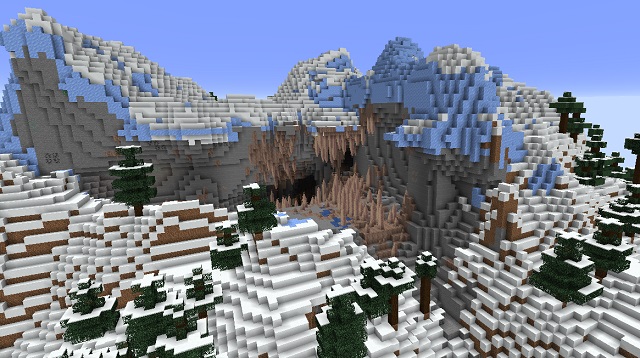 If we compare different Minecraft mountains, coming across snowy or frozen peaks is the easiest. But this seed gives us a very special version of the same. Here, our spawn point is surrounded by a variety of snowy locations. You can find frozen lakes, waterfalls, and a variety of snow-covered peaks.
Finally, one such snowy peak has a huge exposed dripstone cave, which is the main attraction of this seed. It's not just a cave but a whole dripstone biome spawning on the mountain instead of inside it. Finding another seed with a similar glitched situation would be really hard. You can also get almost all the ores you need for survival gameplay in this cave. Not only that, but something quite scary lurks underneath in the depths.
Seed Code: -98990689
Biomes: Snowy Plains, Snowy Taiga, and Frozen Peaks
Mountain with Dripstone Coordinates: X: -258, Y: 163, Z: 377
5. Realistic Mountain Range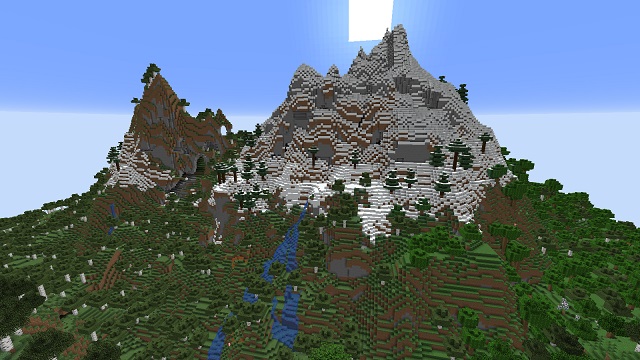 Our next entry to the list of best mountain seeds is the most realistic one. It spawns us on the foothills of a mountain. There are trees, grass, and greenery at the bottom of the mountain. Then, as it goes higher, you can also notice a waterfall and several caves in it too.
Finally, snow piles up towards the top of the mountain, completing the scene. So, this seed offers us a complete mountain, just like the real world. Furthermore, it also has a spikey triangular shape which fits the experience and creates the best location to make a good base. Also, there is a cherry grove biome a bit west of your starting point, so you can start using the bright pastel pink cherry wood right away.
Seed Code: -860899055
Biomes: Forest and Grove
Cherry Grove Biome Coordinates: X:-177 Z:-30
6. Survival Island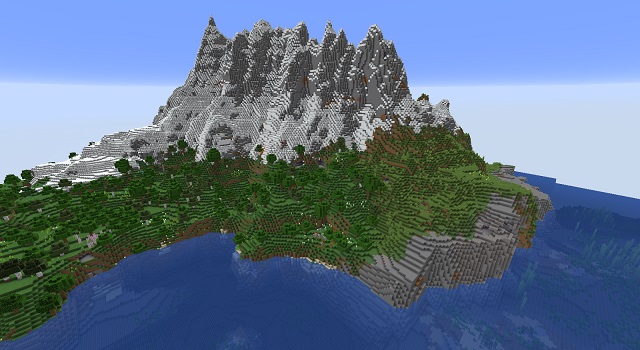 Survival islands are always fun and challenging to explore in Minecraft. There is an ocean all around you, and you have to make your way to a larger area with limited resources. Unlike regular gameplay, you have to be crafty in such worlds to survive and evolve. And this particular mountain seed provides us with a special kind of survival island.
The sandbox game makes you look up as soon as you spawn. And when you do look, there's a huge and tall snowy mountain coming out of the island. The scene looks even more iconic if you step away from it and try looking at it from the ocean. But that's not all for this seed. You can find most in-game biomes within just 10,000 blocks of this island. There's also a rare mushroom fields island close by that you can explore.
Seed Code: 1248939201
Biomes: Snowy Slopes and Plains
7. Shattered Mountains
Discovering mountains is always fun in the game, but then there are seeds like this with a special type of mountains. What we get is a huge shattered mountain that goes as high as a regular mountain. But it's broken into several smaller chunks, which is hard to discover.
Though, unlike most of our best Minecraft mountain seeds, this seed doesn't offer its reward at the spawn point. You have to travel a bit to reach the mountain's location, but the iconic scenery is definitely worth the effort. Not to forget, our spawn has a variety of savanna mountains and hills as well.
Seed Code: 1692695593
Biomes: Snowy Slopes and Plains
Shattered Mountain Coordinates: X: -2358, Y: 63, Z: -1369
8. Crater Forest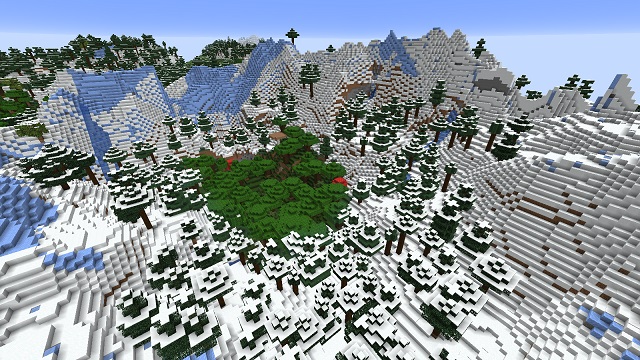 This next rare seed leads us to a forest spawning in the shape of a crater. The small forest is a dark oak forest, and there are mountains and hills all around it. This particular setting creates a cove-like location in the mountains. But that's not the only mountain in that area. Our spawn point is surrounded by a variety of mountains and hills of all sizes. There is even a decently sized cherry grove north-east from your spawn point.
Seed Code: 1095858946
Biomes: Forest and Grove
Crater Coordinates: X: -70, Y: 112, Z: 422
9. Sea Survival Cliff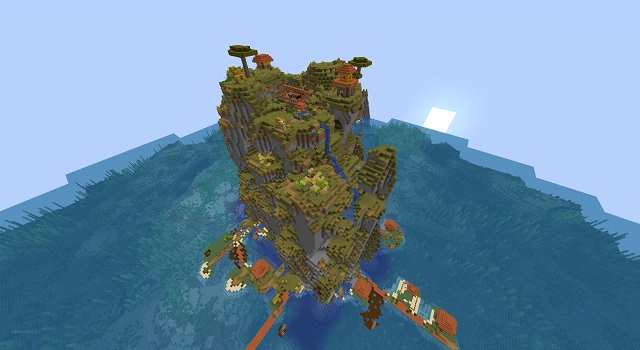 Most survival islands are made up of leveled ground, but not in this seed. It spawns you next to one of the most bizarre savanna mountain islands. You can find multiple cave openings along with a ton of resources to help you get started on your world adventure. If you are wondering about getting off the mountain, you won't go far without making a boat in Minecraft. Not to forget, on the Java edition, this same island also has a village at its bottom.
Seed Code: -6537256334104833826
Biomes: Savanna
Cave Opening Coordinates: X: -423, Y: 63, Z: 191
10. Broken Mountain with Frozen Spawn
Whenever someone mentions mountains, the snowy frozen peaks naturally come to mind. But our next seed tackles that notion in a rather creative way. It provides us with a huge mountain that is surrounded by snow and frozen water on all sides. But breaking away from the norm, there is no snow on the mountain itself.
The scene doesn't only look unreal but also sets up exciting lore if you know how to bring it to life. We also shouldn't forget to mention a giant mushroom fields biome southwest (more south than west) from your spawn point, which will be a great place for setting up a villager trading hall. The only tricky part of this stunning seed is the fact your starting location is on the cliff face, so you are forced to either jump down in the water or climb a waterfall to get up.
Seed Code: 288666951
Biomes: Taiga & Ocean
With that, you are now ready to explore the highest and most beautiful cliffs of Minecraft. But while you are at it, do make sure you know how to avoid fall damage in Minecraft in order to prevent tragedy. However, if you know how to make a recovery compass in the game, you can get your items back even after dying from a fall. But if you have the best Minecraft mods installed, dying won't even be an issue. Having said that, the mountains take a lot to explore. So, don't waste another moment here and load all the best mountain seeds for Minecraft right away!
---
Load More