Minecraft in itself gives you a chance to have infinitely random experiences with each new world being different from any that has existed before. Mods in the game take that experience to the next level. Minecraft mods can help turn your unexciting Minecraft experience into a fun time. With thousands of mods to choose from, we have mentioned some of the best Minecraft mods you can use to make your time in this sandbox game more enjoyable. The list below has been divided into various categories, to help you choose the mods more easily. So, without further ado, let's start listing the best Minecraft mods for you in 2023.
The mods we have selected for you work on different versions of the game. As per our internal testing, most of these mods work with newer Minecraft versions, like Minecraft 1.19 and Minecraft 1.20. But, you can always check the download pages of each mod to figure out if they support your version or not. We have shared the download links and in-game screenshots alongside the overview of each mod below.
Note: It is important to mention that the mods will be limited to Minecraft Java Edition, because of the difference between Minecraft Java and Bedrock Edition. The latter does not have Minecraft mod support if you were unaware.
Optimization & Tool Mods in Minecraft
This category includes mods that are focused on improving the overall Minecraft gameplay experience without making you feel like you are playing an entirely different game. These boost your performance, reduce lag, and allow you to enjoy and access the game's features much more easily.
1. OptiFine
One of the most popular mods of all time, OptiFine is treasured by low-end PC gamers. It not only enhances your graphics in the game but also greatly helps in improving the performance with custom settings options. If you want to become one of the OptiFine users, check out our guide on how to install OptiFine in Minecraft 1.20. Moreover, we have an in-depth article dedicated to getting started with OptiFine. It will teach you how to get the best FPS on Minecraft using OptiFine.
Download OptiFine
2. WorldEdit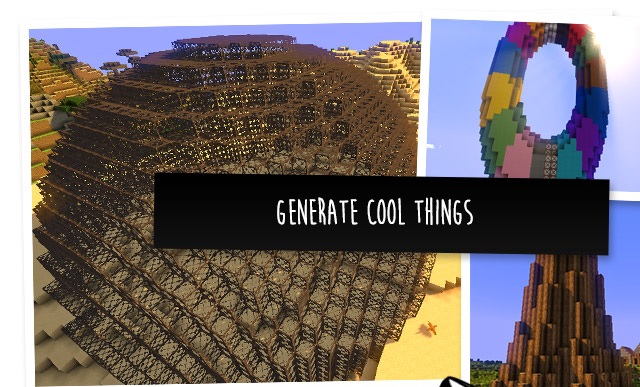 This mod is technically a map-builder, but what makes it unique is that it runs inside the game. Yeah, you can use mathematical equations, shared construction files, and even 3D brushes to build and customize your in-game structures. The WorldEdit mod is the dream of any Minecraft player who is into custom structures. Since I am not the best builder, you can see an official screenshot to get an idea of what WorldEdit can do for you.
Download WorldEdit
3. JEI (Just Enough Items)
If you've ever watched any modded series on YouTube, you might have noticed that players have some kind of an item and block search tab on the right side of the screen. This is one of the most popular Minecraft mods ever made – JEI, AKA Just Enough Items. Pretty much every modpack includes this mod. It's rather useful in the vanilla game, but even more so in the modded. In the mod's tab, you'll be able to access the list of all the different items and blocks in the game.
Additionally, you can view their crafting recipes and uses, which comes in handy when playing with mods you're not familiar with. The JEI mod allows you to put in a search keyword and quickly find what you're looking for. And with the bookmarks system, you can adapt the mod and make it more easily traversable. This is undoubtedly one of the best Minecraft mods, so make sure to check it out.
Download JEI
4. Quark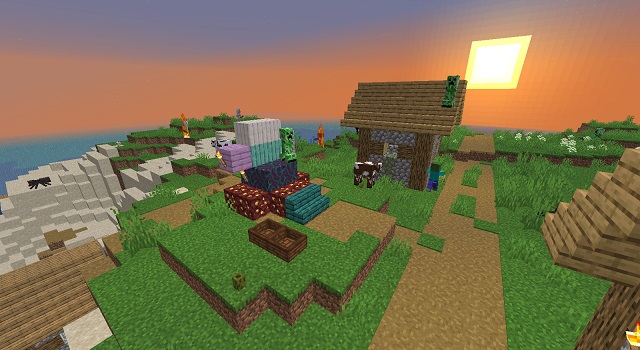 Essentially, the Quark mod aims to provide as many gameplay enhancements as possible without compromising the performance even a bit when compared with the non-modded Minecraft game. This mod offers a boatload of features, including improved mount HUD, inventory search, item sharing, camera mode, and more. You can read about all the features on the official website. From what we tested, it certainly delivers on that promise. Though, it's a dependent mod that additionally requires you to install AutoRegLib mod as well.
Download Quark
5. Jade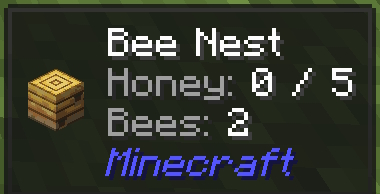 Jade Mod is also one of the highly recommended beginner mods in Minecraft. It boasts features that enhance the vanilla game and make the user experience more enjoyable. Essentially, it provides you with a HUD (heads-up display) information related to the blocks' states, horse stats, mob effects, chest contents, breaking process, and others.
With this mod, you won't be banging your head against the wall anymore due to the confusion and unclearness, because all the vital info is displayed right in front of you.
Download Jade
6. Mouse Tweaks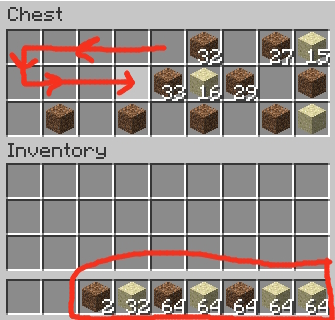 The Mouse Tweaks is a Minecraft tool mod that helps you more easily control your mouse dragging and item moving in the game. It changes the way you interact with the items in the UI, making it so much faster than the vanilla game's mechanics. This mod modifies the vanilla's RMB (right mouse button) dragging mechanic turning it into a more intuitive feature.
Moreover, the LMB (left mouse button) mechanics have been expanded to allow you to, while holding shift and the LMB, easily move the cursor across your inventory and quickly move the items in the other inventory. This mod may not seem like big of a deal, but once you start using it, you're never switching back to vanilla's mechanics.
Download Mouse Tweaks
7. Crafting Tweaks

Have you ever gotten tired of having to manually spread the items on the crafting table while crafting something? Or what about moving the items back into your inventory after you want to craft a different recipe? Even though the previous mod can help you greatly for this purpose, the Crafting Tweaks mod has its unique and incredible uses.
You'll be able to easily and quickly rotate, balance and clear the crafting grid with one mouse click. This simple mod will save you a whole bunch of time with these effective buttons. Also, the Crafting Tweaks mod does require the Balm mod to function.
Download Crafting Tweaks
8. Loot Beams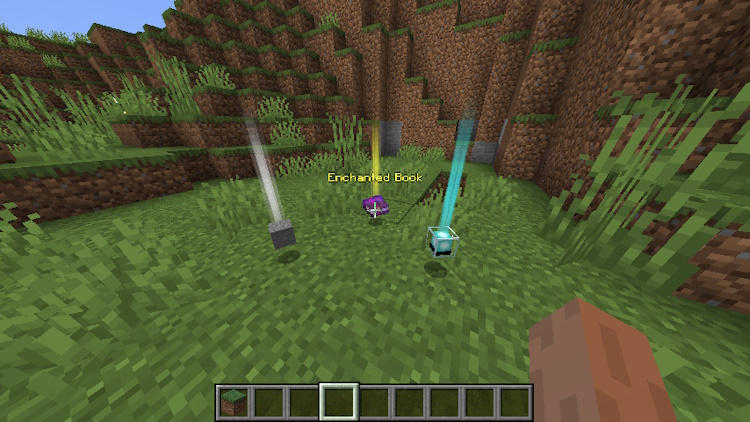 Loot Beams mod is mostly aesthetic mod that has a rather cool use. Many players love the in-game experience and hate ruining it with the UI and F3 debug screen. Unfortunately, it is sometimes necessary, especially if you cannot find your items after death. Well, this awesome mod helps you out with that by providing cute and colorful beams starting from the item on the ground and going upwards. This will draw your attention instantly and let you know the item's location. Moreover, when crouching or looking at an item, you can see the item's name, so you'll know exactly what it is before picking it up.
Download Loot Beams
9. Xaero's Minimap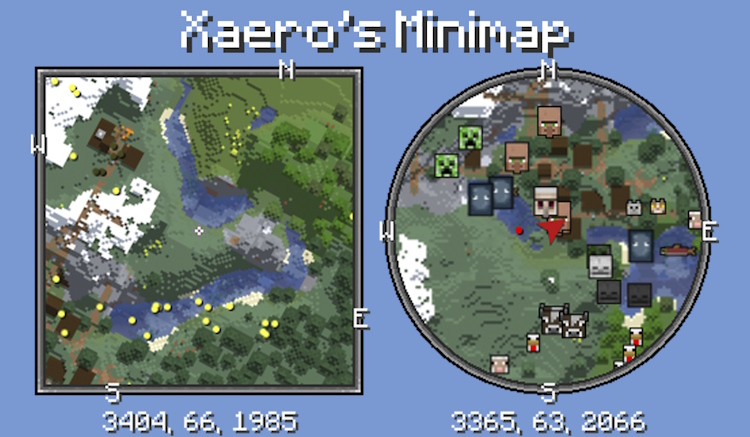 We all know that Minecraft has its own maps. However, wouldn't it be awesome if we had a UI minimap, always displayed in the corner that showed us the surrounding terrain and locations of the nearby mobs and players? Oh, wait, we do have it with this mod! The Xaero's Minimap mod is one of the best Minecraft minimap mods out there. It can display a square or a circle-shaped map with the coordinates and cardinal directions presented as well.
One of the most clever designs of this mod is the vanilla-like feel to it. It doesn't deviate from the regular Minecraft looks, as compared to many other minimap mods. Xaero's Minimap is also the first rotating square minimap for Minecraft. Thanks to the customization settings, you'll have no issues getting used to it.
Download Xaero's Minimap
10. AppleSkin

The AppleSkin mod is similar to the Jade mod as it provides you with additional info vanilla game doesn't. However, this mod focuses on the info related to the two most important bars Minecraft players have – the health and hunger bars. With the AppleSkin mod, you can view how effective certain food items are when it comes to the potential restored hunger points, saturation, and health points. It also comes with visualization saturation and exhaustion to the HUD, as well as the food value information to tooltips.
Download AppleSkin
World Changing Mods in Minecraft
The world changing mods are quite self-explanatory. They change, enhance and revamp the Minecraft world we know and turn it into an even better, more magical, and alive blocky world. These mods mostly focus on the world, terrain, and biomes, but there are a couple that modify the appearance of the mobs, even drastically. So, let's waste no time and jump straight in.
11. Better Animations Collection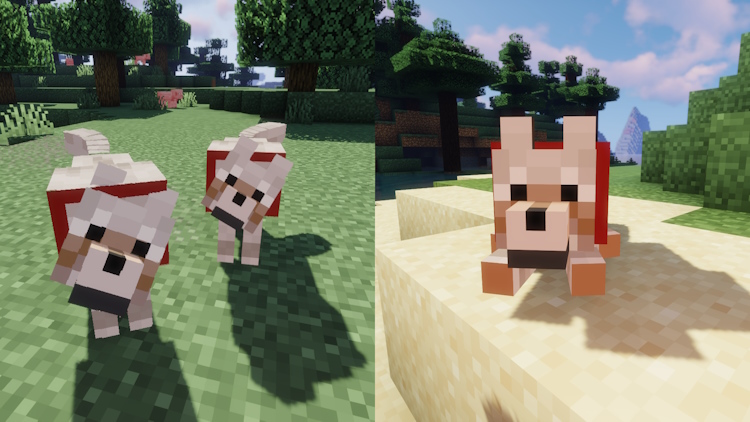 It's kind of crazy to think that despite all the amazing and fresh features which have been added recently to Minecraft, we still have some very plain and bad features, with a little effort put into making them. One of those is animations in the game, mostly mob animations. If you have played Minecraft for a while, you can surely notice the difference between the newer mobs', such as sniffers and camels, and the older mobs', such as sheep and cows, animations.
So, if you want that to be changed, you should check out this mod right now. The Better Animations Collection mod has the goal of bringing life and character to all the mobs in Minecraft. You'll encounter kneeling sheep, wobbly cows and creepers, wiggly villager noses and ghast tentacles, bending humanoid knees, arm-flailing Endermen, playful doggies, curly cat tails, and much more. Your Minecraft world will feel so much more lively with this fantastic mod.
Download Better Animations Collection
12. Biomes O' Plenty
Minecraft biomes are different areas of your world with unique temperatures, mobs, building blocks, etc. Unfortunately, not all biomes are representative, due to lack of details, life, and excitement. Biomes O' Plenty mod changes that completely. It's one of the best-looking biome mods on the market currently, adding over 100 brilliant new areas to the Overworld and the Nether.
In those sections, you will come across pretty building blocks, interesting trees and plants, eye-catching atmospheric details, and so much more. With the Biomes O' Plenty mod, exploring is totally upgraded and you're provided with plenty of traversing challenges, dangers, and breath-taking sceneries. If you're into exploring, then checking out this mod is a must.
Download Biomes O' Plenty
13. Terralith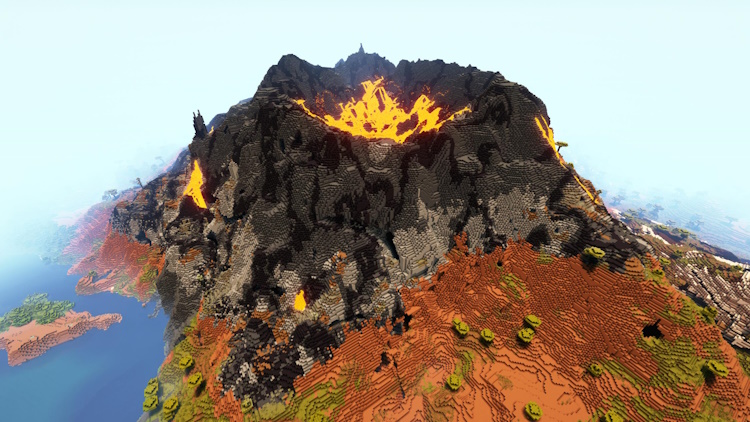 The next entry on our list of best Minecraft mods, we have another gorgeous biomes mod, Terralith. It brings a massive overhaul to the world generation, as it introduces nearly 100 brand-new biomes and welcoming changes to almost every single vanilla biome. Furthermore, this mod adds completely new terrain types, such as canyons, shattered biomes, floating islands, deep ocean trenches and so many more.
This insane revamp doesn't only include the surface biome, but the caves as well. You'll find unique cave shapes, scary cave biomes, and decorative stone caves, such as andesite and diorite caves. Above everything we mentioned, all these changes are accomplished with vanilla blocks, making this mod fully compatible with vanilla clients.
Download Terralith
14. BetterNether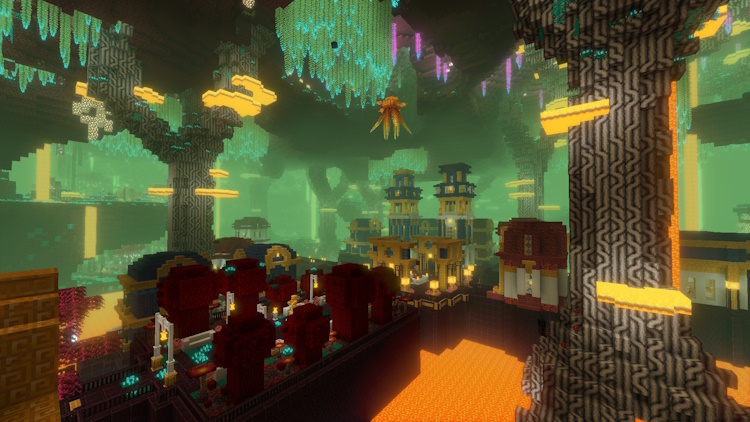 Before Minecraft 1.16, the entire Nether dimension looked fairly plain and boring. That all changed with the famous and arguably, one of the best Minecraft updates of all time, the Nether update. Not only did this epic update bring us ancient debris and netherite armor, tools, and weapons, but it also added whole new Nether biomes, mobs, and bastions. It made the Nether so much more alive, atmospheric, and even scary. Well, if you like the Nether update, what would you say about a mod that takes it and turns it up to 11?
Yes, the Better Nether mod kind of makes a joke of the whole Nether update. It adds new fiery biomes, exotic plants, epic building blocks, materials and so much more. There are even custom structures with specific perils lurking inside. Though, the balance has been achieved with the new tools, items, and equipment. If the cavernous dimension is your favorite, you can make it even better with the Better Nether mod.
Download BetterNether
15. BetterEnd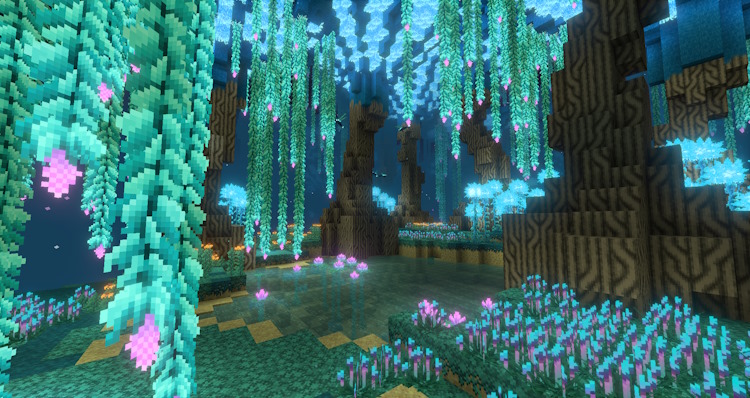 From the exact same developers who created the previous mod on our list, Better End is here to transform the neglected End dimension. This beautiful mod adds a ton of features to the space dimension. They include special End biomes, fascinating mobs, new powerful resources, and stunning building blocks.
Every biome also has its own atmosphere, sound effects, and background music that will all make you feel as if you're really there. The End cities aren't the only structures either, as there are custom ones on the central End island. We really hope that Minecraft 1.21 will bring this dimension to the next level, but until then, we have the spectacular Better End mod.
Download BetterEnd
16. Ecologics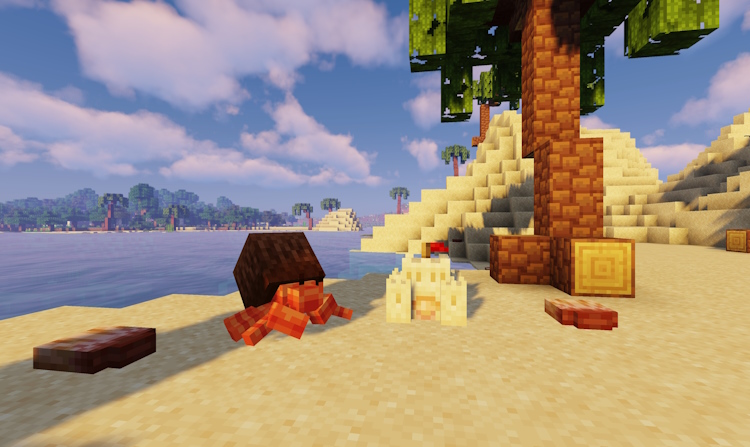 Unlike all the previously-mentioned biome-related mods on our list of best Minecraft mods, this one is different. Ecologics mod doesn't strive for additional biome changes and features but instead aims to update and improve the existing biomes. This mod adds fun new mobs, trees and plants, resources, music and soundtracks, as well as awesome building blocks. The Ecologics mod does all of this and still keeps the vanilla feel to it. So, if you want to try out modded Minecraft for the first time, this mod may just be perfect for you.
Download Ecologics
17. Pixelmon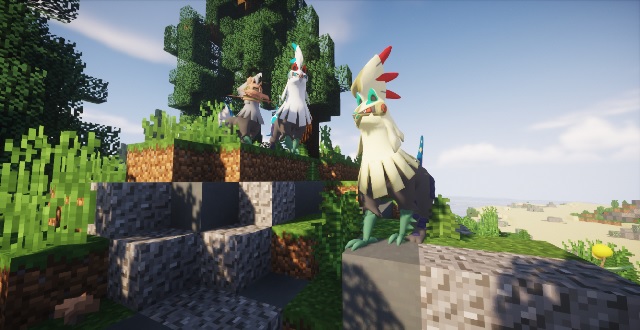 The Pixelmon mod brings all the Pokemon games into your Minecraft world. The Pokemon don't have the Minecraft drawing style, but they still feel the same. You can go on adventures, capture Pokemon, or visit iconic locations like the Pokemon Center in the anime or game. The Pixelmon mod offers the whole experience of a Pokemon world in Minecraft. You can play this mod in Minecraft 1.16.5.
Download Pixelmon
18. NoCubes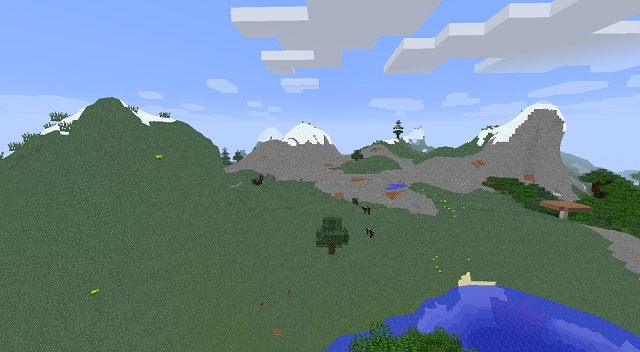 This is the most mind-bending game-breaking Minecraft mod that I have come across. Minecraft is known for its block-based gameplay, and well, this mod smoothens it all out. Yeah, no more blocks. As a player, you refuse to believe the game you are playing is Minecraft once you install this mod. The game doesn't look bad, but it certainly doesn't feel like the game you love in any sense. You can break your perspective by trying it from the link below.
Download NoCubes
Gameplay Changing Mods in Minecraft
Mods in this category change the gameplay, either subtly or exceptionally. They can make you fall in love with the features you may not enjoy working with or perhaps they may encourage you to take more risks and play worry-free. These mods are also extremely popular and frequently used nowadays, so let's start listing them right away.
19. Create
Due to this mod being all the rage in the Minecraft community, you probably heard about it. The Create mod is one of the most popular and best Minecraft mods. It is a highly technical mod geared towards constructing automated machines and farming difficult resources. You are provided with a bunch of specific tools and blocks that help you create insanely-compacted contraptions. You can come up with a whole variety of ways to achieve a certain goal.
Furthermore, you're encouraged to use your creativity and common sense to find solutions to problems. Most of the features are practical and don't require you to spend a lot of time in the UIs, therefore allowing you to interact more with your surroundings and other Create features. This amazing mod even modifies the vanilla rules in the player's favor, making you empowered and unstoppable. It's unbelievable how many different additions and changes a single mod can bring. Therefore, we recommend you follow a guide on how to play with this mod, as well as install the JEI mod first.
Download Create
20. Origins
If you're aware of the Afterlife or the New Life SMPs on YouTube, you probably know how I found out about this mod. The Origins mod is quite a mind-blowing mod with plenty of fun, unusual and exciting features. Basically, you can play as one of the 10 different origins and have special abilities, buffs, or debuffs according to the origin's lore. For example, if you're an Enderian, which is an origin inspired by the Enderman mobs in Minecraft, you can teleport around without Ender pearls and also reach further.
However, you'll take damage while in contact with water and are also "scared of pumpkins". This amazing mod can be further expanded with a ton of single-origin mods out there like the Giant, Witheran, Flutterling, Vampire, etc. You'll have the best time playing this mod with your friends on a Minecraft server, so follow our linked guide on how to set it up.
Download Origins
21. Storage Drawers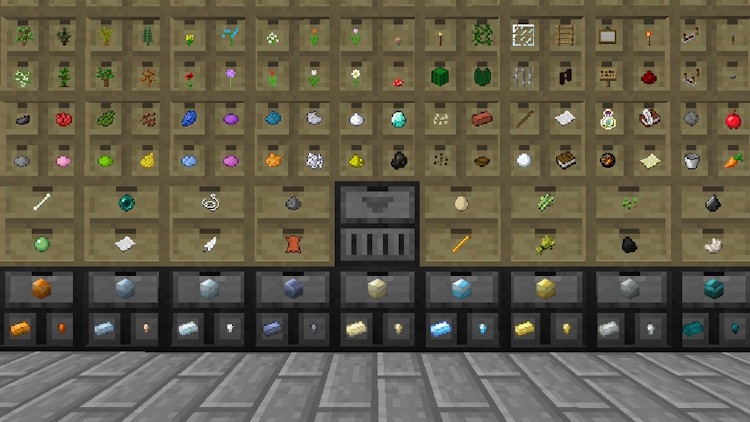 As we all know, the Minecraft team adds many various blocks and items with each update, though the storage solutions haven't changed much. This is why players have trouble fitting everything in nice and organized systems, but make chest monsters instead. The Storage Drawers mod is one of the best Minecraft inventory-revamping mods that keep the vanilla feel. It brings amazing blocks called drawers, which are storage containers. These drawers are wooden blocks, so you can craft them with any wood type you want and get matching drawers. You can easily put single or stacks of items in them and take them out.
The drawers come in a few different types that hold different amounts of items. The mod also provides you with a bunch of drawer upgrades for several purposes. With the Storage Drawers mod, you can craft special and powerful blocks called drawer controllers. They allow you to link many drawers together and then access the inventory of all of them combined. This way you can easily dump your whole inventory without browsing through multiple chests. This mod is rather popular, so make sure to give it a shot.
Download Storage Drawers
22. Refined Storage
Refined Storage mod is a storage solution mod that's even better and easier to work with than the Storage Drawers mod. It's essentially a network-based storage system, which allows players to store items and fluids on a massively expandable device network with a single access point. This mod contains a few rather technical blocks all geared towards providing you with storage and item management abilities. There are even devices within the mod that'll offer you auto-crafting in the system itself, with just a couple of clicks.
This amazing feature alone could save so much time especially, if you're playing with many other mods. You can upgrade the capability of the storage with craftable storage disks. One of the best features of this Minecraft mod is that the whole storage machine is very easy to move and set up. If you've always dreamed about creating the perfect storage system out of a sci-fi movie, then stop dreaming and check out the Refined Storage mod.
Download Refined Storage
23. Mekanism
If you thought that previous technical mods are a bit over the top, then Mekanism will completely blow you away. This mod doesn't care that the world of Minecraft is a simple place, it completely transforms it into a futuristic and extremely engineering game. It revolves around machines that require generated power to run. All the tedious in-game tasks are this way completely removed, as you start to advance to higher technological levels.
Mekanism uses realistic scientific processes, such as purification, dissolution, chemical injection, and crystallization technologies that allow you to maximize the output of resources. All of these advanced machines aren't available just in the late game either. You will have a chance to play around with many different features depending on your progression through the game.
Also, besides all the cool technological stuff in this mod, we need to mention the cute robot companion you'll have, Robit. So, if you want to have a modern technological experience in Minecraft, check out the Mekanism mod.
Download Mekanism
24. Botania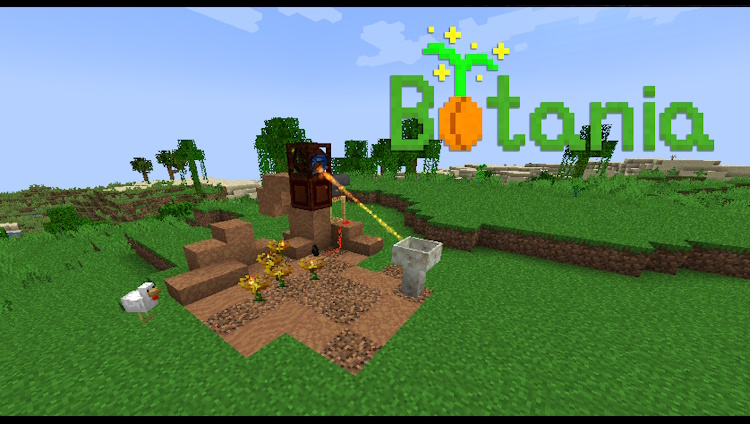 Are you into technical mods in Minecraft, but the looks and grindy aspects just turn you away? Well, lucky for you, the Botania mod is here. This is for sure one of the best technical Minecraft mods ever. Botania is a tech mod completely based on natural magic. There are no pipes, wires, numbers, GUIs, or anything like that. The mod is focused on using mana, Earth's power source. With this power, you can make fully automated systems that can be designed without following complicated blueprints.
Botania is quite a breath of fresh air considering most mods are industrial and steampunk-focused. This mod is all about magical flowers, plants, and pure natural energy. If all of that seems overwhelming, don't worry, the mod includes the Lexica Botania book, source of all the knowledge and info related to the mod. Not to forget, the mod's visuals are just stunning, calming, and pleasing. One thing left to mention is that Botania requires Patchouli and Curios mods to run.
Download Botania
25. Tinkers' Construct
Tinkers' Construct is one of the most famous Minecraft mods. It's essentially a tool and weapon-creation mod. It allows players to make powerful tools with special buffs and abilities. You'll be guided through the entire mod with a handbook at the beginning and you will be able to craft additional books with more advanced information related to the mod. You'll turn patterns into blueprints of sorts and with them you'll create new magical tools.
There are a few different workstations that have their own uses. Since they're quite commonly used, you'll get used to them quickly. There are even a couple of new materials and resources. After you build the smeltery, you can smelt metals and use them for creating even more powerful tools. You'll even come across some blueish slimes in this mod. This is quite a big mod, so you'll have lots of fun exploring all the features. To run Tinkers' Construct, you'll need the Mantle mod.
Download Tinkers' Construct
26. Traveler's Backpack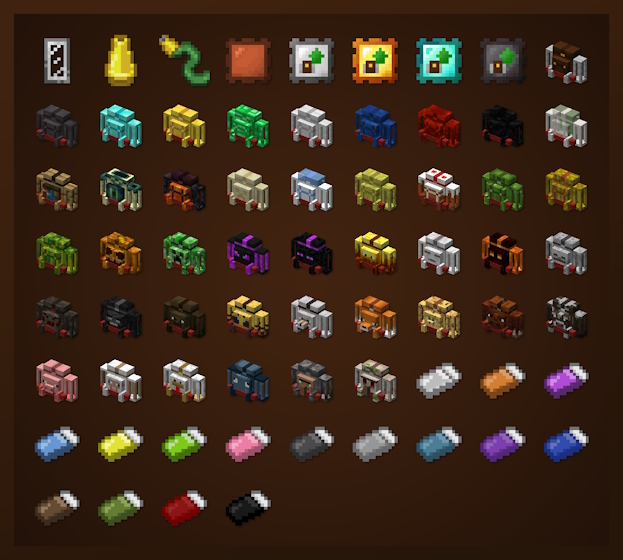 Players always wanted new portable storage systems besides shulker boxes, so nowadays we have plenty of backpack mods. There are quite a lot of them on the market and they're fairly popular. On this list, we'll cover the Traveler's Backpack mod, as it's one of the best Minecraft backpack mods out there currently. It consists of highly customizable backpacks with unique features. They can have up to 52 inventory slots and 2 fluid tanks, which can store up to 6 buckets of fluid or even more than 24 bottles of potions.
The mod is balanced through the need of upgrading those backpacks. You won't get the best one right off the bat. Moreover, you can wear both the chest plate and the backpack, unlike some other mods. You'll also have an easier time managing your inventory thanks to the special buttons. Apart from this awesome mod, there are also Simple Backpack mod, Simply Backpacks mod, Sophisticated Backpacks mod, etc. All of these backpack mods are similar to each other and also special in their own way. Which one is your favorite backpack mod? Let us know in the comments!
Download Traveler's Backpack
27. Corpse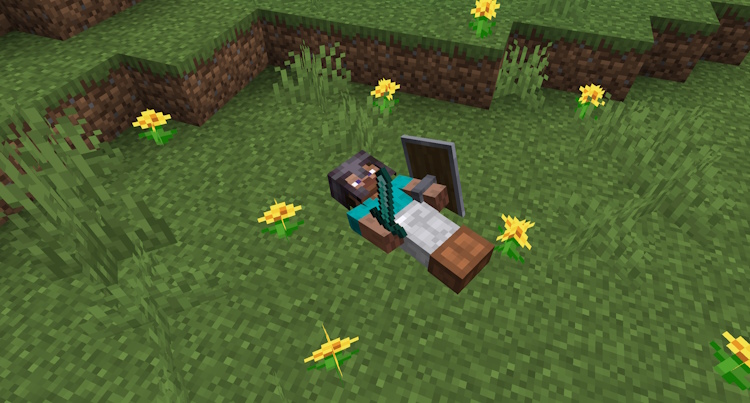 Are you scared of dying and losing your items in Minecraft? Does that stop you from experiencing fun game features? Well, the Corpse mod will take care of that. This mod spawns a corpse in the exact location where you died. It's a storage containing all of the items you had when you died. The corpse doesn't burn in lava nor does it fall in the void. When you pick up the items from the corpse, it'll despawn.
After an hour, the corpse will turn into a skeleton, signifying it was there for a while, though it acts the same way. This mod offers a perfect balance between merciless death by default and challenge-free death when the keepInventory gamerule is set to true. It makes sure all your time and effort spent weren't in vain, but it encourages you to go and find your corpse and manually restore your items and progress.
Download Corpse
28. Easy Villagers
Villagers in Minecraft can be quite a big pain to deal with. They are prone to jumping off edges and randomly killing themselves, cannot be easily moved around, and don't want to make it easy for you to get the trades that you want. Easy Villagers mod helps you tremendously with them. It lets you simply "pick up" the villager like an item by right-clicking on them while sneaking. That way, you can put them in a chest until you build a trading hall for them.
Then, you can place them back down, also by right-clicking. This awesome mechanic allows us to completely bypass the whole "moving villagers" process. Apart from that though, with the Easy Villagers mod, we can also cycle the villager trades with just a click of a button. Yes, you heard that right. So, no more breaking the villager's workbench over and over again and wasting time. This mod comes with a few more mind-blowing features you can check out on the mod's page linked below.
Download Easy Villagers
29. Waystones
Similarly to the JEI mod, if you've followed pretty much any modded server, you'll know about the Waystones mod. It introduces the waystone blocks that act as teleporting stations. You can either craft them or find them naturally generated in the world. Once a player has activated one by right-clicking, they can use it to quickly travel to the waystone's location. The only requirement for using this block is experience points.
The further away the waystone is, the more XP it's going to cost. The mod also includes different waystone types and special craftable items called scrolls. Even though the scrolls don't require XP, they are consumed on use, so regular waystones are used more frequently. This mod is made by the same developers as the already mentioned Crafting Tweaks mod and it requires the Balm mod to work properly.
Download Waystones
30. Nature's Compass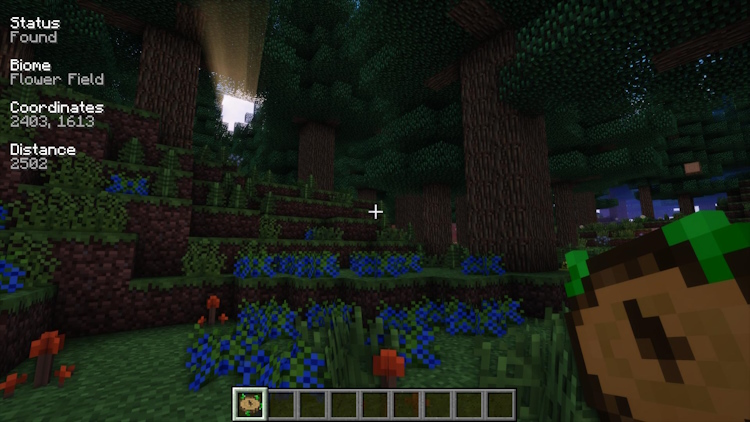 Nature's Compass is a great alternative to the usage of the F3 debug screen in Minecraft. Players usually pull up the debug screen to find a certain location or a biome. This mod lets you craft a compass that'll point you to a chosen biome. This way, you can locate any area of your world without commands or third-party websites.
Not only that, but this compass allows you to view information about a biome, such as climate, humidity, top block, etc. If you're using any of the mods that add new unique biomes, this compass will also support them. Such a simple mod, and an amazing implementation that should exist in the vanilla game.
Download Nature's Compass
31. Cooking for Blockheads

Cooking in the vanilla Minecraft is basically non-existent. There are a few food recipes players can craft, but they usually take a lot of time and in some cases, expensive resources. So, players more often than not just cook raw beef or porkchops in the early game and buy golden carrots from the villagers in the late game. Well, this mod encourages you to actually cook and experiment with food items.
Cooking for Blockheads mod adds a bunch of food and cooking-related blocks to Minecraft, such as a fridge, oven, sink, cutting board, pan, tool rack, etc. This mod also accepts custom items from other mods, such as Pam's Harvestcraft mod. With a recipe book, you will always know what recipes you can cook at the moment with the resources you have. There is even more information about this mod, so if you're interested, you can check out the download page linked below. This mod requires Balm mod, just like a couple of ones mentioned above in the article.
Download Cooking for Blockheads
32. Torchmaster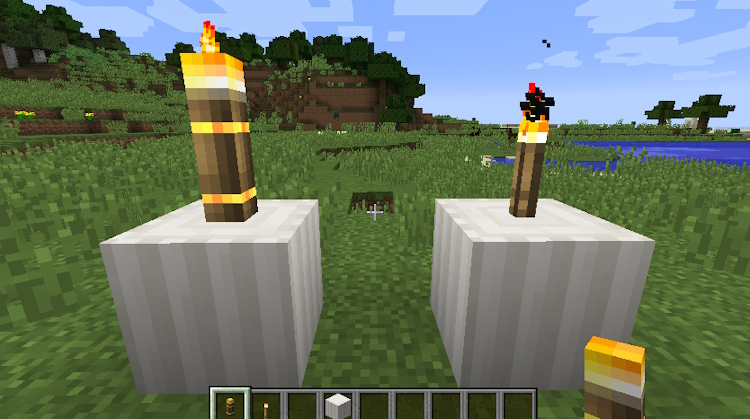 If you're not really a PvE focused player and if it exhausts more than excites you, the Torchmaster mod may just be the first one you should install. It's a mod with an incredibly straightforward idea. No mob spawning. Yeah, no more fighting scary mobs. This mod adds a giant mega torch that can completely eliminate hostile mob spawning in a certain radius.
Not only that but there are a couple more blocks in this mod that stop the passive mob spawning and help you light up an area easily. The mega torch only disables natural hostile mob spawning, so the vanilla and modded spawners will still function. Setting up monster spawner farms is made so much easier thanks to this great mod. Also, you can start building spooky dim builds, without fear of creepers blowing them up.
Download Torchmaster
33. Compressium

Compressium mod is an interesting mod that takes on the challenge of resolving inventory issues in a unique way. It adds compressed blocks. The best way we can explain them is with an example. Looking at the image above, if you use 9 cobblestone blocks and place them in a crafting grid, they'll get compressed once and give you 1 compressed cobblestone. Then you can use 9 of those compressed cobblestone blocks to craft compressed cobblestone x2.
You can go on like this quite a lot actually, to the point when a single compressed cobblestone block can hold thousands of cobblestone blocks. This is an absolutely bonkers idea, that actually works very well. The more you compress a block, the thicker the black border it'll have. Also, don't worry about the compressed blocks working like nether wart blocks, because they don't.
They work the same as precious material blocks, in the sense that you can break down the compressed blocks into regular blocks. This mod doesn't include just cobblestone, but several other blocks too. You can see exactly which ones are on the download page linked below.
Download Compressium
34. Physics Mod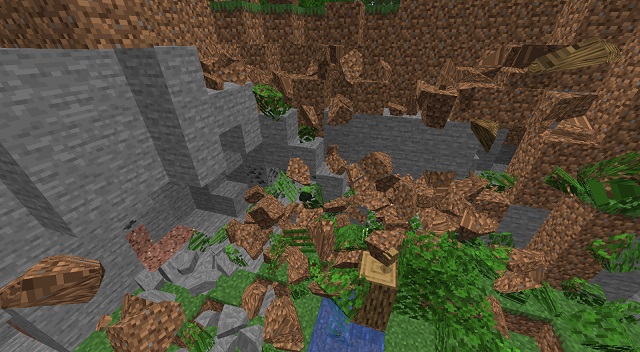 This destructive mod implements real-life physics to the blocky rules of Minecraft. The literal physics mostly applies to the way we break blocks, and it straight-up looks bizarre if you have been playing the game for a long time. For instance – when you break a wood block, you won't see a small block you can pick up. Instead, you will see different shaped chunks of wood scattered around.
Download Physics Mod
Decoration & Building Mods in Minecraft
Now, we came to the last category on our list of best Minecraft mods and it's probably the most popular one. Even though there are various building blocks in vanilla Minecraft, the community still wants more. Not just the full, solid building blocks, but all the decorative blocks as well. So, let's jump into the most used and loved decoration and building mods in Minecraft.
35. Chipped
If you are looking for an ultimate building mod, then this mod is the perfect solution. Chipped is one of the best Minecraft building and decoration mods currently. It provides players with over 9,000 different alternations of block textures. In order to access all of those modded textures, you'll need to craft 7 unique crafting stations or tables which all have a certain theme.
Just place the vanilla block inside them and you'll get presented with plenty of gorgeous texture variants. The blocks you can modify are various, from different stone types, bricks, prismarine, blackstone all the way to wood planks, basalt, sandstone, etc. This mod can even get a little overwhelming, but it's definitely worth checking out if you're a builder.
The Chipped mod requires Athena, Resourceful Lib, and ConnectedTexturesMod to run. You can find the download link for them on the download page linked below.
Download Chipped
36. Chisel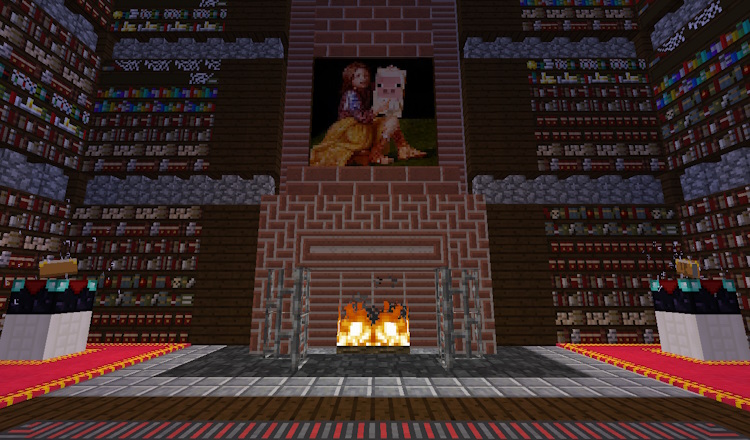 The Chisel mod is a bit older than other mods on this list, but it's certainly been an inspiration to the newer building blocks. It adds a whole variety of building and decorative blocks to Minecraft. The way you reveal those unique textures is through a chisel tool. Its crafting recipe is very simple and just by right-clicking with it, the mod's UI will open. Then, you can place blocks in the chiseling slot (top left) and then turn them into a different variant. You can play with this mod in Minecraft 1.12.2.
Download Chisel
37. Decorative Blocks
As the name suggests, this mod is all about decorative blocks. If you're building in a popular medieval style, then you're going to love it. Decorative Blocks adds decorative blocks such as bonfires, wooden beam blocks, braziers, chandeliers, rocky dirt, wooden seats, and many more blocks. Make sure to check out the mod's download page linked below to find out exactly what you can expect in this amazing mod.
Download Decorative Blocks
38. BlockCarpentry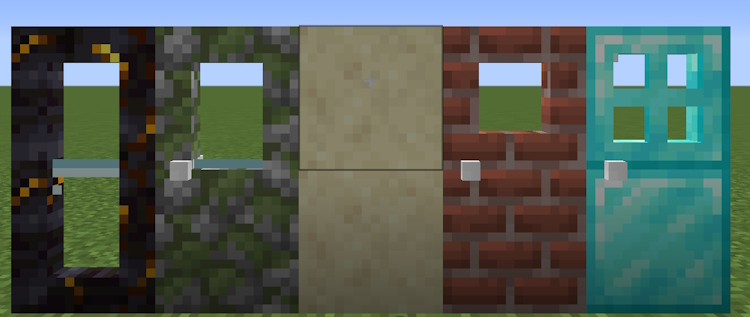 Have you ever wanted concrete slabs in Minecraft? Or perhaps diamond doors? What about moss slabs? Well, the sky is the limit with the BlockCarpentry mod. It adds frames and illusion blocks that take on appearance from any block you right-click it with. That essentially means you can have almost any vanilla and many modded blocks in any shape that you want.
Besides the regular vanilla items, like stairs, slabs, doors, fences, walls, etc., this mod adds vertical slabs, slopes, and shelves. Furthermore, you have the ability to change the blocks' light levels, add overlays to those blocks, and even dye some of them (see Minecraft dye colors via the linked article). The mod introduces a few different tools that'll help you more easily manipulate those frame and illusion blocks, giving you even more freedom and creative options.
Download BlockCarpentry
39. Macaw's Mods
This entry on our list of best Minecraft mods is not a single mod, but a group of them. These mods have all been created by the same developer and they add all sorts of building and decorative blocks to Minecraft.
From Macaw's Furniture, Macaw's Doors, Macaw's Trapdoors to Macaw's Roofs, Macaw's Windows, Macaw's Lights and Lamps and so many more. With such an amazing assortment of decorative blocks, everyone will find what they're looking for.
40. Twigs
Twigs mod is basically an all-in-one building mod. It adds many building blocks, both colorful and vibrant, and also darker and earth-tone, to the game. Moreover, several vanilla blocks with older textures have been improved in this mod.
The Twigs mod introduces some items and materials as well. This mod's goal is to bring life to the forgotten and not frequently used vanilla blocks and provide players with brand new beautiful building blocks.
Download Twigs
How to Download and Install Mods in Minecraft
Minecraft Mods are add-ons or game-level changes to the existing Minecraft gameplay experience. These are community-based and free, created by editing the easily available source code of the Java version of the game. You will find thousands of Minecraft mods online with dedicated updates even after years of release. As for installing them, you need to create a folder called 'Mods' in your Minecraft directory and place the downloaded mods in it.
Many mods will also require you to set up Minecraft Forge for them to function properly. Lucky for you, we have already compiled an in-depth guide on how to download and install Forge to use Minecraft Mods. So, which mod is your favorite from our list? Do tell us in the comments below!
Frequently Asked Questions
Are Minecraft mods safe?
Mostly yes. Unfortunately, if you download a mod from an unknown or unverified source, then you may have issues. So, always make sure to know where you get the mods from.
Do Minecraft mods cost money?
No, they are all free.